A great make-ahead breakfast, snack, or even dessert, this Apricot Turmeric Chia Pudding is a delicious way to beat inflammation first thing in the morning! Vegan, Gluten Free, Nut Free, Dairy Free, Egg Free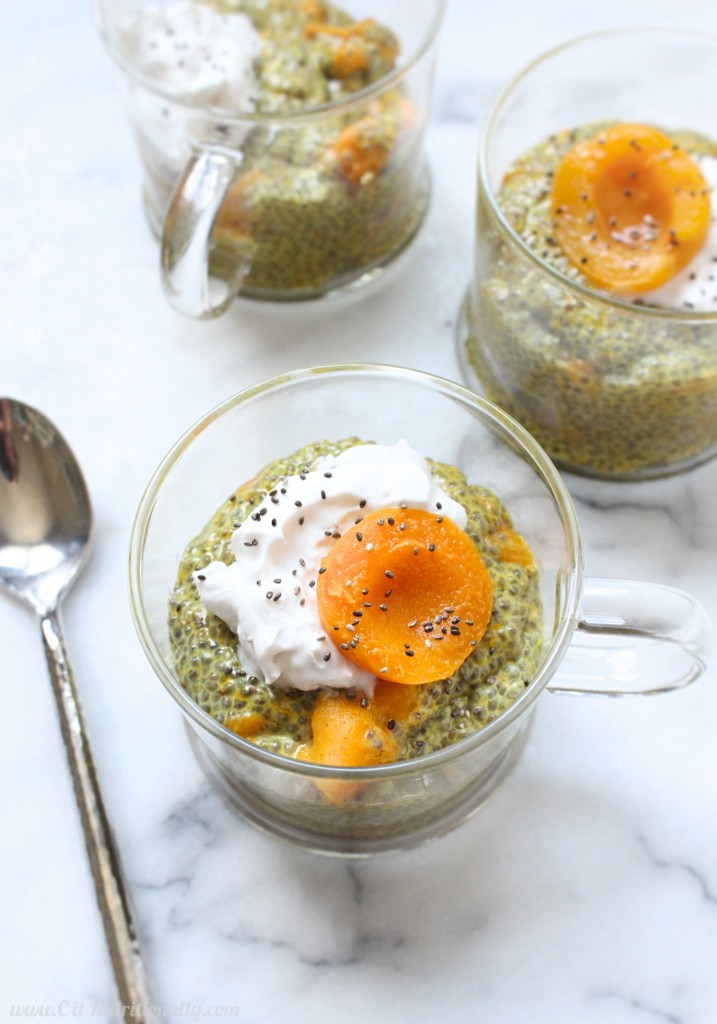 I received free samples of Libby's Fruits & Vegetables mentioned in this post. By posting this recipe I am entering a recipe contest sponsored by Libby's Fruits & Vegetables and am eligible to win prizes associated with the contest. I was not compensated for my time.
Hayyyy friends! I hope you had a glorious weekend full of sunshine, delicious food and some pure relaxation time… I know I had plenty of me time, some mom and dad time and catch up on work time…with a little self-pampering mixed in

Oh and plenty of time to whip up some delicious recipes to share with you guys over the next few weeks…. get excited… delicious things have been no-cook cooking (I mean, c'mon, this summer heat is NOT synonymous with turning on the oven!).
So let's start with breakfast! I am a strong believer that breakfast is the most important meal of the day. I think it sets the tone and intention for a day full of nourishing, delicious eats, plus, gets your metabolism going first thing!
And when you choose a nutritious combination of protein, high fiber carbohydrates and fat, you'll be satisfied all morning long! AND when you add anti-inflammatory turmeric and blood sugar-stabilizing cinnamon on top of that, well, BOY do you have a breakfast of champions! #nowheatieshere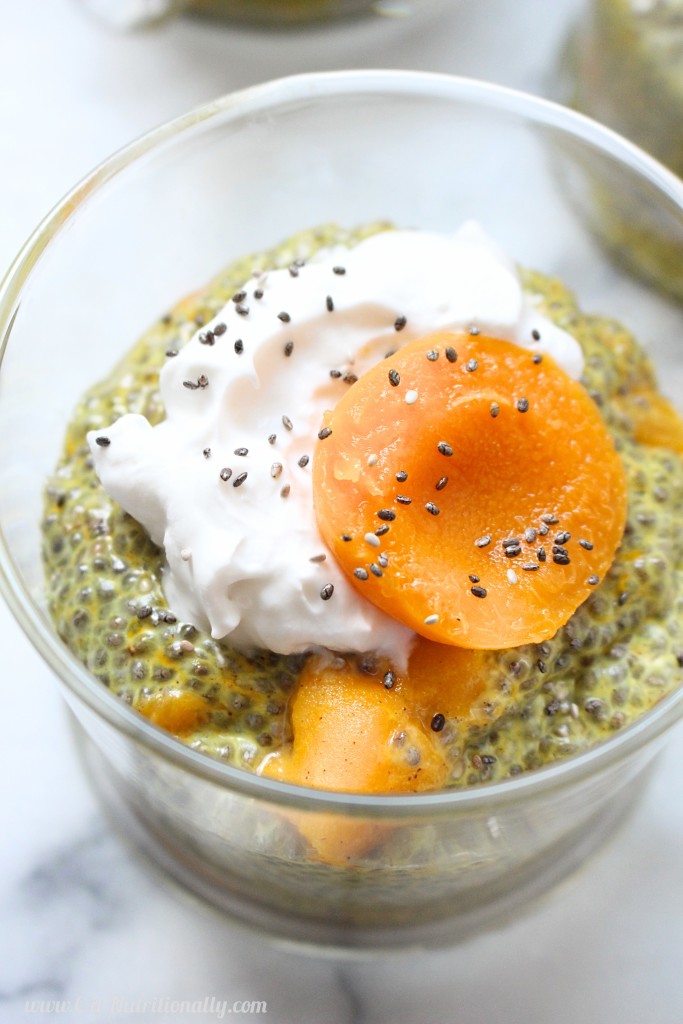 But one of the most common complaints I hear from clients, friends and family is that there's no time for breakfast. I get it… I rush out the door every morning too! But I always have a few important ingredients on hand so I can make a nourishing breakfast in the drop of a hat… and that includes canned foods!
So let's talk about canned food… I'm a fan… and I think you should be too! A variety of canned foods are always in my pantry because canned foods, like Libby's products, are such an easy way to have accessible, healthy and affordable foods on hand at all times. So with just a few ingredients, you can whip up a wholesome, nutritious and delicious meals at your convenience…
Like this Apricot Turmeric Chia Pudding…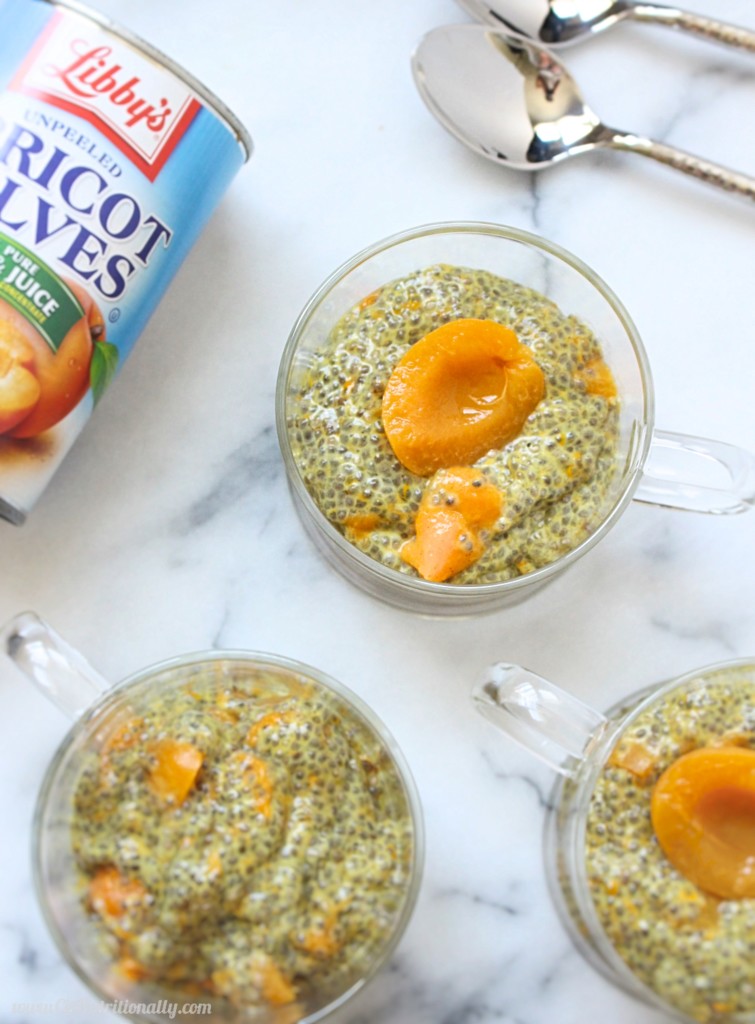 And why turmeric? ((Boy am I full of lessons today!))
If you haven't heard of turmeric, this golden spice, that's most commonly found in curry powder, is totally having a moment right now. Well, actually it's not riiiight now because it's been going on for a while, but still… turmeric's moment is still going strong!
Have you tried my Turmeric Hummus??
You can find ground turmeric in nearly every grocery store nowadays, but if you happen to wander into a specialty grocer, look for real turmeric root… just so ya know where turmeric spice comes from!
Turmeric is known for its anti-inflammatory benefits, which means regular consumption can help prevent inflammatory diseases like heart disease, diabetes, cancer, Alzheimer's disease and more. I sprinkle turmeric on everything from roasted carrots to my stir fry to chia pudding now!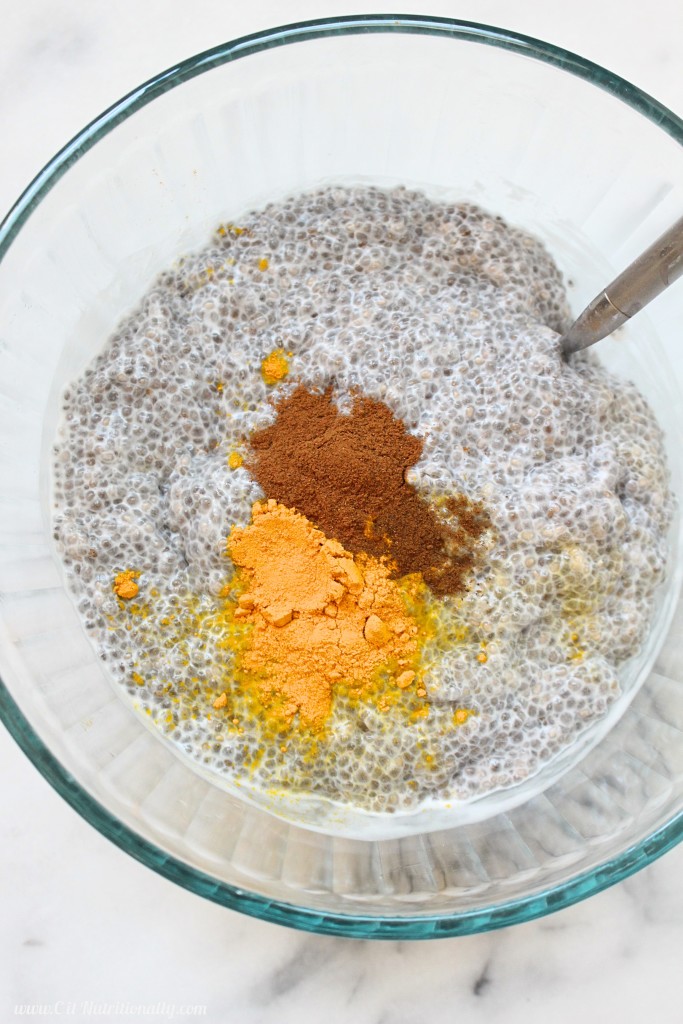 This Apricot Turmeric Chia Pudding is…
A nourishing way to start your day!
Made with no added sugar
Vegan
Gluten free and Grain free
Free from the top 8 food allergens (may use milk alternative)
Made with just 7 ingredients…
And in less than 30 minutes!
Apricot Turmeric Chia Pudding
Ingredients
1/2 cup chia seeds
2 1/4 cups coconut milk* (or other milk alternative)
1 15oz can Libby's Apricot Halves
1 teaspoon turmeric
1/2 teaspoon ground cinnamon
1/4 teaspoon ground ginger
1/8 teaspoon ground cloves
Instructions
Combine chia seeds and coconut milk in a medium-sized bowl, mix together, and refrigerate for about 20-30 minutes, or until the mixture gels.
While the mixture is chilling and gelling, drain one can of Libby's Apricot Halves, less 1 tablespoon of the juice, and chop apricots.
After about 20 minutes the chia mixture should be of pudding-like consistency. Add 1 tablespoon of the apricot juice and spices. Mix well to combine. Then add the chopped apricots and gently fold into the chia pudding.
Serve immediately as is or with a dollop of yogurt, nut/seed butter or toppings of your choice! Enjoy! :)
Notes
*The FDA considers coconut a tree nut, however, many individuals with tree nut allergies are not allergic to coconut. Please get tested by your physician before trying coconut if you are allergic to tree nuts. You may substitute any milk alternative.
http://citnutritionally.com/apricot-turmeric-chia-pudding/
Don't forget to PIN IT…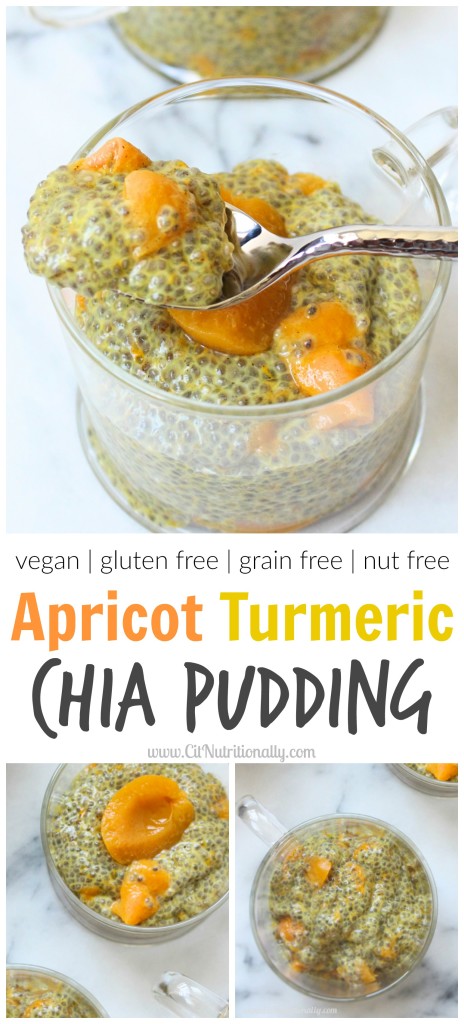 What's your favorite nourishing and wholesome recipe to make with canned foods? Share with me in the comments below!
XO
PS – Don't forget to sign up for my newsletter — a special report on my tiny kitchen cooking essentials is coming TOMORROW!!!
Let's get social! 
If you want to stay connected or you make something from C it Nutritionally I would LOVE to see your creations! Tag me or use the hashtag #CitNutritionally!

Facebook: C it Nutritionally
Twitter: @ChelseyAmerRD
Instagram: @CitNutritionally
Pinterest: ChelseyAmer