Lightened up finger food perfection with a southwestern twist — Baked Avocado Egg Rolls filled with creamy avocado, black beans, corn, and more in a crispy, yet fat-free, shell!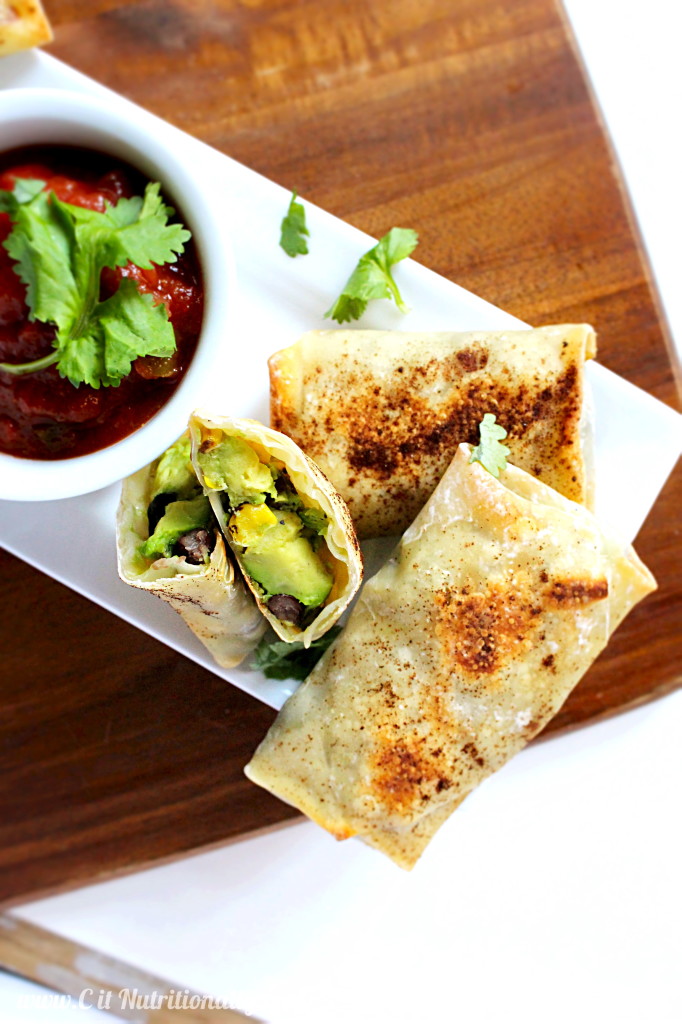 I don't know about you but I have a history of being not so good TERRIBLE at organizing/scheduling/planning blog posts. I have a looooong list of recipes I want to make and when I should make them, folders on my computer separating blog posts by month…and yeah, notsomuch. Apparently my brain has a limitation on it's organizational capacities and well, I need to be organized for school and work, so it's like saying nah nah nah nah for blogging.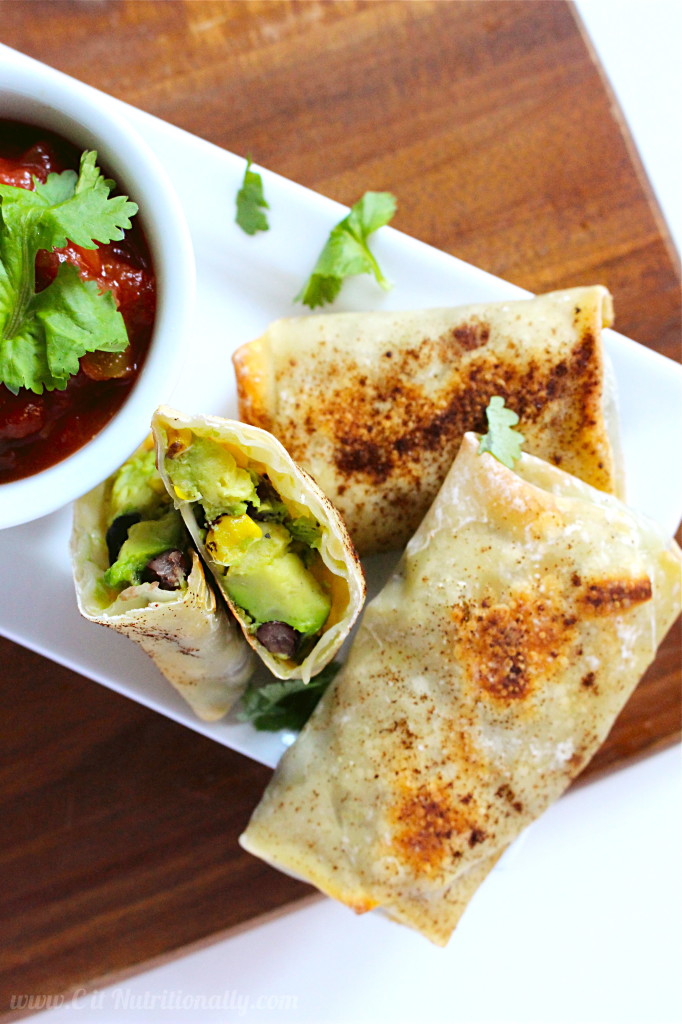 So this recipe wasn't "supposed to" happen quite yet. I was thinking great Cinco de Mayo twist or just not now. But you know what? The Super Bowl is coming, I saw egg roll wrappers in the grocery store, bought them and my 2 avocados on my counter were starting to get a litttttle too soft. 
Voila. 
Baked Avocado Egg Rolls.
This idea popped into my head a while ago and I thought "GENIUS!" 
Whenever I think I come up with a great recipe idea I always Google it because I don't want to copy anyone else's genius-ity and portray it like my own. So when I thought of making avocado egg rolls, I did just that. 
Turns out…it's a thing…at The Cheesecake Factory, no less. 
BUT it turns out one [yes, ONE small, tiny, single] egg roll has 960 calories!!!
I've seen a few bloggers re-make their own recipes, but they tend to still be fried and contain wayyyy too many calories for an appetizer…in my healthy, yet humble, opinion.
We're all about balance here, but this recipe was too easy to healthfully makeover! I included traditional Southwestern flavors — avocado, cilantro, black beans, corn — but BAKED them so you'll still get a crispy exterior, but without all of the fat from frying. WIN-WIN!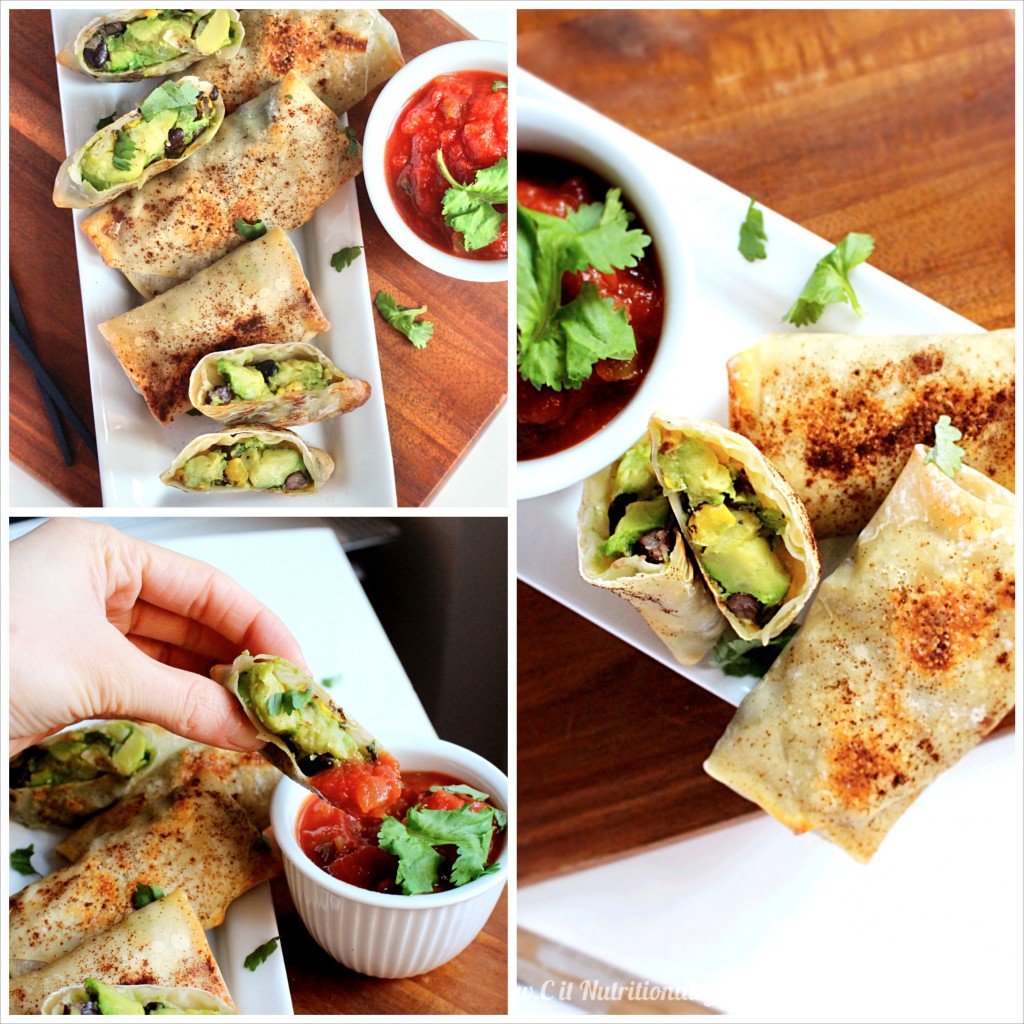 These are to. die. for. 
Unfortunately, egg roll wrappers contain egg and wheat so they're not for the vegan or gluten-free folk, but they are 100% vegetarian, contain healthy fats and plant-based protein (BEANSSSS), and they're FINGER FOOD people!!!! Who doesn't love finger food?!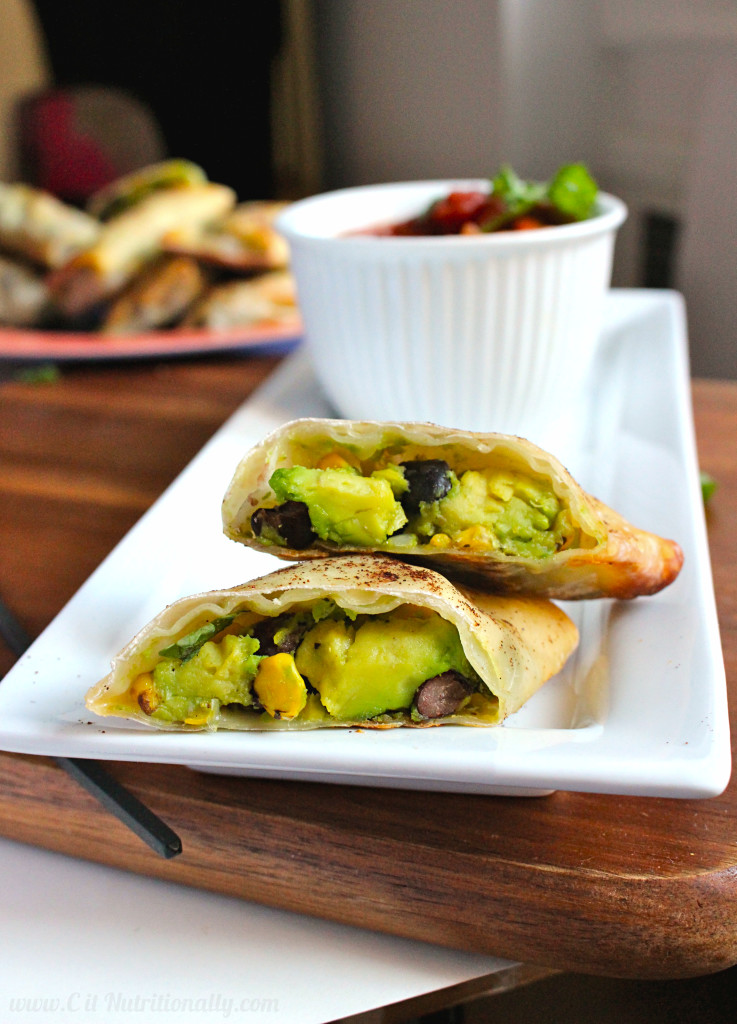 I suppose you can make a raw version with rice paper for you gluten free and vegan followers, but I haven't tried that….yet! 
Get excited for next week's game…or as I heard someone on TV refer to it, "the opener for the Katy Perry concert…" because the best part about the Super Bowl is the halftime show…well, and the FOOD! These are ridiculously simple to make, but totally look impressive…or at least I think so!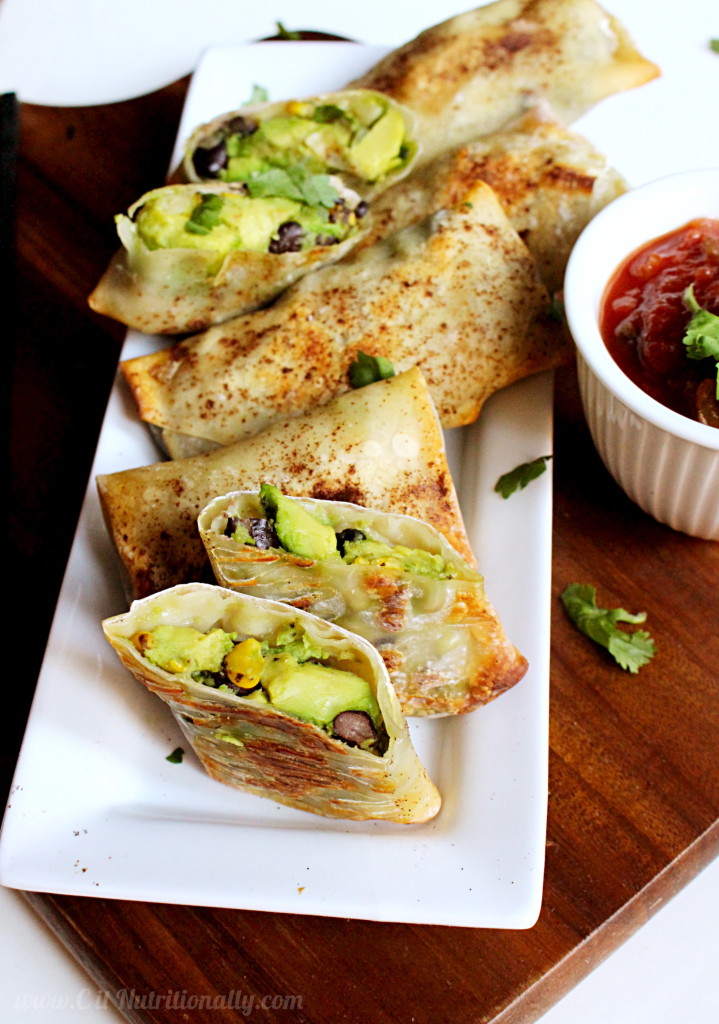 I'll stop rambling now because I've been quite the Chatty Chelsey today…I guess it's 1st day of school jitters…
Combine your filling ingredients in a small-ish bowl. 
Make substitutions as you see fit and what you have in your pantry. If you have that gene that makes cilantro taste like soap, just leave it out or sub parsley…but I'm really sorry you have that gene because I think cilantro is the bomb dot com.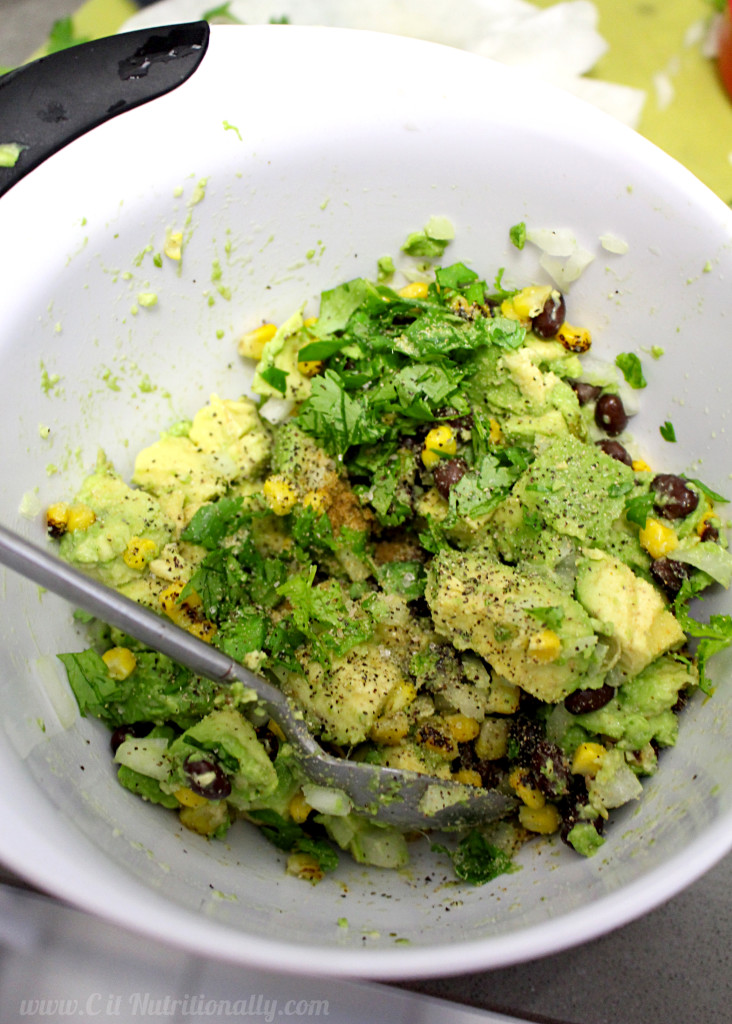 When assembling your egg rolls, put the wrapper on a flat surface in front of you like the shape of a diamond. Place the filling in the center, but more towards the corner closest to you. Then fold in the two opposite corners over the filling so they're just touching. Fold up the bottom corner and tuck it over your filling. Then roll towards the top corner, pinching in the sides as needed. 
It might take a little bit of practice, but it's just like rolling a burrito!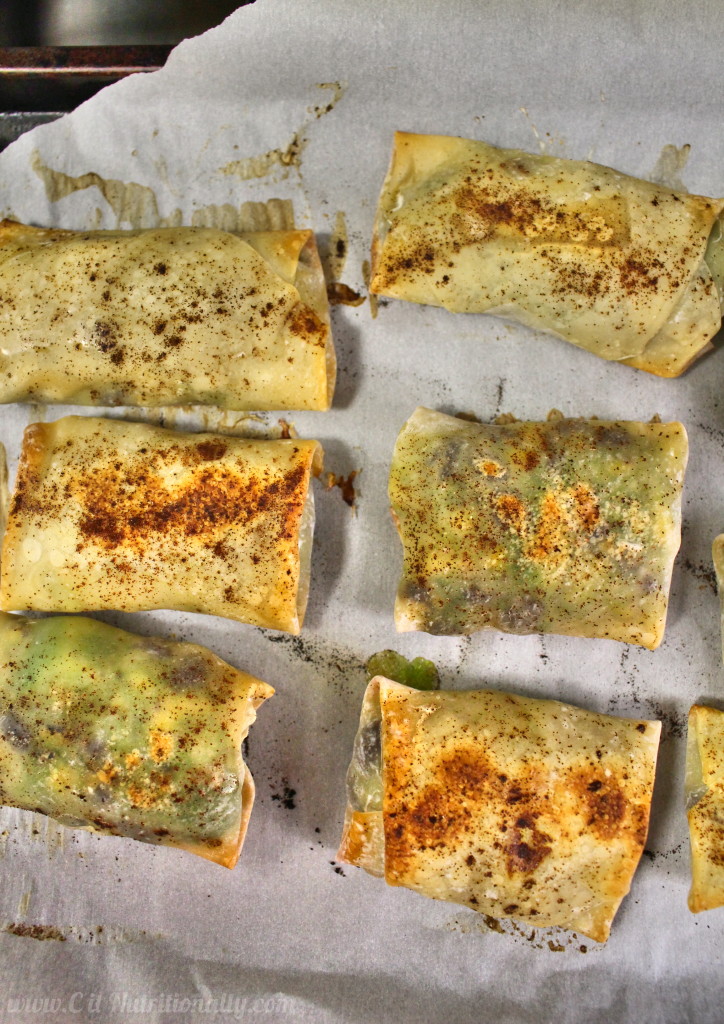 Use an egg wash (or plain water) for a shiny and crispy exterior and to ensure that they stick together. You can assemble the egg rolls ahead of time, but brush on the egg wash and bake just before serving. They only take 20 minutes to bake…they should be golden brown!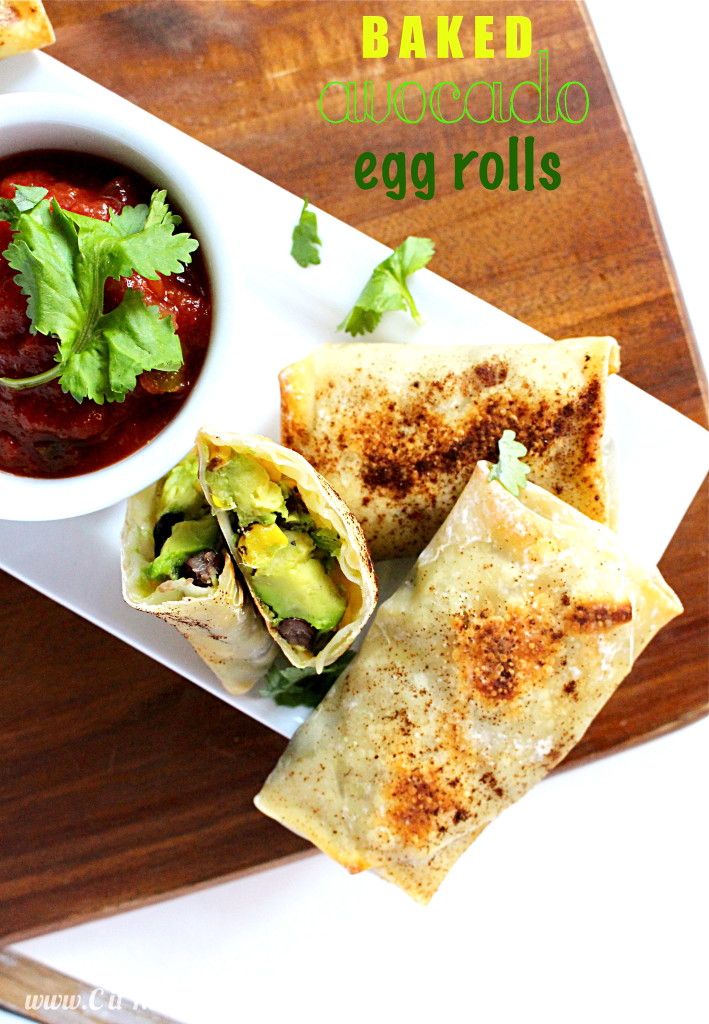 Ingredients
2 small avocados, chopped
¼ cup onion, chopped
½ cup corn kernels, fresh or frozen
¾ cup black beans
2 tablespoons cilantro, finely chopped
¼ teaspoon granulated garlic
Sea salt and black pepper, to taste
Pinch of cumin
Optional: Jalapeno
8-10 egg roll wrappers (found in the refrigerated section, typically near the tofu)
Instructions
Preheat oven to 425°F.
Combine avocado, onion, corn, beans, cilantro, and spices in a small bowl.
Place an egg roll wrapper on a flat surface. Place a hefty spoonful of the avocado filling in the center. Brush egg wash on the edges, fold in two edges, then the bottom corner, and roll. Place on a parchment paper-lined cookie sheet seam-side down.
Continue until all filling is used.
Brush the top of all rolled egg rolls with egg wash. Sprinkle with chili powder if desired.
Bake at 425°F for 20 minutes.
Serve immediately with salsa or a Greek yogurt-based dipping sauce.
Notes
Nutrition Facts (per egg roll): 165 calories, 5g fat, 200mg Na, 4g fiber, 5g protein
http://citnutritionally.com/baked-avocado-egg-rolls/
Your Super Bowl guests (or kids on a Thursday night) will LOVE these!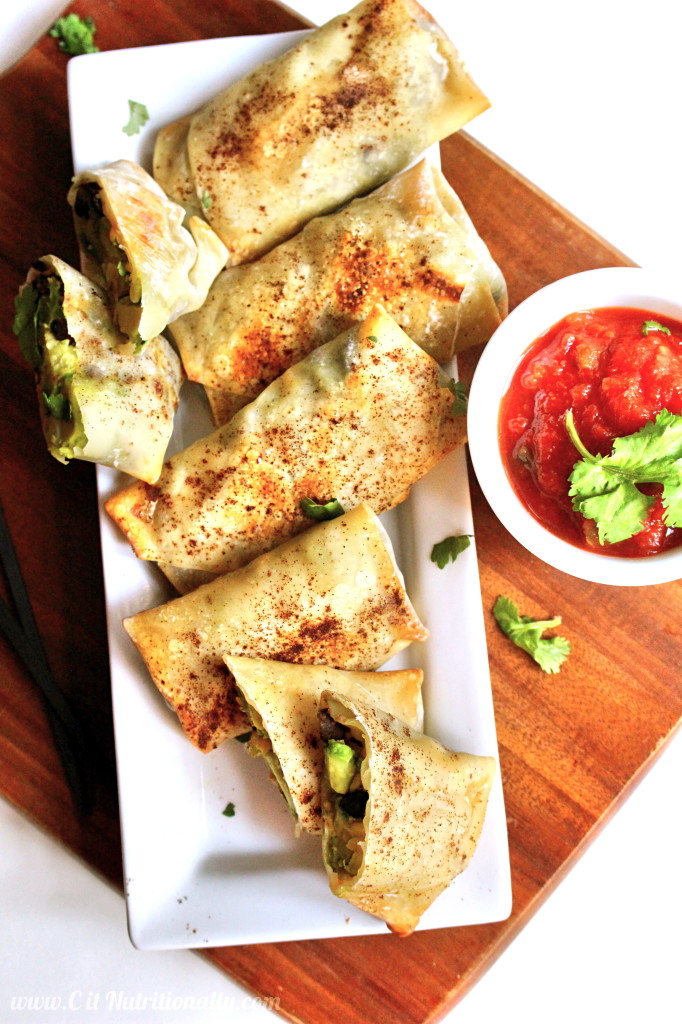 Happy food shopping! Oh and Meatless Monday! Here's what I'll be eating today… 
Breakfast: Allergen-Free Green Smoothie (Best fuel before a morning workout!)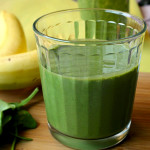 Lunch: Winter Kale Salad (Yes, still obsessed with this one!)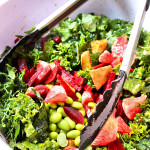 Snack: Leftover Egg Rolls, duh! (see above!)
Snack 2: Homemade Sunflower Seed Butter with celery sticks & an apple! (Need energy to get through class!)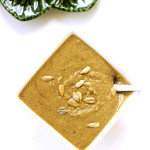 Dinner: Veggie Soup (I get home from class at 9:30pm, so just something light!)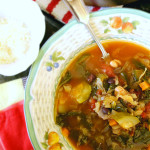 XO