Spring clean your pantry and make this Baked Sweet Potato French Toast Casserole that is full of whole grains, ingredients you likely have on hand and makes for the most delicious brunch ever! Vegetarian, Dairy free, Nut free, Peanut free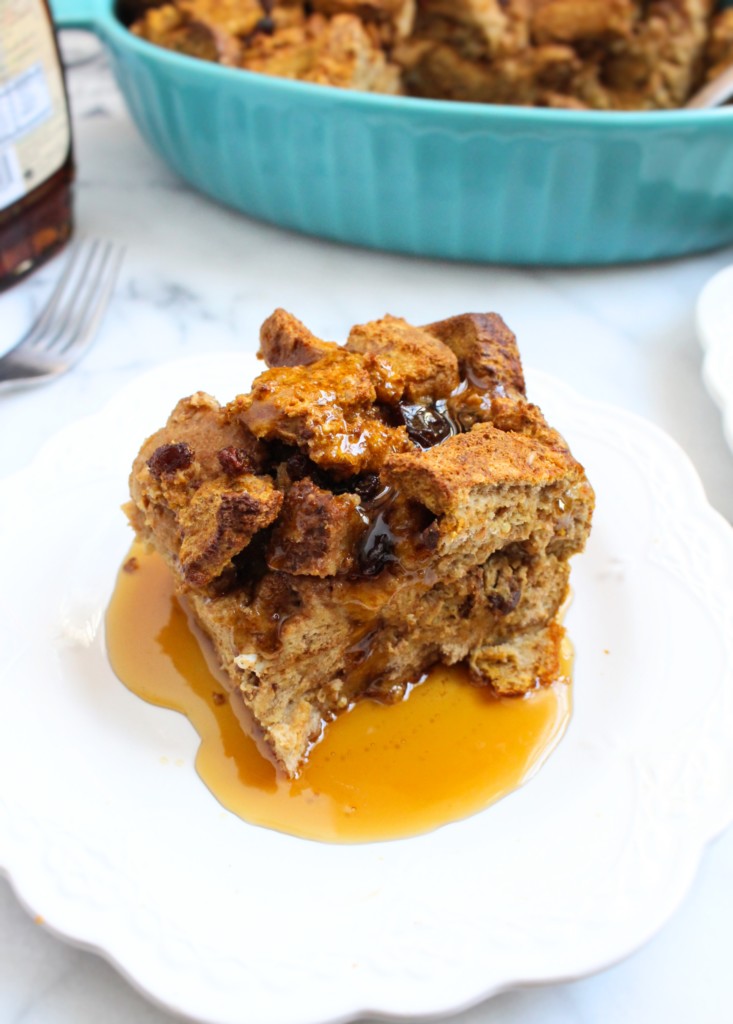 Happy TUESDAY! ((I know… whaaat?!))… I rarely grace your presence on Tuesdays but it's Recipe Redux time so haiiiii! This month's theme is so freakin' fun… we're SPRING CLEANING…
Cook with at least 3 ingredients that are actually in your refrigerator or pantry right now. Try not to go to the store to buy anything new. Give tips on how to make a healthy dish out of whatever you have on-hand.
I'm alllll about making meals from what I have on hand because it reduces waste, prevents things from sitting in my pantry or freezer past their expiration date, and well, to be honest I don't always make it to the grocery store on time, so this theme was perfect for me!
Not to mention, Passover is coming so cleaning out my pantry (especially from bread and grains) was bound to happen sooner or later!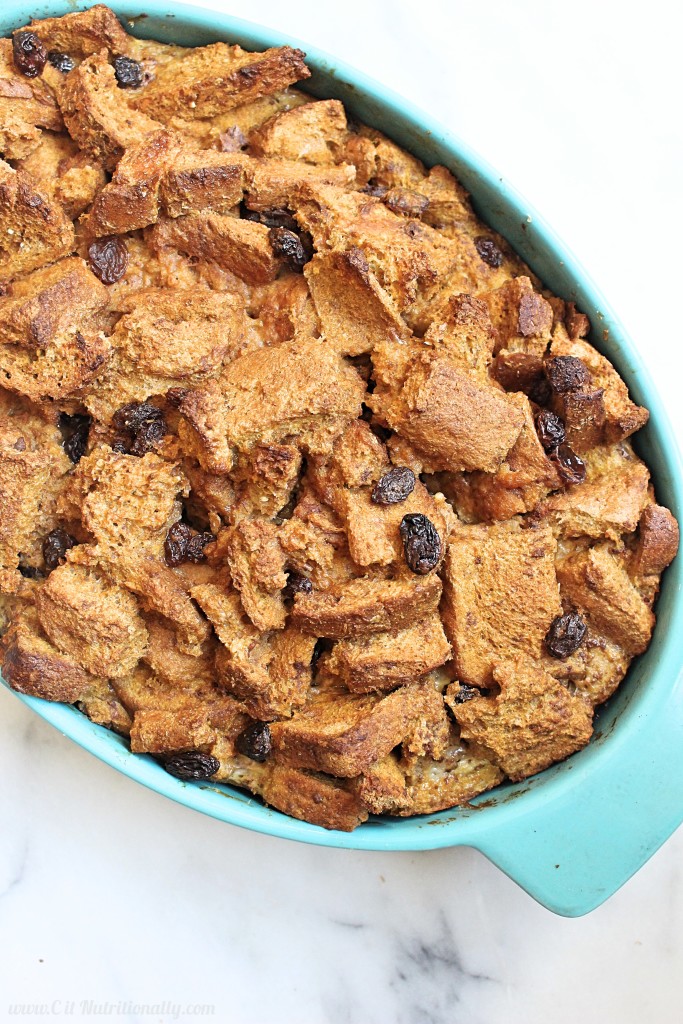 So meet this delicious Baked Sweet Potato French Toast Casserole that will literally wow your socks off.
I'm not exactly sure how it happened but overnight we had like 3 loaves of bread in the freezer. I haven't really been on a toast kick lately so I guess it piled up, and one way to use it up quickly was to french toast all of it… casserole style!
You too can make a healthy dish from whatever you have going on in your pantry, fridge and freezer if you follow these three tips…
Look for a source of

protein and fiber and mix 'em together. This balance of nutrients is ideal for a healthy meal!
Stock the basics (with far-off expiration dates) in your pantry, fridge and freezer at all times. We usually always have a dozen eggs in the fridge, some frozen veggies, fruit and bread in the freezer and a bunch of canned beans and dry grains in our pantry. I consider this the bare minimum for us so we can always throw SOMETHING together. Your staples might be slightly different and that's OK too!
Think outside the box.

Sure a french toast casserole isn't too crazy, but I had a can of sweet potato puree hanging around from last fall so I decided to throw it in there to boost the nutrition.
I like to say that healthy eating can be nutritiously delicious … you don't have to compromise flavor for nutrition! And you shouldn't!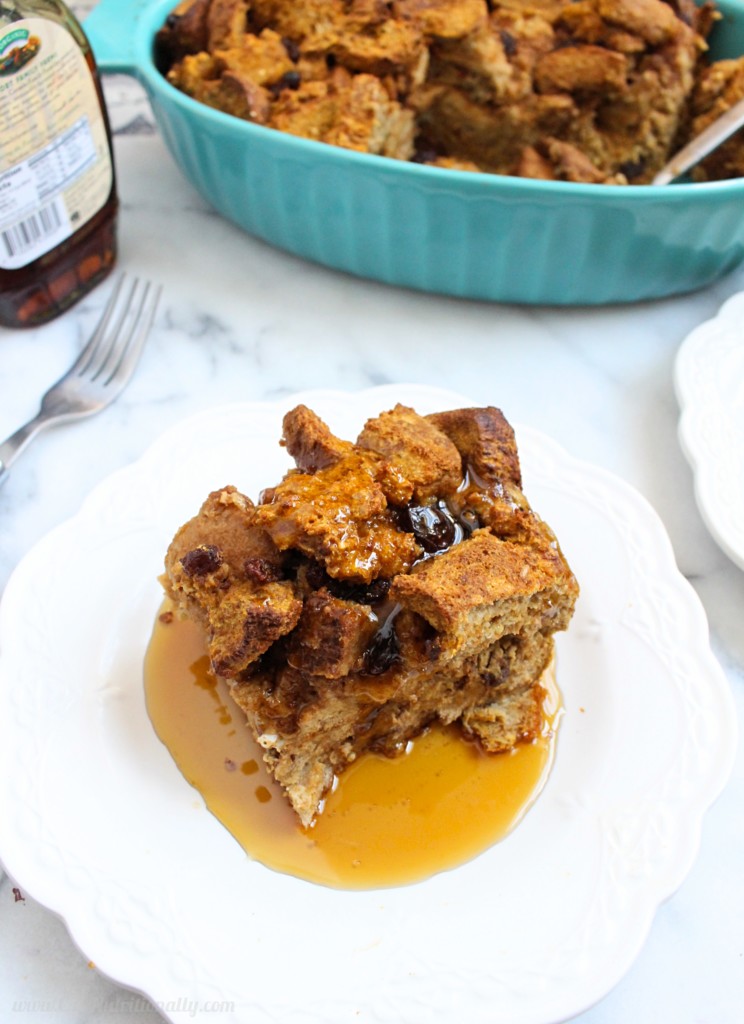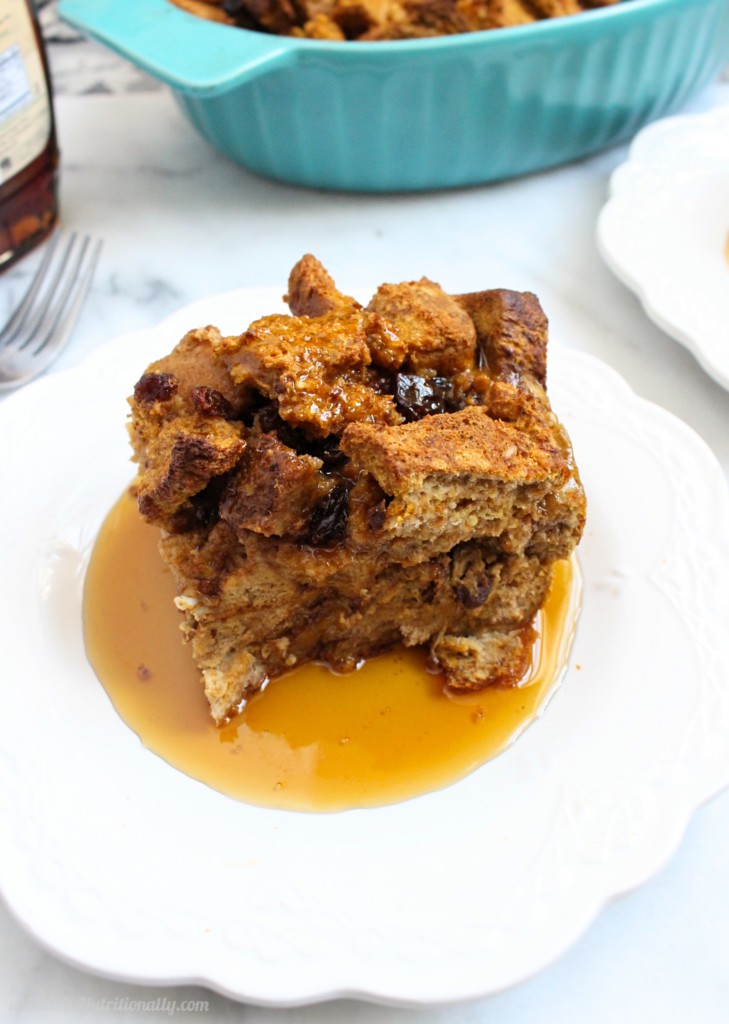 This Baked Sweet Potato French Toast Casserole is…
Naturally sweetened with sweet potato…
AKA added sugar-free!
Made with ingredients you likely have on hand
Chock full of whole grains
And tons of vitamins and minerals!
Watch me make this Baked Sweet Potato French Toast Casserole…
Baked Sweet Potato French Toast Casserole
Ingredients
20 slices stale whole grain bread, cubes
2 cups unsweetened coconut milk (or other milk alternative)
8 large eggs
1 cup sweet potato puree
1/4 cup unsalted butter, melted (you may substitute coconut oil or vegan buttery substitute)
2 tablespoons pure vanilla extract
2 tablespoons ground cinnamon
1 teaspoon ground ginger
1/2 teaspoon salt
1/3 cup raisins
Optional (but recommended!): Pure maple syrup
Instructions
Coat a large baking dish (~9 x 12") with coconut oil or butter and add cubed bread. Set aside.
In a large bowl, whisk together milk, eggs, sweet potato puree, butter, vanilla extract, spices and raisins.
Pour wet ingredients over the bread and make sure all bread is soaked thoroughly. Mix carefully so combined. You may cover and refrigerate for a few hours or overnight. Alternatively, you can bake immediately.
Bake for 50-60 minutes in a preheated 350°F oven. Top should be crispy and browned on top when done. Let sit for a few minutes before serving with pure maple syrup!
http://citnutritionally.com/baked-sweet-potato-french-toast-casserole/
Don't forget to PIN IT…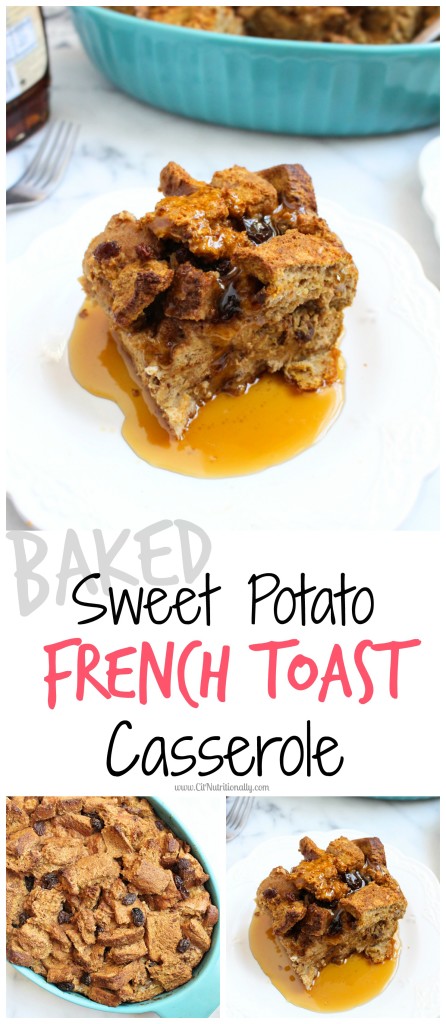 And now check out how many of my healthy blogging friends Spring cleaned their kitchens…
XO

Let's get social!
Facebook: C it Nutritionally
Twitter: @ChelseyAmerRD
Instagram: @CitNutritionally
Pinterest: ChelseyAmer