Creamy, berry-licious and totally delicious, this banana-free creamy berry smoothie has become my go-to morning meal for a little added pep in my morning step!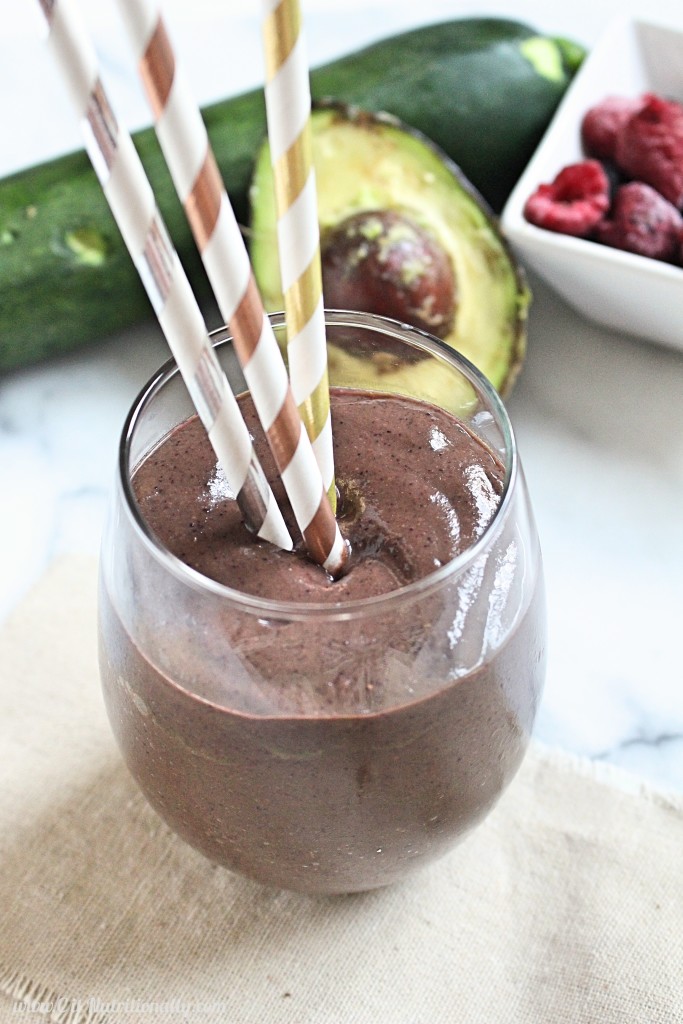 Happy Monday, friends! I took off the ENTIRE weekend from work, so this post is coming atcha a little late today, but better late than never, amiright?! 
I'm sharing this Banana-Free Creamy Berry Smoothie NOT because I dislike bananas (like duh, I'm obsessed!), and NOT because I'm afraid bananas have too much sugar (READ THIS ASAP!!!), but because I simply didn't have any bananas in the house when I created this insanely delish combo and I cannot wait another second to share it with you!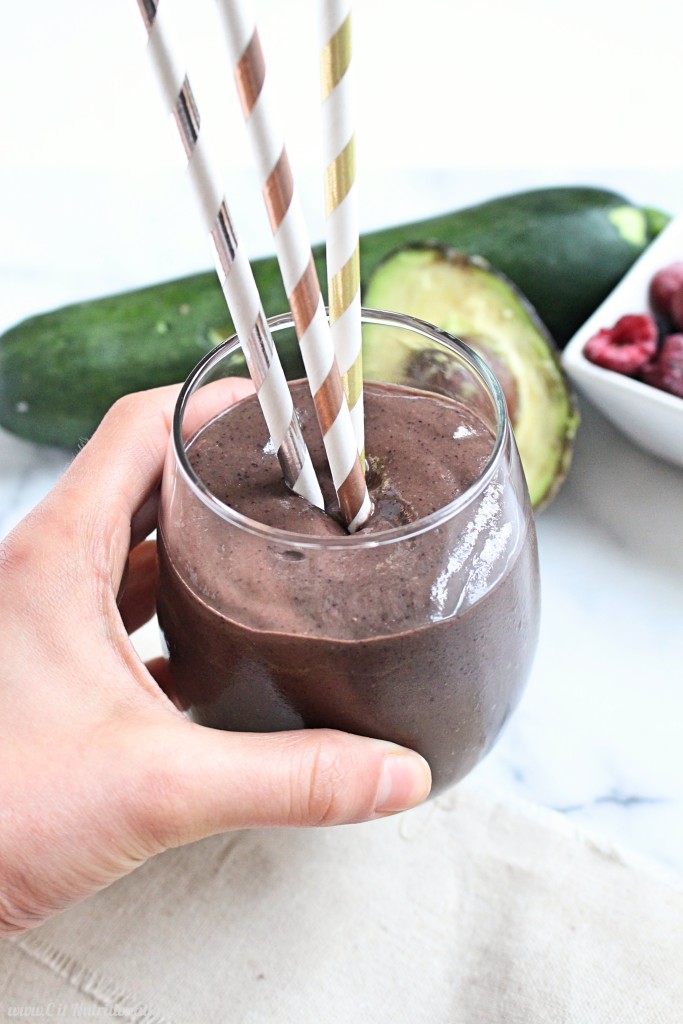 I have too much to say for one post about this banana fear-mongering I'm seeing in the health-o-sphere, so I'll be back atcha on Wednesday for more banana-free smoothie recipes and my true thoughts about naners, so today just enjoy this recipe for what it is… delicious, nutritious, refreshing, and NOTHING to do with the fear of bananas!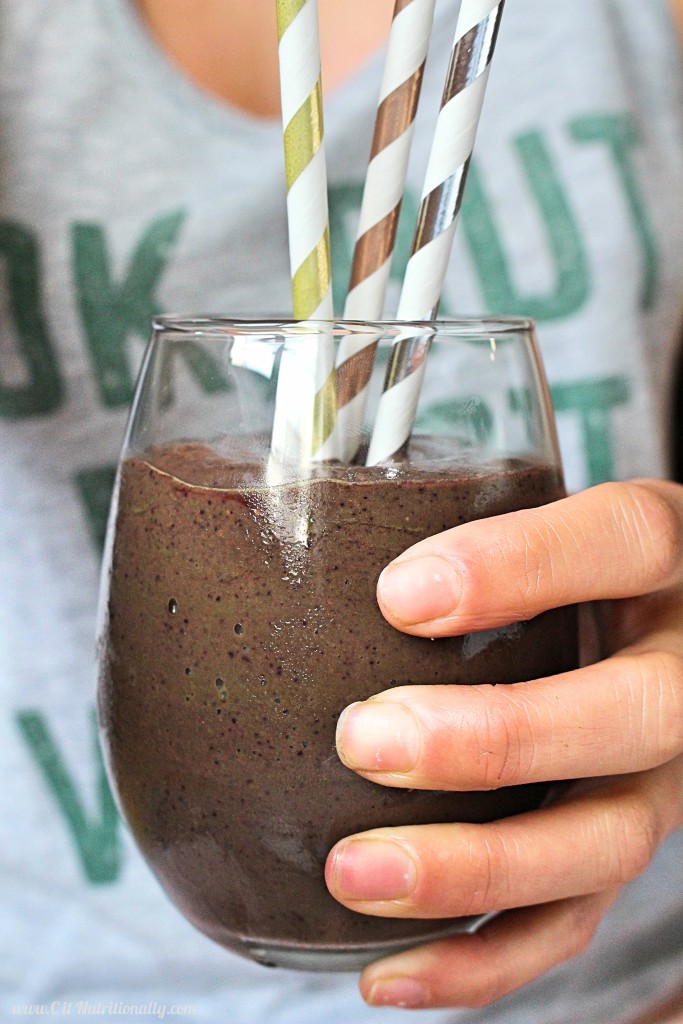 Even more, this Banana-Free Creamy Smoothie is…
Easy to make in less than 3 minutes
Free of the top 8 food allergens
Made with 3 veggies, but doesn't taste "green" <– very important!!!
Vegan, gluten-free, paleo, whole 30 approved…yada, yada, yada…
And when I say it really doesn't taste "green," I mean it!! Because who wants to drink a salad when you're trying to have a berry-licious brekkie?? Not moi! 
Let's drop, lock and bleeeennndd….
Banana-Free Creamy Berry Smoothie
Ingredients
3/4 cup frozen mixed berries (I used wild blueberries and organic raspberries)
1/2 cup dairy free milk of choice (I used Ripple milk)
1/2 small zucchini, chopped
1 large steamed beet
1/4 avocado
1 scoop protein powder (I used Vital Proteins marine collagen - affiliate)
3 cups organic baby spinach
Optional: 1 teaspoon unsweetened cocoa powder
Instructions
Add all ingredients into a high-powered blender and blend until smooth, scraping down the sides if needed.
Enjoy cold!
http://citnutritionally.com/banana-free-creamy-berry-smoothie/
Don't forget to PIN IT…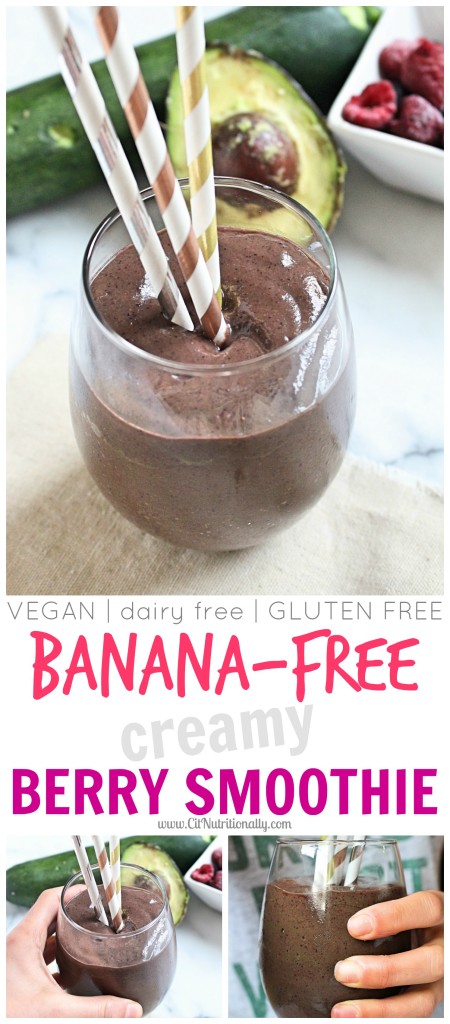 Have a delicious, smoothie-licious Monday my friends!
XO
If you want to stay connected or you make something from C it Nutritionally I would LOVE to see your creations! Tag me or use the hashtag #CitNutritionally!


Let's get social! 
Facebook: C it Nutritionally
Twitter: @ChelseyAmerRD
Instagram: @CitNutritionally
Pinterest: ChelseyAmer