Creamy, berry-licious and smoooooth as silk, these dietitian-approved banana-free smoothie recipes are every bit delicious as they are nutritious!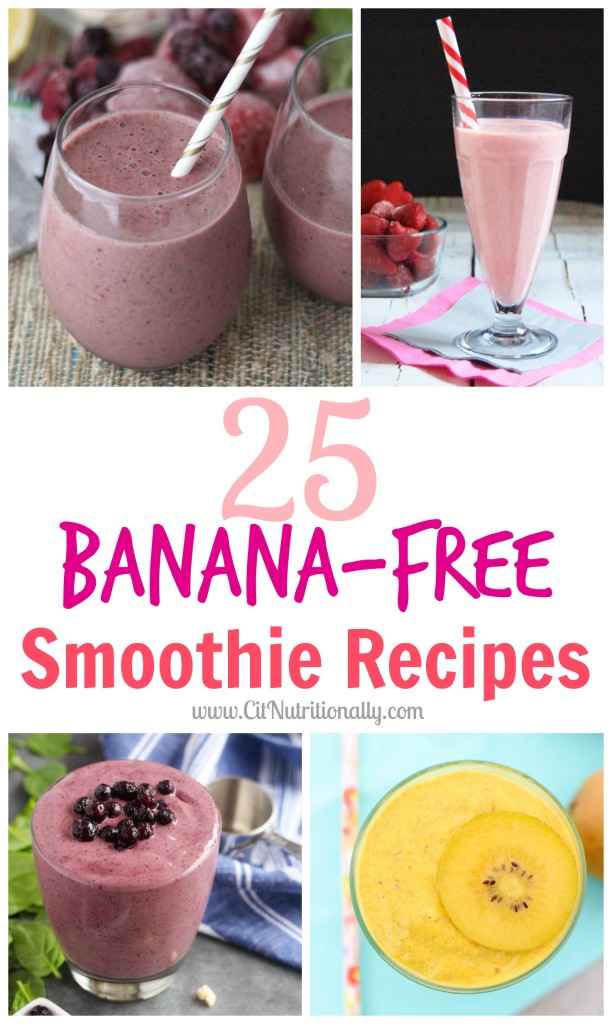 I think it's officially smoothie season in NY! Even though I sip smoothies year round, when the sun is shining, smoothies become an any meal of the day affair over here!
Like I hinted on Monday, the health-o-sphere (in my opinion) has been SUPER critical of smoothies lately…. Like, how could you include fruit — especially bananas — in your smoothie, critical.
WHAT? No naners? That yellow fruit that monkeys love… and so do I??? 
It seems to be so! Apparently they have "too much sugar." <– one of my FAVORITE myths to dispel as a dietitian!
Now, I happen to have a few clients and family members who honestly despise the taste of bananas (not sure how that happens!), and that's not what I'm talking about here. I'm talking about the fear-inducing "bananas are loaded with sugar and SO bad for you" fear-mongering that's going around Instagram and some health-minded blogs.
This "fear" of bananas isn't new, but I've been seeing a new resurgence when it comes to bananas and sugar, so let me remind you of this little post I wrote a couple of years back.
Let's end it now.
And now let's get something straight… the average healthy human can TOTALLY eat bananas without worrying about disease, health and, well, happiness. There's NOTHING wrong with bananas! They average 105 calories, have 3 grams of fiber, over 1 gram of protein, not much fat, and yes, they have sugar, but so does all fruit. So puuuhhh-leaseeee don't tell me that you're not eating bananas and then go eat an "energy" bar full of JUNK before your workout. K, thanks.
Anyyyywhooooo, since I do have clients who don't like bananas, but want to enjoy smoothies with this warmer weather, I figured this is the perfect time to round-up some DELICIOUS, nutritious and EASY banana-free smoothie recipes from some of my favorite dietitians!
Here are 25 Banana-Free Smoothie Recipes…
Wild Blueberry Coconut Cream Swirl Smoothie via My Cape Cod Kitchen
Beet Green Smoothies (Kid-Approved!) via Fresh Food Bites
Berry White Tea Smoothie via Living Well Kitchen
Rose Avocado Smoothie via The Delicious Crescent
Chocolate Wild Blueberry Smoothie via C it Nutritionally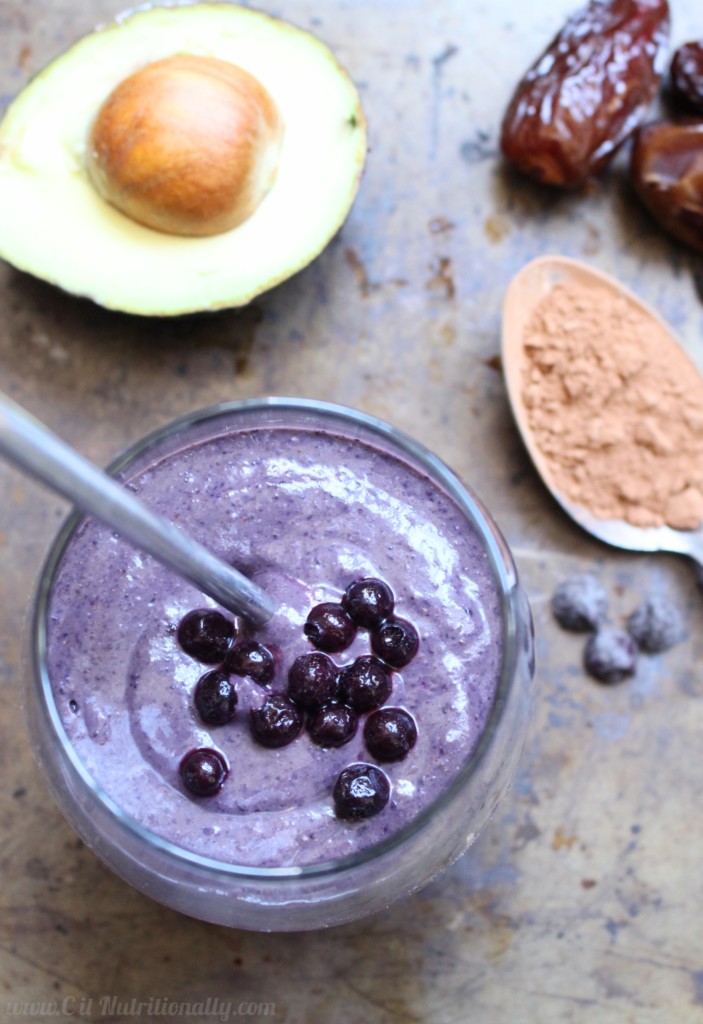 Toasted Coconut Wild Blueberry Smoothie Bowl via Nutrition Starring You
Roasted Apricot Almond Smoothie via The Foodie Dietitian
Wild Blueberry Cashew Coconut Smoothie via Nutrition Pro Consulting
Sungold Summer Squash Smoothie via Emily Kyle Nutrition
Honeydew Avocado Kale Smoothie via Nutrition to Fit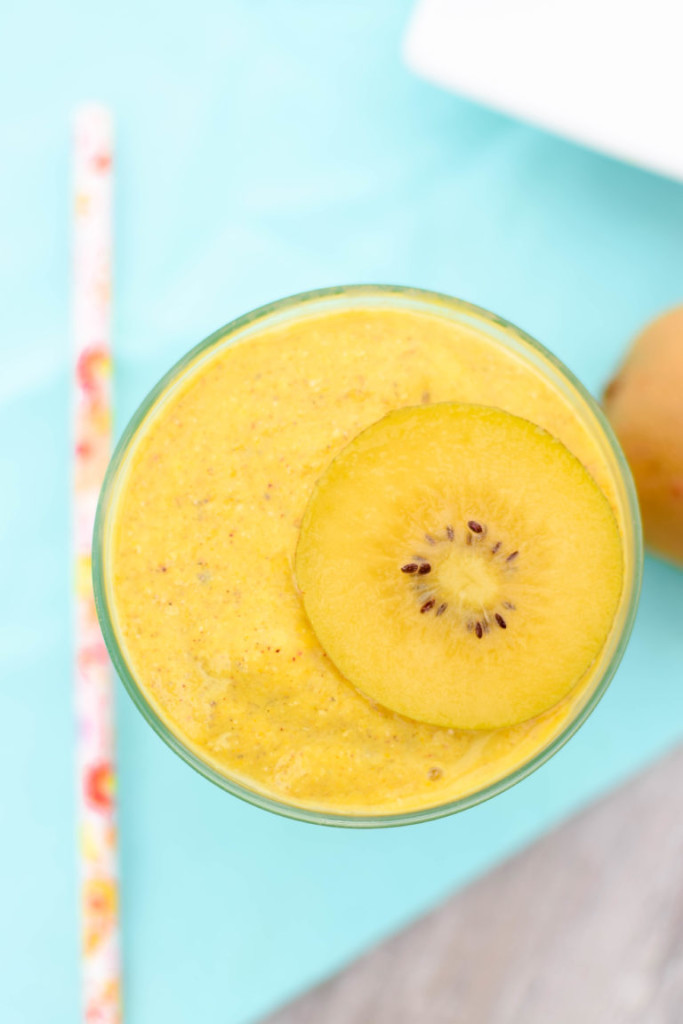 Strawberry Kefir Smoothie via Nutritioulicious
Blueberry Cauliflower Smoothie via The Lean Green Bean Blog
Blueberry Cream Smoothie via Yes! Nutrition
Wild Blueberry Chia Seed Smoothie via Meal Makeover Moms' Kitchen
Carrot Pineapple Smoothie via Marisa Moore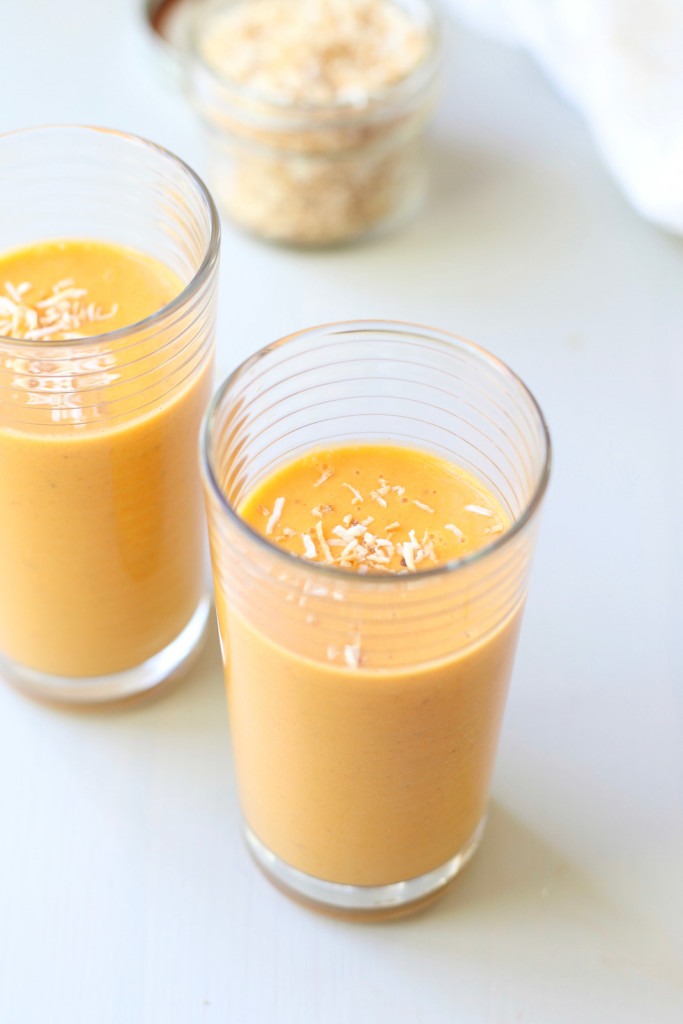 Wild Blueberry Ginger Peach Smoothie via Street Smart Nutrition
Pumpkin Pie Smoothie via Amy Gorin Nutrition
Cherry Amaranth Almond Smoothie via Live Best
Wild Blueberry Flaxseed Smoothie via The Baby Steps Dietitian
Healthy Strawberry Milkshake via C it Nutritionally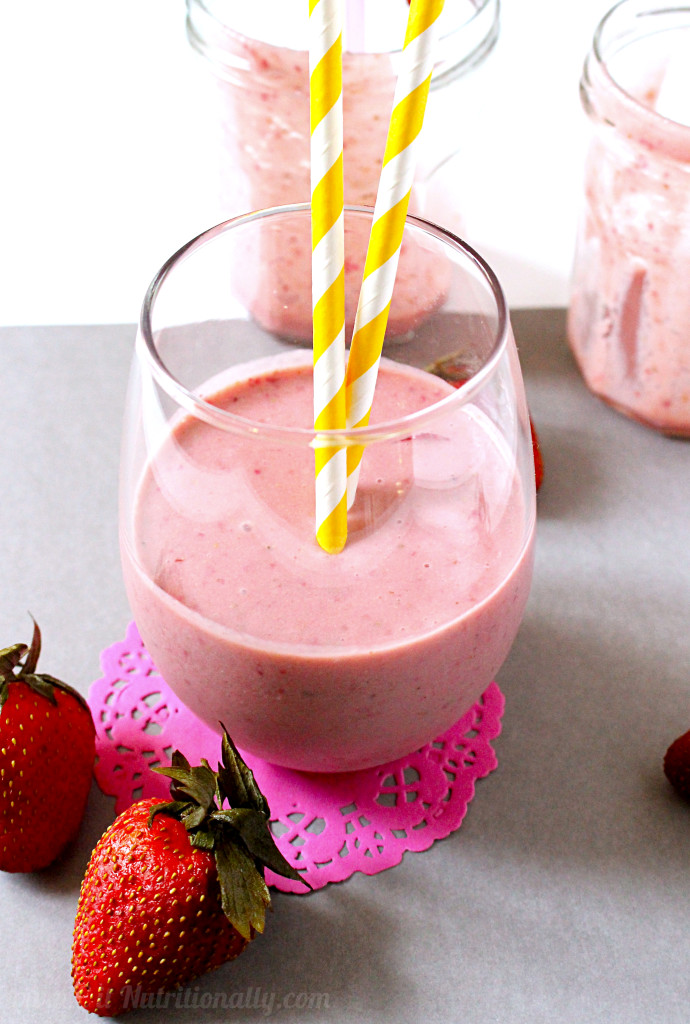 Chocolate Cherry Recovery Smoothie via Snacking in Sneakers
Golden Mango Smoothie via Kiss in the Kitchen
Green Protein Smoothie via Eat Real Live Well
Almond Butter and Jelly Smoothie via The Nutrition Adventure
 Banana-Free Creamy Berry Smoothie via C it Nutritionally
Don't forget to PIN IT… 
XO
If you want to stay connected or you make something from C it Nutritionally I would LOVE to see your creations! Tag me or use the hashtag #CitNutritionally!


Let's get social! 
Facebook: C it Nutritionally
Twitter: @ChelseyAmerRD
Instagram: @CitNutritionally
Pinterest: ChelseyAmer