My Basic Chia Pudding is one of my go-to breakfasts or snacks, especially when I'm trying to cut my added sugar intake. It's full of fiber, protein and healthy fats that keep me full for hours. Try these 4 variations and your taste buds will thank you!
Vegan, Gluten free, Grain free, Dairy free, Nut free, No added sugar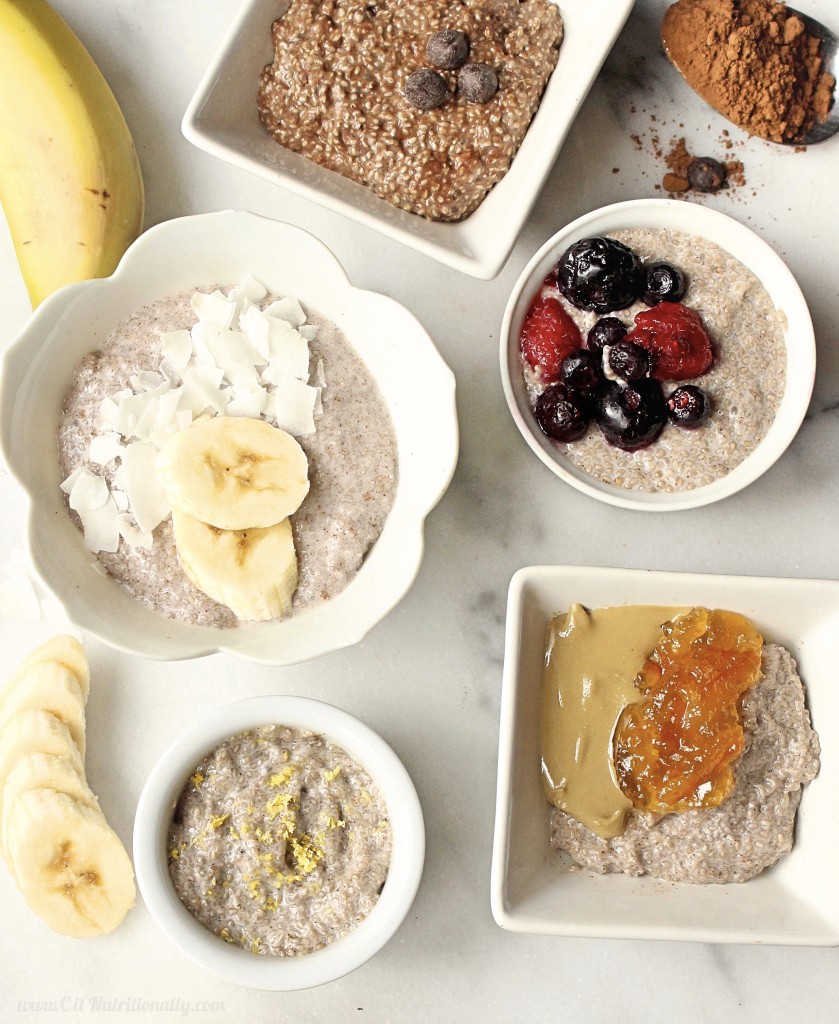 This week has been full of new and exciting things so far…
I'm hosting my FIRST nutrition workshop at 305 Fitness this morning so I'm a bundle of nerves right now.

If you're in NYC and reading this before 9:30am come on ova to the

Midtown studio

for breakfast and tons of great nutrition information!

I'm posting TWO recipe videos in one week! Did you see my Immune-Boosting Soup from Monday? Then scroll below for #2!

I started a new consulting position with a fabulous start up and I can't wait to share the details with you guys!

Not new, but exciting…I'm hosting a GREAT giveaway on Instagram so be sure to head there ASAP to enter!

I'm cutting out all added sugar for Further Food's #SugarDetox —

ahhh! ((not an ad!))
So let's talk a little bit about this Sugar Detox because on the whole, I definitely do not eat A LOT of added sugars, but since ketchup is one of my favorite foods, sugar DEFINITELY sneaks its way into my diet WAY more than I would have liked.
Not to mention I've been noticing this 3pm sugar craving lately that I've been satisfying with some dark chocolate chips (nothing wrong with that!), but it quickly became a daily occurrence and I want to break the habit.
Soooo when I saw Further Food's 7-Day Sugar Detox Challenge I decided why the heck not! I got S on board too so we've been doing it together and although it hasn't been all fun and games, it's been a great challenge, the perfect way to feel good after beating this nasty flu and a way to reboot before we fly off to Israel in a few weeks (yayyyyy!).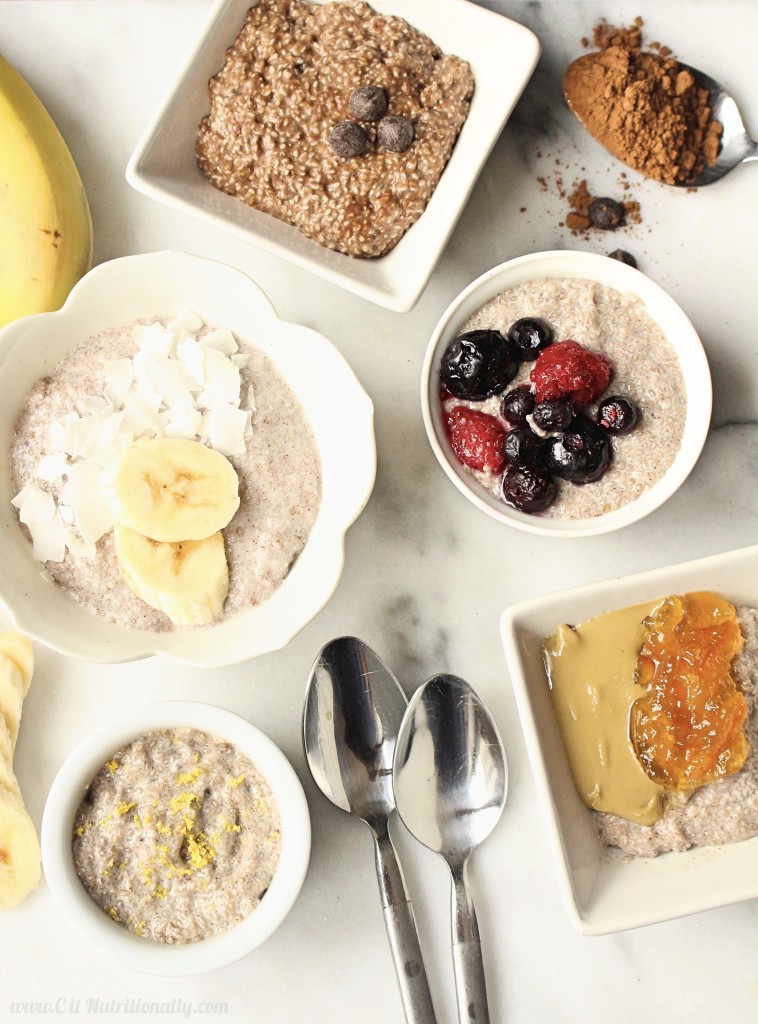 So that's where this so very basic chia pudding comes in. It has NO added sugar!
To be completely honest I wasn't always a fan of chia pudding. Chia jam?! Yes please! But 'pudding?' Notsomuch. The texture is definitely pudding-ish and I guess I can call it an acquired feel for me, so I urge you to try it. And if you didn't like it the first time, try it again and maybe you will this time. But if you don't, that's OK too! 
But I really think you will.

My basic chia pudding is made with 4 essential ingredients with two of the four ingredients being spices.
Unsweetened coconut milk (you can sub in any unsweetened milk you please here)

Salt
Like I said…B A S I C.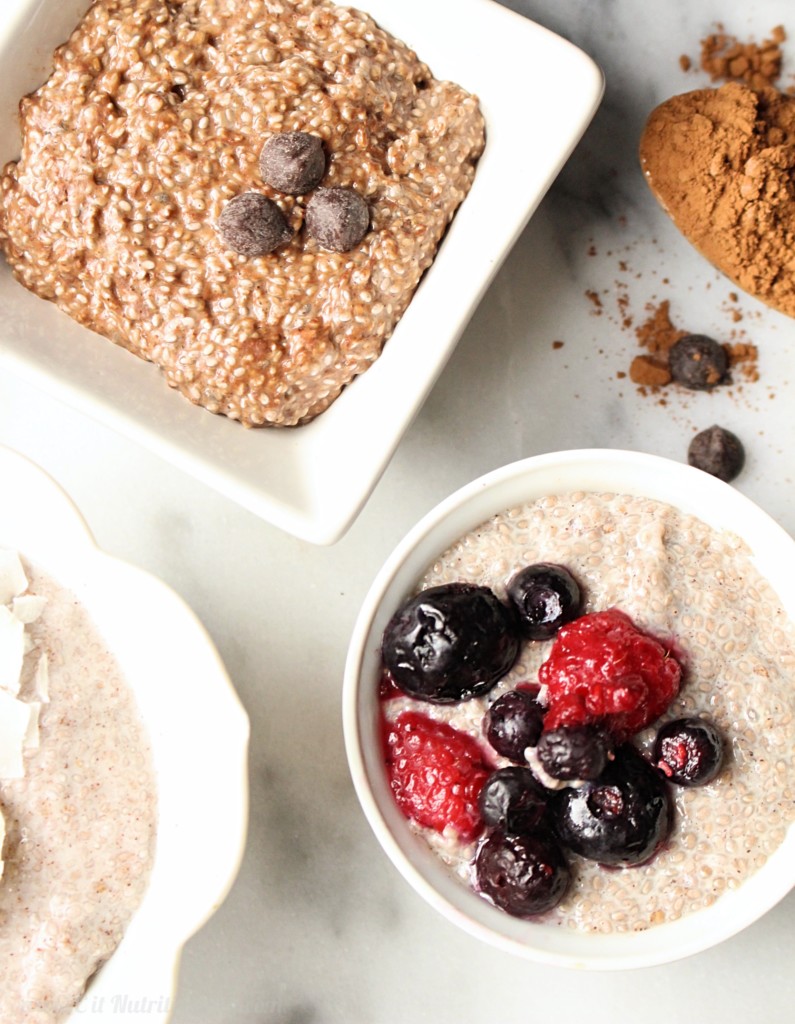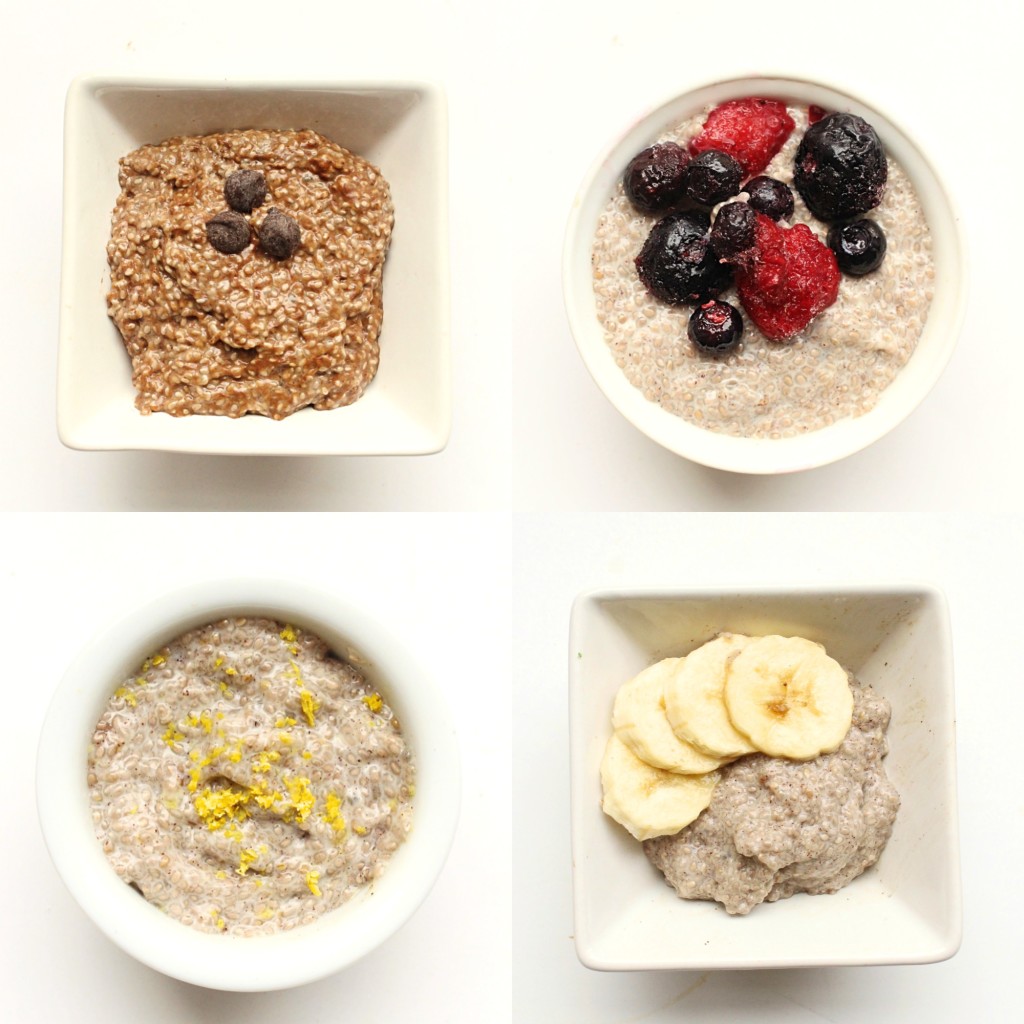 Lately I've also been adding a scoop of Vital Proteins Marine Collagen for an added protein boost, and I've been loving it. I know it's a quality protein source, it's been great for my skin, hair and nails with the harsh winter weather and I trust the brand behind it.
My friends at Vital Proteins sent me some to share with you guys too! You can WIN a tub of vital proteins marine collagen later today by heading over to my Instagram page, following me and @vitalproteins and leaving a comment on the pic! ← I'll make an active link when the giveaway is live!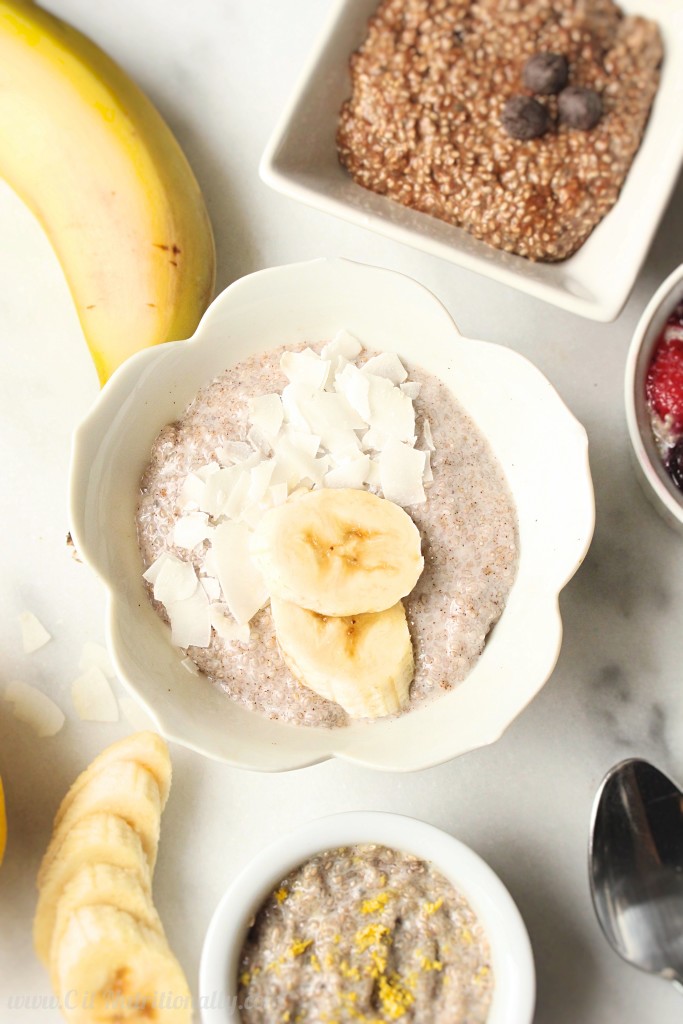 Now this recipe is so very basic but the fun is what you put on top! The recipe below is written for one, but you can easily double, triple or quadruple it to feed your fam.
The Basic Chia Pudding version contains less than 150 calories, 10 grams of fiber and about 7 grams of protein making it a great snack, but for a complete meal I highly suggest adding some fruit, nuts or seeds or nut/seed butter to keep you full through the morning.
Now who's ready for some basic chia pudding?
Basic Chia Pudding, 4 Ways
Ingredients
2 tablespoons chia seeds
1/2 cup unsweetened coconut milk
1/8 teaspoon ground cinnamon
Pinch of salt (optional)
Optional: 1 tablespoon Vital Proteins marine collagen (for an extra protein boost)
Instructions
Basic Chia Pudding:

Mix together all ingredients in a small bowl, cover and let sit in the refrigerator for 15 minutes or up to overnight.
When your chia pudding has set add in fruit, nuts and/or seeds or nut/seed butter as desired.
Feel free to get creative with some of the versions listed below.

For the Chocolate Brownie Version:

Mix 1 teaspoon unsweetened cocoa powder into the chia pudding mixture. Optional (adds sugar): Top with 1 teaspoon dark chocolate chips.

For the Lemon Ginger version:

Add 1/4 teaspoon lemon juice, 1/2 teaspoon lemon zest, 1/4 teaspoon ground ginger to the chia pudding mixture.

For the SB &J:

Top chia pudding with sunflower seed butter (or peanut/almond butter) and no added sugar jam or fresh berries.

For the Tropical version:

Add 1 teaspoon unsweetened shredded coconut flakes to the chia pudding mixture. Top with sliced bananas, mango, papaya or kiwi.
Notes
For Basic Chia Pudding (without Vital Proteins): 145 calories, 8.5g fat, 8mg sodium, 10.5g carbohydrates, 10g fiber, 6.5g protein
http://citnutritionally.com/basic-chia-pudding-4-ways-video/
Don't forget to PIN IT…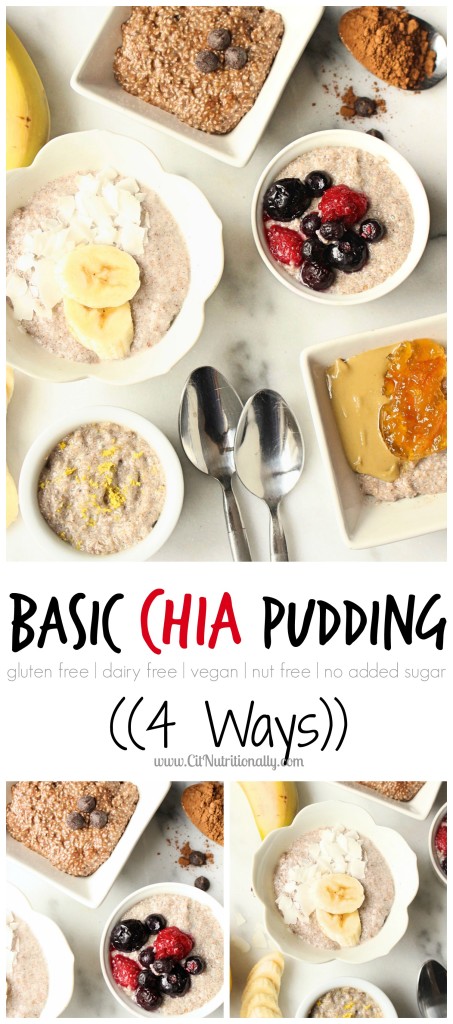 How about that breakfast?! Happy hump day!
XO

Let's get social!
Facebook: C it Nutritionally
Twitter: @ChelseyAmerRD
Instagram: @CitNutritionally
Pinterest: ChelseyAmer