Still looking for the perfect Super Bowl appetizer to WOW your crowd?! These BBQ Chicken Stuffed Sweet Potato Skins are exactly what you need — full of protein, fiber, and absolute deliciousness, this healthier take on a greasy classic will lead your body saying TOUCHDOWN on Monday! Gluten free, Grain free, Dairy free, Nut free, Soy free.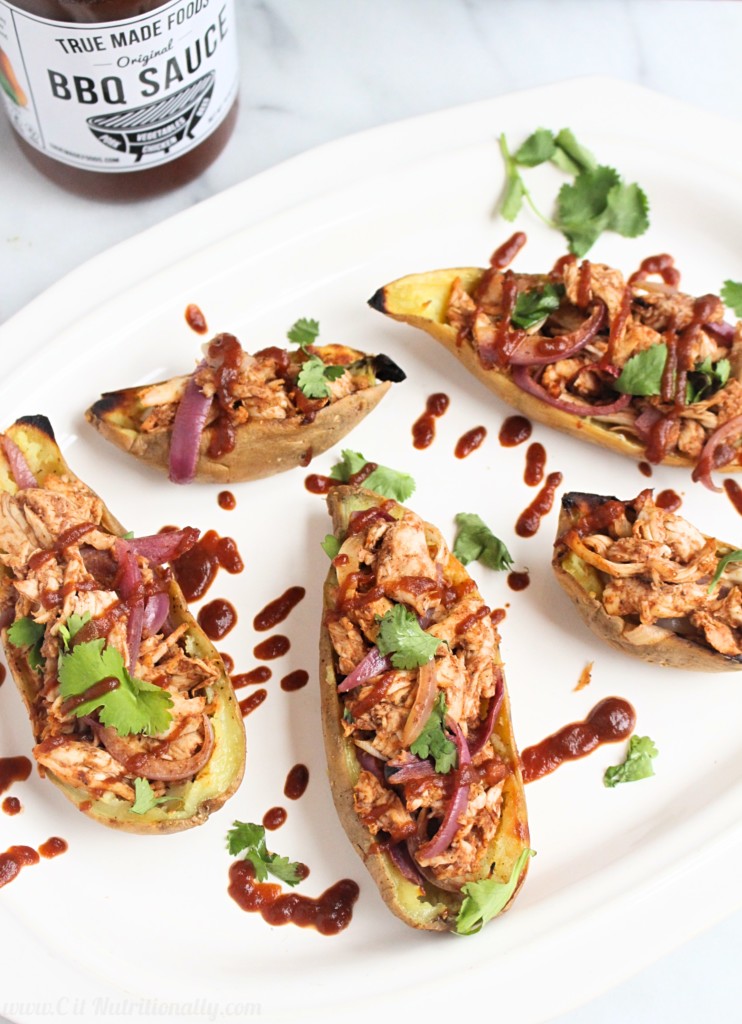 Disclosure: This post is sponsored by True Made Foods. Thanks for supporting the brands that make CitNutritionally.com possible!
Helloooo Super Bowl weekend!
Lezzzbehonest, the best part of the Super Bowl happens to be the FOOD! I mean, football…meh. The apps and dips and subs and chili and all the good stuff is where it's at! 
Are you in charge of bringing an app to the parrrrtayyy?! Luckily I'm all about those easy apps that can feed a crowd. I mean, have you seen this roundup from a couple of years ago?
Well,this year I have a brand spankin' new recipe that you can feel GOOD about serving your guests. Because if you're anything like me, serving greasy fried finger foods makes me cringe a little (although sometimes I do still do it!).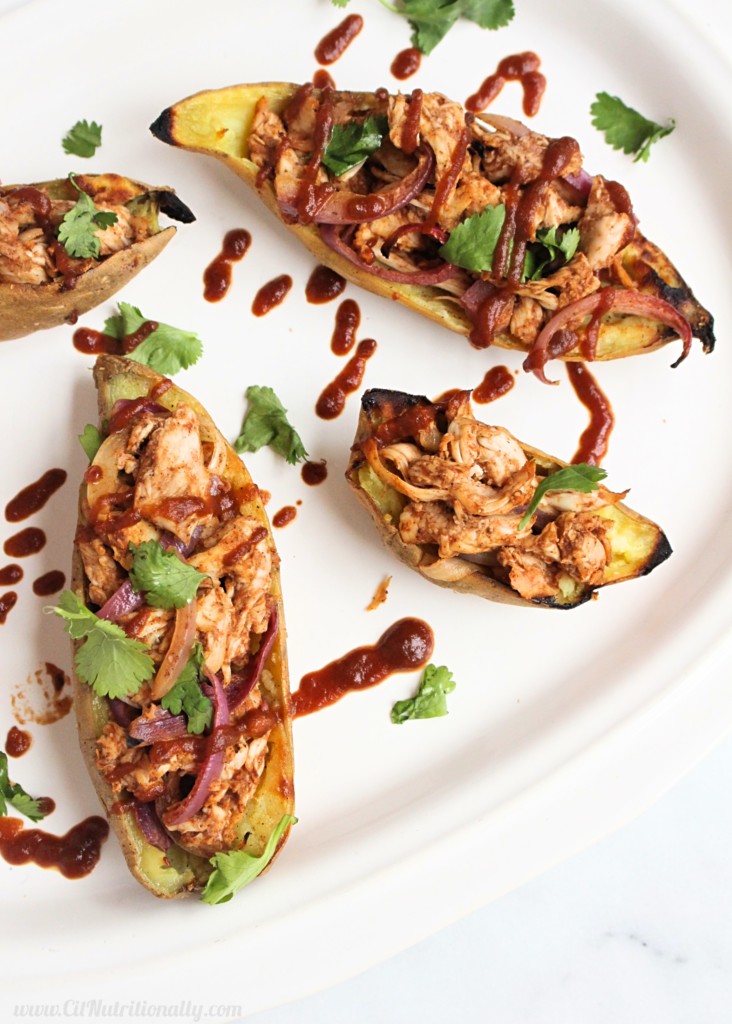 Surprisingly, this recipe is not vegan, not even vegetarian, but totally HEALTHY, just happens to be gluten free and Whole 30 approved. Even if I don't think healthy food has to be gluten free nor Whole 30 approved.
SO… what is this delicious, tantalize your taste buds recipe I'm hyping up?!
My BBQ Chicken Stuffed Sweet Potato Skins!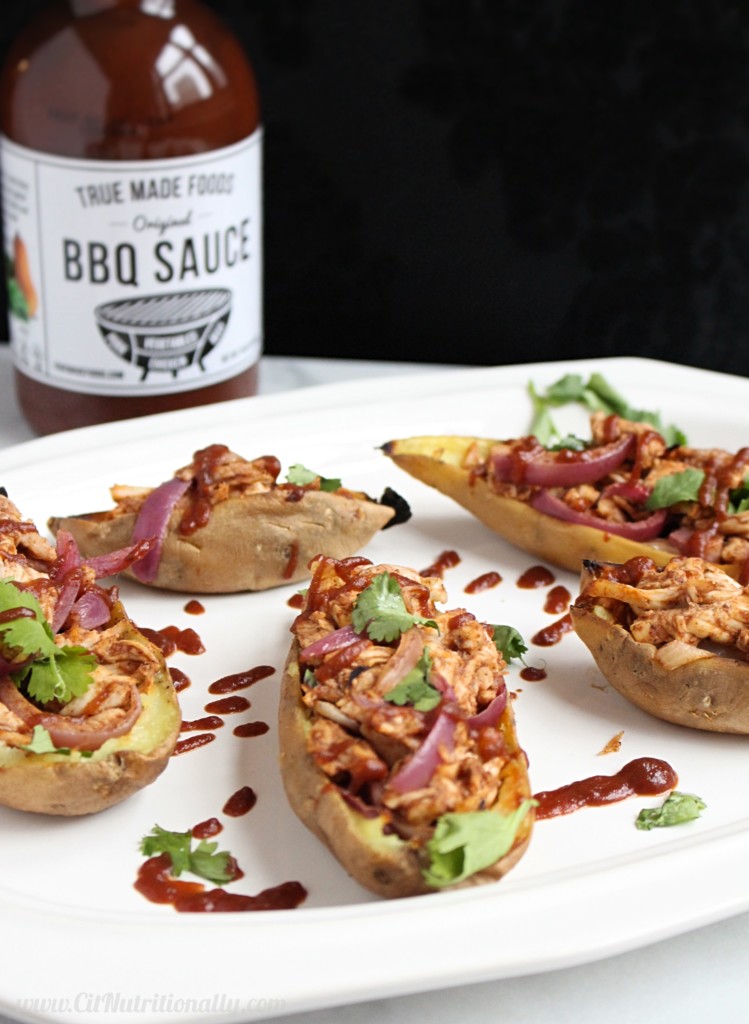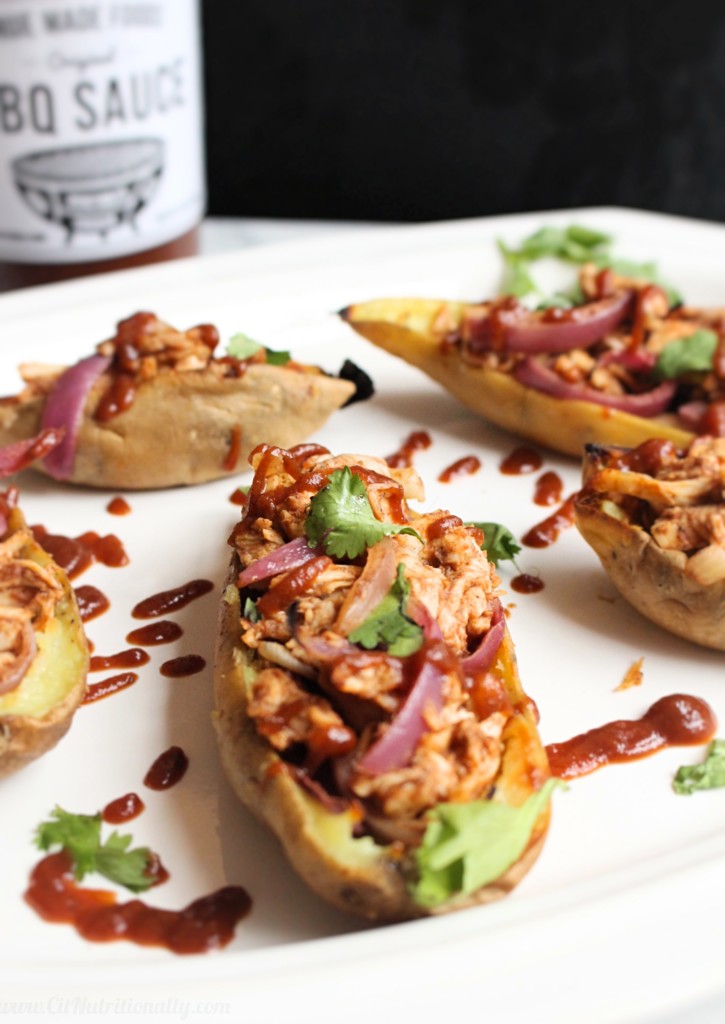 Ooohhhhh yeaaahhhh I went there. And S ate up every one of 'em!
And my secret ingredient that makes this recipe SO easy?! True Made Foods BBQ sauce that has hidden veggies in it! #winning!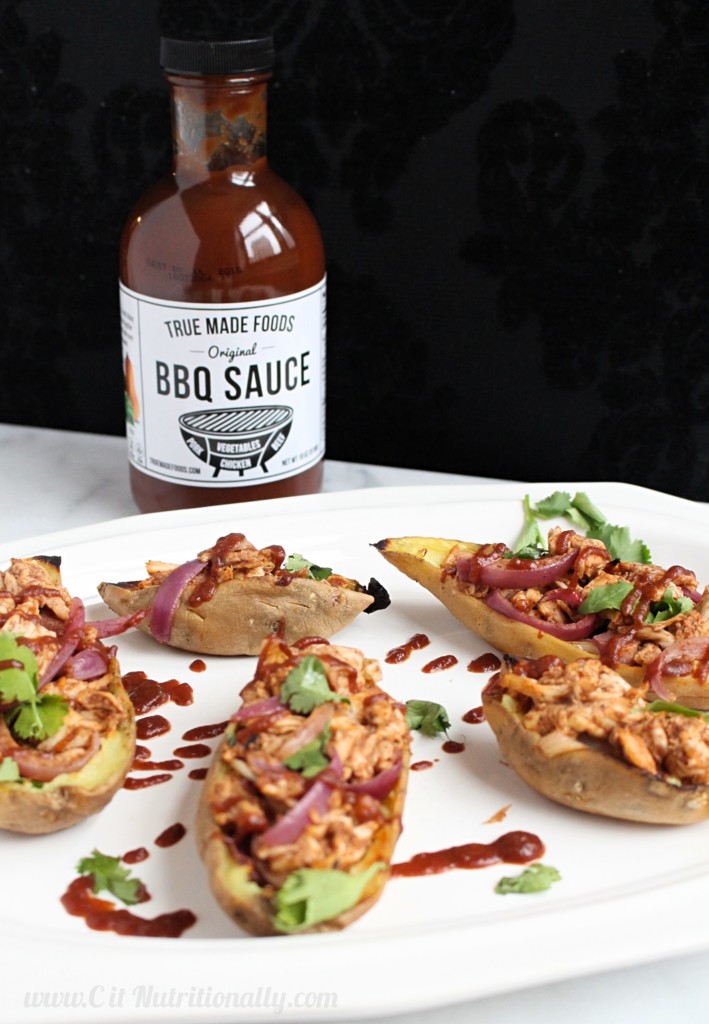 This recipe is made with just 4 main ingredients + spices… organic chicken, True Made Foods BBQ sauce, onions and sweet taters! You probably already have the ingredients at home…amIright?!
I used white sweet potatoes here, but you can use orange yams or purple taters or even regular potatoes as well. I'm a huge fan of potatoes because I find they're digested easily, easy on the stomach, rarely an allergic food, and have that stick to your ribs comfort aspect to them as well.
Plus, taters are loaded with potassium, which can help de-bloat come Monday morning if these BBQ Chicken Stuffed Sweet Potato Skins aren't the only app on your Super Bowl table! 
These BBQ Chicken Stuffed Sweet Potato Skins are…
Gluten free, grain free, paleo and Whole30 approved
Easy to make in less than 1 hour (a lot of hands-off time!)
Contain just 4 main ingredients
Dairy free and egg free, tree nut and peanut free = free of the top 8 allergens
Full of flavor
Easy to feed a crowd!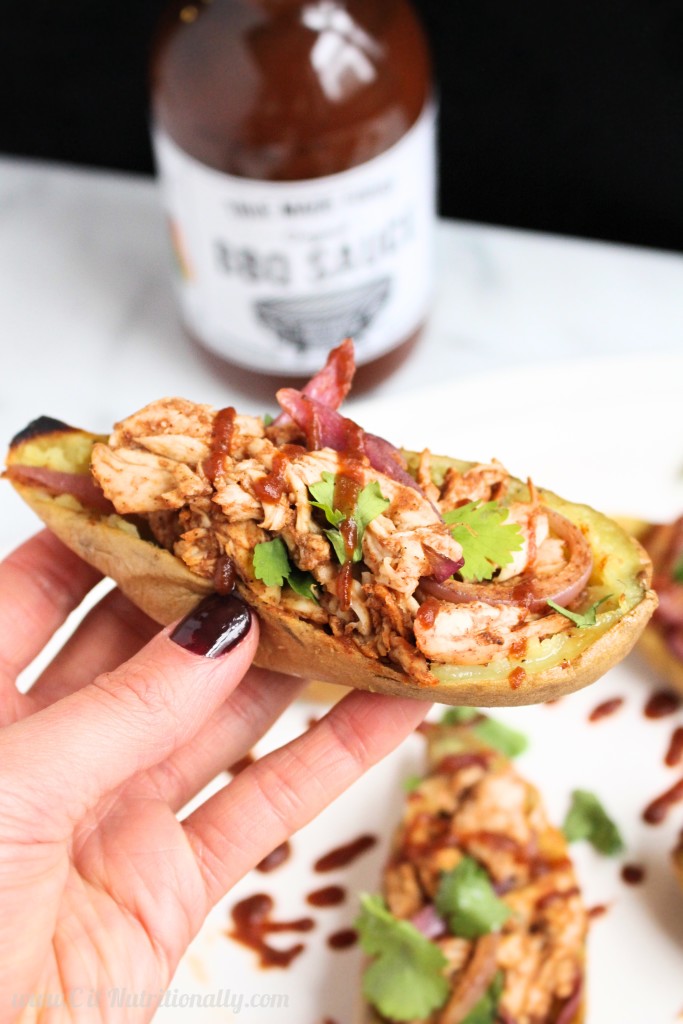 So let's get cookin'…
BBQ Chicken Stuffed Sweet Potato Skins
Ingredients
For the chicken:

1 pound organic thin sliced chicken breast
1/4 teaspoon smoked paprika
1/2 teaspoon garlic powder
Salt and freshly ground black pepper, to taste
1/2 cup True Made Foods BBQ Sauce, divided
1 cup sliced onions
Pinch of chili powder
Nonstick oil spray

For the potatoes:

4 medium sweet potatoes, washed and dried
Salt, to taste
Nonstick oil spray
Instructions
For the chicken:

Sprinkle chicken cutlets with smoked paprika, garlic powder and salt and pepper and toss in 1/4 cup True Made Foods BBQ sauce. Marinate for 10 minutes or up to overnight.
On a tin foil lined baking sheet coated with nonstick spray, evenly distribute sliced onions and place marinated chicken cutlets on top. Bake at 350°F for 12-15 minutes (or until just cooked through). Note, you may need to cook for longer if your cutlets are thicker.
While your chicken is cooking, mix together the other 1/4 cup True Made Foods BBQ Sauce with a pinch of chili powder in a bowl. When the chicken is cooked through and slightly cooled to touch, shred it into this bowl and mix together.

For the potatoes:

While the cutlets are marinating, prepare and cook the sweet potatoes.
Pierce sweet potatoes with a knife or sharp fork. Microwave* for about 4 minutes, until just softened. Remove from the microwave and let cool to touch.
Cut potatoes in half lengthwise. Place flesh-side down on a tin foil-lined baking sheet that is lightly coated with nonstick olive oil spray. Bake at 400°F for 15 minutes.
When the edges of the potatoes are crispy, remove from the oven, scoop out and discard the flesh (or use it for another recipe) and set aside. Return the skins to the baking sheet and sprinkle with salt and pepper.

To assemble:

Divide the shredded BBQ chicken evenly amongst the potato skins and return to the oven for about 5-10 minutes or broil for 2-4 minutes, until crispy on top. Enjoy warm, garnished with cilantro and plain Greek yogurt if desired! :)
Notes
*Alternatively, you can bake the potatoes in the oven for about 45 minutes to 1 hour at 375°F. Nutrition Facts (per potato skin - 1/2 of potato): 116 calories, 1g fat, 150mg sodium, 12g carbohydrates, 1.4g fiber, 14g protein
http://citnutritionally.com/bbq-chicken-stuffed-sweet-potato-skins/
Don't forget to PIN IT…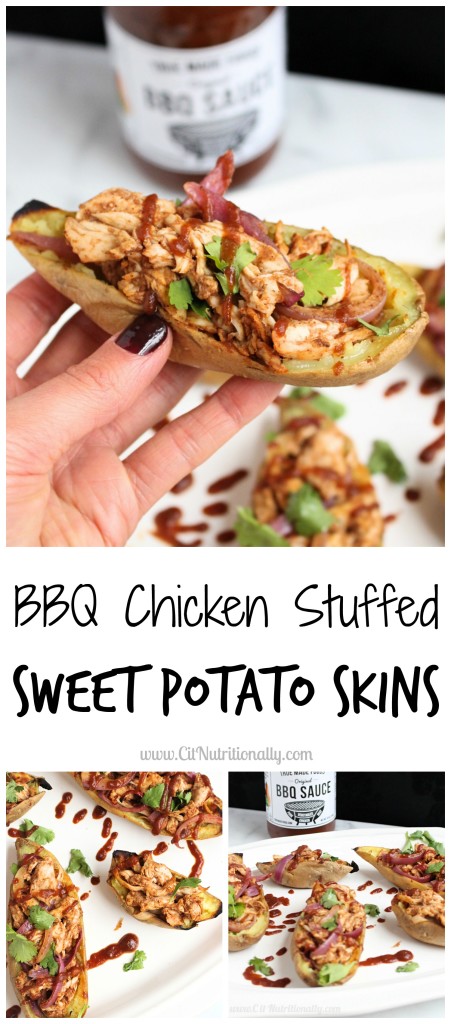 More potatoey goodness coming atcha on Monday…. Good thing all that potassium helps ya de-bloat!
What's on your Super Bowl menu?! Share below…
XO

Let's get social!
Facebook: C it Nutritionally
Twitter: @ChelseyAmerRD
Instagram: @CitNutritionally
Pinterest: ChelseyAmer
***
Check out these other Super Bowl recipes…