Satisfy your snack time cravings with my Nut Free Snack Mix full of salty and sweet flavors with both a crunch and chew!
Customizable to be free of the top 8 food allergens! Vegan, Gluten free.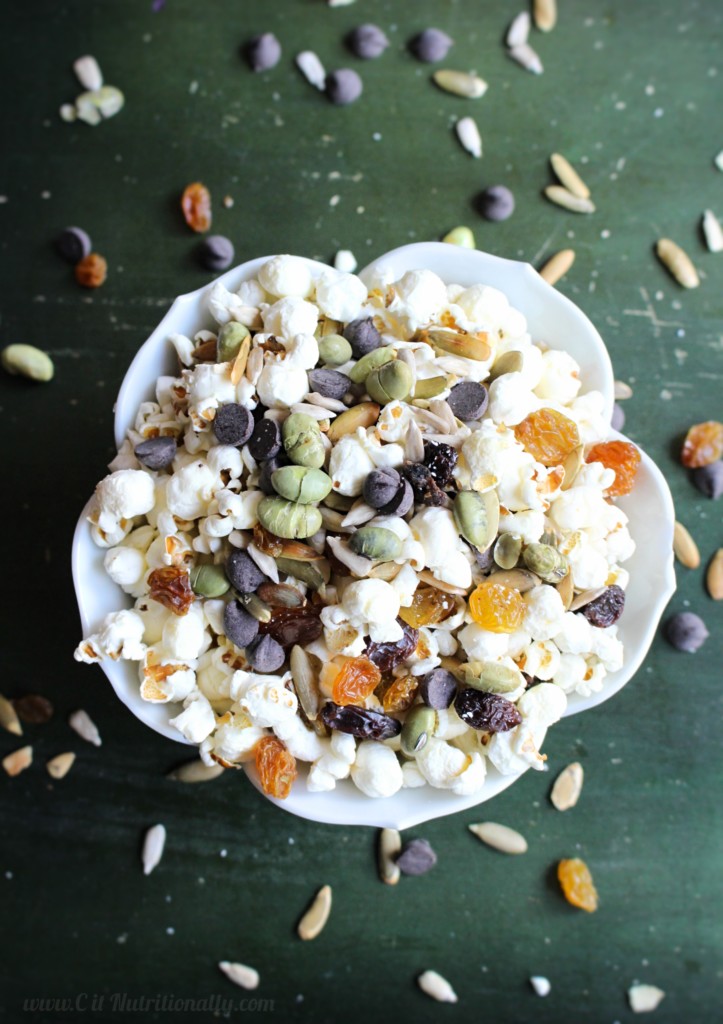 Happyy Monday!
If you subscribe to my newsletter, then you already know I shared this nut free snack mix on The Balanced Kitchen's blog a few weeks back. This is possibly one of the easiest recipes that I've ever shared but it's also one of the most delicious and one of my favorite snack combinations eva!
This Nut Free Snack Mix recipe is…
A great combination of fiber, protein and healthy fats to keep you full!

Free from 7 out of the 8 major food allergens

(OK, and you can make it top 8 free too!)

100% vegan and gluten free

Full of whole grains (I mean, did you know POPCORN is a whole grain)?!

Totally satisfying!

Perfect for the Super Bowl

Satisfying

with salty and sweet flavors, plus crunch and chew!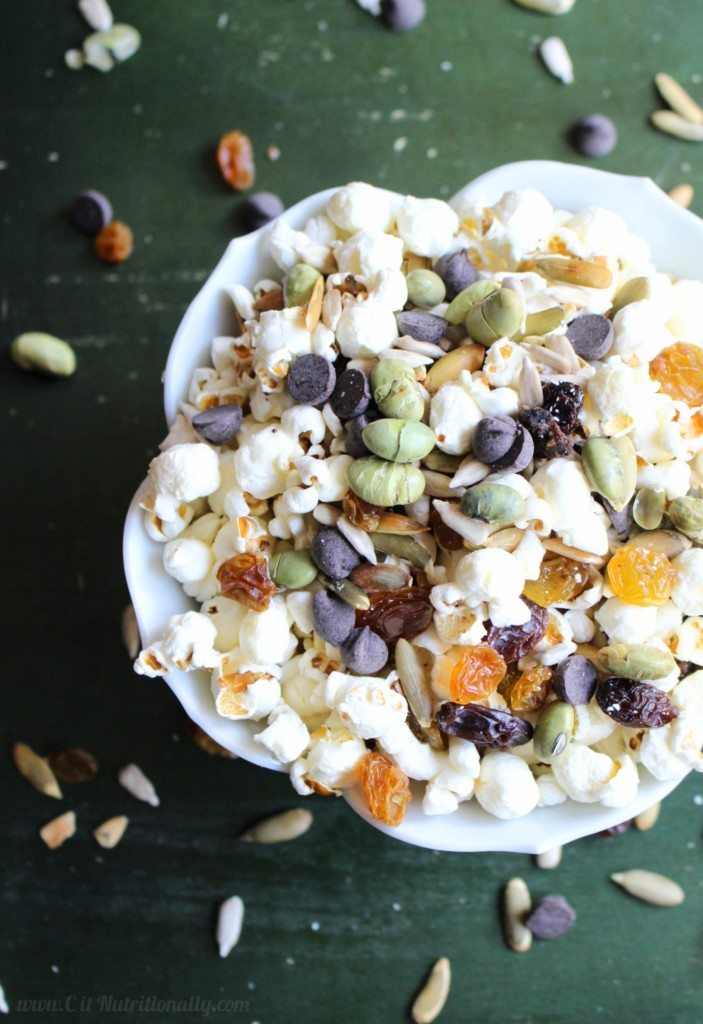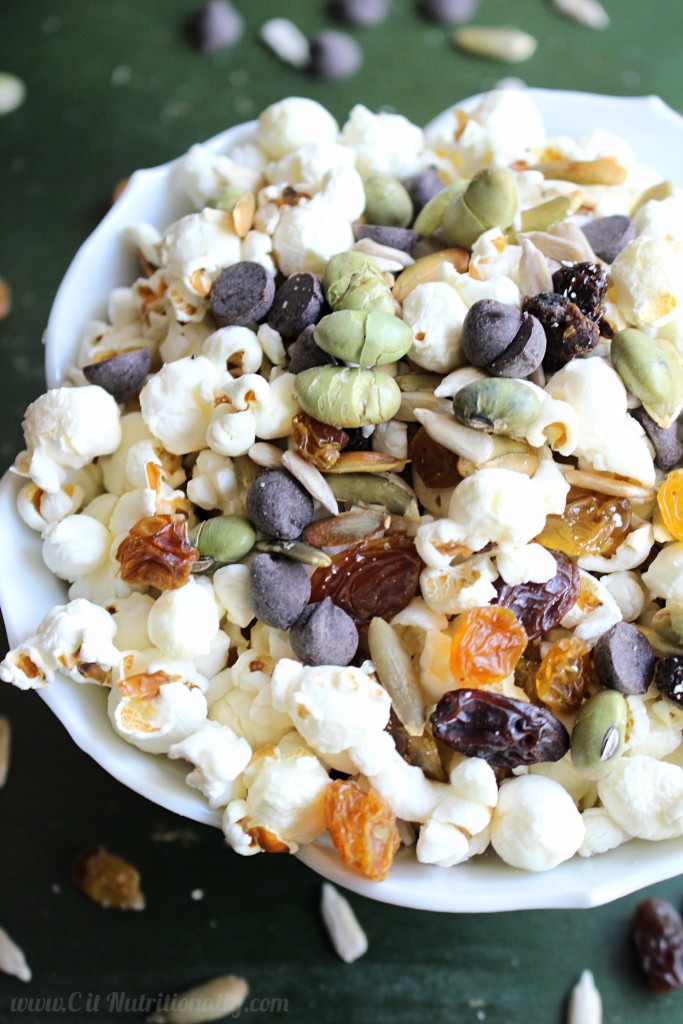 I also shared a bunch of dietitian-approved food allergy tips to help you navigate the world with food allergies over on Jessica's blog, so click here to check those out!
You can find more information about managing food allergies here, but make sure you do your research about your food allergy. And I always suggest talking with a dietitian when you or someone you know is newly diagnosed with food allergies to make sure you understand how to eat well with your restrictions. I also put together a bunch of my top tips to manage food allergies here. 
But back to this recipe… I love this nut free snack mix so much because it's easy, quick, customizable and so yummy! As written below, the recipe is free of seven top food allergens [contains soy], but there are plenty of substitutions listed below.
This nut free snack mix stores well in an airtight container for a few days so you can double or triple the recipe to make a big batch at once.

Let's get social!
Facebook: C it Nutritionally
Twitter: @ChelseyAmerRD
Instagram: @CitNutritionally
Pinterest: ChelseyAmer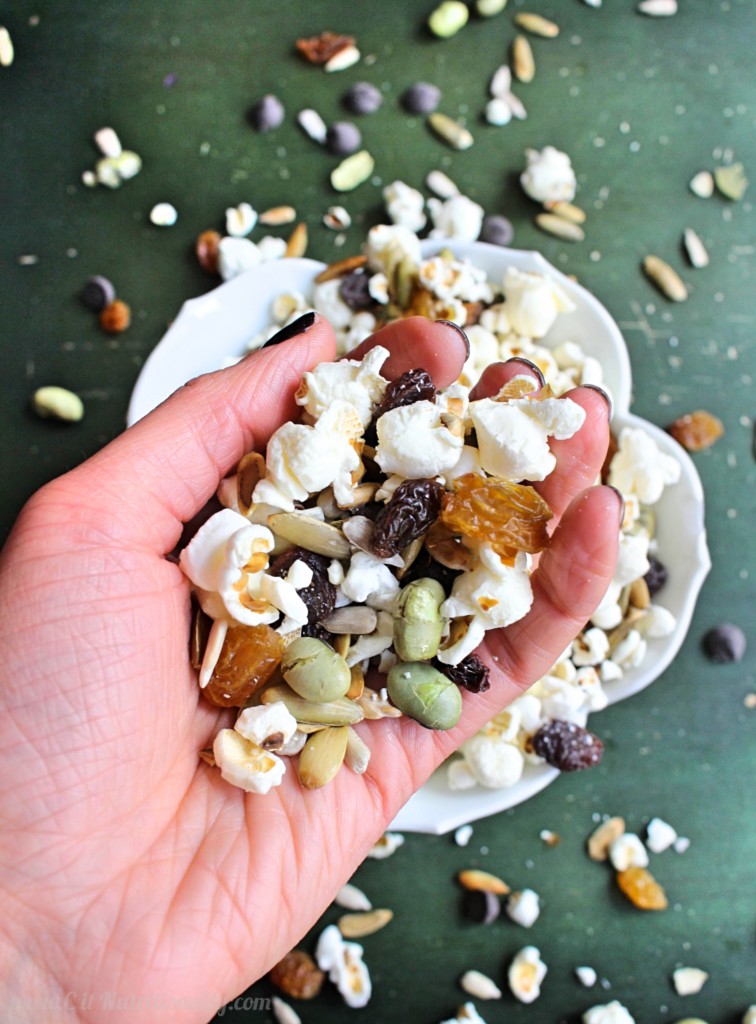 Enjoy mah friends…
Ingredients
3 cups air-popped popcorn (or 2 tablespoons kernels)
1/3 cup seeds (I used a combination of raw sunflower seeds and [raw pepitashttp://amzn.to/2kfpV93])
1/3 cup crispy roasted edamame [*contains soy*]
2 tablespoons dark chocolate chips (Enjoy Life is my preferred food allergy friendly brand)
1/4 cup raisins (or other dried fruit)
1/4 teaspoon sea salt
1/4 teaspoon chili powder (may omit for children)
Olive oil spray (I use olive oil in my Misto Oil Sprayer)
Instructions
If not using store-bought air-popped popcorn, place popcorn kernels in a brown paper bag, fold down the top and microwave for one minute and 30 seconds, or until kernels are popped. Place 3 cups of the popcorn in a large bowl.
Wait until the popcorn has cooled and then add the remaining ingredients. Gently mix together.
Spray snack mix for a few seconds with olive oil and then sprinkle sea salt and chili powder on top. (Or any other desired spices).
Enjoy! Snack mix will store well in an airtight container for a few days.
Notes
*May substitute additional seeds if soy allergy. If allergic to sunflower seeds, may use more pumpkin seeds or whole flaxseeds or additional popcorn. If allergic to corn may substitute puffed rice cereal. I order many of my seeds and dried fruit online from Gerbs Allergen Friendly Foods to prevent cross-contamination. Nutrition Facts (per 1/4 recipe): 188 calories, 10g fat (mostly unsaturated), 52mg sodium, 22g carbohydrates, 6g fiber, 8g protein
http://citnutritionally.com/best-nut-free-snack-mix/
Don't forget to PIN IT…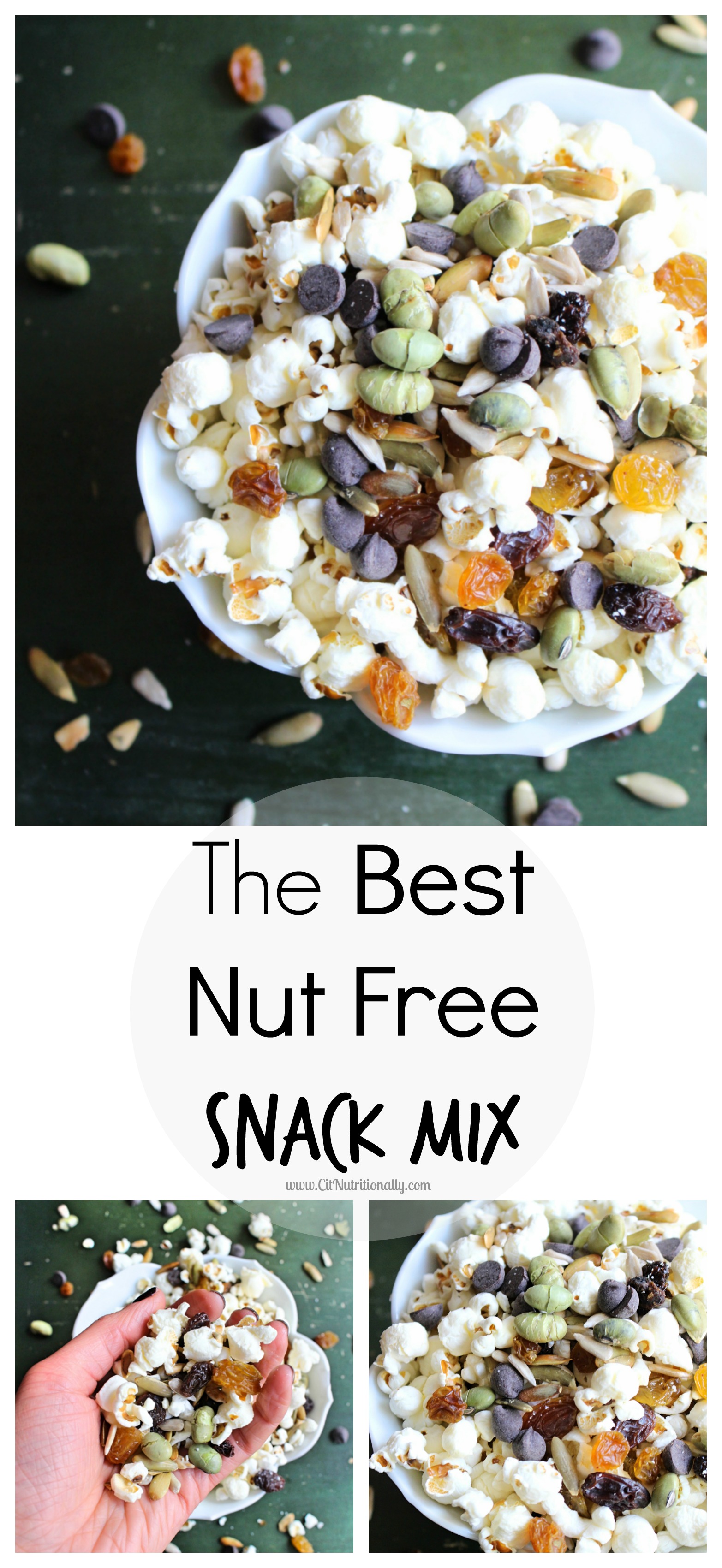 Happy snacking!


XO
Take my 2017 READER SURVEY HERE!