Crisp on the outside, soft and tender on the inside, these Black Bean Sweet Potato Burgers are sure to please a crowd at your next BBQ, weeknight dinner, or on top of a salad for lunch! Vegan, Gluten Free, Grain Free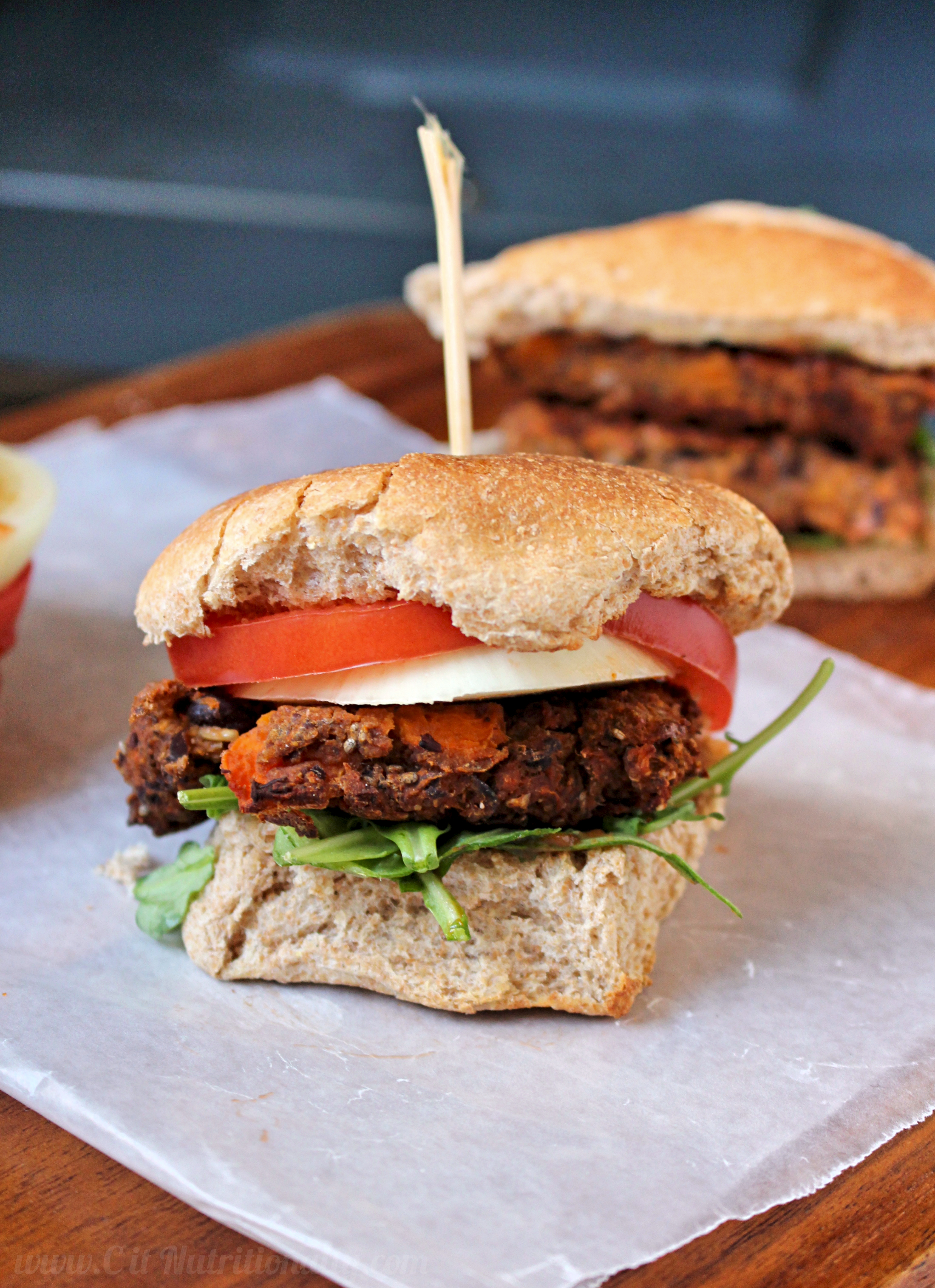 It's #TheRecipeRedux time! Due to my hectic internship schedule, I missed last month's Redux, so I'm back and more excited than ever. I'm especially excited because this month's theme, in honor of the ReDux's birthday month is…
Celebrate a ReDuxer!
Let's celebrate each other! Pick a fellow ReDuxer, go to their blog and either make one of their recipes or create one of your own inspired by theirs.
Since I'm ALL for collaboration and celebration of others' accomplishments, reading this theme just made me smile :). There's so much negativity in the world and wayyy too much judgment among the health community at times, so building each other up couldn't have come at a better time!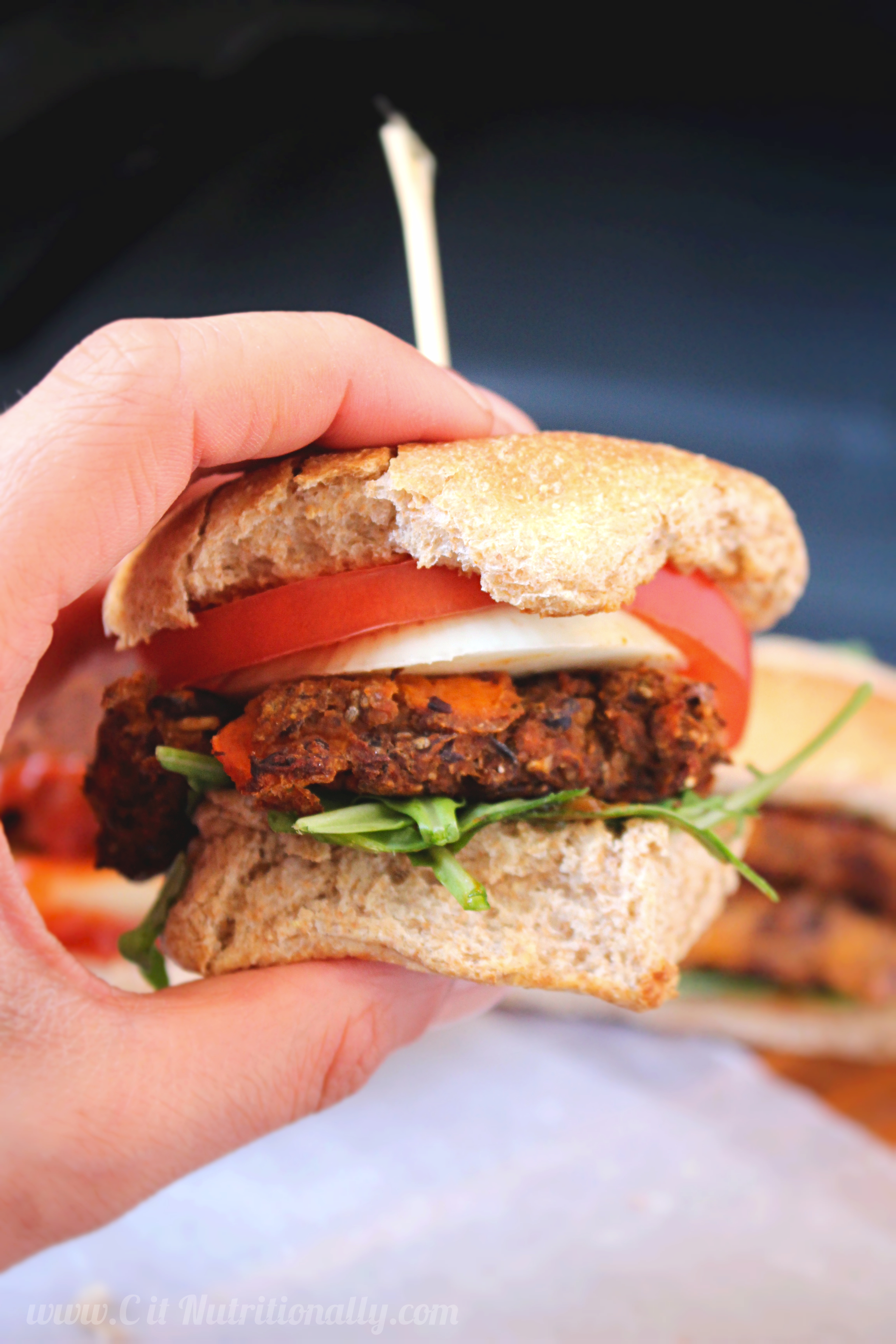 SO many ReDuxers have helped me on my journey to becoming an RD (just check out all of this fantastic advice I received before my internship), and I admire of so many fellow ReDuxers, so I couldn't pick just one!
I've seen so many great veg-friendly burger recipes out there, and I've been itching to create another veggie burger for the season, so I got searching for some burger inspiration! Alex's Black Bean Sweet Potato Burger recipe and Sarah's Pumpkin Chickpea Burgers inspired my recipe below.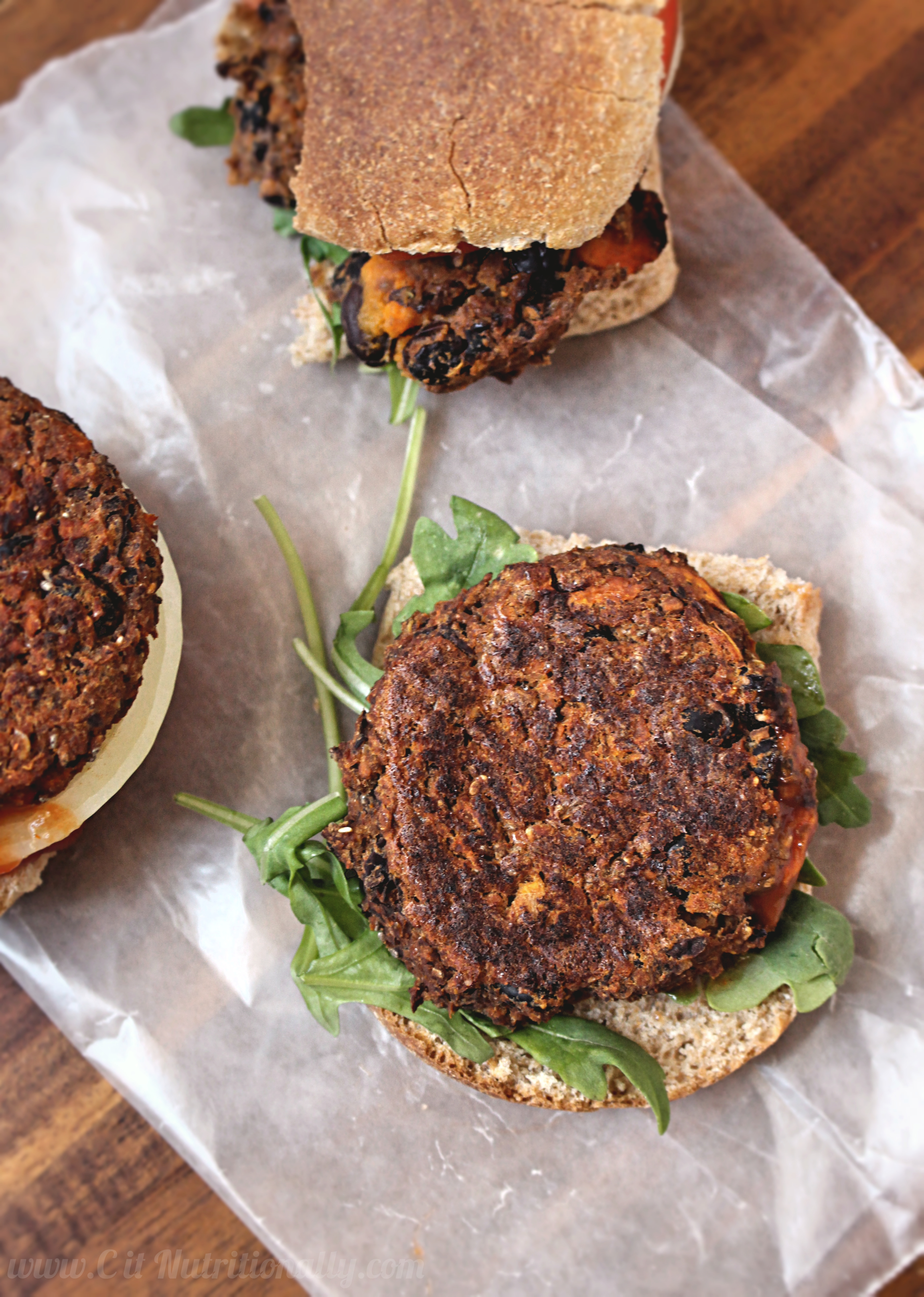 First, meet Alex from Delish Knowledge. She's a Registered Dietitian living in the Midwest with beyyyond genius vegetarian recipes (I mean, tofu FETA?!) infused with tons of nutritious tips. Plus, she recently launched the "Joyful Eating" Program with other ReDuxers and Registered Dietitians Anne and Rachael, which teaches people how to find the joy in eating mindfully. I can't wait until I have the time to take their course…I think mindfulness is one of the best tools we have to foster a healthy relationship with food.
Second, Sarah from Fresh Fit N Healthy is a fellow dietetic intern and is currently getting her masters in Exercise Physiology. Sarah's journey to healthy, intuitive eating is inspiring and she shares tons of great recipes, workout tricks and nutrition tips on her blog. Seriously, check her out!
So when I set out to create my own burger, I wanted it to be my simplest recipe yet. Some of my other burgers have quite a lengthy ingredient list (but are TOTALLY worth it), so I wanted to try something super quick for busy weeknights.
Here's why you need to try my recipe…
There are only 5 ingredients in my Black Bean Sweet Potato burgers, plus some spices you're guaranteed to already have in your arsenal of deliciousness!
This recipe is 100% grain free so the 2 main ingredients (black beans + sweet potatoes) really stand out. Plus, it's safe for nearly every food allergy!
There are added omega 3 fatty acids and plant-based protein from the combination of seeds.
The recipe comes together in less than 15 minutes of hands-on time!
These burgers are 100% oil free…no pan frying involved!
They're FULL of flavor, SO versatile, and loved by carnivores + herbivores alike!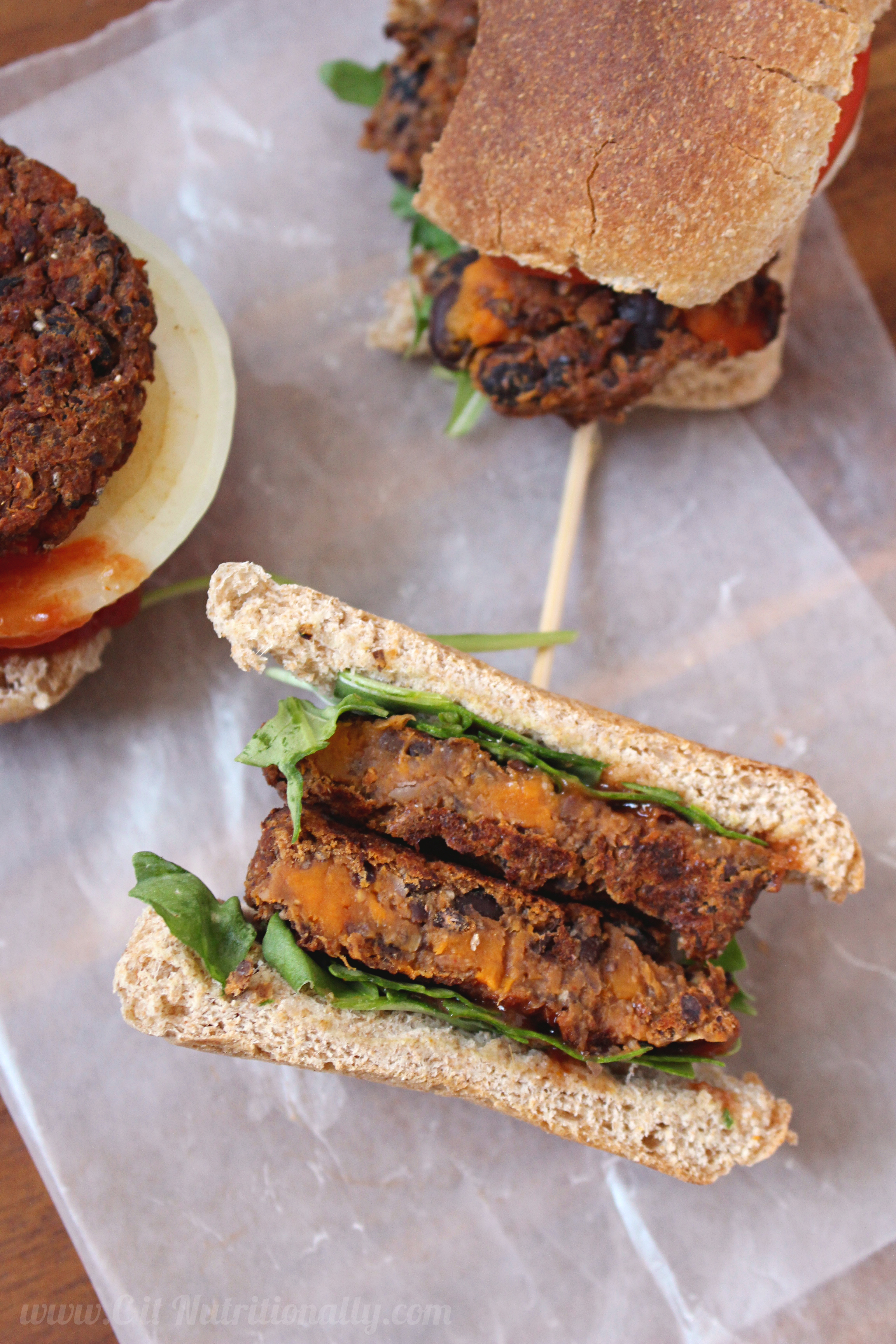 Whip up a batch of these black bean sweet potato burgers and enjoy all week long!
Since some of you have been asking for Nutrition Facts, here are the stats on these patties (recipe below makes 8 patties, stats per patty): 92 calories, 1.4g fat, 35mg sodium, 16g carbohydrates, 5g fiber, 4g protein
Here are some things you may need to make this recipe:
Mini food processor
Sriracha
Spice grinder (to grind flax seeds if you have them whole)
Chia seeds
Flax seeds
Black Bean Sweet Potato Burgers {vegan | gluten free | grain free}
Author:
Prep time:
Cook time:
Total time:
Crisp on the outside, soft and tender on the inside, these Black Bean Sweet Potato Burgers are sure to please a crowd at your next BBQ, weeknight dinner, or on top of a salad for lunch! Vegan, Gluten Free, Grain Free
Ingredients
2 medium sweet potatoes or 1 cup sweet potato puree*
1 15 oz can black beans, drained and rinsed
2 tablespoons ground flax seeds
1 tablespoon chia seeds
1 teaspoon sriracha
Spices: ½ teaspoon each: cumin, smoked paprika, onion powder, garlic powder, chili powder
Instructions
In a food processor, combine most of black beans (you can eye ball it) and sweet potato puree. Pulse until mostly smooth. Transfer mixture to a medium-sized bowl, add remaining black beans (for added texture).
Add flaxseeds, chia seeds, sriracha and spices. Mix to combine.
Refrigerate mixture for 10 minutes.
Preheat oven to 400°F. On a parchment paper-lined baking sheet, scoop out ¼ cup of batter. Flatten with the palm of your hand. Bake for 20 minutes, carefully flip burgers, and bake for another 15 minutes.
Serve on whole wheat bun, with lettuce, tomato, avocado, ketchup, mayo, etc, to your liking. Enjoy ☺
Serving size:
1 patty
Calories:
92
Fat:
1.4
Saturated fat:
<1
Carbohydrates:
16
Sodium:
35
Fiber:
5
Protein:
4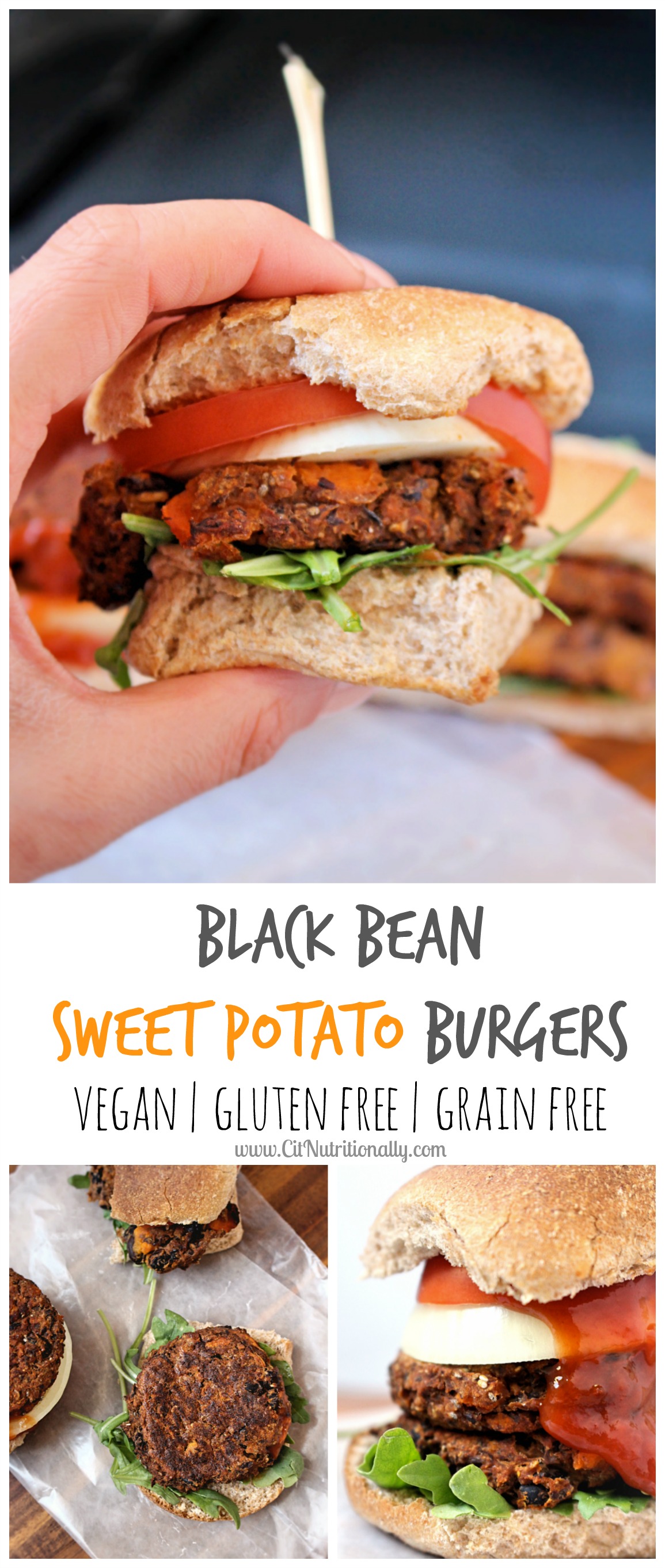 If you think this burger sounds good…check out my other burgers:
Quinoa Beet Burgers
Now check out all of this other ReDux love below…
Happy Tuesday!
XO