Delicious and nutritious, sweet and a littttttle spicy, filling and light at the same time, this butternut squash and lentil soup will warm your belly all winter long!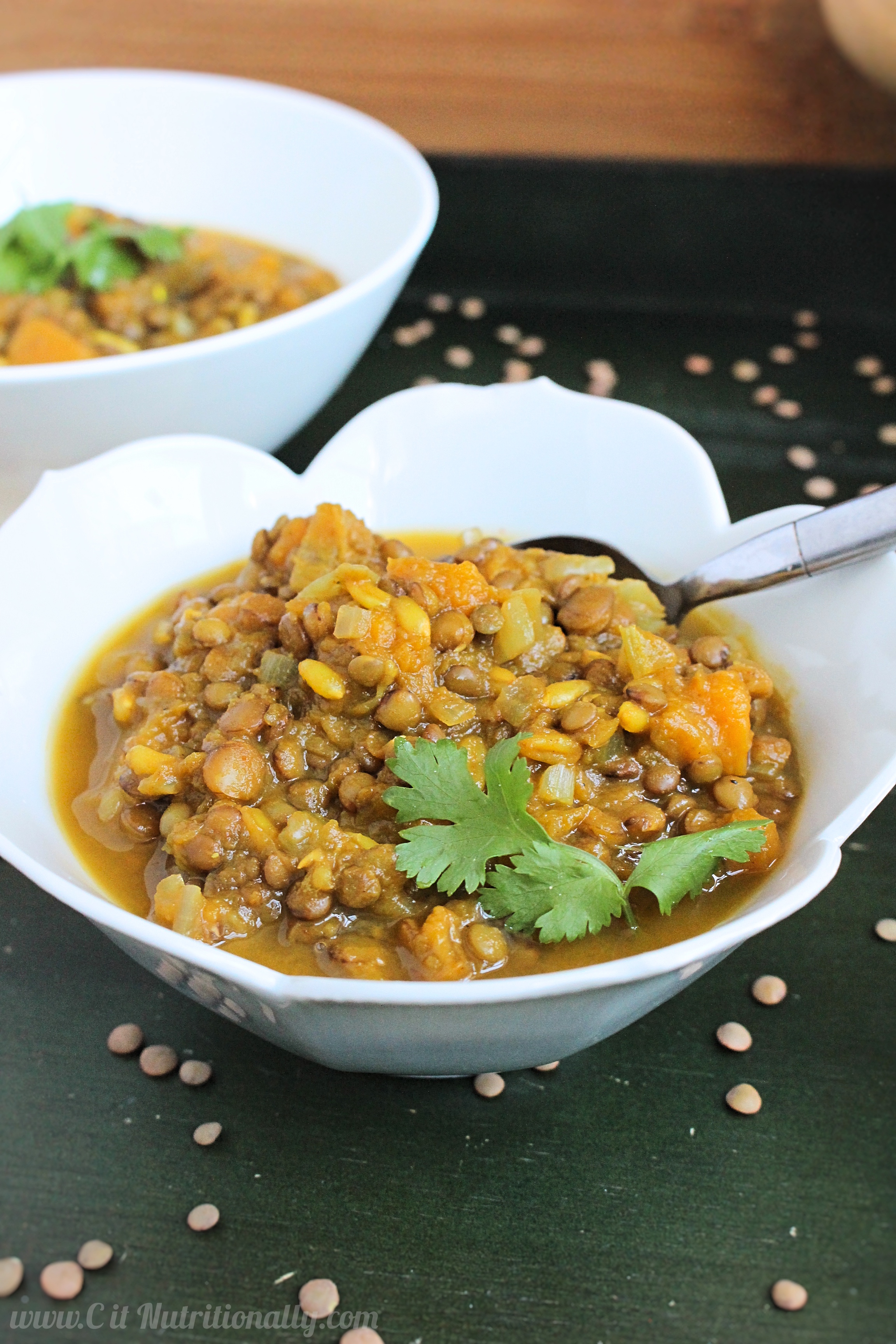 Rumor has it that it's supposed to reach almost 80 degrees here in NYC this week — yikes! Unfortunately, I couldn't make it up to slightly cooler weather in Boston at FNCE this year because of a midterm scheduled for tonight (ughhh), so I'm having major FOMO over here…but do you know what's helping me get through it — despite the warmer weather?? LENTIL SOUP!  
Butternut squash and lentil soup.
I learned something really important in the quest to share this delicious, nutritious, sweet and a littttttle spicy butternut squash and lentil soup…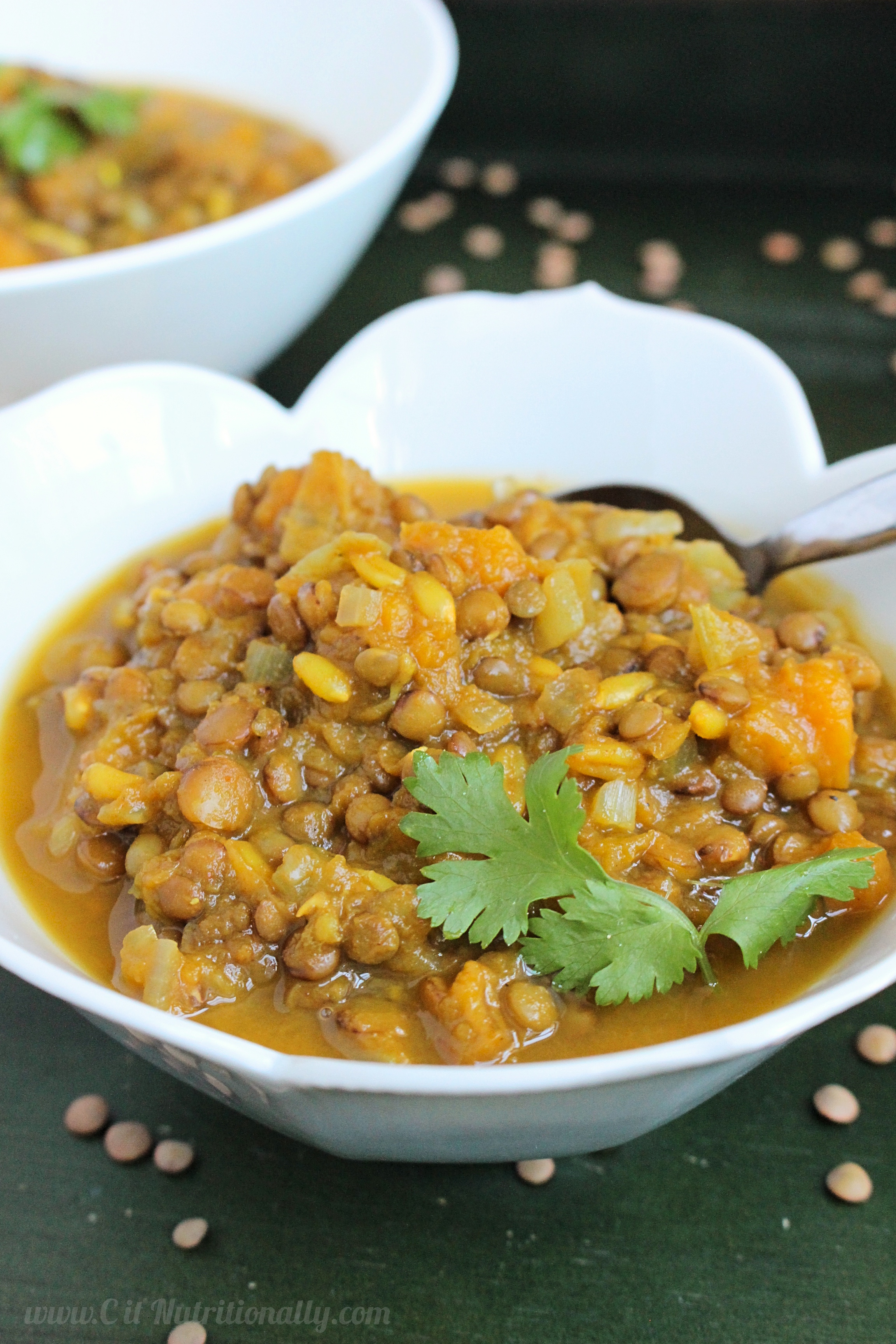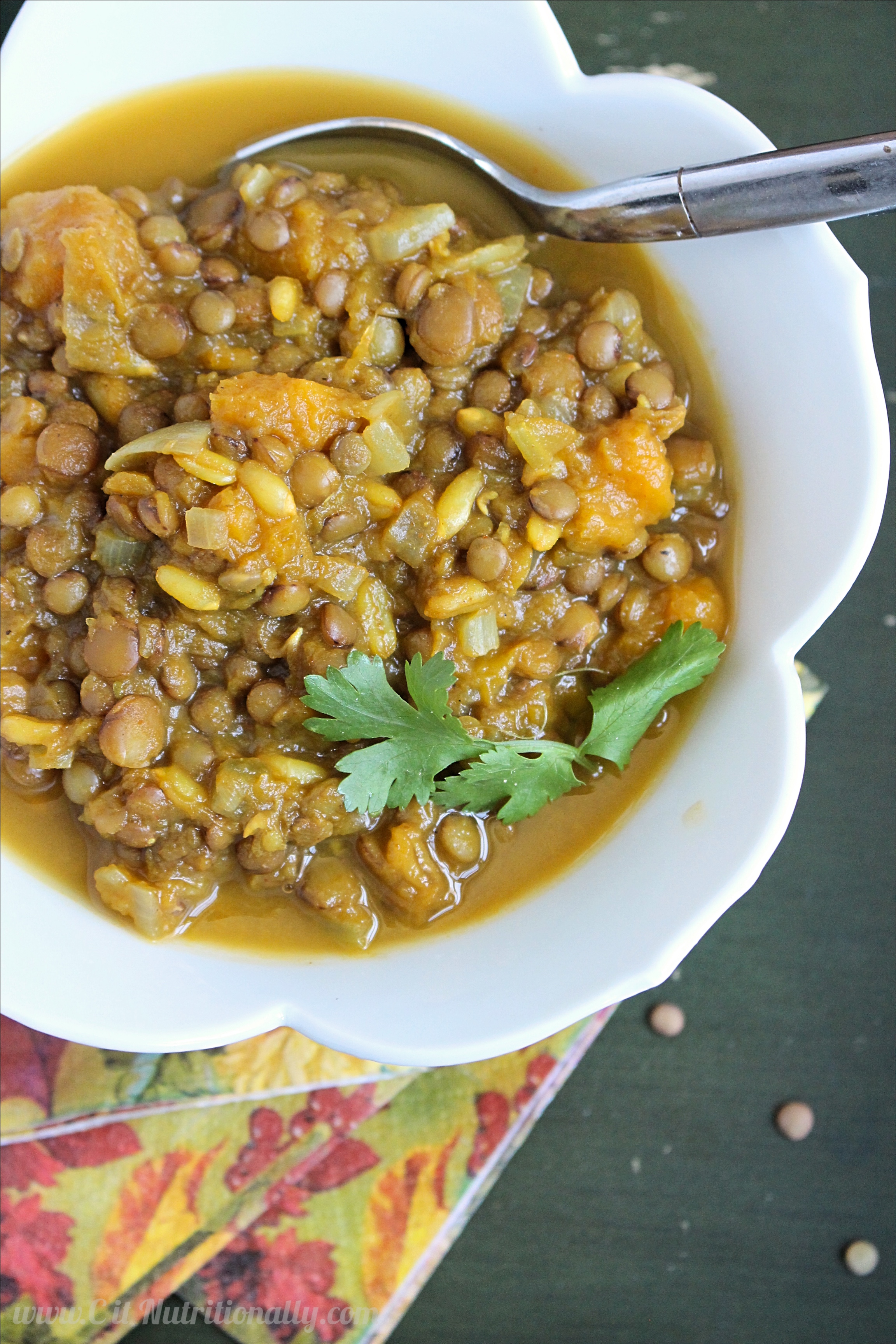 …it's REALLY…like really, really hard to photograph lentil soup! It kind of looks like brown mush or dog's vomit. #GROSS.
But it's D-E-L-I-C-I-O-U-S!! MMMM SOUP!
And butternut squash. Because is there a better fall veg than butternut squash? I nursed my pain through missing FNCE this year with butternut squash. Roasted butternut, souped butternut, butternut brownies, and more. You couldddd say I've been a little butternut squash obsessed lately, and there's good reason…
It's fall

It's delicious

It's nutritious

It's oh so satisfying!
It's like sweet potatoes' lighter cousin!

A cup of squash contains about 60 calories, 3 grams fiber, and almost 1.5 grams protein. Even more, it contains tons of carotenoids, which are important precursors for vitamin A, and antioxidants. Vitamin A is essential for immune function and night vision and brain health, while antioxidants help fight off 'oxidative stress,' or cell damage. So, like I said…we want to be eating butternut squash.
But also LENTILS! You can read more about my love affair with lentils here, but to quickly sum it up, they're one of my go-to favorite plant based proteins. We're talking iron, fiber, protein, tons of other vitamins and minerals too!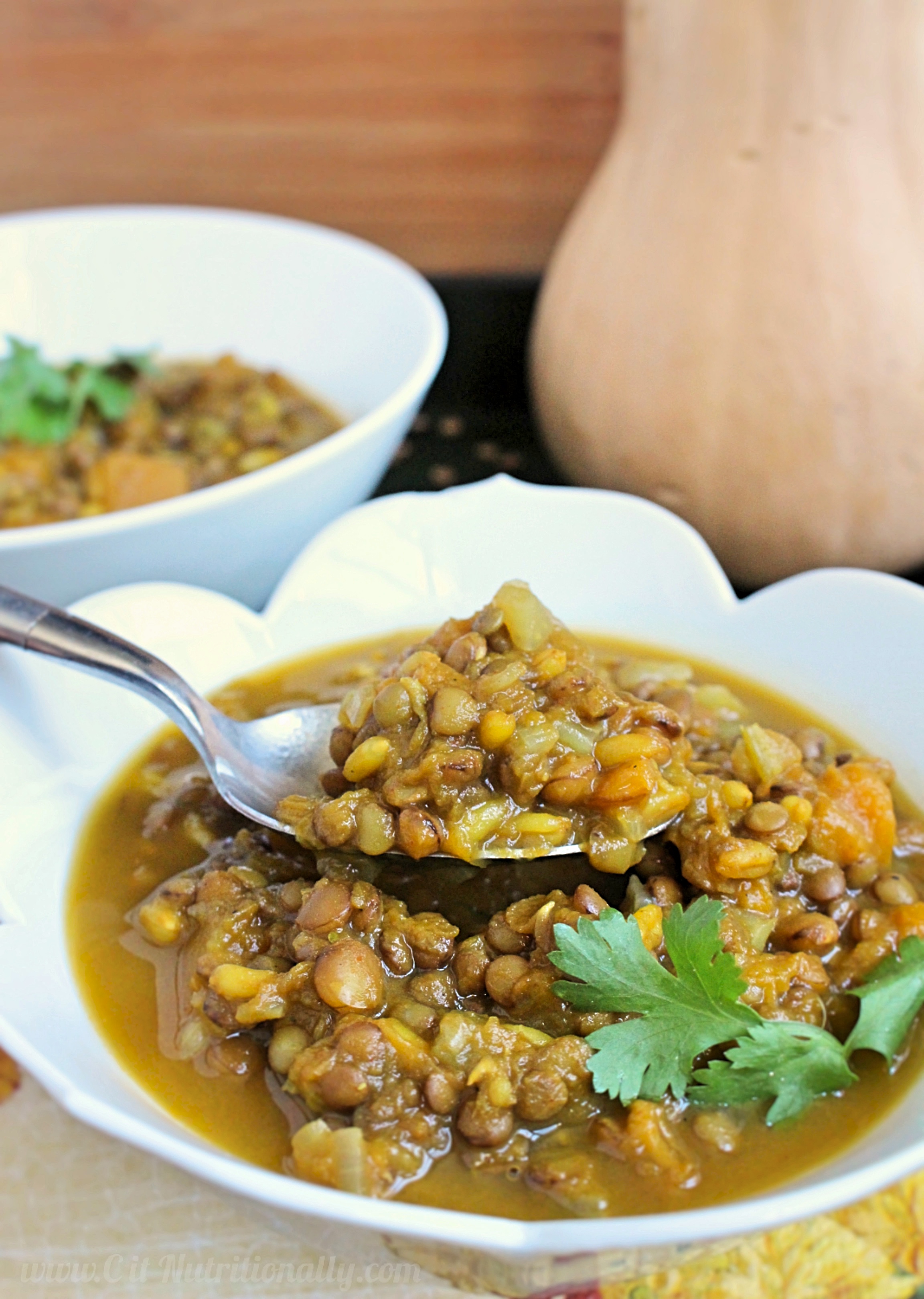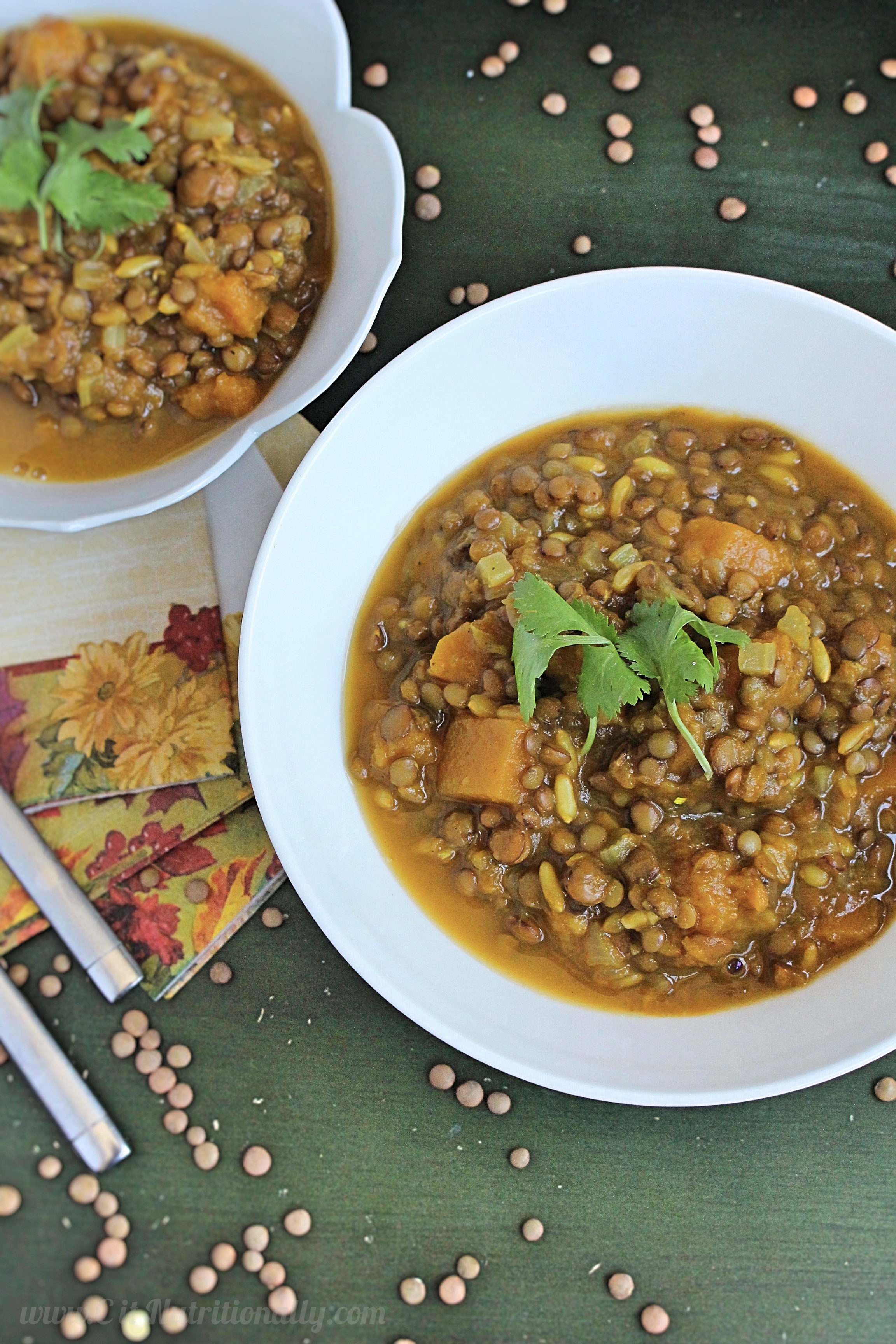 Here are some things you may need to make this recipe:
Butternut Squash and Lentil Soup
Delicious and nutritious, sweet and a littttttle spicy, filling and light at the same time, this butternut squash and lentil soup will warm your belly all winter long!
Ingredients
1 tablespoon olive oil
1 cup yellow onion, finely chopped (about 1 small onion)
1 cup celery, finely chopped (about 4 stalks)
2 garlic cloves, grated or finely chopped
1 1/2 lbs butternut squash, cubed (about 1 small to medium-sized butternut squash)
1/4 teaspoon cumin
1/4 teaspoon turmeric
1/2 teaspoon sea salt
1/4 teaspoon freshly ground black pepper (more to taste)
6 cups vegetable stock
1 cup dried green lentils
1/2 cup Kamut*
2 bay leaves
1 sprig thyme, destemmed
Optional for garnish: Cilantro, pumpkin seeds (pepitas)
Instructions
In a large stock pot over medium-high heat, combine olive oil, onion, celery and garlic and saute until vegetables begin to soften and are almost translucent, about 5 minutes. Then add butternut squash and continue to saute until squash just turns tender to fork, about 15 minutes.
Add cumin, turmeric, salt and pepper and cook for another few minutes until fragrant.
Then add vegetable stock, lentils, kamut, bay leaves and thyme. Bring mixture to a boil and then reduce to simmer and let cook for 30 minutes or until lentils and kamut are completely cooked.
Serve immediately, or let cool and save for later. Soup will keep refrigerated for about a week and remain viable if frozen for about 6 months. Enjoy! :)
Serving suggestion: Garnish with cilantro and pumpkin seeds.
Notes
*You may substitute another hearty grain (like farro or barley) or omit altogether and add an additional 1/2 cup of lentils.
Nutrition Facts, for 12 generous servings: Calories: 120 calories Fat: 1.4 grams Carbs: 23 grams Fiber: 4 grams Sodium: 46 mg Protein: 6 grams
http://citnutritionally.com/butternut-squash-and-lentil-soup/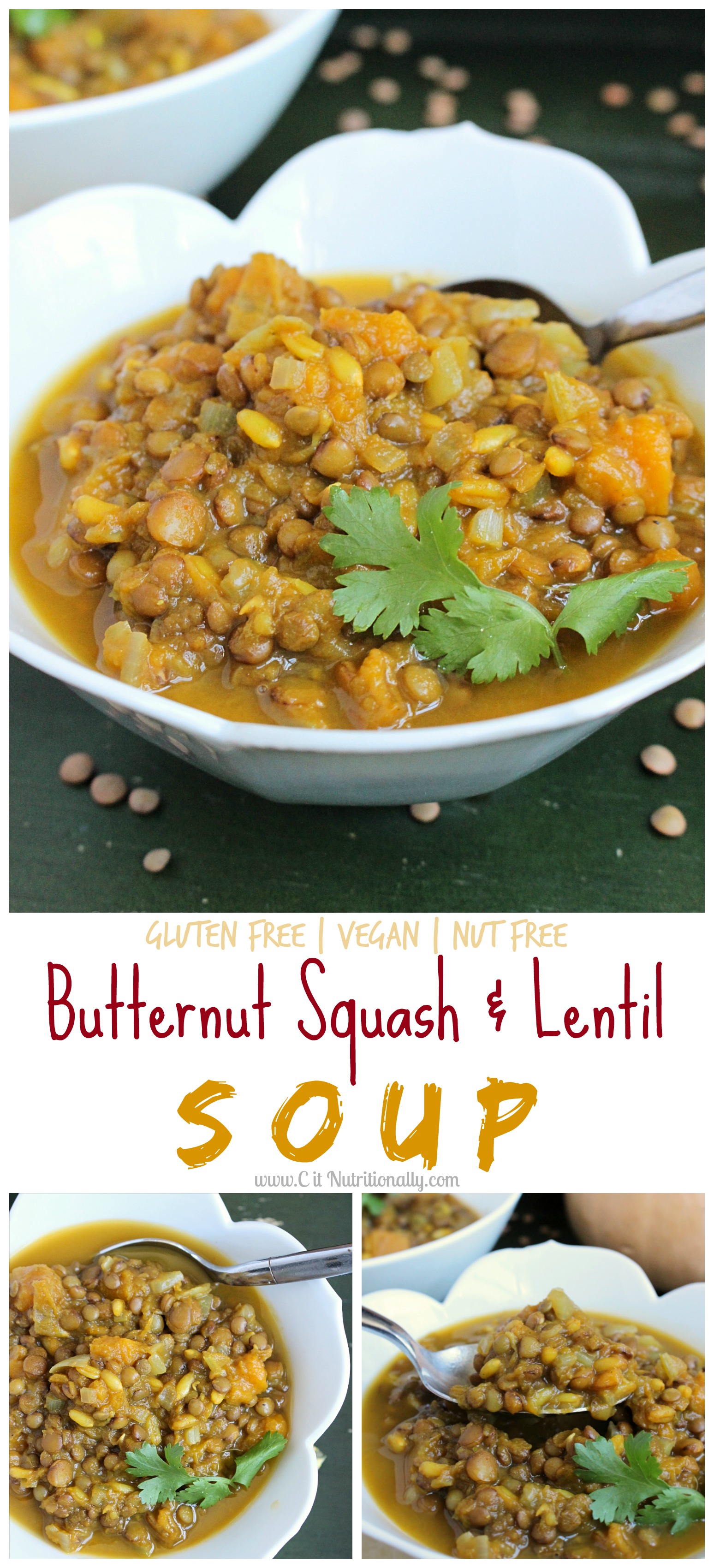 Let the soup making commence!


XO