Take a bite into these chewy chocolatey Chocolate Cherry Energy Bites made without added sugar but for a sweet treat with almost 2.5 grams of fiber in each bite…the perfect pre-workout snack!
Vegan, Gluten free, Grain free, Nut free, Peanut free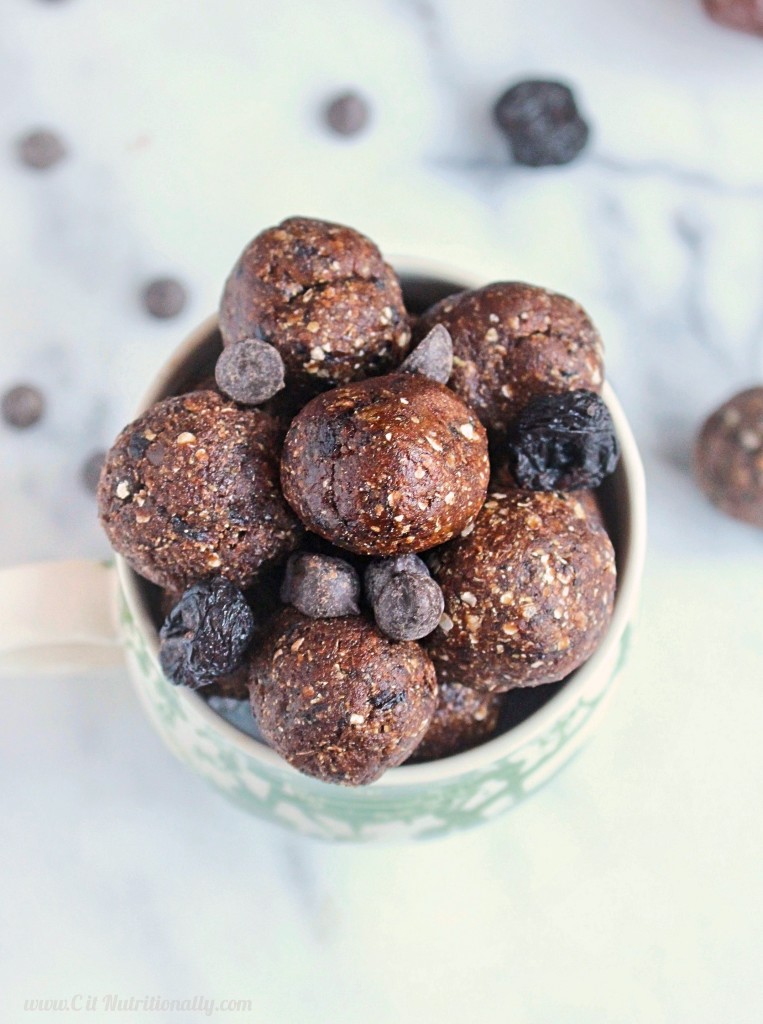 I'm continuing the healthy snack FUN this ((not what I ate)) Wednesday with these Chocolate Cherry Energy Bites! Many of you responded to my survey and wanted to see more healthy snack recipes over here, so I'm HAPPY to oblige! (Have no idea what I'm talking about? Take my 3 question survey HERE!)
I love going to evening workout classes and these are the PERFECT pre-workout snack to give me that energy boost before I'm shaking dat booty on the dance cardio floor.
In fact, I'm hosting a pre-/post-workout nutrition workshop next Wednesday at my favorite workout studio — 305 fitness — and this is one recipe I'm bringing with me (in addition to a bunch of delicious products my favorite companies have graciously sent!) as an example for the perfect pre-workout fuel (gotta eat those carbs to fuel your muscles!).
**If you want more information about the workshop please reach out!**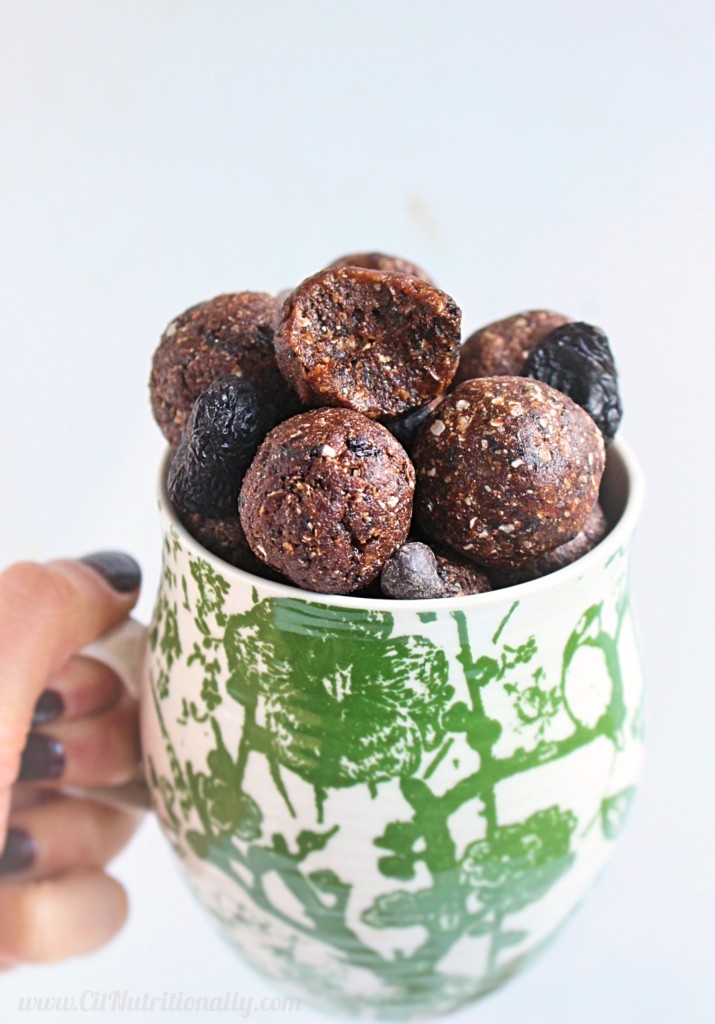 The perfect pre-workout snack is high in carbohydrates to provide energy to fuel your muscles while also being easy to digest. I used these Chocolate Cherry Energy Bites all week long before my workouts and felt fabulous!
What else do you have to keep in mind before a workout? Hydrate, hydrate hydrateeee! If you're starting your workout on the under-hydrated side you're not going to be able to perform as well throughout your workout. Just a little FYI on pre-workout nutrition!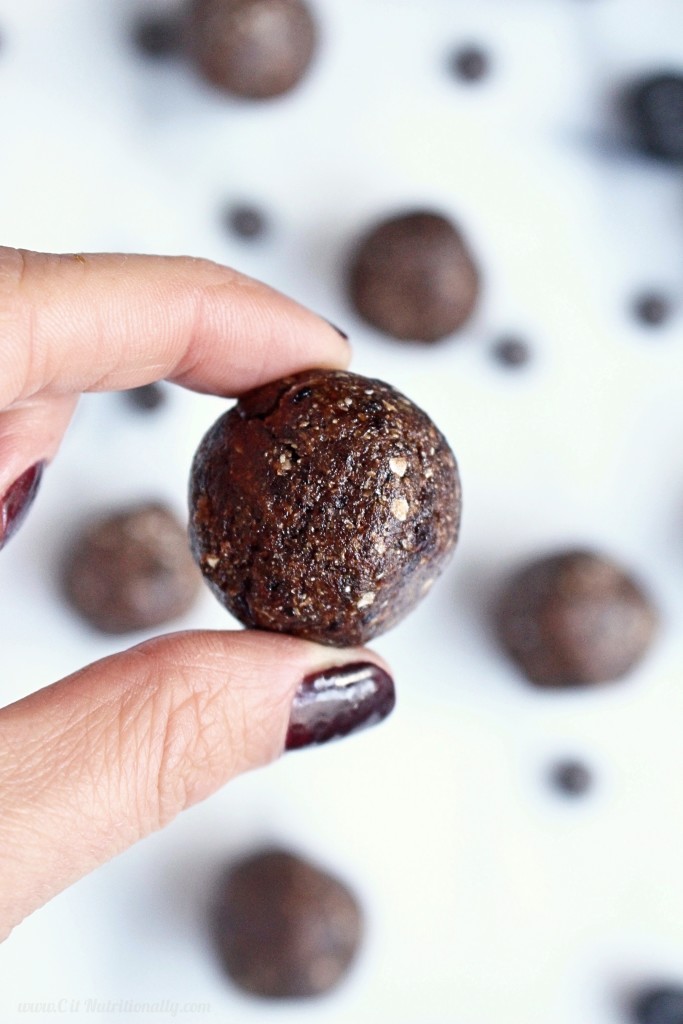 These
Chocolate Cherry Energy Bites
are…
Made with just

6 ingredients
Free from the top 8 food allergens — that means NUT FREE!

100%

vegan

,

gluten free

and

grain free

Under

100 calories

each with almost

2.5 grams of fiber

per ball!

A great pre-workout treat to give you the energy boost you need.

A

sweet treat

that is totally nourishing and good for you!

Sunflower seed free and made without nut/seed butter.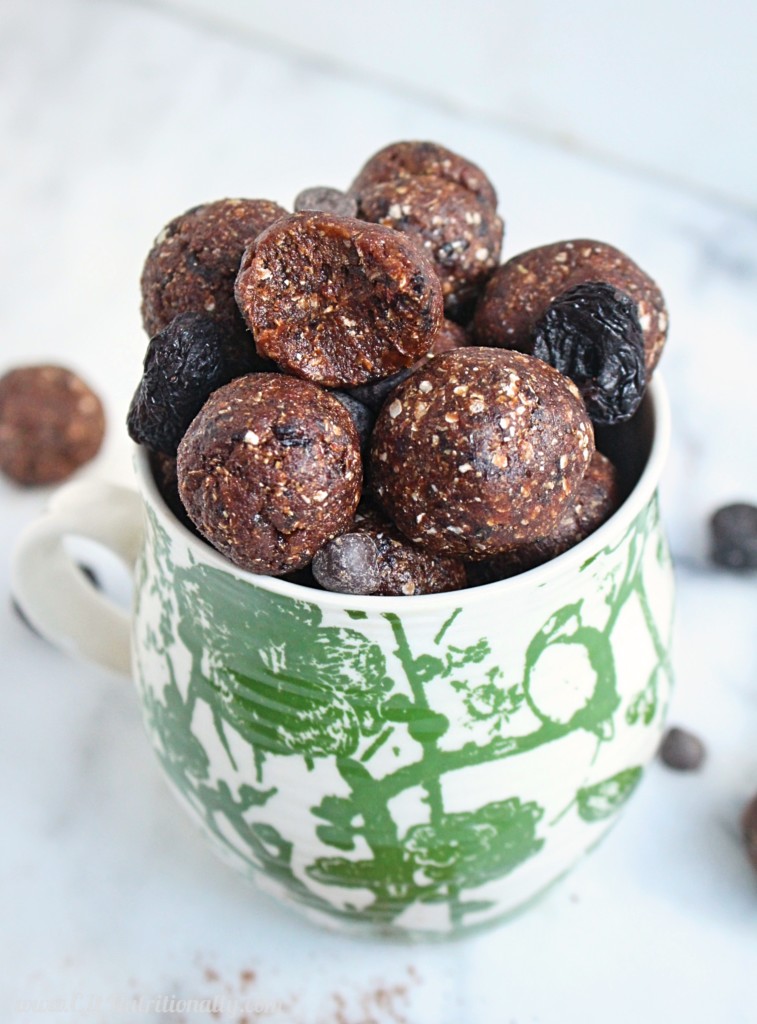 Let's stop, drop and roll these Chocolate Cherry Energy Bites into the most delectable balls… YUM!
Chocolate Cherry Energy Bites
Ingredients
Instructions
Add all ingredients to the bowl of a food processor and blend until mixture is smooth and comes comes together in a ball. The mixture will be very sticky.
Roll the mixture into about 12 balls. You may need to wet your hands to prevent the mixture from sticking to your hands too much.
Place the balls in the freezer, on a parchment paper-lined baking sheet, for about 5-10 minutes and then store in an airtight container in the fridge for up to one week. Enjoy! :)
Notes
Nutrition Facts (per ball, if you make 12 balls): 90 calories, 1g fat, 1mg sodium, 19g carbohydrates, 2.4g fiber, 1.3g protein
http://citnutritionally.com/chocolate-cherry-energy-bites/
Don't forget to PIN IT…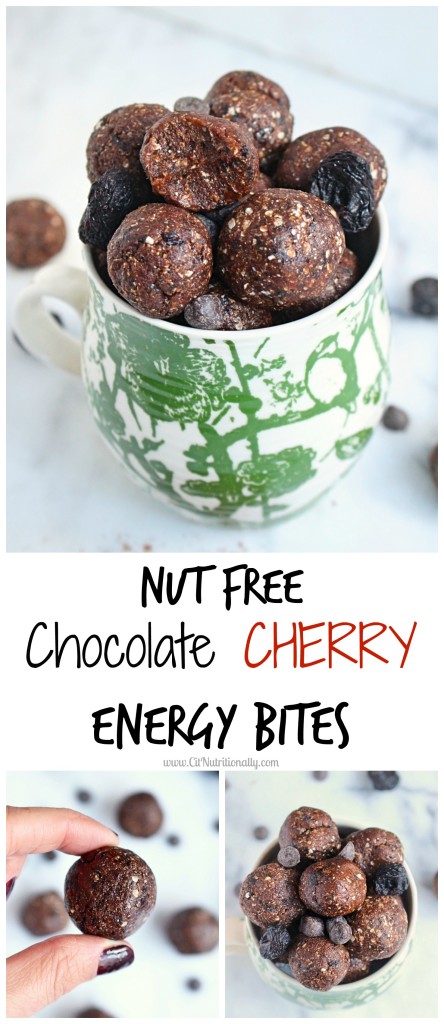 What's your go-to pre-workout snack?!
XO