What's better than nature's candy dipped in silky smooth dark chocolate? Right, nothing! You'll love this chocolate covered fruit — decadent, rich, and good for you with healthy fats and fiber! Start your week on a chocolatey note!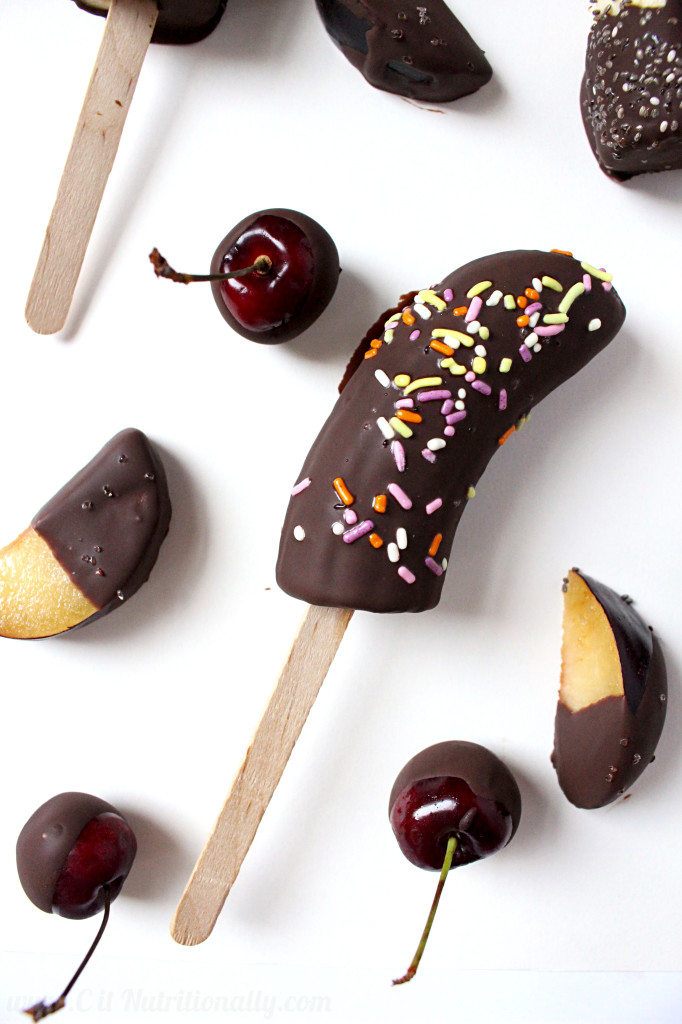 Heyyy yooo! Happy Monday! How was your weekend? Mine was fan-freakin-tastic! The weather was GORGEOUS here in New York — finally not too hot, but not too cold…justtttt right!  And yesterday I attended a bridal shower for one of my closest friends! No matter how many bridal showers I go to, they're each unique and I'm so excited to celebrate my bestest friends getting married! I had a lot of work preparing the gift from the bridesmaids and making a scrapbook for the bride-to-be, so now that it's over I have SO much more free time! 
Free time for CHOCOLATE! To be honest, my sweet tooth for chocolate has been non-existant this summer, so when I got an inkling for frozen chocolate covered naners I knew I had to go for it! And then I proceeded to dip every other fruit in my fridge in chocolate. Because when I dip you dip we dip.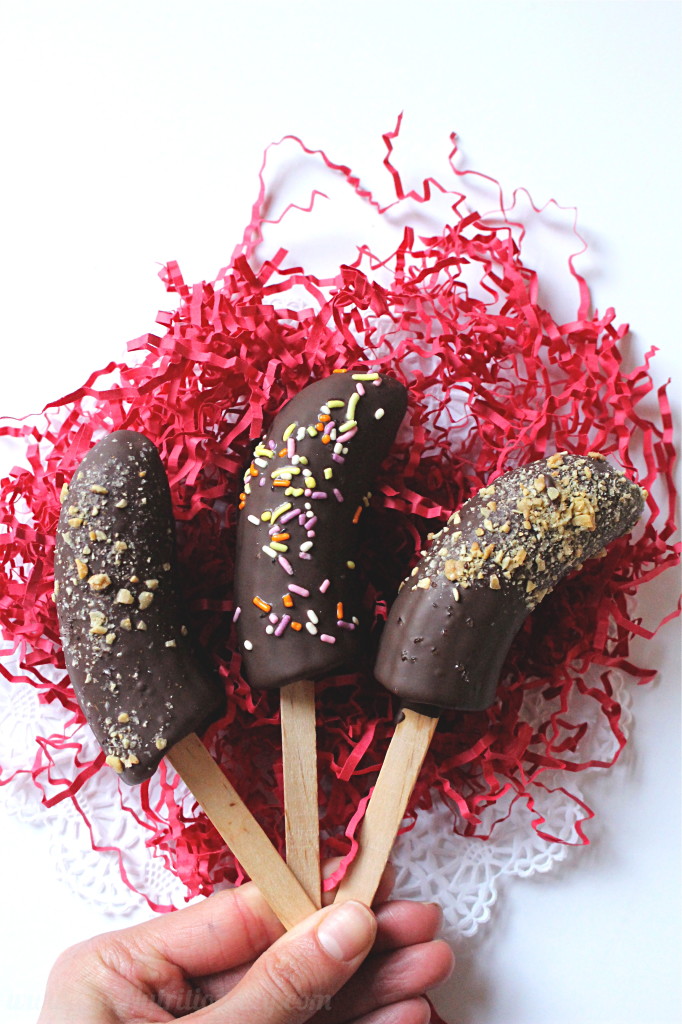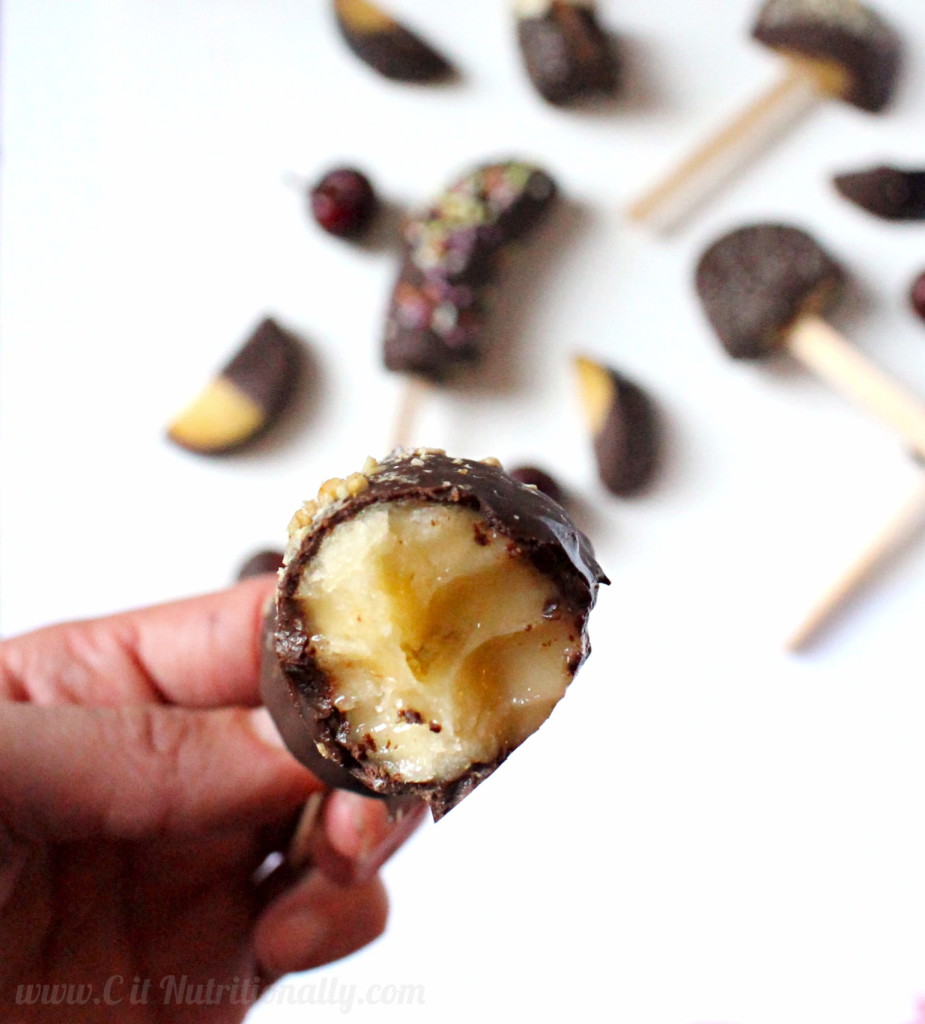 So this isn't really a recipe at all. It's just chocolate + fruit + NOM. 
What fruit to choose? Literally anything! Cherries are bomb.com. Naners, even better! But my absolute favorite?! BLOOOBS! I mean, are you surprised? I don't even have a picture of those because they disappeared so quickly. I don't even know where they went. #SorryI'mNotSorry.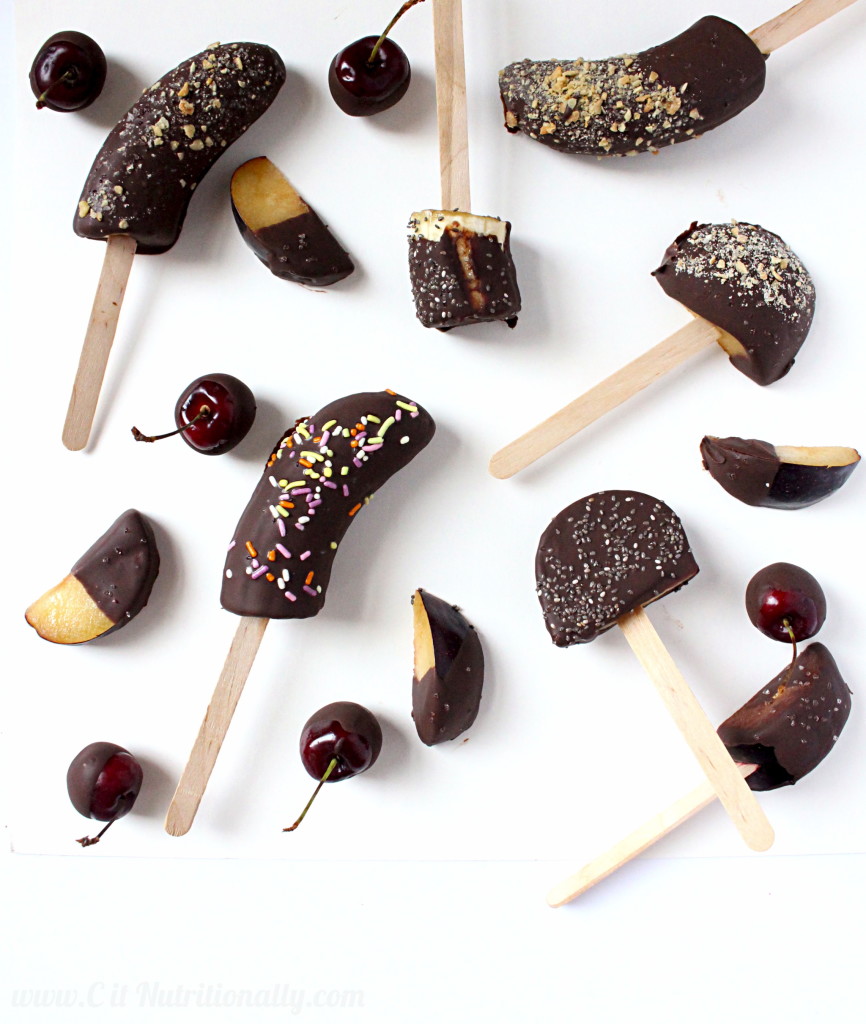 I hiiiighlyyyy suggest freezing the fruit. Frozen chocolate covered fruit is THAT much better than when it's just in the fridge.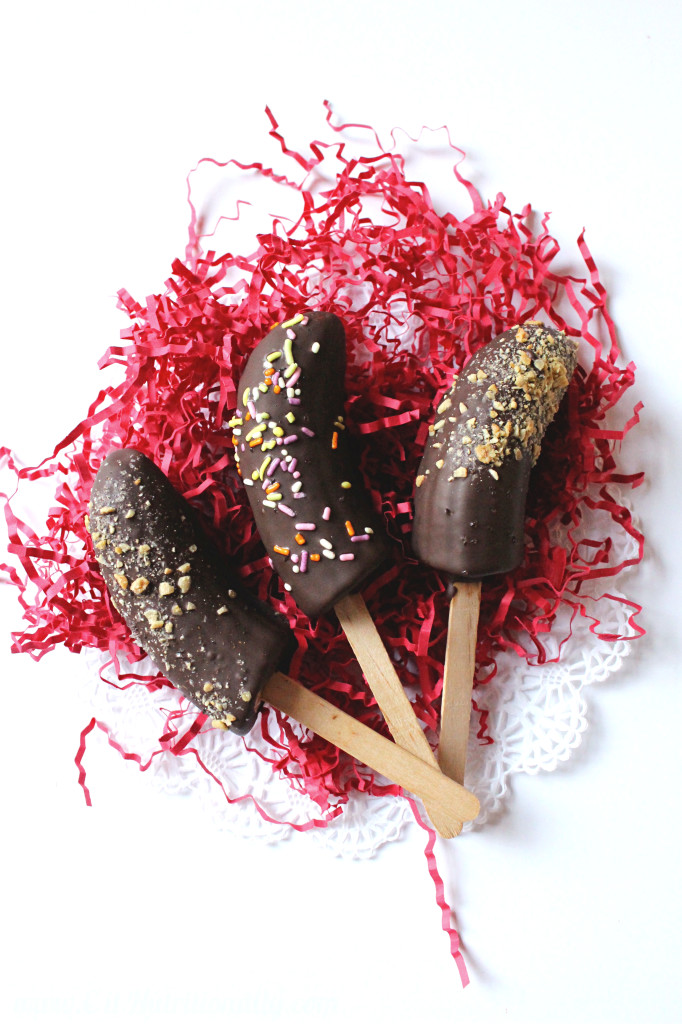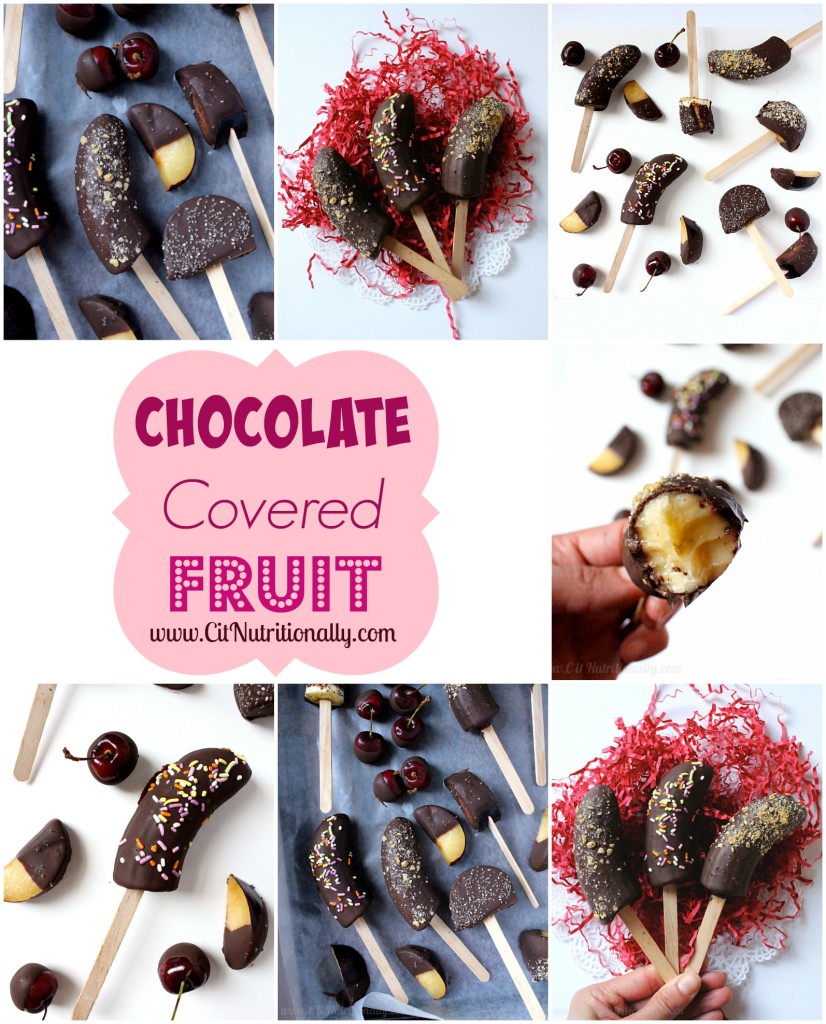 Dip yourself…
Ingredients
Fruit of choice (I love bananas, cherries, and blueberries)
1 teaspoon coconut oil
1 cup mini dark chocolate chips (I used Enjoy Life)
Toppings: Crushed seeds and/or nuts, sprinkles, chia seeds
Optional: popsicle sticks
Instructions
Cut bananas in half and plums/peaches in quarters and insert popsicle stick. Set aside on plate. Prepare toppings in small bowls and set aside.
Melt coconut oil with chocolate using whatever method you prefer. I used a double boiler. Alternatively, combine oil and chocolate in a microwave safe bowl and microwave for 30 seconds, stir, and repeat until chocolate is smooth.
Line a baking sheet with wax paper and place next to chocolate. Carefully dip fruit in chocolate until desired surface is covered. While wet, sprinkle with toppings and place on wax paper. Repeat until all fruit is covered and/or you run out of chocolate! (Note: For fruit like blueberries I arranged them close together on the wax paper and just drizzled chocolate on top.)
Refrigerate chocolate covered fruit for at least 30 minutes until chocolate has hardened. Store in an airtight container in the refrigerator or freezer (I love frozen chocolate covered bananas).
http://citnutritionally.com/chocolate-covered-fruit/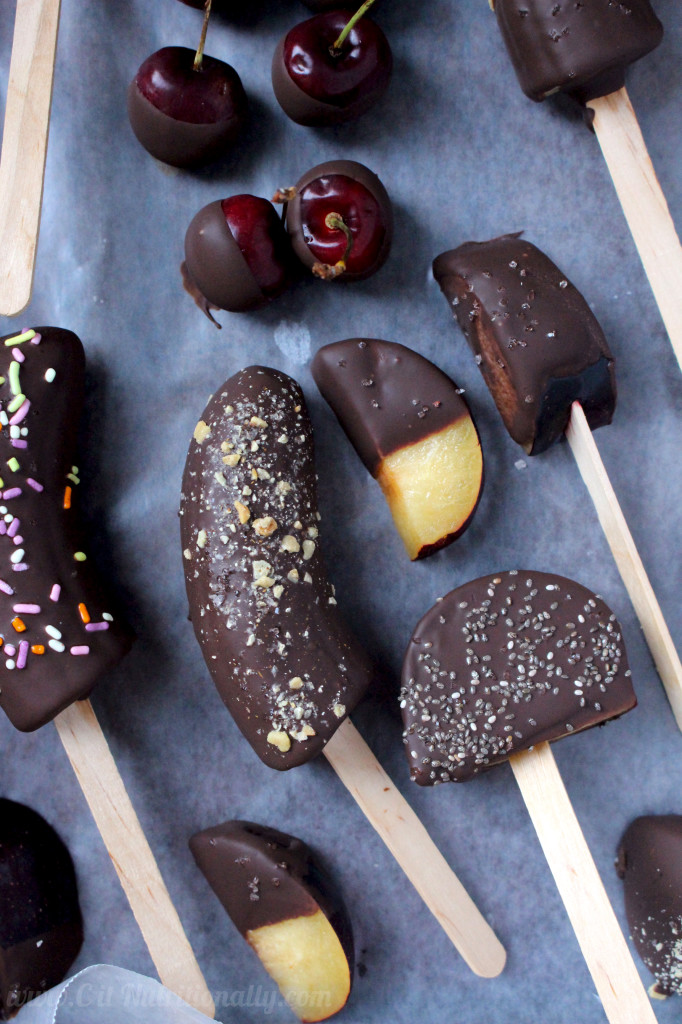 Easy peasy! Now go get dippin'!
XO
Looking for more fruity desserts?? Check out these great recipes: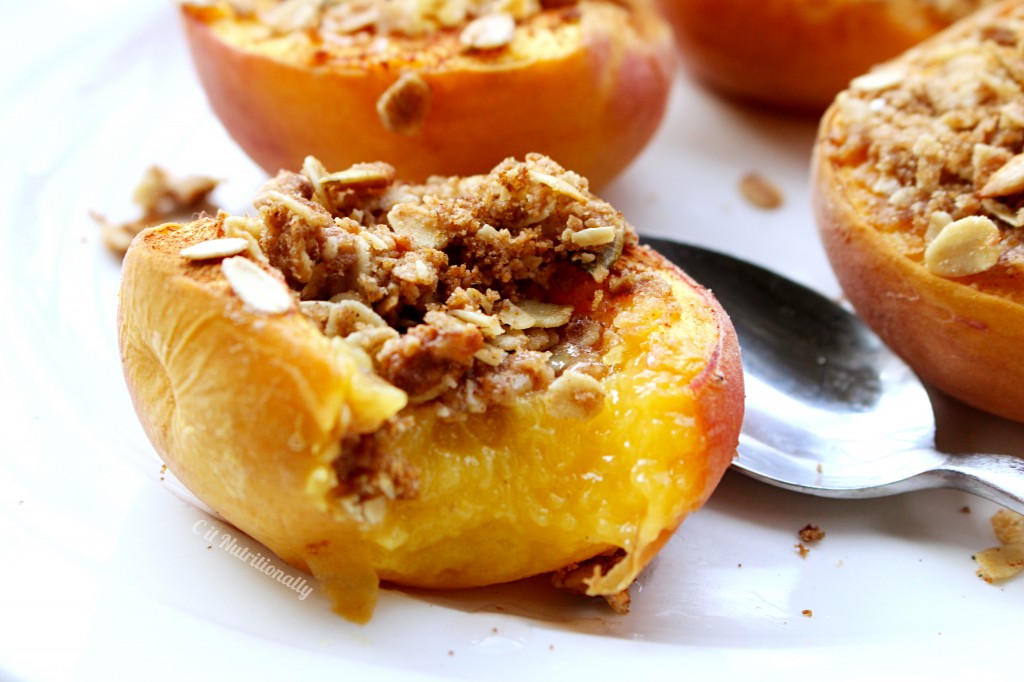 Raw Chocolate Banana Pudding Pie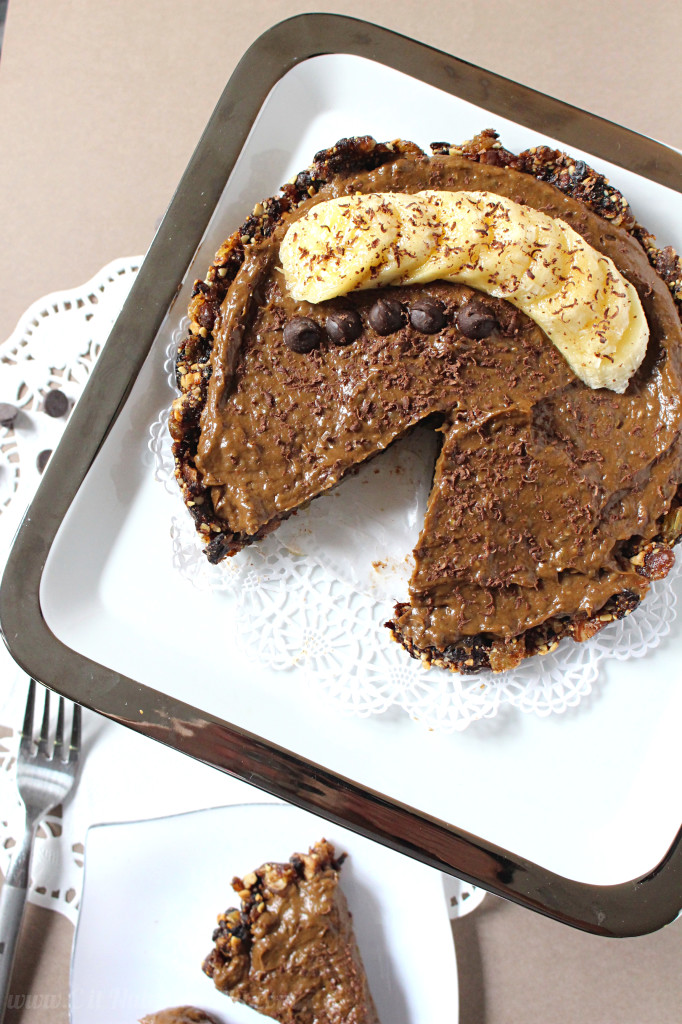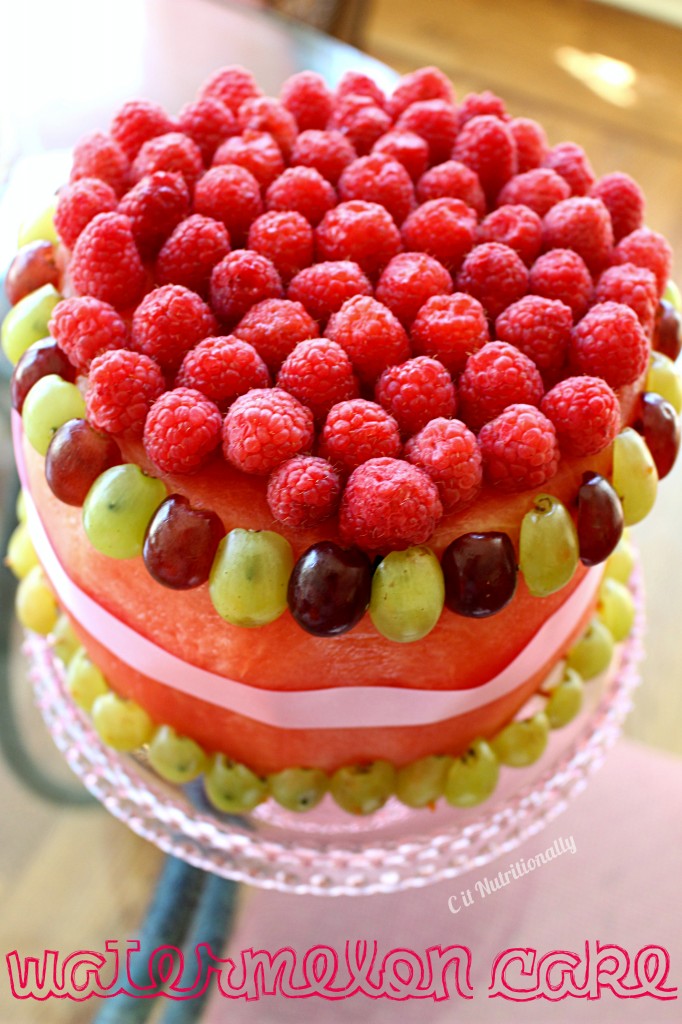 No Added Sugar Banana Bread Muffins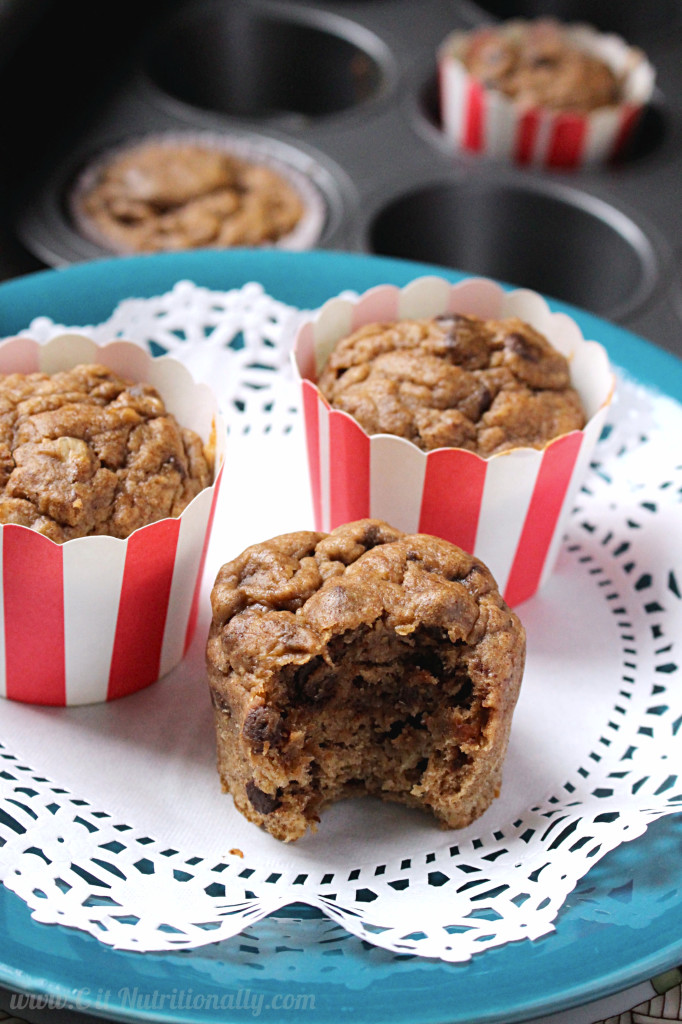 Craving more? Sign up for the C it Nutritionally Newsletter for fresh new content delivered to your inbox! Follow C it Nutritionally on Facebook, Twitter, Pinterest and Instagram for all of the latest recipes and updates!