Creamy, sweet, and with chocolatey notes, this Chocolate Raspberry Green Smoothie is a nourishing start to your day or a great mid-day pick-me-up!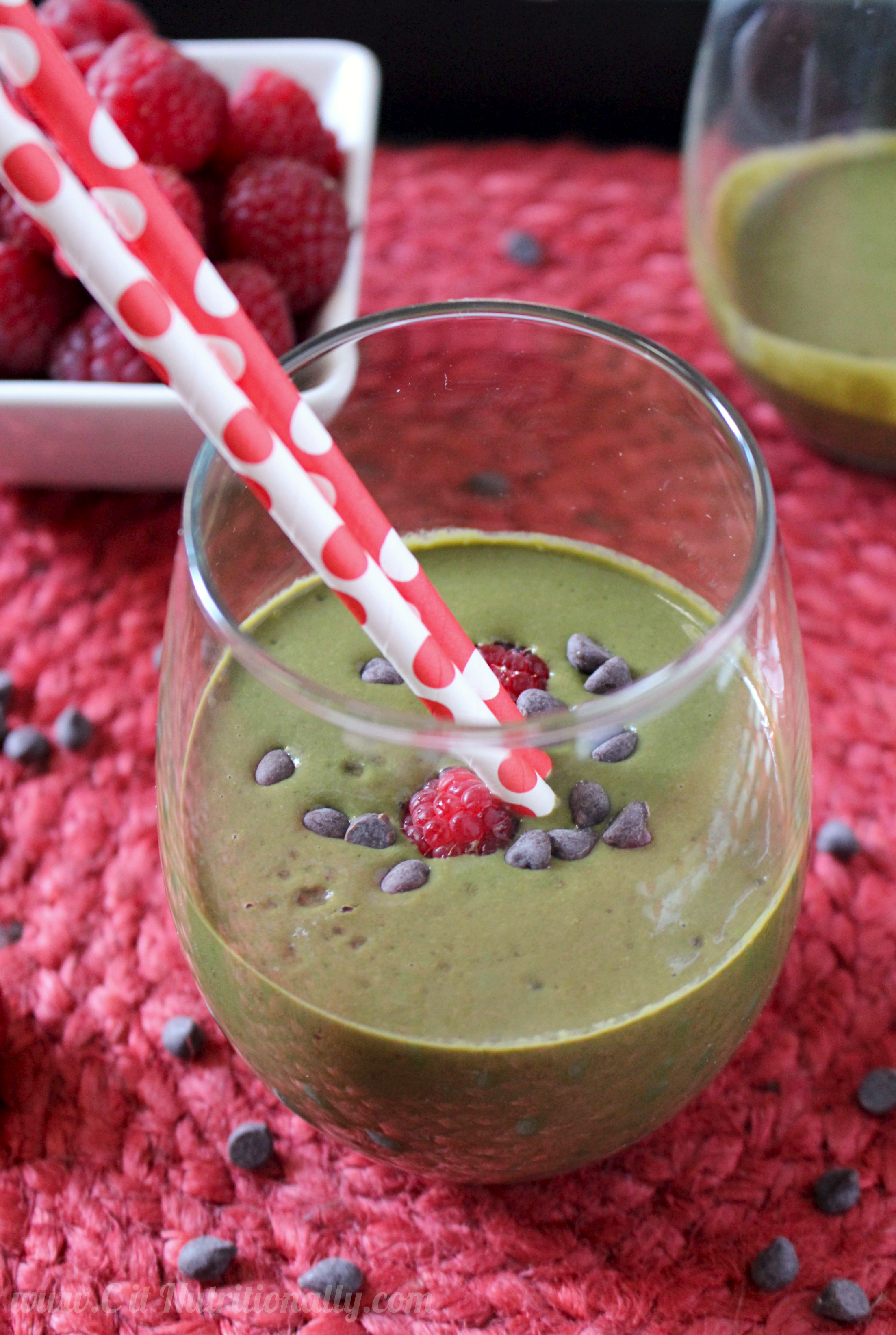 Happpppyyy February 1st! I cannot believe we're already onto month two of 2016! February is bringing B-I-G BIG changes to my life…I'm starting the clinical/in-hospital portion of my dietetic internship next week (and have been reading this advice daily!) and I'm moving (on the same day I start my internship…because obviously when it rains it pours)!
In an effort to be more mindful — not only with food, but LIFE — I don't want to get ahead of myself and move onto February without recapping some January highlights…
I've been on "vacation," which has really been a "blogcation," because I've been hard at work creating, cooking, editing and EATING all sorts of fun new stuff for ze bloggity blog…and having SO much fun pretending to be a "full time blogger!" Did you check out my Vietnamese-Inspired Noodle Bowl, Veggie Pot Pie Soup, Winter Citrus & Arugula Salad or my new and improved Very Veggie Bean Chili???
January has also been C it Nutritionally's best month yet! You guys are LOVING my Nut-Free Chocolate Sunflower Seed Butter (aka nut-free nutella!), my classic Greek Bean Burgers, and my Avocado Egg Rolls (PERFECT for the Super Bowl!).
My Quinoa & Lentil Power Bowl WON Progresso's contest through The Recipe Redux (#humblebrag)! I couldn't believe my simple less than 10 ingredients recipe WON! Woooo! Try this simple meat-free meal ASAP!
And in life…I saw my parent's new home, found a new apartment in the middle of super storm Jonas, and then had lots of fun in the 27 inches of snow that basically shut down the city! I took a bunch of fun workout classes, enjoyed some good R&R and feel ready to get the show on the road with my DI!
Which brings me to the present…
To smoothie or not to smoothie…that seems to be the question every darn day! I've shared my anti-smoothie history before, so when I finnnnallly found a nourishing and satisfying smoothie I actually enjoyed eating drinking daily I was so happy.

Then (albeit several years later), I was told my potassium was a tad high. Toooo much of a good thing? Well, high potassium can easily be remedied through diet, so I quickly cut out bananas and potatoes (womp womp) and saw my numbers drop (whew!).
So what was I going to do with my adored smoothie??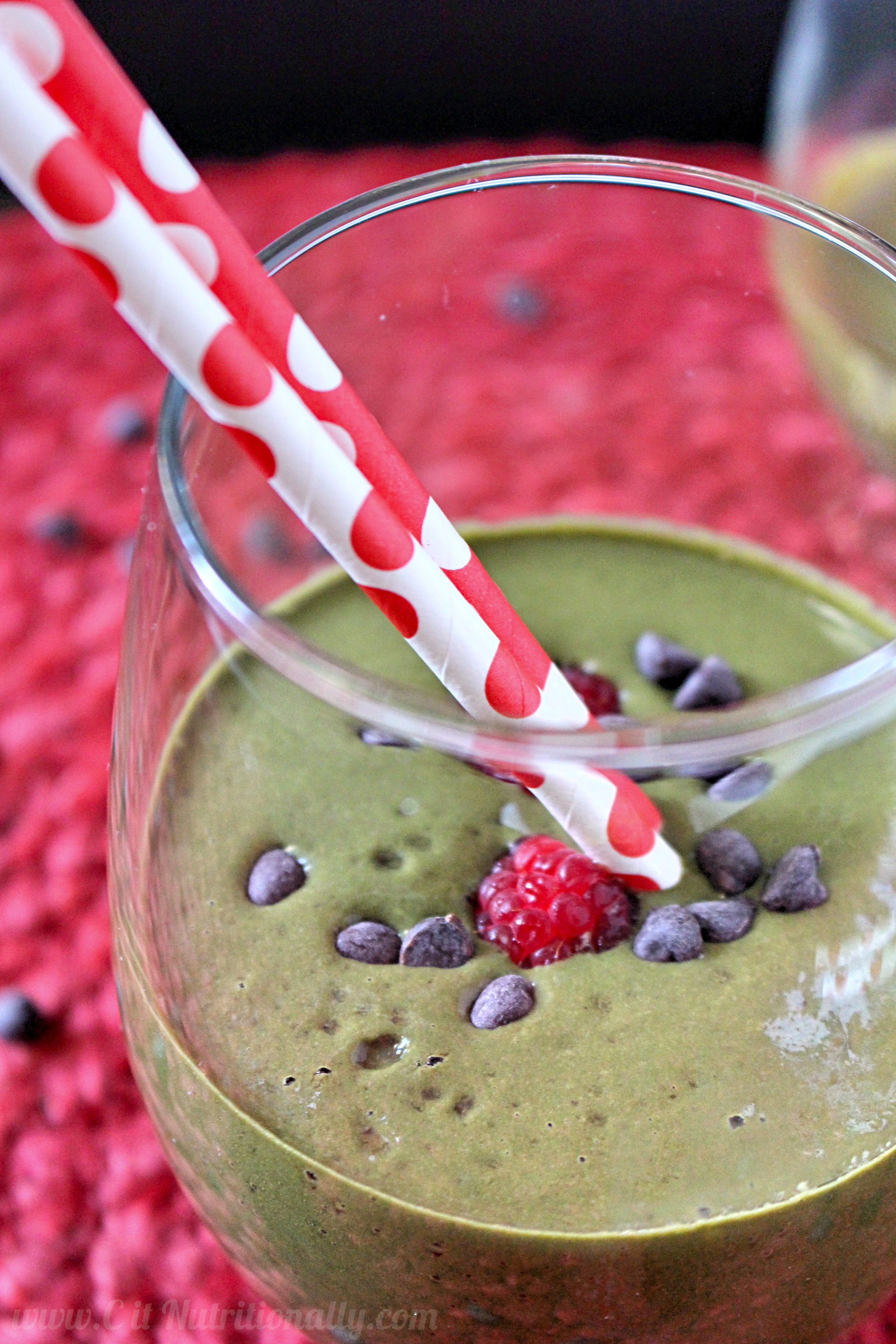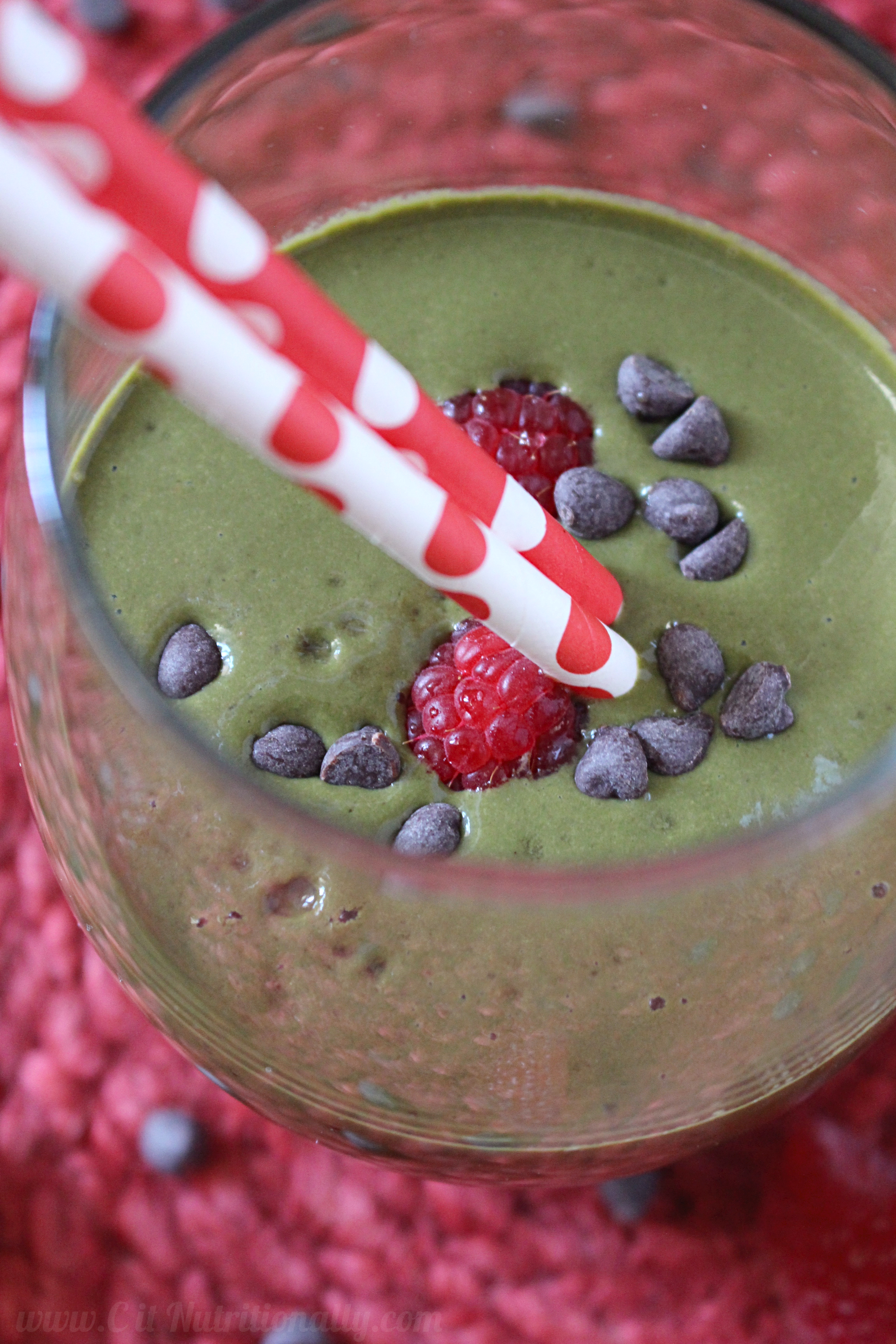 In addition to becoming addicted to oatmeal, I got creative! This beyond basic combination swaps out the banana for raspberries. Frozen raspberries are one of my FAVORITE frozen fruits and blend up to a gorgeous color…until you add the spinach!
Plus, you can now enjoy the bountiful benefits of berries out-of-season by purchasing FROZEN raspberries.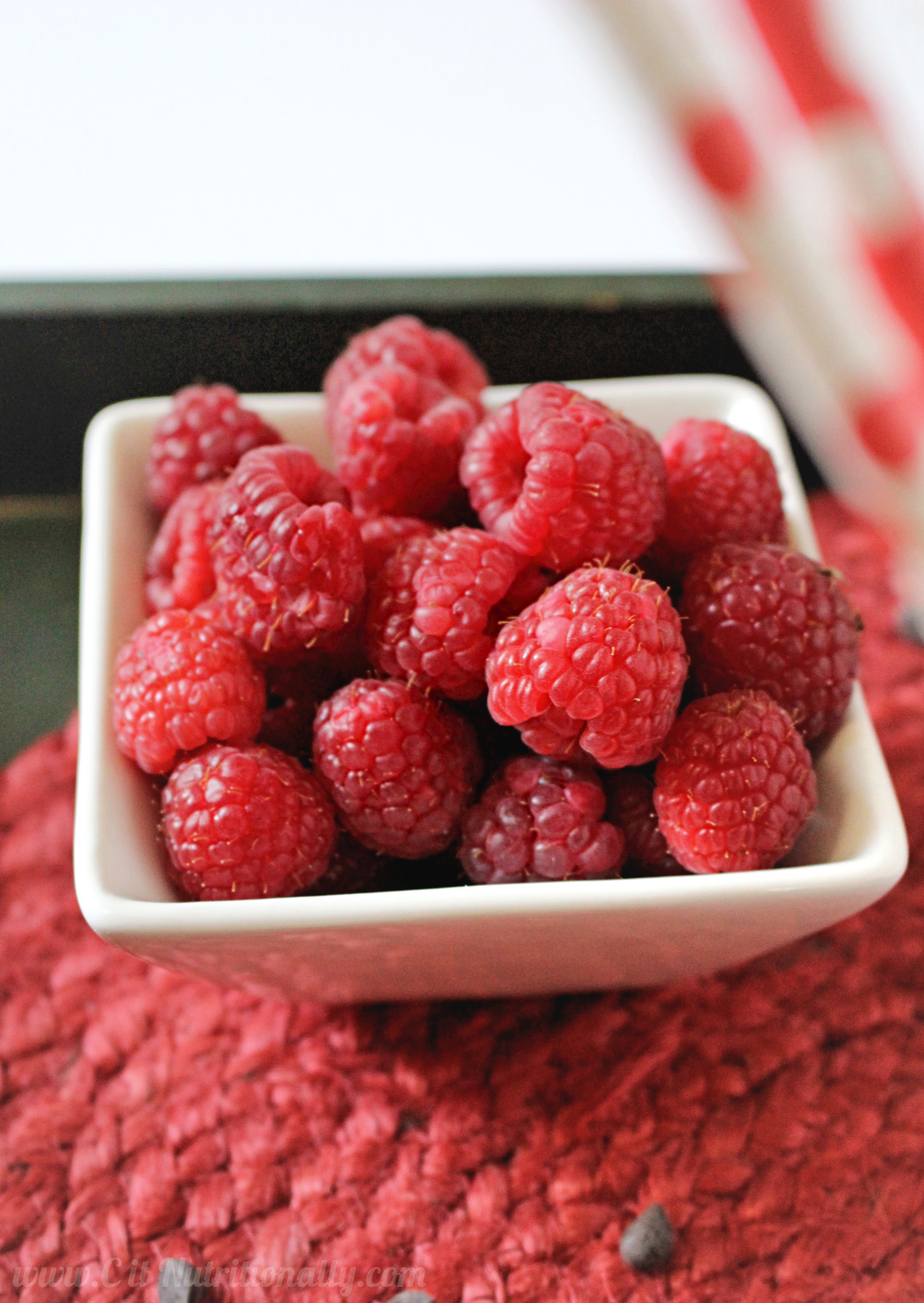 Raspberries…
Contain 65 calories per cup
Provide over 40% of your daily vitamin C requirements (per cup)
Per cup, contain one-third of your daily FIBER needs (and we could all use more fiber!)
Contain necessary micronutrients like biotin, magnesium, vitamins E and K, and
Even contain some omega 3 fatty acids (the heart-healthy kind!)
Are loaded with antioxidants (especially organic varieties)
Can help reduce your obesity risk through their enzymatic activity, which revs fat burning metabolism!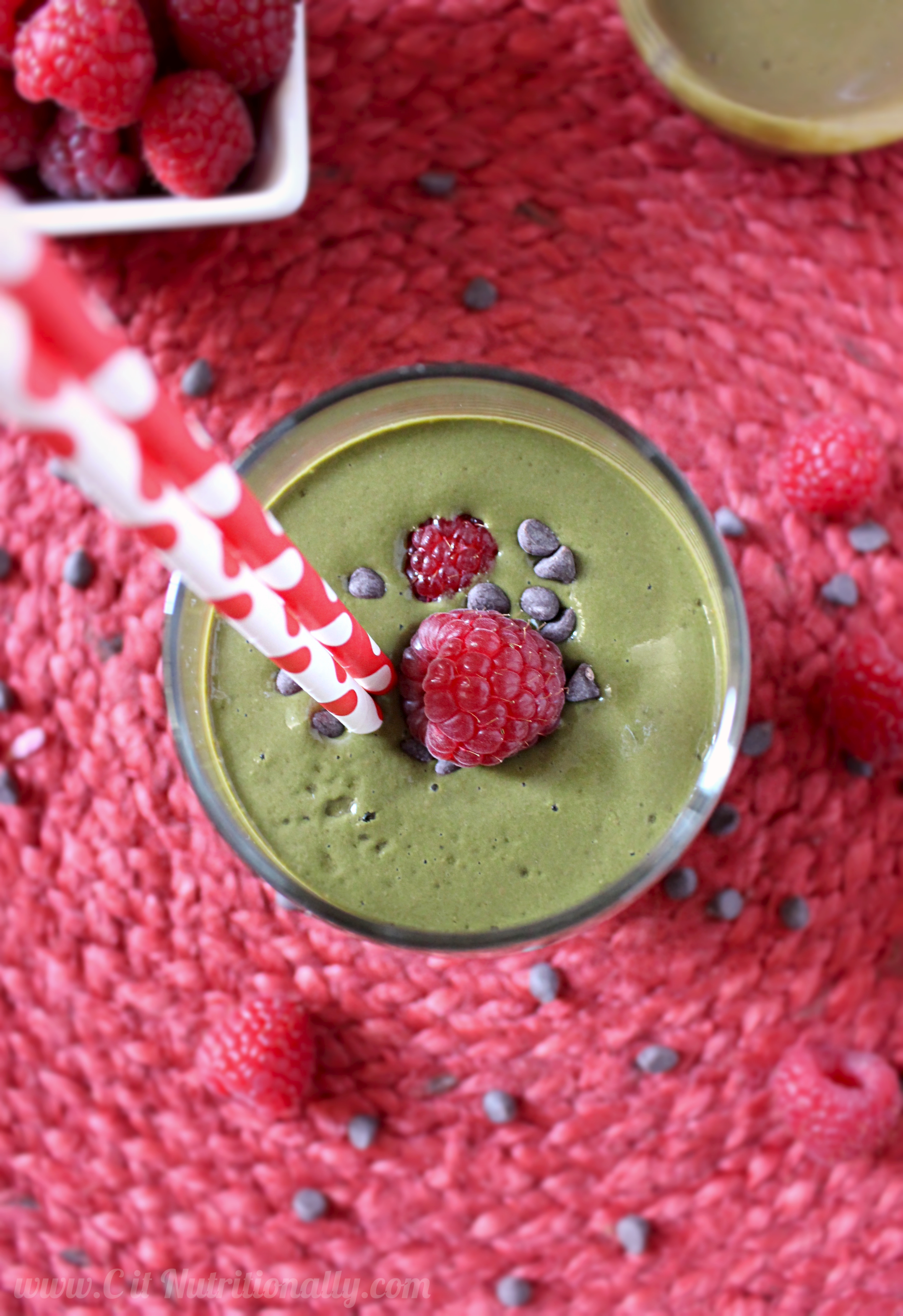 If you're enjoying this smoothie as a snack, I suggest omitting the nut/seed butter as to not overdo it on calories and fat, but if you're using this smoothie as breakfast, add the butta! I've had it both ways and love it either way!
You can also add in a piece of banana for additional sweetness, but I love the sweet/tart combination of the raspberries and didn't find it necessary.
This smoothie is…
Tart and sweet
Creamy
Food allergy-friendly…nut-free, dairy free, egg free, gluten free
Nutrient-dense with TONS of vitamins and minerals from the spinach and raspberries
With hints of chocolatey goodness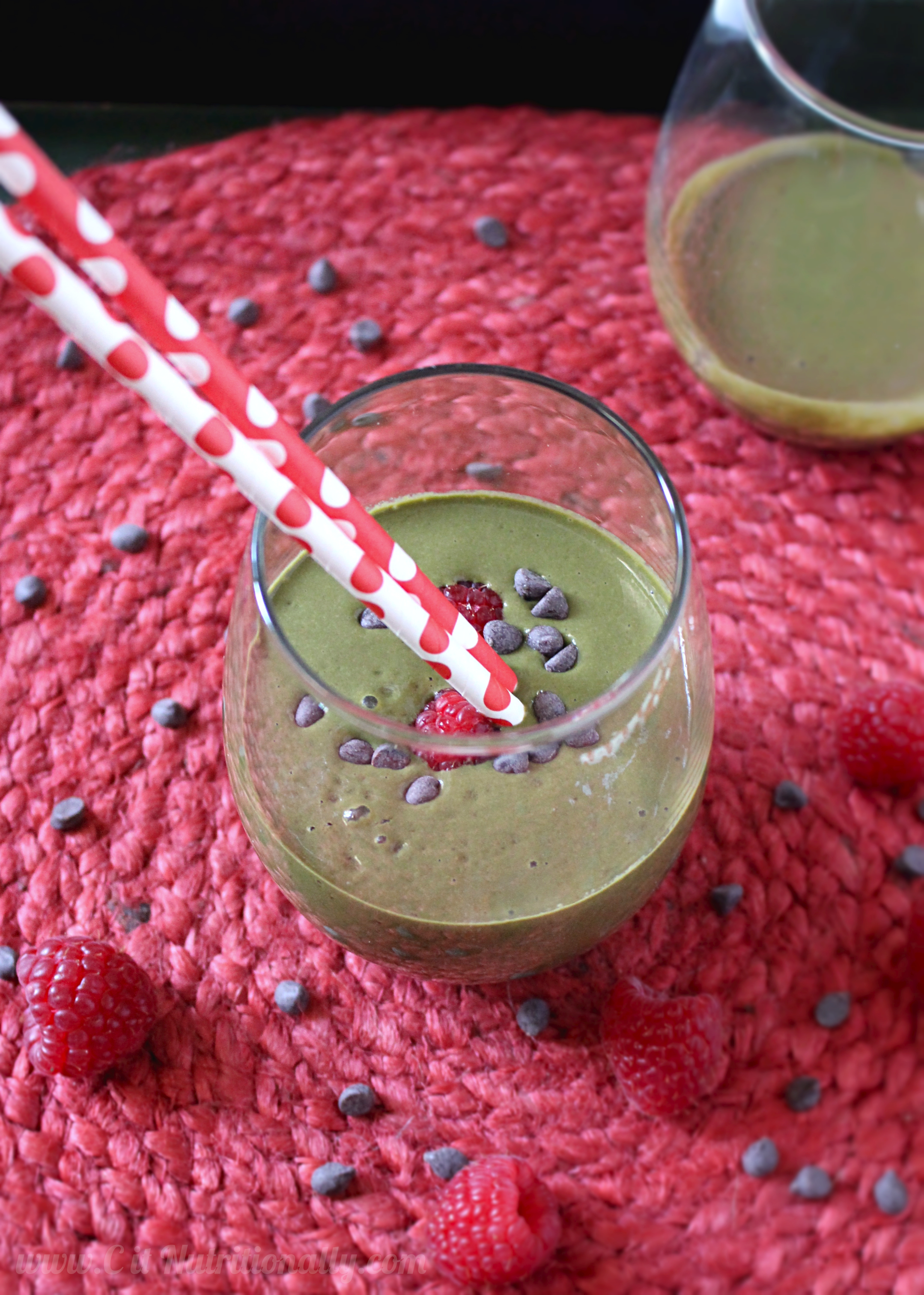 Let's blend…
Chocolate Raspberry Green Smoothie
Recipe Type
:
Smoothie, Breakfast, Vegan, Gluten Free
Author:
Prep time:
Total time:
Creamy, sweet, and with chocolatey notes, this Chocolate Raspberry Green Smoothie is a nourishing start to your day or a great pick-me-up snack! Vegan, Gluten Free.
Ingredients
½ cup unsweetened soy milk (or other milk alternative)
3 cups baby spinach
½ cup frozen raspberries
1 teaspoon unsweetened cocoa powder
Optional for additional sweetness: 1 1-inch piece of frozen banana (about 1/3 banana)
Optional for additional protein: 1 tablespoon sunflower seed butter
Instructions
Combine all ingredients in a high-powered blender and blend until smooth. Enjoy immediately!

Let me tell you…this is a great Valentine's Day breakfast treat!
Enjoy!
XO