A zesty, classic shrimp taco recipe that you can whip together in under 20 minutes so you can celebrate Cinco de Mayo any day of the year! Plus, check out 6 more festive Cinco de Mayo recipes that pair perfectly with this classic dish!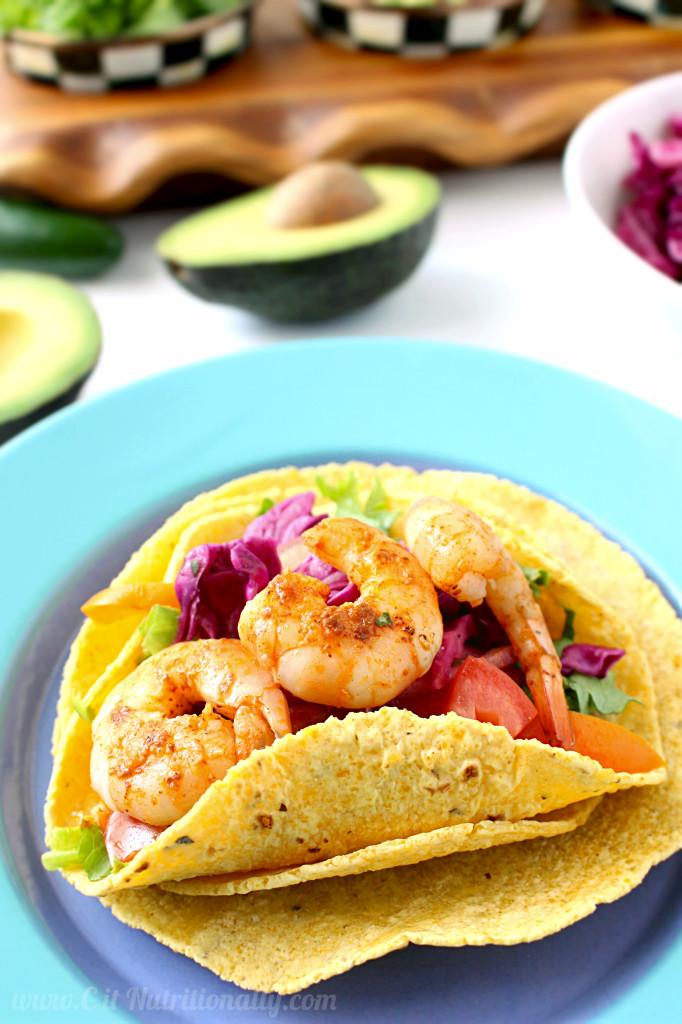 Hiiiyyaa friends! 
It's Fri-YAY…which means the weekend is here!!! I am beyyyond excited for the weekend because one of my best friends is getting married! AHHHH!!! I've been friends with Jamie since middle school and I cannot believe she is actually getting married tomorrow!
One things my girlfriends and I absolutely LOVE is Mexican food. In honor of Cinco de Mayo next week, I, of course, had to post something Mexi-spired. 
People often get intimidated by fish recipes (the smell, overcooking it, etc…) but shrimp are one of the EASIEST sea-friends to DIY. 
Buying fish these days is a tricky thing because there is rampant seafood fraud going on. Mislabeling filets, false claims about the origin, and more deceiving sales can make any buyer skeptical. Here are some tips to follow when buying fish:
Look for the most sustainable source.
Buy from a grocer you trust. Small, local sellers at farmers markets are typically a good choice, as are local/sustainable stores like Whole Foods. 
Opt for WILD fish whenever possible because farm-raised fish often have other additives to reduce infection. 
Frozen may be fresher than fresh! In the case of shrimp, they're often shipped to your store frozen, then thawed and sold "fresh," so getting frozen shrimp haven't been left out on ice all day. 
Look for a certification such as Wild American Shrimp or the Marine Stewardship Council (for wild shrimp) or Best Aquaculture Practices label (for farmed shrimp).
Now that you've bought the best fish you can buy, let's get cookin'! Despite having more cholesterol than other seafood, shrimp are an excellent source of lean protein to add to any diet, easy to prepare, and fairly versatile. This recipe is SO easy and has more assembly than actual cooking.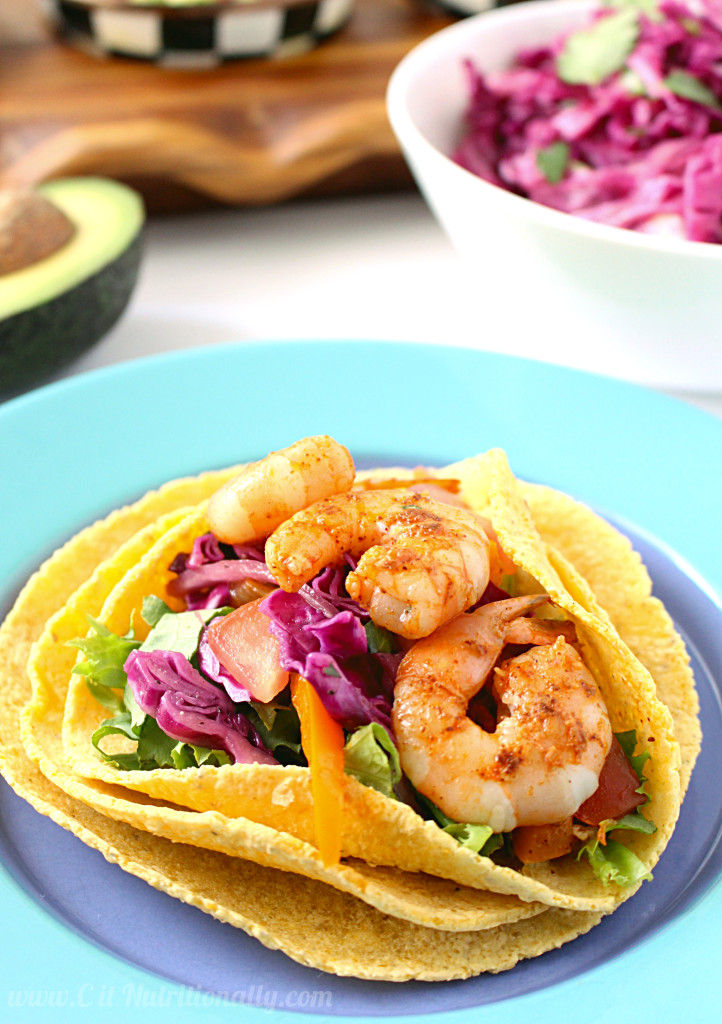 First, thaw your shrimp (if using frozen). Season as gently or heavily as you'd like, then cook quickly in a skillet over medium-high heat. 
Then on to the fun part: assembly! I hosted a festive #SundaySupper with these babies and let everyone DIY. Chop lettuce and tomatoes, make fresh salsa and guacamole, and definitely don't pass up the tangy cabbage slaw!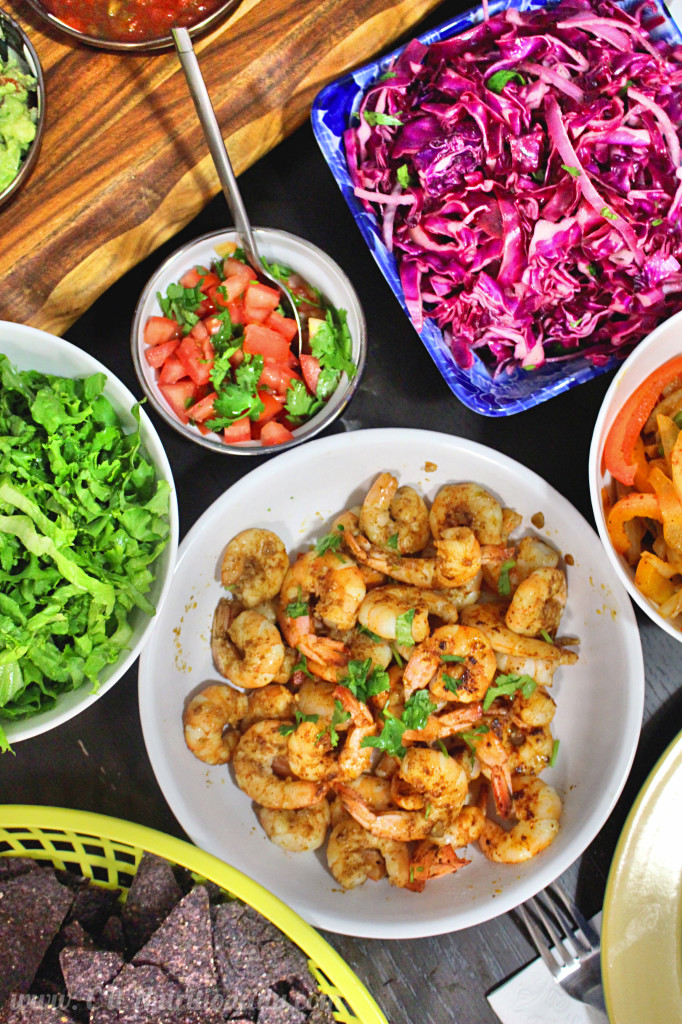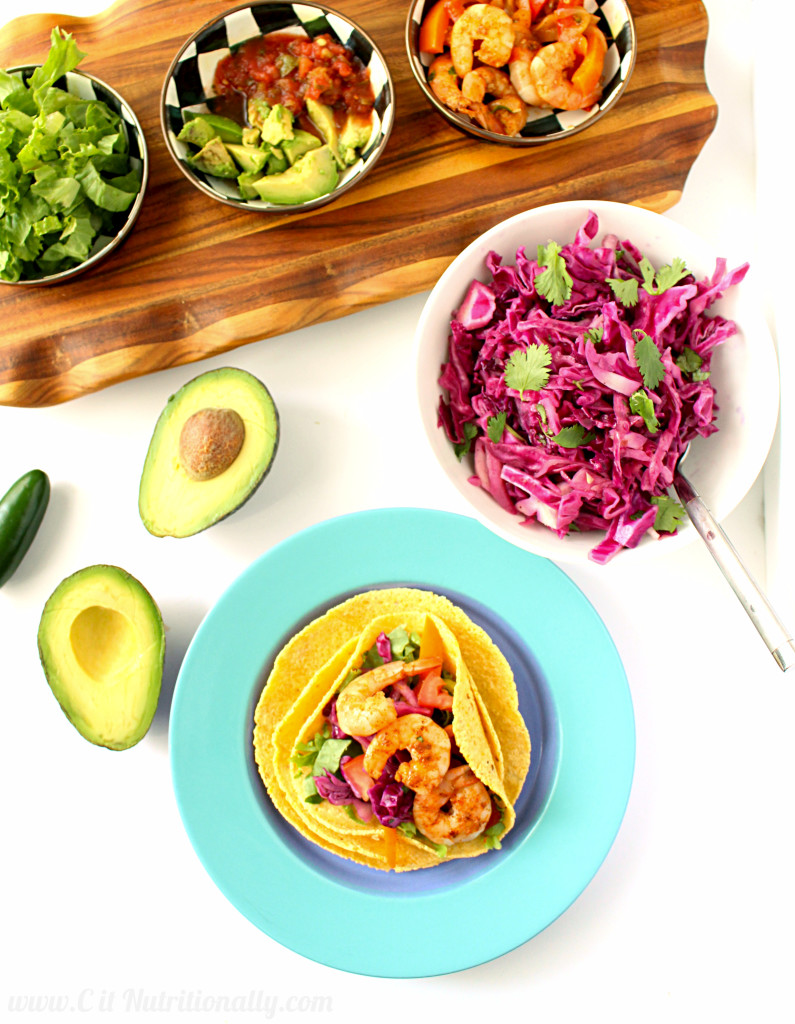 I love the juxtaposition of crunch and tangy slaw with a fiery dish (like my black bean burger stuffed sweet potato), plus creamy guacamole, and fresh salsa. I could legit eat this seven nights a week. OK, maybe six because of #MeatlessMonday (duh!!)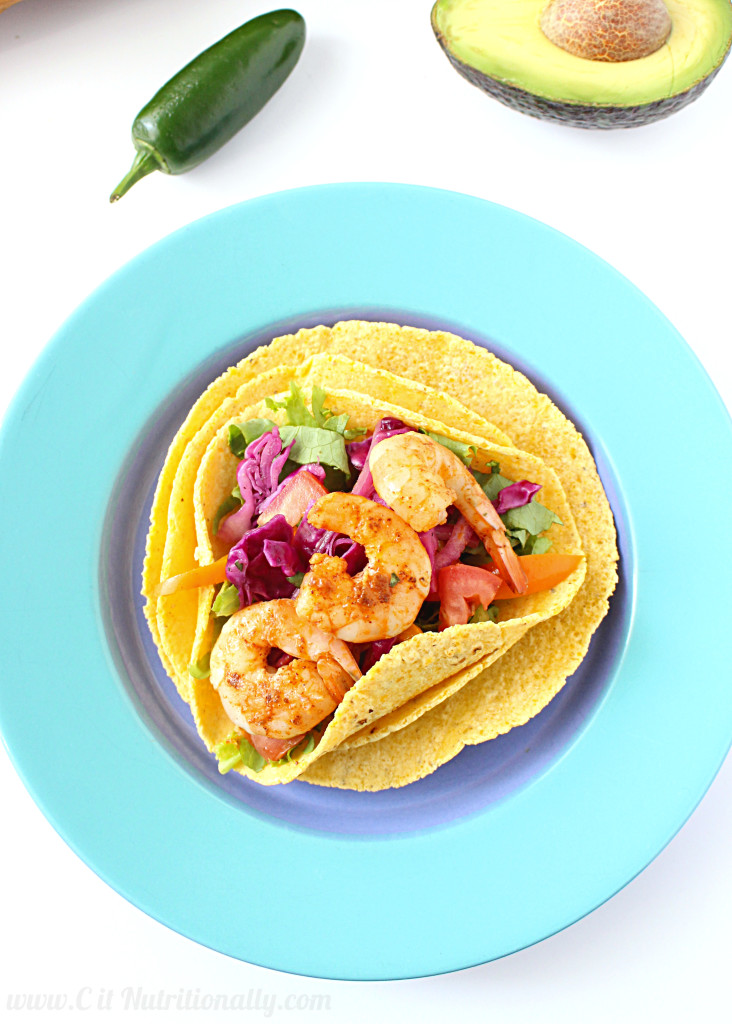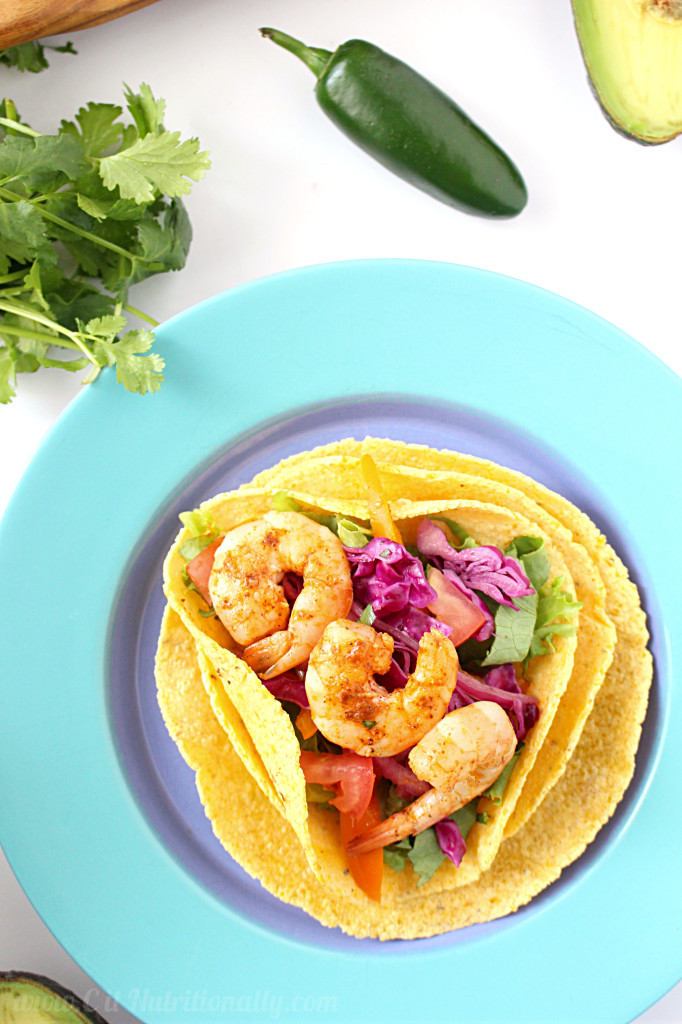 Let's eat!
Ingredients
For the shrimp tacos:

1 lb shrimp, fresh or frozen and thawed
2 teaspoons chili powder, divided
1 teaspoon cumin, divided
Salt and pepper, to taste
2 tablespoons extra virgin olive oil, divided
2 garlic cloves, chopped and divided
1/4 cup cilantro, chopped and divided
1 onion, sliced
1 bell pepper, thinly sliced
6 whole wheat flour or corn tortillas

Optional fixings:

Lettuce, chopped
Tomatoes, chopped
Salsa
Guacamole
Tangy cabbage slaw
Instructions
For the shrimp:

If using frozen shrimp, let thaw in the refrigerator, then drain and pat dry.
Season shrimp with 1 teaspoon chili powder, 1/2 teaspoon cumin, salt and pepper. Be careful not to over-salt shrimp at first...you can always add more once the shrimp are cooked.
Heat just enough olive oil to coat your skillet over medium-high heat. Add shrimp, being sure not to over-crowd the pan. You may have to cook shrimp in batches.
Cook shrimp for about 3 minutes, flipping halfway, about 5-6 minutes total. Keep shrimp constantly moving. Shrimp should be pink and no longer translucent when done. Be sure not to overcook.
Remove from heat and toss with 2 tablespoons cilantro. Serve warm.

For the veggies:

In a medium-sized skillet, over medium-high heat, lightly "toast" leftover chili powder (1 teaspoon) and cumin (1/2 teaspoon), about 30 seconds to 1 minute, until aromatic.
Coat skillet with olive oil and add garlic, moving it around the pan for about 1 minute. Then add onions; Saute until nearly translucent. Then add peppers and continue to cook until vegetables are soft to bite.
Turn off heat and add 1 tablespoon chopped cilantro. Serve warm.

For assembly:

Warm tortillas in a pan or oven (wrapped in foil). Layer fix-ins (guacamole, salsa, lettuce, cabbage slaw) and shrimp and enjoy!
http://citnutritionally.com/classic-shrimp-tacos/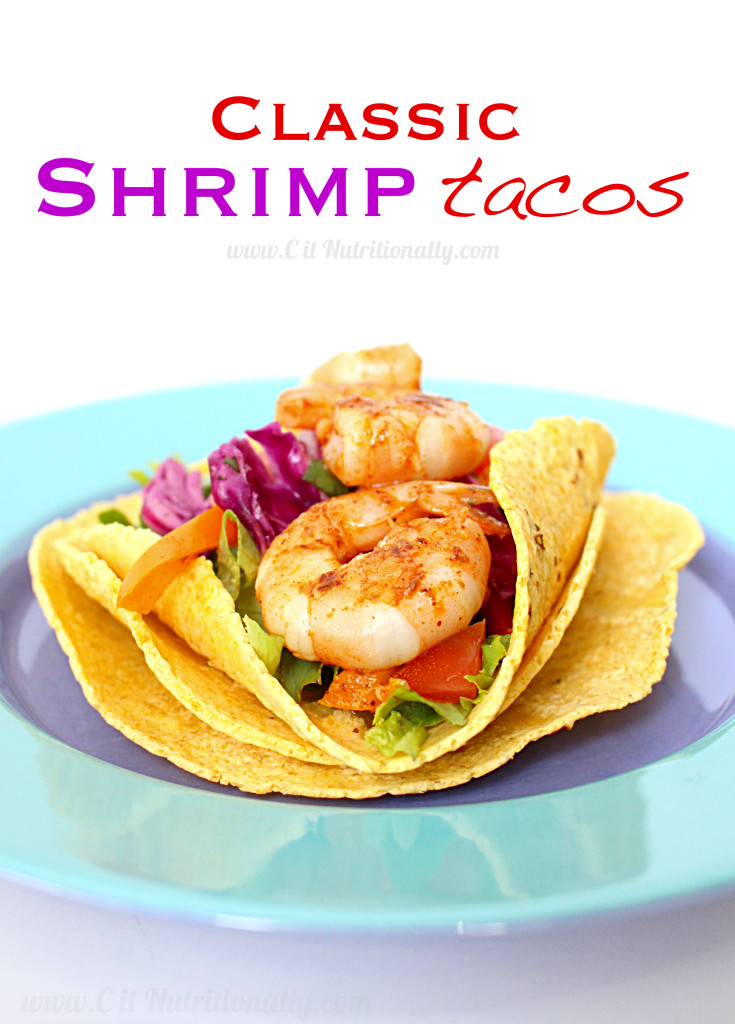 The most fun part of enjoying tacos for me is the build-your-own aspect. There are SO many awesome toppings, with varying flavors, textures, and colors, you can choose from — savory, sweet, tangy, spicy, smooth, crunchy — the list is endless! 
Here are some of my favorites: 
Homemade Restaurant-Style Blender Salsa via Averie Cooks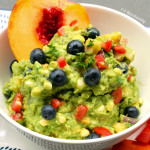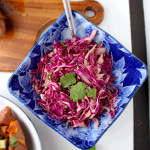 Mango, Black Bean, Avocado Salsa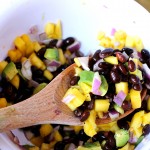 Tomatillo Salsa Verde via She Wears Many Hats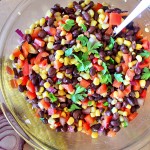 What toppings do you enjoy on a classic shrimp taco?! 
XO