Whether you're hosting a crowd or want to try a new refreshing dessert, this totally customizable, food allergy friendly Cookie Dough Nice Cream Cake has your name on it for your next celebration!
Vegan | Gluten Free | Grain Free | Tree Nut & Peanut Free | Egg Free | Soy Free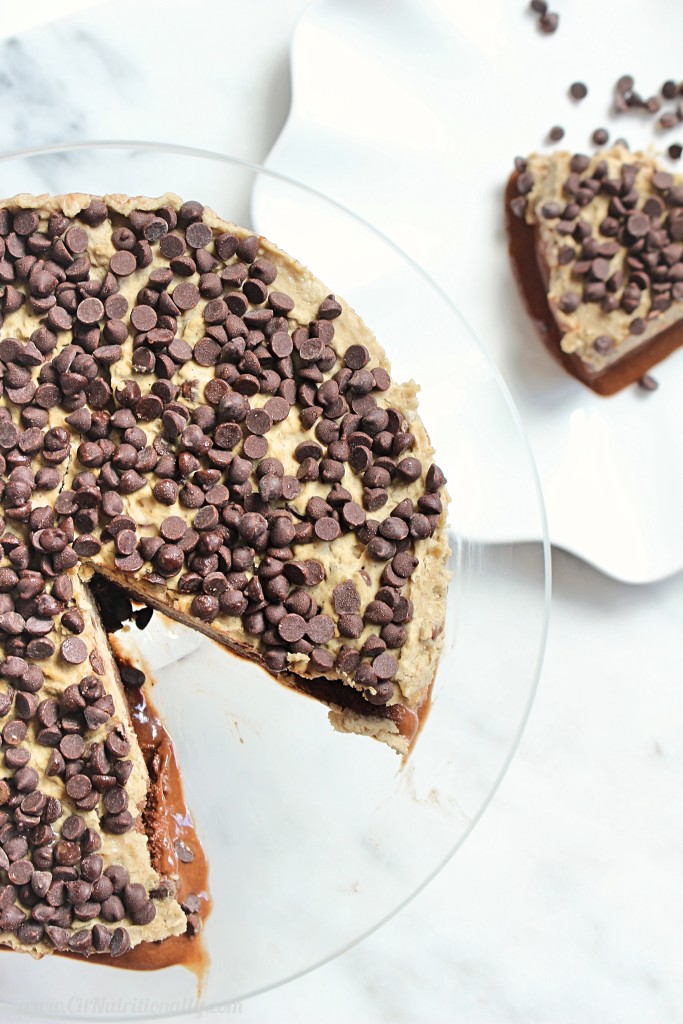 Soooo something absolutely crazy, unimaginable and totally amazing happened this weekend….. this little baby turned 4!!!
When I first started C it Nutritionally four years ago, I was just starting grad school, had NO idea I was creating something people outside of my family would actually read (let alone make my recipes!), and (the biggest shock of all) it was going to become part of my job!
I remember sitting on my parent's couch, signing up for my URL and somehow figuring it out. What began as a place for me to help distinguish nutrition fact from fiction in helping "people," (where these people were, I had no idea!) see their lives nutritionally, has evolved into a food blog, a great source of new friendships, and lotsssss of lessons.
So, four years later, I've immersed myself in the blogosphere and learned A LOT from experience and my fellow bloggers! If you're thinking about starting a blog, a dietetics student wanting to learn what it's like or my grandma who reads every single post (hiiiii Mommoy!!), here are three of my best blogging — turned life — lessons…
Nike was right… Just do it.
I see so many people in Facebook groups and blogging forums asking how to get started, and the truth of the matter is that you just need to press publish! There are so many easy-to-use platforms that you can use to build a blog, no coding experience needed! BUT (like most things in life!), you do need to just do it!
Blogging is this crazy thing in that you can always change it! You can edit, and re-edit and update photographs and improve your SEO and rebrand, but none of that will ever come if you don't start creating some content and putting yourself out there. So if you've been hiding behind your ideas (no worries, I still do it too frequently!!), just start. You don't even have to tell anyone at first! But I will say, looking back and seeing growth is one of the most rewarding parts of having a blog… I have an online diary of a glimpse of my life that will always be here!
It doesn't have to be perfect.
My early days of blogging were farrrrrr from perfect, but I just got started (see above). I tried my best and learned on the way… and four years later I still have SO much to learn! When we think our sites need to be created by a fancy designer with a spectacular logo and every widget perfect in place… well, that definitely was not me! If you're creating something that resonates with people, that looks and tastes delicious, and that's authentically you, well, that's all that matters (in my opinion!).
If you're creating something that resonates with people, that looks and tastes delicious, and that's authentically you, well, that's all that matters (in my opinion!)."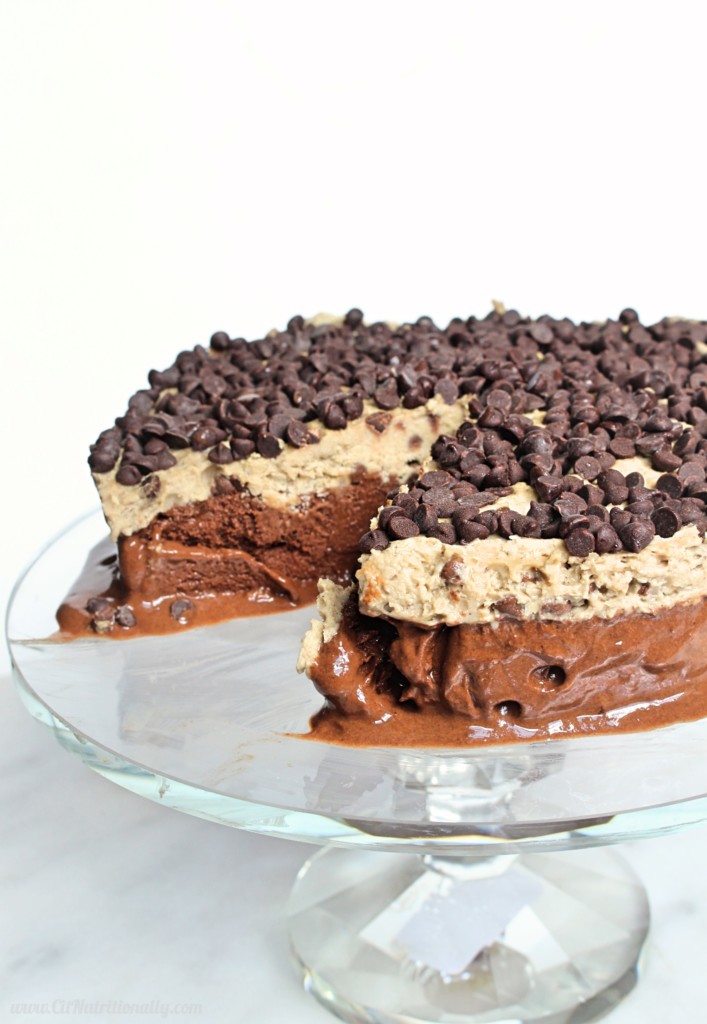 Being vulnerable, honest and raw is so much more rewarding than hiding behind something.
I'm totally OK with this comment being controversial. I think everyone has their blogging threshold, or the line they won't cross when it comes to blogging. Mine is very fluid. There's SO much I want to share with you guys that I just haven't gotten the chance to put into words, but there's also some that I want to keep to myself… or share when I'm ready.
Either way, being yourself — even if you're describing the best cookie dough nice cream cake EVER — is essential.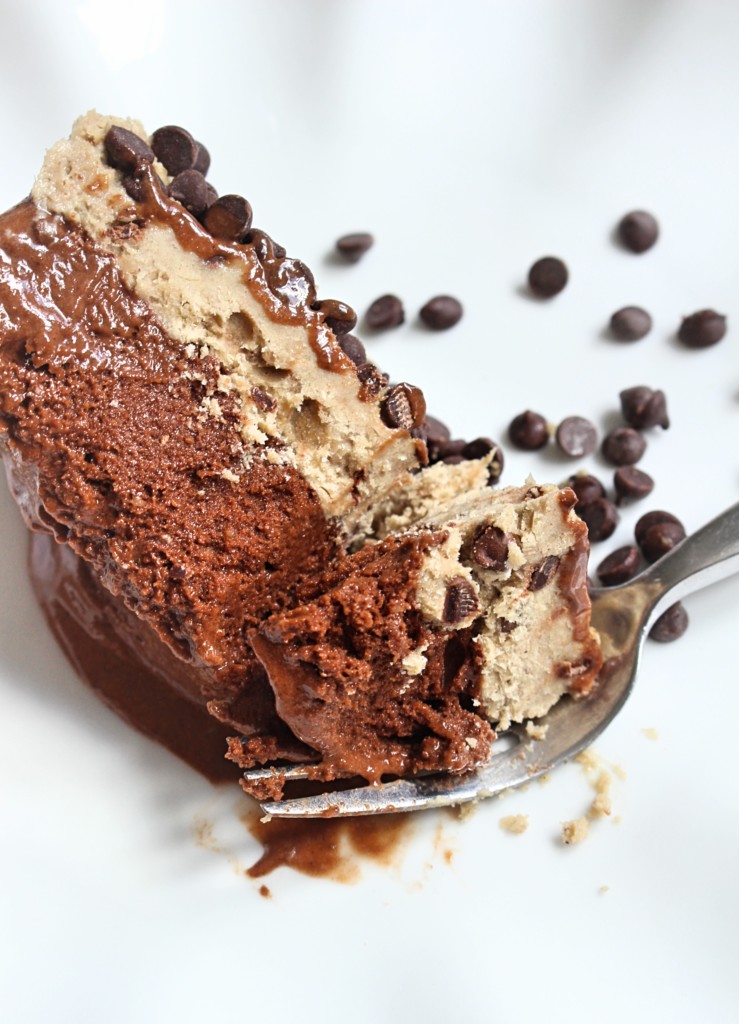 So about that cake… 😍
One random summer afternoon I opened my freezer and found my favorite double chocolate banana nice cream sitting riiiight next to a tupp full of edible cookie dough. I couldn't decide which one I wanted, so I had 'em both!
And let me tell you… they're a match made in ice cream cake heaven!
Here's how to make it…
First, make a batch of this healthy edible cookie dough. Set aside while you whip up some chocolate nana nice cream. Then the fun begins!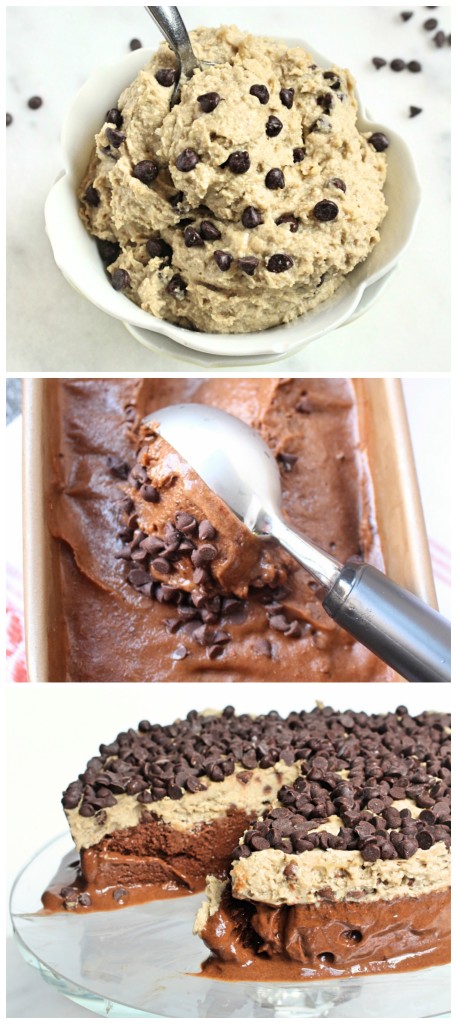 In a springform pan, layer the nice cream in an even layer. If you want to get fancy, you can add a layer of crunchies on top (helloooo childhood Carvel ice cream cake!) or fudge… ohhh why didn't I try that way back when??
Then make sure the nice cream is totally frozen before adding the cookie dough. You can use a layer of saran wrap to press down the top to be even. Then sprinkle mini chocolate chips on the top and return to the freezer.
Then once it's totally frozen, ENJOY!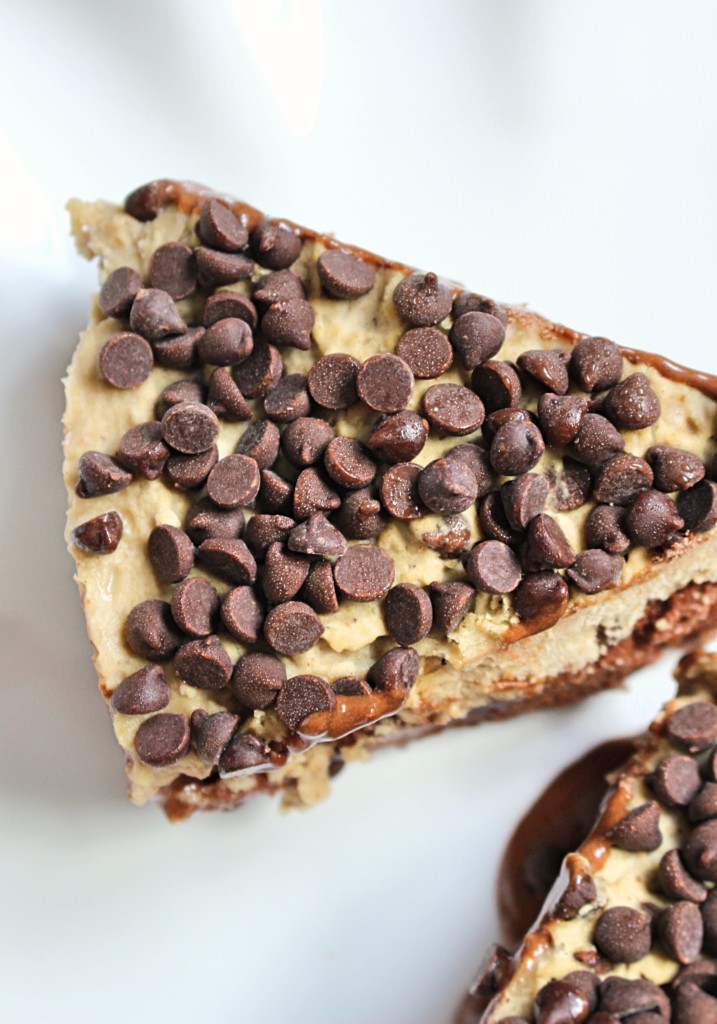 Seriously, swooooon… I wish I could share a slice with each of y'all for reading and supporting C it Nutritionally over the last four years (THANK YOU!!), but I guess you'll just have to make this nice cream cake to celebrate too…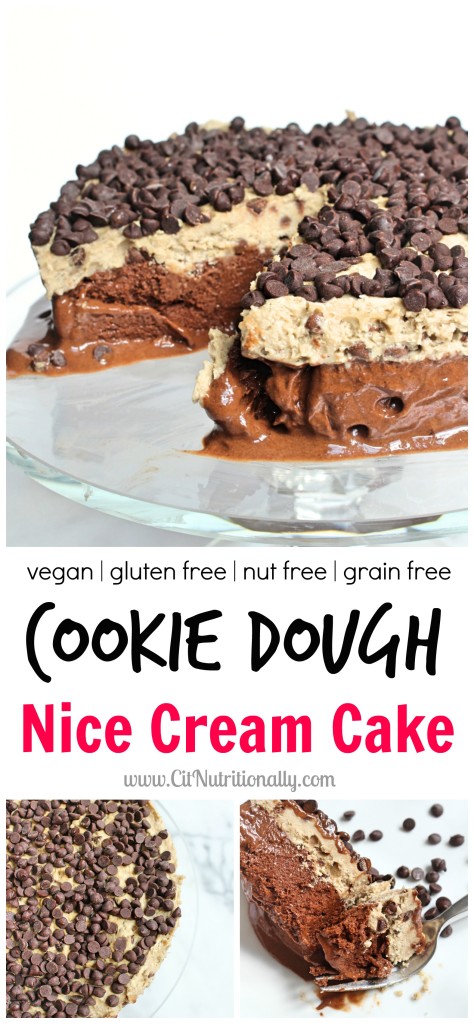 I am SO happy you're a part of the C it Nutritionally journey! To make sure I'm sharing what YOU want to see, let me know what you want more of, what you're looking for, or how I can help! THANK YOU for your support, always…
XO
If you want to stay connected or you make something from C it Nutritionally I would LOVE to see your creations! Tag me or use the hashtag #CitNutritionally!
Let's get social!

Facebook: C it Nutritionally
Twitter: @ChelseyAmerRD
Instagram: @CitNutritionally
Pinterest: ChelseyAmer