This easy, dairy free creamy avocado pasta is sprinkled with fresh summer cherry tomatoes and zucchini, and full of flavor in a meal you can whip up in less than 20 minutes!
Dairy free | Nut free | Egg free | Gluten free | Grain free | Oil free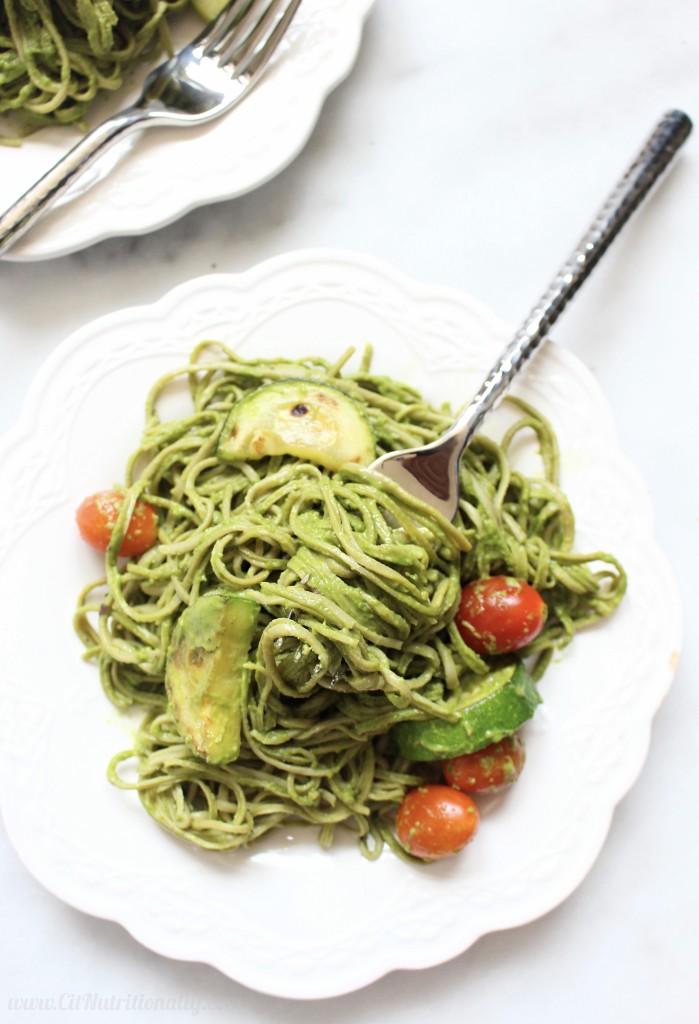 There are some foods that I'd much rather eat whole than hidden in some blended or mashed up form. Yes, I realize this sounds strange, but take blueberries, for example. I'd much rather devour a handful of fresh, plump, juicy berries whole instead of blended up in a smoothie (that's what frozen Wild Blueberries are for, if you ask me!).
Another food I'd rather eat whole? Avocado.
That is, unless it's starting to go slightly mushy and it's a whole mess. Then, I'd rather mash 'em into brownies or even a delicious sauce over pasta… a la this Creamy Avocado Pasta

So that's exactly what I did this past week when all of a sudden I was left with almost over-ripe 'cados… because you knowwww avocados ripen when you least expect it and then what do you do if you bought a bag on sale and are left all alone with an avo overload?? 
You make this Creamy Avocado Pasta with Cherry Tomatoes and Zucchini…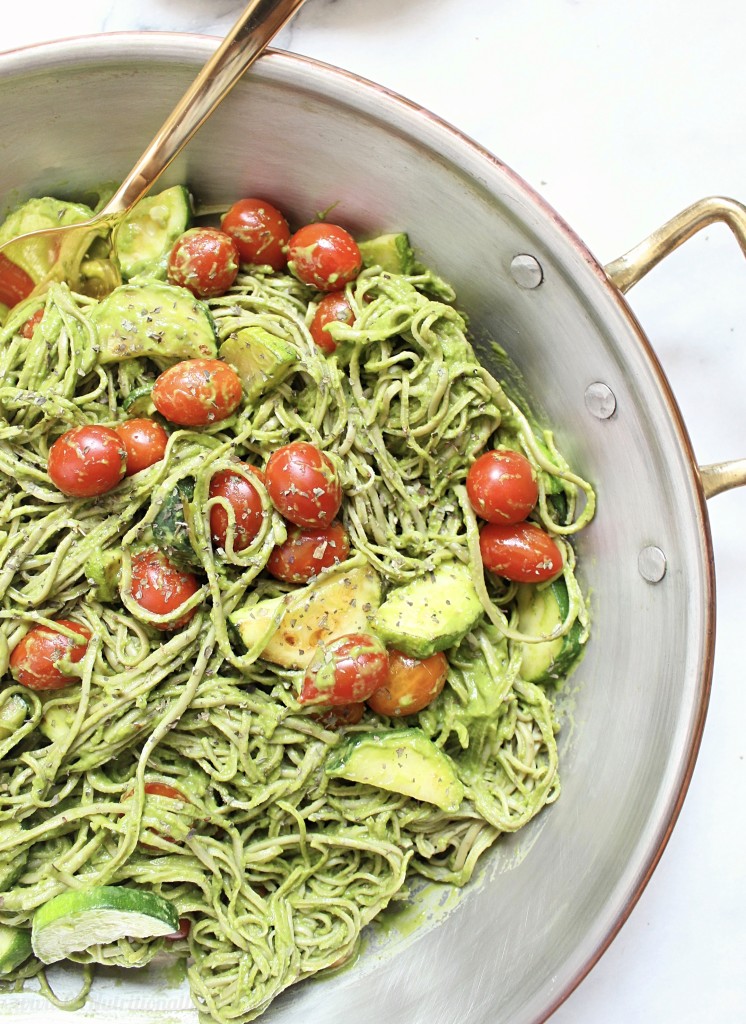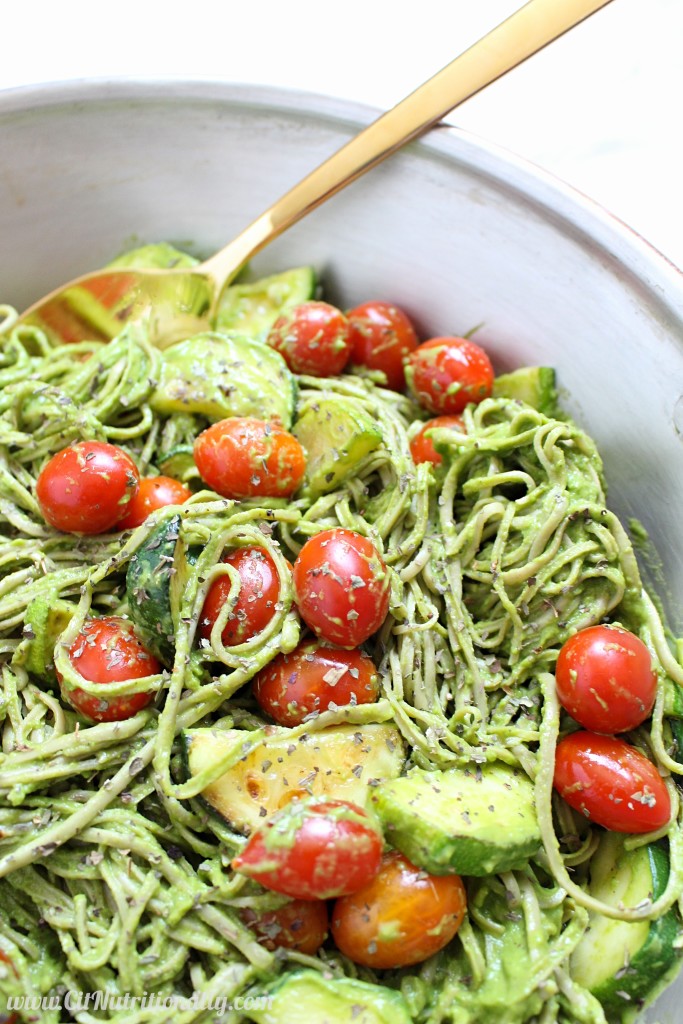 And let me tell you, creamy pasta fans, this is SO easy to make… I threw all of the ingredients in my Vitamix (affil link), and wham bam thank you ma'am (ma'am as in my Vitamix), I had a creamy and delicious sauce in SECONDS.
There are some kitchen appliances I totally don't think are worth it – helloooooo carrot curler that my grandma got me (love you, but I've never used it)… or a hard boiled egg slicer (I use my knife just fine!) – but others, like my Vitamix, get daily use. And this is one of my new favorite ways to use it!
This Creamy Avocado Pasta is…
A simple Meatless Monday meal
Easy to make in less than 20 minutes 
Made with less than 10 ingredients 
Top 8 food allergy free (Soooo nut free, dairy free, wheat free, egg free, soy free, gluten free, etc.)
Full of plant based protein and fiber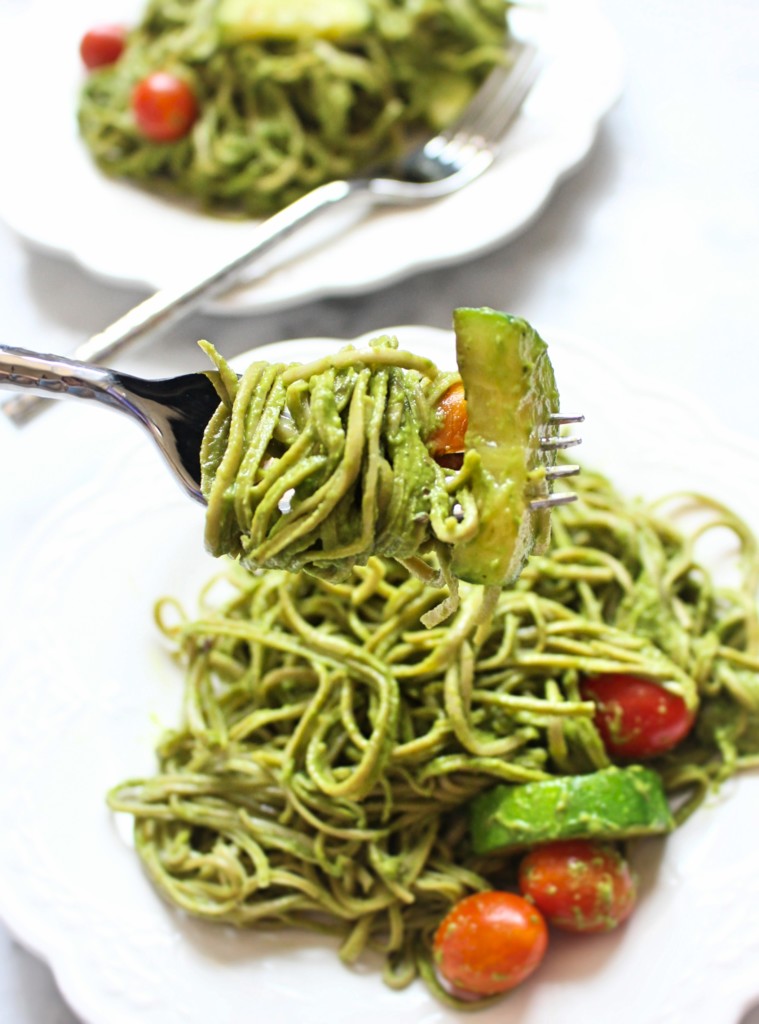 Creamy Avocado Pasta with Cherry Tomatoes and Zucchini
Ingredients
For the sauce:

1 cup avocado (chopped, not fully mashed)
2 cloves garlic, chopped (or 1 teaspoon chopped garlic)
3 cups baby spinach (organic prefered)
1 cup unsweetened coconut milk
1 tablespoon lemon juice
1/4 teaspoon ground black pepper
1 teaspoon dried basil
1/4-1/2 teaspoon salt
1 teaspoon no salt seasoning

For the pasta:

8 oz spaghetti (I used Seapoint Farms Organic Edamame Spaghetti)
1 cup cherry or grape tomatoes
1 medium zucchini, sliced lengthwise and then chopped into half moons
Instructions
For the sauce:

In a high-powered blender (I used my Vitamix), combine all sauce ingredients until completely smooth. If you'd like the sauce thinner, add an additional 2 tablespoons coconut milk. Set aside until pasta is done cooking (see below).

For the pasta:

Cook pasta according to package directions.
While pasta is cooking, saute tomatoes and zucchini in a large skillet over medium heat, just until softened and brown.
When pasta is done cooking, drain pasta and add to the pan with cherry tomatoes and zucchini. Then add sauce and toss to combine.
Sprinkle with additional dried or fresh basil, and an additional pinch of black pepper and salt. Enjoy!
Notes
Nutrition Facts (per 1/4 recipe): 287 calories, 11g fat, 323 mg sodium, 27g carbohydrates, 16g fiber, 24g protein
http://citnutritionally.com/creamy-avocado-pasta/
Don't forget to PIN IT…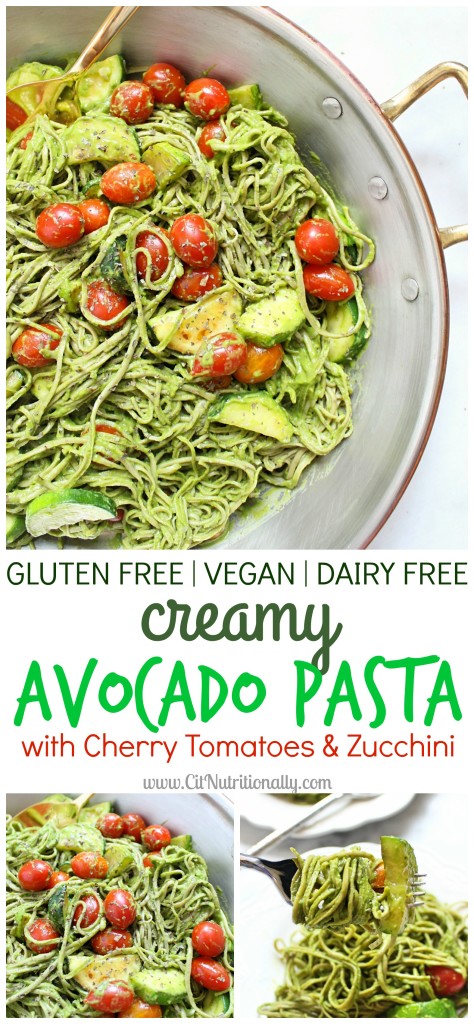 Now doesn't this creamy deliciousness look ahhh-mazzing?!?
Happy Monday!!
XO
If you want to stay connected or you make something from C it Nutritionally I would LOVE to see your creations! Tag me or use the hashtag #CitNutritionally!
Let's get social! 

Facebook: C it Nutritionally
Twitter: @ChelseyAmerRD
Instagram: @CitNutritionally
Pinterest: ChelseyAmer