Creamy, easy, and absolutely delicious – what's better for a simple Meatless Monday meal? Plus, my 5-Ingredient Curried Butternut Squash Soup gives back! Read on to find out more…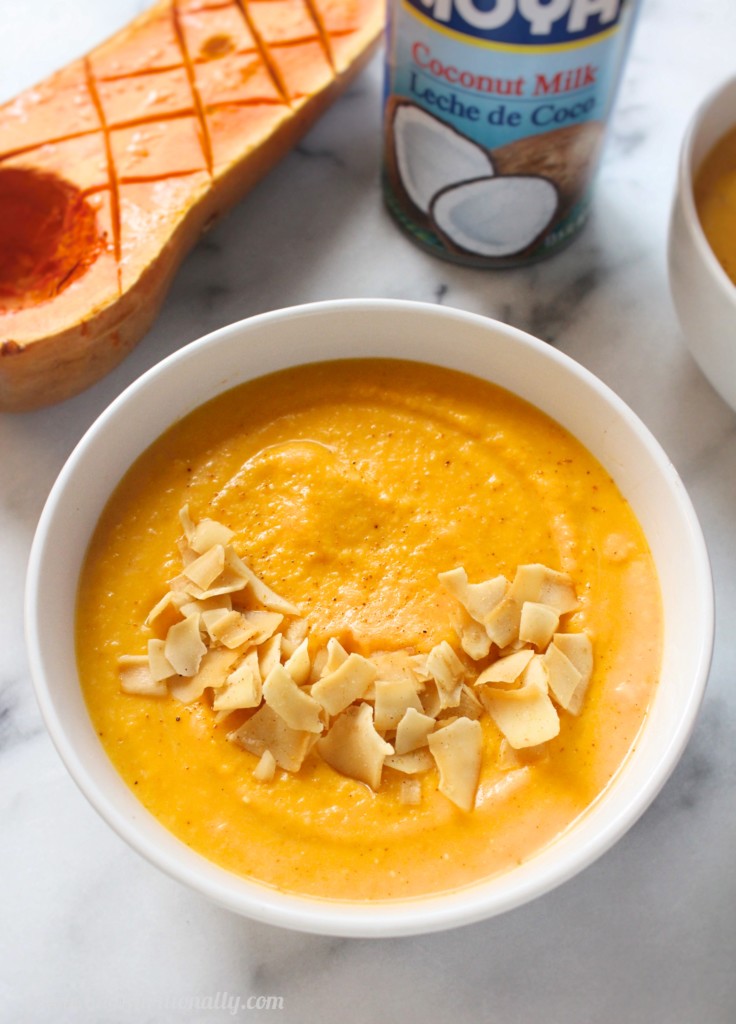 Disclaimer: Goya sent me a variety of their products to try and use for this recipe. All thoughts and opinions are my own.
This time of year, it's so easy to get wrapped up in holiday cheer, gifts and parties, but it's also a good time of year to remember to give back to those less fortunate.
I'm so excited to share a delicious recipe featuring Goya's coconut milk today because it's not only a delicious bowl of soup that you can whip up in no time, buutttt to share Goya's "Can Do" campaign! For every can of Goya Coconut Milk purchased since November and through December, Goya will donate products to Feeding America.
Food insecurity is a serious concern in our country. More than 40 million Americans don't know where their next meal will come from… Whether they will have to choose between paying their bills and putting food on the table.
Hunger is an uncomfortable feeling. It makes it difficult for children to focus in school and increases the risk of serious diseases.
As a health and food blogger, I am surrounded by food, what seems like 24/7. It's embarrassing to admit that in my day to day work, I sometimes forget that others do not have the same privileges as I do… and perhaps you do as well. This is why I'm so passionate about giving [both monetary donations and time] to organizations who help feed those less fortunate.
From a young age, giving back has always been an important part of my life. But ever since I learned about the severity of food insecurity in the United States, helping feed those who need a helping hand has been on the forefront of my service. Whether it's volunteering in a food bank or soup kitchen or handing out snacks or my spare change to those in need of help, we can all do a little more to feed our fellow Americans.
I invite you to join me in preventing food insecurity by donating to organizations, like Feeding America, to help get food on the table for those in need.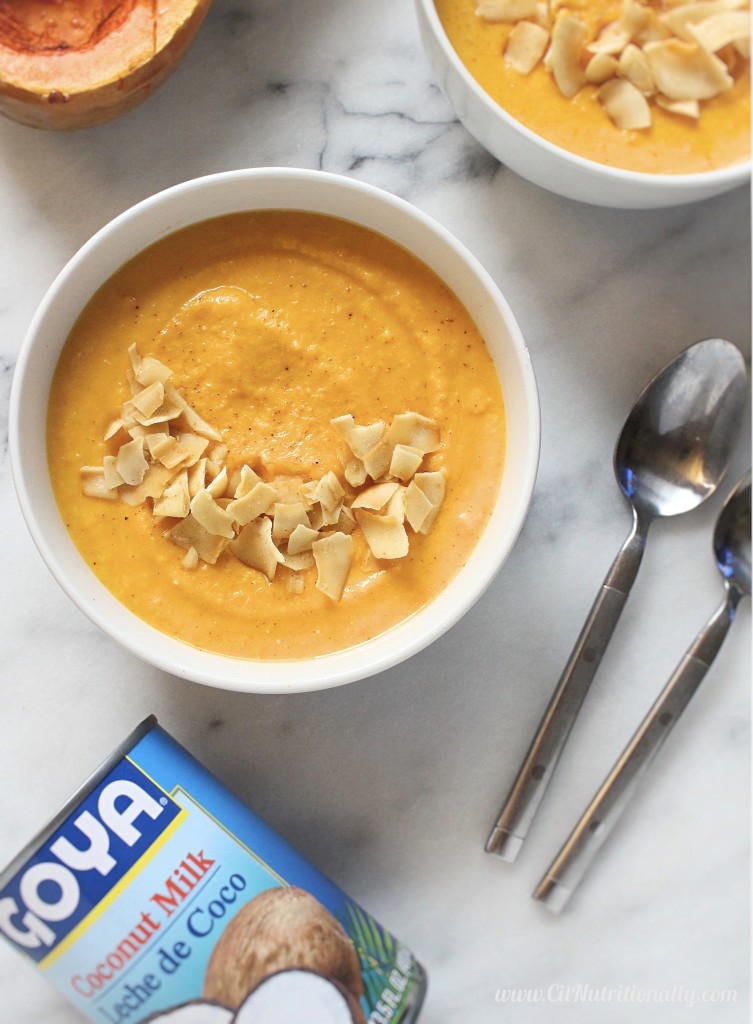 This holiday season, you can help prevent food insecurity by purchasing a can of Goya coconut milk and making my 5-Ingredient Curried Butternut Squash Soup!
This Curried Butternut Squash Soup is…
Creamy, smooth and total comfort food!
Made with only 5 ingredients
Easy to prepare in just one hour
Vegan
Hearty and filling
Full of fiber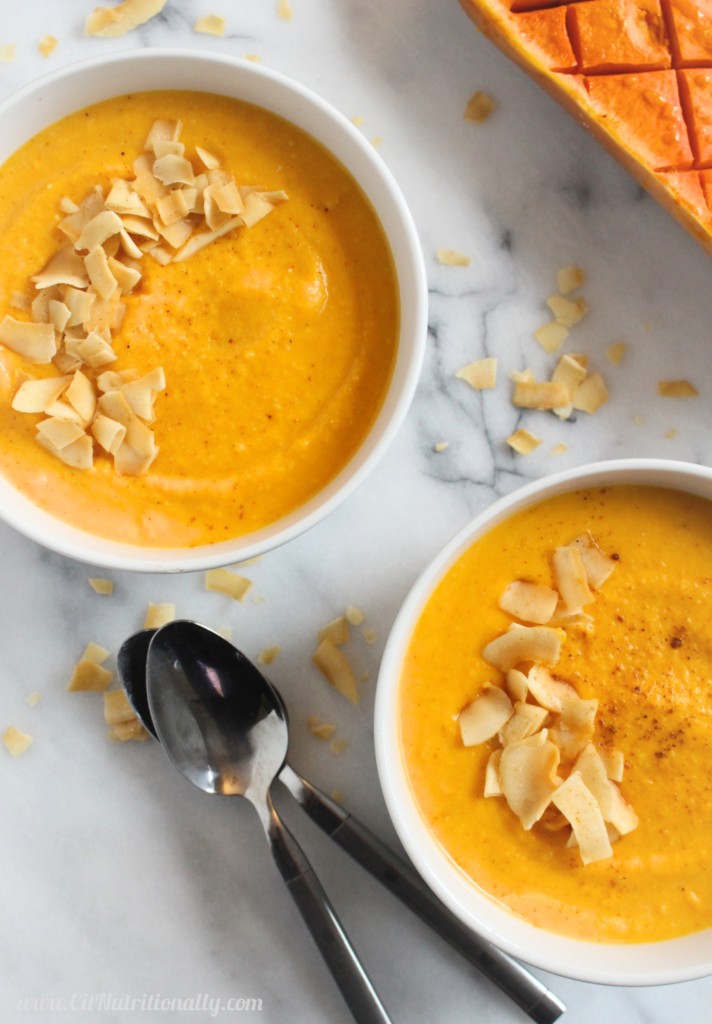 Let's celebrate soup season the right way… by giving back!
5-Ingredient Curried Butternut Squash Soup
Ingredients
Instructions
Preheat oven to 375°F. Evenly distribute cubed butternut squash on a large parchment paper lined baking sheet. Spray with nonstick spray. Roast butternut squash for 30 minutes, until soft to fork. Alternatively, you may cut a butternut squash lengthwise, scrape out the seeds, and roast for 45 minutes, until soft. You can also use this roasted butternut squash recipe for this soup!
While the squash is roasting, sauté onion in olive oil in a medium-sized stock pot.
When the squash is done roasting, add squash, sautéed onions, coconut milk and spices to a high-powered blender and blend on medium to high speed until smooth. Alternatively, you can add all ingredients to your stock pot and use an immersion blender to combine.
If a thinner consistency is desired, add 2 cups vegetable stock or broth.
Transfer soup back into the stock pot and heat over medium heat. Serve warm. Enjoy!
http://citnutritionally.com/curried-butternut-squash-soup/
Don't forget to PIN IT… 
How do you make an effort to give back year-round, but especially during the holiday season? Share with me below – we're always looking for more ideas!
XO
Looking for more 5 ingredient recipes? Try these…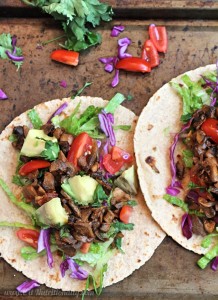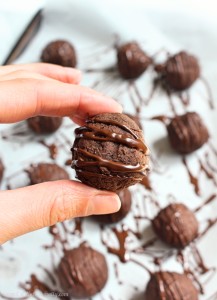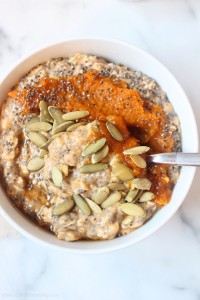 If you want to stay connected or you make something from C it Nutritionally I would LOVE to see your creations! Tag me or use the hashtag #CitNutritionally!

Let's get social! 
Facebook: C it Nutritionally
Twitter: @ChelseyAmerRD
Instagram: @CitNutritionally
Pinterest: ChelseyAmer