This 20 Minute Dairy Free Greek Quinoa Salad is all around EASY — easy to whip up, easy to digest, and easy on your taste buds… and absolutely delicious!
Low FODMAP friendly, Gluten free, Dairy Free, Nut Free, Egg Free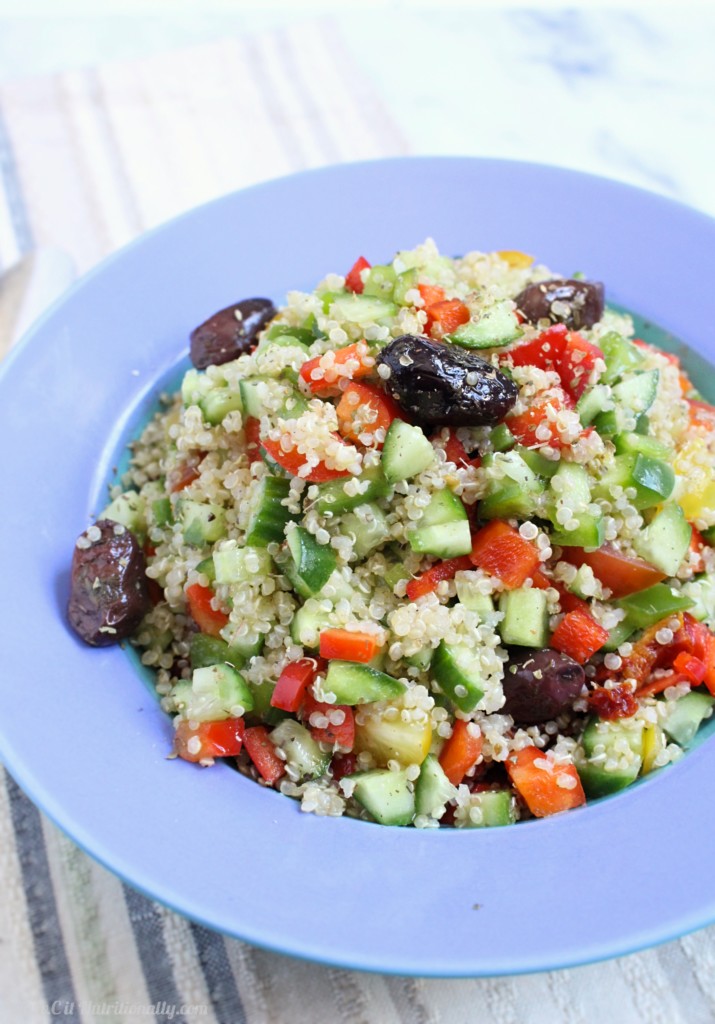 My oh my how Passover has snuck up on me again! Nevertheless, I am determined that this year, we are going to have the most delicious eight days Passover has ever seen!
Passover actually happens to be one of my favorite Jewish holidays, despite the cardboard-like matzo that comes with a side effect of constipation or that nearly every traditional food is made with nuts (an allergy nightmare!), the looooong sedars that tell the story of the Jews leaving slavery in Egypt (that I secretly love), or the eight days without SO many foods that seem to have nothing to do with Passover (Soybeans? Flax seeds? The rules keep changing and I don't get it…read on!).
In case you're curious, over the eight days of Passover observant Jews do not eat any leavened bread or bread product because when the Jews fled Egypt they didn't have time for the bread to leaven. Enter flat, unleavened matzo. So essentially Passover is an 8-day grain-free challenge, if we're talking nutrition trends. But JK… that's not the meaning! (And yes, to add to the confusion, matzo is made from wheat flour, but it's not leavened… click here to find out more about dat). 
So when I was younger I always thought "keeping" Passover was SO HARD… like how on earth could I go 8 days without a sandwich or pizza? I remember going to school sometimes with matzo sandwiches… talk about DRY! Maybe that's why I'm not a big sandwich person now?? I have nooo idea, but many of my go-to meals now are KFP, so I don't worry what on earth am I going to eat anymore! 
The hardest part, however, is being an Ashkenazi Jew because for centuries the Ashkenazi Jews have prohibited something called kitniyot, or foods that are close in origin to grains like rice, corn, beans and lentils, peanuts, sesame seeds, mustard (WHAT?)… you get the idea. Now THIS is the hard part!
Find out what foods are Kosher for Passover here.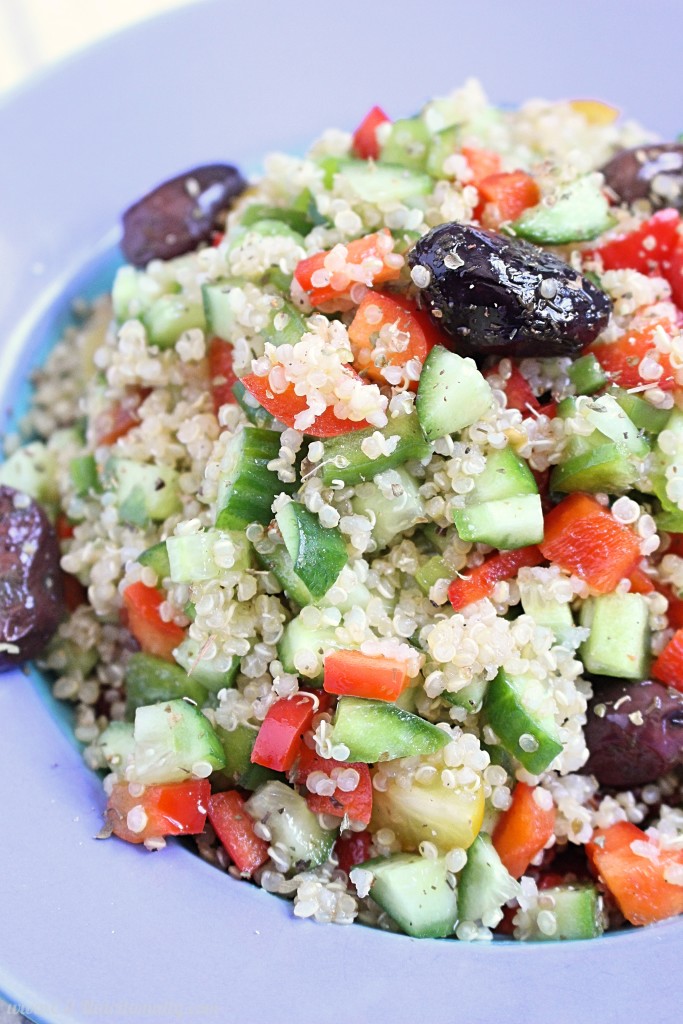 And even though I got my mom's skills to make the best matzo brei ever (recipe coming on Wednesday!), it can sometimes be tough to figure out what to eat… especially dating back to my strictly vegetarian days.
[As far as my understanding…] The rabbis recently, however, added quinoa to the "allowed foods" list, so quinoa we do!
I looooove quinoa because this SEED (yup, not a grain!) is a complete protein ((say whaaaat?!)), with some healthy fats, it's filling, and I happen to think delicious! My Greek Quinoa Salad is one of my favorites, so I wanted to give it a little facelift a few years later with this dairy free version.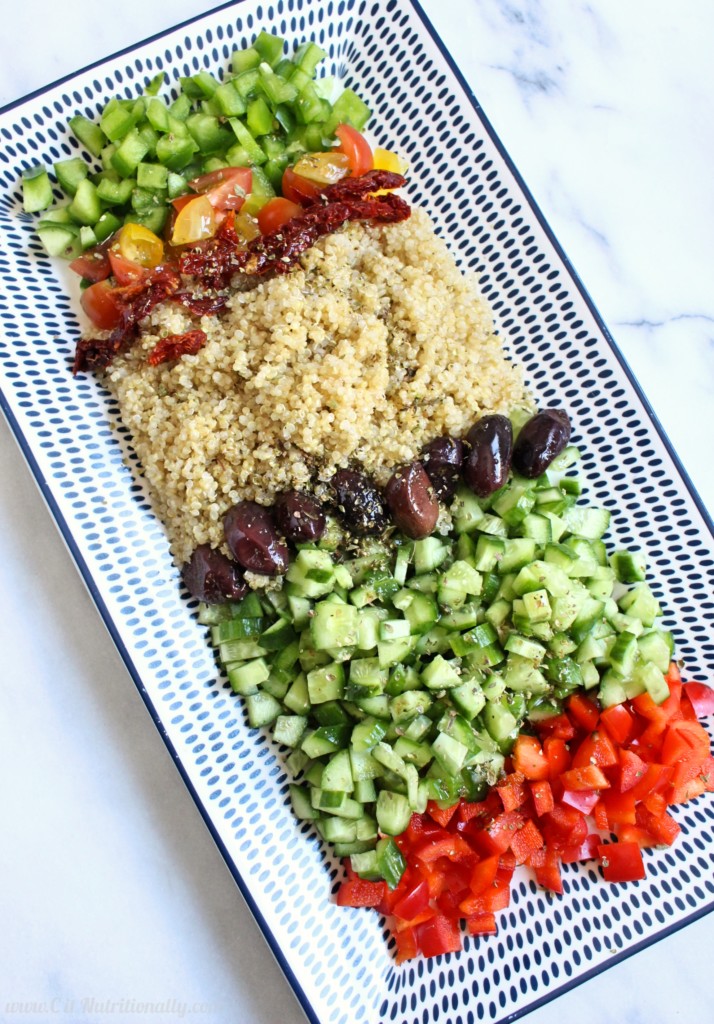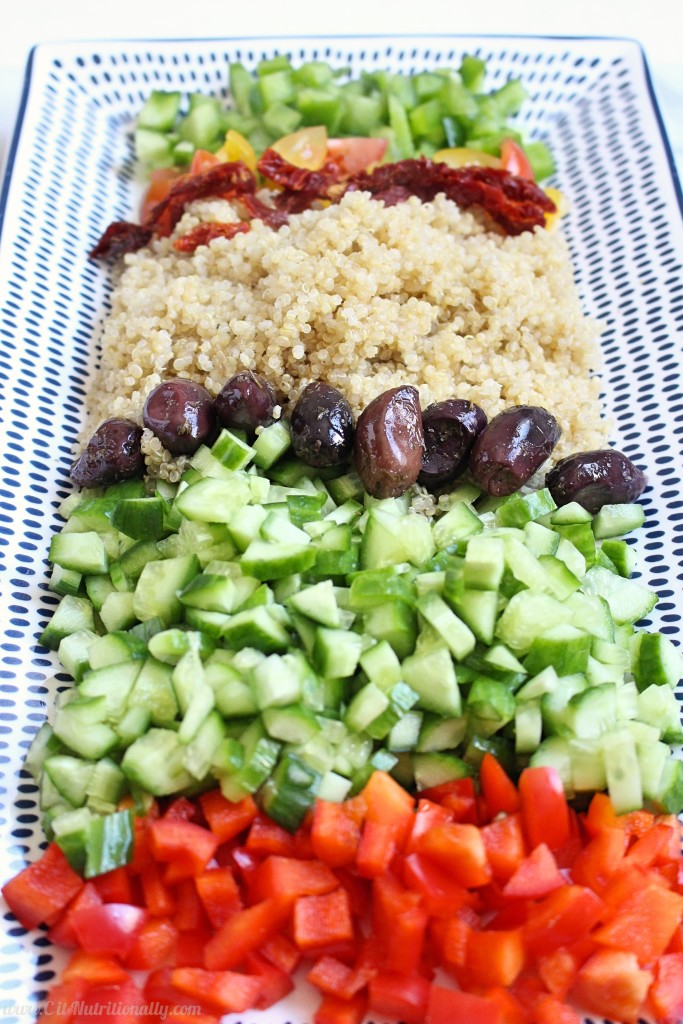 There's nothing particularly fancy or overwhelmingly novel about this Dairy Free Greek Quinoa Salad, but since it's Monday and you may just be getting around to doing some food prep (and Passover is just beginning tonight!), I think this is a good staple to always have in the fridge.
This Dairy Free Greek Quinoa Salad is…
Free from the top 8 food allergens

Made in 20 minutes

The perfect make-ahead lunch or dinner

Almost too simple to make and call a real recipe

Better with age… ((to a point!))
20-Minute Dairy Free Greek Quinoa Salad
Ingredients
1/2 cup quinoa, uncooked
Dash salt
2 cups chopped cucumbers
1/2 cup chopped tomatoes
1 cup chopped bell peppers
2 tablespoons chopped sun dried tomatoes (omit for 100% low FODMAP!)
1/4 cup olives, chopped
1 tablespoon red wine vinegar
2 teaspoons good quality olive oil
1 teaspoon oregano
Pinch of salt and black pepper, to taste
Instructions
Prepare quinoa according to package instructions. Be sure to add the dash of salt to the water!
While the quinoa is cooking (it should only take 10 minutes), prepare the vegetables and combine in a large bowl. Set aside.
In a small bowl mix together the red wine vinegar, olive oil, oregano and a pinch of salt and pepper. Set aside.
When the quinoa is finished cooking, let cool for at least 5 minutes. Then add the quinoa to the vegetables and mix in the vinaigrette.
Serve immediately or cover and store in the refrigerator for up to 5 days.
Notes
Nutrition Facts (for entire recipe): 310 calories, 5g fat, 55g carbohydrates, 6g fiber, 0g sugar, 12g protein
http://citnutritionally.com/dairy-free-greek-quinoa-salad/
Don't forget to PIN IT…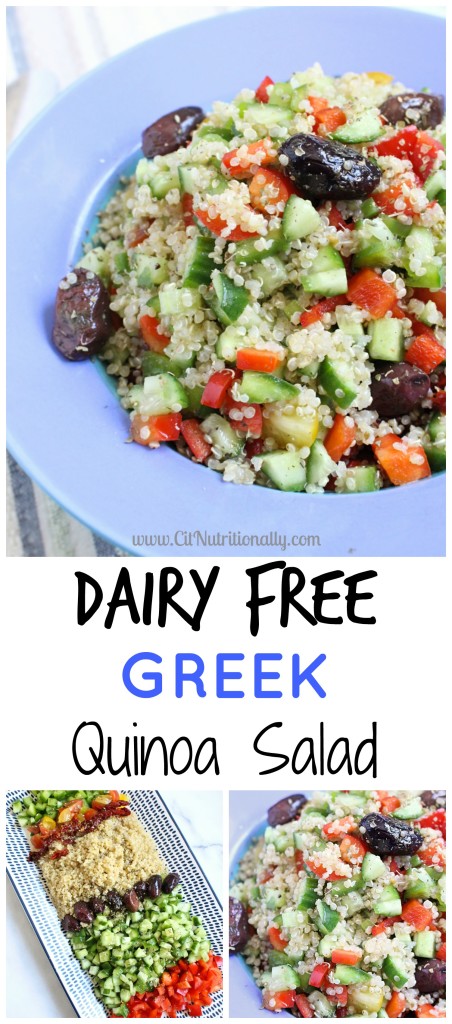 If you're looking for some other delicious Kosher for Passover meals, be sure to check out these vegetarian options I pulled together last year and my Passover pinterest board, as well as these 30 Healthy + Delicious Passover Recipes from fellow dietitian Jessica at Nutritioulicious!
Happy holidays!
XO
Let's get social! 

If you want to stay connected or you make something from C it Nutritionally I would LOVE to see your creations! Tag me or use the hashtag #CitNutritionally!
Facebook: C it Nutritionally
Twitter: @ChelseyAmerRD
Instagram: @CitNutritionally
Pinterest: ChelseyAmer