Refreshing, filling and full of spring flavors, this Easy Asparagus White Bean Salad with Dijon Dressing contains plant based protein and fiber for a nourishing and filling lunch that can be made days in advance! Vegan, Gluten free, Grain free, Nut free, Egg free, Dairy free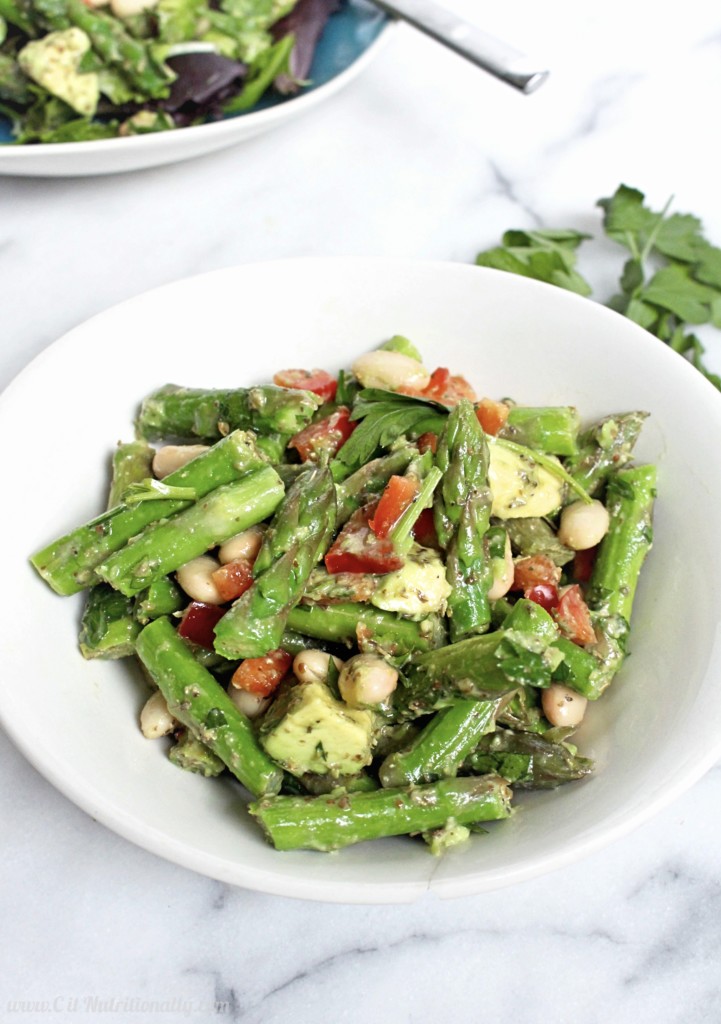 I am ruushhhhing to get you guys this DELISH recipe because it's a ticking time bomb before you won't be able to make it anymore! What am I talking about? I was out to dinner a couple of weeks ago, tried to order an asparagus side dish and was told that asparagus season is already over! It flew right by!
So I did a little digging and it's true! It turns out that asparagus peak in April, but are still sparsely in season until June. Phew… it turns out this recipe is coming atcha just in time! And thank goodness… because it's a BEAUTY… full of nourishing nutrients and SO EASY to make!!!
Plus, as you may have read, I started a new job recently, so food prep is the name of the game ((like it ever wasn't!)) so I've been packing a few days worth of lunches on Sunday to grab and go in the morning and this is one lunch that holds up to being packed dayyyysss in advance! If that's not hashtag winning then I don't know what is!!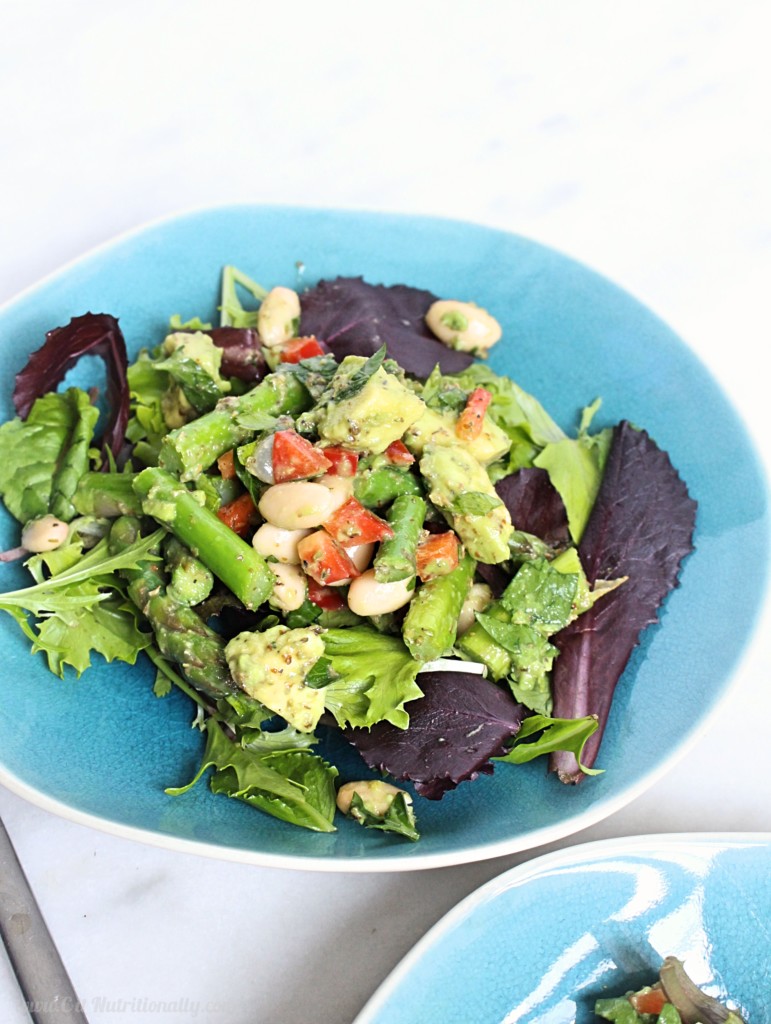 Since asparagus are already going out of season, be sure to store them properly before using… According to Cooking Light, trim the ends (save for veggie stock!), stand 'em up in a glass of water, cover with plastic and refrigerate for up to two days before use. That's not a lot of time, so head to a farmer's market right before you want to make this recipe!
I decided to use blanched asparagus for this Easy Asparagus White Bean Salad to retain their gorgeous green color, but you can also use leftover roasted asparagus from dinner to make this salad. Blanching is a quick cooking method where you boil the asparagus for a few minutes and then quickly drain the water and add the asparagus to a cold ice bath to immediately stop the cooking process. The Kitchn has a great tutorial on blanching here!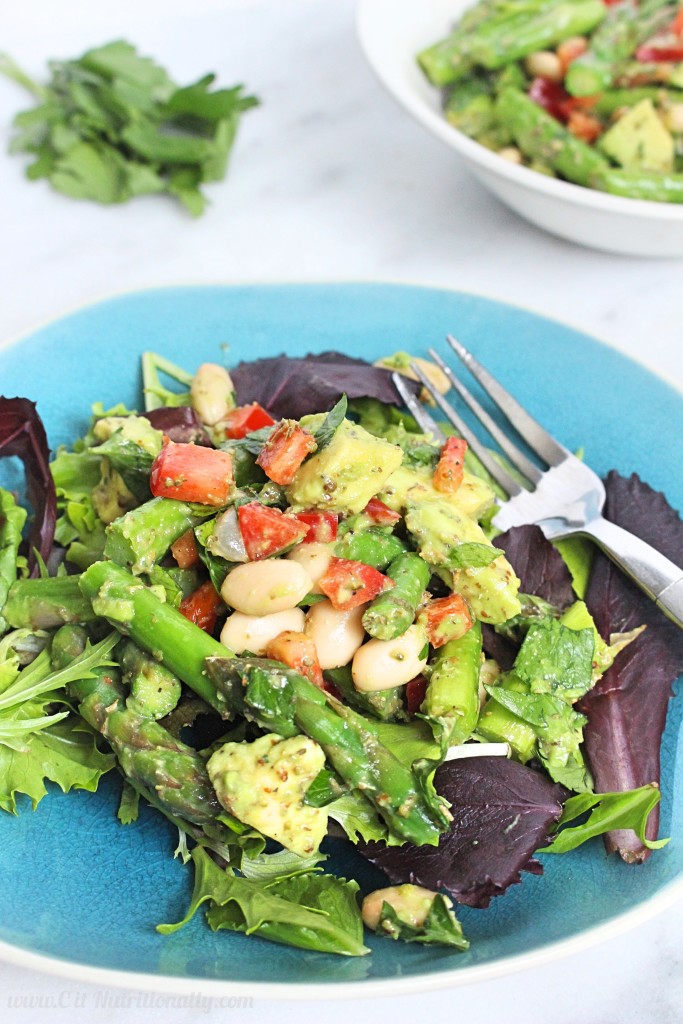 Why asparagus? Aside from being seasonal and a natural diuretic (which cleanses your urinary tract!), asparagus are chock full of folic acid, fiber, potassium, vitamins A and C, and antioxidants!
This may not be the prettiest lunch ever, but it sure is a deliciously nutritious meal!
This Easy Asparagus White Bean Salad is…
Vegan

Gluten free + grain free

Quick to make

Easy to pack for lunch

Seasonal

Full of fiber and plant-based protein!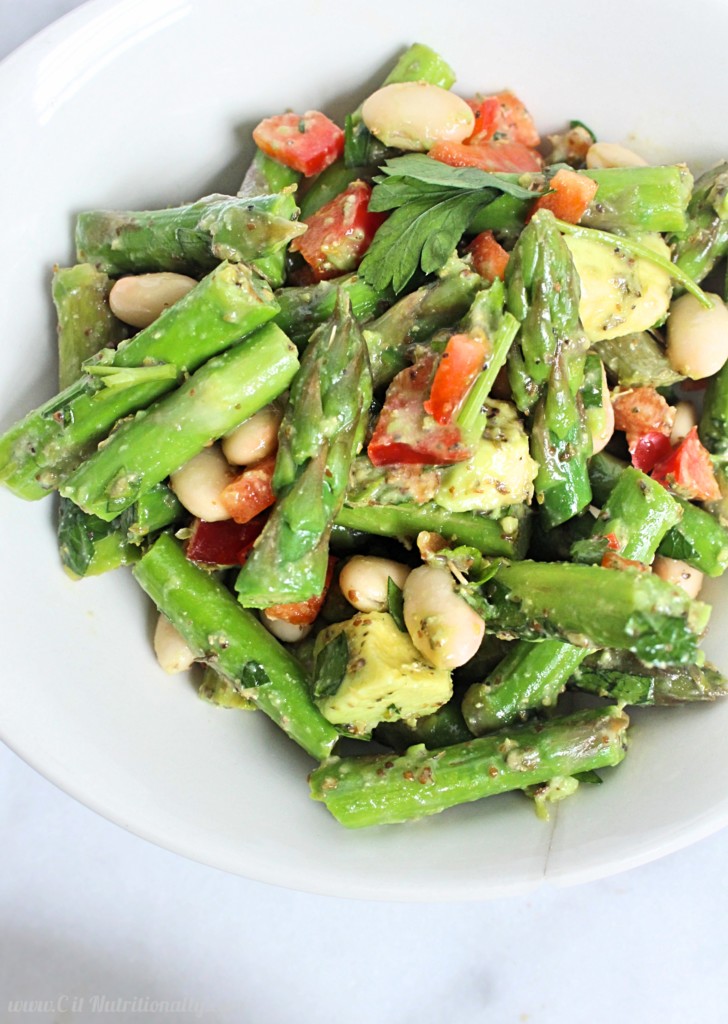 Watch me make this recipe in just one minute…


Asparagus White Bean Salad with Dijon Dressing
Ingredients
1/2 pound asparagus, cut into thirds, blanched (see instructions for details)
1/2 cup white cannellini beans
1/4 cup chopped red bell pepper
1/4 cup chopped parsley
1/2 avocado, diced
1/2 teaspoon dried oregano
Salt and pepper, to taste (I suggest 1/8 teaspoon each)

Dressing:

1 tablespoon Dijon mustard
1/2 tablespoon good quality extra virgin olive oil
1/2 tablespoon lemon juice
Salt and pepper, to taste
Instructions
To blanch asparagus: Bring a small pot of water to a boil and then add asparagus. Cook for about 3 minutes. Asparagus should be soft to bite, but not mushy when done. Drain the asparagus and immediately add asparagus to an ice water bath (or run under extremely cold water) to stop the cooking process and maintain the bright green color.
To make the dressing: Add all ingredients listed under "dressing" to a small bowl and mix together until uniform consistency is reached. Set aside.
Add the blanched asparagus, white beans, bell pepper, parsley, avocado and spices to a medium-sized bowl and toss together gently. Pour the dressing on top and continue to toss until the asparagus salad is evenly coated with dressing.
Serve over a bed of greens or chilled on its own. Enjoy!
Notes
Nutrition Facts (for 1/2 of recipe): ~200 calories, 9g fat, 200mg sodium, 24.5g carbohydrates, 9g fiber, 9g protein
http://citnutritionally.com/easy-asparagus-white-bean-salad/
Don't forget to PIN IT…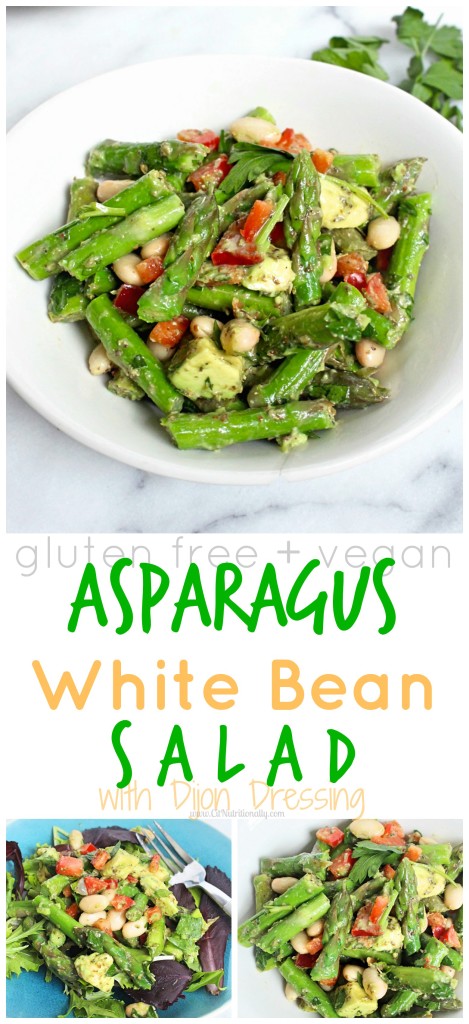 If you want to stay connected or you make something from C it Nutritionally I would LOVE to see your creations! Tag me or use the hashtag #CitNutritionally!
Let's get social! 

Facebook: C it Nutritionally
Twitter: @ChelseyAmerRD
Instagram: @CitNutritionally
Pinterest: ChelseyAmer