Are you looking to include more fish in your diet? This Easy Dijon Baked Salmon is SO simple and takes just minutes for you to make, plus packs a ton of flavor!
Gluten Free, Grain Free, 15 Minute Meals, Dairy Free, Egg Free, Soy Free, Nut Free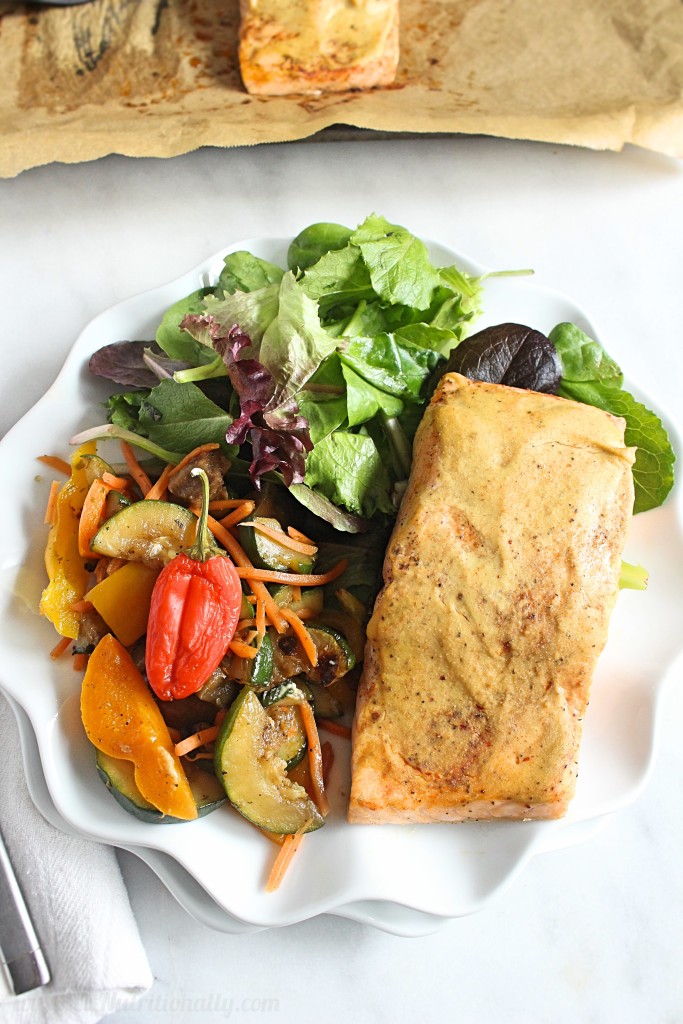 Ok my friends… I think I accidentally made my FAVORITE salmon recipe ever! I've been craving salmon like it's going out of style lately… so I've been honoring my cravings and eating salmon a few times weekly.
And let me tell you… you're going to be just as obsessed soon. This Easy Dijon Baked Salmon is the BEST. EVER. Promise!
And forget any fishy smell…the delicious scent of Dijon is all that'll tickle your taste buds. Another promise!  
One common complaint I hear from people who want to eat more fish is that it's too hard to cook at home. Well, not anymore!
Salmon is one of the easiest fish to DIY because I think it's so hard to mess up. And there are tons of ways you can prepare it.
And this Easy Dijon Baked Salmon is my new favorite… just in time for the end of Heart Health month.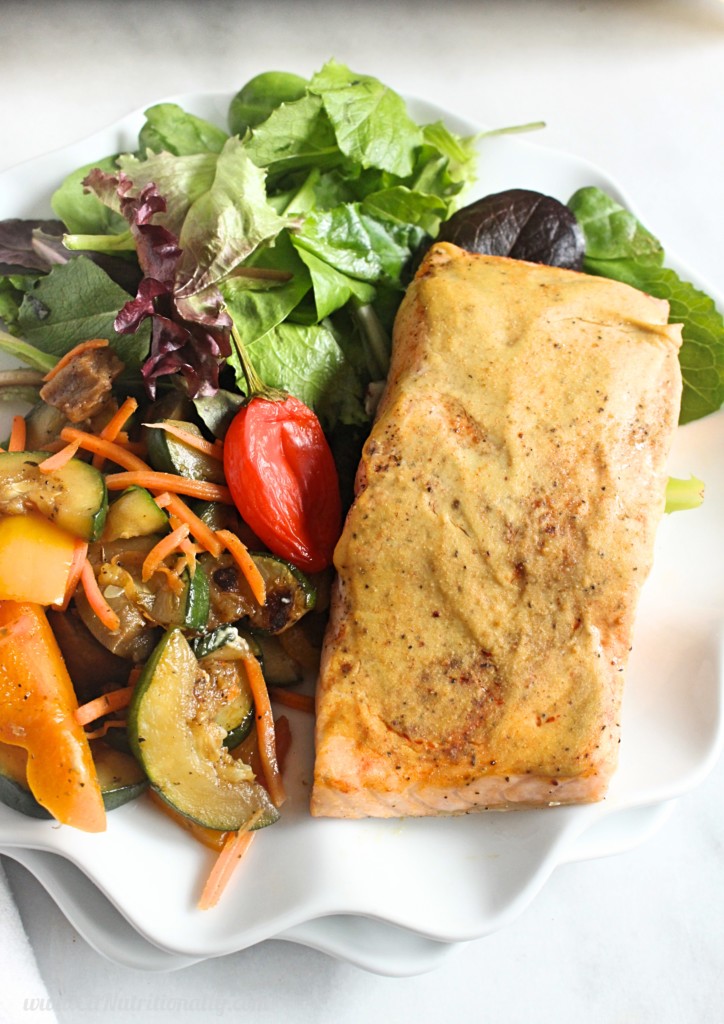 February is Heart Health Month, so I couldn't let the month fly by without drawing attention to this important event.
Heart disease is the number 1 cause of death among men and women in the United States.
Medications to treat heart disease are also the TOP prescribed medications, despite lifestyle modifications that can be made to reduce your risk of heart disease.
One thing you can do… eat more omega 3 fatty acids. Yes, I'm encouraging all of us to eat more FAT!
Despite what was previously believed, fat does not make us, nor our hearts, FAT. But we should be selective about the TYPE of fat we choose to consume most frequently.
Salmon is a fatty fish that is full of omega 3 fatty acids that help reduce inflammation, "bad," LDL cholesterol levels, and blood pressure.
Although fish isn't the only potent source of omega 3 fatty acids, it's a delicious and easy way to get your weekly dose.
The American Heart Association recommends eating fish twice per week. And you'll definitely want to with this new recipe!
My Easy Dijon Baked Salmon is…
Full of flavor

Made with just 4 ingredients (plus salt & pepper!)

Easy to bake in less than 15 minutes, start to finish!

Full of omega 3 fatty acids

Packed with protein
Plus, it won't make your entire house smell like fish! My sensitive nose takes that seriously, so it's a BIG WIN!
Watch me make it…
Ingredients
Instructions
Rinse salmon filets and pat dry. Place on a parchment paper-lined baking sheet. Spray with olive oil, sprinkle with salt and pepper, and smoked paprika.
Spread Dijon mustard on top of the filets, and then sprinkle the sugar on top.
Bake at 350°F for 10-13 minutes, depending on the thickness of your salmon.
Enjoy warm.
http://citnutritionally.com/easy-dijon-baked-salmon-video/
Don't forget to PIN IT…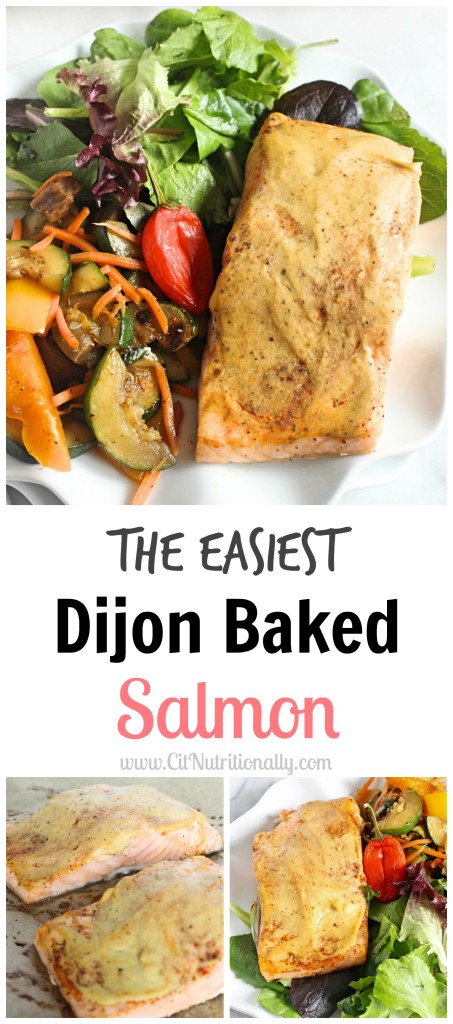 Do you like to cook fish at home?
If you're looking for more salmon recipes, check out my 10 Minute Salmon, 4 Ways!
Happy Monday!
XO
If you want to stay connected or you make something from C it Nutritionally I would LOVE to see your creations! Tag me or use the hashtag #CitNutritionally!

Let's get social! 
Facebook: C it Nutritionally
Twitter: @ChelseyAmerRD
Instagram: @CitNutritionally
Pinterest: ChelseyAmer