Simple, delicious and fresh, this Easy Gluten Free Blueberry Crisp will be your go-to dessert of the summer! Vegan option, Gluten free, Nut free, Egg free, Dairy free option, Soy free
There's no two ways about it… blueberries are hands down my favorite fruit! I eat them just about every day, either in a smoothie, on top of a smoothie bowl, in chia pudding, in a salad, or just by the handful. SO GOOD!
And they're full of vitamins, minerals, antioxidants, fiber and so much good stuff, so they make my body feel bloob-ilicious, which is another reason why I probably why them so much.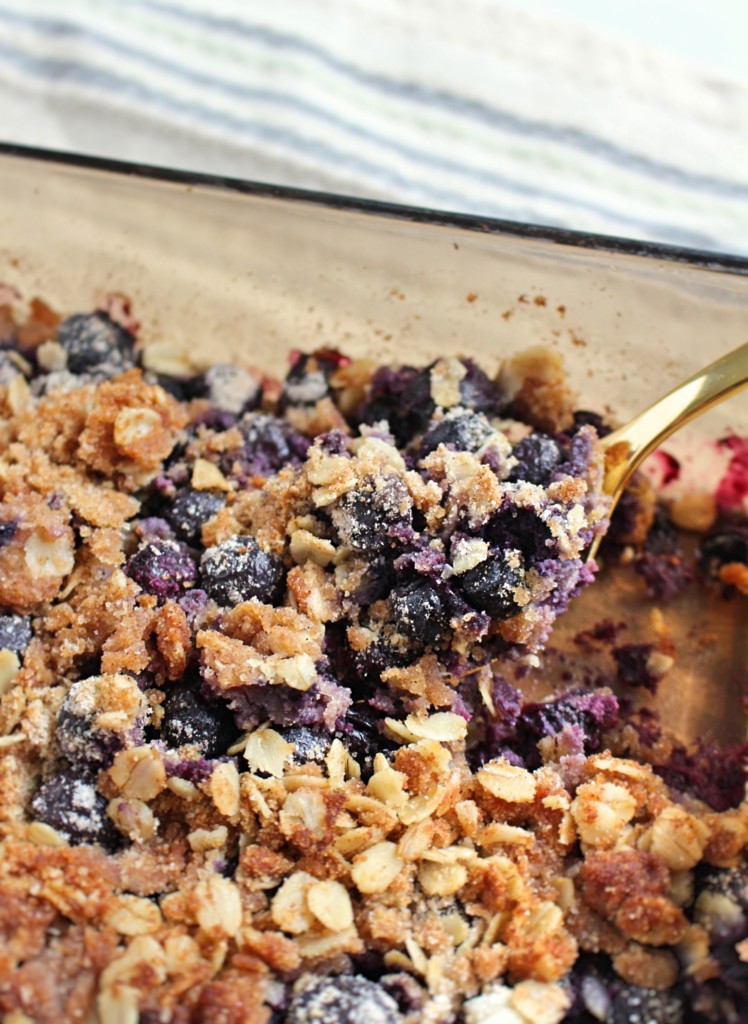 AND, I don't discriminate… Wild bloobs, fresh bloobs, organic bloobs. I try to buy organic, when possible, but sometimes they look so freakin' cute at the farmer's market and they're not organic — and that's OK!! It's about a balance, people — they're not on the Dirty Dozen or anything

So when I had an overload of blueberries the other week that I just didn't know what to do with before they were going to go bad, I knew it was time to ramp up the bloob desserts over here! One of my favorite desserts is a good ol' fruit crisp. I haven't made one in SO LONG, but they're sooooo EASY!!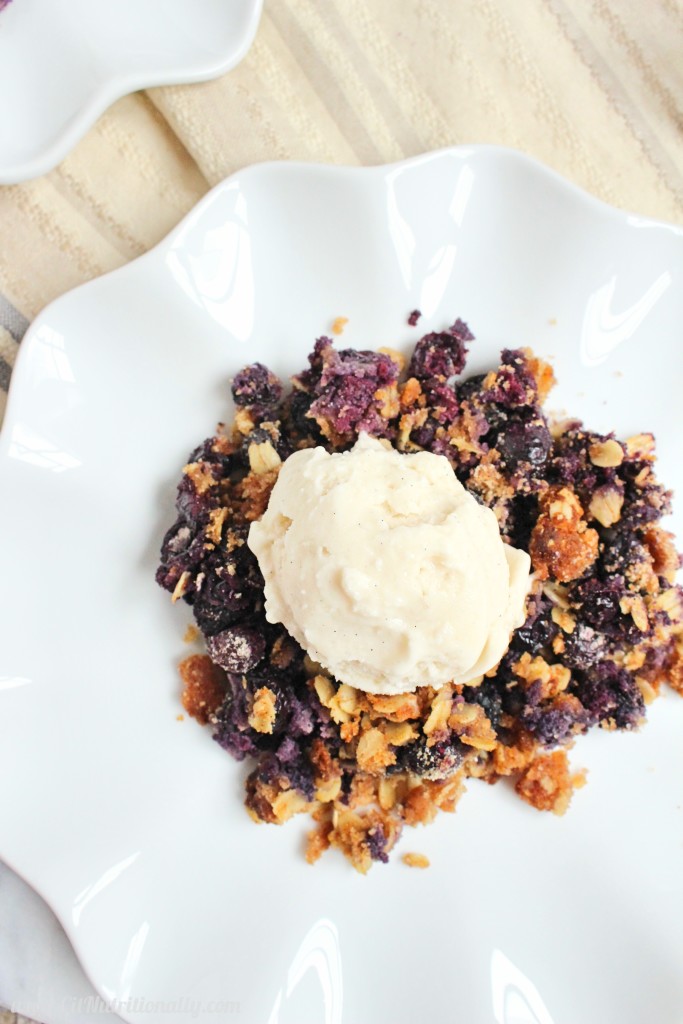 This Easy Gluten Free Blueberry Crisp…
Has just 6 ingredients

Takes just 1 bowl

Is full of FIBER

Healthier than many other desserts (just a sweet bonus!)

Is best seasonal!

Tastes better with FRESH blueberries

Can be vegan, gluten free and free from the top 8 food allergens!
Let's bake…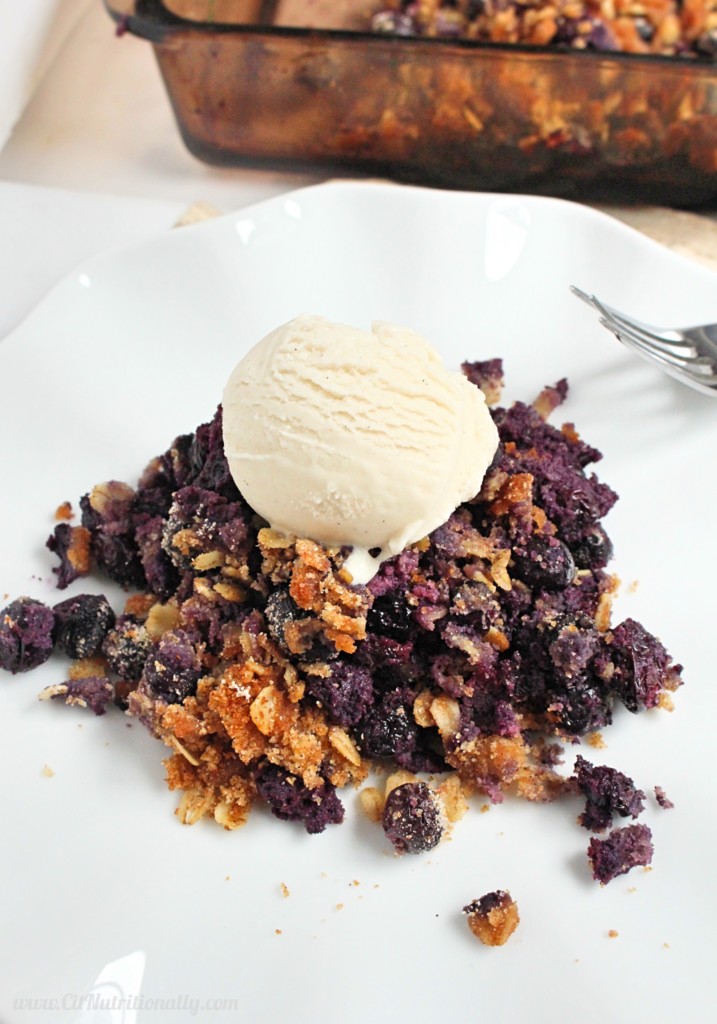 Easy Gluten Free Blueberry Crisp
Ingredients
For the filling:

1/2 tablespoon melted butter or coconut oil
3 cups fresh blueberries
3/4 tablespoon coconut flour
1/2 teaspoon cinnamon

For the crisp topping:

1/2 cup rolled oats (certified gluten free if needed)
1/4 cup coconut flour
1/4 cup date sugar, or granulated sugar
1/2 teaspoon cinnamon
1/2 teaspoon salt
1/4 cup unsalted butter*, cut into small pieces
Instructions
Preheat the oven to 350ºF.
Spread the 1/2 tablespoon of melted butter or coconut oil on the bottom of a 8x8 baking dish or similarly sized pie dish.
In a medium-sized bowl, combine blueberries, coconut flour and cinnamon. Pour the berry mixture into the prepared pan.
In the same bowl, combine oats, coconut flour, sugar, cinnamon and salt. Add the pieces of butter. Using a pastry cutter or fork work the butter into the oat/flour mixture so that it resembles pea-sized pieces. It doesn't have to be perfect. If you need to use your (clean) hands a bit to work in the butter that's OK, but avoid letting the butter melt from the warmth of your hands.
Sprinkle the butter/oat/flour mixture evenly over the top of the berries.
Bake in a preheated oven for 35-40 minutes until the filling is bubbling and the crisp topping is browned. Enjoy warm :)
Notes
*May substitute vegan buttery spread
Nutrition Facts (per 1/8 serving): ~146 calories, 8g fat, 230 mg sodium, 18g carbohydrates, 3.5g fiber, 2g protein
http://citnutritionally.com/easy-gluten-free-blueberry-crisp/
Don't forget to PIN IT…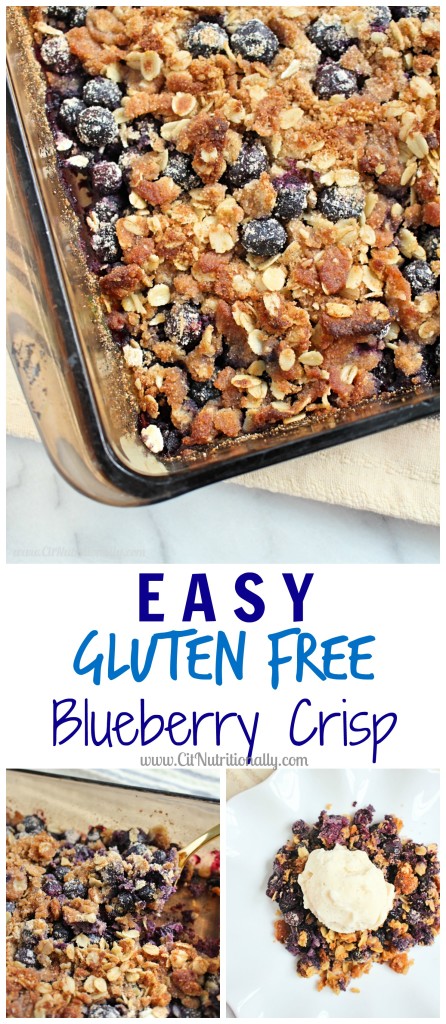 Dessert in under an hour? Yes please!!
Happy Monday!


XO
Let's get social! 

If you want to stay connected or you make something from C it Nutritionally I would LOVE to see your creations! Tag me or use the hashtag #CitNutritionally!
Facebook: C it Nutritionally
Twitter: @ChelseyAmerRD
Instagram: @CitNutritionally
Pinterest: ChelseyAmer