A meat-free dinner the most carnivorous eater will enjoy (it's been tested!), these 4-ingredient, vegan, 
eggplant balls
are a hearty and warm meal for a cozy Meatless Monday night!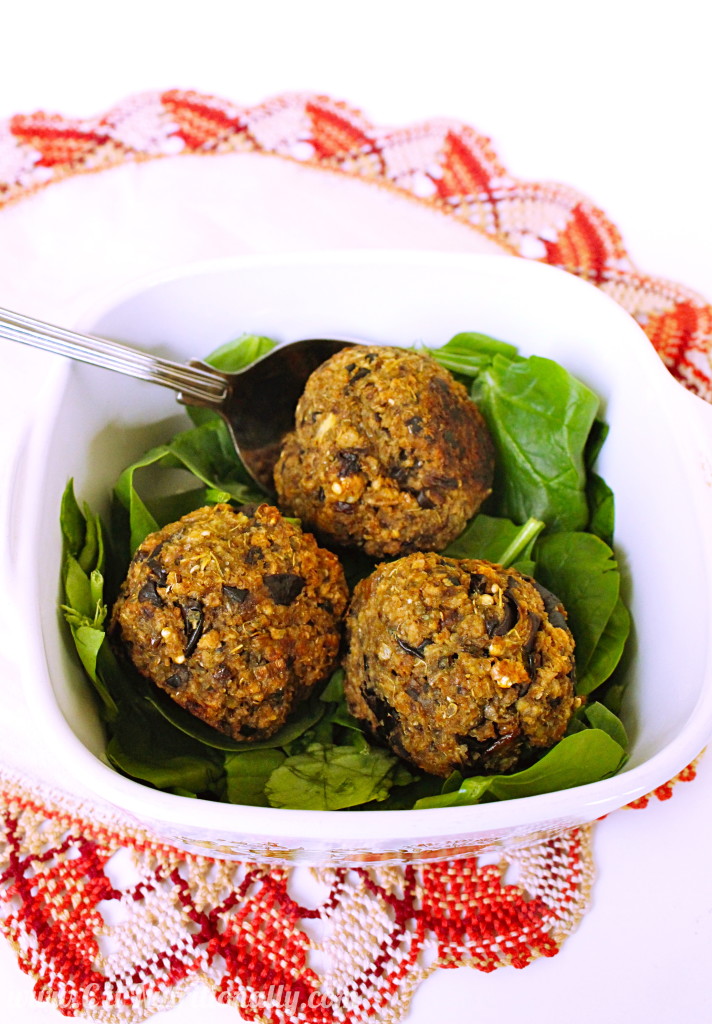 My phone rings…
Mom: Chelsey! We just had the BEST dinner…you HAVE to re-make this dish for your blog.
Me (overly tired): OK, what is it?
Mom: EGGPLANT BALLS…they were delicious…they served 3 large balls on a long white plate with just a hint of marinara sauce. They were incredible. Just eggplant, breadcrumbs, and egg. So simple, you can make them right now.
Me: OK, thanks mom. 
Mom: I'll buy an eggplant and we can play when you come home this week. 
Me: OK mom. 
My purpose for sharing this rather mundane exchange between my mom and me as the inspiration for this meal?  Because I've done a complete 180 about this recipe! Now, I'll scream from the rooftop because this just may be climbing the charts as my favorite recipe on the blog. And my family agrees. And yes, my family includes three meat eaters.
My mom was right. Recipe-menting was a family affair (grandma joined too!) over the holidays and I've been DYING to share this recipe with you. We made these eggplant balls vegan (egg-free!) so my dad could join in the full as well…
Taste-testing:
Mom: These are even BETTER than at the restaurant!
She's not biased or anything 😉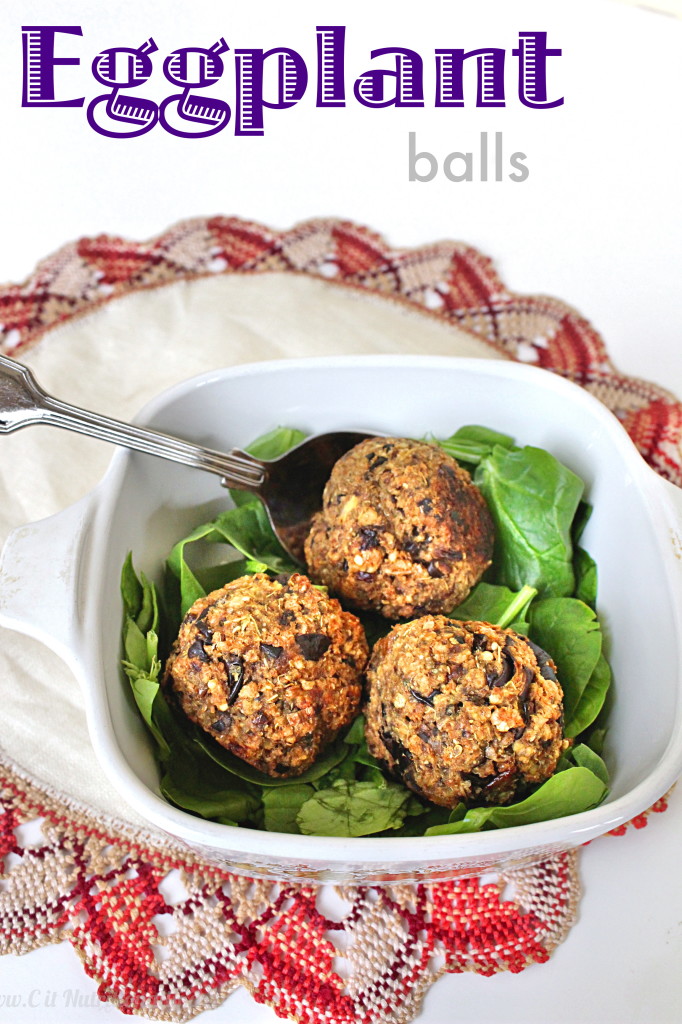 A few nights after I made this recipe, my family went our for dinner [at a different restaurant than when my mom first called] and eggplant 'meatballs' were on the menu…..Oh how I love the restaurant world is becoming more veg-friendly! Weeeeeee! I obviously ordered them and they were DELICIOUS, so I got even MORE excited about this recipe. Sorry I've been hogging it for so long [insert "see no evil" monkey emoji].
I've only remade this recipe about 5 times…including New Years Eve when I quadrupled the recipe to ensure leftovers!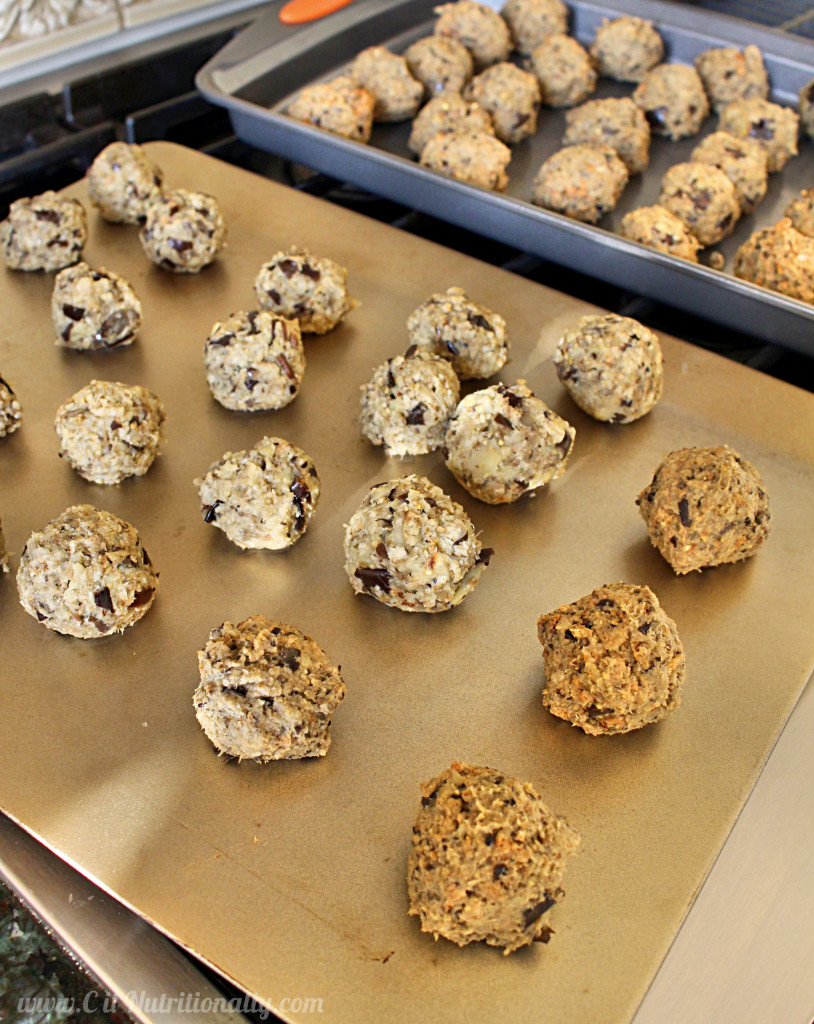 It was like eggplant ball heaven!
Four (yes, you read that right, 4!) ingredients…if you don't count spices that we're all sure to have around the house! While this recipe may be (slightly) more laborious than your typical weeknight dinner, it's a FANTASTIC make ahead meal for a healthy mid-week dinner.
First, you roast the eggplant, garlic, and onion. Roasting elicits the sweetness of these ingredients.
Then pulse your roasted veggies with spices and breadcrumbs…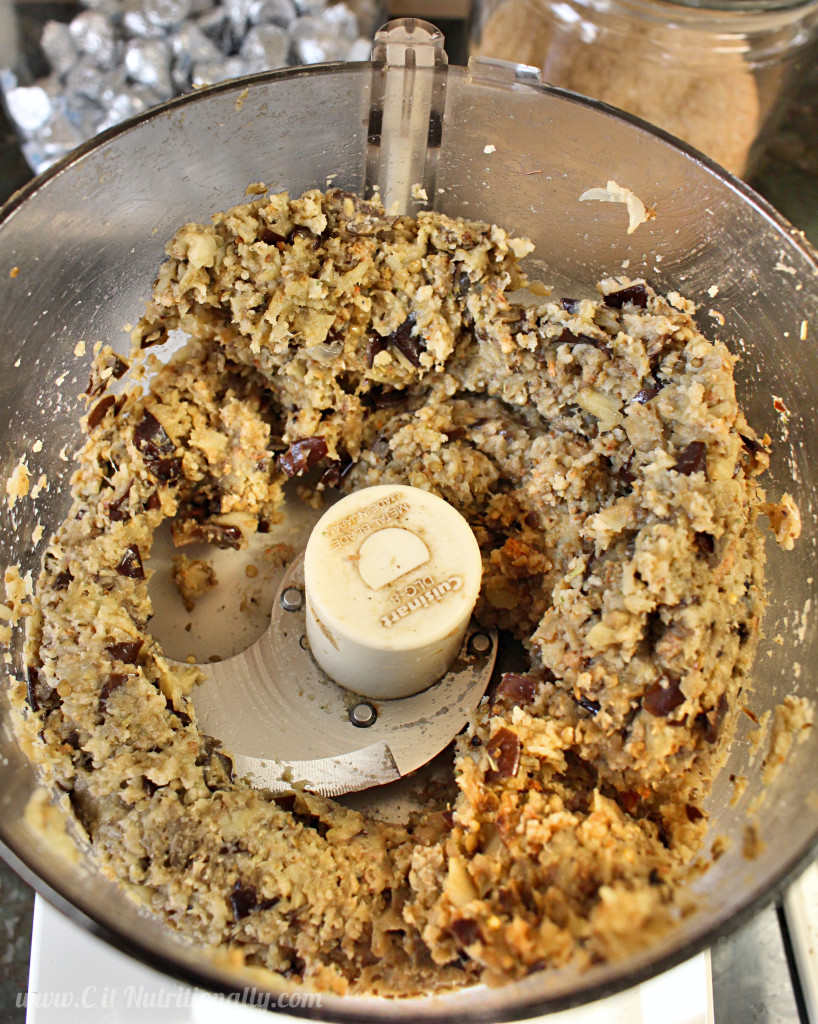 Be sure not to over-process this batter because they won't stick together as well.
Form into balls…I think smaller if you're serving over pasta and larger if you're serving as an appetizer…but that's just my [unasked for] opinion!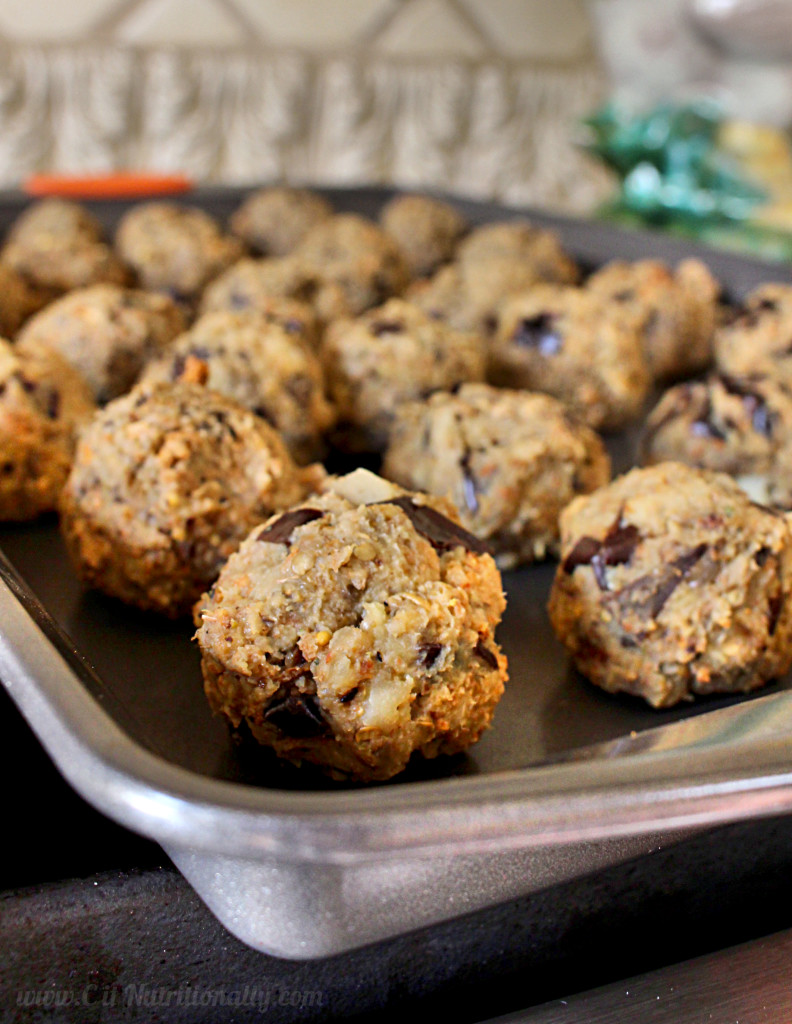 And bake!
You can really taste the eggplant flavor, a little smoky from roasting, plus the caramelized onions and sweet garlic (ohhhh how I love what an oven does to garlic!). All wrapped up in a sphere of deliciousness…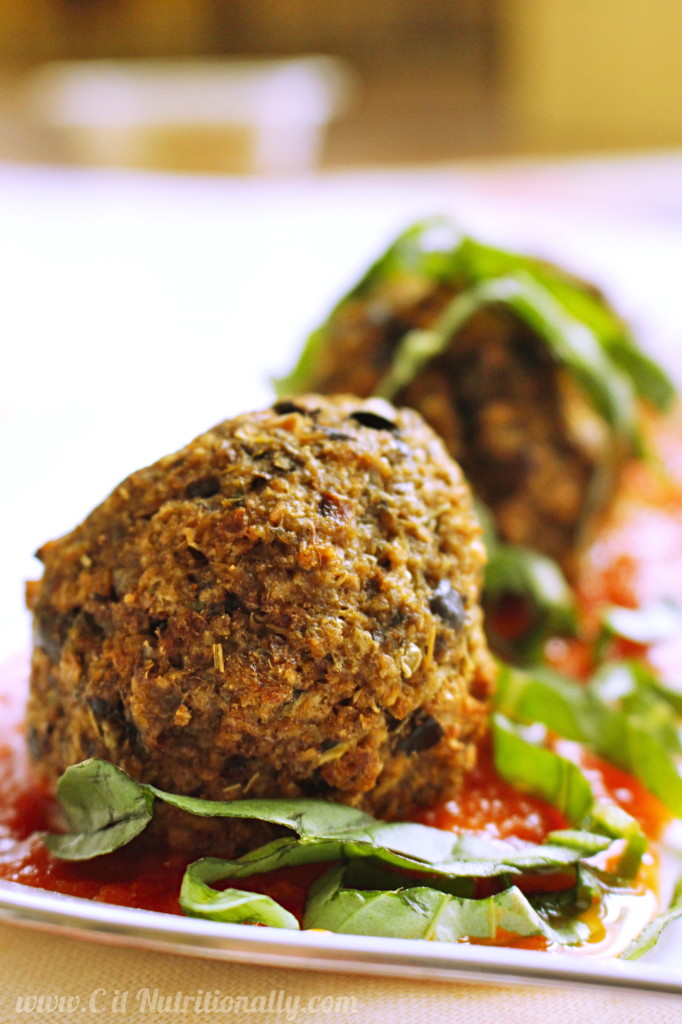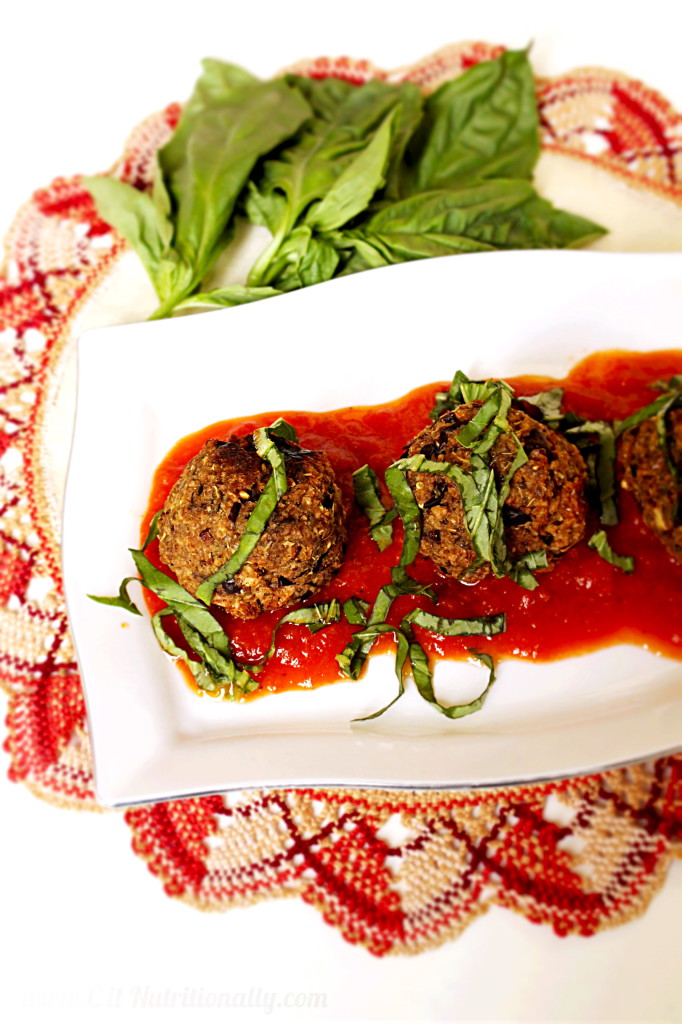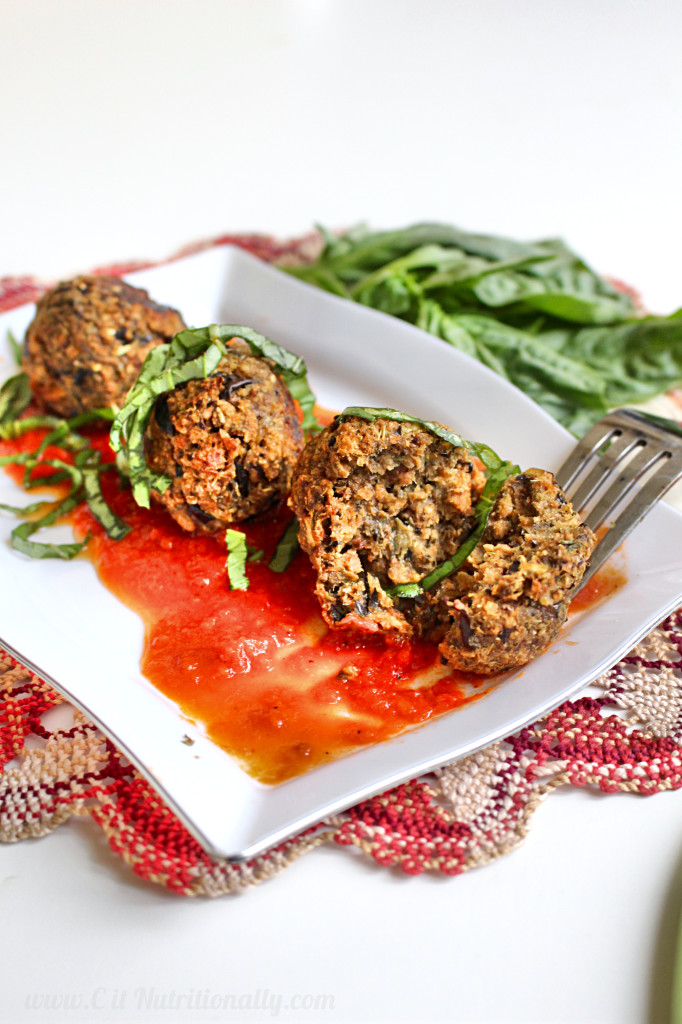 Your next family dinner…make these balls! 
The next time you're having company…serve them with toothpicks and marinara dipping sauce. 
Flying solo one night…make this recipe…your lunch will LOVE leftovers! 
OK, clearly I'm obsessed. Enjoy!
4-Ingredient Vegan Eggplant Balls
Ingredients
1 medium eggplant, diced
1 garlic clove, peeled
1 shallot, minced
1/8 teaspoon salt
Freshly ground black pepper, to taste
1 - 1 1/2 tablespoon(s) extra virgin olive oil
3/4 cup whole wheat breadcrumbs (gluten-free if desired), divided
1/2 teaspoon dried oregano
1/4 teaspoon dried or fresh parsley
Instructions
Preheat oven to 400°F.
On a large cookie sheet, combine eggplant, garlic, shallot, a pinch of salt (optional), pepper, and olive oil. Roast for 30-40 minutes, until edges are browned. Once eggplant is removed from the oven, lower the temperature to 350°F.
In a large food processor (10-cup) combine roasted eggplant mixture with ½ cup of breadcrumbs, and the rest of the spices. Pulse until ingredients are just combined.
Scrape down the sides of the food processor and add the other ¼ cup of breadcrumbs. Continue to pulse until mixed. Avoid over-processing, when possible. When complete, the mixture should easily adhere into balls. (Note: Over-processing the eggplant mixture and breadcrumbs can make the mixture extra sticky and you may have difficulty forming balls.)
Form the eggplant and breadcrumb mixture into 1- or 2-inch balls, based on personal preference. Per eggplant, you should yield about 12-16 balls, depending on the size of the eggplant and balls.
Place balls on a large baking sheet and bake for 30 minutes, rotating halfway through.
Remove from the oven, top with marinara sauce and serve on a plate of zucchini linguine, spaghetti squash, sautéed spinach, whole grain pasta, or pop 'em plain! Enjoy!
Notes
Note: Doubling, tripling, or quadrupling this recipe works like a charm!
http://citnutritionally.com/eggplant-balls/
Seriously, these balls are hearty, filling, and SO good for you!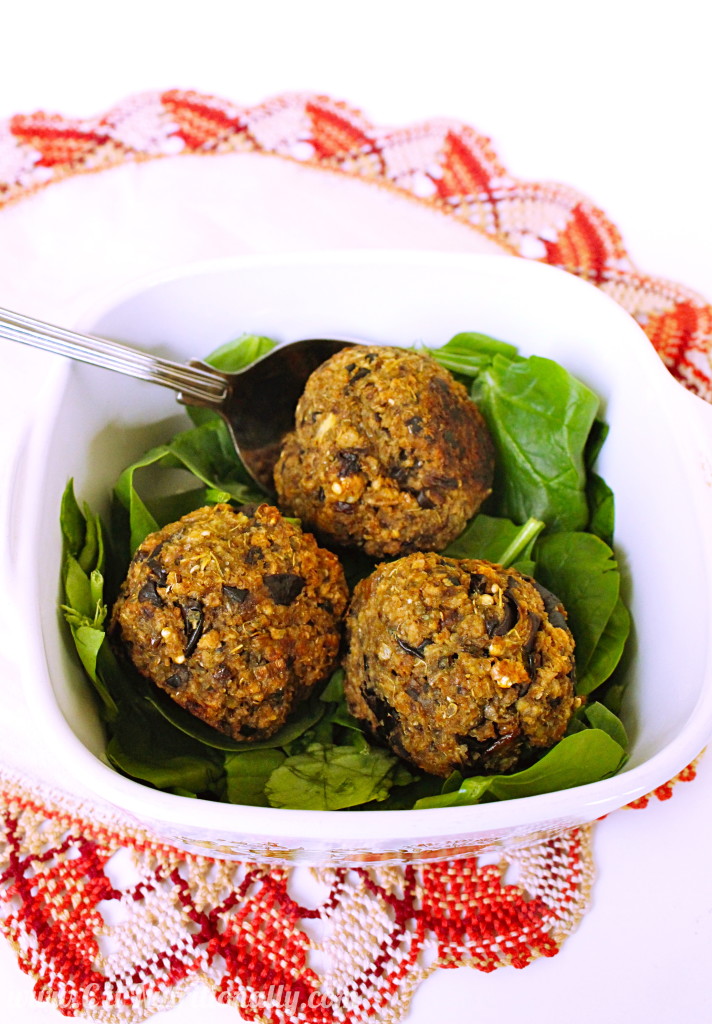 …what a Meatless Monday meal! 
Fellow bloggers…who influences your recipe creations?! 
XO