Kale-haters this salad is for you! Sturdy kale leaves prepared with a mixture of tangy, yet sweet, dressing, loaded with in-season veggies, fruit, and feta cheese. Everything but the kitchen sink is in this Mediterranean kale salad.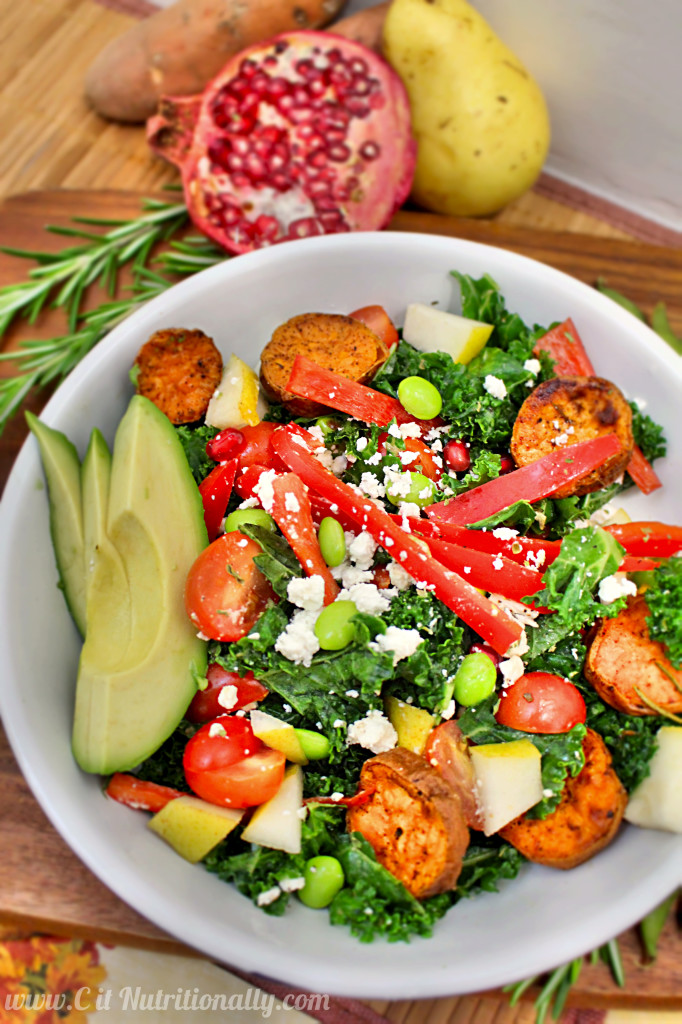 Food for thought…
So I understand why people dislike Mondays…back to routine, work, carpool, yada, yada, yada…but I also like the fresh start…especially after a particularly bad week. Last week I was M.I.A. on the blogosphere for most of the week due to a family emergency. I don't know the last time I've gone 4 full days without posting 1 food pic on Instagram or 4 full days without keeping up with my favorite blogs out there. It may not seem so dramatic, but there's something nice about getting back into a routine.
Since I was at my parents' home most of last week I spent the majority of my weekend organizing my apartment and school work, answering emails, using the last of the food in my fridge, studying for midterms (booo!), and getting back into my workout game. It was nice to lay low and have the time for myself…so I'm ready for the week ahead! 
Well, last Monday I was inspired to have a kale salad for lunch after reading this post from Cookie + Kate. I didn't follow any of these recipes specifically, I just used what I had in my fridge. But it was one of the most satisfying lunches I've had in a while and I realized how the flavors melded together like all the pieces in a puzzle (take that simile!). So I made the same salad again on Tuesday, just to be sure, and snapped away…it is a beauty…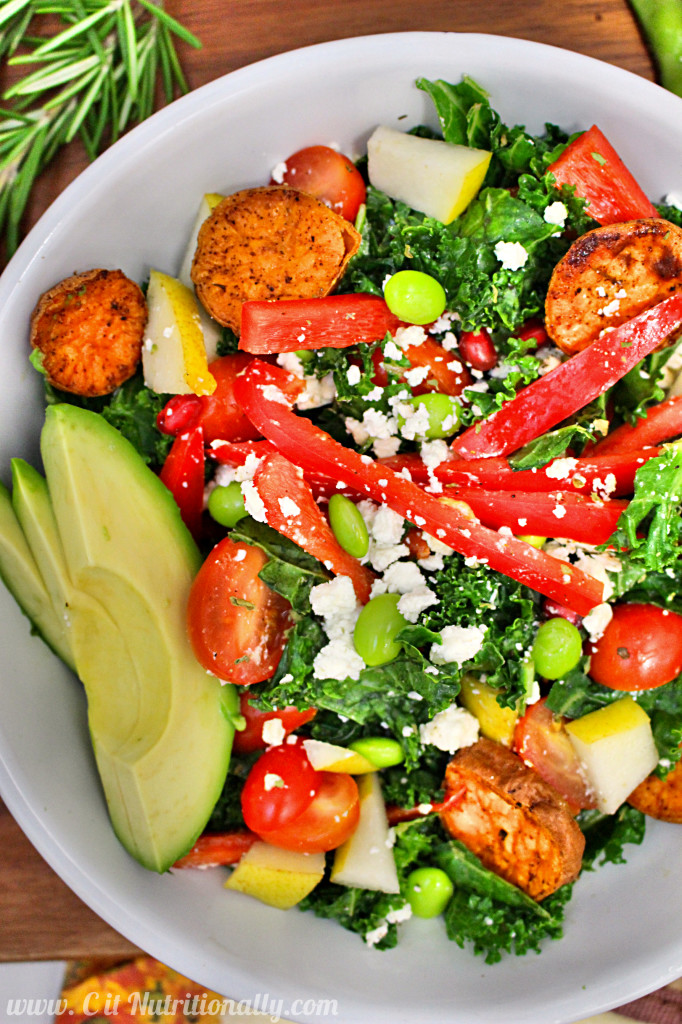 This Mediterranean-inspired kale salad is bursting with fall flavors, with nearly everything but the kitchen sink! 
You can switch up the ingredient list, add this, omit that, but whatever veggies you add it'll be packed with fiber, potassium, vitamins A, B, C, K, and more, plus tons of other minerals [iron, selenium, manganese — just to name a few].
Now I learned a VERY important lesson from the beginning of Kate's post — you MUST massage your kale. This very important step cuts the toughness of kale leaves. If you've tried kale before in a salad and haven't liked it, please try again…this tip really works! PROMISE!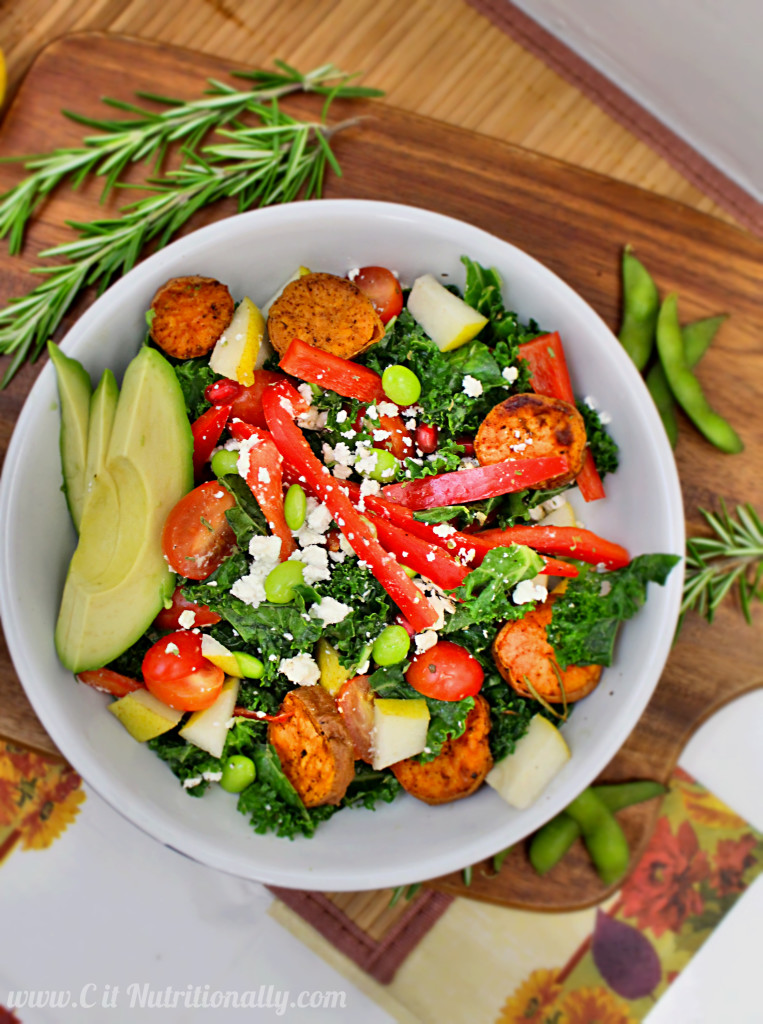 You can add whatever veggies you have on hand or love to eat, but one ingredient I urge you not to omit is the sweet potatoes or yams. Not only does this orange veggie pack many antioxidants, beta-carotene, and fiber, but it also satiates and satisfies! Simply roast a sliced sweet potato or yam, gently coated in olive oil with any spices you wish and fresh herbs too. For this salad, I used fresh rosemary, black pepper, and oregano. I often prepare a huge batch in the beginning of the week so I can add them to salads all week long!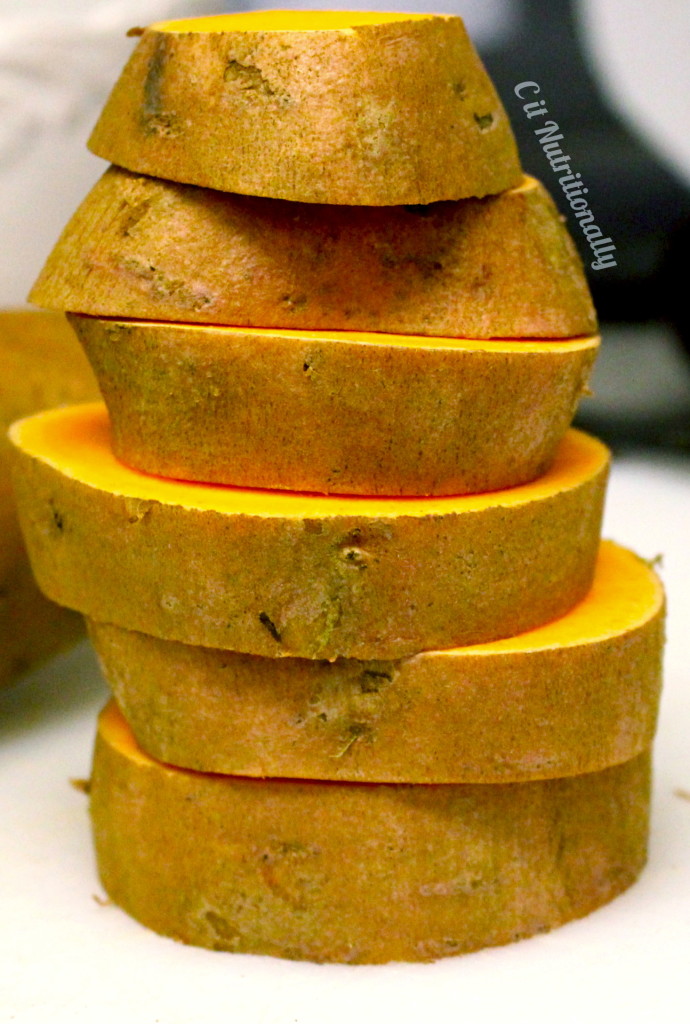 You can also adjust the salad dressing to best suit your taste buds. The combination of red wine vinegar, honey mustard, and spices with the olive oil is a tangy, yet sweet combination. I love dressings that wake up your taste buds, like this one, but I understand not everyones' taste buds agree! To decrease the tang, but keep the potent flavor, reduce the quantity of red wine vinegar and increase the honey mustard.
Once you dress your salad, let sit for at least 10 minutes before diving in!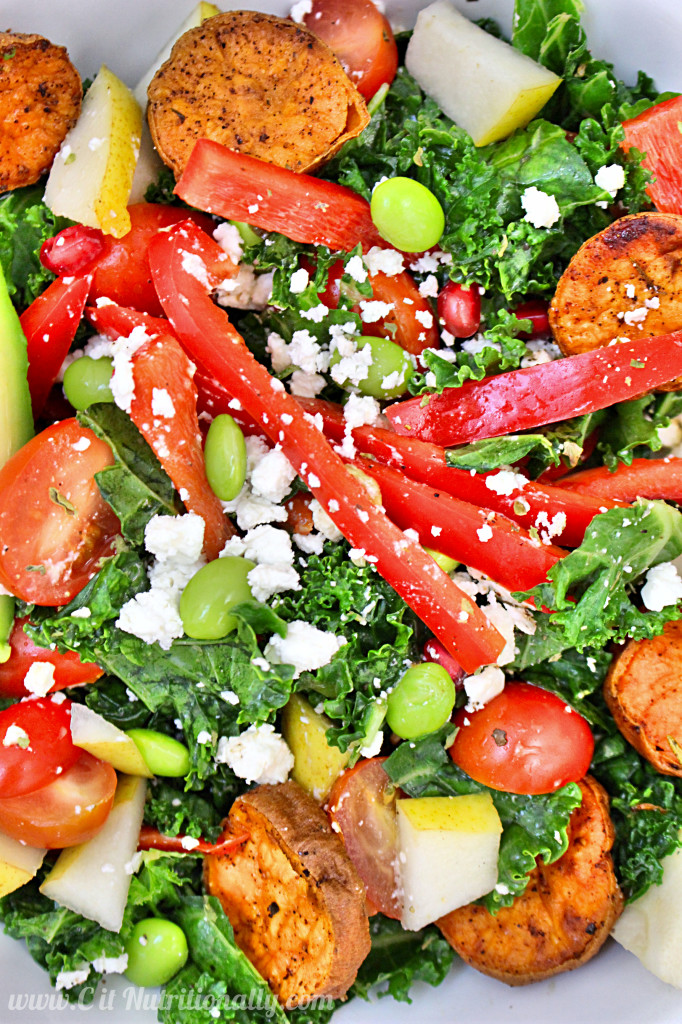 Let's get cookin' …
Fall-Inspired Mediterranean Kale Salad
Author:
Prep time:
Total time:
Kale-haters this salad is for you! Sturdy kale leaves prepared with a mixture of tangy, yet sweet dressing, loaded with in-season veggies, fruit, and feta. Everything but the kitchen sink is in this fall-inspired Mediterranean kale salad.
Ingredients
Salad Ingredients:
½ pound kale, veins removed, chopped
½ large bell pepper, thinly sliced
½ cup cucumbers, chopped
½ cup grape tomatoes, halved
1 large pear, chopped
¼ cup pomegranate seeds
1 cup edamame, shelled
1 avocado, thinly sliced
1 medium sweet potato or yam, roasted with rosemary
¼ cup feta cheese
For the dressing:
¼ cup good quality olive oil
2 tablespoons red wine vinegar
1 teaspoon balsamic vinegar
1 teaspoon honey mustard (or mix 1 teaspoon mustard with ½ teaspoon honey)
1 teaspoon oregano
1/8 teaspoon freshly ground black pepper
Instructions
Place kale in a large salad bowl. Be sure to massage the kale and remove tough stems and veins.
Add all other salad ingredients to the bowl. Set aside.
In a small bowl, combine dressing ingredients. Whisk well until ingredients are completely emulsified and no distinction between oil and vinegar remains.
Dress salad, using only half of the dressing at first, tossing gently. Allow salad to sit, dressed, for at least 10 minutes. Taste and add more dressing if needed.
Enjoy!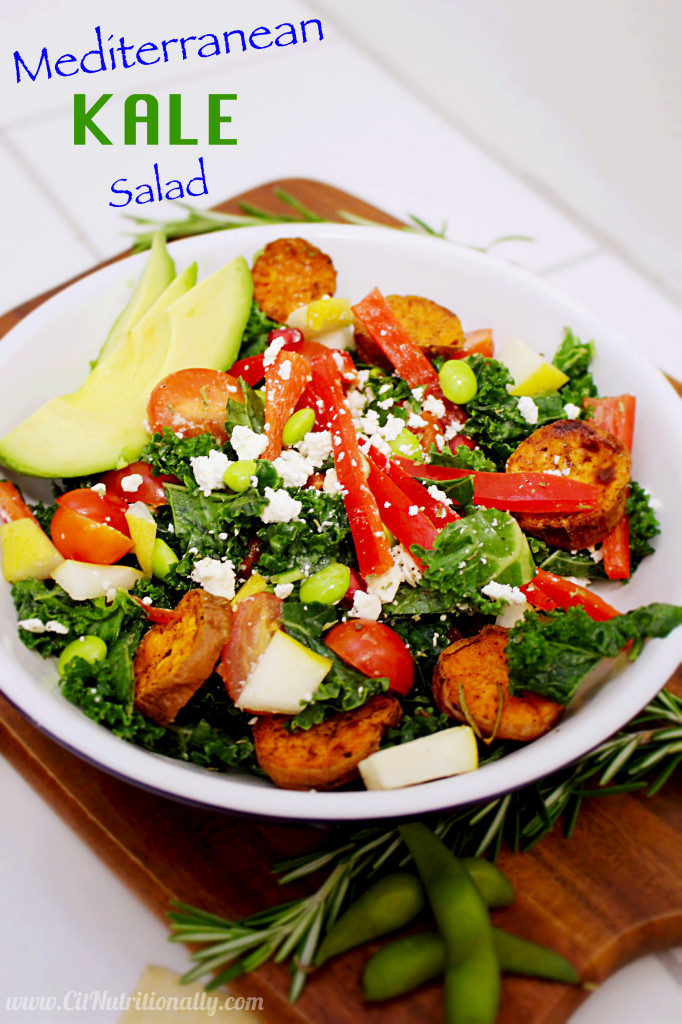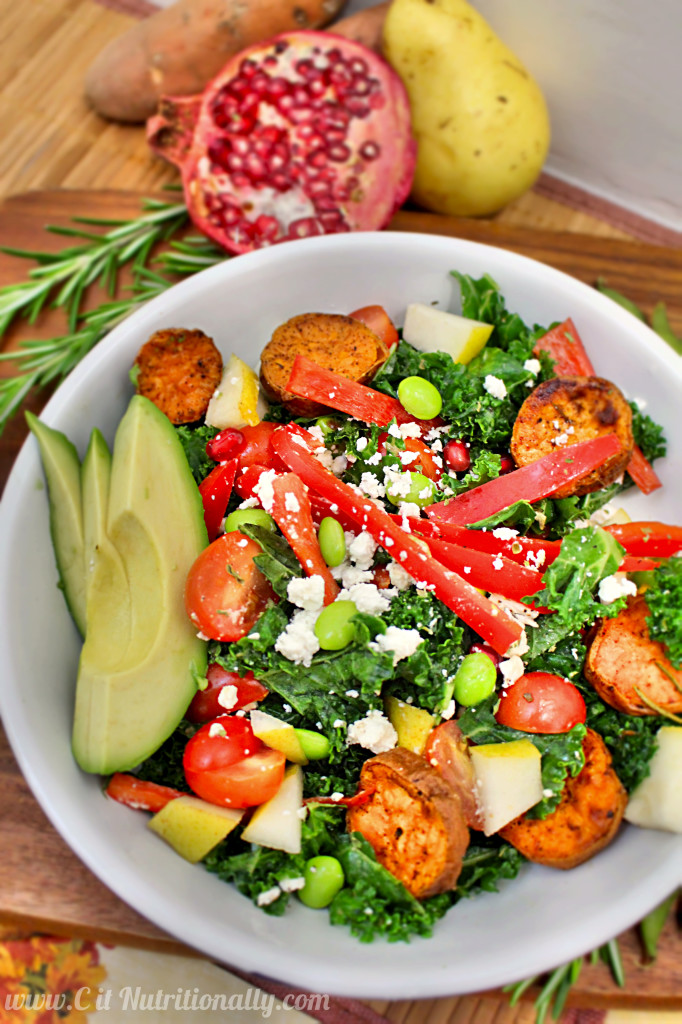 How easy is that for a delicious, nutrition-packed Meatless Monday lunch?! 
Now I hope your Monday isn't as scary as usual! 
Have a great day!
XO