Now that Thanksgiving is behind us and the craziness of the holiday season is HERE, it's time to create an action plan! Maybe you made a list of the gifts you want to purchase or started crafting your Christmas Eve dinner menu, but have you neglected the day-to-day goings on in between? Winter break isn't here yet and with holiday parties weaved throughout the next few weeks, we need to have a plan  — a healthy eating plan to stay on track in between the eggnog, gingerbread, and peppermint mochas!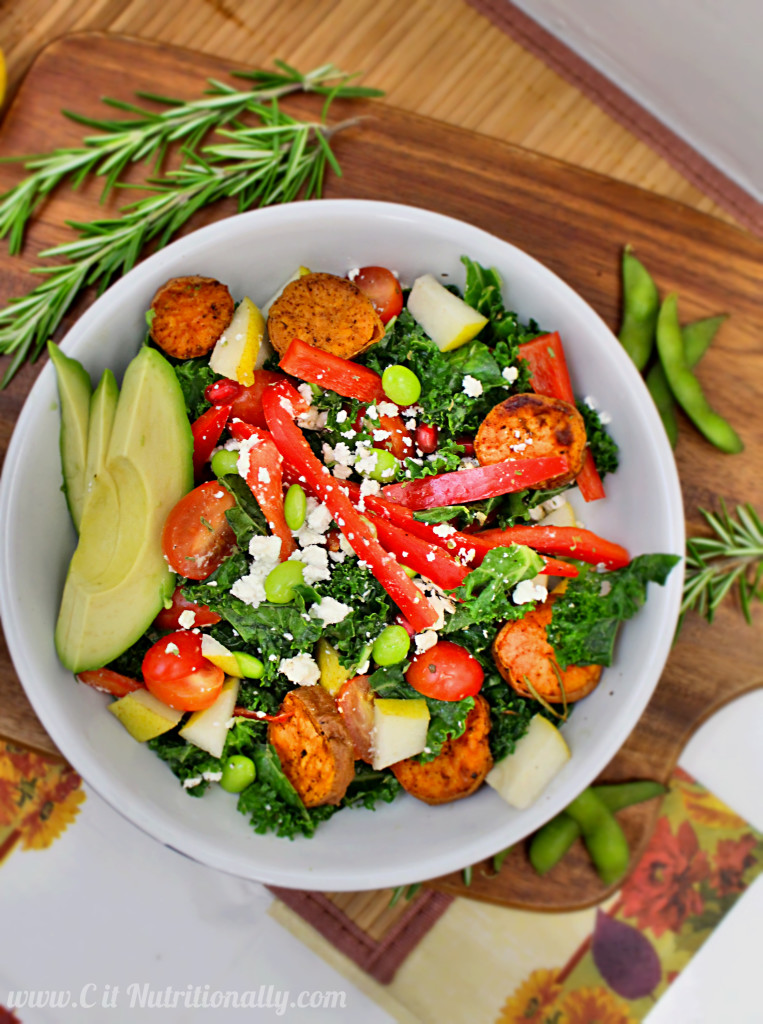 While there's no typical day in the life of yours truly, one thing is certain: my days are packed! Between working, grad school, and volunteering, I can be all over Manhattan in just a few hours! For sustainable energy all day long, especially at this time of year, I make sure I fuel my body properly so I can rival the energizer bunny…
How, you may ask? 
FOOD PREP!!! 
In the days of Seamless, I have many 20-something year old friends with completely bare fridges, who order in every meal they eat. I, on the other hand, have three very important reasons why I make most of my meals at home and take lunch with me to go on busy days…
I can control what goes in my food, which is important for my food allergies…it's always hard to trust the unknown! 
I don't have time to wait on the crazy lines at New York City salad bars…they're literally out the door during lunch time. 
I want to make sure my meals are nutritionally balanced, so being prepared ensures that what I eat provides the proper energy and nutrients that my body requires. 
Now, I love dining out, exploring new hot spots in this foodie metropolis, but on my hectic, running around, busy days, always having food in a pinch seems to work for me! So I don't spend too much time each day chopping, sauteing, roasting, etc, I take a chunk of time (under 1 hour) every Sunday to prepare my favorites for the week!
Inspired by Lindsay at The Lean Green Bean Blog who I consider the queen of food prep, I thought you may want to see the logic behind how I get my food prep on! Here's my thought process…
1. Plan your "menu" for the week.
Now, you don't have to write down every morsel you're going to chew, but having an idea of what your general week looks like definitely helps. Is there a night you're going to be at work late? Dinner out? Pilates at 8pm? You get the idea…
When you figure out where you're going to be, then decide what you want to eat! If you live alone this is MUCH easier than if planning for a family, but the idea is the same. Don't forget to include breakfast, snacks, lunches, and then dinners too.
Be sure to include at least 1 "big pot" meal as I like to call them. As it's gotten quite chilly [overnight], coming home to a pot of simmering chili is so comforting (but healthy too!).
2. Make a list…and check it twice!
After you plan your meals for the week it's only natural you go food shopping! Studies show those who make lists (and stick to them) make healthier choices and purchase fewer calories than those who don't!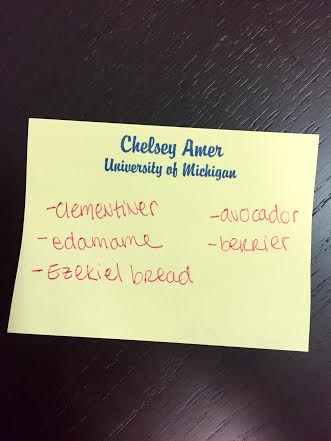 3. Get chopping!
Veggies are one of the first things I prepare because they're so very important…and time consuming! No matter which veggies you choose, chop, chop, chop! I tend to make a huge chopped salad (sans lettuce), slice a bunch of crudites for snacks, and then chop/dice/slice for various meals. If I'm going to have a spiralized meal within two days I'll also pre-spiralize my veggies!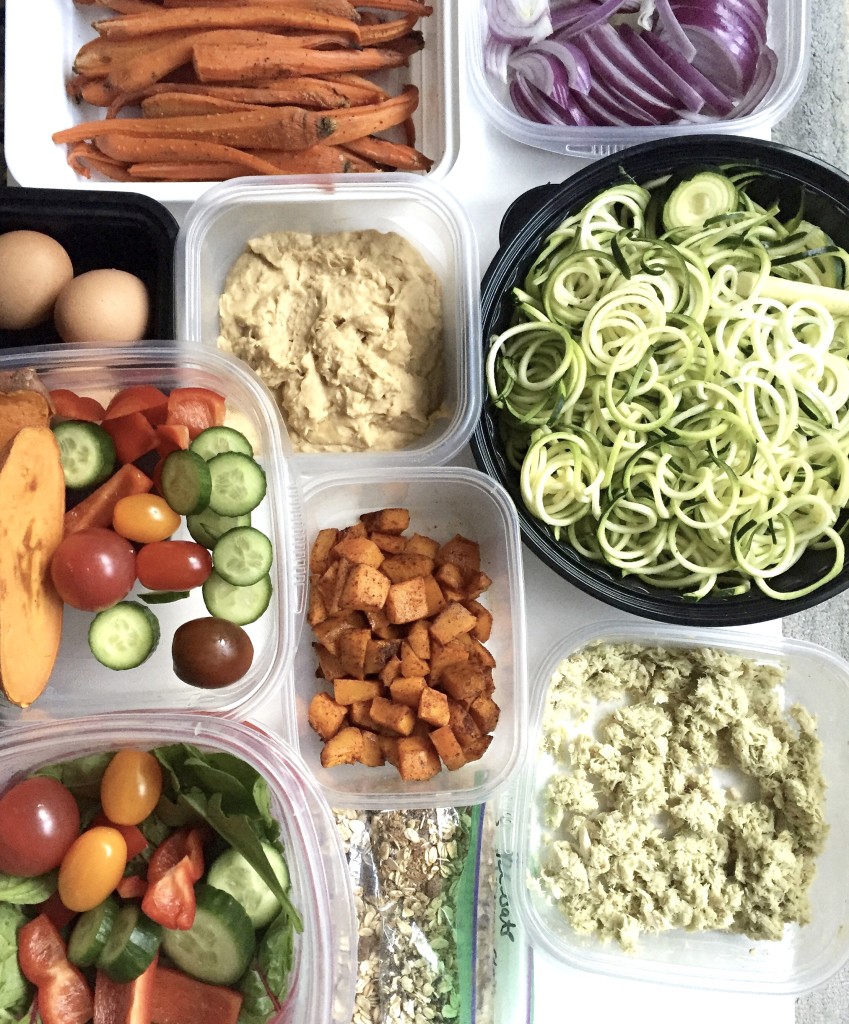 4. Prep your PROTEIN.
As a pescatarian, unless I'm eating fish or eggs, the bulk of my protein comes from plant-based sources. Canned beans are great in a pinch, but even better (and with less sodium) are LENTILS! Lately, I've been a lentil-loving kinda gal because they're packed with protein and fiber too!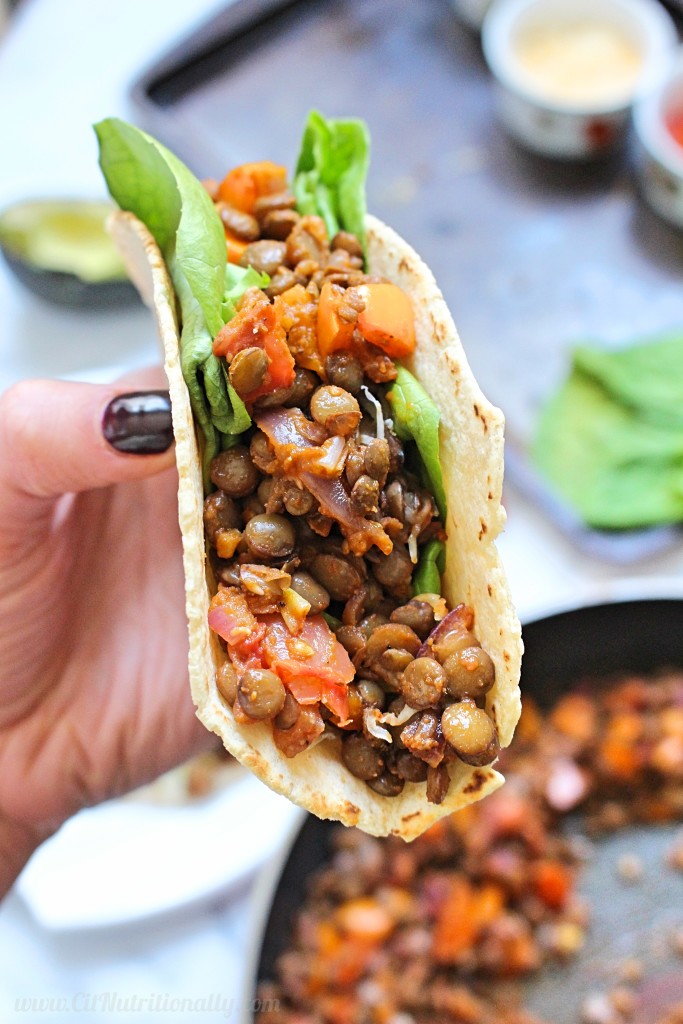 Another great source of protein that I LOVE are seed crackers…they have so much flavor and are great on-the-go!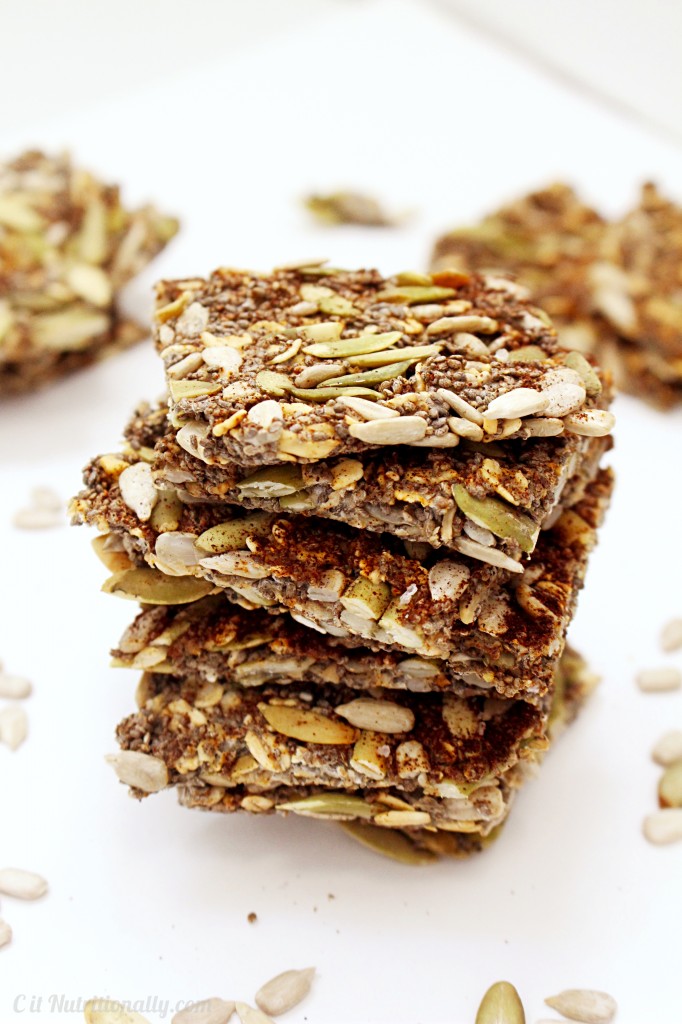 Other standout sources of protein that I always have on hand are edamame, grilled chicken or turkey (leftovers anyone?), canned tuna or salmon, hard boiled eggs, or hummus.
5. Figure out FIBER.
Fiber keeps our bellies comfortable, but also provides tons of health benefits — it lowers cholesterol, protects our heart health, slows blood sugar spikes when we eat, and keeps us full! Many non-processed sources of fiber take a little bit of time to prepare, so take time to boil a batch of fiberlicous whole grains to throw in salads, a stir fry, or a breakfast bowl! Here are some of my favorites:
You'll go bananas for this overnight oats recipe…double (or triple) the recipe in the beginning of the week for a grab and go breakfast all week…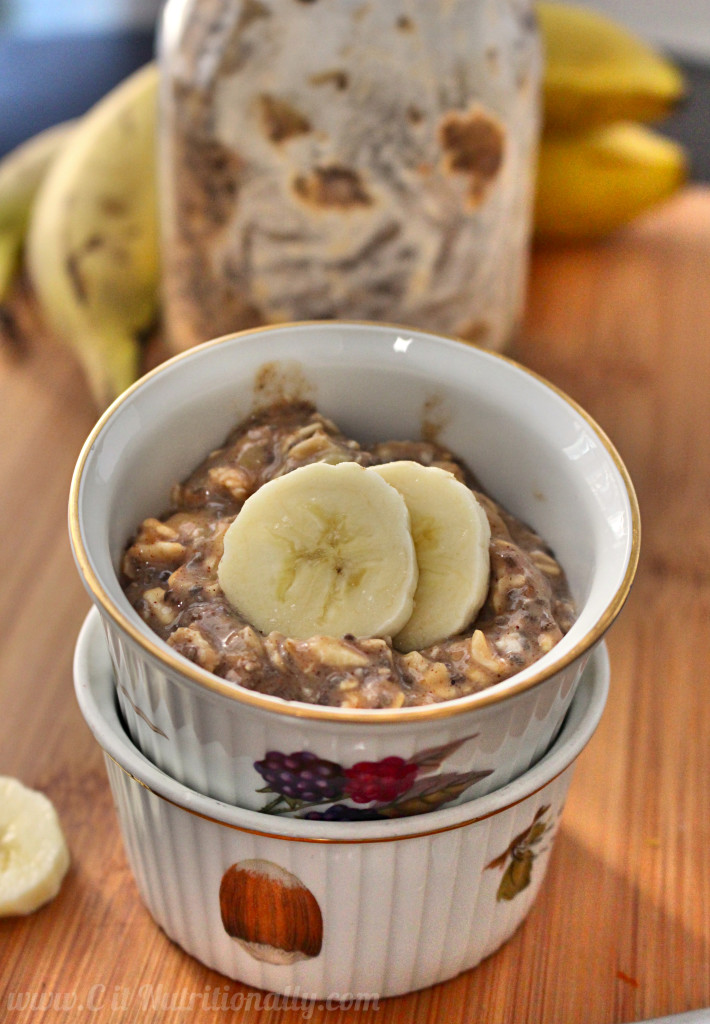 And don't forget to check out these 20 oat-tastic overnight oats recipes from fellow healthy food bloggers!
6. Pre-portion for mid-week ease.
When you have 5 containers of salad prepped on Sunday you don't have to think in your pre-spin class fog on Monday morning about what you're going to have for lunch. Not only preparing components of meals, but packaging entire meals in individual containers will really save you tons of time mid-week!
***
Now that I've shared my logic as to HOW I food prep each week, I hope you're on your way to many, many healthy meals during the craze of holiday season! As always, if you  need a meal idea, just search on the side bar to your right –>
Have a tasty Tuesday! 
XO