One of my favorite ways to see my life nutritionally is to be prepared! The ultimate preparation in my eyes is FOOD PREP!
But how do you food prep without spending your entire day in the kitchen?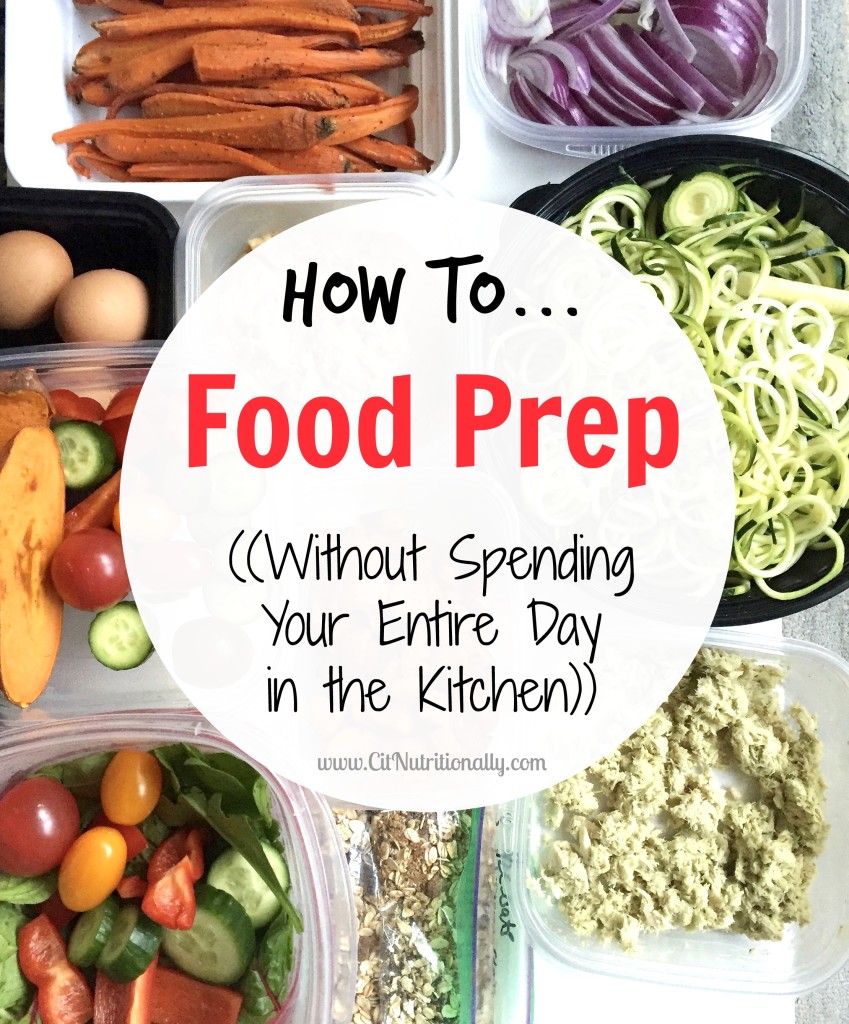 One of my favorite ways to help clients is by getting my hands dirty in the kitchen with them. As much as I need to talk in nutrients at times (I mean, helloooo I am a dietitian), I MUCH prefer to talk FOOD! Because like I've said before, we don't eat nutrients in isolation… we eat food and I cannot think of a food that contains only one nutrient!
When clients are looking to get healthier they often end up spending more time in the kitchen because you can better control what's in your food when you prepare it yourself. And sometimes clients want a little help to make their time in the kitchen most efficient. And that's where I come in.
I like to show my clients how spending a liiiiittle bit of time in the kitchen can pay off BIG TIME throughout the week.
((would you believe I made all of this food in less than 90 minutes?!))
So how can you food prep without spending your entire day in the kitchen???
By having a PLAN!
When you enter the kitchen with a plan, you will be more efficient, which means less time slicing and dicing and more time enjoying your day doing whatever it is you want to do!
So on this 15th week of my 52 Weeks to See Your Life Nutritionally series, I'm sharing how I make a plan for food prep that's perfect for beginners…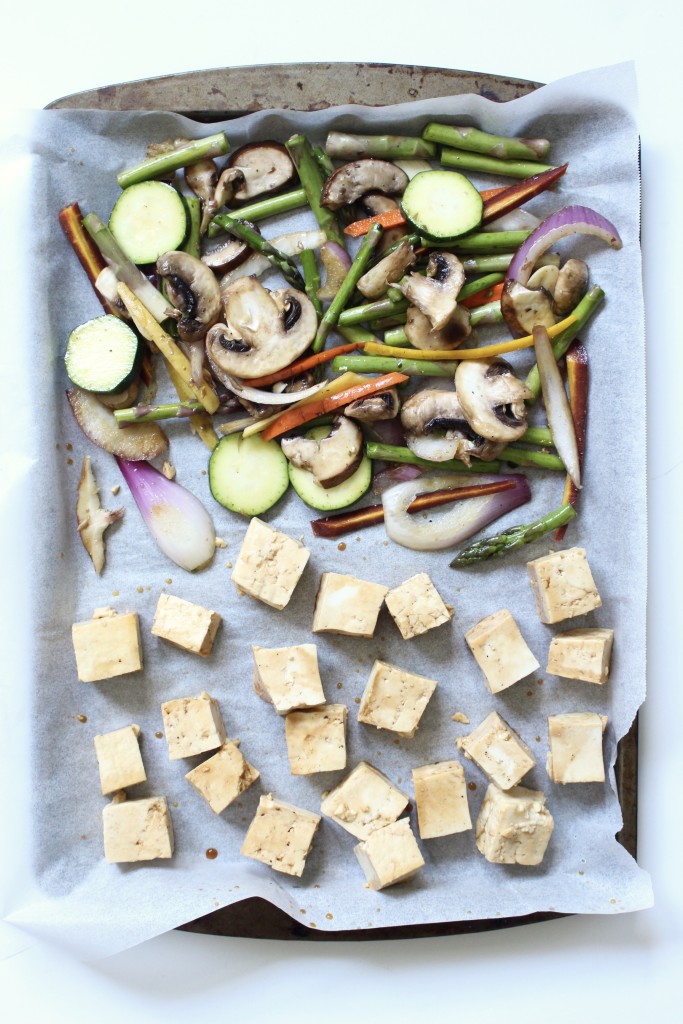 Here's how…
1. Food shop effectively
Make a list, check it twice, and make sure you have everything you need before starting your prep. There's nothing worse than planning to make protein pancakes and realizing that you forgot to buy eggs at the store!
Bonus tip: To make your life even easier, buy some pre-washed and/or pre-chopped veggies 
2. Have a rough meal plan for the week
Even if you don't know every single morsel of food you're going to eat (that's NORMAL!!), if you have a rough plan for a stir fry on Monday night and shrimp tacos on Tuesday and power bowls on Wednesday, you can make prep foods that covers all of these categories. For example, you can prepare a big batch of quinoa to eat with your stir fry and power bowls and also buy enough shrimp to add to your stir fry and for tacos.
Check out my friend (and fellow RD) Jessica's meal plans for some weekly inspiration!
3. Prepare foods from a variety of food groups
Every week, make sure you have…
– One grain
– A few veggies (raw and cooked)
– Two proteins to mix things up
4. Know your cooking times. If quinoa takes 10 minutes to make but your roasted veggies take 30, start on your veggies first so you get going.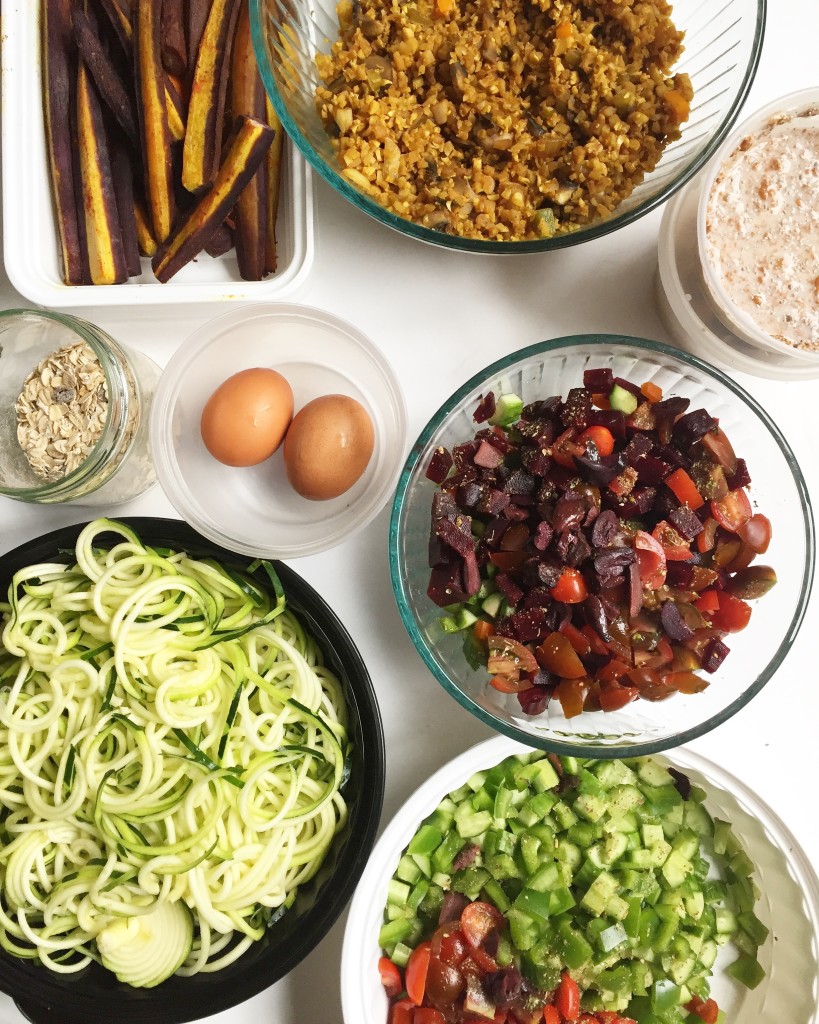 5. Start small. Avoid overwhelming yourself with a huuuuge food prep plan and start with just 3 items — one cooked veggie, one cooked grain and one cooked protein.
You can add additional flavors throughout the week to these foods with condiments… maybe you throw some salsa and avocado in there one night and add some soy sauce another for an easy stir fry.
6. Have a plan for just one meal out of three. If you're new to food prep and enter your food prep sesh with intentions of preparing breakfast, lunch and dinner for the week you will likely get overwhelmed ASAP. Start with food prep for one meal… like dinner (which I usually find the hardest to prepare after a long day of work). As you get used to food prep you can work up to adding breakfast and lunch options.
7. Have the right tools. If you're trying to prepare pancakes for the week but don't have a spatula it will be a little hard to make the flip happen. Earlier this week I shared some of my favorite food prep tools, so be sure to stock up!
8. Know that it gets easier! The more time you spend in the kitchen the more familiar you become with recipes, tools, cooking times and your own kitchen (every oven is different!). You will become more efficient the more you prep!
And there you have it… the 8 ways to make a plan and make your time in the kitchen the most efficient!
Do you have any secrets that help make your food prep time shorter?? Share with me below!
XO
Let's get social! 
Facebook: C it Nutritionally
Twitter: @ChelseyAmerRD
Instagram: @CitNutritionally
Pinterest: ChelseyAmer