Gooey, flavorful, chai-spiced pumpkin blondies that just so happen to appeal to all food allergies?! Yes, please! Grab a square that just so happen to be gluten free and vegan, but taste all kind of deliciousness!
Nut Free, Gluten Free, Grain Free, Egg Free, Soy Free, Dairy Free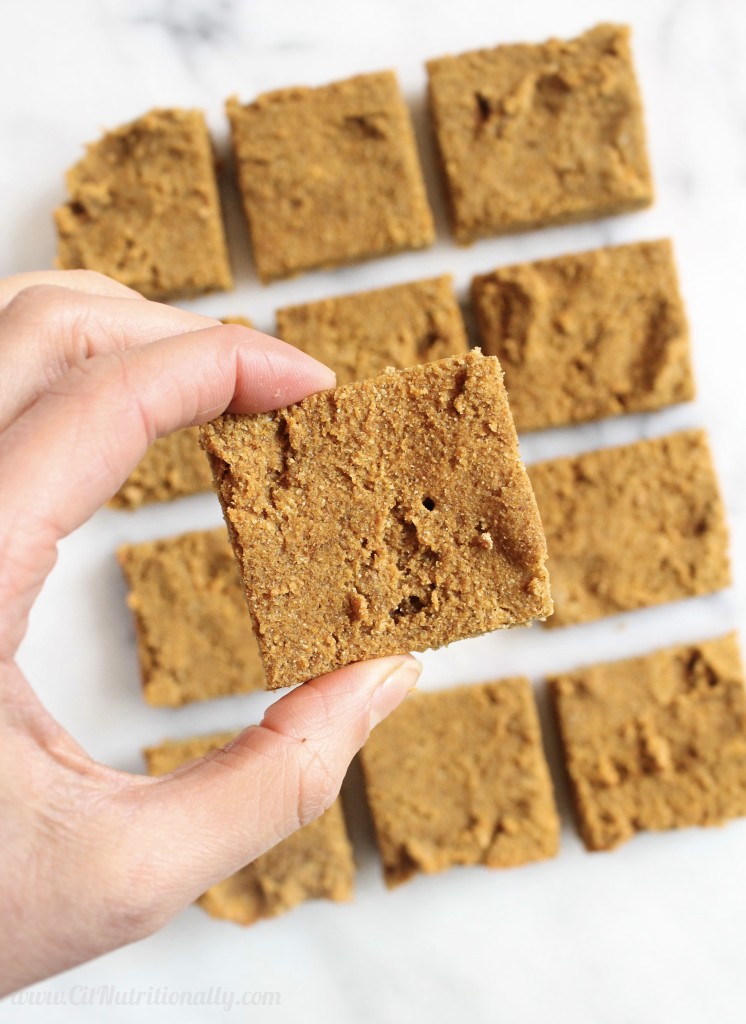 Note: This recipe post contains affiliate links, which means if you purchase a product from clicking a link, I may make a small commission from that purchase, at no additional cost to you. Thank you for supporting CitNutritionally!
It's Recipe Redux time!!! Just in time for the holidays!! If you're not familiar with The Recipe Redux, it's an awesome group of health-minded bloggers that I am a part of. Every month we all share recipes with the same theme. So much fun!
This month's theme is…Grab a Book and Cook…
We're playing a little party game at the end of 2017: Grab your nearest cookbook and ReDux the recipe on page 201, 17, 217 – or any combination of the number '2017.' (Of course, please don't forget to credit the original recipe and change enough of the recipe to make it your very own.)
No joke, I went through every cookbook I have in my apartment and nada one appealed to me. TWO were granita recipes on page 217, and to be honest, I never understood the appeal … isn't it just shaved ice? Not for me… especially in the winter!
Then, my go-to Vegetable Of The Day book, which I think I ReDux'd last year, had a Pumpkin Soup that looked very similar to the other two orange soups I made this year — my Roasted Carrot Apple Soup and Curry-Spiced Butternut Squash Soup. So that was a no go for me.
I dug up my little Vegan Cookies Invade Your Cookie Jar cookbook that my mom bought me when my dad became a vegan. I have both the Cookie book and their Vegan Cupcakes book. Every recipe I've made from these books has been delicious!
First I flipped to page 17 and was met with instructions for general vegan baking. Womp womp. Page 217 – the end of a shortbread recipe… it just didn't seem right. So I got creative, and on page 127 – FINALLY a recipe that I felt like reduxing! Let me tell you, this wasn't as easy as it seemed!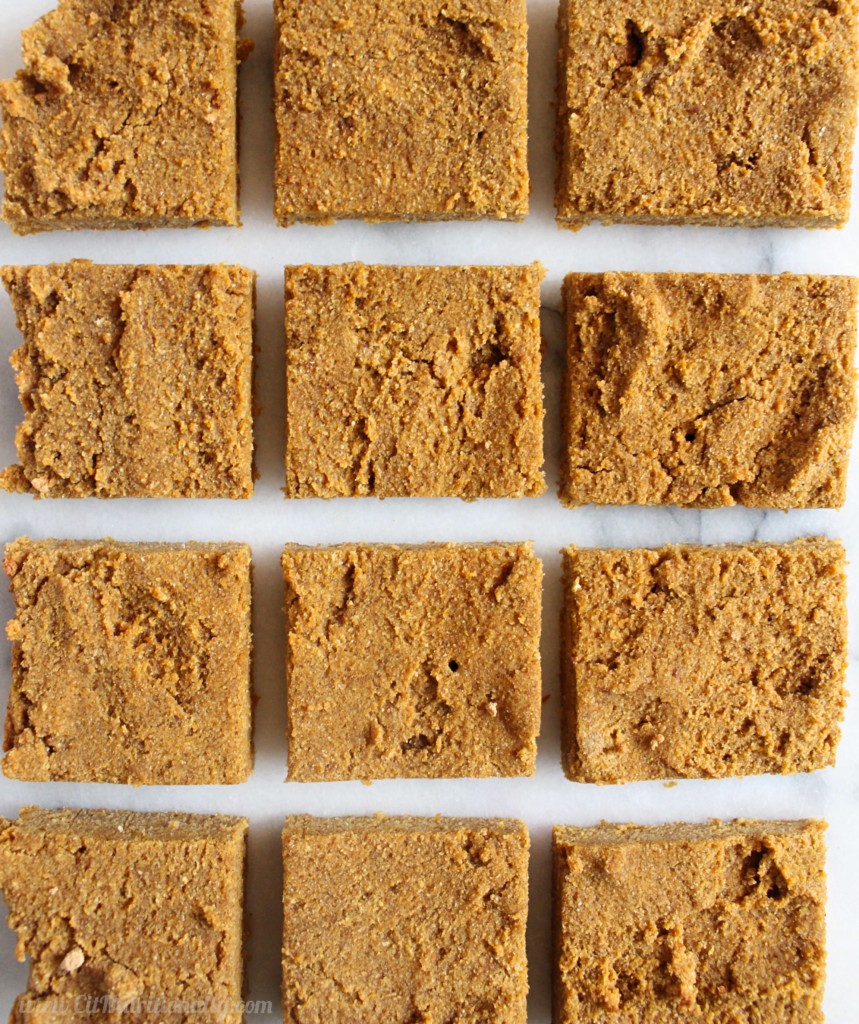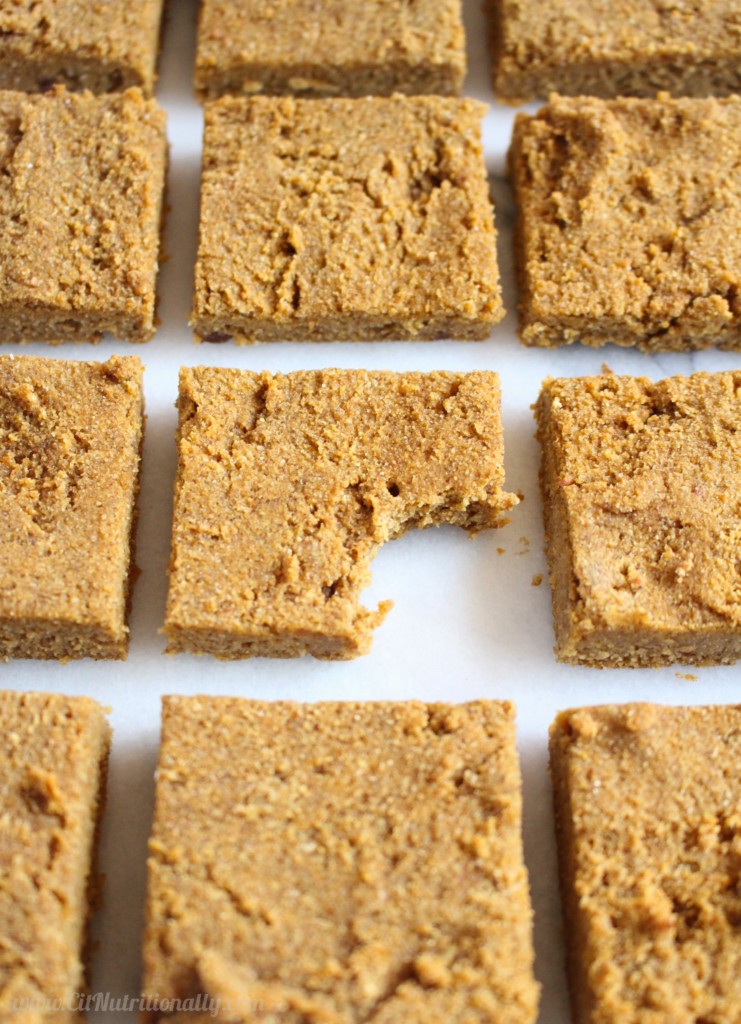 Are you a cookbook person? I loveeee them for inspiration, and Scott has gotten me some really beautiful books as presents here and there (they're like cocktail table books to me!), but I rarely use them for cooking myself.
So back to the recipe at hand (FINALLY! … Guess I'm feeling a little chatty this morning!)…
One misconception about vegan baking is that it tastes like crunchy granola (although if it tastes like this granola, I think we're alllll good!), has an awful texture, or is always super healthy. None of these assumptions are correct. But you know what they say when you assume, right??
The authors of Vegan Cookies Invade Your Cookie Jar do point out that they don't consider their recipes "healthy" just because they're vegan.
So I thought I would ReDux their Sweet Potato Blondies recipe to bump up the nutrition just a litttttle bit… and make them more food allergy friendly!
Here are the changes that I made to these now Gluten Free Chai-Spiced Pumpkin Blondies…
I replaced sweet potato with pumpkin.

I think it's easier to use canned pumpkin than cook and mash a sweet potato. Sure, you can use canned sweet potato too… whichever you have in your pantry!

I used coconut oil and sunflower seed butter instead of canola oil.

First, coconut oil is just what I always have around for baking. Let's make things easy, people!
Second, sunflower seed butter provides a bit more flavor, healthy fats, vitamin E and well, I love it (duh!)…

I cut the sugar almost in half and used a form of natural sugar – date sugar.

If you haven't tried baking with this yet, whatcha waiting for? LIFE. CHANGING!

I used coconut flour instead of all-purpose flour.

First, this makes them gluten free.
Second, I love this baking swap to add some heart-healthy FIBER to my treats, without sacrificing flavor!
FYI, the FDA considers coconut a tree nut, but I am not allergic, so I use it in many of my recipes. This is a definite staple in my baking pantry!

I switched around some of the spices to make them more holiday-esque… CHA-CHA-CHAI!
You can find a bunch of my kitchen and baking staples in my new Amazon store (affiliate links)!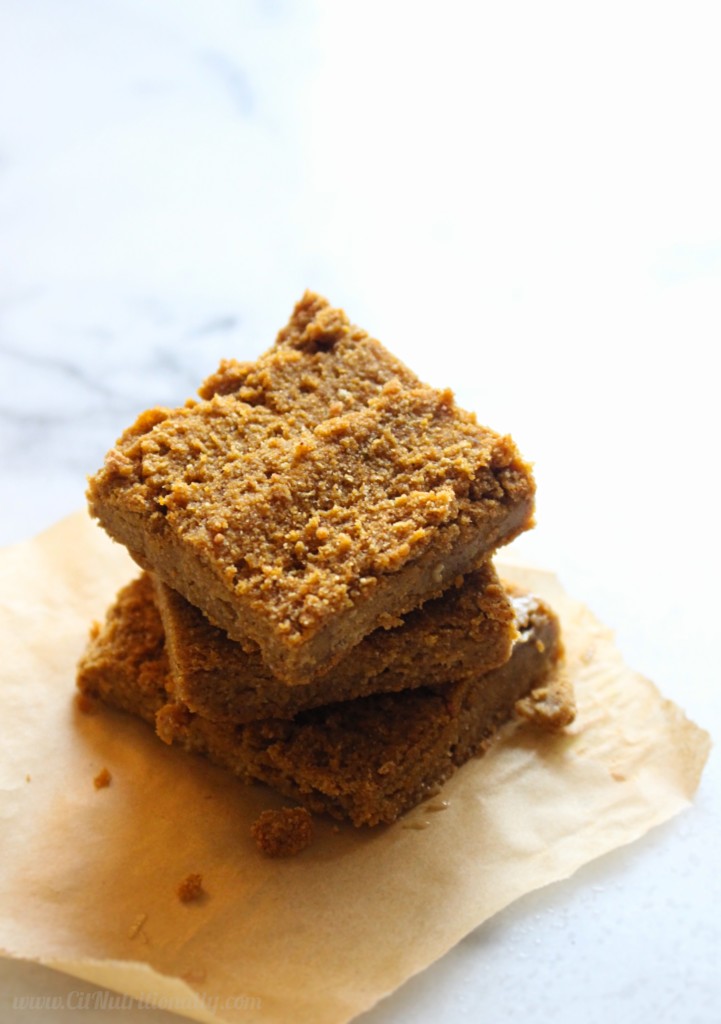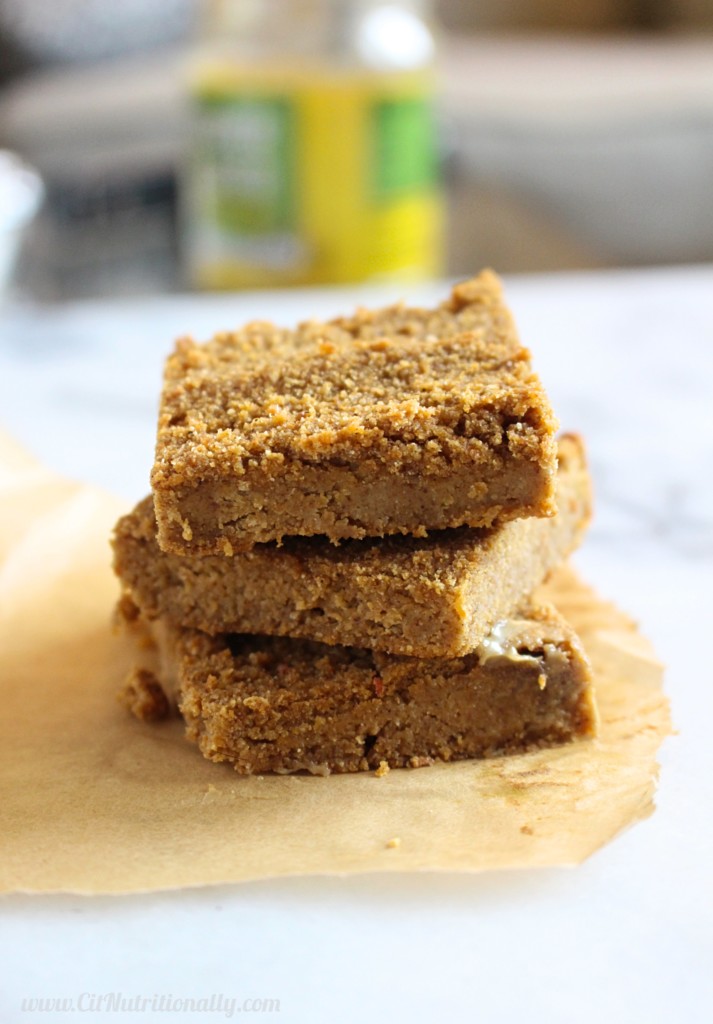 Let's get bakin'…
Gluten Free Chai-Spiced Pumpkin Blondies
Ingredients
Instructions
Preheat oven to 350°F. Line an 8 x 8-inch square baking dish with aluminum foil, making sure it folds over the sides of the pan. Spray the pan with nonstick cooking spray. Set aside.
In a large bowl, mix together pumpkin, coconut oil, sunflower seed butter, date sugar (or brown sugar), milk and vanilla until smooth.
Add coconut flour, salt and spices, mixing just until combined. Be cautious to not overmix.
Using a rubber spatula, pour the mixture into the prepared pan, smoothing the top.
Bake for 25 minutes, or until an inserted toothpick comes out clean. Allow to cool for at least 30 minutes before cutting into squares.
Stores in an airtight container. Once cooled, we stored in the refrigerator. Enjoy! :)
http://citnutritionally.com/gluten-free-chai-spiced-pumpkin-blondies/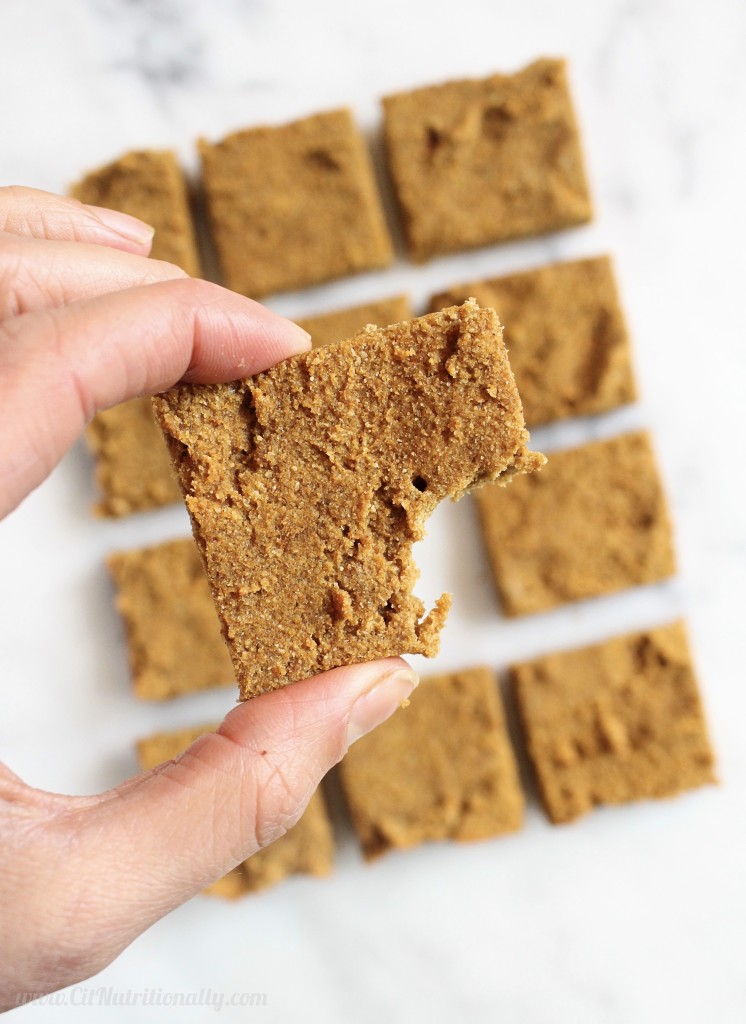 Don't forget to PIN IT…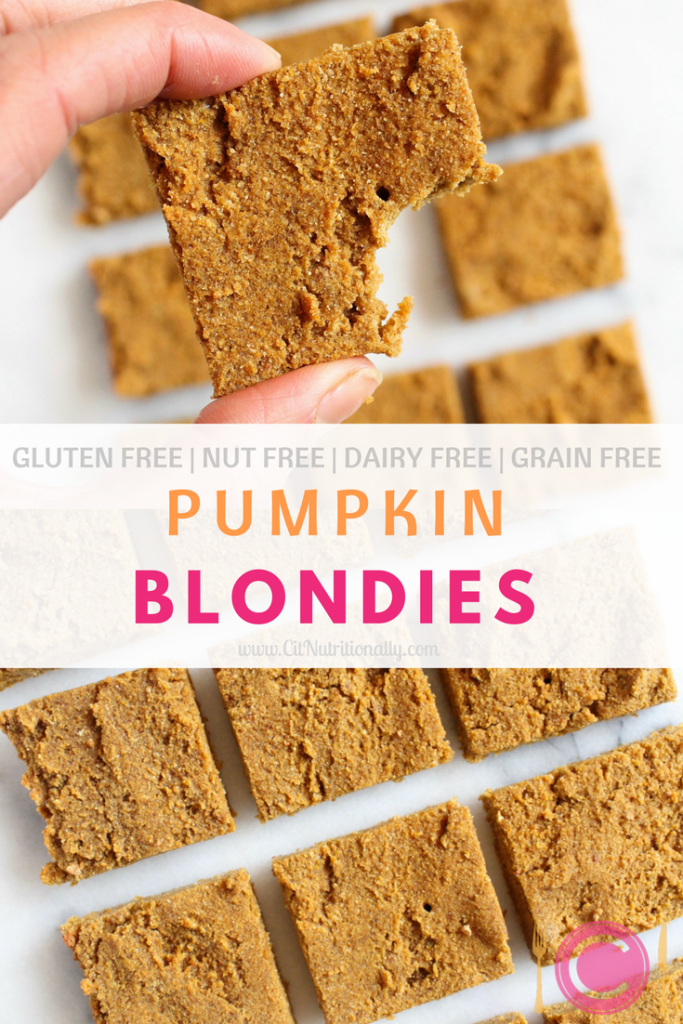 What's your favorite way to ReDux a recipe? Check out the other incredible recipes shared below…
Happy Holidays!!
XO

If you want to stay connected or you make something from C it Nutritionally I would LOVE to see your creations! Tag me or use the hashtag #CitNutritionally!
Let's get social! 
Facebook: C it Nutritionally
Twitter: @ChelseyAmerRD
Instagram: @CitNutritionally
Pinterest: ChelseyAmer