Made with pure pumpkin puree, cinnamon, and pantry staples, this stack of Grain Free Pumpkin Pancakes will satisfy all fall cravings, with nutritious punch of fiber and protein!
Grain Free | Gluten Free | Nut Free & Peanut Free | Dairy Free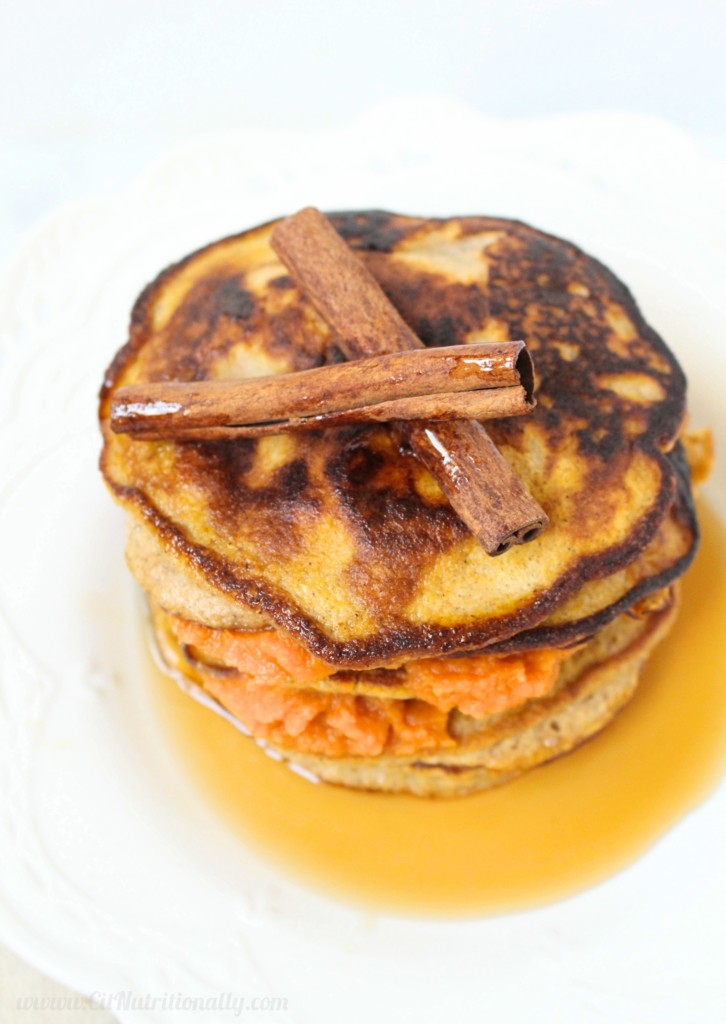 I'm totally falling for this fall weather we're having right now!

I'm ready for all things crunchy leaves, booties, apple, pear and PUMPKIN!!
Which is why I'm already sharing a pumpkiny delicious recipe in September!
After a sweltering summer in the city, I am so happy we've had some cooler temps, but at the same time, it's a little concerning with all of the recent disasters our country is facing… If you're impacted by Hurricanes Harvey or Irma, I'm thinking of you – please stay safe!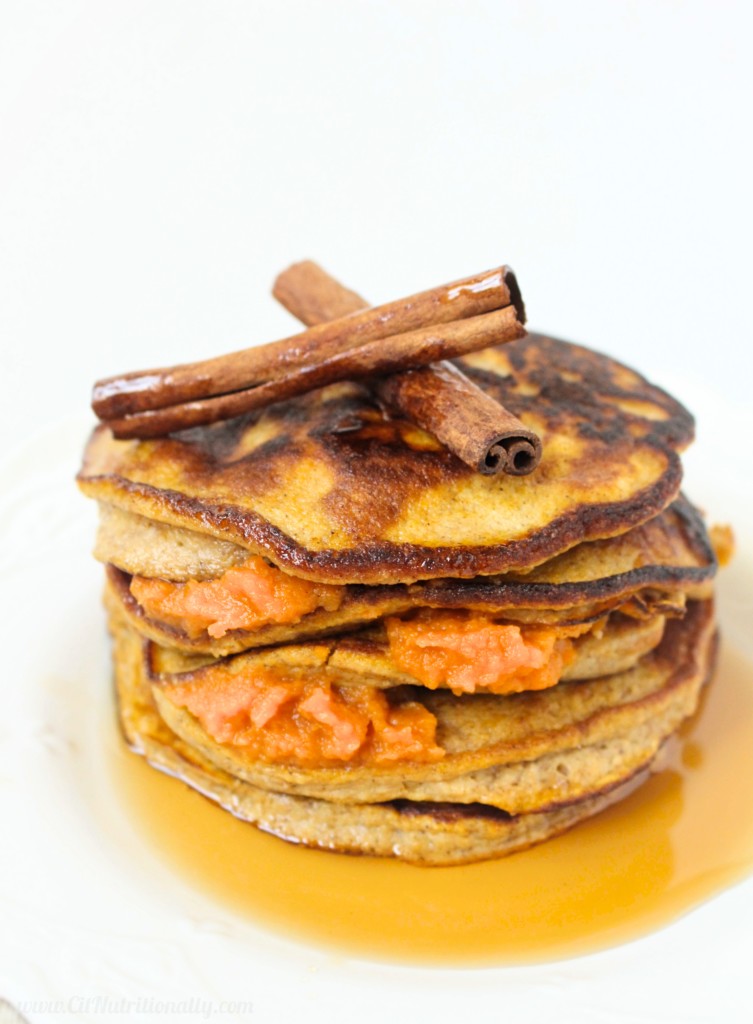 And even though we've been fairly dry up here, I've definitely been feeling this change of seasons — anyone else?
I've never heard of this change of seasons making people feel off concept before, but hey, you learn something new everyday… and apparently it's more common than I knew! Someone commented on Instagram that "mercury is in retrograde," and even though I have NO idea what that means… I've been feeling a little retrograde…
But these Grain Free Pumpkin Pancakes are total comfort food to help me (and anyone else out there) crawl out of this retrograde. I modeled this recipe after my zucchini bread pancakes and they're equally fluffy, easy to make and absolutely delicious to eat up!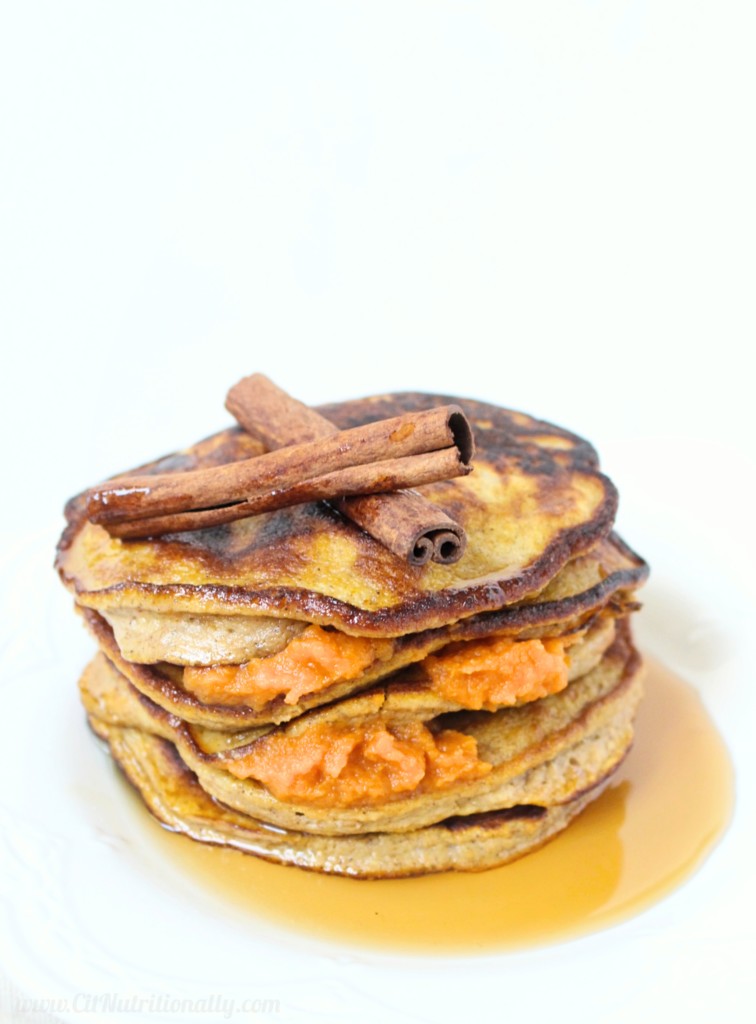 I love making a double batch over the weekend and freezing leftovers for easy mornings or even a snack at work. Try it, you (and your kids) will love it!
These Grain Free Pumpkin Pancakes are…
Full of fall flavor
Grain free and gluten free
Made with just 7 ingredients!
Made in less than 20 minutes!
Food allergy friendly!
I used a small amount of coconut flour (affil link) in this stack, and it provides just enough structure with a hefty dose of fiber to start the day. If you haven't tried baking with coconut flour I hiiiighlyyy suggest trying it. You can try my Banana Chocolate Chip Muffins that use coconut flour too!
Grain Free Pumpkin Pancakes
Ingredients
4 egg whites
2 large eggs
1 cup pumpkin puree (not pumpkin pie filling)
1 teaspoon cinnamon
2 tablespoons coconut flour
1/2 tablespoon maple syrup
1 tablespoon coconut oil (or another mild-tasting oil)
Instructions
In a medium-sized bowl, whisk egg whites, eggs and pumpkin puree together until combined.
Add cinnamon, coconut flour and maple syrup and continue to mix until mixture is smooth.
Add coconut oil to a large skillet over medium heat. Add about 1/4 cup batter to the pan and cook for about 2 minutes, until set around the edges. Carefully flip and cook for another 2 minutes, until browned at the edges.
Repeat with the remaining batter. Enjoy immediately :)
http://citnutritionally.com/grain-free-pumpkin-pancakes/
Don't forget to PIN IT…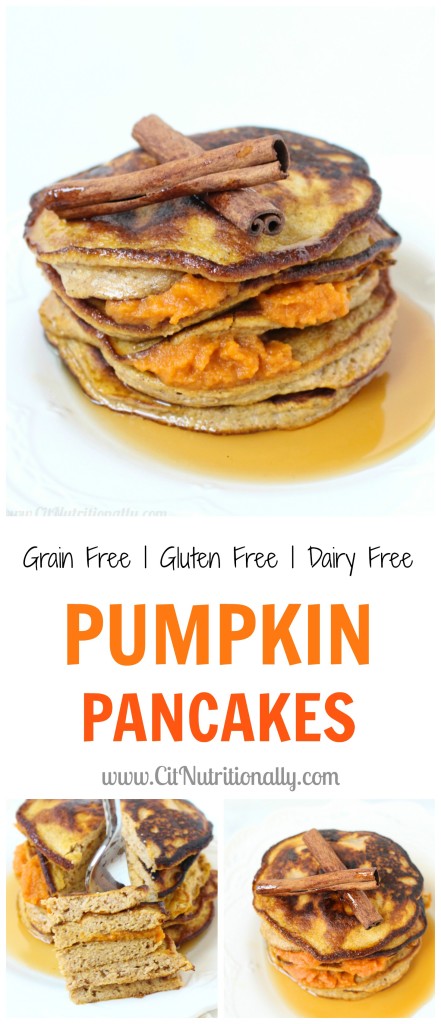 Happy brunching!


XO
If you want to stay connected or you make something from C it Nutritionally I would LOVE to see your creations! Tag me or use the hashtag #CitNutritionally!

Let's get social! 
Facebook: C it Nutritionally
Twitter: @ChelseyAmerRD
Instagram: @CitNutritionally
Pinterest: ChelseyAmer