Hearty mushrooms, spicy arugula and creamy garlic and herb spread make this Grilled Portobello Mushroom and Arugula Sandwich a satisfying, simple, and nutritious meat-free meal you can whip up any night of the week!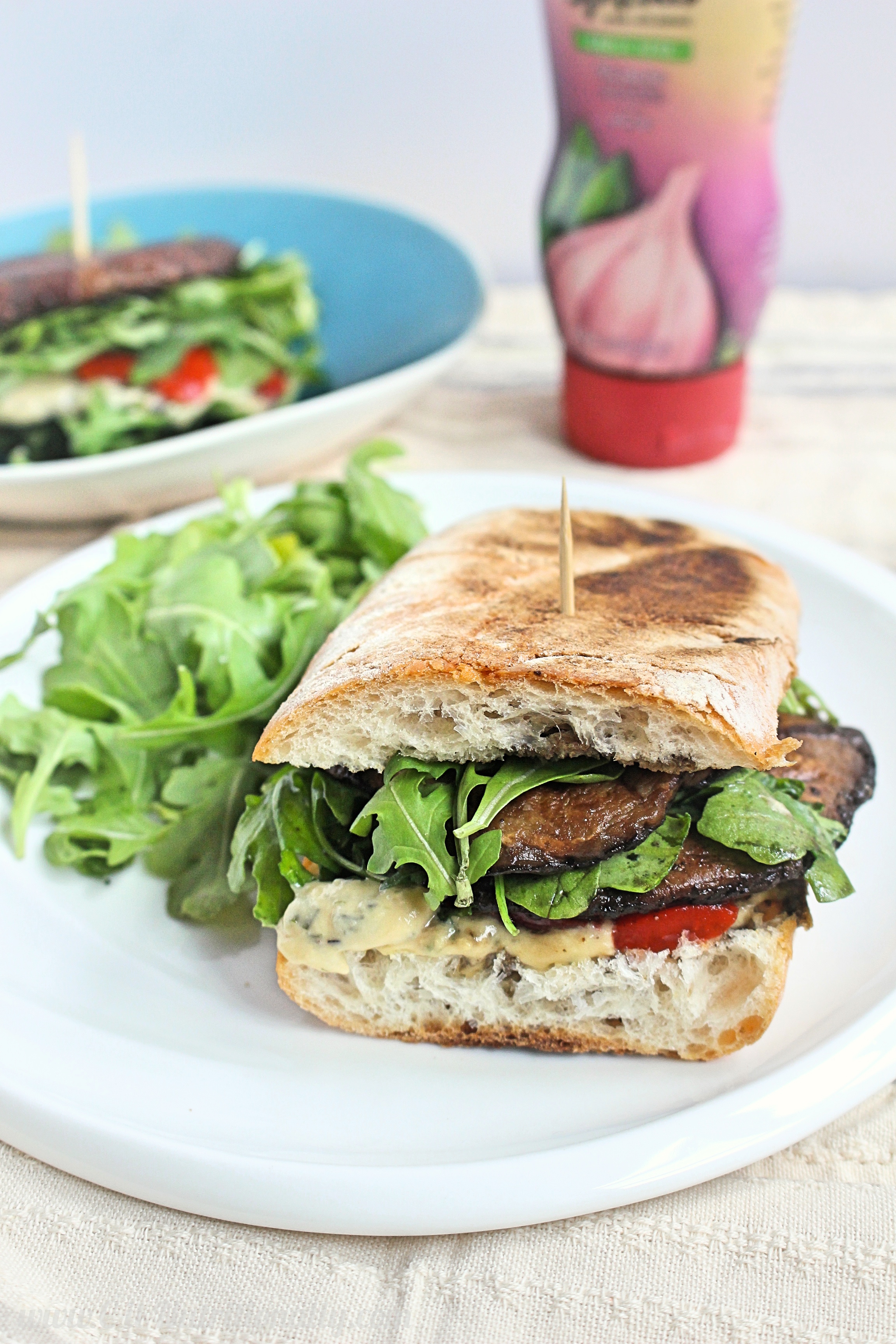 I received free samples of Sabra Spreads mentioned in this post. By posting this recipe I am entering a recipe contest sponsored by Sabra and am eligible to win prizes associated with the contest. I was not compensated for my time.
To be honest, I wasn't always a 'shroom fan. Nowadays, mushrooms are on my weekly grocery list, year round, are alllllwayyyss atop my 'za, and are my favorite way to make faux bacon (coming soooon!)…but it wasn't always that way.
One of the first ways I got into mushrooms was through humungo portobello shrooms…grilled…on a sammie…with arugula and a creamy garlic spread…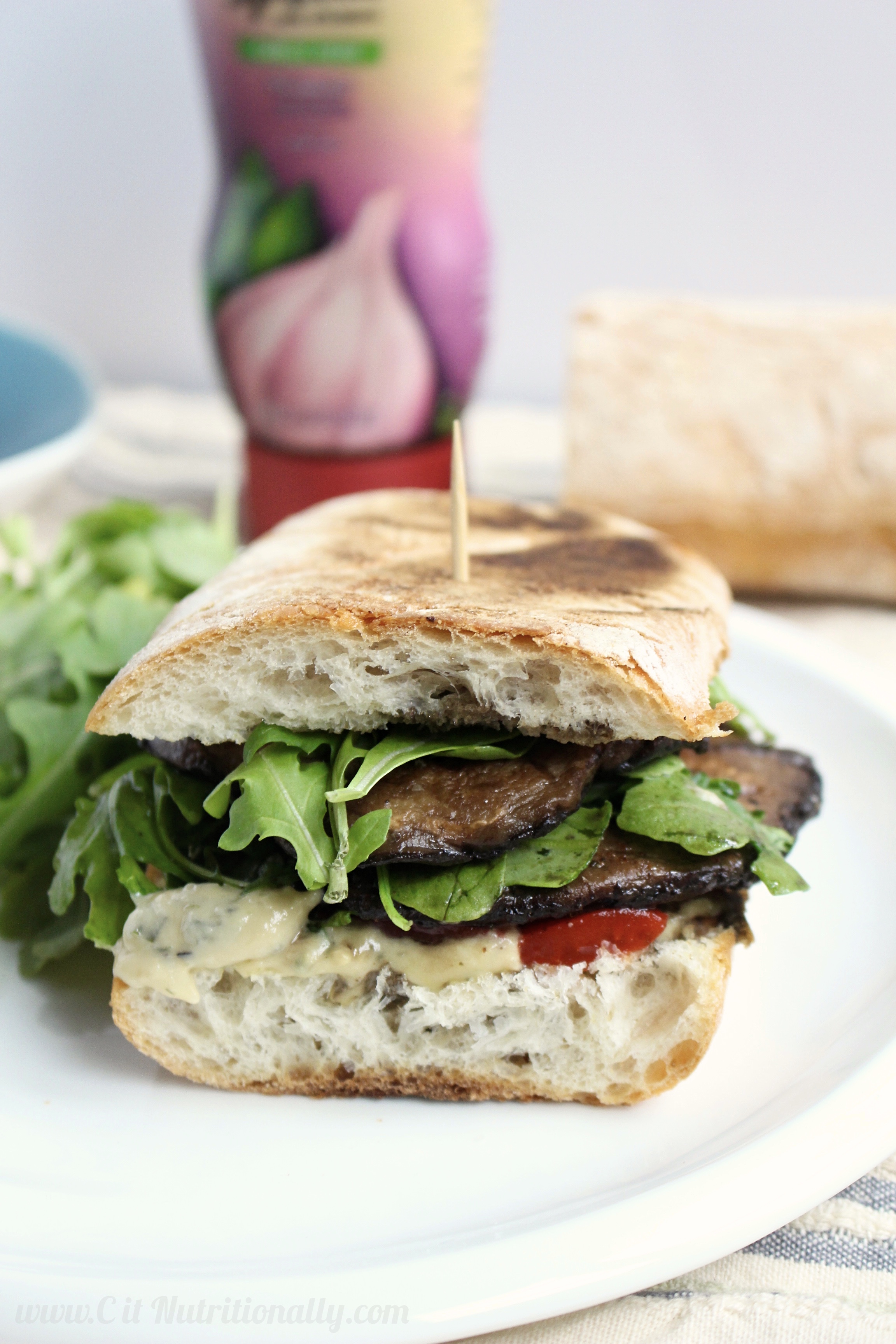 So when The Recipe Redux + Sabra invited me to create a sammie using their new line of products, I knew portobello shrooms were in my future ((insert emoji with hearts in its eyes)).
This EASY Weeknight Cooking recipe is an excellent #MeatlessMonday entree. Using portobello mushrooms instead of meat (did ya know Saturday was World Vegetarian Day?!) will still satisfy even carnivores because they have that meaty texture and umami flavor that's just mmmmmm on all levels. 
And I truly believe that if we're not satisfied at dinner, we're not going to complement those healthy habits we partake in all day long…((ya know what I mean….endless snacking while watching The Voice…))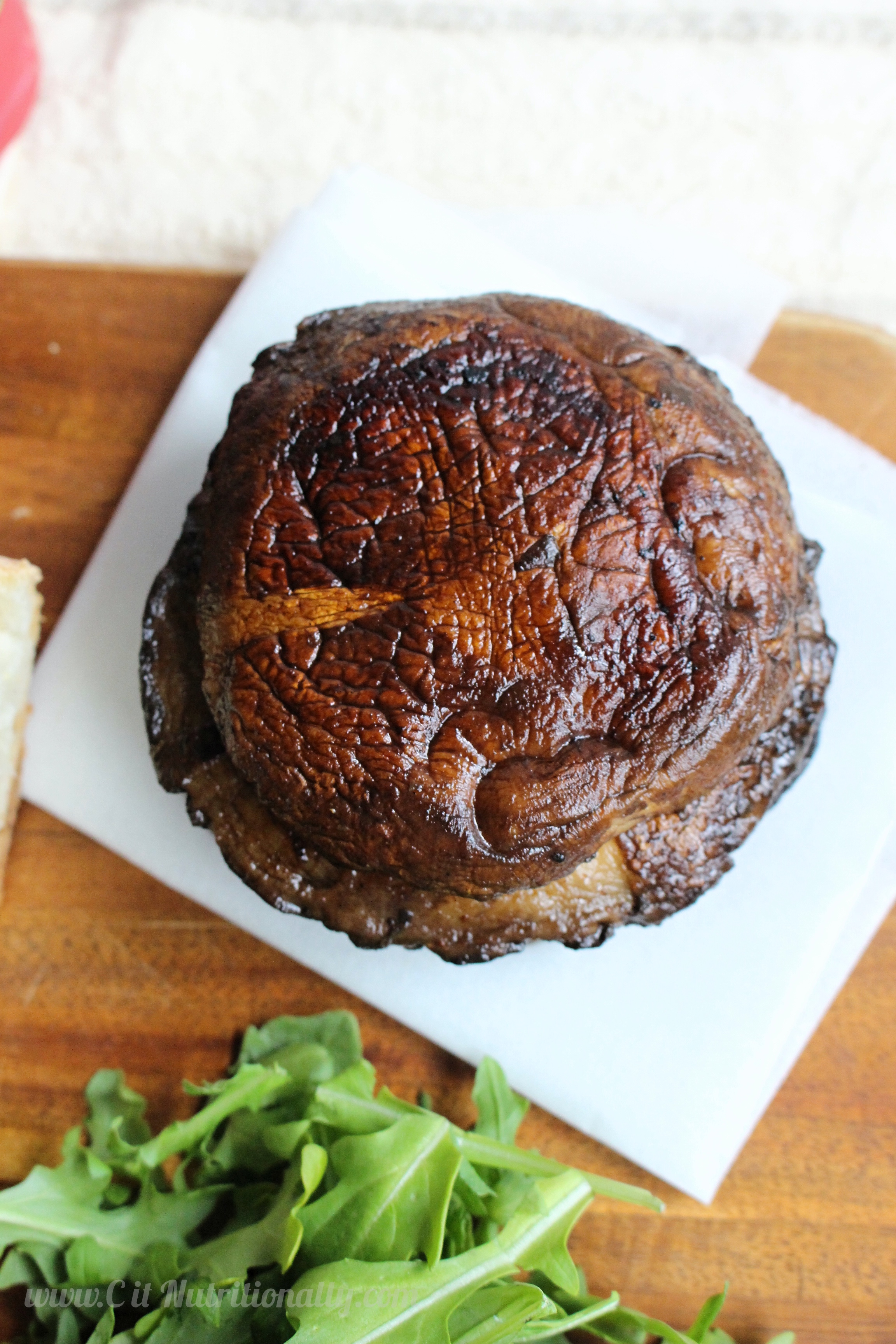 But anywhooooo… I'm also healthifying this sammie by switching out the garlic mayo for a healthier condiment — Sabra's new Spreads! This new line of Spreads…
Taste delicious ('cause, duh!)

Are made with fresh ingredients and flavors

Better for you than mayo (with 75% less fat!)

Are SO convenient…I mean hellloooo squeeze bottle!
Soooo back to this Grilled Portobello Mushroom & Arugula Sandwich…
I'm making it 2 ways — one gluten-full with crunchy bread crust and one gluten-free option without (inspired by my veryyyy veggie burger…#throwback!) — so pick your poison pleasure!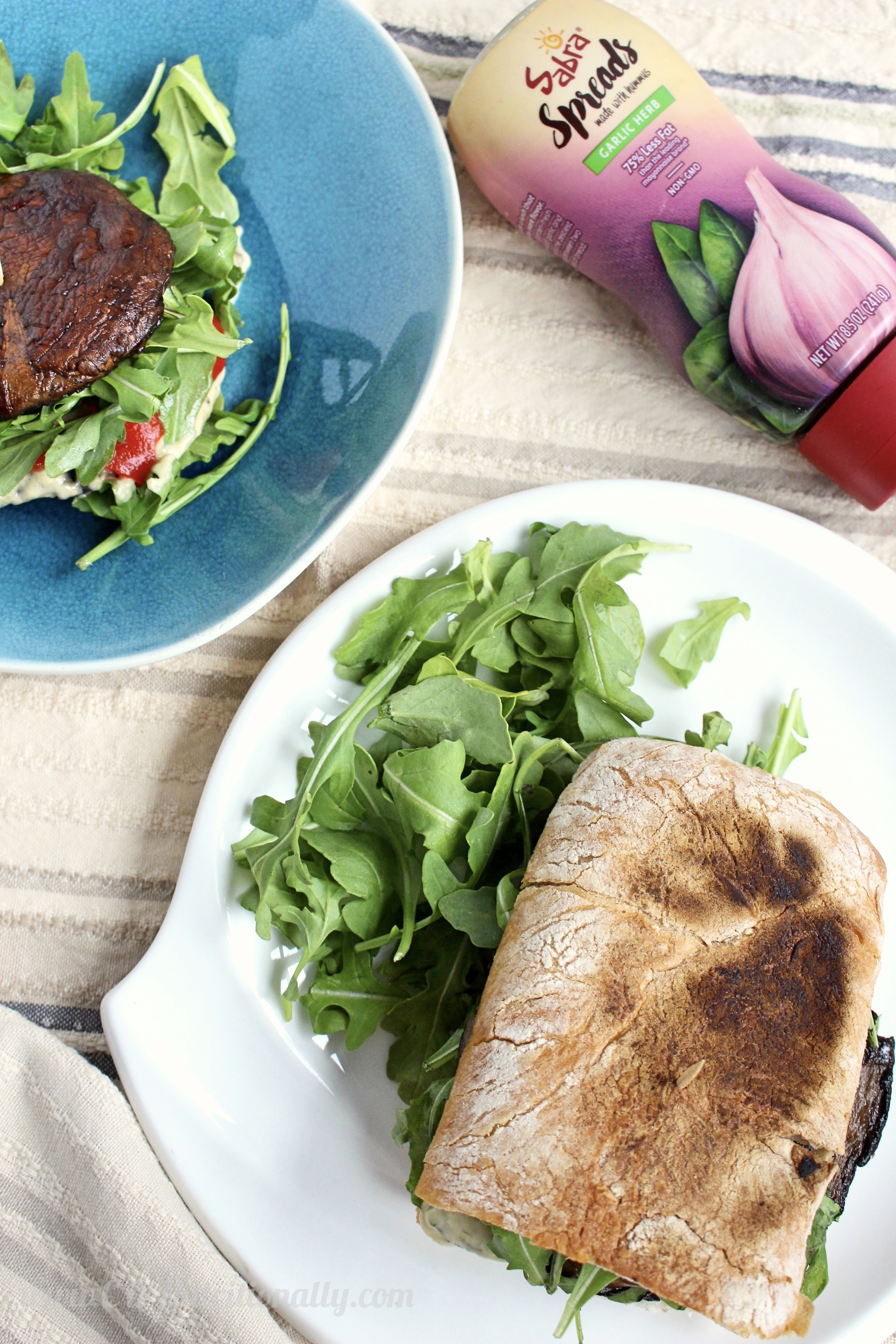 Grilled Portobello Mushroom and Arugula Sandwich with Garlic & Herb Spread
Hearty mushrooms, spicy arugula and creamy garlic and herb spread make this Grilled Portobello Mushroom and Arugula Sandwich a satisfying, simple, and nutritious meat-free meal!
Ingredients
For the mushrooms:

4 Portobello mushroom caps (stems removed)
2 tablespoons balsamic vinegar
½ tablespoon olive oil
¼ teaspoon smoked paprika
Freshly ground black pepper

For the sandwich:

1 foot-long baguette, cut into two pieces and halved lengthwise
2 tablespoons Garlic & Herb Sabra Spreads
1 cup arugula
1 roasted bell pepper (jarred in water or homemade)
Instructions
For the mushrooms:

Gently clean portobello mushroom caps with a cloth just prior to preparation.
Combine balsamic vinegar and olive oil in a medium to large bowl and whisk together with a fork. Add mushroom caps to the bowl and soak until each mushroom is saturated with the marinade.
Remove mushroom caps from the bowl and place on a plate. Sprinkle with freshly ground black pepper and smoked paprika.
Gently coat a grill, grill pan, or large skillet with olive oil or nonstick spray and heat over medium heat. Sear mushrooms for about 2 minutes on each side, until cooked through and the mushroom caps darken in color. Mushrooms will shrink about 1 inch in diameter during cooking. Set cooked mushrooms aside.

For the sandwich:

To assemble your sandwich, spread Garlic & Herb Sabra Spread on the bottom piece of a baguette. Add roasted bell pepper, arugula and cooked mushrooms.
In a clean skillet over medium heat, sear assembled sandwich for about 3 minutes on each side until bread is heated through. Enjoy warm! :)

For a grain-free version:

Assemble a portobello sandwich using the mushroom caps as your "bread." Add the roasted bell pepper, Garlic & Herb Sabra Spread and arugula between the two mushroom caps. (Note: It may be a little messy!)
Notes
Nutrition Facts (per 1/2 recipe, with bread): 274 calories 7.5g fat 400mg sodium 43g carbs 5g fiber 10g protein
http://citnutritionally.com/grilled-portobello-mushroom-and-arugula-sandwich/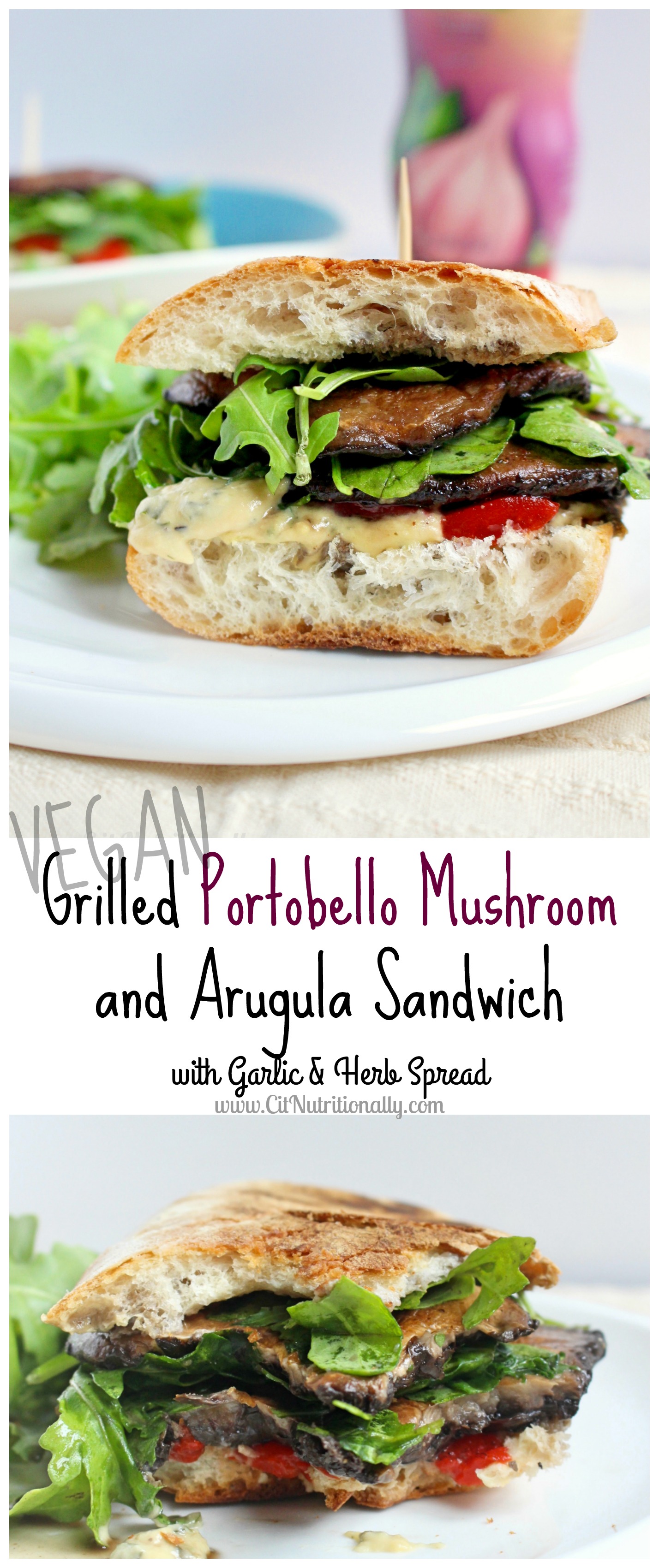 So which do you prefer??? All hands up for the gluten over herrree!
Have a great week, and if you celebrate Rosh Hashanah, Happy New Year!
XO