Tender, moist, and with just a hint of sweetness, this healthier carrot pudding (that just happens to be vegan) must make an appearance on your Thanksgiving table!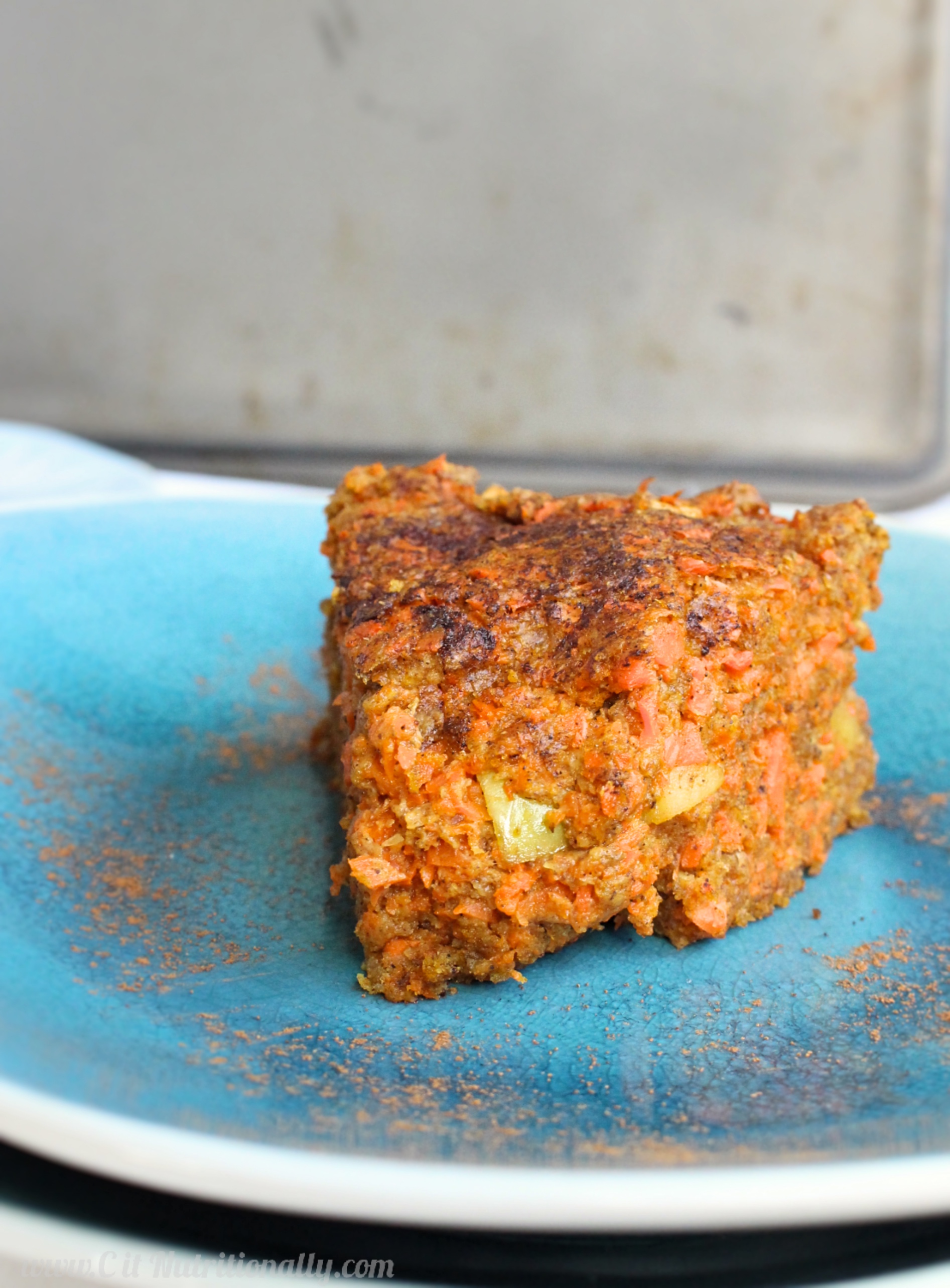 Guys! Today is an exciting day! Sometimes it's SO hard to keep up with the new social media trends going 'round, so I may be a little late to the party, but below, you'll find my first ever recipe VIDEO! I made it 100% by myself, but feel OK enough about it to publish it. Let me know what you think in the comments, and if you like it, I'll keep making improved versions with new recipes! Ahhh! 
But on to what we're really here to talk about today… CARROT PUDDING!
Family recipes are some of my favorites. Buuutttt ever since I got into this whole nutrition thaaang, moved out on my own, started cooking and developed a food blog, I see my family recipes through a slightly different lens. When I can, I try to lighten and healthify recipes while keeping family favorites just as delicious as my family knows the originals to be!  
So with Thanksgiving riiiight around the corner, I have a family recipe that apparently has been in my fam for a while, but I've only discovered in the last couple of years — Carrot Pudding!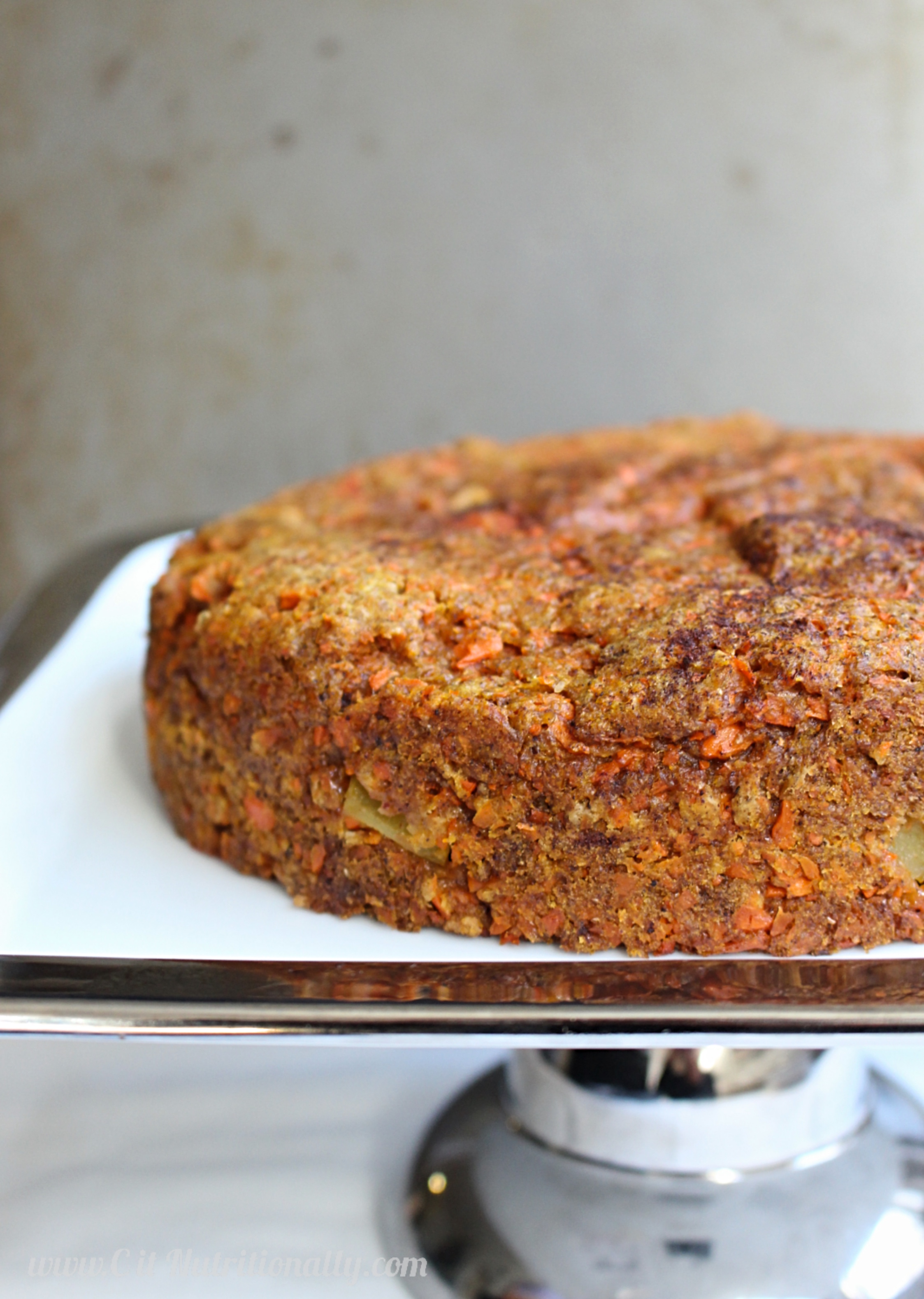 To be honest, I'm not really sure why it's called pudding…it looks like a cake!
I'm also really not sure how to describe the texture of this carrot "pudding" other than using one of the most condemned words ever — moist. So I headed straight to thesaurus.com to come up with somethin' else…and all I got was muggy, humid, damp, oozy, drippy. It's none of those things. But it is moist. And maybe a little gooey if you undercook it (how I personally prefer all baked goods in life!).
So I guess that's why it's called carrot pudding.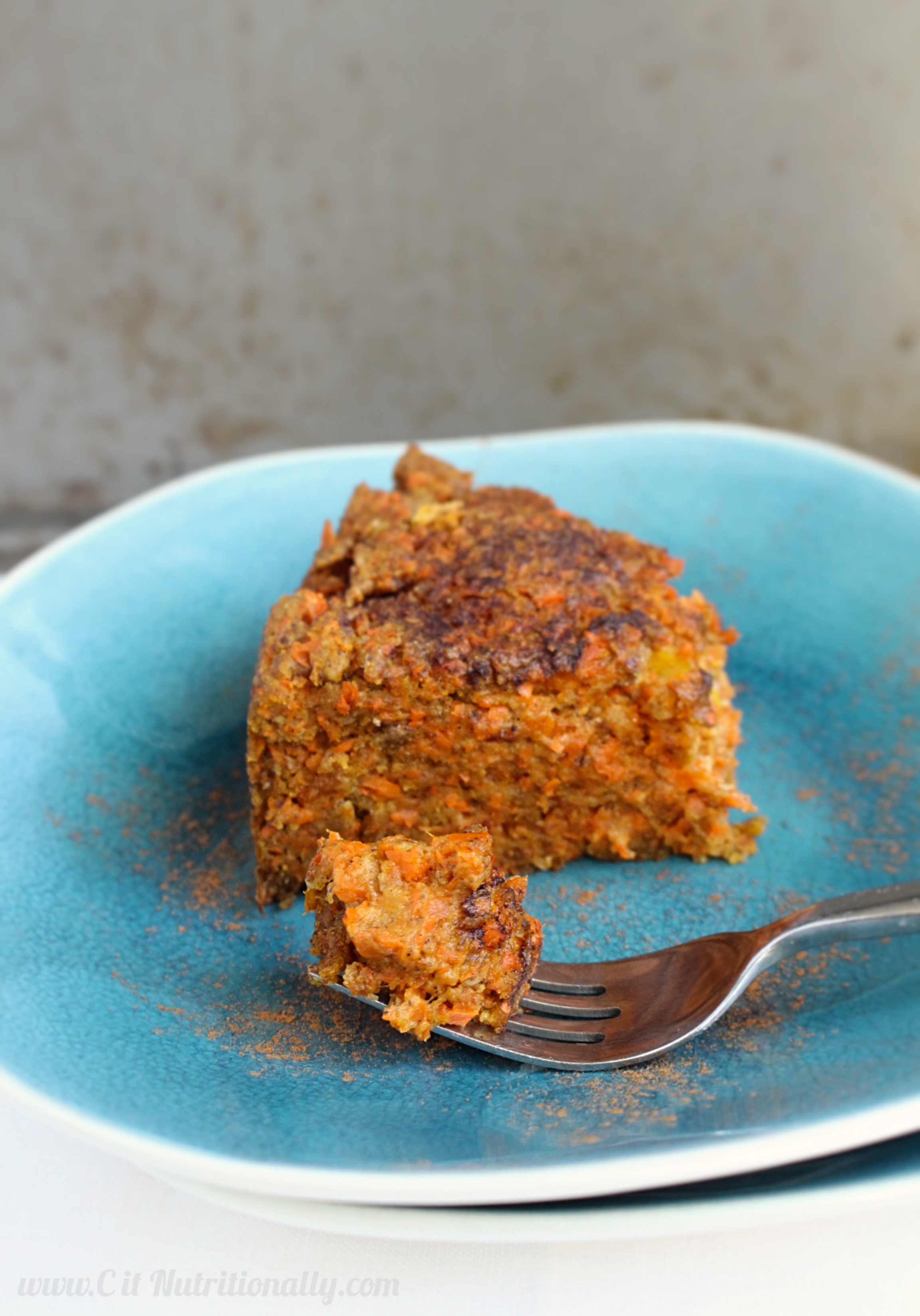 I did a few things to healthify this Healthier Carrot Pudding right up…
Used 100% whole wheat flour — a blend wasn't needed in this case because the carrots add extra moisture. Using whole wheat flour instead of all-purpose (white) flour provides more fiber and B vitamins, upping the nutritional ante!
I switched out the eggs in favor of flax eggs (combining ground flaxseed meal with water and letting it thicken up). Not only does this cut the calories in half, but it provides a hefty dose of omega 3 fatty acids

(alpha linolenic acid, to be exact!), which are essential for brain health, beautiful skin (especially important as the weather cools!), and anti-inflammatory too.

I cut the sugar in half and replaced the remaining half with date sugar, which provides a rich, Thanksgivingy sweetness — made just from dates! This (affiliate link) is the one that I love and use in nearly every baked product these days. But don't worry…I upped the spices to provide a soothing fall warmth and added some chopped apples too for a natural sweetness from fruit.

And you can read here why fruit sugar is different than granulated or other forms of sugar.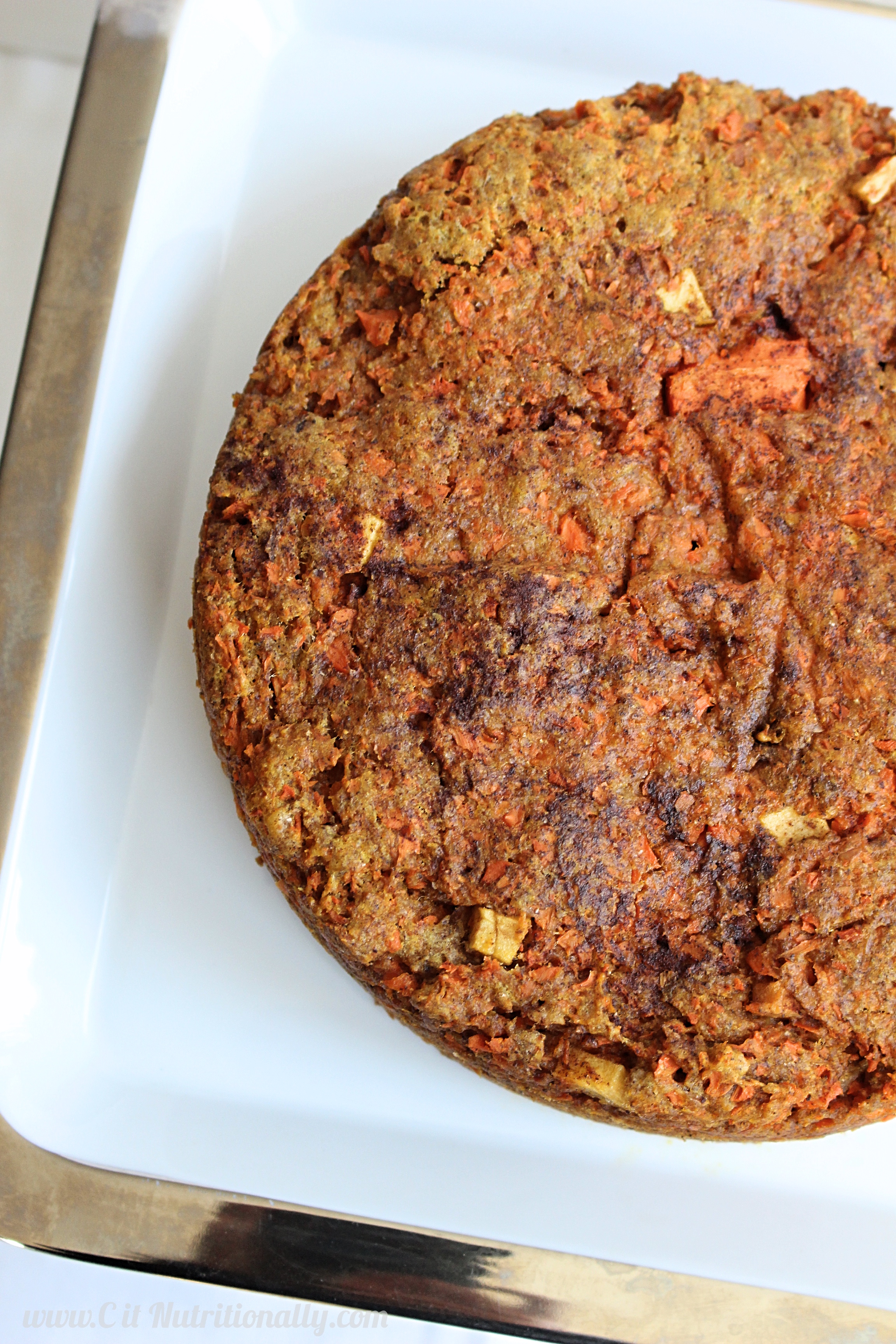 So when you cross a cake with pudding with vegetables and so many whole ingredients, what do you get?! A delicious Thanksgiving side that needs a place on your table!
No matter how weird it sounds, you need to try this one out!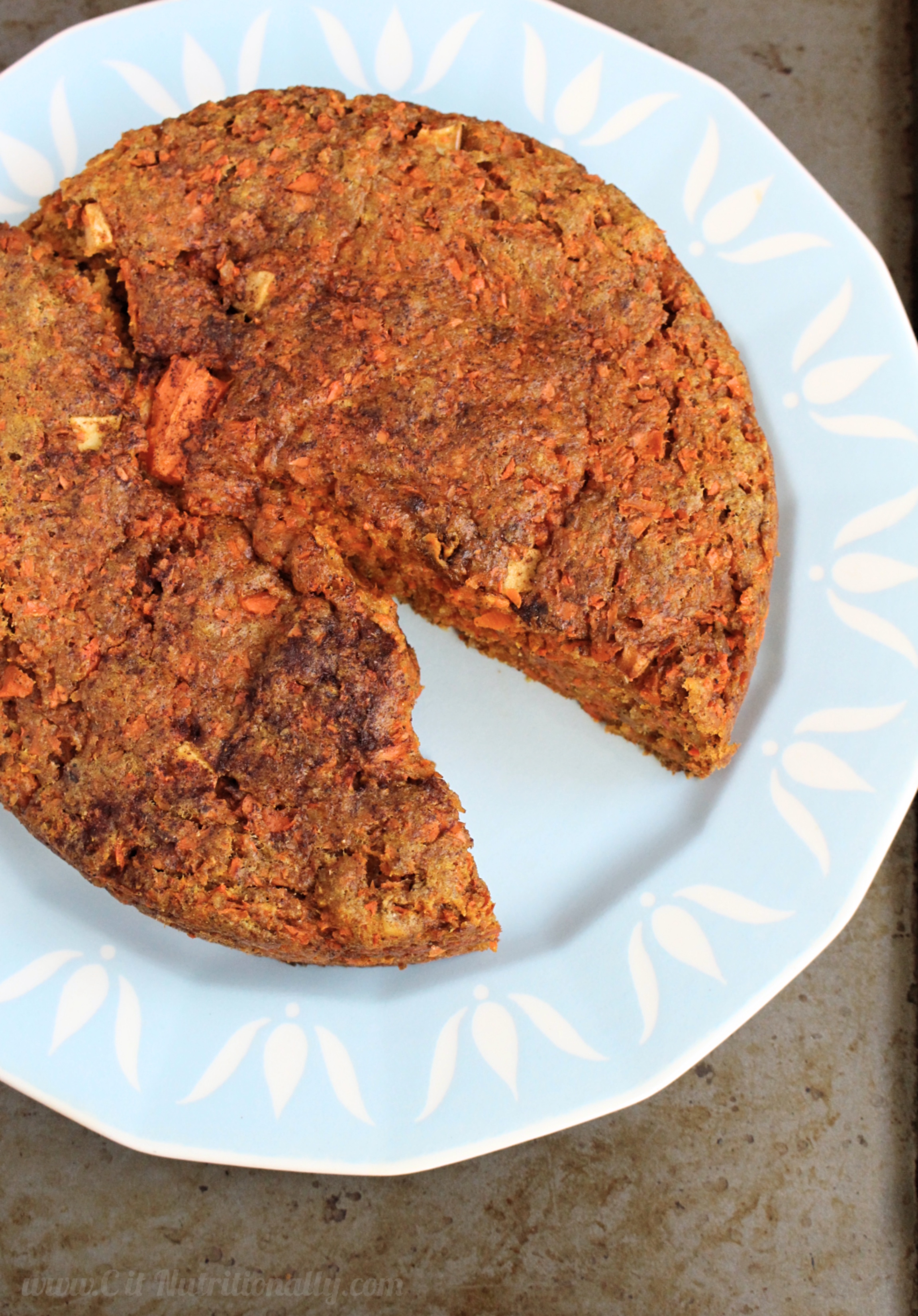 Tender, moist, and with just a hint of sweetness, this healthier carrot pudding (that just happens to be vegan) must make an appearance on your Thanksgiving table!
Ingredients
1 1/2 pounds carrots or 2 cups mashed cooked carrots (see step 1 below).
1/2 cup coconut oil
2 tablespoons ground flax seed
1 tablespoon milk of choice (I used soy milk)
1 teaspoon lemon juice
1/2 tablespoon maple syrup
1 1/4 cups whole wheat flour, sifted
1/2 tsp salt
1 teaspoon baking powder
1 teaspoon baking soda
1/2 teaspoon cinnamon
1/4 teaspoon ground ginger
1/4 cup date sugar
1/2 cup chopped apples
Instructions
To prepare carrots: Bring an inch of water to a boil in the bottom of a pot into which your steamer basket fits. Put trimmed carrots in the steamer basket, set over the boiling water, cover, and steam until tender, about 10 minutes or until soft enough to mash. Mash carrots with a potato masher or in a food processor.
While preparing carrots, combine flaxseed and 6 tablespoons of water in a small bowl to make flax "eggs." Mix and set aside.
Preheat oven to 350F. Lightly coat an 8x8 pan with oil and set aside.
In a large mixing bowl, combine coconut oil, flax "eggs," milk, lemon juice and maple syrup. Beat with hand mixer until combined (less than 30 seconds).
Then add dry ingredients: flour, salt, baking powder, baking soda, cinnamon, ground ginger and date sugar. Mix with hand mixer until all ingredients are combined.
Add carrots and apples and mix with a spoon by hand.
Transfer mixture into the prepared pan and smooth top with a spatula. You may sprinkle with additional cinnamon, if desired. Bake for 30-40 minutes until sides begin to separate from pan and a toothpick inserted comes out clean. Enjoy warm or room temperature.
Note: Store leftovers in the refrigerator for up to 5-7 days.
Notes
Nutrition Facts (per serving, 1/12 of recipe): 170 calories, 10g fat, 136mg sodium, 20g carbohydrates, 4g fiber, 2.5g protein
http://citnutritionally.com/healthier-carrot-pudding/
And now you can watch how it's done (my first video, so go easy on me!!)…


So what'd ya think?!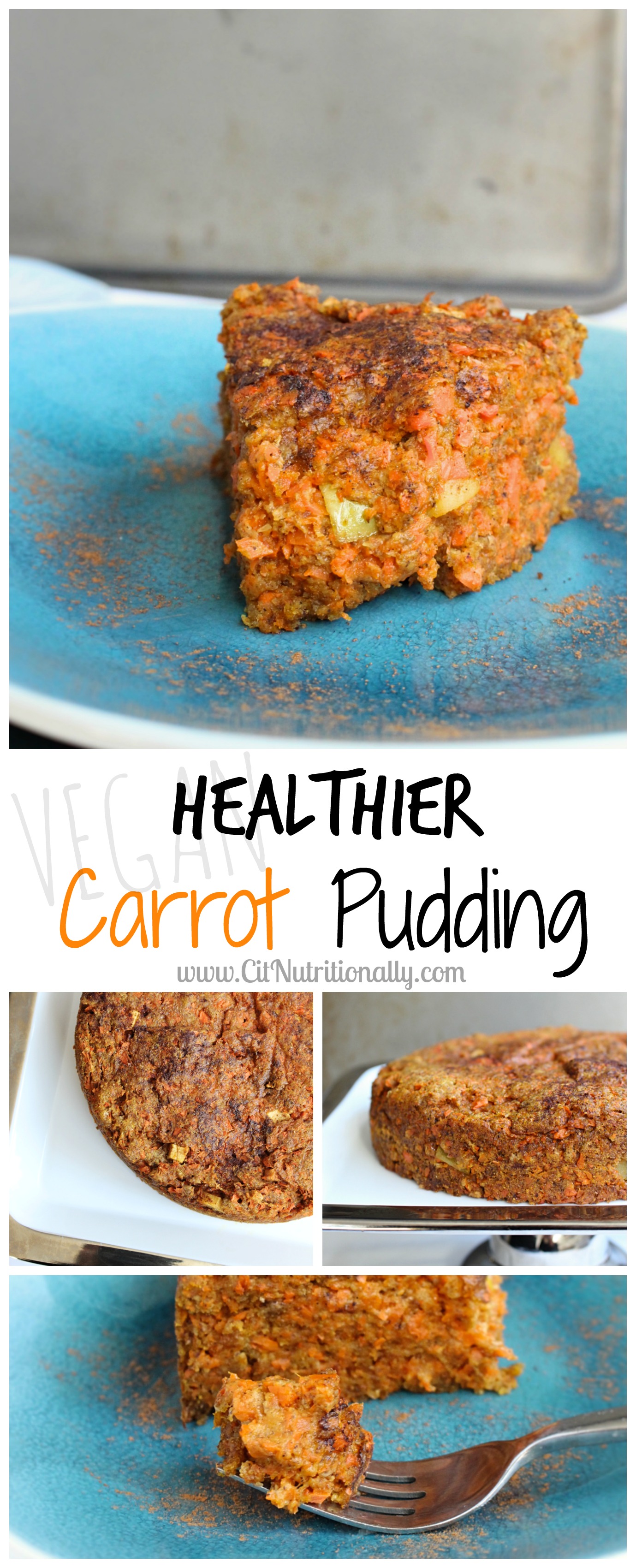 Let's chat…. Are you getting ready for Thanksgiving already? What's one of your family favorite recipes?! 
XO