No longer is pasta dinner a carb-heavy meal that will leave you feeling sluggish! Try this protein packed healthy baked ziti for a simple and nutritious midweek meal!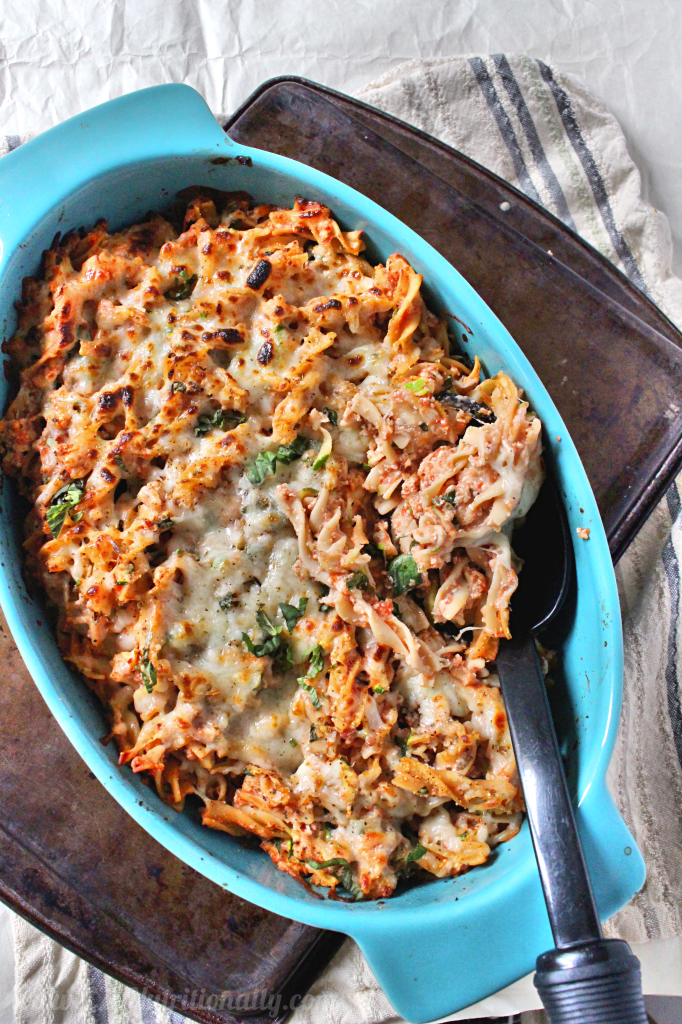 So let's talk about the wonderfully strange world of social media…
When I posted my Gluten Free Greek Pasta Salad a few weeks ago, a dietitian social media friend reached out on twitter saying I should try my recipe with Banza Pasta. Within minutes, the super cool peeps over at Banza Pasta replied to the tweet offering to send me some of their chickpea pasta. How could I refuse?!
But as a foodie, almost dietitian, and overall new food connoisseur, I was embarrassed that I hadn't even heard of Banza Pasta (insert monkey emoji covering its eyes). I quickly googled and couldn't believe this gem was hiding!
Now, I'm not one to typically eat out-of-the-box pasta because, well, I don't think there's anything too special about it, and I'd rather eat other whole grains with an earthier flavor or spiralize my way to deliciousness, but when pasta has a Nutrition Facts label like Banza's does, it's hard NOT to eat it…not to mention how deeelish it tastes!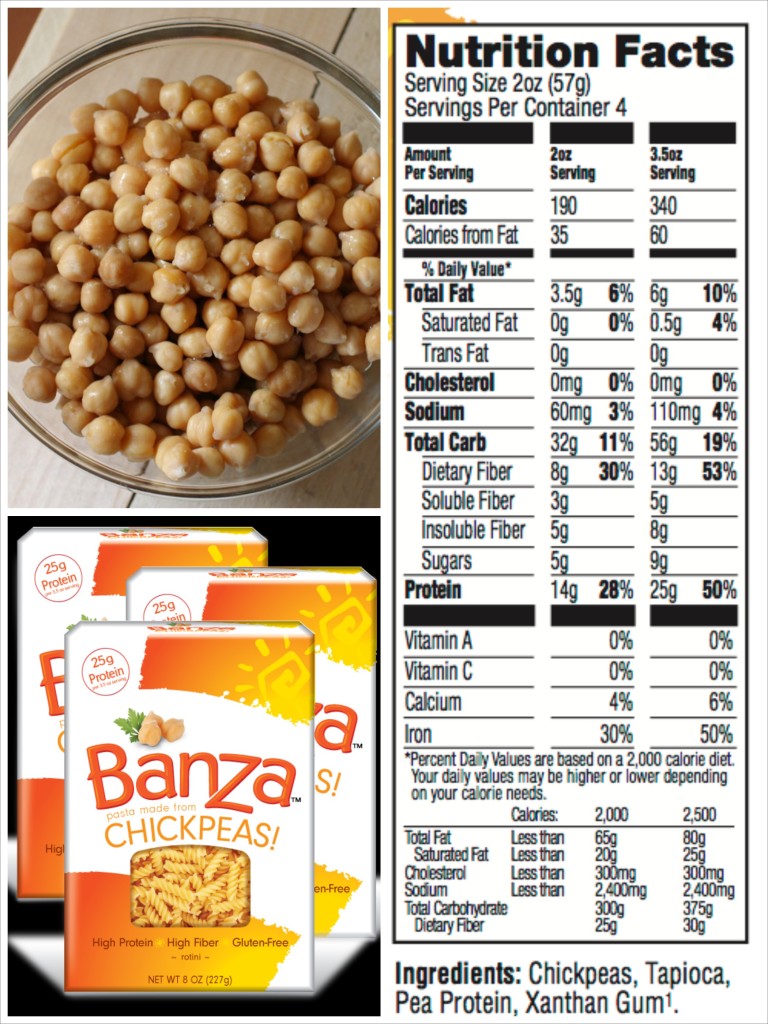 Here's why I love Banza Pasta and I think you should too: 
Taste tester approved! Hearty flavor and delicious taste (always #1!).
Per serving, Banza Pasta contains DOUBLE the amount of protein in whole wheat pasta ((and more than double the protein content of plain white pasta))!
8 grams of fiber per serving! When you should be eating 25-35 grams of fiber per day, this is huge!
Food allergy friendly! It's naturally gluten free and grain free (it's made from beans!), vegan and egg free, plus it's made in a dedicated gluten free, wheat free, lactose free, nut free, soy free facility! 

Comes in 4 fun shapes — penne, rotini, elbows and shells!

You can find Banza in your local ShopRite, Fairway, Wegmans, and more.
It's made in Michigan…OK, that one's just for me — go blue!
I know many friends complain about how easy it is to overeat pasta, and while I recommend that you mind your portions for all foods, you can eat Banza pasta every day of the week and know that you're nourishing your body good! ((Have picky eaters at home? This may be your answer!))
Banza Pasta cooks in just 5 to 7 minutes with a similar texture to all other pasta, so when I was invited to create a recipe with Banza I wanted to do something different — make a baked pasta dish!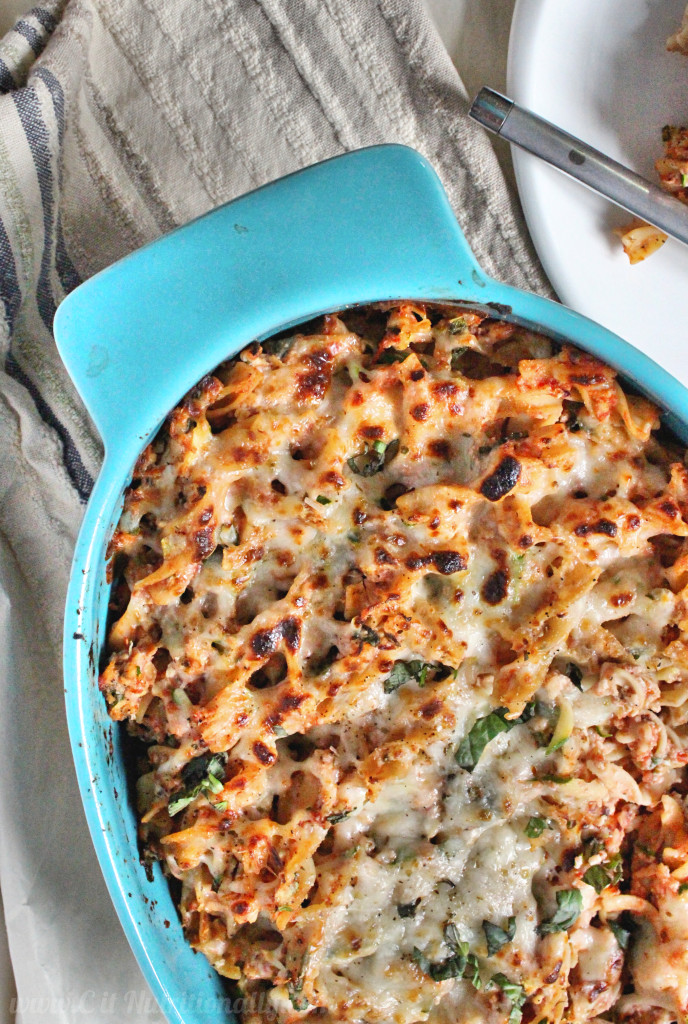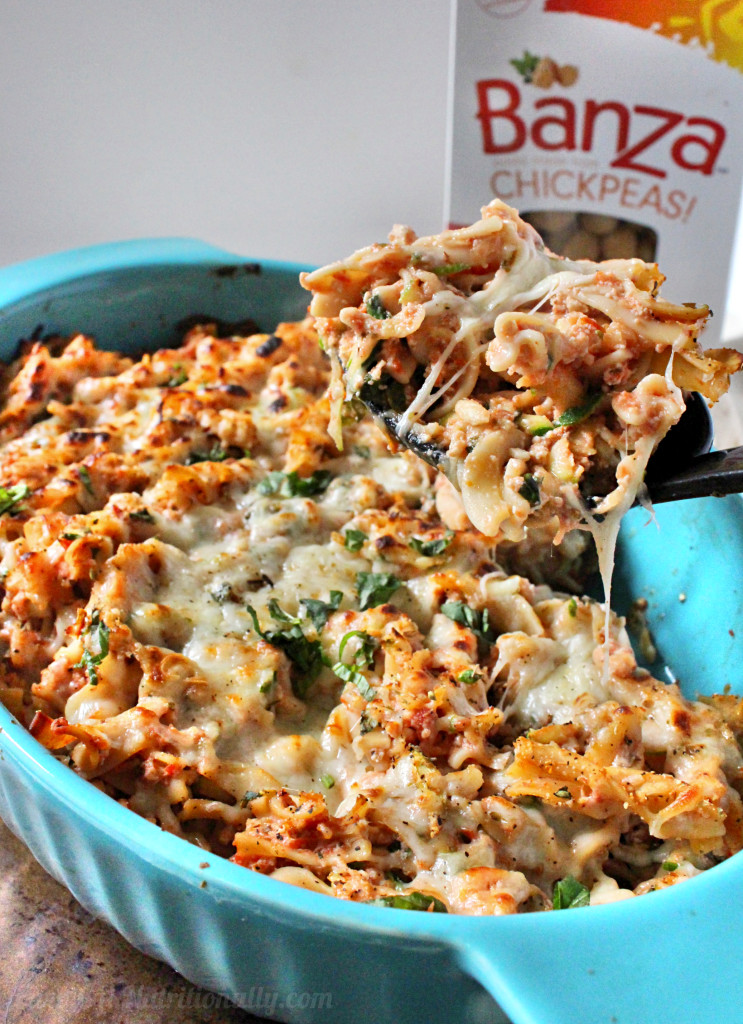 This "baked ziti" (Yes, I know I didn't actually use ziti noodles!) is protein-packed with any pasta you choose because I switched and swapped out more than half of the cheese for tofu! Tofu's texture is similar to ricotta cheese and it takes on whatever flavor you pair it with so in this case you get tomato-y, garlic, mozzarella cheesy goodness with a huge protein punch! You can use any type of pasta, but Banza bumps up the protein content even more!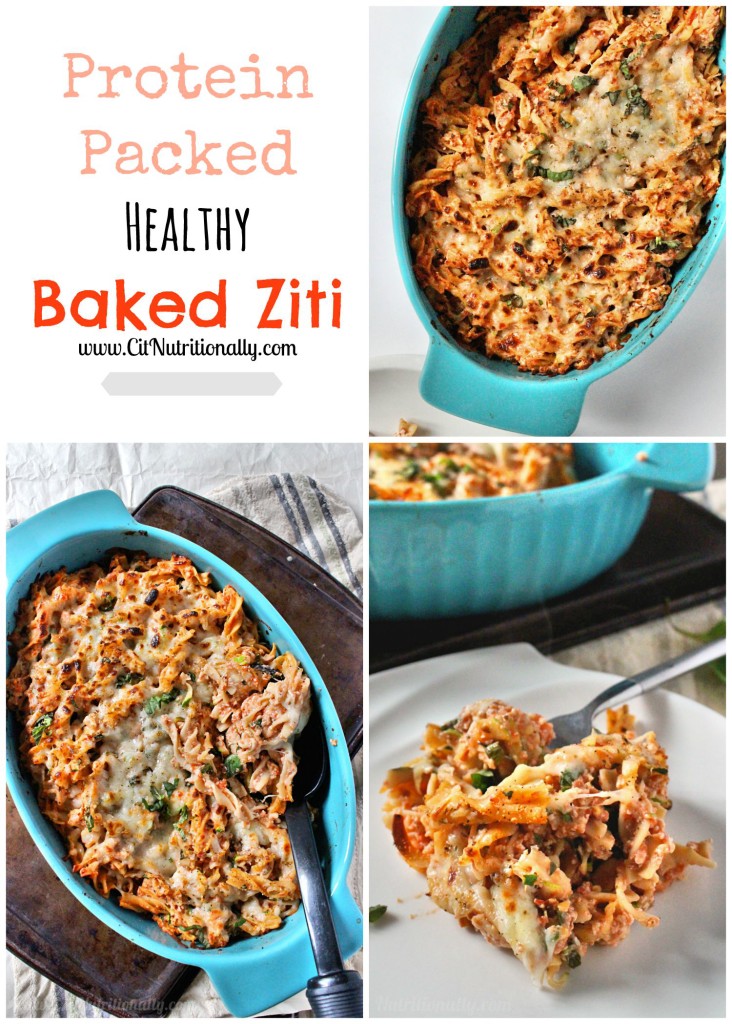 Protein Packed Healthy Baked Ziti Made With Banza Pasta
Recipe Type
:
Vegetarian, Gluten free, Grain free
Author:
Prep time:
Cook time:
Total time:
No longer is pasta dinner a carb-heavy meal that will leave you feeling sluggish! Try this protein packed healthy baked ziti for a simple and nutritious midweek meal! Gluten free. Grain free.
Ingredients
8 ounces [1 box] Banza pasta (or other alternative)
10 ounces firm tofu, water squeezed out and crumbled
1 cup zucchini, shredded and excess water squeezed out
2 garlic cloves, minced
1 cup tomato sauce, divided
¼ cup fresh basil, roughly chopped
1 ¼ cup low fat shredded mozzarella cheese, divided
1 teaspoon oregano
½ teaspoon ground black pepper
½ teaspoon red chili flakes
Instructions
Cook pasta in salted water according to package instructions, about 5-7 minutes. Drain and set aside.
Preheat oven to 350°F. Spray a medium-sized baking dish with nonstick spray and spread a spoonful of tomato sauce on the bottom of the dish. Set aside.
In a large bowl mix crumbled tofu, zucchini, garlic, ½ cup tomato sauce, basil, ½ cup cheese and spices together.
Add the cooked pasta and the rest of the tomato sauce, and mix to combine.
Transfer the pasta mixture into the baking dish and evenly distribute. Evenly scatter the rest of the mozzarella cheese on top and sprinkle with additional oregano and/or other spices, to taste.
Cover with tin foil and bake at 350°F for 20 minutes. Remove the foil and broil for an additional 5 minutes. Serve warm…enjoy!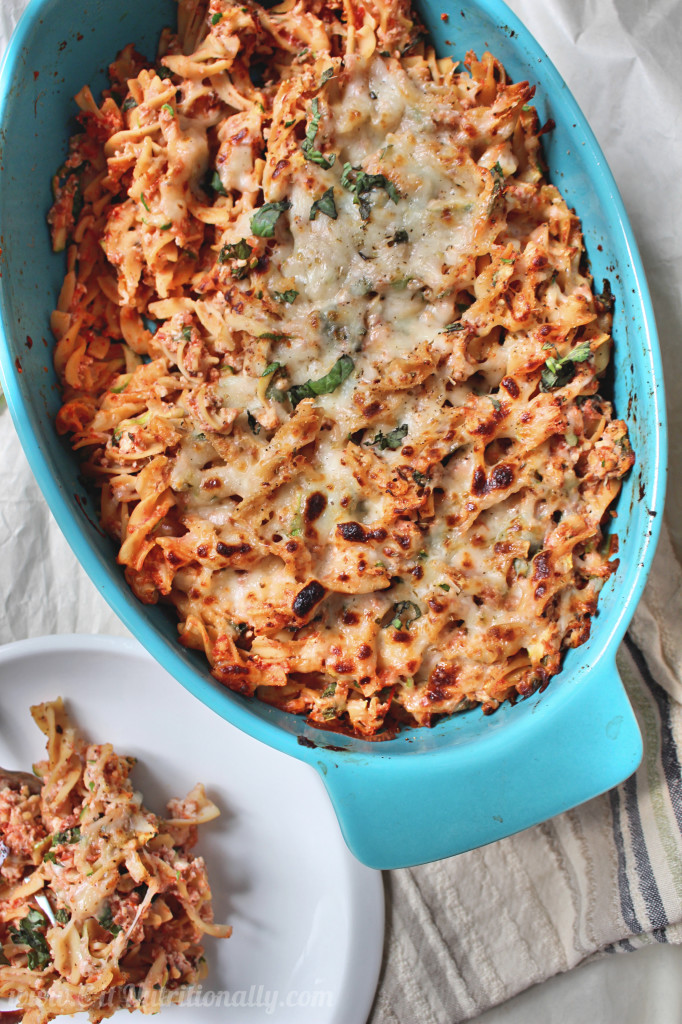 To make your weeknight meals easy, you can prep this dish the night before and then throw it in the oven when you get home from work. Leftovers freeze well too!
Happy pasta eating!
XO
Disclosure: I was sent samples of Banza Pasta, but I was not compensated for my time. 
***
CLOSED. Enter to WIN a case of assorted Banza pasta!
Leave a comment below: What's your favorite pasta dish?
((Winner will be chosen on Friday 9/4/2015. Open to U.S. residents only!))