Use your favorite dipper to dive right into this Healthy Nut Free Edible Cookie Dough that tastes sinfully delicious, but is full of good-for-you nutrients!
Vegan, Gluten Free, Nut Free, Grain Free, Dairy Free, Egg Free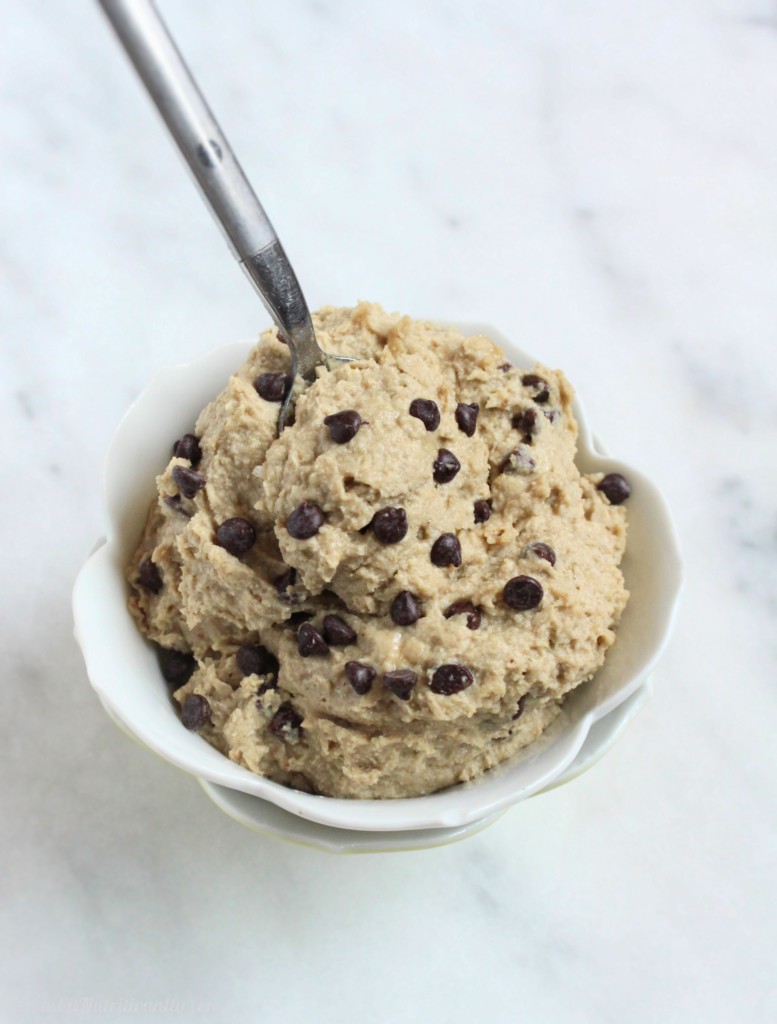 It's here! It's here!! I'm SOOO happy to be sharing this Healthy Nut Free Edible Cookie Dough with you guys today … it's the PERFECT last minute dessert for you to bring to your Memorial Day BBQ!
I feel like I've been SO M.I.A. over here since I started work a couple of week ago, but I promise to keep sharing a weekly recipe with you guys! And then as I adjust, I can't wait to start sharing more of my "keeping healthy with a full-time job and a couple of side hustles" secrets. Secret #1: It's HARD to find balance… but DOABLE! Secret #2: I don't always follow my own advice… but I'm a work in progress, and that's all I ever claim to be!!
But let's focus on something a bit more fun, delicious and AH-MAZ-ING right now instead…  Healthy Nut Free Edible Cookie Dough!!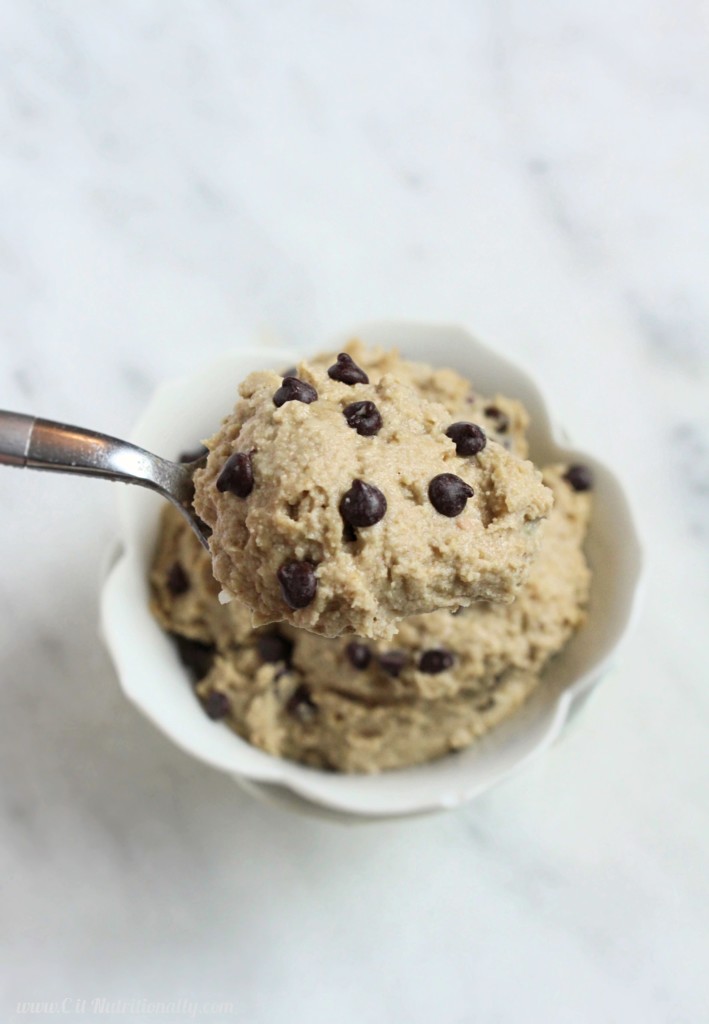 When I shared a sneak peek pic on Instagram late Wednesday night I was FLOORED by your response! I swear I thought I hit the unicorn Instagram jackpot (not a real thing!). But I think that this response is TOTALLY warranted because this may just be my favorite dessert I've shared around here in a while… and these avocado brownies are orgasmic!
We all know the best part about baking cookies is the raw cookie dough, so it's no wonder it's about time for edible cookie dough to take over the foodie world. There are lines around the corner at NYC's Cookie DO — a store full of "cookie dough confections." But if you have food allergies — a la moi — these delicious confectionaries are off limits.
But this Healthy Nut Free Edible Cookie Dough is…
Made with just 7 ingredients
Completely food allergy friendly
Vegan
Gluten free + grain free
Made in less htan 15 minutes
Totally safe to eat
Healthy Nut Free Edible Cookie Dough
Ingredients
1 15oz can white beans or chickpeas
1 1/2 teaspoon pure vanilla extract
1/4 teaspoon salt
1/4 cup sunflower seed butter (no added sugar preferred)
2 1/2 tablespoons milk of choice (I used unsweetened coconut milk)
3 tablespoons date sugar
1 tablespoon maple syrup
1/4 cup mini chocolate chips
Instructions
Combine all ingredients, except for chocolate chips, in a high-powered blender or food processor. Blend until smooth.
Fold in chocolate chips so evenly distributed.
Transfer cookie dough into a freezer-friendly container and freezer for 15 minutes, or until cookie dough is cold.
Serve with sliced apples, celery or carrot sticks, whole wheat crackers or a spoon!
Store in refrigerator or freezer. Cookie dough will stay fresh in the fridge for about a week, or in the freezer for ~1 month. Enjoy!
Notes
Nutrition Facts (per 1/12 recipe): 93 calories, 4g fat, 76mg sodium, 11g carbohydrates, 2g fiber, 3g protein
http://citnutritionally.com/healthy-nut-free-edible-cookie-dough/
Don't forget to PIN IT…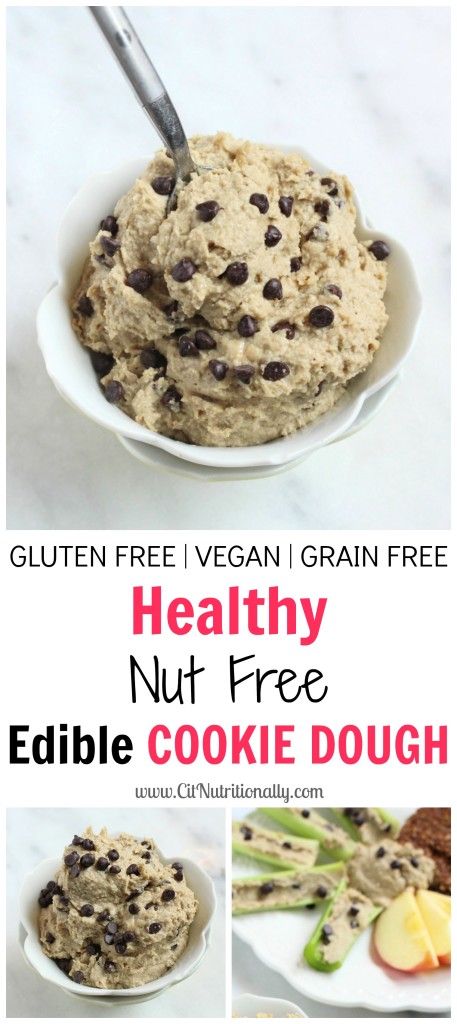 I hope you have a fabulous Memorial Day — thank you to the troops — past and present — for all that you do to protect our country!
XO
If you want to stay connected or you make something from C it Nutritionally I would LOVE to see your creations! Tag me or use the hashtag #CitNutritionally!

Let's get social! 
Facebook: C it Nutritionally
Twitter: @ChelseyAmerRD
Instagram: @CitNutritionally
Pinterest: ChelseyAmer