These Healthy Tuna Nicoise Stuffed Baked Potatoes are the ideal post-workout meal: full of complex carbohydrates, protein and so much flavor! Plus, you can make this meal on the cheap and in minutes! Gluten free, Dairy free, Nut free, Grain free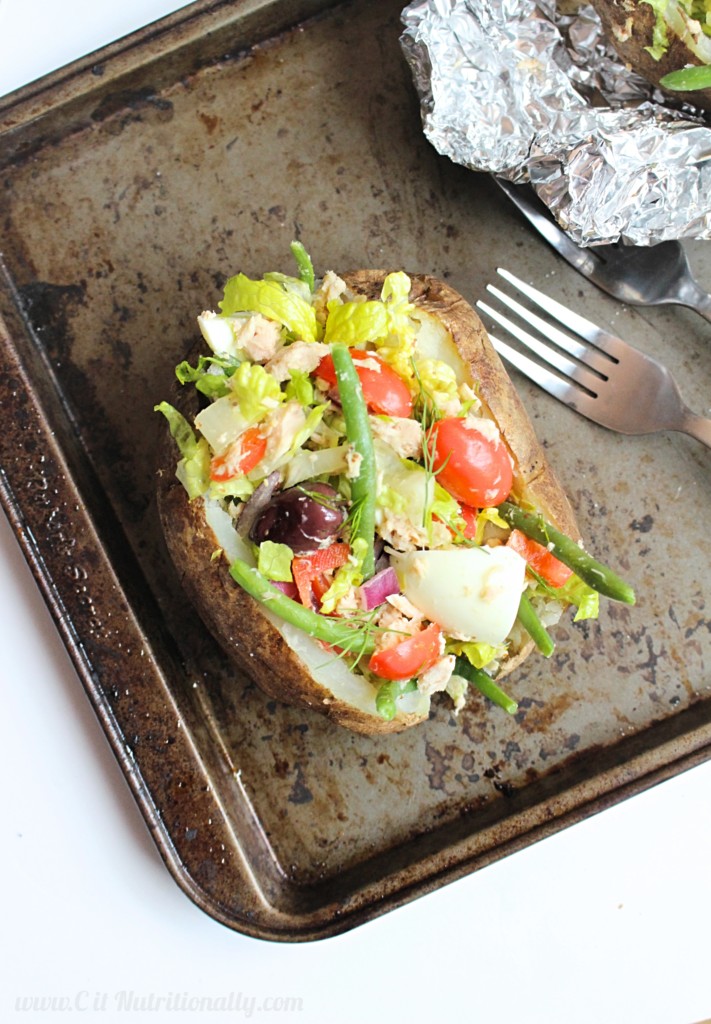 By posting this recipe I am entering a recipe contest sponsored by Potatoes USA and am eligible to win prizes associated with the contest. I was not compensated for my time.
Aaaaand welcome to Frugal Friday week numero 11! No idea what I'm talking about? Click here.
This recipe is SO frugal friendly, SO good for you and SO in line with what I've had going on this week. It's like all the stars decided to align! Booooyyyaaaa!
These Healthy Tuna Nicoise Stuffed Baked Potatoes are the perfect post-workout meal! Or just lunch or dinner when you're looking for a meal that is…
Affordable

Delicious

Full of nutrients — did you know potatoes contain more potassium than a banana?

Quick to make

EASY!
According to wikipedia, a traditional French Nicoise salad — seriously I never know if I'm spelling that right — contains lettuce, green beans, tuna, olives, eggs, tomatoes and anchovies. But according to moi, it also must contain potatoes. Because the first nicoise salad I ever ate had potatoes. Maybe wikipedia is wrong. Hmmmmm.
So I decided to turn my nicoise salad inside out and stuff it into a tater. Seriously, nothing is better when you're hangry after your workout class than coming home to the FASTEST meal ever.
Enter my

Healthy Tuna Nicoise Stuffed Baked Potatoes.

You can bake the potatoes ahead of time and then you are good to go in literally 5 minutes or less. #winning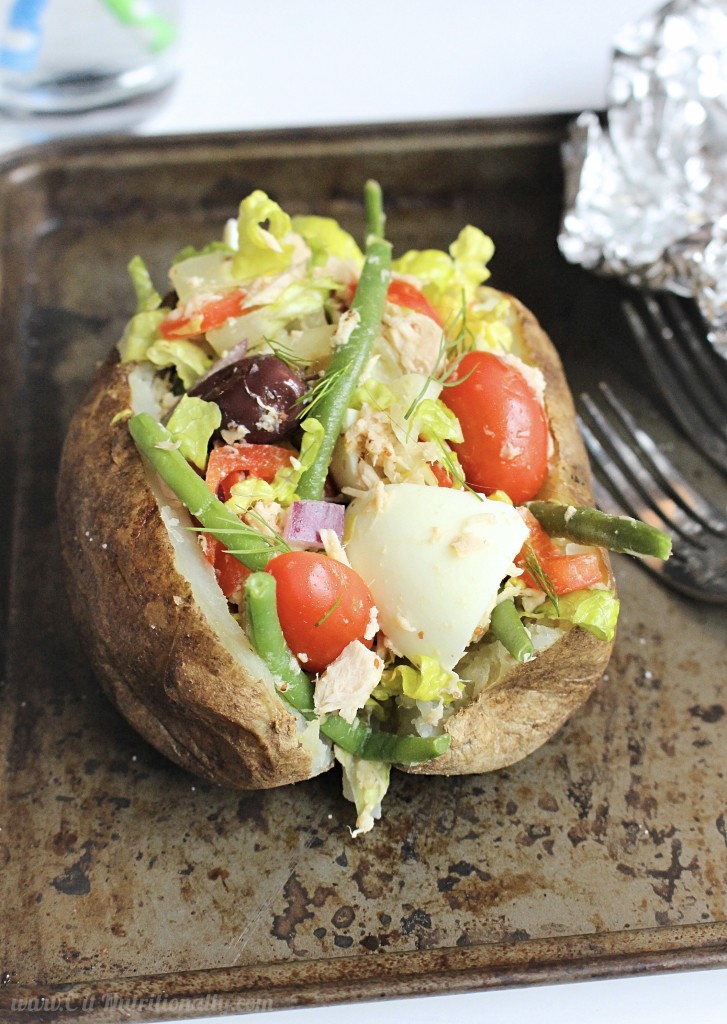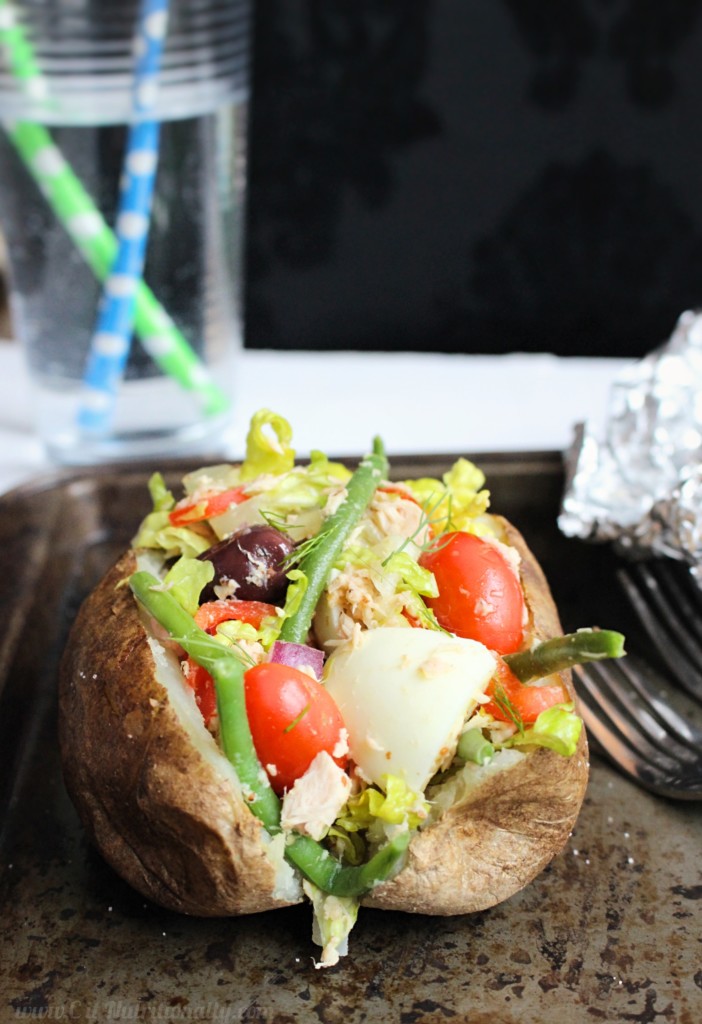 Why a potato after you workout?
Well just like I told the group of my favorite fitness professionals here on Wednesday, you're looking for that 3:1 to 4:1 ratio of carbohydrates to protein after your workout. Potato = excellent source of complex carbohydrates. You also want to re-hydrate and make sure you're electrolytes are in check, including potassium. Potatoes have more potassium than a banana!
Soooo as you can see, potatoes provide the carbohydrate, potassium, and energy you need to perform at your best, making them a perfect post-workout food!
Let's cook…
Healthy Tuna Nicoise Stuffed Baked Potatoes
Ingredients
For the salad:

2 Russet potatoes
1 cup green beans, blanched (if desired; may also keep raw)
2 hard-boiled eggs, quartered
2 tablespoons chopped red onion
1/2 cup grape tomatoes, halved
2 cups shredded romaine lettuce
5 olives, any variety, chopped
2 tablespoons dill, roughly chopped
2/3 can sustainably caught canned tuna

For the dressing:

1/2 tablespoon Dijon mustard
1 teaspoon white wine vinegar
1/2 teaspoon extra virgin olive oil
1 teaspoon honey
Instructions
To bake potatoes*: Preheat oven to 400°F. Thoroughly wash potatoes and pat dry. Pierce with a fork several times. Wrap the potatoes in tin foil and place on baking sheet. Bake for 45 minutes, until soft to fork. You may unwrap the potatoes the last 5-10 minutes for a crispier skin.
While the potatoes are baking, make your salad. Add all vegetables, hard boiled eggs and flaked tuna into a medium-sized bowl. Set aside.
To make the dressing: Combine dressing ingredients (mustard, vinegar, olive oil, honey) in a small bowl and whisk until uniform consistency forms.
Drizzle dressing over your salad and toss well until evenly distributed.
When the potatoes are done cooking, cut three-quarters of the way through the potato lengthwise and stuff with the salad you made. Enjoy warm!
Notes
Nutrition Facts (per 1/2 recipe): 332 calories, 4.5g fat, 479mg sodium, 50g carbohydrates, 7.5g fiber, 22g protein *Alternatively you may microwave potato until soft to fork.
http://citnutritionally.com/healthy-tuna-nicoise-stuffed-baked-potatoes/
Don't forget to PIN IT…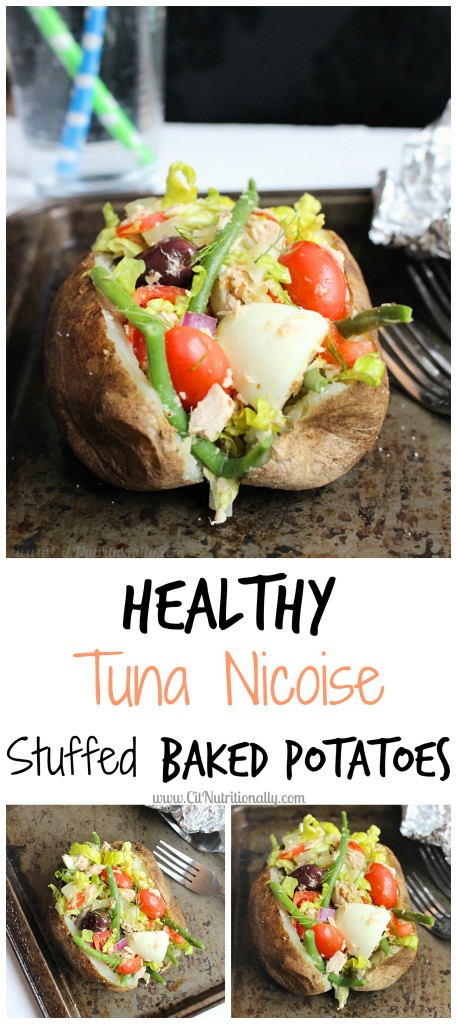 Happy weekend! 
XO

Let's get social!
Facebook: C it Nutritionally
Twitter: @ChelseyAmerRD
Instagram: @CitNutritionally
Pinterest: ChelseyAmer