Avoid the midday slump with an energy boosting lunch: healthy tuna noodle salad! A simple spiralized swap makes over my childhood classic with way more veggies!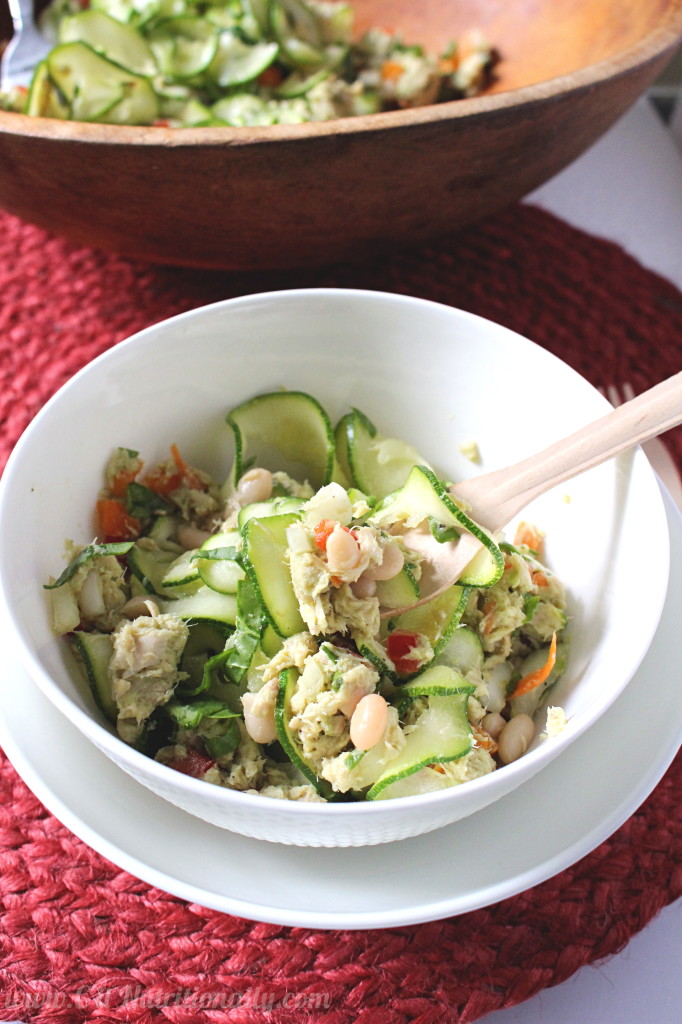 ((Disclosure: By posting this recipe I am entering a recipe contest sponsored by Bumble Bee Seafoods and am eligible to prizes associated with the contest. I was not compensated for my time.))
One thing I never quite understand is how some people really just don't like good ol' tuna salad. I mean, I abandoned my vegetarian ways because I missed tuna with cucumbers and grapes (my favorite way to eat it since I was little).
When Mom wanted to provide a budget-friendly, protein-packed meal that would come together in minutes, she made tuna salad sandwiches. At least once a week I knew I'd find tuna salad on potato bread in my brown bag. 
And she had great reasons to make this quick and easy lunch. Seafood has SO many health benefits from protein, to vitamins and minerals, and heart-healthy fatty acids too! Here's what you should know about seafood: 
You should be eating 2-3 [3-4 ounce] servings per week, according to the FDA and EPA.

Americans, especially new moms and moms-to-be, should be eating more seafood. 

Despite a 2014 FDA report that showed a 3 point IQ benefit for children whose mothers ate 3 to 4 servings of albacore tuna per week, during pregnancy, seafood consumption is at an all time low for new moms (average one-half serving per week!). 

Canned seafood is a convenient, affordable, nutritious and delicious way to make sure you and your family are eating enough seafood.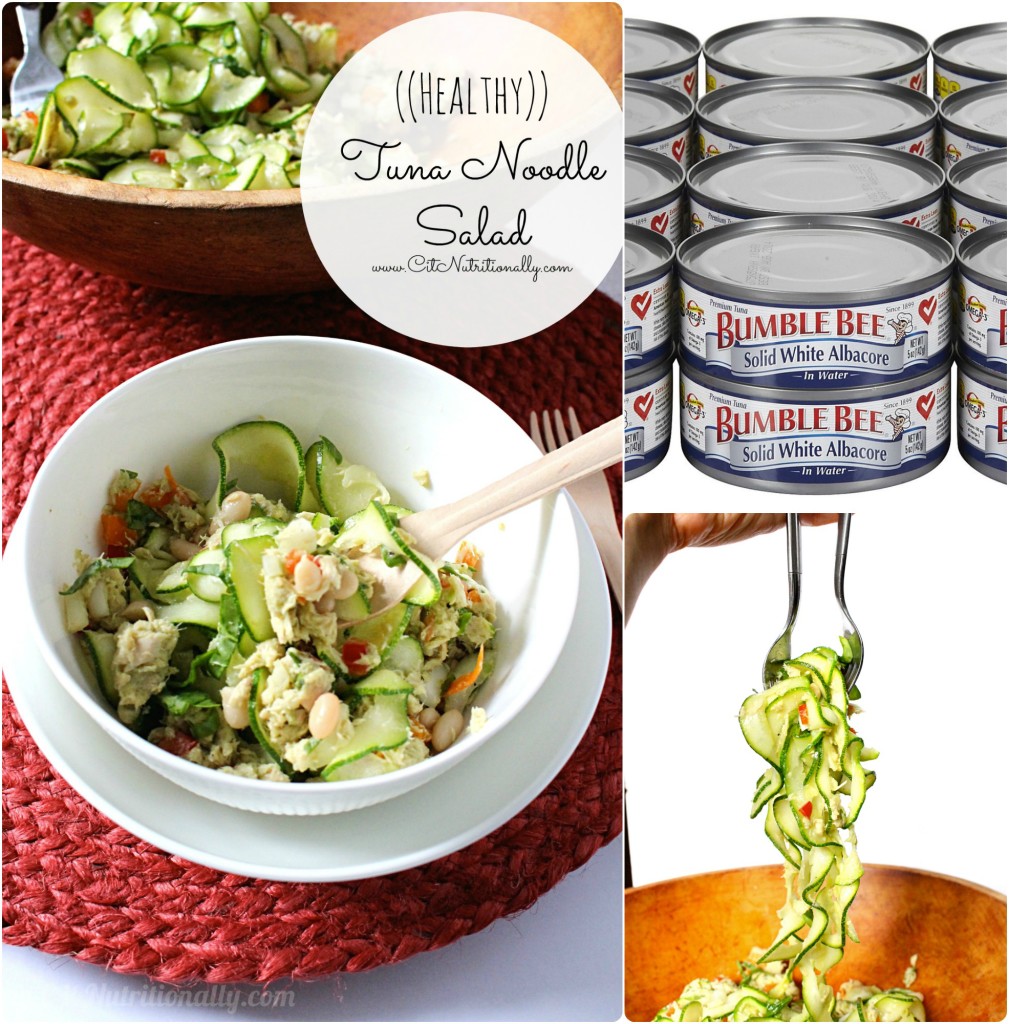 From a young age, mom always chose to give us Bumble Bee® Solid White Albacore Tuna in water for a healthy option. It's: 
An excellent source of protein

High in selenium and niacin

A good source of vitamins B6 and B10

Free from saturated fat
Even though I don't eat meat, I have recently begun to add more seafood into my diet and I've noticed that my hair is stronger, thicker, and shinier, I have more energy than I did on a 100% vegetarian diet, and I feel better. I'm just letting you know what works for me, but there's no surprise then that a researcher at Harvard's School of Public Health stated, "seafood is likely the single most important food one can consume for good health."
So I guess Mom was on to something when she'd stretch tuna salad leftovers into another meal. To change things up for us finicky kids, she would make tuna noodle salad.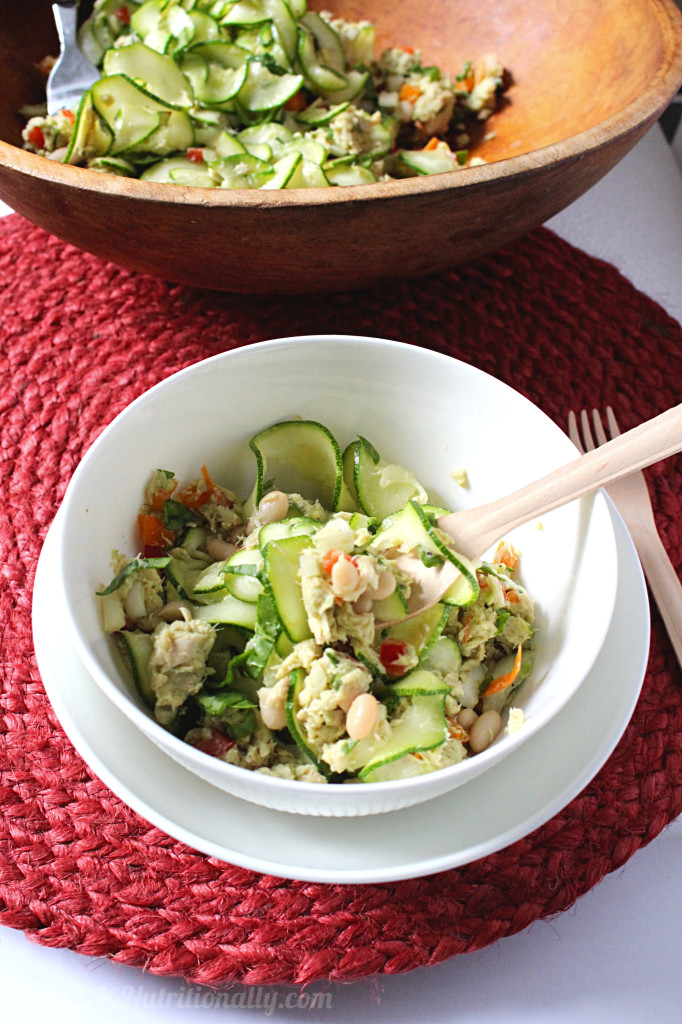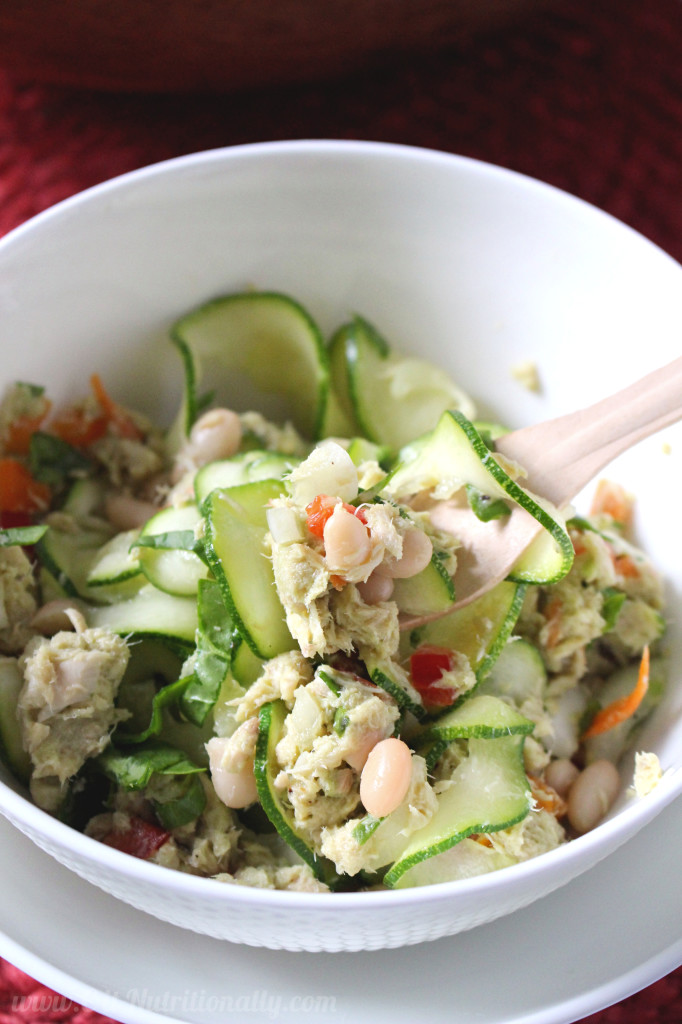 While good ol' tuna and mayo, with some chopped celery, will always have a place, I've refined my tuna salad as I've gotten older to be healthier, loading it with veggies and healthy fats. I use mashed avo, plenty of onion, a hint of Dijon, and always lemon juice.
So when I started craving tuna noodle salad one day I also wanted to give it a friendly healthy makeover by removing the refined pasta and kick things up a notch by adding even mooore veggies. Naturally, I spiralized!
Meet my tuna noodle ZOODLE salad that is oh em gee amazing!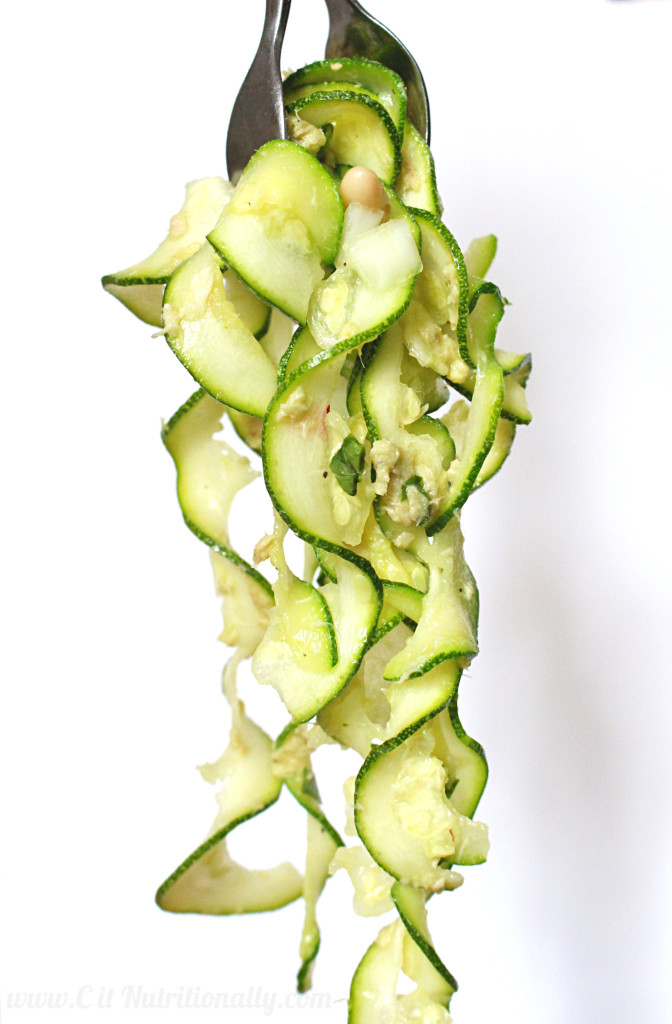 If you don't have a spiralizer, that's OK! You can still make this recipe, although your zucchini won't resemble twisty turn-y noodle-y fun!
But that's OK too!
Healthy Tuna Noodle Salad
Ingredients
2 medium zucchinis
2 5-ounce cans white albacore tuna in water, drained
1 small onion, finely chopped (approximately 1/2 cup)
2 stalks celery, chopped
1/4 cup bell pepper, chopped
1/2 cup spinach, shredded
1/2 cup small while cannelloni beans (rinsed and drained if canned) — Omit if following a paleo diet!
1/2-3/4 medium avocado, mashed
1 tablespoon Dijon mustard
1 teaspoon lemon juice
1 tablespoon fresh dill, chopped
1/4 teaspoon freshly ground black pepper
Pinch of sea salt
Pinch of oregano
Instructions
Spiralize zucchini into flat, wide, noodles OR make thick strands using a vegetable peeler. In an oil-coated skillet over medium heat cook half of the noodles just until soft, approximately 3-5 minutes. Remove from heat and combine cooked noodles with raw noodles in a large bowl. Place in the refrigerator while you prepare the tuna salad.
Open and drain tuna. Flake tuna into a medium-sized bowl. Add onion, celery, bell pepper, spinach, beans, and spices. Mix to combine. Add mustard, lemon juice and avocado and work into the tuna mixture. Taste and adjust spices as needed.
Add tuna salad to the zucchini noodles and toss until evenly distributed. Serve cold. Enjoy!
http://citnutritionally.com/healthy-tuna-noodle-salad/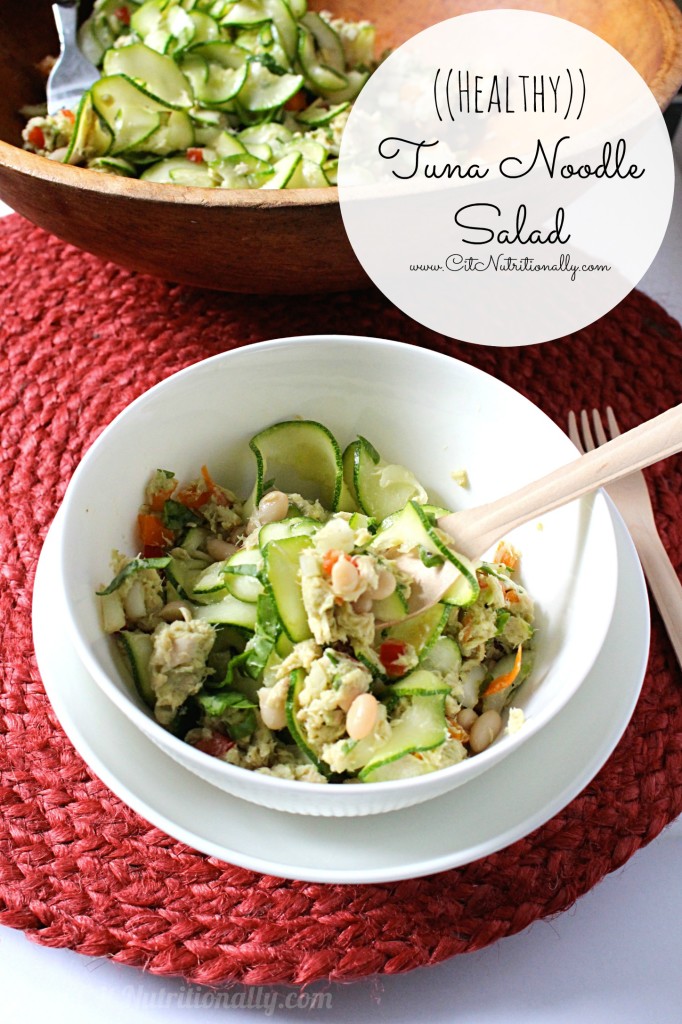 Now how's that to rebound from too many burgers at last night's BBQ?! All things in moderation! This is a great food prep staple too…just don't cook the zoodles until you're ready to eat to prevent them from getting soggy!
Have a happy Sunday!
XO