Spring into the season with these fresh herb roasted carrots with avocado dill dip for a dressed up weeknight side or snack! Vegan. Gluten free. Paleo. Dairy free. Egg free.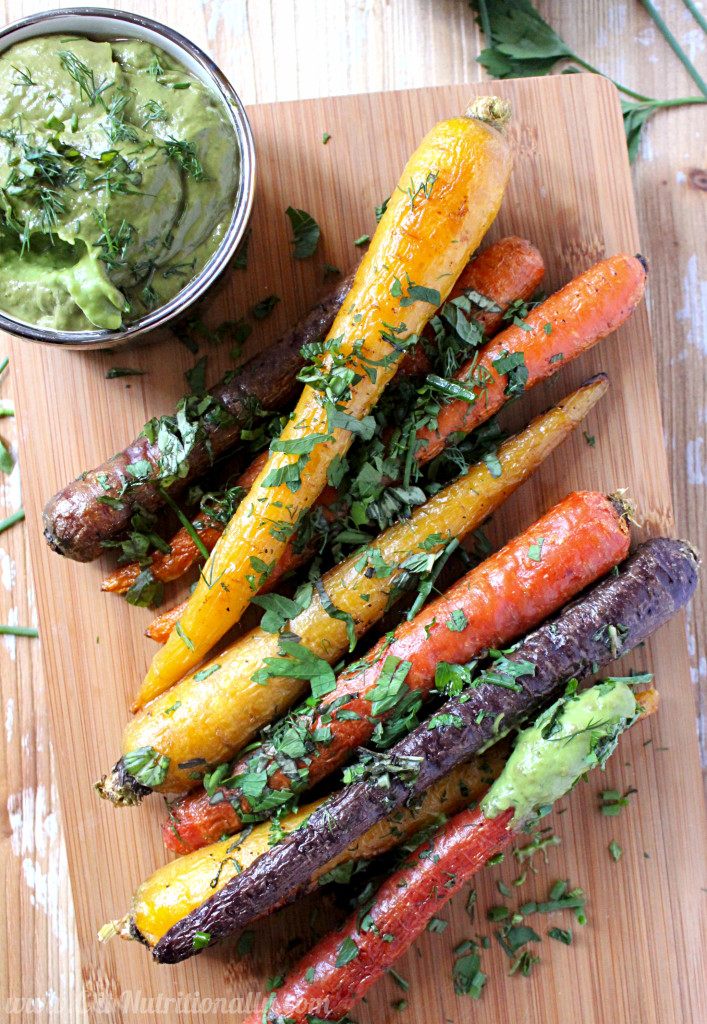 Happy Mondayyy!!! 
I know most people really aren't in favor of Mondays, but there's something about starting the week on a high note after a really great weekend! I guess I have more of a case of the Tuesdays. But today's Monday…so seize the day! Even though it was a chilly weekend here in NYC, it was sunny both Saturday and Sunday…so after the winter we had, I was walking on sunshine…oooooohhh ohhhh…
((Yeah, I should never really sing out loud…))
While I try to eat mostly in-season produce, my year-round weekly food prep usually includes sweet potatoes. Well, lately, I've totally been crushing on roasted carrots instead! As spring has sprung (sorta), it's a lighter option, but still feels totally satiating in a salad or as a side dish.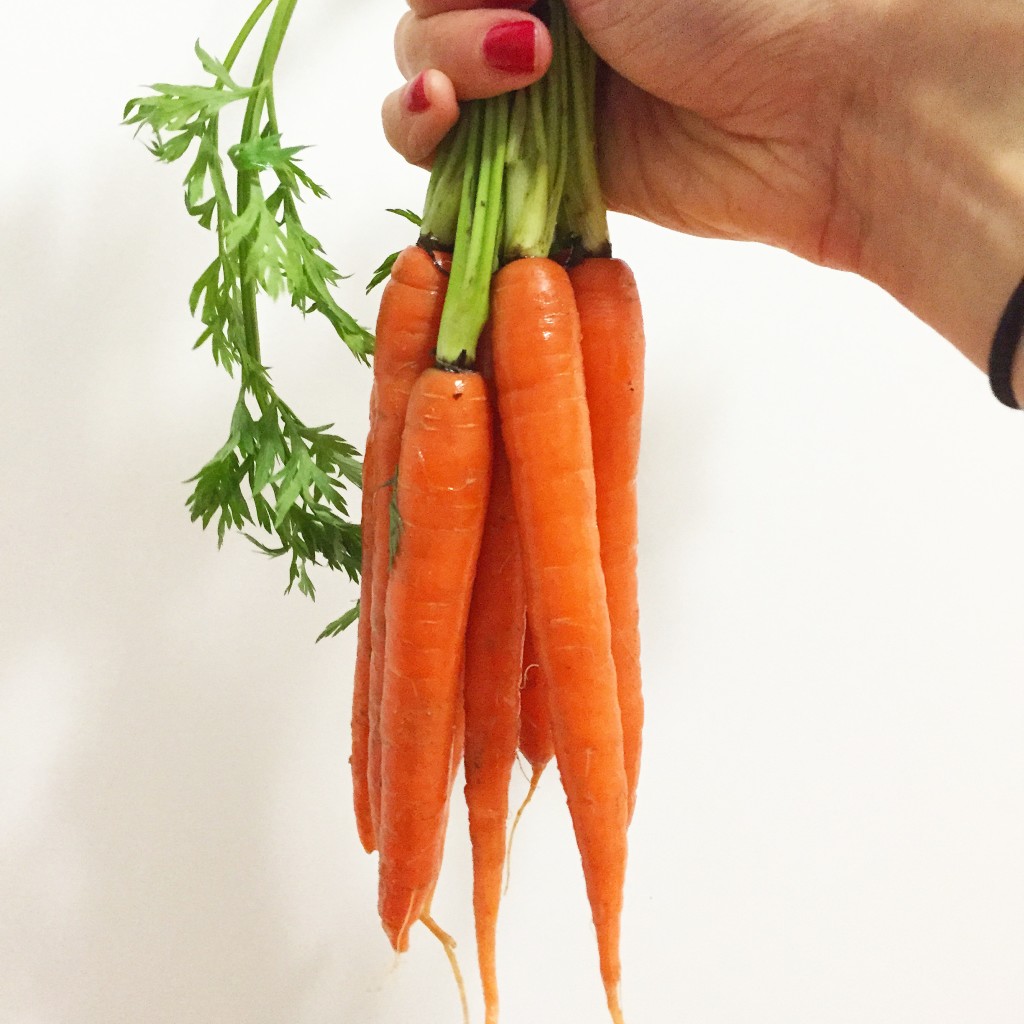 This avocado dill dip is inspired by one of my favorite restaurants in NYC…Westville! Their seasonal menu, with tonnnnnns of veggies, is my go-to take out place because of their bomb dot com market plate (4 veggie-licious sides as a meal) or fresh piece of grilled salmon with a heavenly herby sauce. If you follow me on Instagram, you've totally seen many a Westville dinners!
The potent combination of lemon and dill is incredible with fish and when I was thinking of what to pair with this totally deeeeeelish dip for #MeatlessMonday, I thought herb roasted carrots would be perfect…and I have to say I was right!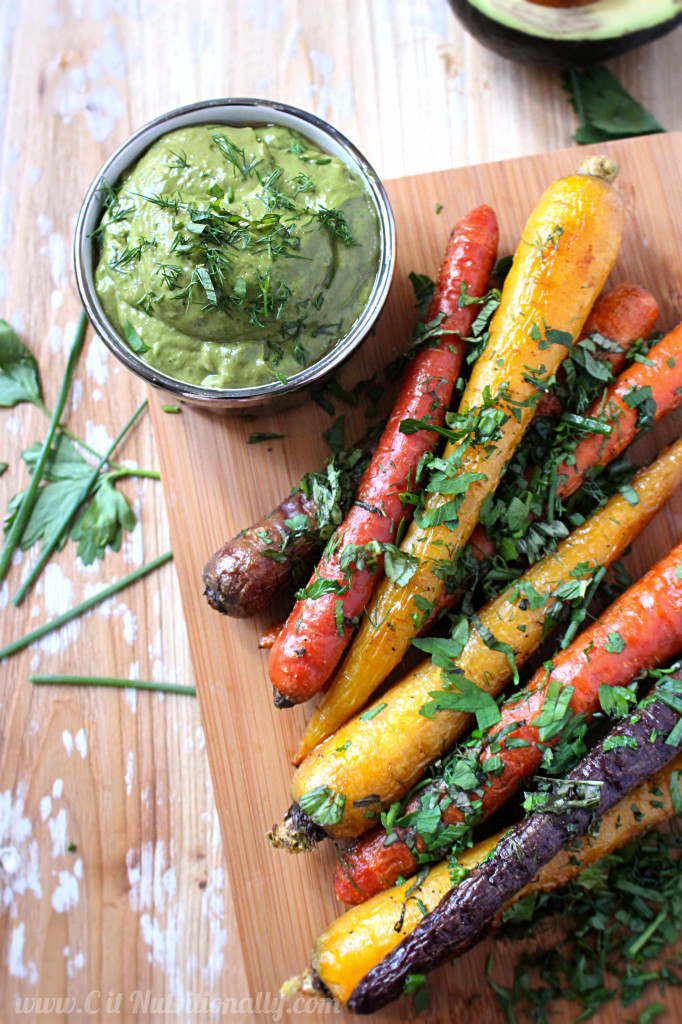 I experimented and healthified Westville's dip by adding healthy fats by using AVOCADO as the base!
In light of my latest article about the possible, not exactly happening, avocado shortage (say it ain't so), it's only appropriate to post ALL the avocado recipes before they become sparse. #DoomsDayIsComing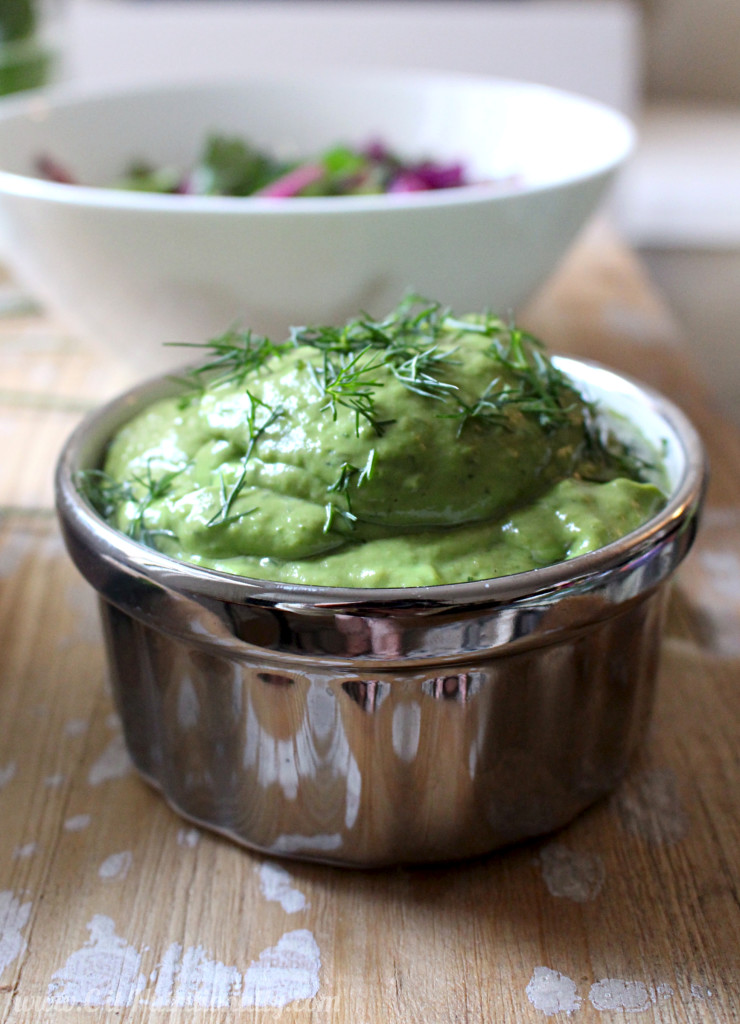 This dressing is extremely versatile in terms of herbs you use. Use what you have on hand, but be sure to stay heavy on the dill.
Make this dip today and have it with veggies, enjoy it with fish (tomorrow) or even grilled chicken. Oooooo or on a sandwich. With lots of veggies.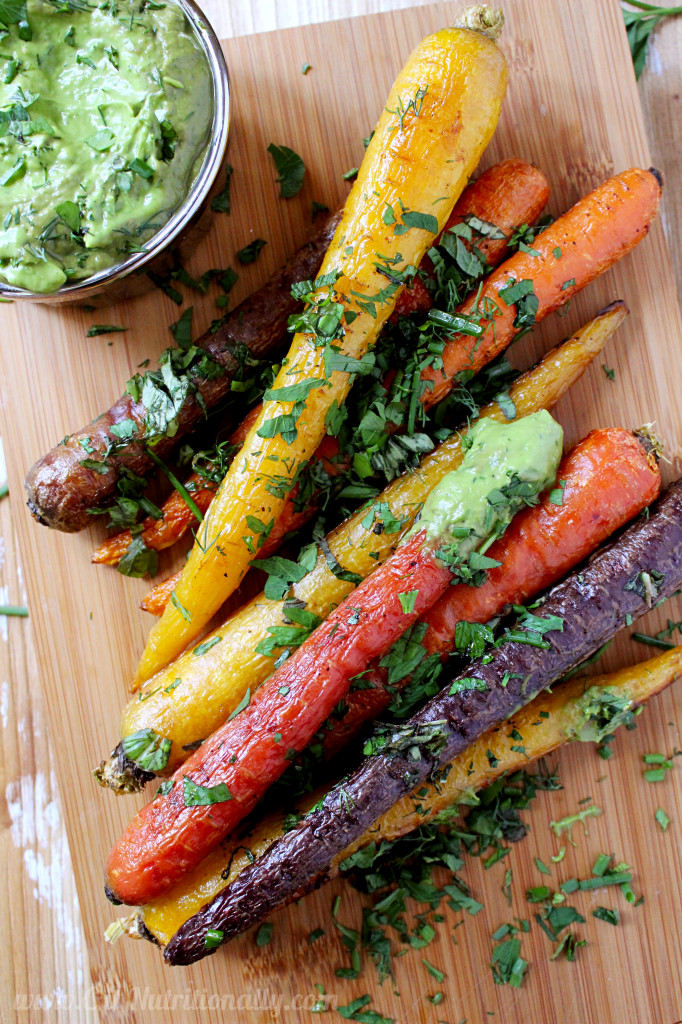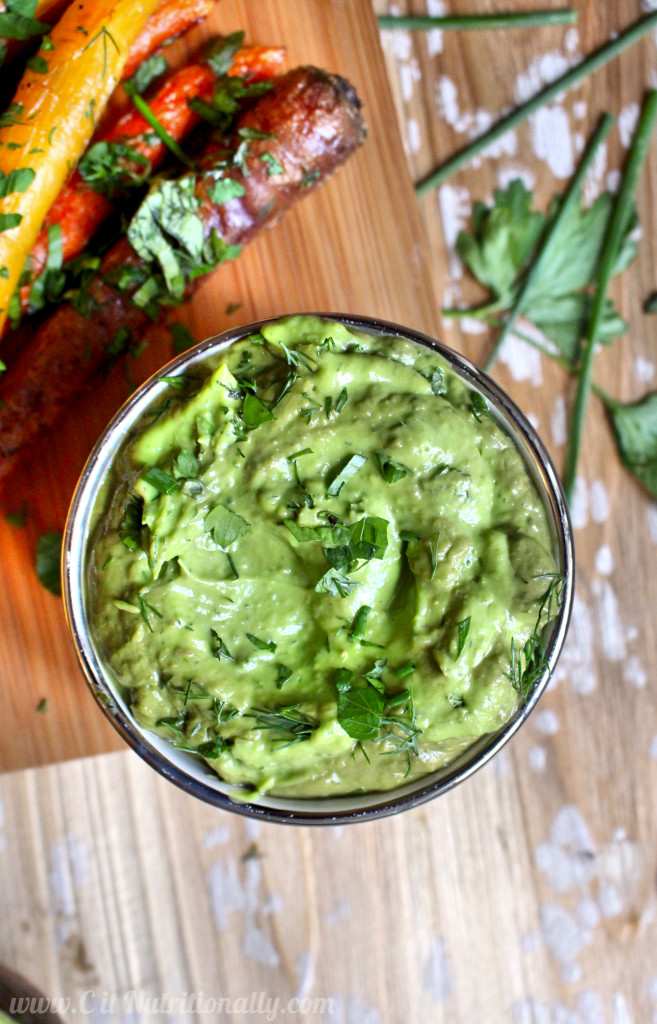 Herb Roasted Carrots with Avocado Dill Dip
Ingredients
Roasted Carrots:

1 lb carrots
Extra virgin olive oil, to coat (about 2 tablespoons)
Salt and pepper, to taste
1/2 cup mixed herbs (I used a combination of parsley, dill, chives, basil, and mint)

Avocado Dill Dip:

1 1/2 ripe avocados
1/4 cup + 1 tablespoon fresh dill
1 1/2 tablespoons fresh parsley
1 tablespoon fresh basil
2 tablespoons extra virgin olive oil
3 teaspoons lemon juice
1/2 cup cold water, divided
Pinch of garlic powder
1/4 teaspoon salt
Instructions
For the carrots:
Preheat oven to 375°F.
On a tin foil-lined baking sheet, evenly spread out carrots and coat with olive oil, salt and pepper.
Roast carrots for about 1 hour, flipping about every 20 minutes.
Remove from oven and coat in fresh herbs. Serve warm or room temperature.
For the Avocado Dill Dip:
In a blender or food processor (I used a magic bullet), combine avocados, herbs, oil, lemon juice, and half of the water. Process until smooth. Gradually add more water to achieve desired consistency. If a thinner, more salad dressing-like consistency is desired, add more water. Please note, additional water [more than listed in recipe] may require more herbs to be added for a more pungent flavor.
Add seasonings and pulse until combined.
Taste and adjust seasonings. Best served immediately. It will keep in the refrigerator for up to two days.
http://citnutritionally.com/herb-roasted-carrots-with-avocado-dill-dip/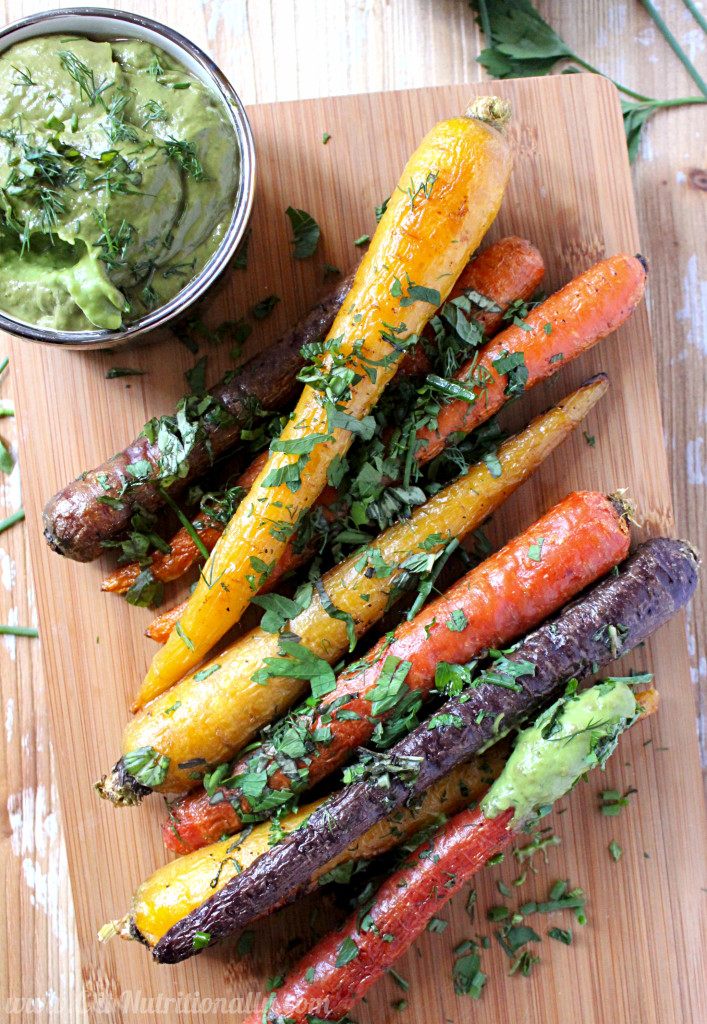 Have you ever tried to re-create a restaurant favorite?? How'd it go?!
Have a wonderful Monday


XO
P.S. Don't forget to check out my latest Elite Daily article about the avopocalypse!