These Roasted Butternut Squash and Herbed Goat Cheese Crostini are the perfect fall appetizer to help you entertain for the holidays! Enjoy perfectly caramelized butternut squash and apples, creamy goat cheese with fresh herbs and a sprinkle of pomegranate arils.
Vegetarian, Gluten Free option, Egg Free, Soy Free, Nut Free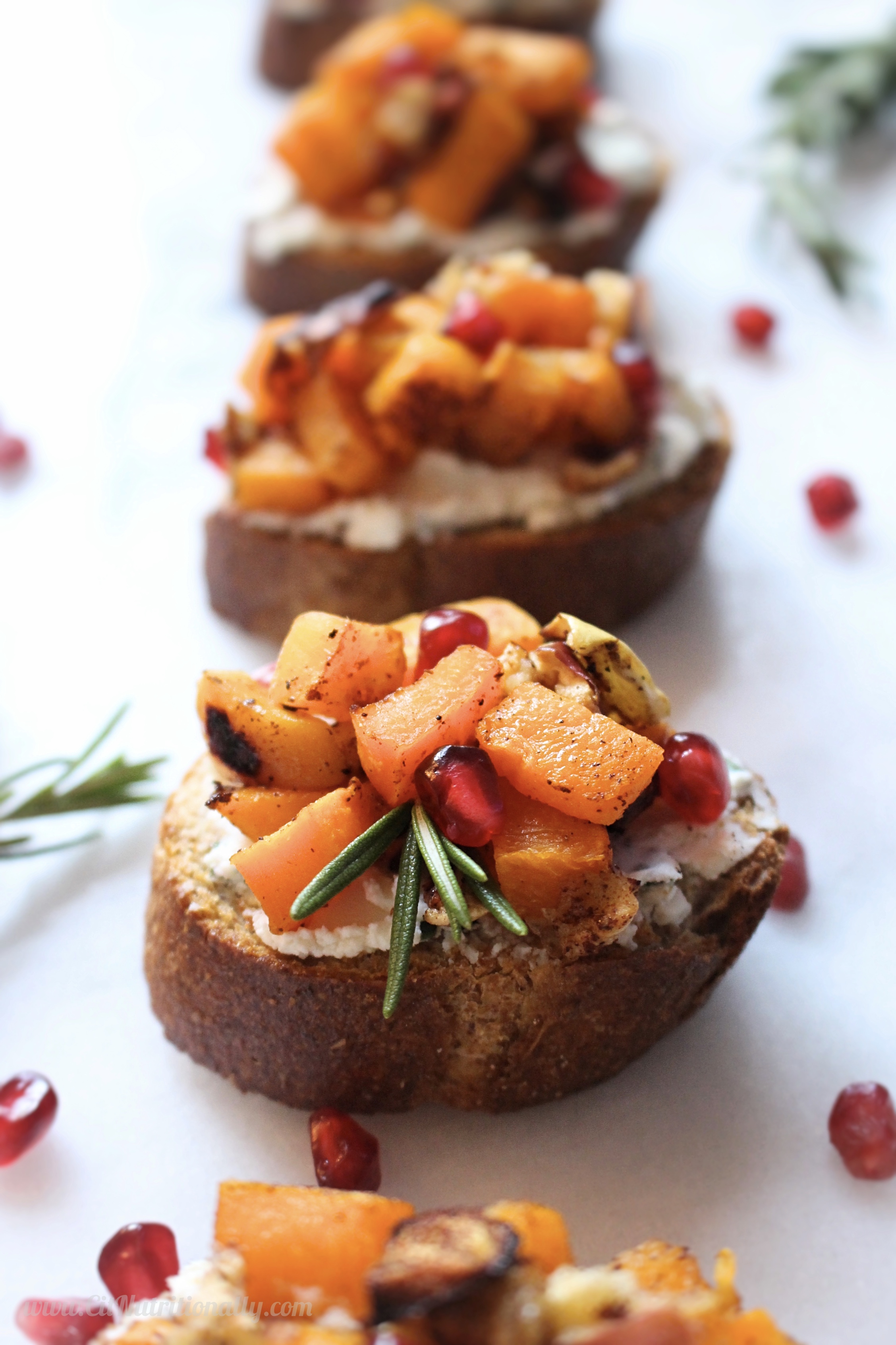 Disclosure: This post is sponsored by Fresh Direct, but as always, all opinions and ideas are my own!
We're T minus 3 days away from Turkey Day 2017 and I cannot wait! In case you had to guess, Thanksgiving is obviously my favorite holiday of the year — food, family, friends, and FOOD!  What's not to love?
This year, we're going to Thanksgiving at my future in-laws for the first time. Since I never had to think about it before, this got me thinking about how others do Thanksgiving. And I love how each of our families does things just a littttle bit different from one another.
Here's what I mean… My family has never done mashed potatoes for Thanksgiving. GASP! I know! My fiance was downright appalled when he found this out about my family (luckily we have lots of other good stuff!). I've also noticed that my family has WAY more vegetables than most at the holiday table (shocker there!). I honestly can't remember the detailed food report of Thanksgiving before my dad was a vegan and I didn't eat turkey, but, I'm pretty sure we always had more veggies than most!
Soooo I'm excited to see some of the traditions my future hubby grew up with in action! My future mother-in-law is a great cook who raised three hungry boys, so she always has delicious appetizers waiting for us when we arrive – even if it's just a regular ol' Sunday.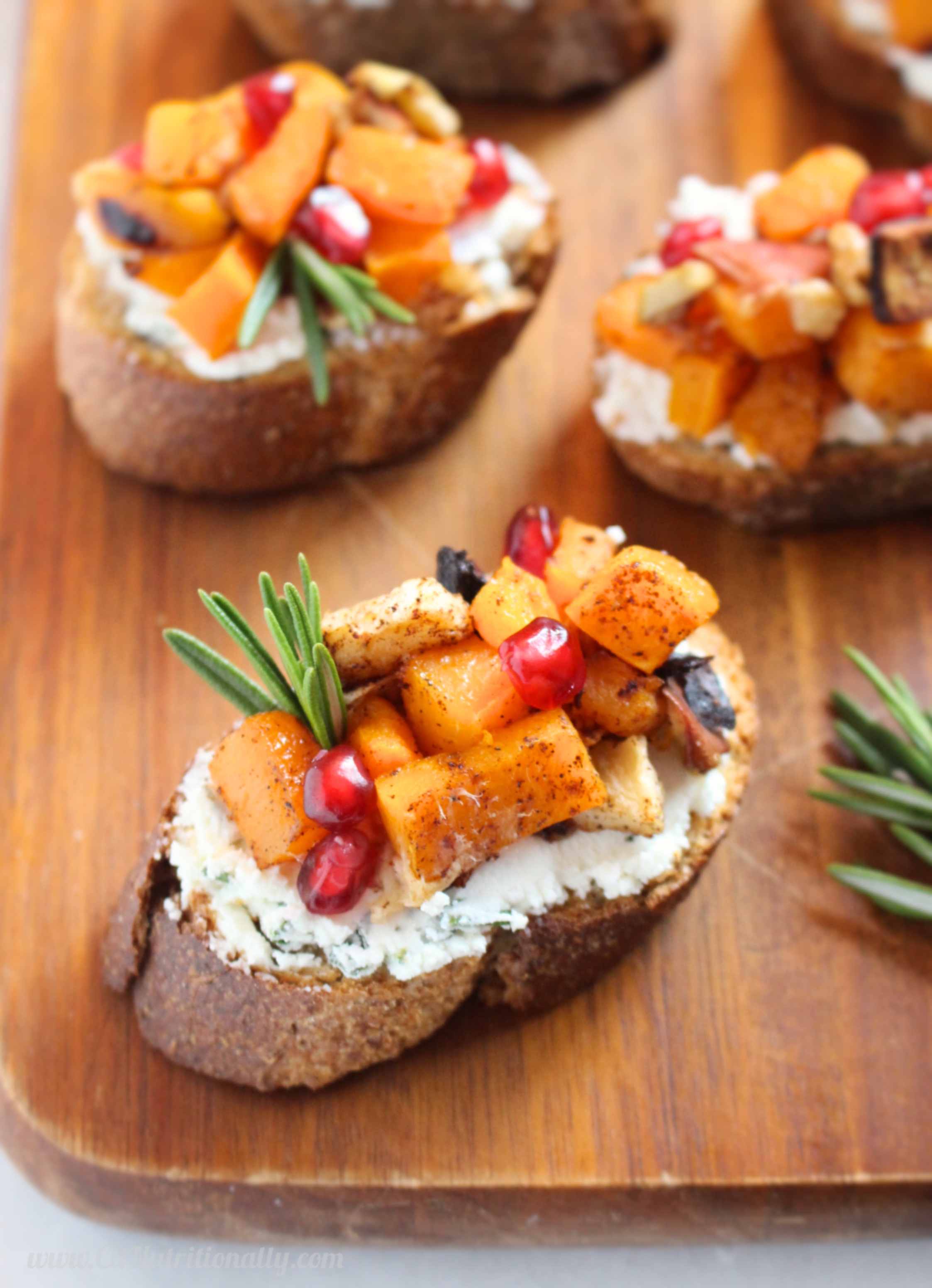 There's something about appetizers that really set the stage for the afternoon (not to put any more pressure on you if you're hosting or anything…).
You want something that's filling, but not too heavy before the meal. You want something fun and creative, because if it's boring then expectations are tempered for the rest of the meal. And you want finger food… because nothing's worse than having a cocktail in one hand and not being able to easily grab a bite when you want one! Plus, the football games are always on during app time, so it has to be satisfying enough for all of the football fans — no plain ol' crudites (at least jazz up the veggies with some turmeric hummus).
I've been on a mission to create and share more appetizers and finger foods, since I realized I really don't have many here. I don't entertain all too often, which is probably why, BUT that's going to change… because there's nothing better than game night in with friends, a good bottle of wine, and plenty of apps!
But back to Thanksgiving…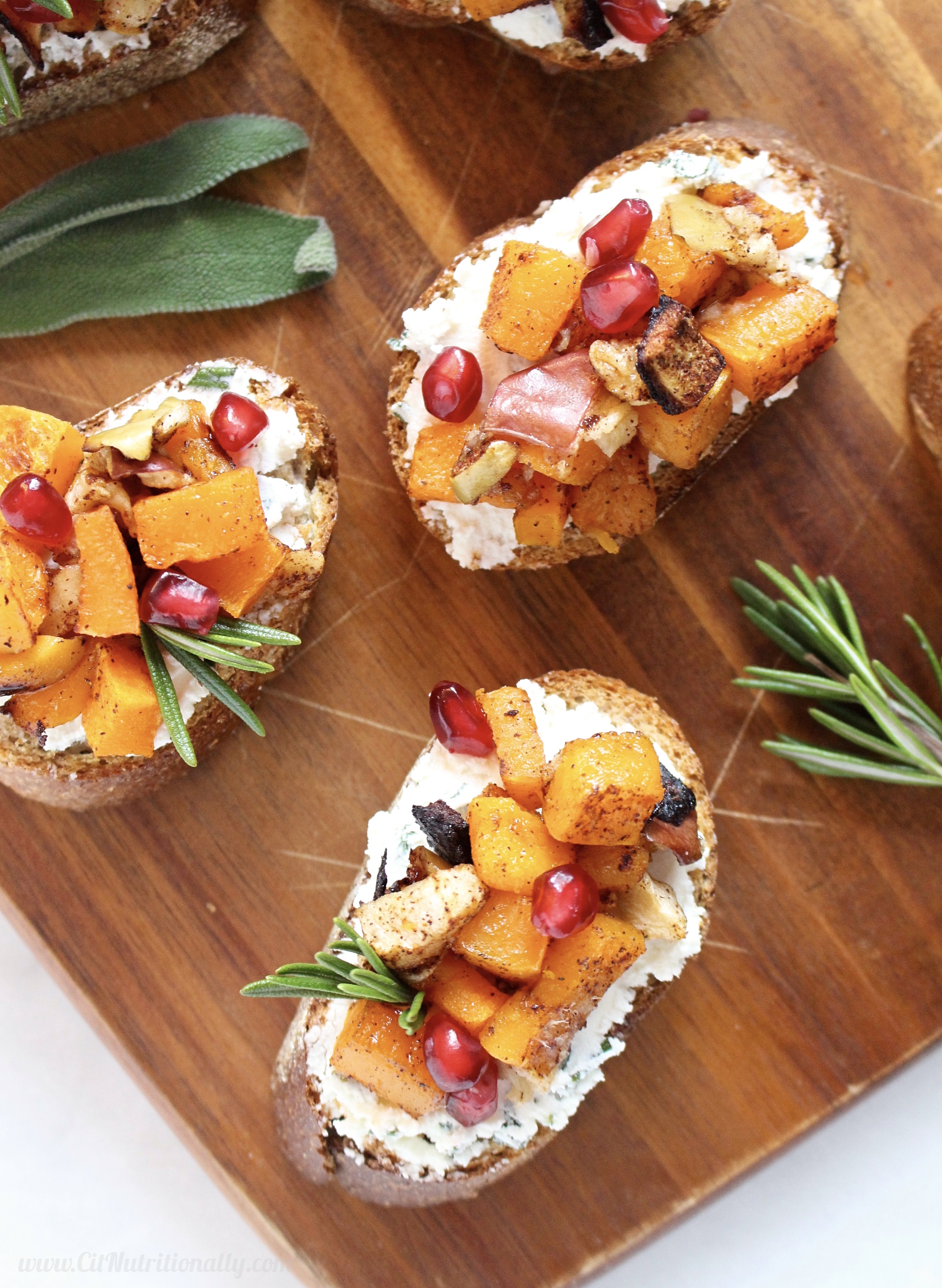 Even though I've never hosted Thanksgiving myself, I always contribute to holiday dinners. This year, as part of my effort to create party-worthy appetizers for the holiday season, I partnered with FreshDirect to create an appetizer that WOWS as part of their fourth annual Friendsgiving (and 15th birthday!).
Meet my Roasted Butternut Squash and Herbed Goat Cheese Crostini – full of fall flavors, and delicious warm or room temperature! 
This app is EASY (it is Monday of Thanksgiving week, after all!), not too labor-intensive to prepare, and can be customized to fit your dietary needs (my favorite part!). Plus, all ingredients can be ordered from FreshDirect to make your holiday shopping easy, peasy, butternut squash squeezy.
My Roasted Butternut Squash and Herbed Goat Cheese Crostini are…
Full of fall flavor

Absolutely delicious

A Thanksgiving-inspired appetizer

Customizable to fit your dietary needs

Loaded with nutritious benefits (heyyyy vitamin A, I see you!)

Easy to make

Made with ingredients you may already have on your Thanksgiving shopping list

And more…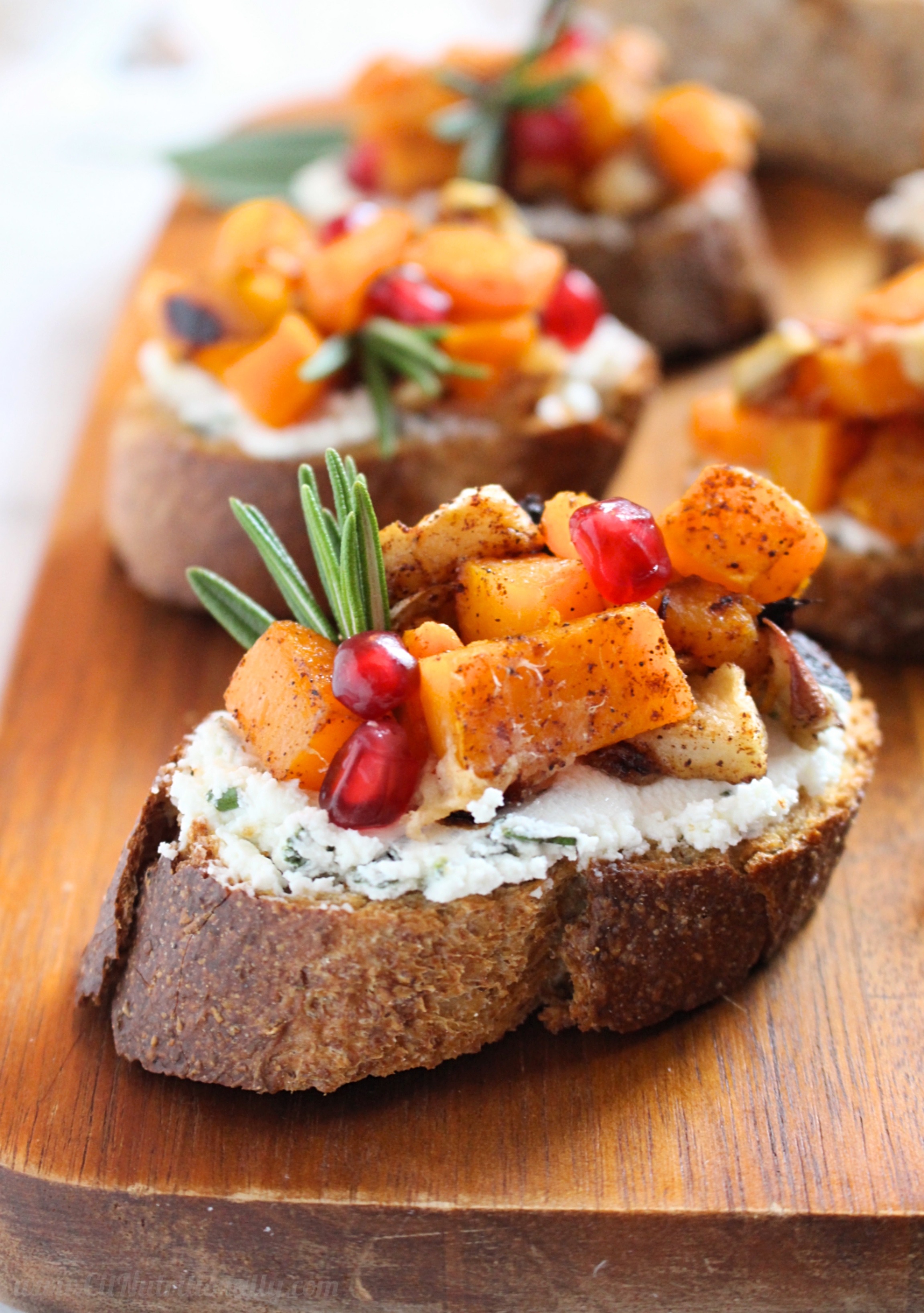 For more turkey day inspiration — from desserts to sides to cocktails, and more — plus great giveaways and hot deals, head on over to their Instagram page to check out all of the deliciousness that has been cooking up!
I hope my Roasted Butternut Squash and Herbed Goat Cheese Crostini make your Thanksgiving spread just a littttle more delicious…
Roasted Butternut Squash and Pomegranate Crostini
Ingredients
1 pound butternut squash, diced
2 medium Macintosh apples, chopped
1 tablespoon olive oil, divided or olive oil spray
1/4 teaspoon cinnamon
1/4 teaspoon chili powder
Salt and pepper to taste
1 whole wheat baguette, or allergen-friendly alternative*
4 ounces goat cheese
2 tablespoons chopped rosemary
2 tablespoons chopped sage
1/2 cup pomegranate seeds
Instructions
Preheat oven to 400°F. Evenly distribute butternut squash and apples on a parchment paper-lined baking sheet. Spray with olive oil spray or drizzle with about 1/2 tablespoon olive oil and toss to coat. Sprinkle cinnamon, chili powder and a pinch of salt and pepper on top. Roast for 25 to 30 minutes, until cooked through and edges begin to brown.
While the butternut squash and apples are roasting, slice baguette in 1/4- to 1/2-inch slices. Place on another parchment paper-lined baking sheet. Spray with olive oil spray or drizzle with the other 1/2 tablespoon olive oil. Add to the oven and toast for 15 minutes, until crust becomes golden brown.
While baguette is toasting and vegetables finish roasting, thoroughly mix the goat cheese with rosemary and sage in a small bowl. Mixture should be smooth.
When the baguette toasted and butternut squash and apples are roasted, spread the goat cheese in an even layer on sliced baguette. Top with the roasted butternut squash and apple mixture. Sprinkle pomegranate seeds on top. If desired, garnish with additional rosemary. Repeat until all crostini are made. Serve warm or room temperature. Enjoy!
Notes
*May substitute any gluten free bread or cracker, if needed.
http://citnutritionally.com/herbed-goat-cheese-crostini/
Don't forget to PIN IT…

I hope you enjoy this Thanksgiving appetizer at your holiday gathering!
XO
If you want to stay connected or you make something from C it Nutritionally I would LOVE to see your creations! Tag me or use the hashtag #CitNutritionally!

Let's get social! 
Facebook: C it Nutritionally
Twitter: @ChelseyAmerRD
Instagram: @CitNutritionally
Pinterest: ChelseyAmer