Packing a salad for lunch doesn't have to be boring! Get out of your lunchtime salad rut by following my *6* steps to the perfect salad…every time! Then head into the kitchen to whip up my "It's Almost Spring" salad with peppery arugula, crunchy pepitas, smooth goat cheese, and sweet dried apricots, topped with a homemade apple cider vinaigrette that's just as good for your digestion as it is for your taste buds!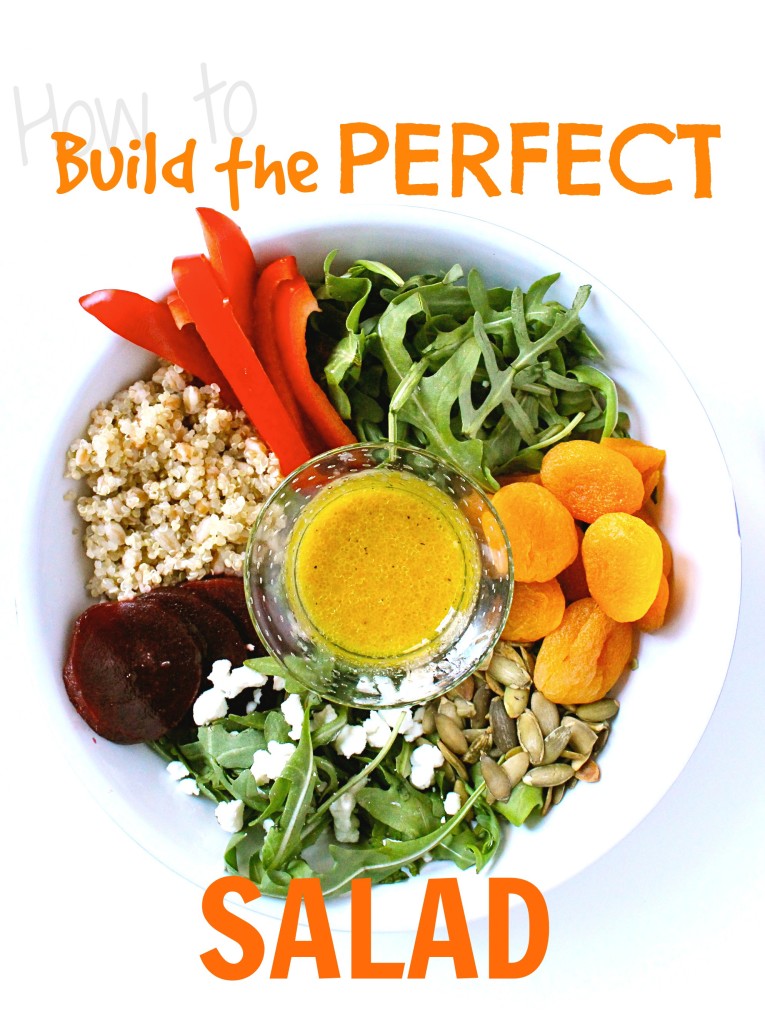 I know exactly what my mom's thinking right now…another salad?!? 
If you're like my mom, you find salad boring and a bit drab. If you're anything like me — a food-loving, nutrition-obsessed, #RD2be  — you're a salad connoisseur and the blank canvas that is an empty bowl excites you!
Since it's almost spring break (woo hoo!), and daylight savings was this past Saturday, I think today is the perfect day for a salad!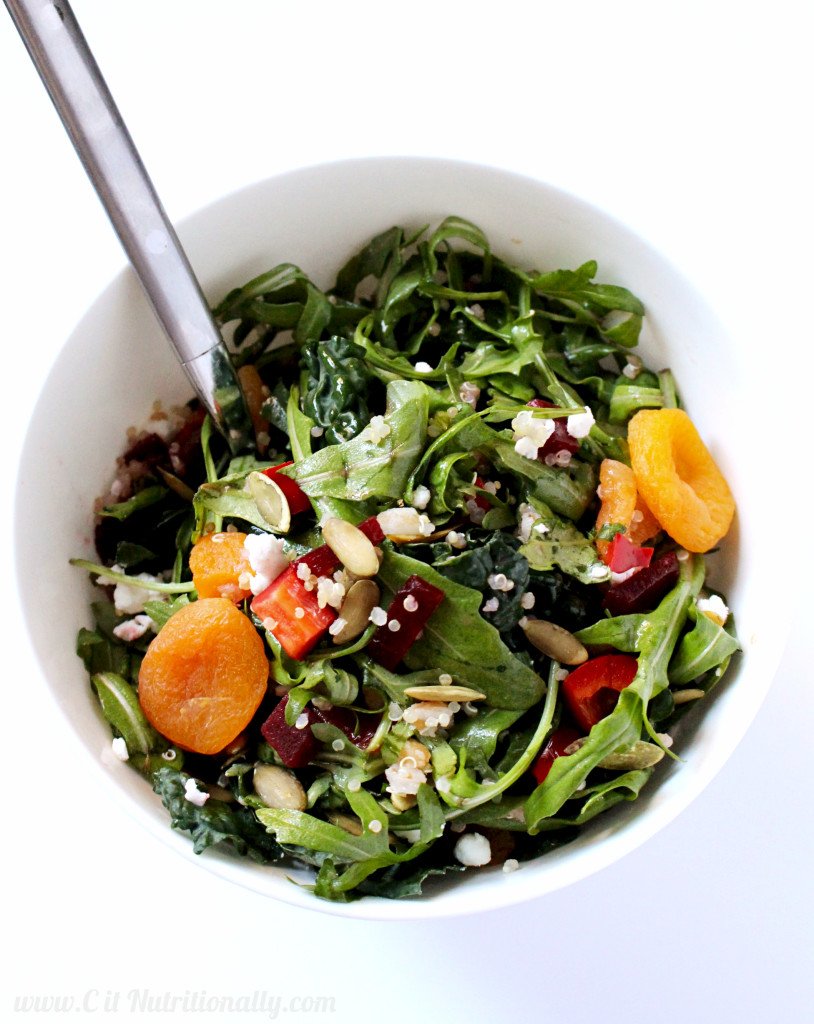 This was originally going to be a simple post about a salad (I'm in the middle of midterms people, it's busy around here!), but then I realized this was an ideal opportunity to share my salad monger skills in how to build the perfect salad. 
>> You're welcome. <<
Get your forks ready…
1. Start with your base. Kale, romaine, mixed greens, frisee, arugula (as used here), or greens-free, you can't go wrong. Nearly any recipe can be substituted with your favorite green and still be a winner, but here's my go-to guide when choosing greens…
Kale has a hardier texture and can withstand a creamier dressing.
Romaine provides a crisp texture, which is why it's always used in Caesar.
Endive or arugula, as in this recipe, provide a certain spiciness that pairs well when a hint of sweetness is added to salad…like in the dried apricots and beets you see here!
Mixed greens or spinach are generic options, perfect for a light vinaigrette.
2. Add more veggies! As an aspiring dietitian, I love salads because they're a great opportunity to reach your #5aday….that is, 5 servings of vegetables and fruit every. single. day! Load up on whatever looks good at the market (or is on sale) or whatever you have in your fridge. There is NO wrong veggie!
Looking to add more veggies to your diet? Here are 5 ways to eat more veggies!
3. Pick your protein. All well-rounded meals need some source of protein. While veggies DO contain protein (Did I just blow your mind?? Read more here.), I like to add at least 1 ingredient that acts as my "protein" for the meal.
Case in point: Pepitas, or raw pumpkin seeds. They may not seem so springy to you, but, to me, they have a fresher taste (like spring!) than most other nutty-tasting seeds. 
4. Choose a "filling" ingredient. I don't know about you, but if I eat a simple salad for lunch, I'm not satisfied. An hour later I'll get the "I'm still hungry" thoughts running through my head whether it's physiologically true or not. To avoid this, I like to add lots of flavors, textures, and ingredients. I also add one (or sometimes two) "filling" ingredient(s). Lately, I've been having a love affair with farro, but quinoa or sweet potatoes work perfectly if you're gluten free or grain-free.

5. Personalize your finishing touches. In the salad featured I chose just a hint of goat cheese and dried apricots (which is really why I nearly named this the almost spring salad…), but you can personalize your toppings with whatever you're in the mood for. I'll typically add some sharp cheese (goat, feta, parmesan) OR avocado, perhaps a hint of sweetness with fresh or dried fruit, or crumbled seed crackers if I don't already have seeds in there. The options are endless, so get creative!
6. Top it off with just the right amount of tang! I hate strongly dislike sweet salad dressing. Nearly every dressing I post has more acid (read: tang) than commercial salad dressings. I think it balances flavors nicely and aids digestion! Store-bought salad dressings typically contain oil and vinegar in a ratio of 2:1. As someone concerned about excessive fat intake, I prefer to swap that ratio to be 2:1 vinegar to oil. 
The result of following my own advice…this It's Almost Spring salad!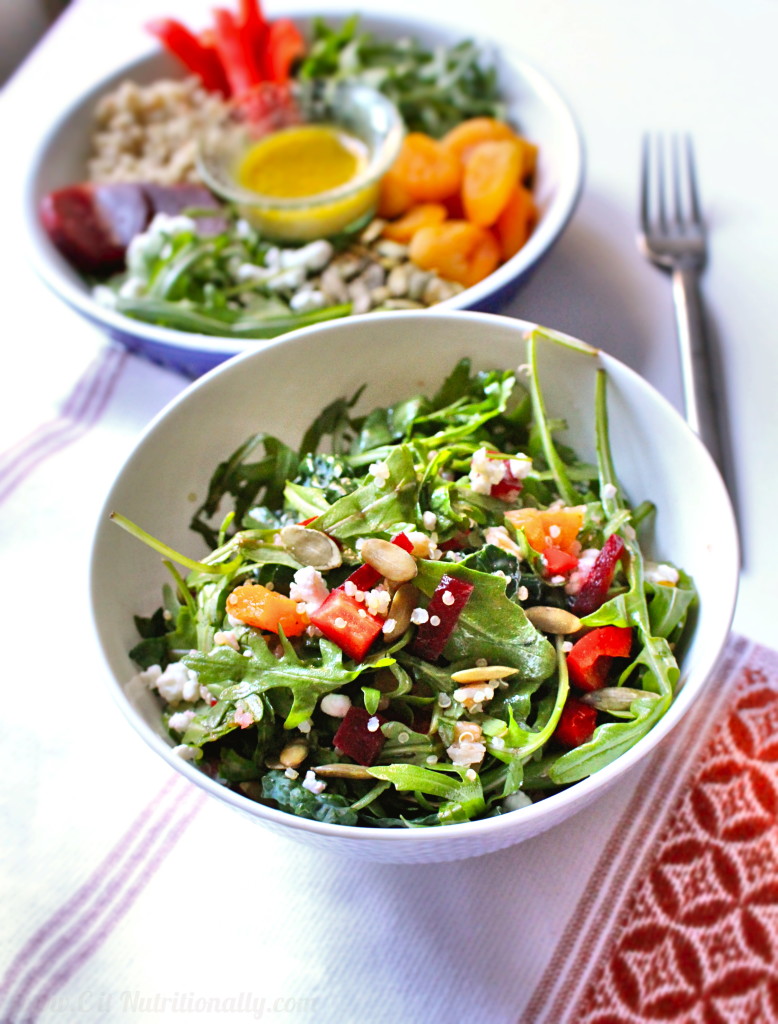 I used mostly arugula for the base, added red bell peppers and beets for more fiber-licious veggies, chose pepitas for my protein, like I mentioned above, filled up with a quinoa and farro mixture, plus added a sprinkle of goat cheese and chopped dried apricots on top, and finished with a mildly tangy apple cider vinaigrette! 
Apple cider vinegar is anecdotally known known to soothe an upset stomach, as well as tame many other ailments from eczema to heartburn, but these benefits are not proven in the peer-reviewed research literature (more on this another time). If you believe the health benefits or not, it's delicious in salad dressing! It definitely has a sharp taste, however, so be sure to balance it with a sweeter flavor, such as the honey and orange juice used in this recipe.
Let's celebrate spring's awakening a little early with this medley of plant-based protein, a rainbow of lively colors, and plenty of textures and flavors to keep your taste buds satisfied and your mind satiated.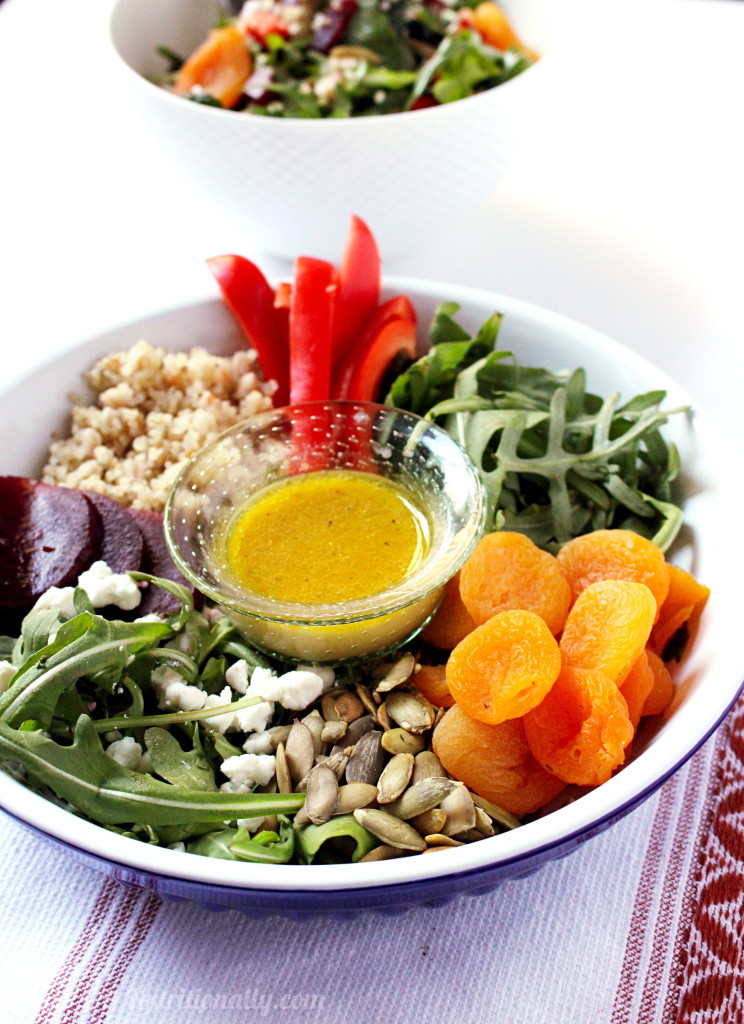 How To Build The Perfect Salad + 'It's Almost Spring' Salad Recipe!
Ingredients
For the salad:

1 lb arugula
1 red bell pepper, sliced or chopped
2 steamed beets, sliced or chopped
¼ cup pepitas (raw pumpkin seeds)
1 ounce goat cheese, crumbled (you can substitute avocado if vegan or dairy free)
¼ cup dried apricots, chopped
2 sprigs parsley, coarsely chopped

For the dressing:

2 tablespoon apple cider vinegar
2 tablespoons red wine vinegar
2 tablespoons good quality extra virgin olive oil
1 teaspoon Dijon mustard
¼ teaspoon honey or agave syrup (more if you prefer sweeter dressing)
1 teaspoon freshly squeeze orange juice
Freshly ground black pepper, to taste
Pinch of salt
Small pinch granulated garlic
Small pinch dried oregano
Instructions
In a large bowl combine all salad ingredients. Set aside.
In a small bowl combine all dressing ingredients. Whisk until uniform consistency forms and no separation between oil, vinegar, mustard, and honey occurs. Taste and adjust flavors to your palate.
Drizzle dressing a top salad. Start cautiously…you can always add more! Toss gently. Top with additional oregano and/or parsley.
http://citnutritionally.com/how-to-build-the-perfect-salad/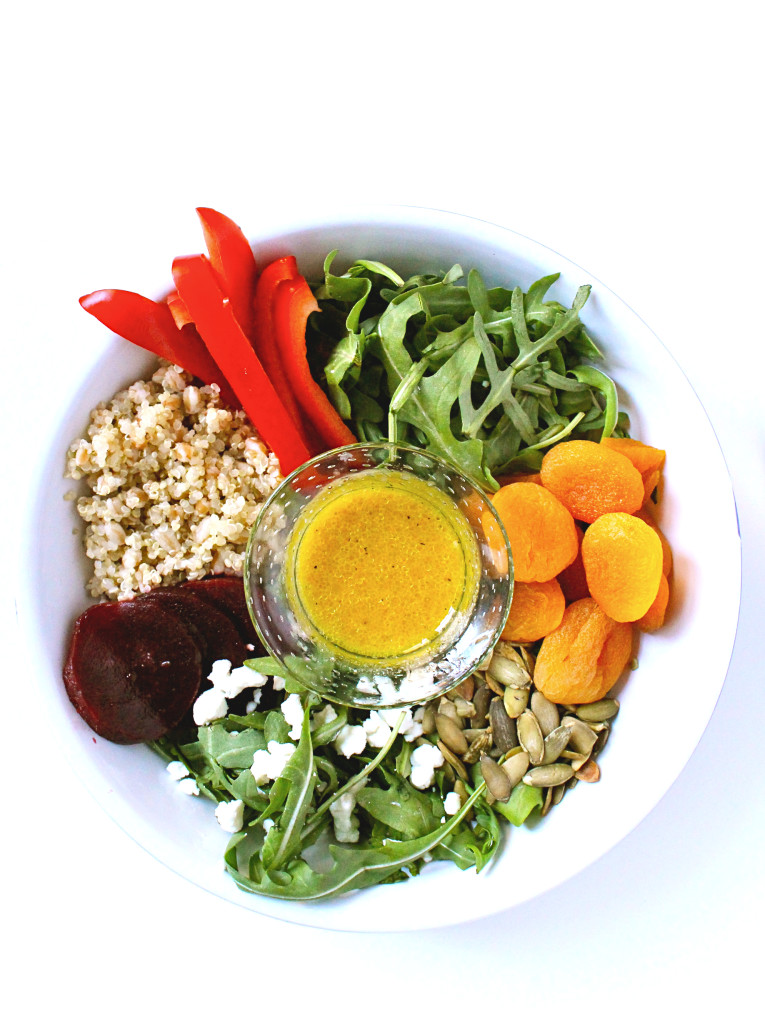 I'll lift a fork to a bright and cheery spring!
What's the perfect salad to you? Do you have a go-to salad ingredient [or two]??
Have a fabulous start to the week and #MeatlessMonday!
XO
***
Wondering what else I'm eating today? Check it out: 
Breakfast: Coconut Protein Pancakes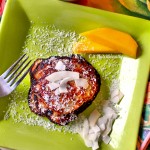 Lunch: A perfect salad, of course!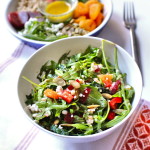 Snack: A classic…Seed crackers with homemade sunflower seed butter!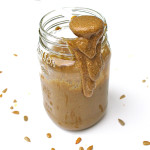 Dinner: I'm currently defrosting leftover kale and butternut squash noodle soup from last week!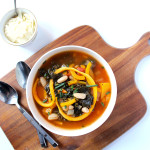 Dessert: I've been crushing on Six Sisters' Stuff's Frozen Chocolate & PB Banana Bites (w/ sunflower seed butter, of course!)