Let's kick off 2016 on a healthy note without sacrificing flavor! This hearty kale salad with roasted apples and sunflower seeds provides a huge crunch, tangy punch, and sweet munch so you'll be satisfied after lunch, but nourishing your body at the same time!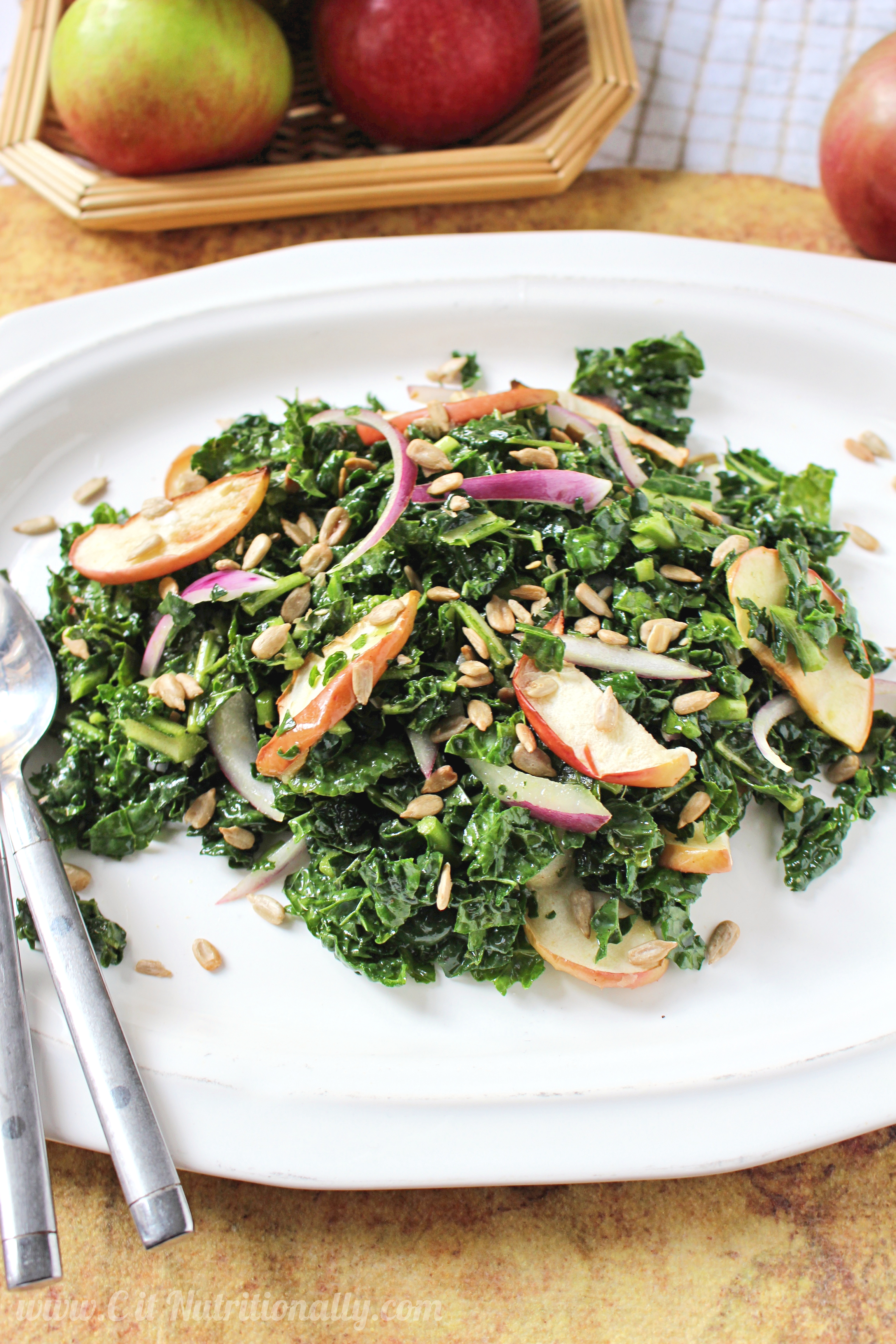 Happpppppy New Yearrrr!!! 
In my mind, the first Monday of the New Year is the real January 1st? Ya feel me?
I spent New Years weekend upstate with a bunch of friends and had SO much fun…but it was a lot of work entertaining and cooking and cleaning, so I returned EXHAUSTED on Saturday evening. I passed out by 8:30 pm, but woke up on Sunday ready to press reset after a few too many s'mores, DIY pizza, and barely any exercise…but hey, that's what the holidays are about!
So now that Monday is here, I'm ready to get focused for 2016… ya hear me on the whole Monday thing now??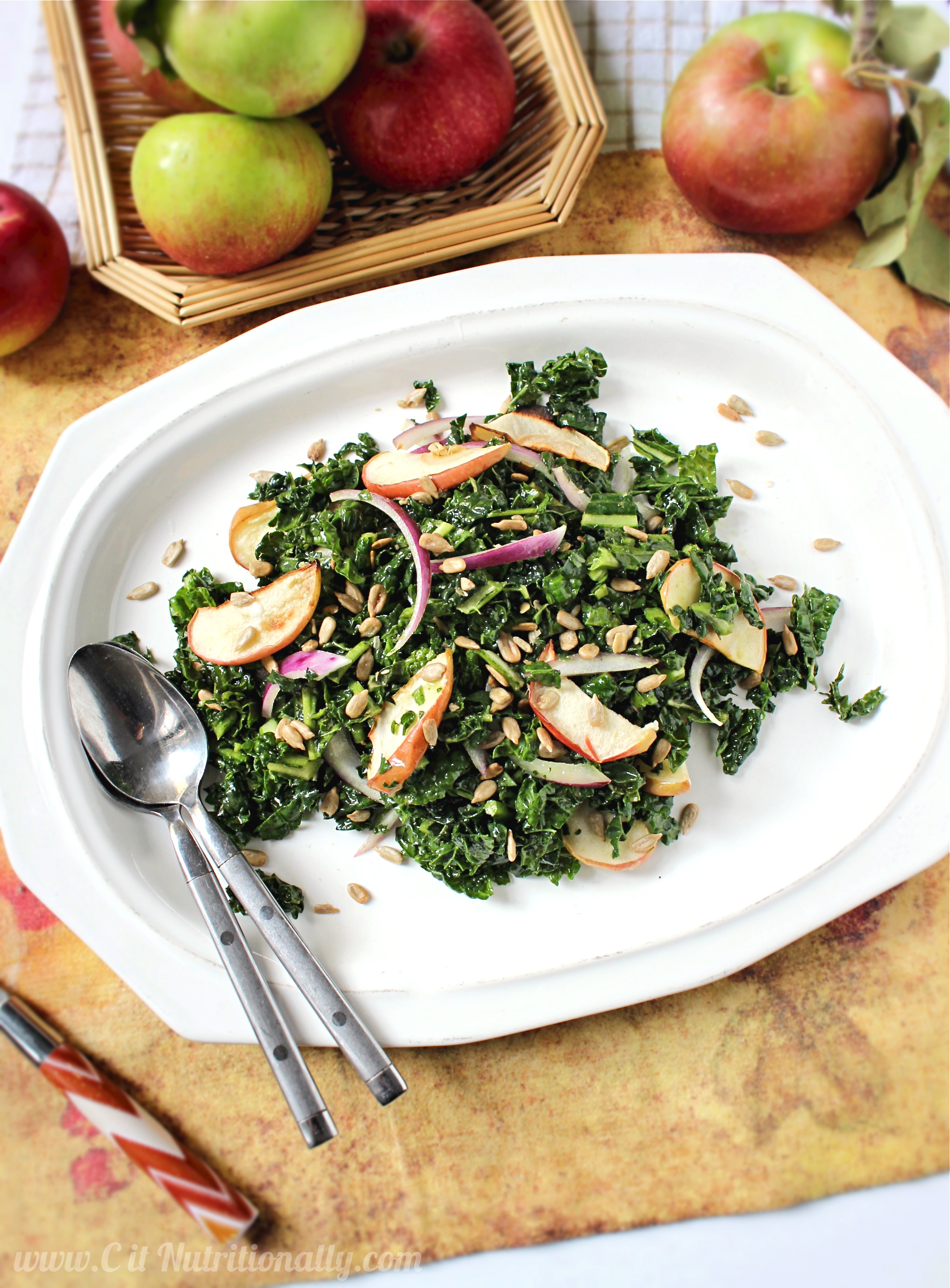 I spent some time on my hikes nature walks upstate thinking about what I'm looking forward to, how I want to better myself, and the goals I want to set for 2016.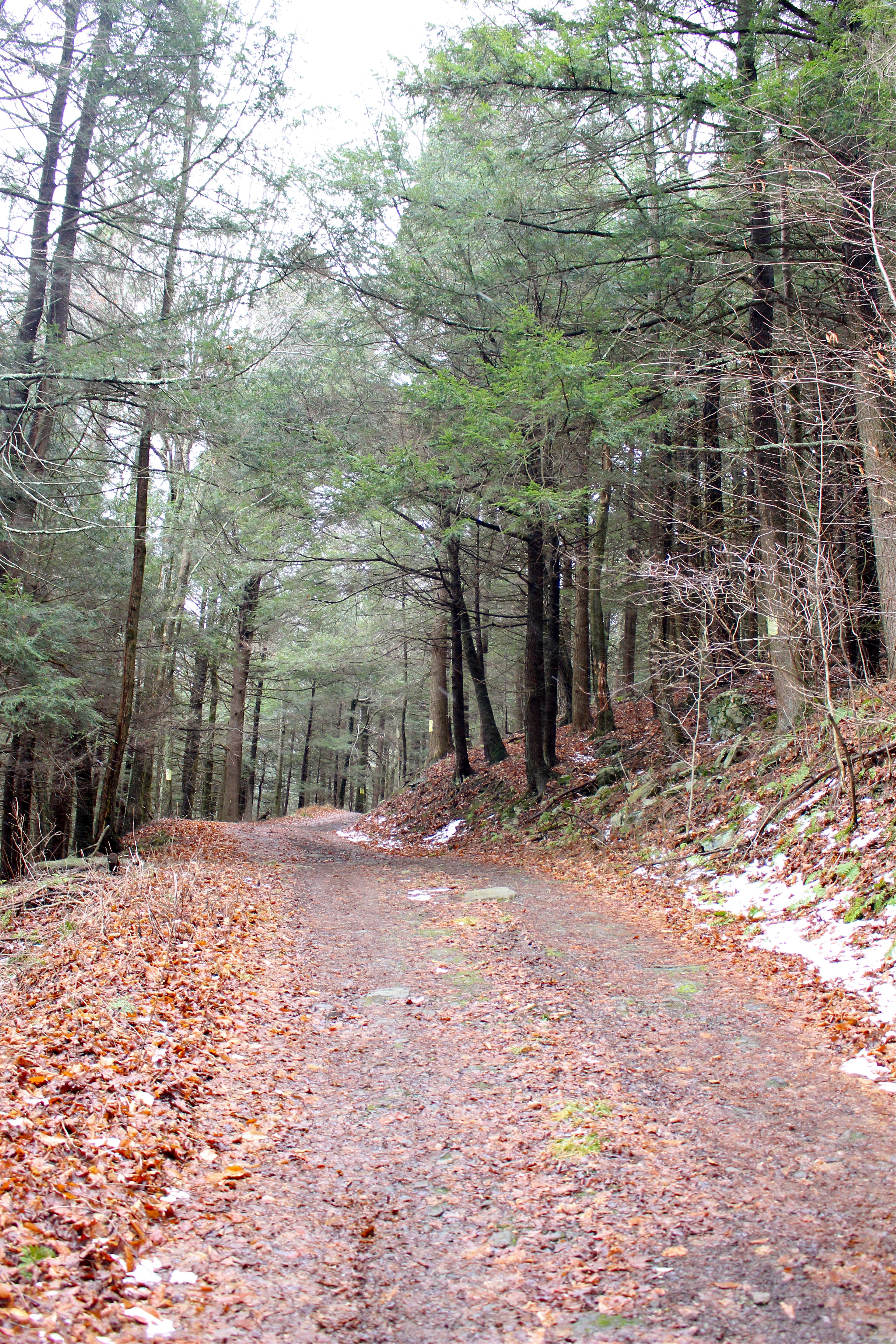 Here are a few thoughts…
I'm looking forward to successfully completing my dietetic internship and passing the RD exam…certified nutrition professional, here I come! Oh, and then getting my dream full-time job would be nice!
I want to create and stick to a blogging schedule…for real this time! I revamped my blogging schedule last fall, and it was a great start, but as my career is officially starting this year, I'm ready to get a bit more serious about my corner of the world wide web. I'm excited to work with some great brands, and get C it Nutritionally out there so I can share my nutritilicious attitudes and opinions with the world! Do you want to work with me? Contact me today!
I can't wait to travel someplace wonderful. I was born with the travel bug – even living abroad for 2 years — but between my crazy busy grad student schedule, my passport hasn't been getting too much love lately. Once I finish my internship I'm hoping to go on a worldwide adventure…suggestions???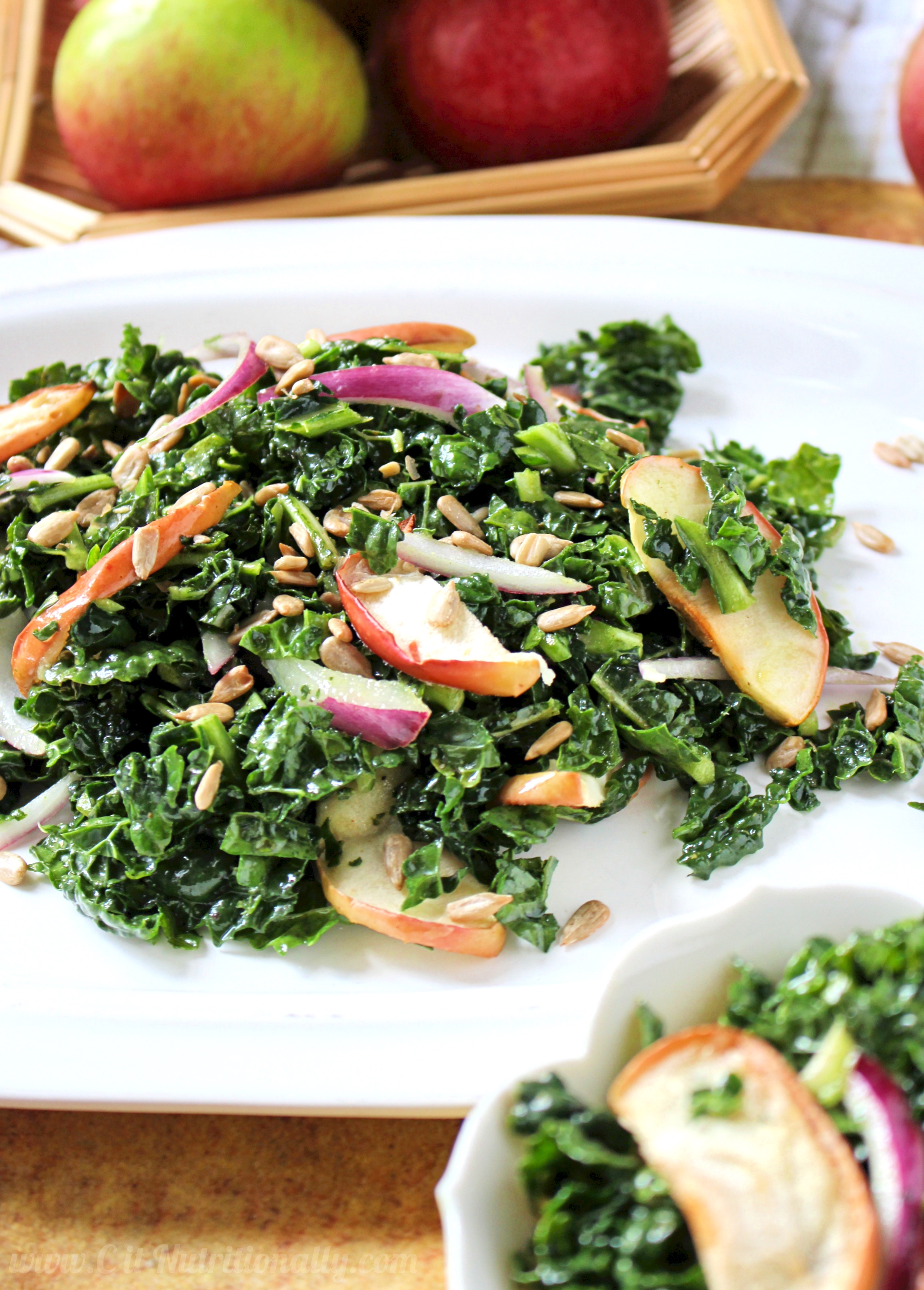 My goals for the year have little to do with food and weight, but "weight loss" is the number one New Years resolution, so I'm here to help! But even if your resolution for 2016 has nothing to do with eating healthier, we can all work towards the best versions of ourselves if we eat a littttttle healthier. Eating better will boost your energy, help reduce stress, and help you get a clean bill of health.
January is notorious for salads, (green) smoothies, and anything veggie-rific, so I'm obviously kicking off 2016 with something GREEN!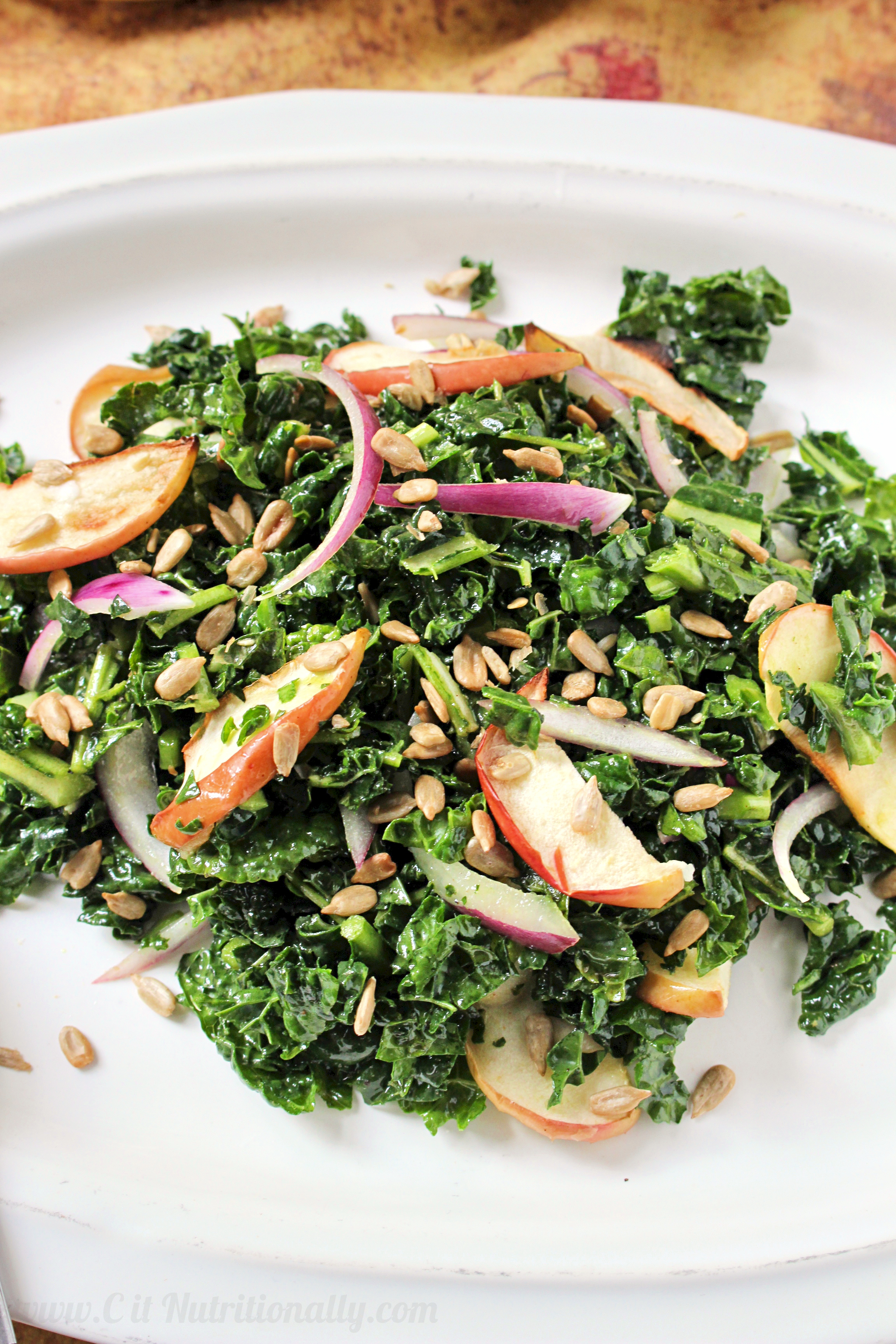 But just because you're filling up with greens doesn't mean your salad bowl needs to make your taste buds yawn. This kale salad is SO simple (4 ingredients + dressing), but full of flavor…
Roasting the apples provides an extra layer of sweetness, crunchy sunflower seeds provide a perfect note of saltiness, and the sharpness of the red onions round out the salad.
I dressed this salad in nearly the same dressing recipe as my fall farro salad because the sweet apple cider vinegar and drop of maple syrup complement the roasted apples and sweetness of the red onions beautifully. Be sure to let the salad marinate in the dressing for at least 10-15 minutes before enjoying so the kale soaks up all of the flavor too!
Find out my secret to the perfect kale salad here!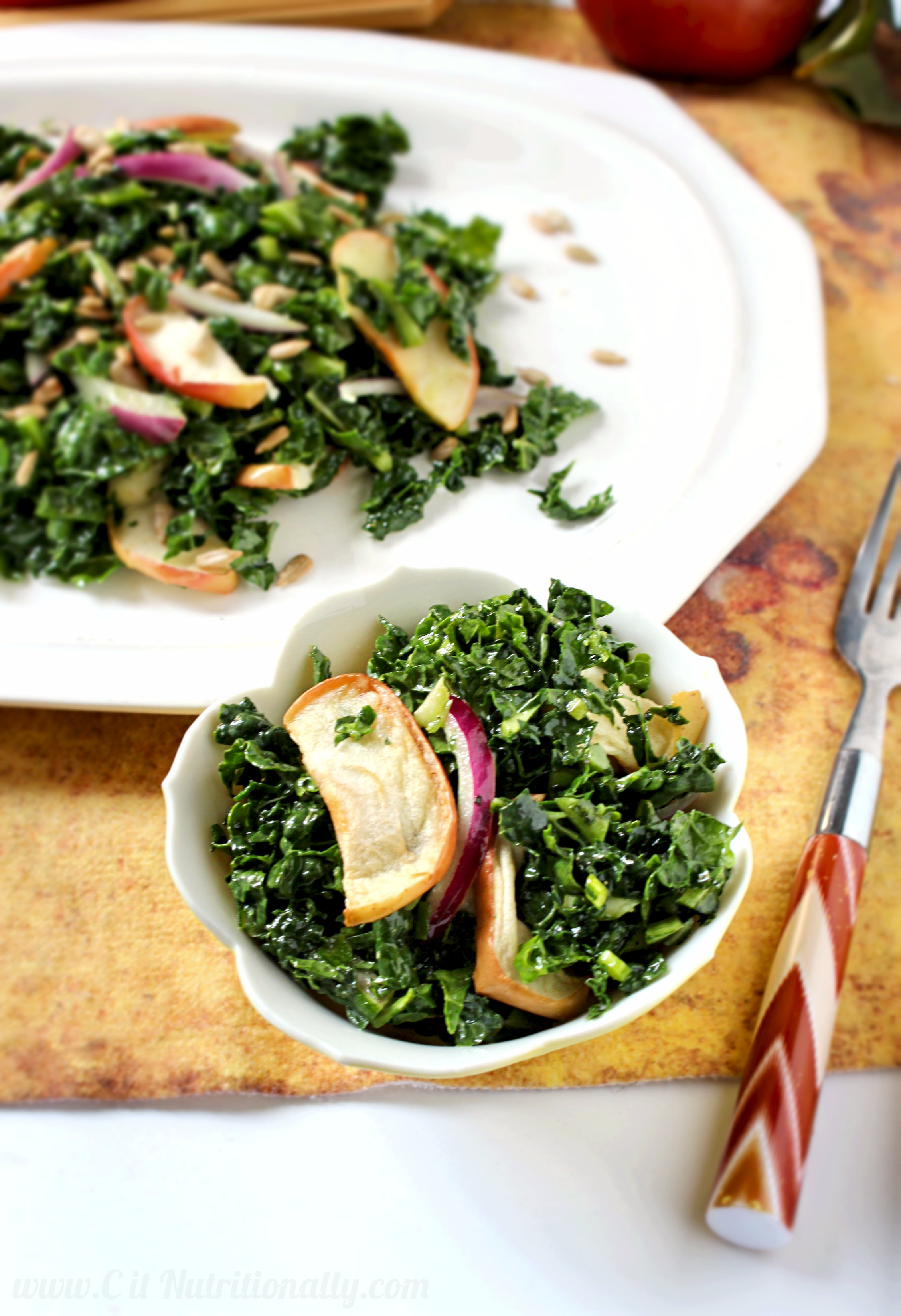 So as you kick off the first full week of 2016, do it with a flavorful bite — in spirit and your food! 
Kale Salad with Roasted Apples and Sunflower Seeds (& my goals for 2016!)
Ingredients
For the salad:

2 apples, thinly sliced
Salt and pepper, to taste
1 lb lacinato (dinosaur) kale, stem removed and chopped
1/4 red onion, thinly sliced
1/4-1/2 cup raw sunflower seeds (if it's a side use the smaller quantity)

For the Dressing:

3 tablespoons good quality extra virgin olive oil
2 tablespoons apple cider vinegar
1 tablespoon balsamic vinegar
1 teaspoon maple syrup
1 teaspoon Dijon mustard
1/8 teaspoon freshly ground black pepper
1/8 teaspoon sea salt
1/8 teaspoon dried oregano
1/8 teaspoon granulated garlic
Instructions
Preheat oven to 375°F. Place thinly sliced apples on a baking sheet and roast for 20-30 minutes, depending on the thickness of your slices. Apples should be soft to the touch when done, but gently browned at the edges. Once done, set aside to cool for a few minutes.
While the apples are roasting, prepare salad dressing. Combine all ingredients in a small bowl and whisk until uniform consistency forms. Taste and adjust spices to preference. Set aside.
Place kale in a large mixing bowl. Gently massage the kale (squeeze kale gently in your hands and let go a few times to soften the leaves). Add the onion and lightly dress the salad (remember, less is more at first…you can always add more!). Let the salad sit for at least 10-15 minutes absorbing the dressing.
Then, once the apples have cooled a bit, add them to the salad and top with sunflower seeds. Toss to combine. Add more dressing to taste. Enjoy!
http://citnutritionally.com/kale-salad-with-roasted-apples/
Don't Forget to PIN IT…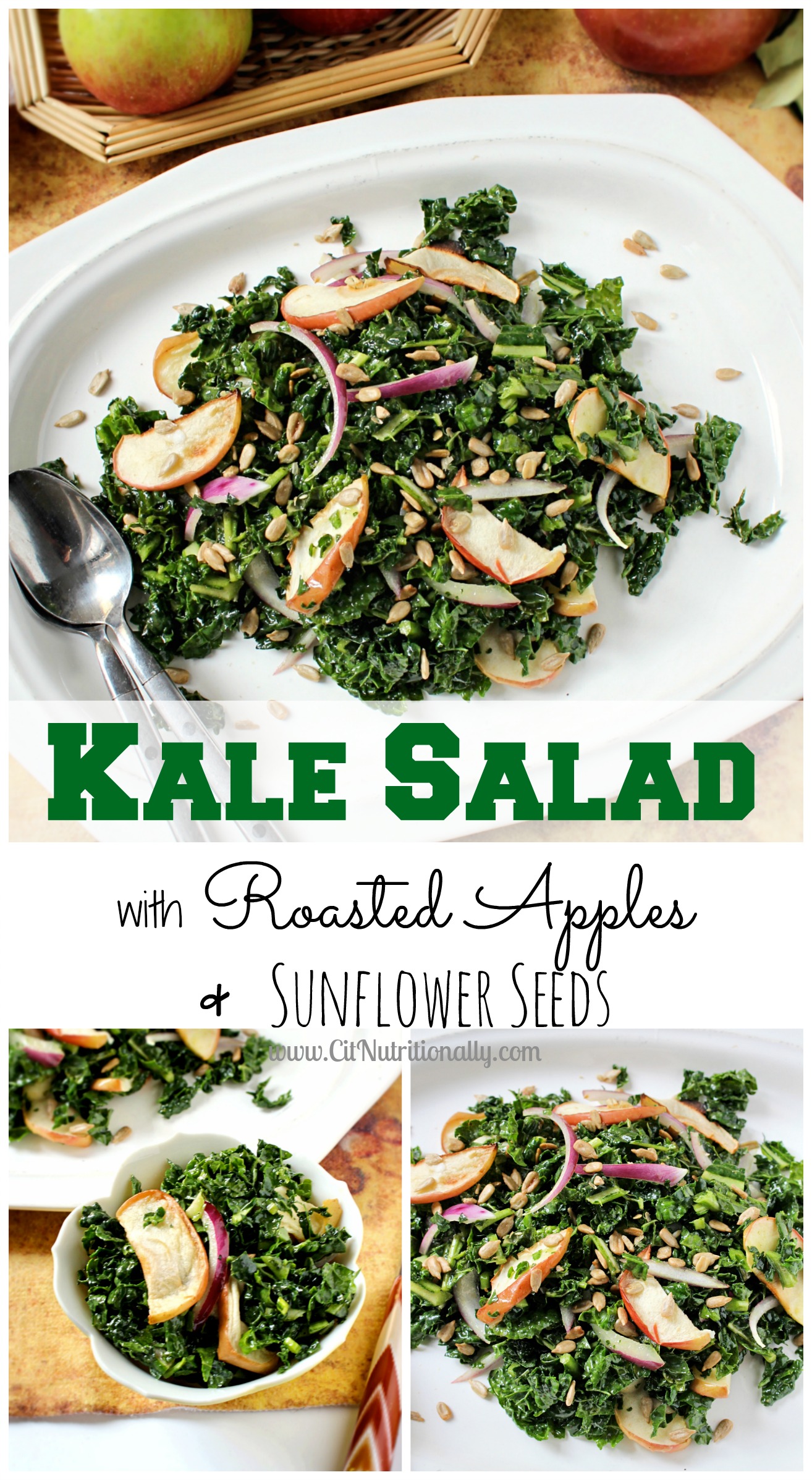 Now tell me, what are YOUR goals for 2016? 
Cheers to working towards our best selves together!
XO