This Passover, ditch the artificial flavorings, additives, and preservatives by making your own kosher for passover candy …in under 20 minutes! These jelly ring cups are simple, decadent, and even healthy for you, made with only *3* ingredients!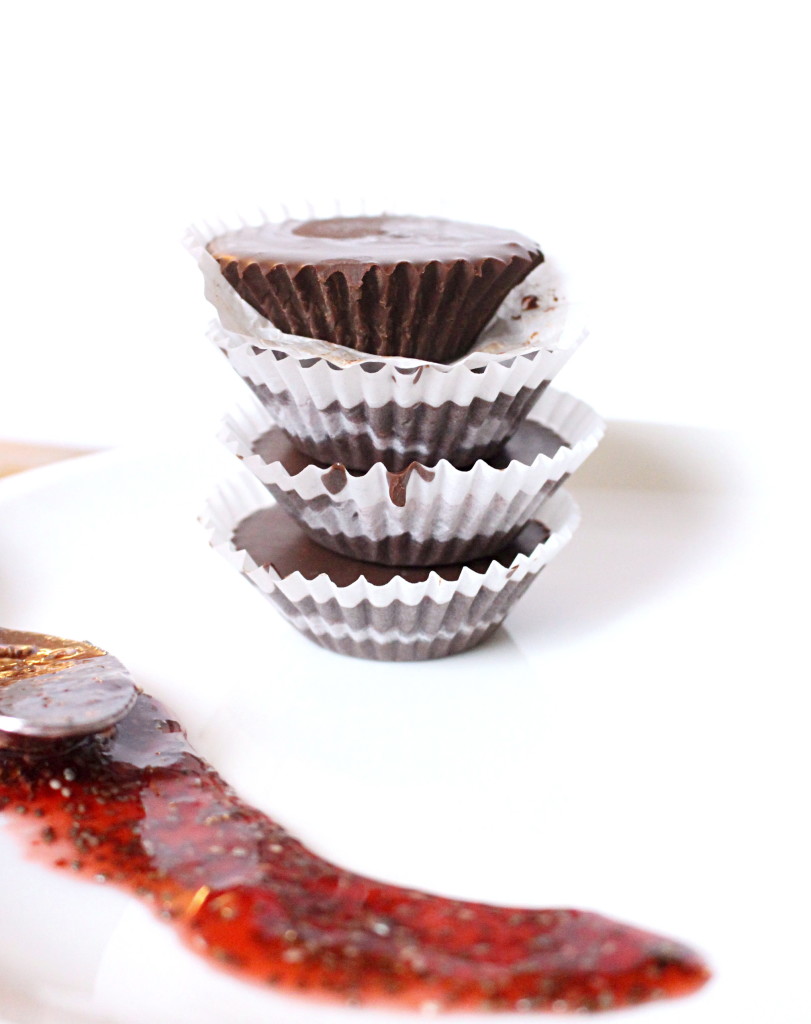 In case anyone asks…
Chocolate comes from cocoa,
Which is a tree.
That makes it a plant.
Chocolate is salad.
This Friday marks the beginning of Passover for Jews all over the world. If you don't know, Passover is the holiday that celebrates Jews' freedom from slavery in Egypt. The Jews made a quick exit, leaving for their huge exodus without having time to let bread rise. Therefore, Jews spend the 8 days of Passover abstaining from all chametz, which includes any leavened products. There are — what seems like — a billion rules and restrictions during this holiday, which can make healthy eating difficult for those of us with even more food restrictions (ugh, so high maintenance!).
But today we're not talking healthy eating so much… 
From talking with friends, Passover is a love it or hate it holiday. Personally, I love it, but what makes it tolerable to some are the special KFP [kosher for passover] candies that come around this one time per year. Suddenly chocolate covered marshmallows, sugar-coated fruit slices, and jelly rings become as desirable as walking into Willy Wonka's factory if you haven't seen chocolate in a hundred years…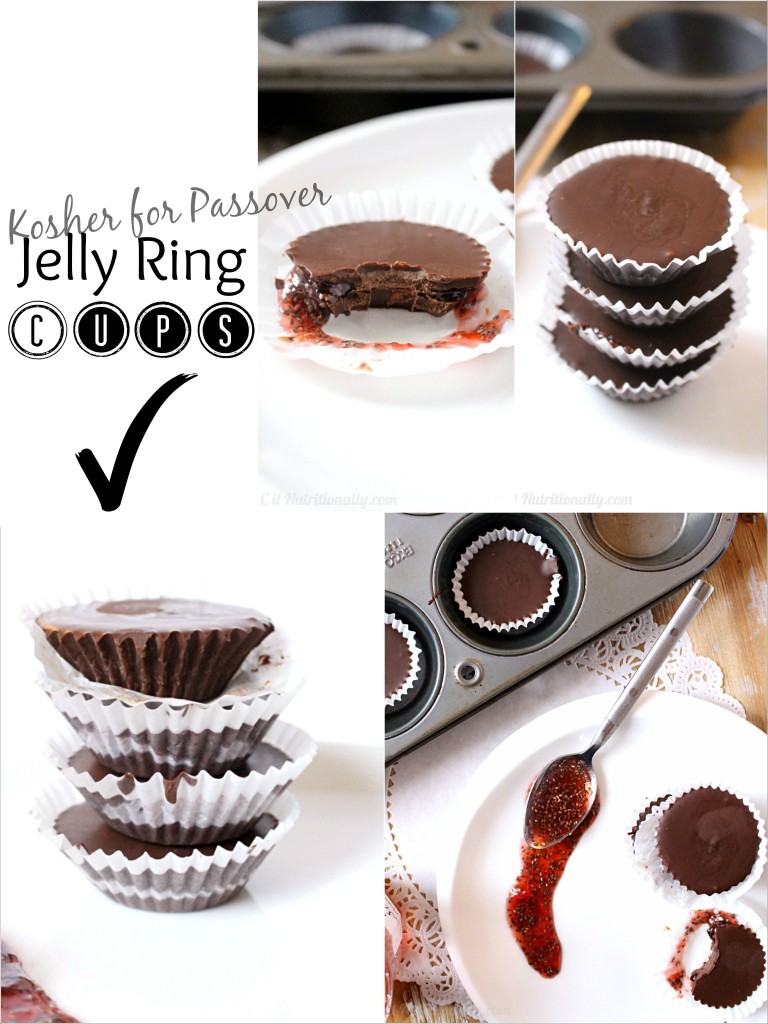 …or there are those people who seem to love passover-friendly candy year round…I don't judge (but you know who you are)…
But one thing I hate strongly dislike about prepared Passover food is the immense quantity of preservatives, additives, and junk that hides behind the kosher for passover label. Therefore, I took it upon myself to make a more natural KFP alternative.
Enter: Kosher for Passover candy 101…Jelly Ring Cups!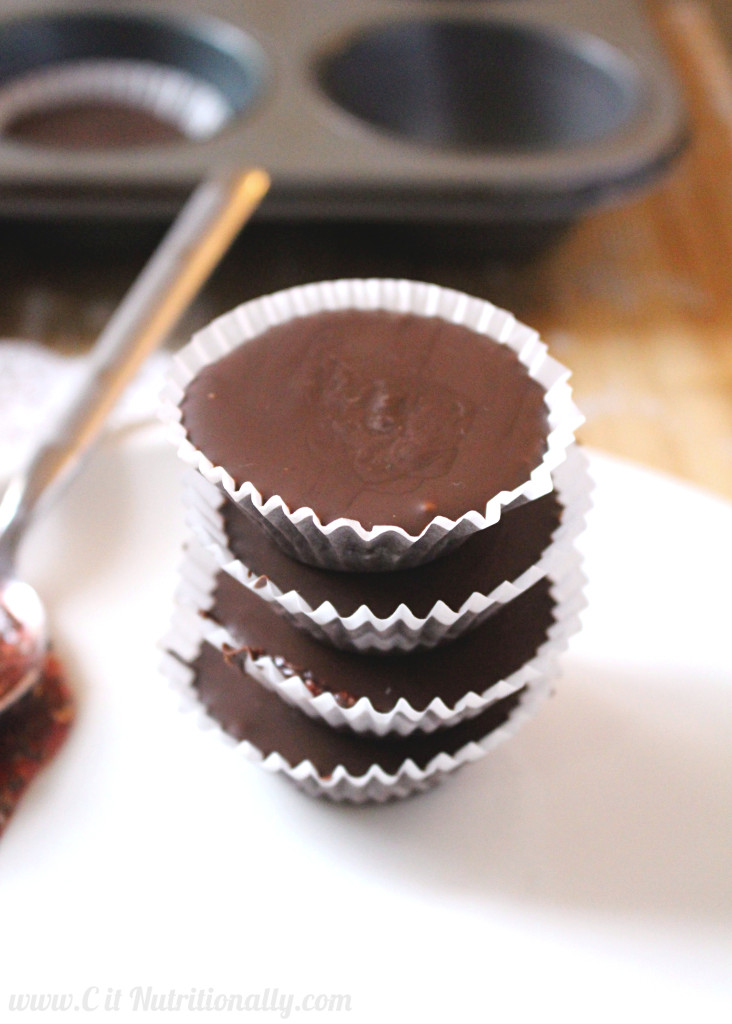 Making candy can be a daunting task, but making candy in "cup" form simplifies any 'stuffed' candy. Get all the flavor of traditional jelly rings with just 3 natural ingredients, no additives nor preservatives. Plus, making these jelly ring cups costs about a quarter of the price!
This recipe uses silky smooth dark chocolate, homemade chia jam, and just 20 minutes of your time. Let your taste buds swoon…WIN!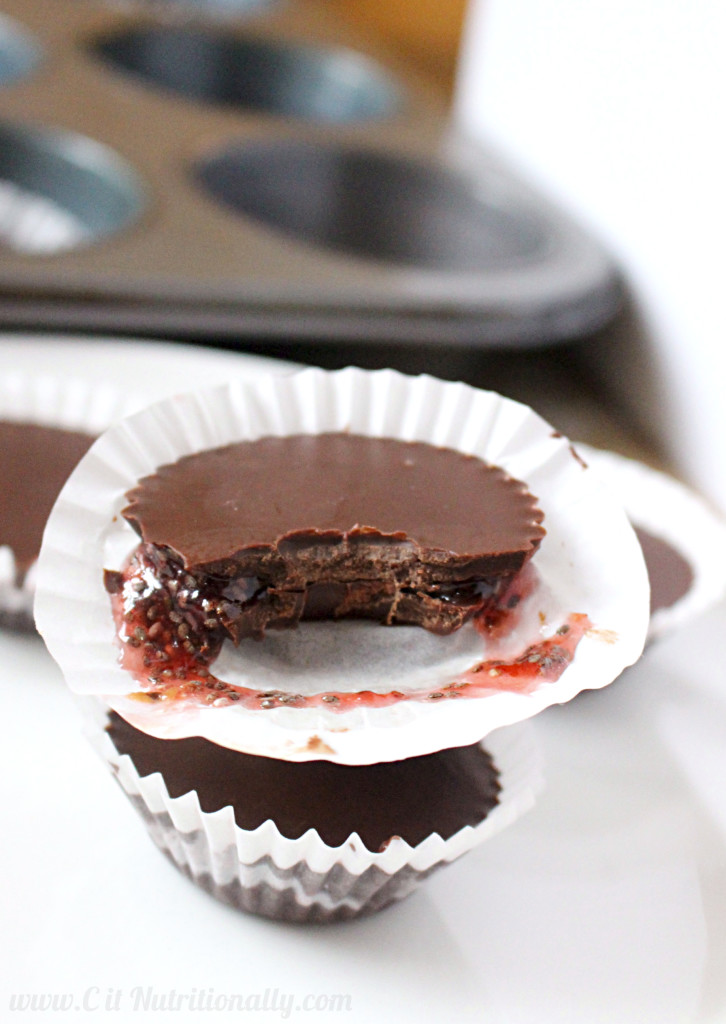 DIY Kosher for Passover Candy: 3 Ingredient Jelly Ring Cups
Recipe Type
:
Dessert, Candy
Author:
Prep time:
Total time:
Ditch the artificial flavorings and additives and make your own kosher for passover jelly roll candies …in under 20 minutes! This 3 ingredient recipe is simple, decadent, and even healthy for you!
Ingredients
2 teaspoons coconut oil
1 ½ cups dark chocolate chips
¼ cup raspberry chia jam (or your favorite flavor; recipe here: http://citnutritionally.com/chia-seeds-chia-jam/)
Instructions
Melt chocolate: In a saucepan over low heat, melt coconut oil. Add chocolate chips and stir until melted. Be careful not to burn chocolate. Alternatively, combine oil and chocolate chips in a microwave safe bowl, heat for 1 minute, stir, and continue to microwave for 30 second intervals, stirring in between, until melted.
Pour melted chocolate into lined mini muffin tins. Pour just enough chocolate to coat the bottom (about 1 teaspoon in each). If desired, tilt pan so the chocolate lines the sides of the liner. Place in the refrigerator for about 5 minutes, until chocolate hardens.
Remove from the refrigerator and place ½ teaspoon chia jam on top of the chocolate layer. Gently shake the pan so the jam lays flat. Pour the remaining chocolate on top of the jam and gently shake so its flat on top. Refrigerate for another 10 minutes until chocolate hardens and sets. Store in an airtight container, in the refrigerator, for up to 1 week.
 How simple is that?! And good for you!!!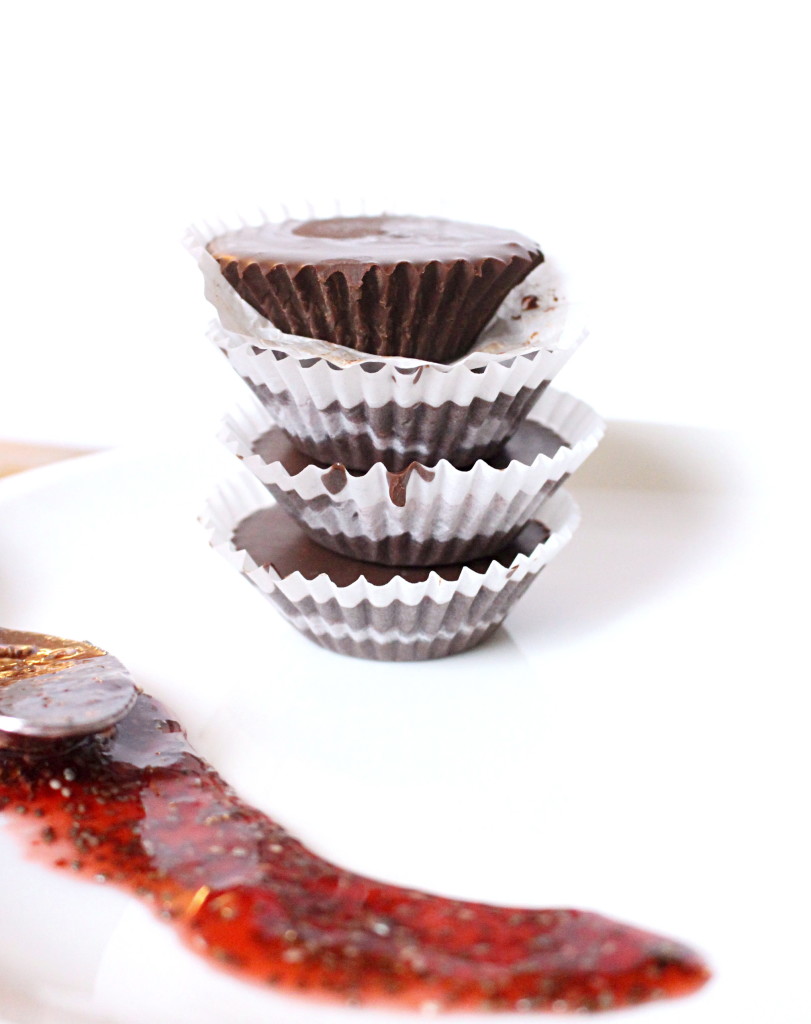 If you celebrate Passover, have you started prepping yet??? What KFP recipes do you want to healthify?? (Share with me in the comments!)
XO
***
Since Passover isn't until Friday, here's what I'm eating this Meatless Monday:
Breakfast: Single Serve Baked Pears with Oatmeal Crumble Topping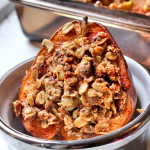 Lunch: Bean Burger Stuffed Sweet Potatoes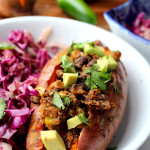 Snack: Summer guacamole with chopped veggies + seed crackers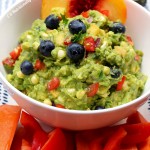 Dinner: Vegan baked ratatouille over greens and quinoa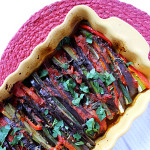 Dessert: Vegan Banana Bread Muffins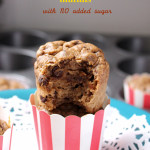 P.S. Did you miss last week's #MeatlessMonday SPRING recipe roundup??? Click here NOW!