Savory Greek feta juxtaposed with sweet roasted carrots and a burst of blueberries, plus nourishing quinoa and greens, in a light honey mustard dressing, make this Late Summer Roasted Greek Salad Quinoa Bowl the ideal nourishing lunch or dinner that will carry you from late summer into early fall.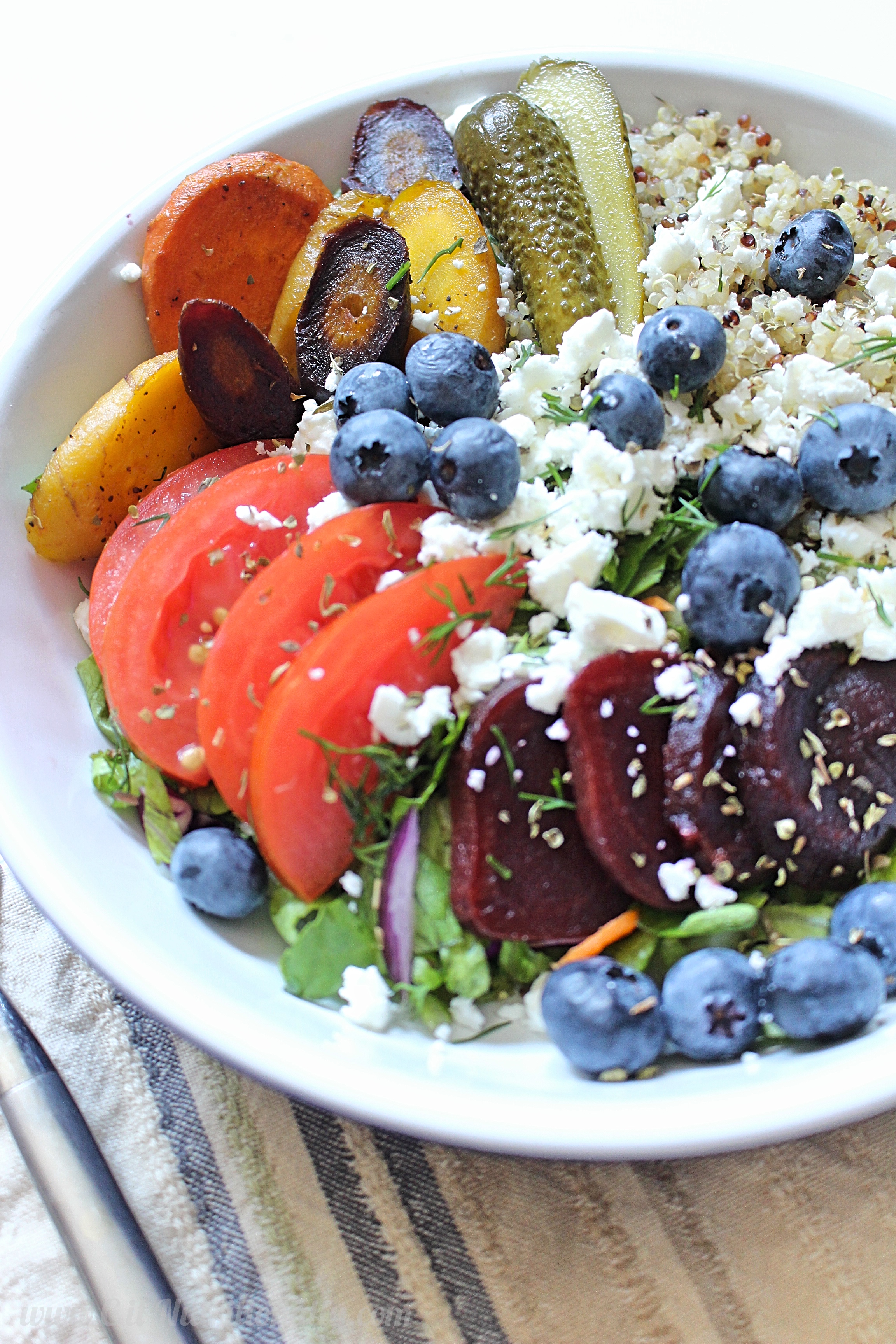 There are few things I like better than that late summer, 6pm at the beach feeling when the breeze is just right, the sun is no longer sweltering and you just had a perfect day in the sand and waves. Maybe just as you're spending this Labor Day? Ok, so maybe you won't find me in the waves, but I dooo like watching the waves crash down. If you want to eat that exact late afternoon, sand between your toes feeling, this roasted Greek salad quinoa bowl is for you…or at least for moi!
Why this nourishing bowl reminds of me the beach…I haven't got a clue! Maybe because it combines nearly all of my favorite ingredients…savory, salty and sweet flavors. Maybe because when I ate that first bite of this bowl it felt like I had just come from the farm, the ingredients were so fresh. Or maybe because this is totally a lunch I would pack to the beach. Whatever the reason, the savory Greek feta, tangy and light honey mustard dressing, sweet burst of blueberries, beets and roasted carrots, with nourishing quinoa and greens were the ideal juxtaposition of flavors for lunch when I returned from vacation and a week of meals out everyday.
This bowl truly nourished the soul.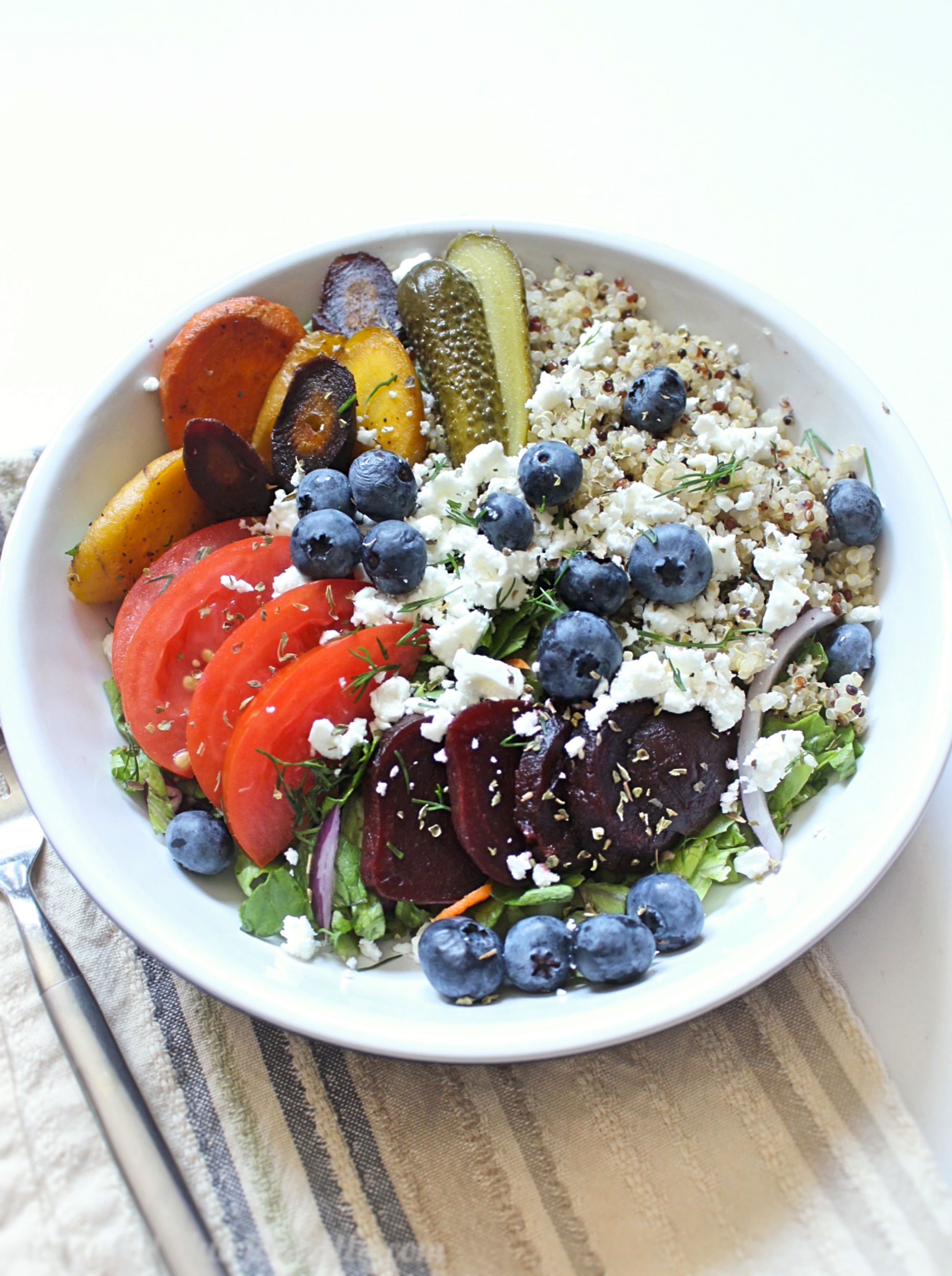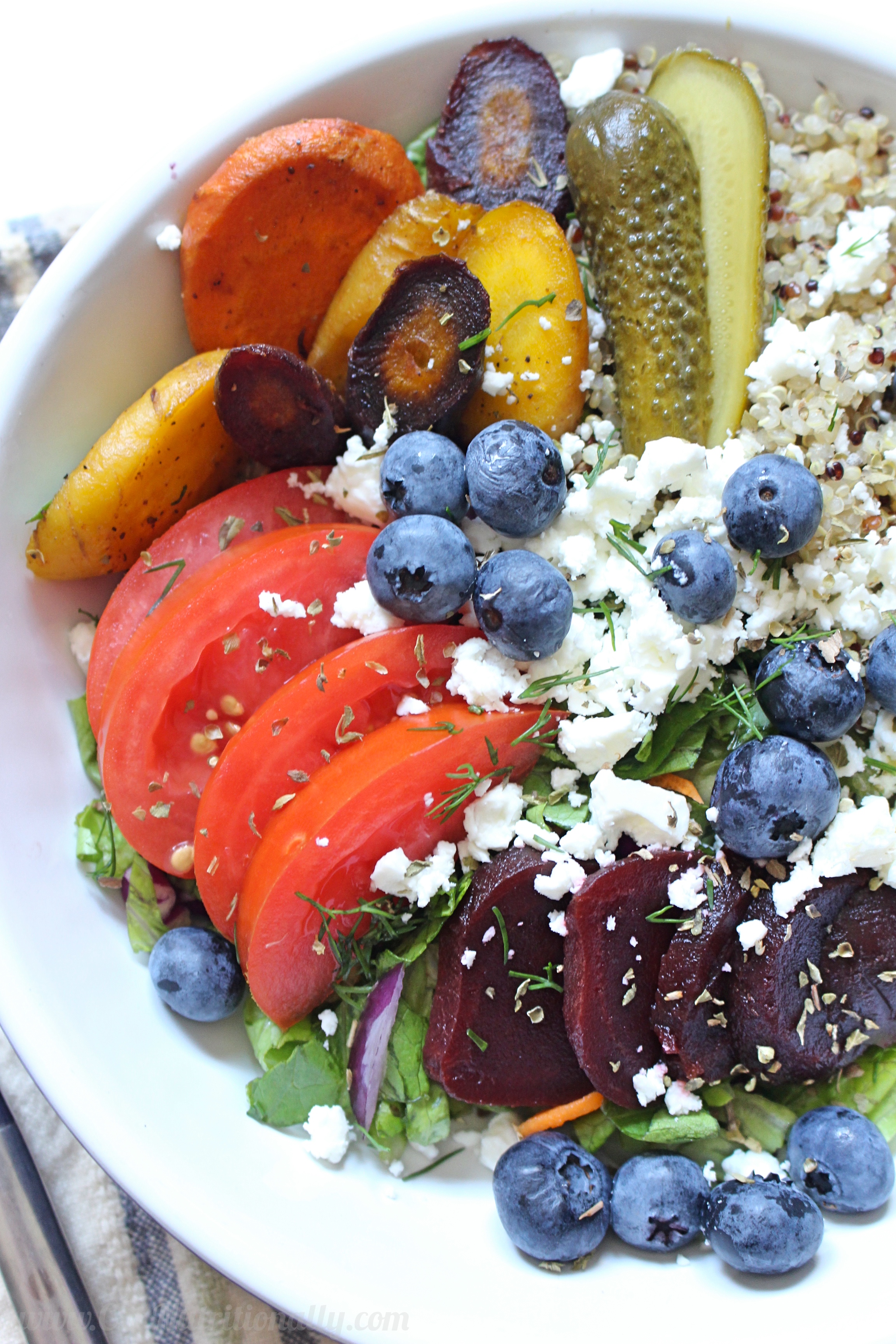 This late summer Roasted Greek Salad Quinoa Bowl ((for one)) is…
A great combination of protein, fat, and complex carbohydrates (read: FIBER).

Full of VEGGIES and a serving of fruit

Great for leftovers

Easy to throw together

Made for one
Let's eat…
Late Summer Roasted Greek Salad Quinoa Bowl for One
Ingredients
1/3 cup cooked quinoa
1 cup chopped romaine lettuce (or your favorite greens)
Few slices of red onion
3 wedges beefsteak tomato
1 roasted beet, sliced
½ cup roasted carrots
¼ cup blueberries
½ ounce feta cheese, crumbled
½ tablespoon chopped dill

For the dressing:

1 tablespoon olive oil
1 tablespoon red wine vinegar
½ teaspoon Dijon mustard
1/8 teaspoon honey
Pinch of black pepper
Pinch of dried oregano
Instructions
Combine all ingredients in bowl, as shown in the pictures above. Set aside.
For the dressing: Combine all ingredients in a small bowl and whisk with a fork until uniform consistency forms. Gently pour dressing over salad and mix to combine. I used half of the dressing for this salad and saved the rest (in the refrigerator) for future use.
Notes
-For roasted carrots, slice carrots, lightly coat in olive oil, sprinkle with salt and pepper and roast at 375F for 25 minutes.
http://citnutritionally.com/late-summer-roasted-greek-salad-quinoa-bowl-one/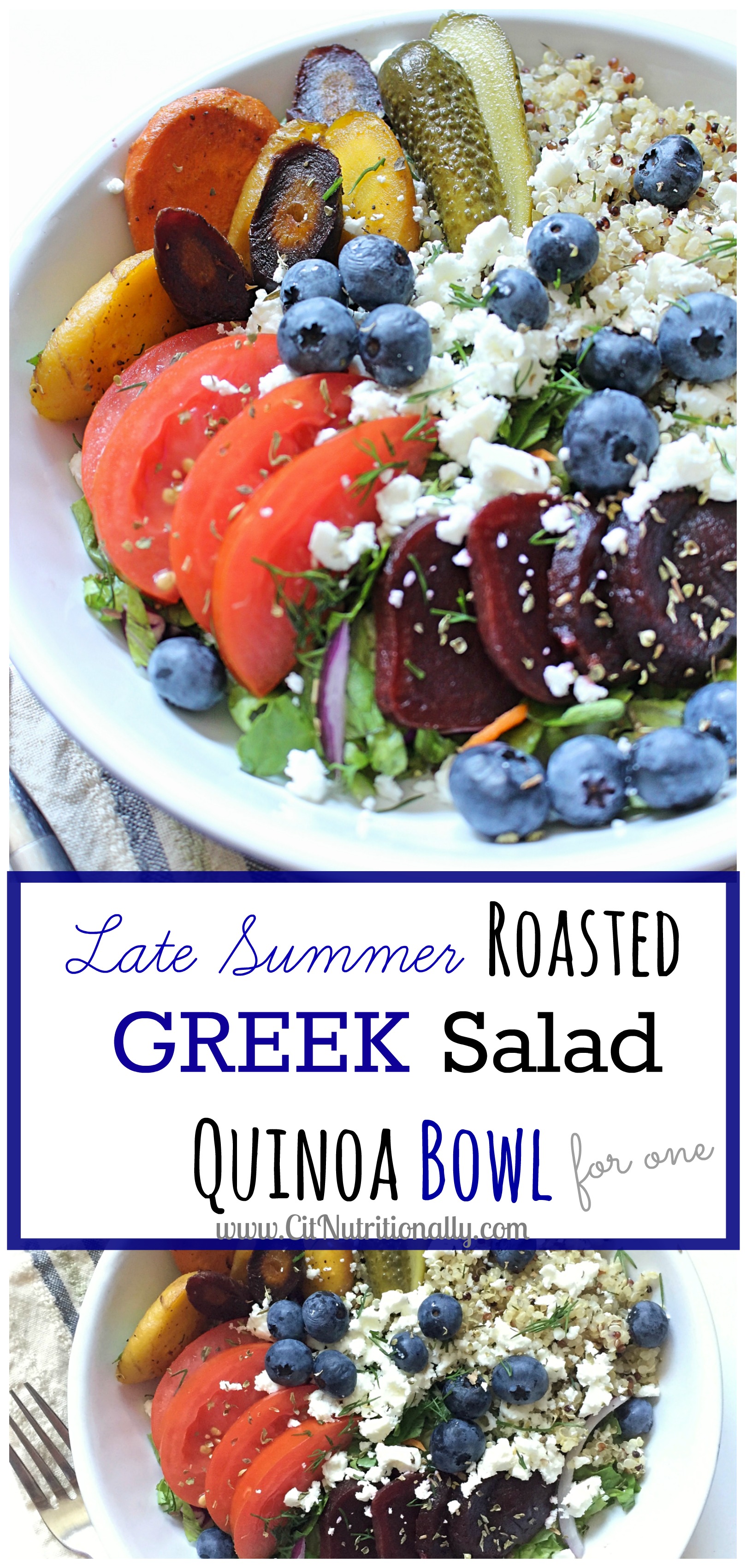 Enjoy your Labor Day!


XO