Spicy and sweet, with a hint of saltiness, these Maple Sriracha Roasted Pepitas have multiple personalities, but make the ultimate grown up snack and salad topper!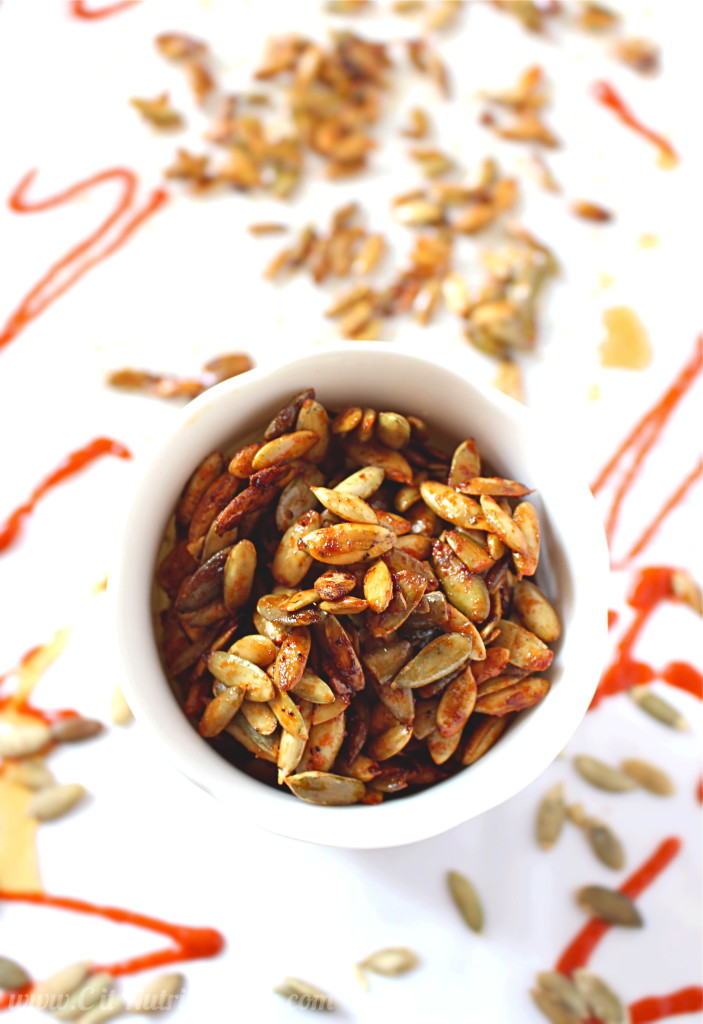 You know those times when you KNOW you're not hungry, but you just can't stop eating?! When these Maple Sriracha Roasted Pepitas came out of the oven, I had one of those times. No, I wasn't hungry but I HAD TO eat the entire tray at once…they're THAT addictingly good!
You know when your mouth is on fire from all the spiciness and you just can't stop even though you just want to drink a glass of water/milk to make the my-mouth-is-on-fire-it's-literally-going-to-melt-off feeling go away, but you won't because you secretly deep down love it?
Yeah, that was me with these Maple Sriracha Roasted Pepitas.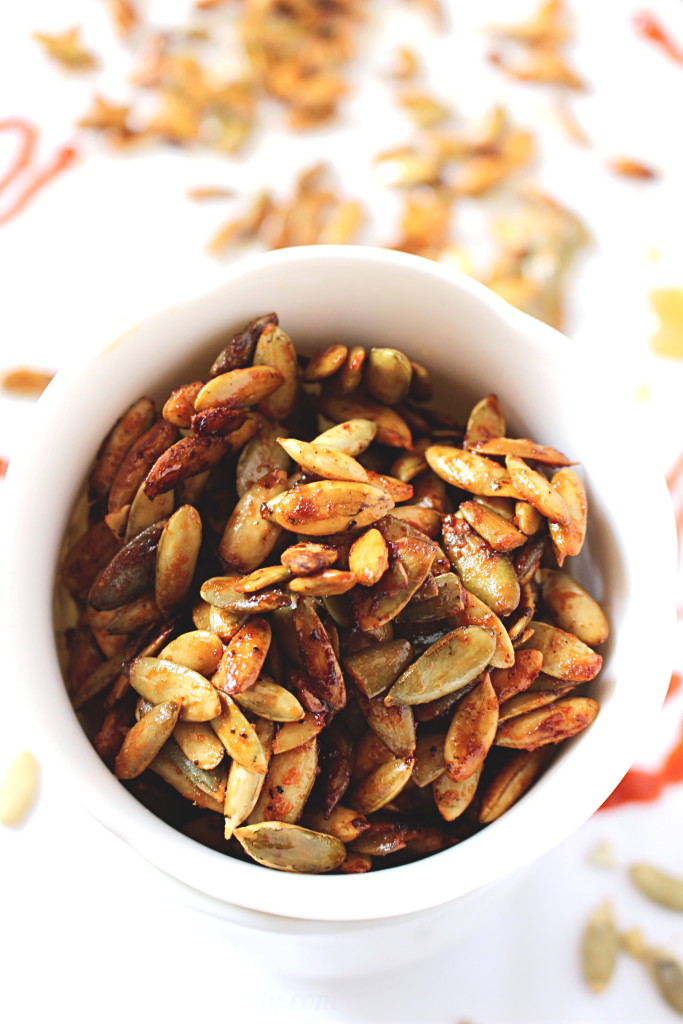 No, they're not actually that spicy. Yes, I was totally exaggerating by my description. But, yes, I did almost eat the entire recipe at once. (No, that's not recommended!)
I saved just enough for some friends and they couldn't get enough either…although they wanted them spicier!
This "recipe" is SO simple it's not even a recipe. It's a you mix it all together, and turn yourself around, that's what it's all about type of thaaang.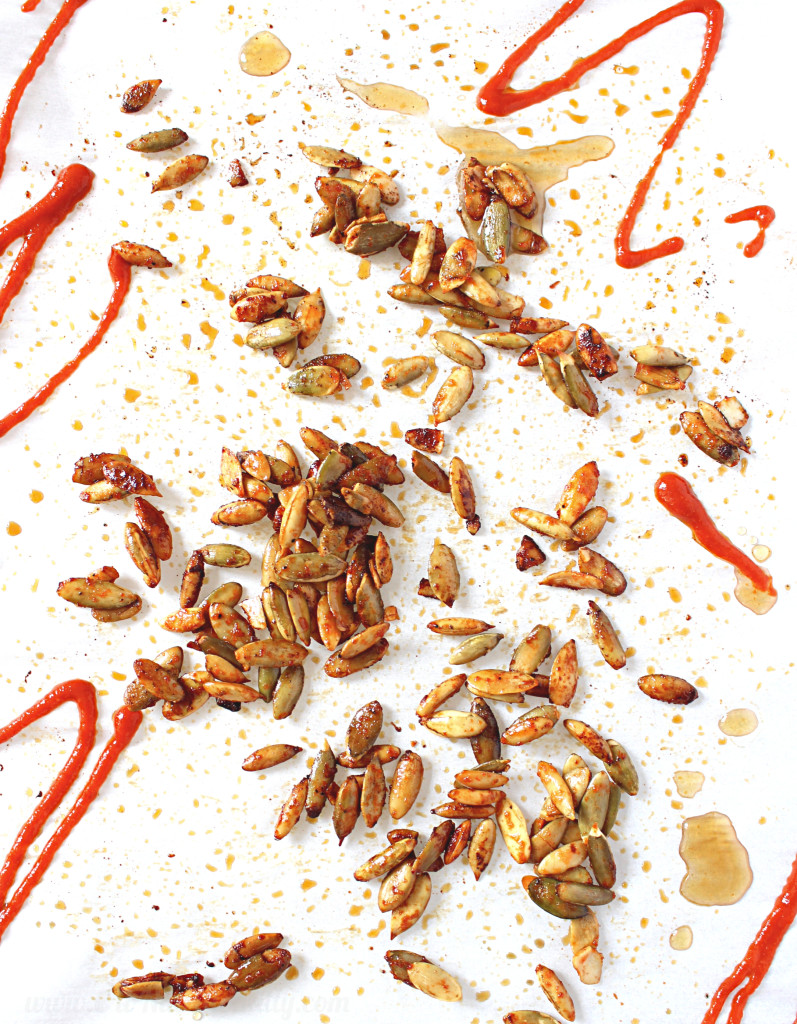 These spicy and sweet pepitas are:
Vegan
Gluten free
Grain free
Dairy free
Nut/Peanut free
Crunchy
Sticky
With just a hint of sweetness
Taste like fall
An explosion of flavors in your mouth!
…and come together in under 20 minutes!
Adjust the spiciness to your taste buds and munch away…on top of salad, by their lonesome as a snack or atop spaghetti squash…just enjoy!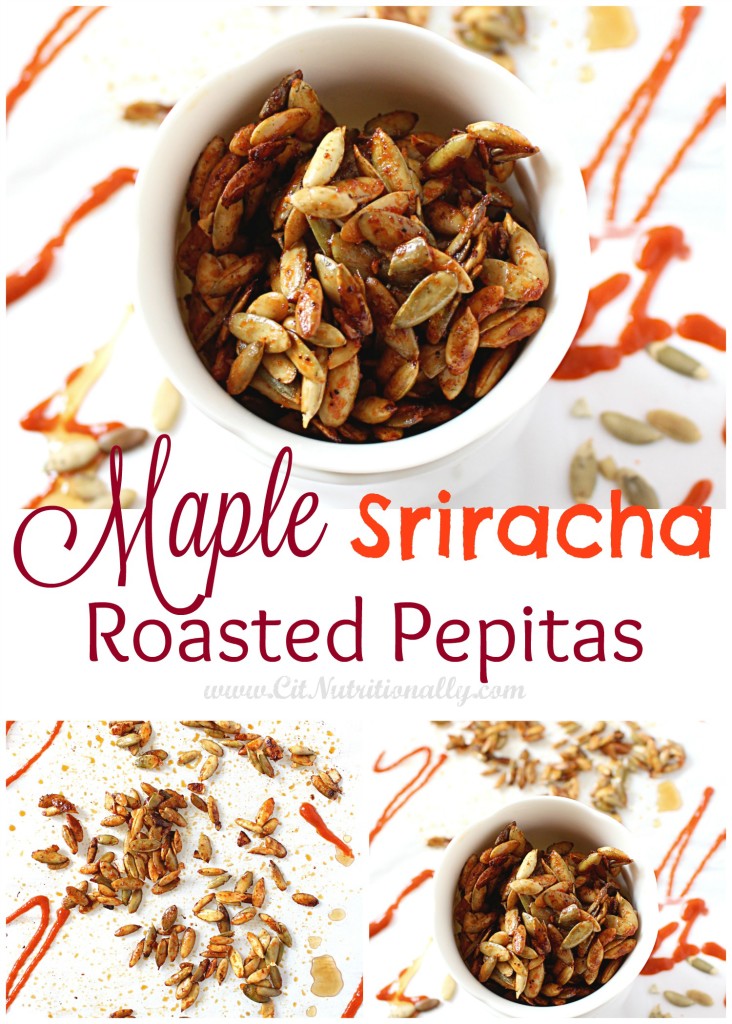 Maple Sriracha Roasted Pepitas
Ingredients
1 cup raw pepitas (I used Trader Joe's OR you can use fresh and dry pumpkin seeds)
1 tablespoon Sriracha (or other hot chili sauce)
1 tablespoon pure maple syrup
1 tablespoon olive oil
Pinch of cinnamon
Pinch of freshly black pepper
Generous pinch of sea salt
Instructions
Preheat the oven to 325ºF.
In a medium bowl, whisk together sriracha, maple syrup, olive oil and spices.
Add raw pepitas and stir until evenly coated.
On a parchment paper-lined baking sheet (don't forget to line the baking sheet or clean up will be difficult!) spread pepitas evenly. Bake for 15-20 minutes stirring occasionally.
Once slightly browned, allow pepitas to cool completely before serving. Enjoy!
http://citnutritionally.com/maple-sriracha-roasted-pepitas/
Happy Meatless Monday!
XO
P.S. You can buy Sriracha here!