By posting this recipe I am entering a recipe contest sponsored by California Ripe Olives and am eligible to win prizes associated with the contest. I was not compensated for my time.
Enjoy the staples of the Mediterranean diet — olives, beans, veggies & more — in these Mediterranean Mung Bean and Olive "Meatballs." Serve over whole grain pasta or veggies and share a simple midweek meal with friends and family!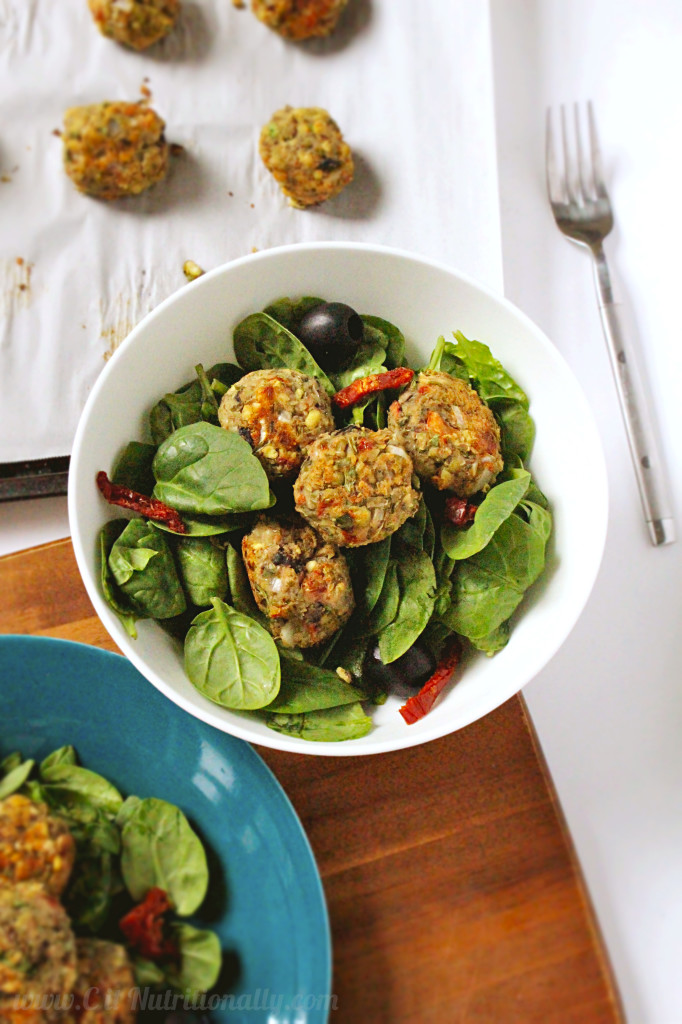 If you've been hanging around here long enough you know a couple of things about me: 
I'm obsessed with Mediterranean flavors and food…especially after living on the Mediterranean for a few years. 
When I was challenged to use California Ripe Olives in a Mediterranean-inspired recipe I jumped at the opportunity to get my feet wet with Mediterranean flavors again. Olives are an integral component of Mediterranean cooking because they're SO good for you, plus, they have a very specific and potent taste that blends seamlessly with other Mediterranean flavors…just you wait and see…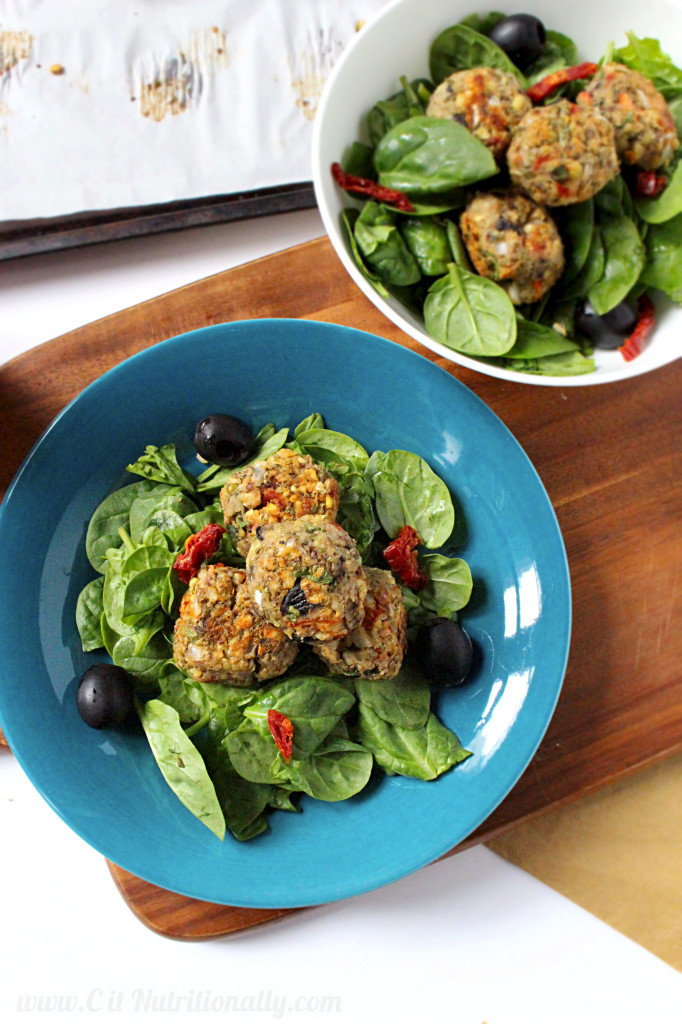 Let's get familiar with the Mediterranean Diet…
Why should I eat like I live on the Mediterranean? The Mediterranean diet has been shown to reduce your risk of heart disease, diabetes, and certain cancers, control weight, and even help ward off Alzheimer's disease. 
What should I eat? When trying to eat more Mediterranean, think local veggies, fruit, whole grains, legumes, fresh fish, seafood, lean meat, and some dairy, like yogurt and cheese. Oh, and don't forget the red wine! 😉 
Anything else? Other important components of the Mediterranean lifestyle that contribute to longevity and good health are being active on a daily basis, sharing meals with others, and being social. 
Personally, I love the relaxed, stress-free attitude of many people I met who live in the Mediterranean region. When I get super stressed I always think back to this lifestyle and it pays to take a deep breath!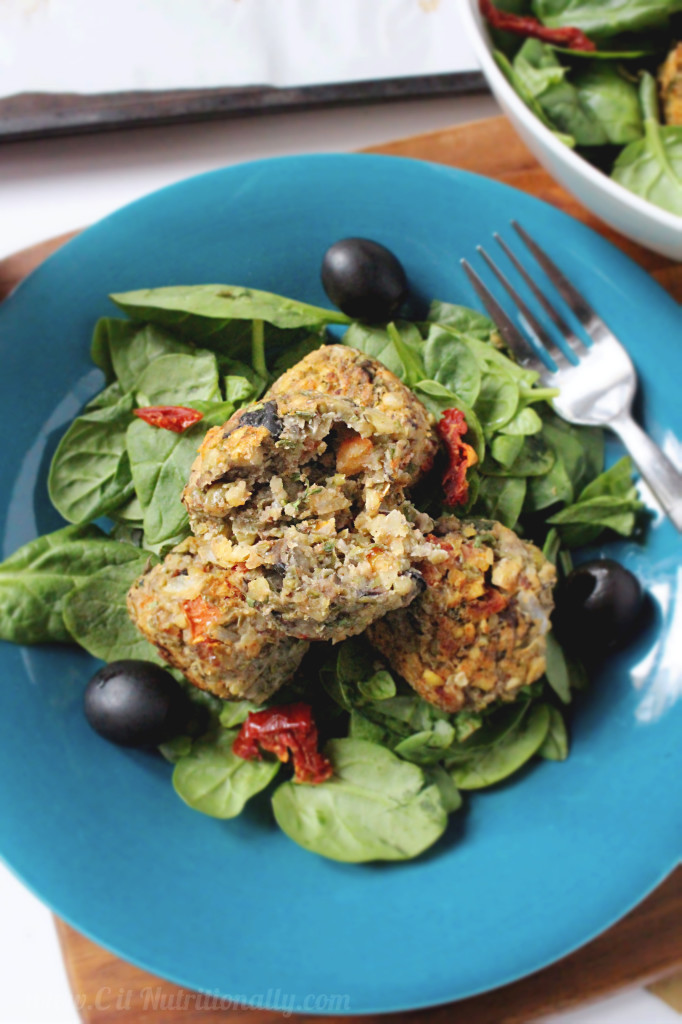 But even more, you are what you eat, which is why we should all include more olives in our diet! Here's why…
Live longer, live better! Olives are an essential part of the Mediterranean diet and contain mostly monounsaturated fat – the good fat! 
California black ripe olives are as good as they taste with vitamin E (0.25 mg per serving), iron (0.49 mg per serving), vitamin A (60 IU per serving), and fiber (0.5 grams per serving). They are packaged at their peak to preserve nutrients for year-round enjoyment!
A serving of olives contains 0 grams of trans fat and olives are naturally a cholesterol-free food! 
California Ripe Olives are one of the most versatile items in the pantry. They are loved for their unique flavor, texture and color, but also can be part of a healthy diet. Click here to learn more.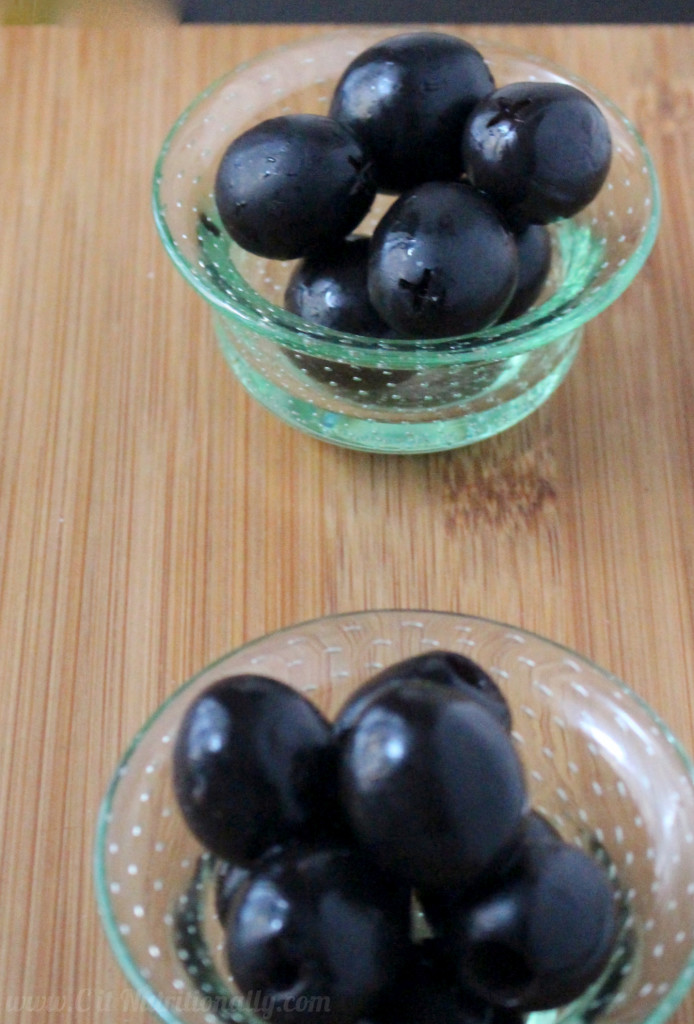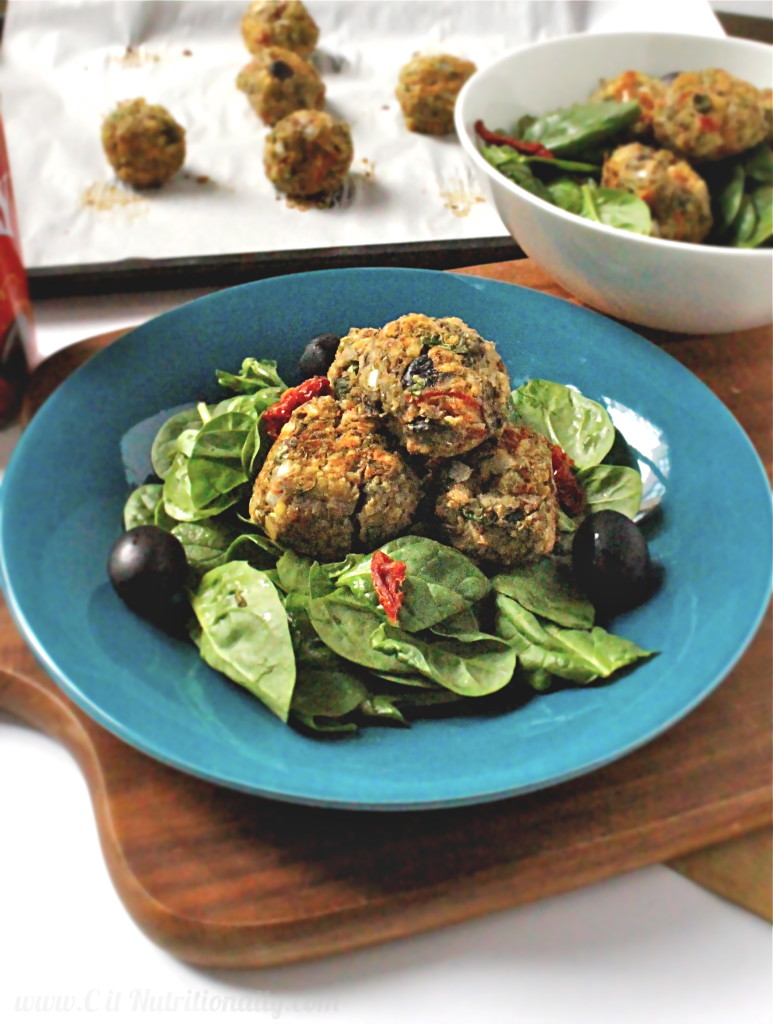 My Mediterranean Mung Bean and Olive "Meatballs" contain many good for you Mediterranean staples — beans, olives, and fresh veggies. Serve them over whole grain pasta or more veggies and you're on your way to a delicious, health-promoting meal!
I adapted this recipe from my sun dried tomato bean balls that I made ((what seems like)) agesssss ago when I was a blogging newbie. I'm still a blogging novice in SO many ways, but it's fun to see how far I've come…despite my less than stellar photos, the original recipe is deeeelicious! 
This time, I used mung beans instead of white cannelloni beans. I love mung beans because they're one of the quickest cooking beans. There's no soaking and since they're so tiny, they cook in just 20-25 minutes!
Once the beans are cooked, mash them with a fork, add the olives and the rest of the ingredients, roll them into balls, and bake! This recipe uses a flax "egg" to hold the ingredients together, making the recipe vegan, grain free, and gluten free! If you find that your balls crumble too much after baking, try adding a tablespoon or two of quick oats, but mine didn't need it. Also, make sure your mung beans are cooked all the way to prevent a gritty texture.
It seriously can't get easier to have a vegan, Mediterranean-inspired meal on the table in minutes that looks way more complex than it actually is! OK, ok I guess it can…but it won't be as tasty!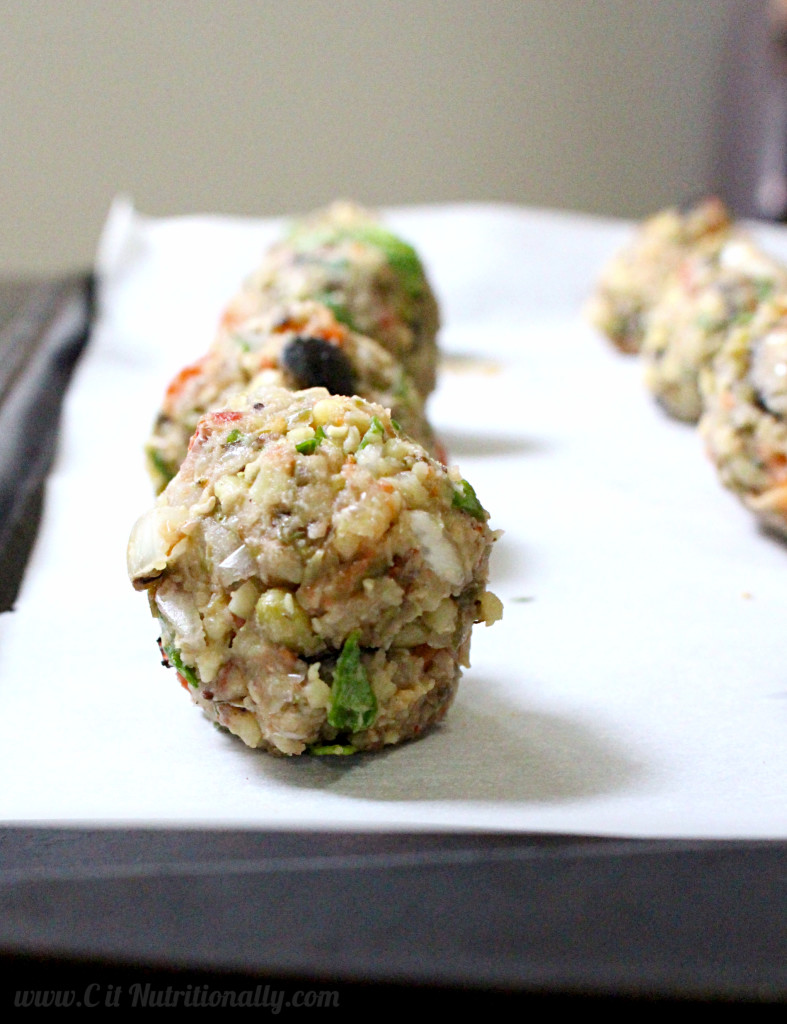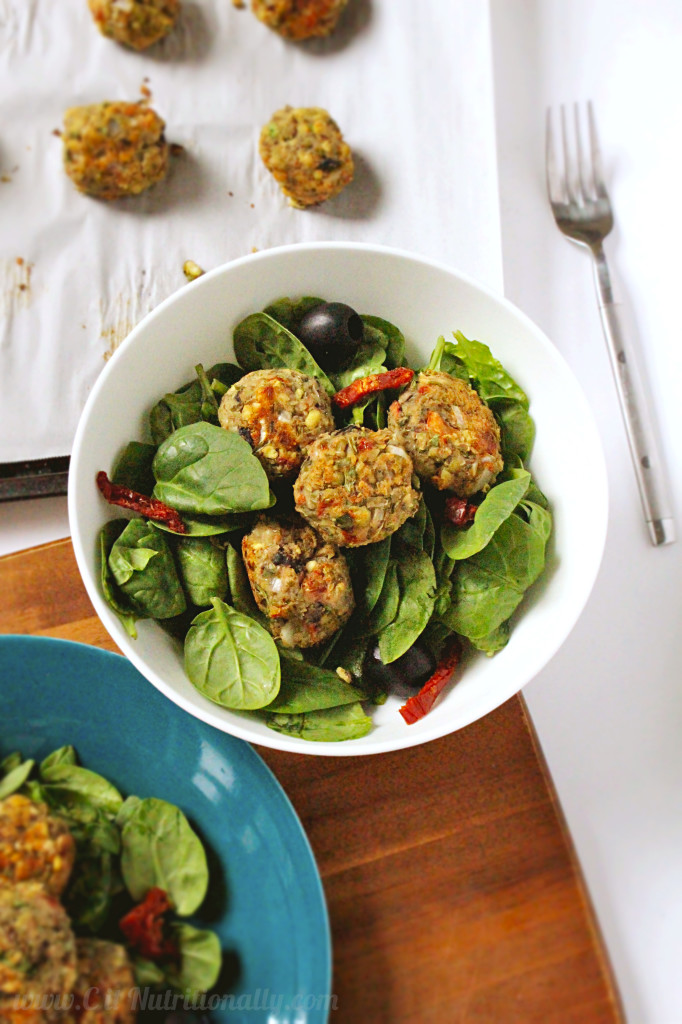 Mediterranean Mung Bean and Olive "Meatballs"
Author:
Prep time:
Cook time:
Total time:
Enjoy the staples of the Mediterranean diet — olives, beans, veggies & more — in these Mediterranean Mung Bean and Olive "Meatballs." Serve over whole grain pasta or veggies and share a quick midweek meal with friends and family!
Ingredients
1 tablespoon ground flaxseed
1 ½ cups cooked mung beans
½ cup California Black Ripe Olives, finely chopped
½ cup white onion, finely chopped
1 garlic clove, minced
2 tablespoons sun dried tomatoes, chopped (not in oil!)
¼ cup fresh parsley, chopped
1 teaspoon dried oregano
¼ teaspoon red chili flakes
¼ teaspoon freshly ground black pepper
¼ teaspoon salt
2 tablespoons tomato sauce, no sugar added
Instructions
Preheat oven to 350ºF. In a small bowl, combine flaxseed with 3 tablespoons of water. Set aside for at least 10 minutes.
In a medium sized bowl, mash beans with a fork or potato masher or pulse in a food processor until a smooth texture forms. Add olives, onion, garlic, sun dried tomatoes, parsley, spices and tomato sauce. Once your flax "egg" has gelled, add it to the mixture too. Mix to combine.
Roll bean mixture into 1½-inch balls and space evenly on a parchment paper lined baking sheet. Cook for 20 minutes, remove from oven, flip, and cook for another 5-10 minutes. The balls should be gently browned when done.
Serve warm or cold over pasta or vegetables.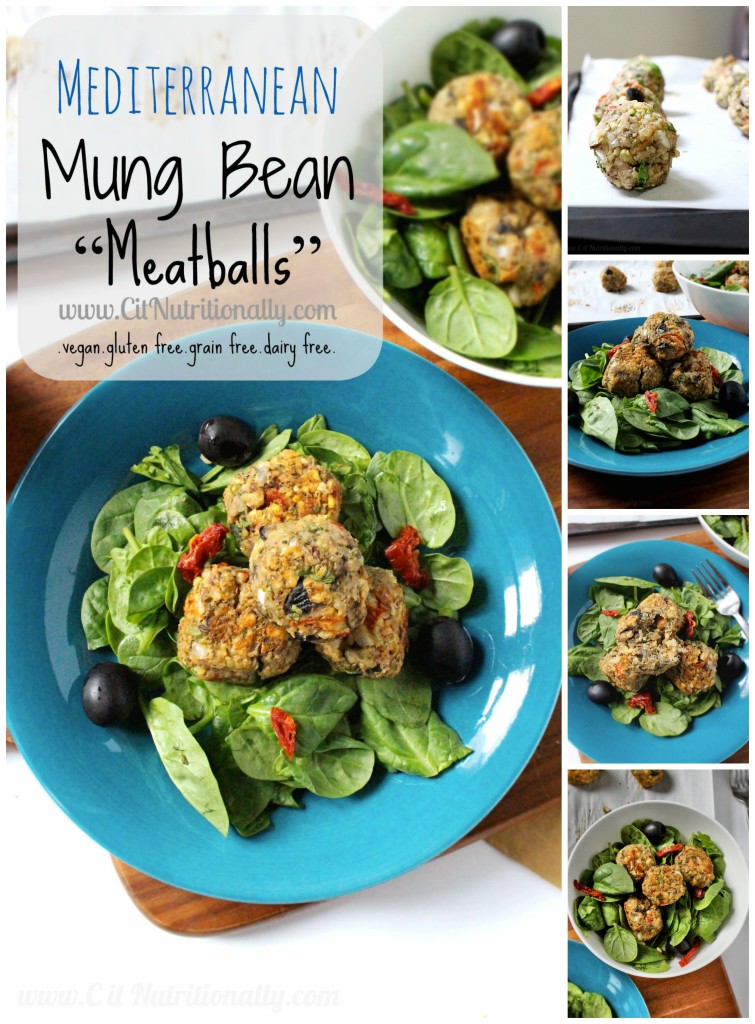 Tell me: What is your favorite aspect of the Mediterranean diet?! Check out these other inspiring olive-y recipes below… XO