Snap out of brown bag boredom in 10 minutes with these nutritious Mediterranean Salmon Salad Stuffed Tomatoes, full of flavorful inspiration from this coastal region. On the go? Make a sandwich instead. Hosting a luncheon? Get fancy by stuffing tomatoes! Full of heart-healthy omega 3 fatty acids, fiber-filled veggies and lean protein!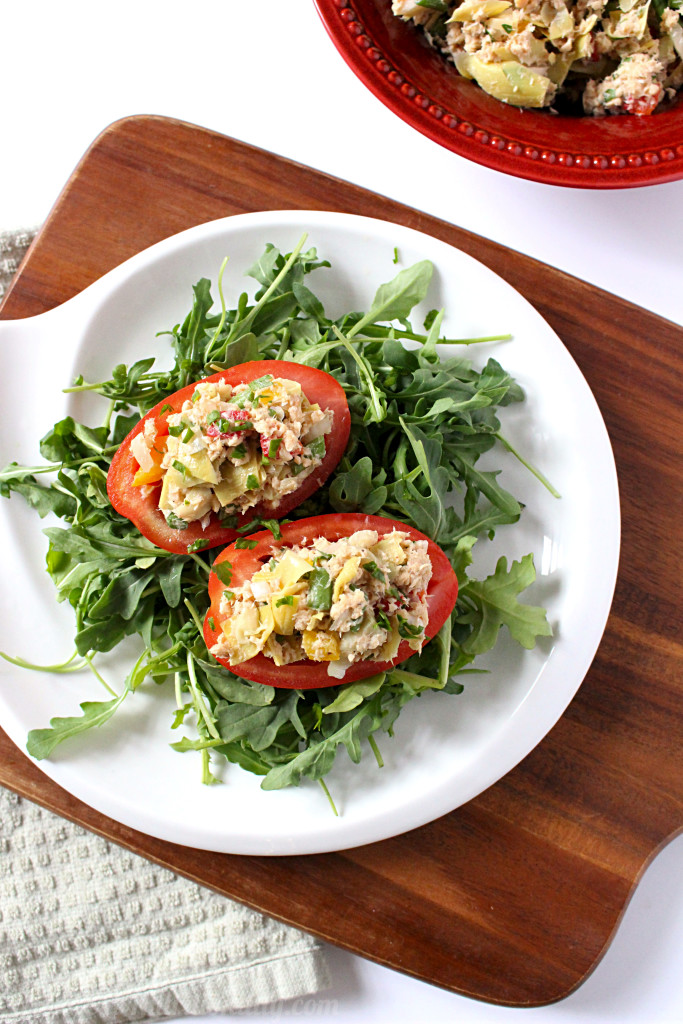 I personally think Thursdays are the best days…I leave the hospital a little early for my grad school seminar class and get to catch up with all of my fellow interns…aaaand today is also Recipe Redux day!! Weeee!
If you ever get in a lunch rut then this month's theme is for you! Read on…
Need new ideas for packing your kids' or your own lunch? Are packable noontime options dwindling? Surely you've met the 'What shall I pack for lunch?' question head-on with creative ideas. Share your healthy lunch recipe – so we can swap it into our rotation.
Growing up, my mom rotated three basic lunches for us: a turkey sandwich, a basic tuna salad sandwich, and PB&J (or SSB & J in my case!). When I opened my brown bag I always knew what to expect. This, of course, was before bento boxes became the rage. Have you seen some of these lunch boxes on Instagram…who wants to make me lunch?!
Well, my dietetic internship is in full swing, so whipping up quick, simple meals is a necessity (in case you didn't see my simple meal ideas here and here!), but I can totally get in a salad rut, so it's nice to switch things up. Protein-packed tuna salad is great (especially paired with zoodles!), but for a more sophisticated palate, and to excite my taste buds, I've been on a total salmon salad rage…Mediterranean Salmon Salad rage!
((Plus, tuna haters may actually give it a try!))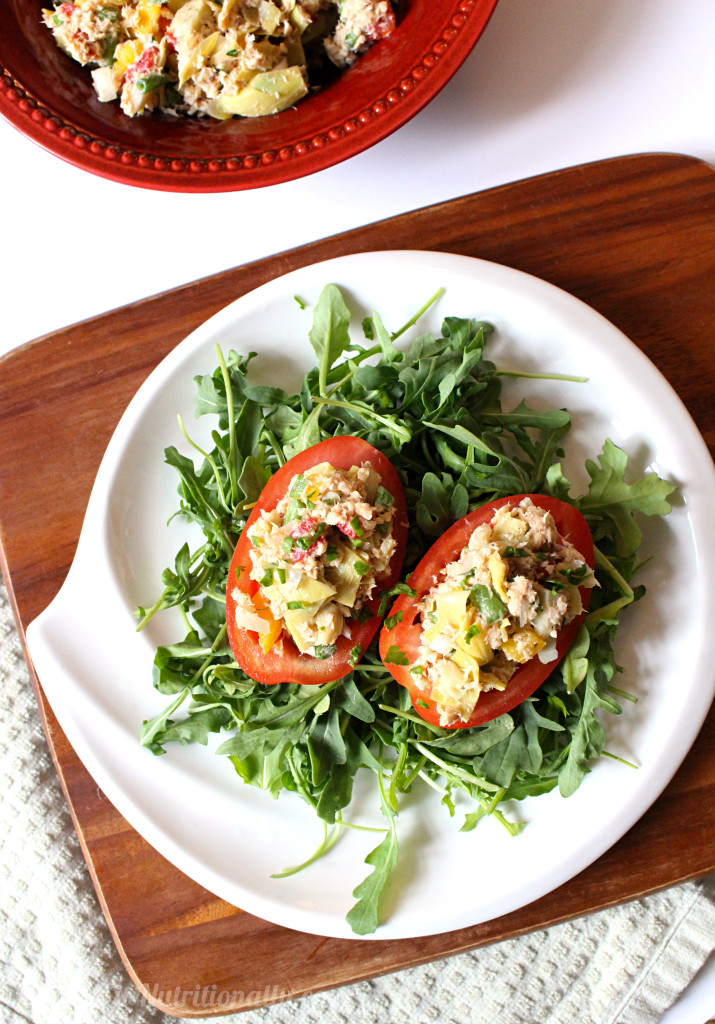 Salmon is lower in mercury than tuna, so you can eat it more often! Salmon is also…
Packed with omega 3 fatty acids, which help lower cholesterol and boost brain function.
A great source of protein (16 grams per serving!)
Chock-full of calcium. Canned salmon, with bones, provides 23% of your daily calcium needs. The bones are so fine, you really won't taste/feel them, but you'll build strong bones for yourself by eating the bones!
Beauty food! As a fatty fish, salmon is great for healthy hair, glowing skin and strong nails. Aim to eat at least two servings of fatty fish per week to reap the benefits!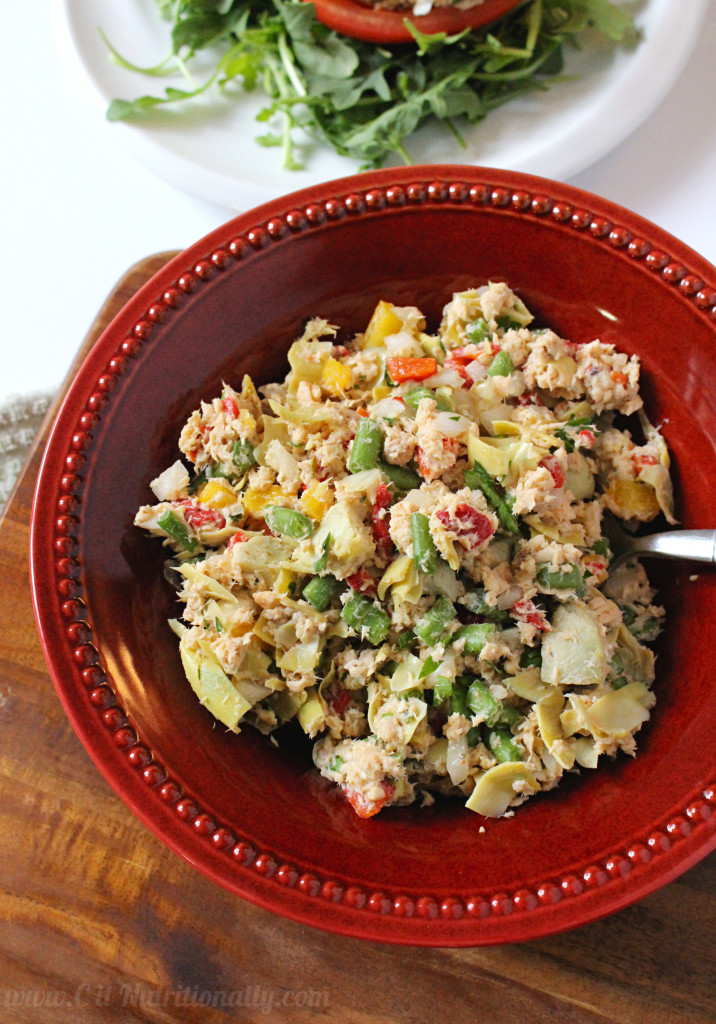 This recipe is…
Quick & easy
Grain free
Allergy-friendly
Nutritious
Figure-friendly
Kid-friendly & safe for school lunch
Versatile…
This recipe is great for sandwiches, bento boxes, and a top salads, but also intricate enough so you can serve it for company…or yourself if you're feeling a little fancy! One of my favorite ways to eat more veggies is to stuff 'em…because food is much more fun to eat that way. Soon-to-be in-season tomatoes make a great shell for this Mediterranean salmon salad.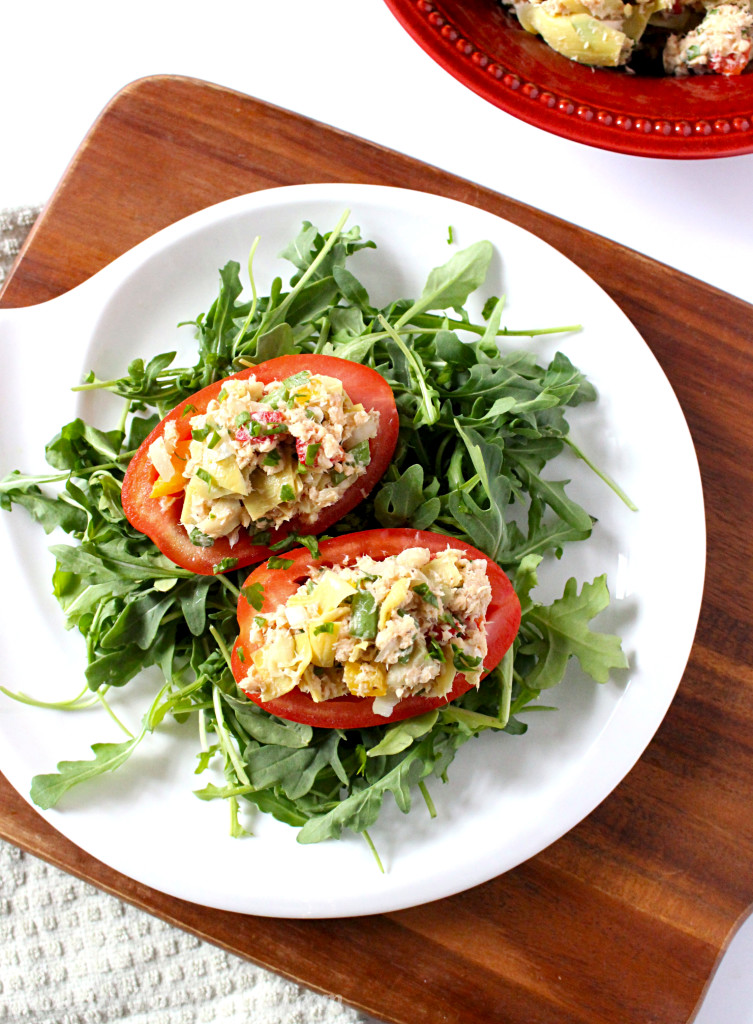 Chop, mash, and enjoy!
Here are some things you may need to whip up this recipe is a flash…
Mediterranean Salmon Salad Stuffed Tomatoes
Ingredients
4 Roma tomatoes
1 6 oz can low-sodium wild Alaskan salmon
1/3 cup marinated artichokes (preferably in olive oil), drained and chopped
1/4 cup yellow onion, finely chopped
1 whole roasted red pepper, chopped
1/4 cup green beans, chopped
2 tablespoons fresh parsley, chopped
1 tablespoon Dijon mustard (or other mustard you prefer)
1/4 teaspoon lemon juice
1/2 teaspoon oregano
Pinch of black pepper
Pinch of garlic powder
1 teaspoon good quality extra virgin olive oil
Instructions
Cut the top off of Roma tomatoes and gently scoop out the flesh/seeds. Set aside.
Flake salmon into a small bowl. Mash into fine pieces. Add the rest of the ingredients, except for the olive oil. Mix to combine well. If needed, add the olive oil to get the salmon salad to stick together a bit better.
Scoop salmon salad into tomatoes. Serve over a bed of arugula. Enjoy!
http://citnutritionally.com/mediterranean-salmon-salad-stuffed-tomatoes/
Don't forget to PIN IT…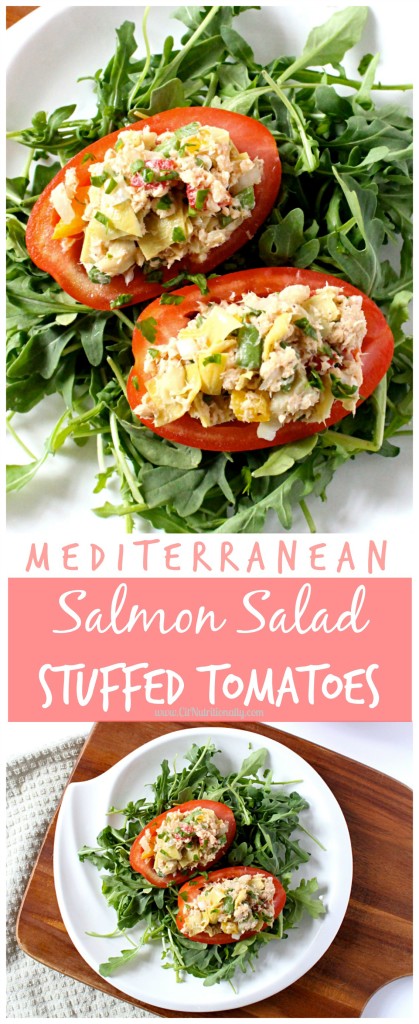 Now how's that for a finger-lickin' good lookin' lunch?!
XO