Use up scraps and make a delicious homemade vegetable broth at the same time! This flexible recipe is perfect to let simmer while you take care of other food prep or things around the house!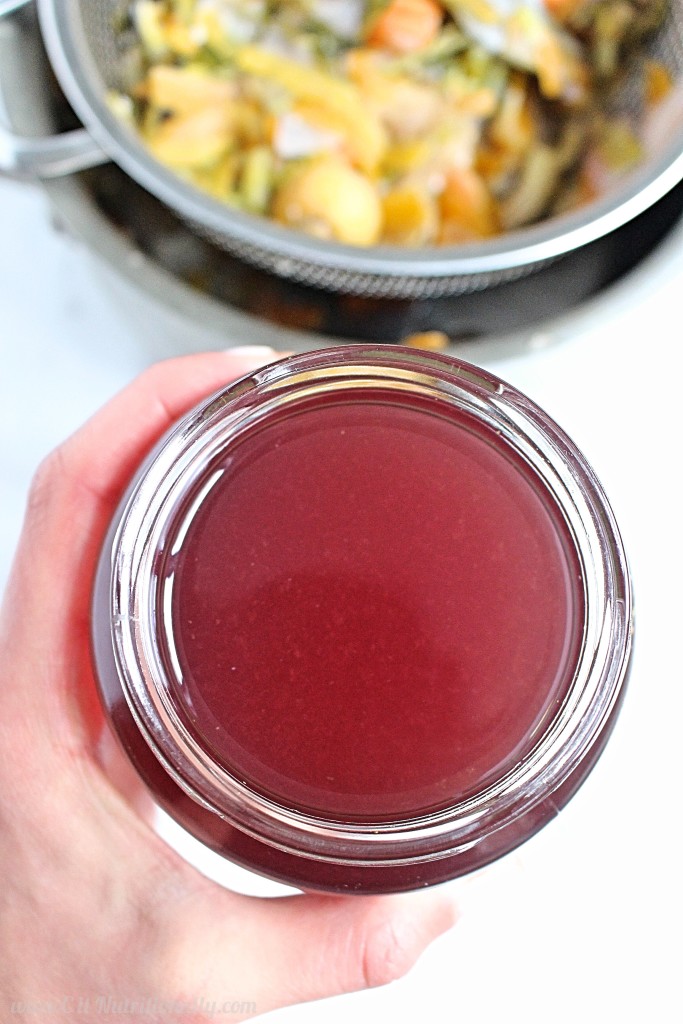 Happy FRIIIIIIIIIDAYYY!!!! 
Ohhh how I am never this last minute! I did something I've never done before this morning… I waited until this morning of this month's Recipe Redux to write this…but I have good reasons for my tardiness!!! I've been spending as much free time as possible with my new baby niece and wedding dress shopping (ahhhhh!!). I found my PERFECT dress yesterday and cannot wait to get married to my love!! 
Soooo anyways, back to why we're reallllly here… it's Recipe Redux time and this month's theme is in honor of EARTH DAY tomorrow!! Here's this month's theme…
Easy Ways to Reduce Food Waste…
In honor of Earth Day on April 22, we're challenging ReDux members to show how they reduce food waste. Whatever you would normally toss, use it up. Share tips for reducing food waste in meal planning, prep or using up scraps.
Well, I'm a big fan of reducing, reusing and recycling so I loved this challenge! During one of my regular food prep sessions I got the idea to use the scraps from all of my veggies to make No Waste Homemade Vegetable Broth!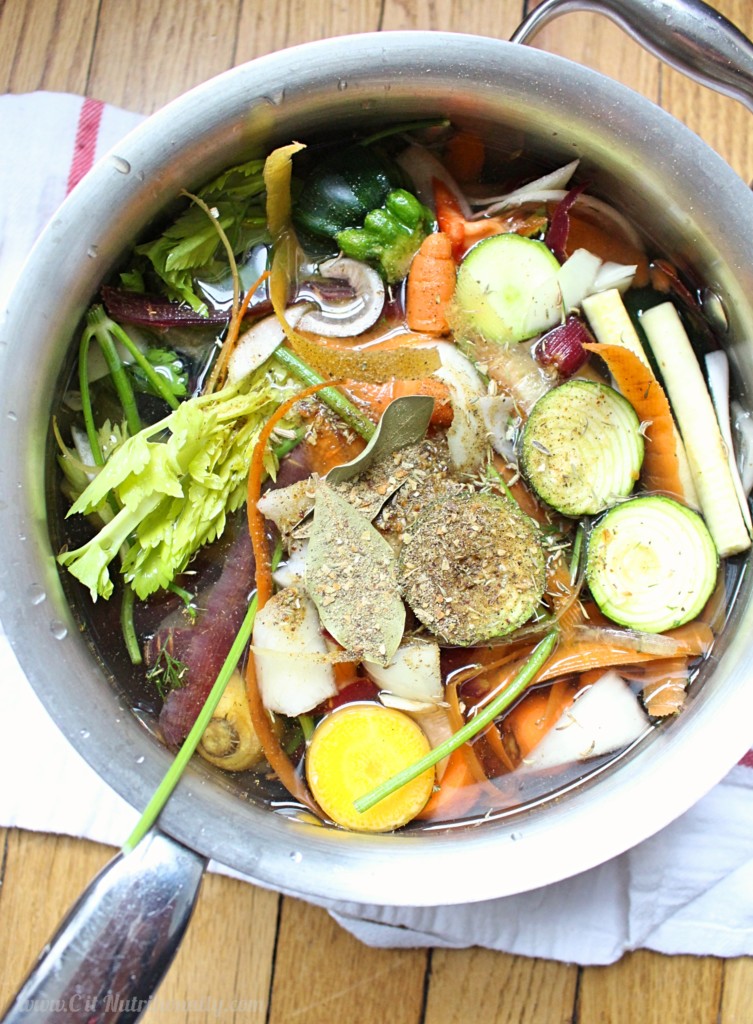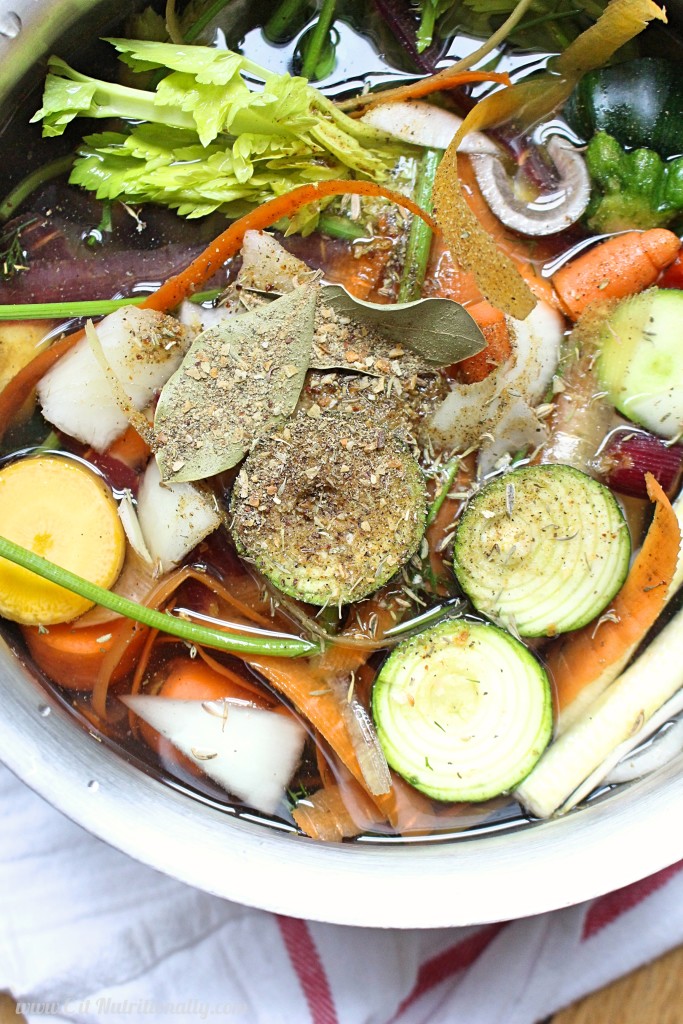 I know summer is almost here and temperatures are about to be a-blazing, but there's nothing quite like homemade vegetable broth year round. It adds flavor to any whole grain you cook up (like in this Quinoa and Lentil Power Bowl!), sip it to cut cravings, and store in the freezer for months to use once it's soup season again.
So let's just cut to the chase and use alllll the veggies… You can really use whatever veggies you have on hand for this recipe, including scraps!
This is what's in my homemade vegetable broth…
Spiralized zucchini leftovers
Carrot peels
Middle and ends of celery
Outer layers of onions
Leftover herbs that are about to go bad
Bell pepper ribs and small pieces
And more!
If you have veggies that you know you're not going to use, chop 'em up and throw 'em in! There's no real answer here!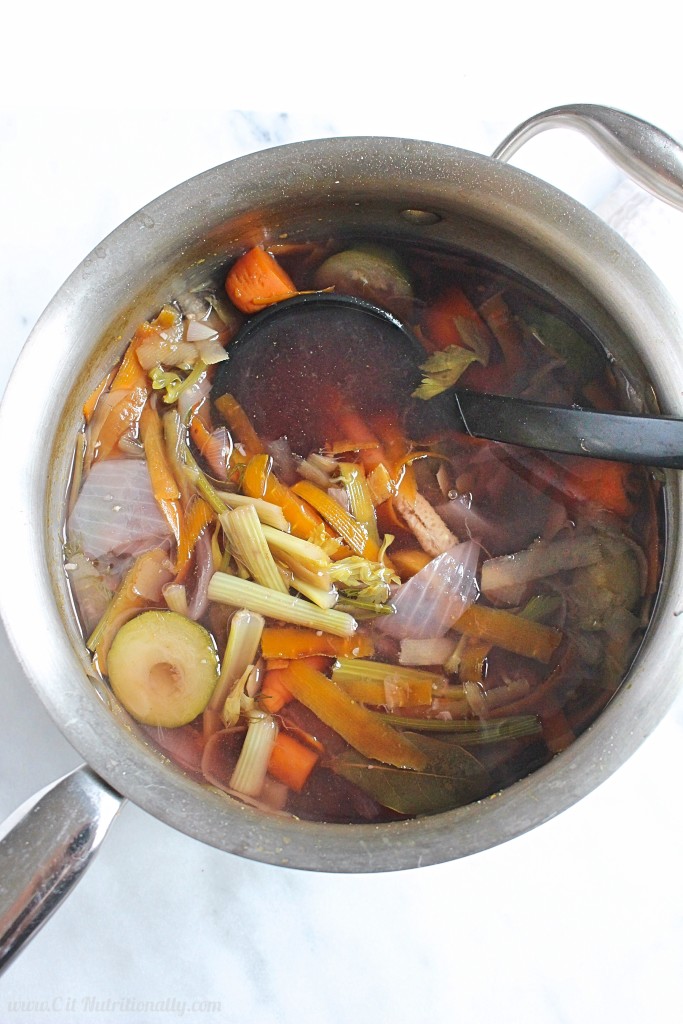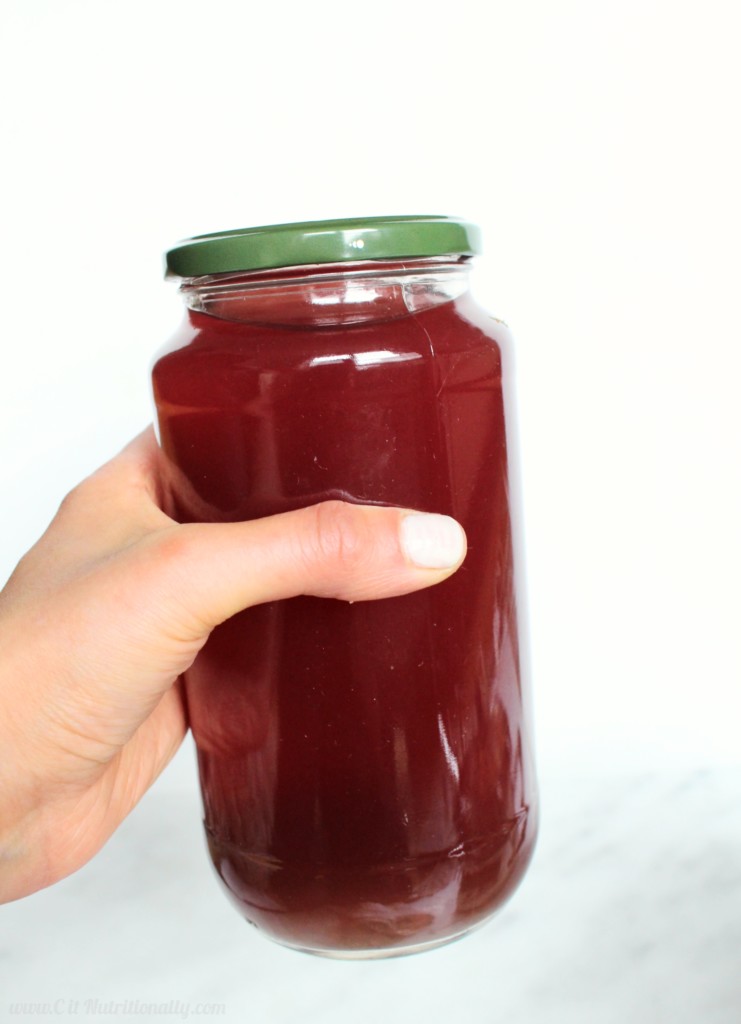 Let's reduce waste and get cookin'…
No Waste Homemade Vegetable Broth
Ingredients
8 cups veggie scraps* (I used tri-colored carrots, celery, zucchini, onion, parsley and dill)
8 cups filtered water
2 bay leaves
2 garlic cloves, minced
1/4 cup parsley leaves
Salt and pepper, to taste
Instructions
Add all ingredients, except for salt and pepper, to a large stock pot (I used a 4 quart pot).
Bring to a vigorous boil and then reduce heat to a low boil (but more than a simmer) for about 30 minutes.
Once vegetables begin to soften, reduce heat further, cover and let broth simmer. Let simmer for about 2 hours.
Taste the liquid and add salt and pepper to your taste preference. Allow the broth to continue to simmer for more robust flavor (but I think the broth is delicious after 2 hours!).
Place a colander in a large bowl and pour all contents through the colander to collect the liquid in a large bowl.
Store in glass containers or freeze for future use. Reheat before drinking or use in your favorite recipes!
Notes
*Veggie scraps include the tops and bottoms of celery, carrots, zucchini, mushrooms, stems from herbs, etc.
http://citnutritionally.com/no-waste-homemade-vegetable-broth/
Don't forget to PIN IT…

Isn't that SO much easier than you thought it would be??? I've been sipping this as an afternoon snack and have a bunch stored in my freezer to use for delicious recipes! What will you do/make with your homemade vegetable broth???
Happy weekend!


XO

Let's get social! 
If you want to stay connected or you make something from C it Nutritionally I would LOVE to see your creations! Tag me or use the hashtag #CitNutritionally!
Facebook: C it Nutritionally
Twitter: @ChelseyAmerRD
Instagram: @CitNutritionally
Pinterest: ChelseyAmer