Get your chocolate fix with this Nut Free Superfood Chocolate Bark full of vitamin C, antioxidants, omega 3 fatty acids and even fiber!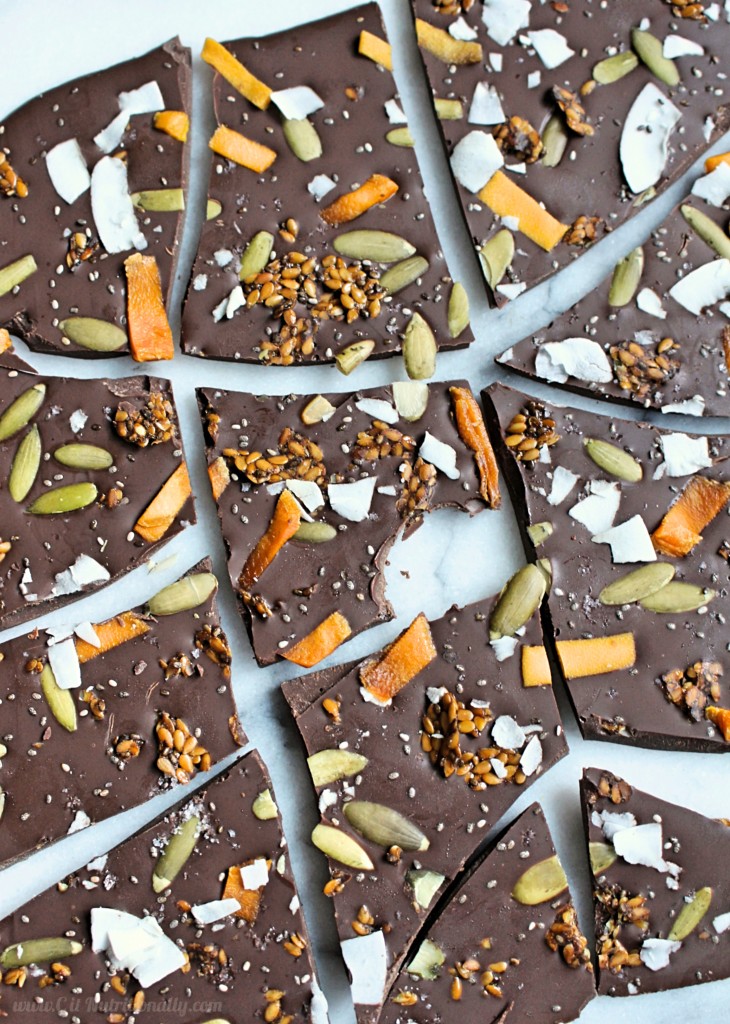 Guys, I'm not going to lie. Chocolate has been on my mind the past couple of weeks. And I've been listening to my body and giving it all the chocolate blueberry smoothies, brownie oatmeal bowls, dark chocolate chips… and nowww Nut Free Superfood Chocolate Bark!
I mean, I'm calling it "superfood" bark, but to be honest, it's just delicious, silky smoooooth chocolate with a bunch of stuff I had in my pantry sprinkled on top!

Superfoods don't really have magical powers ((in case you didn't know that I think superfoods are the foods that make YOU feel super, not because Instagram says so!)). You can use whatever you have on hand, which are likely your superfoods!
Here are some great ideas… ((some affiliate links below))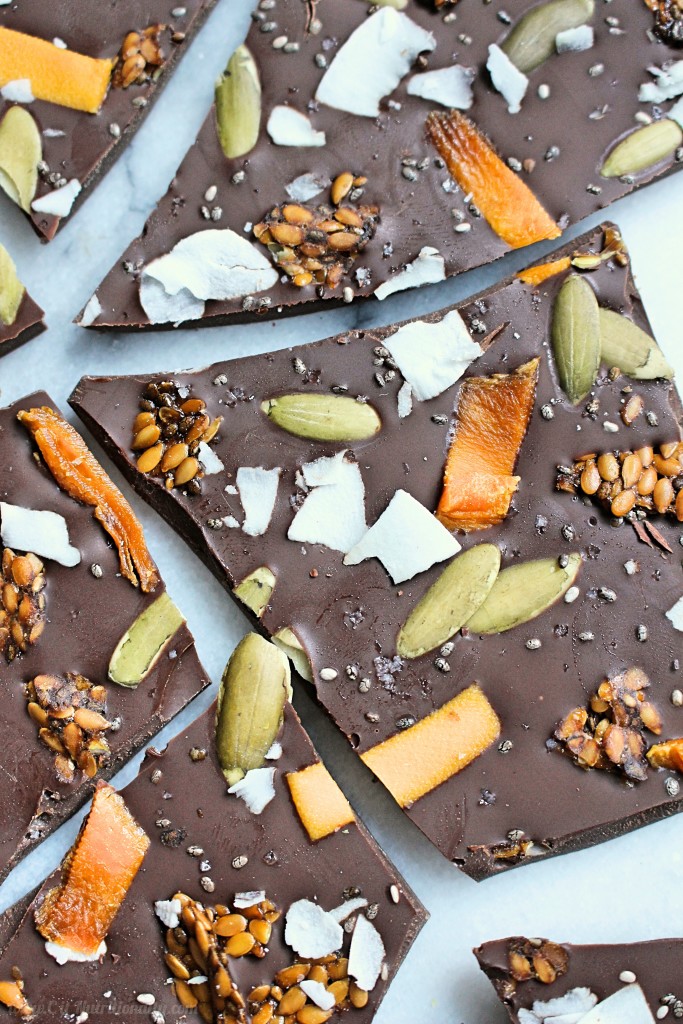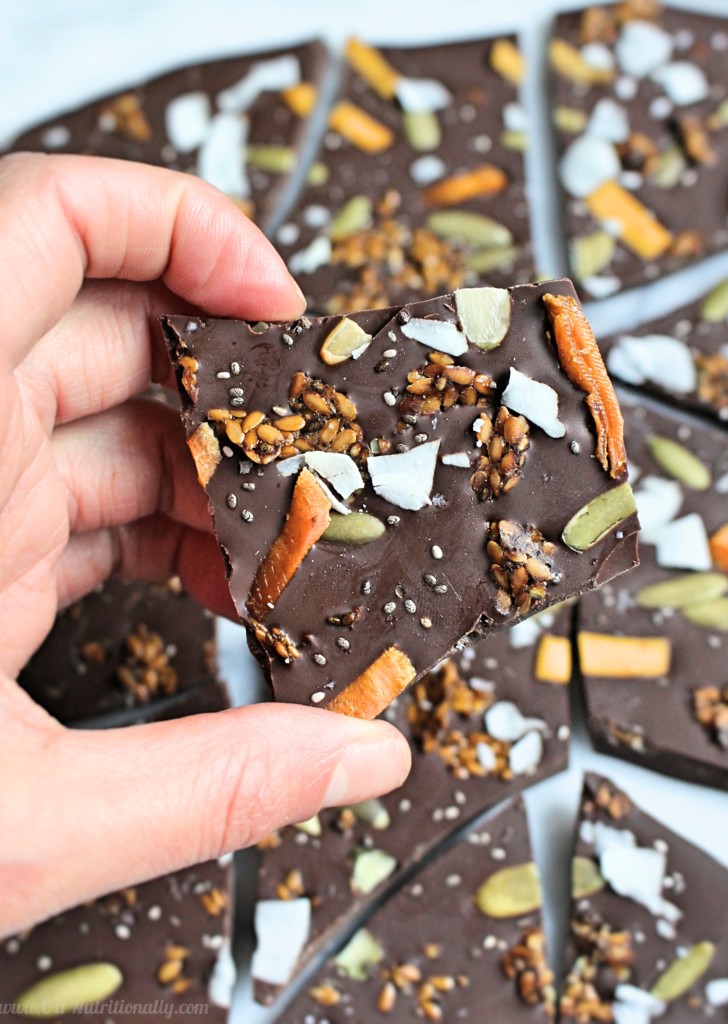 In 20 minutes you will be in Nut Free Superfood Chocolate Bark HEAVEN!
Nut Free Superfood Chocolate Bark
Ingredients
Instructions
Combine chocolate chips/chunks and coconut oil in a microwave-safe bowl and microwave in 30-second intervals, mixing in between, until chocolate is completely melted and smooth. This may take about 2-3 minutes, depending on the strength of your microwave.
On a parchment paper-lined baking sheet or on a silpat, pour chocolate in the center and use a nonstick spatula to spread into a rectangular shape.
Add toppings sporadically and then let harden in the freezer for about 10-15 minutes, or until frozen solid.
Break the chocolate bark into pieces when it is completely frozen. Store in an airtight container in the freezer or refrigerator. Enjoy! :)
Notes
The USDA considers coconut a tree nut, however, many individuals allergic to tree nuts are able to safely eat coconut. Please check with your allergist before eating coconut if you are allergic to tree nuts and unsure if you are allergic to coconut!
http://citnutritionally.com/nut-free-superfood-chocolate-bark/
Don't forget to PIN IT…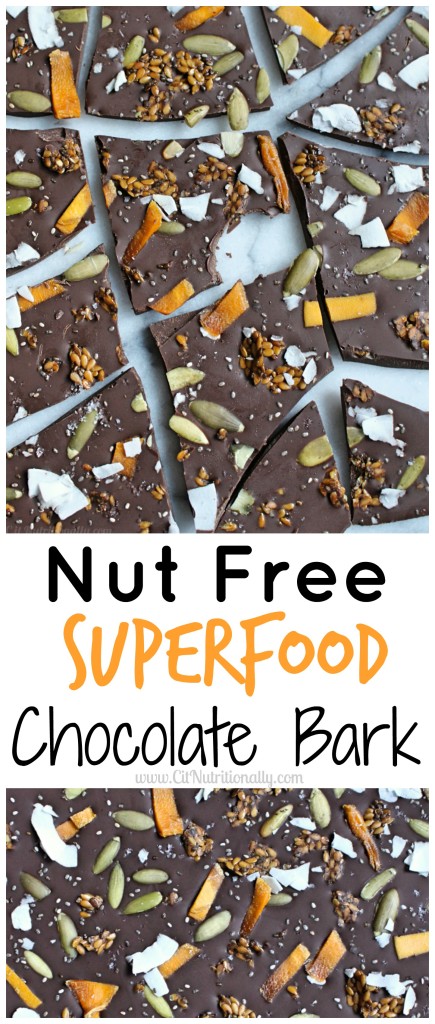 Now how's that for starting your week off on a sweet note?! 😉
XO
Let's get social! 

If you want to stay connected or you make something from C it Nutritionally I would LOVE to see your creations! Tag me or use the hashtag #CitNutritionally!
Facebook: C it Nutritionally
Twitter: @ChelseyAmerRD
Instagram: @CitNutritionally
Pinterest: ChelseyAmer