Break out of breakfast boredom without spending hours in the kitchen with my power smoothie bowl with quinoa granola…A crunchy topping for an absolutely delicious way to say "good morning!"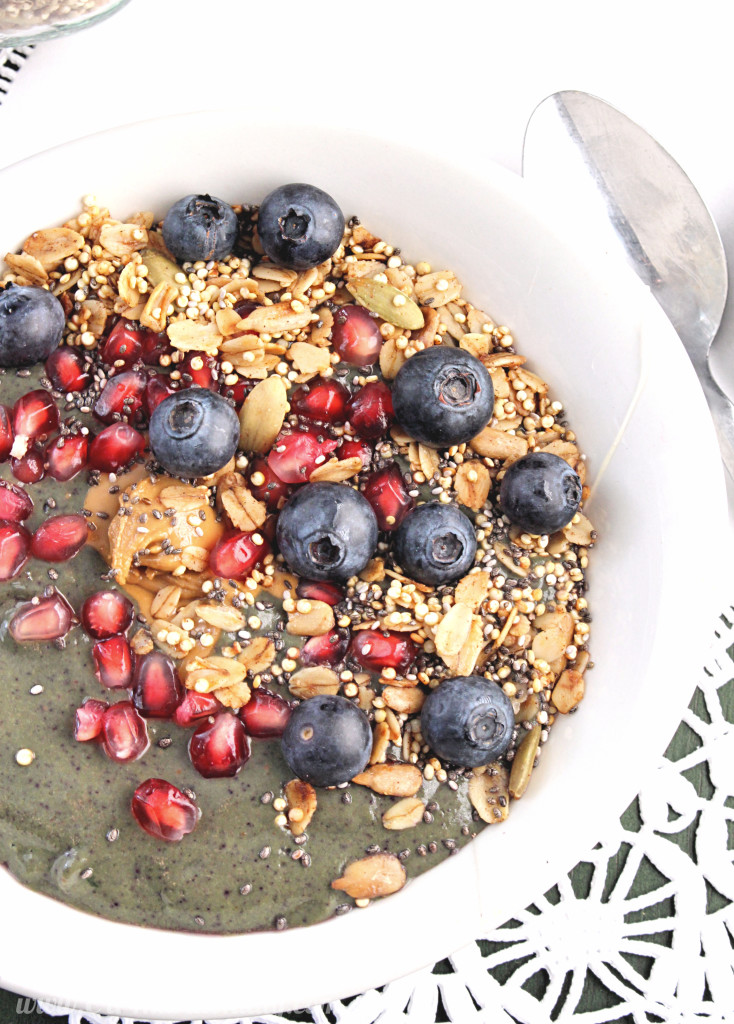 It's that time of the month again — #TheRecipeRedux time! Have no idea what I'm talking about? Each month, health-minded bloggers share healthified recipes that adhere to a specific theme.
You can check out some of my past Reduxes HERE!
Wondering what the theme is this February? ((hint hint: I think it may be one of my most favorite to date!!)) Without further ado…Break Out of Breakfast Boredom…
Cooks aren't always pressed for time in the mornings – they just need new ideas. Show us the healthy way you wake up your breakfast – or wake up just for breakfast!
Well, if you know me, you know this theme is right up my alley! I am OBSESSED ((or should I say OATS-essed)) with breakfast! I eat breakfast while I'm still in pajamas, right out of bed, and wouldn't have it any other way. I probably share more breakfasts on my 'gram than anything else!
I have a few go-to morning meals on hectic mornings – overnight oats…smoothies…humungo oatmeal bowls – but every once in a while, I do like to "wake up" my breakfast with something a little bit more special…quinoa granola, special, and the BEST power smoothie bowl EVER!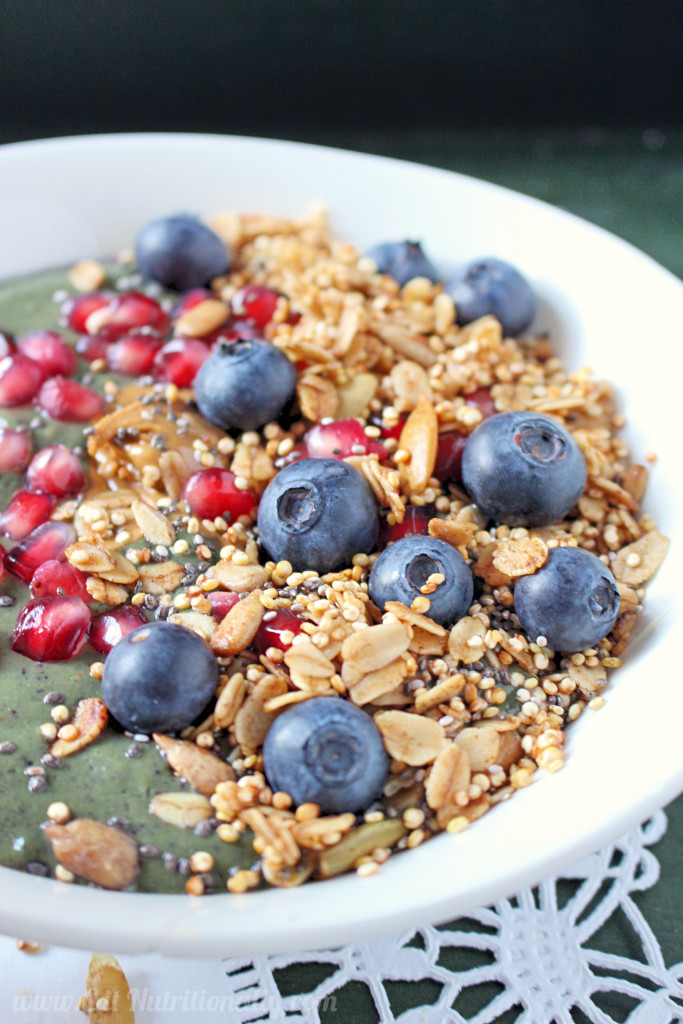 One Saturday morning I was watching the Food Network ((surprise, surprise)) when I heard the words "quinoa granola." I was on my way out of the house, but knew I HAD to re-make this genius idea my way!
So I combined some of my favorite seeds (did you know quinoa is a SEED, not a grain?!) with oats, a light sweetener, some oil, and spices. Mix and bake and voila…crunchy, seedy, hearty granola that you will LOVE!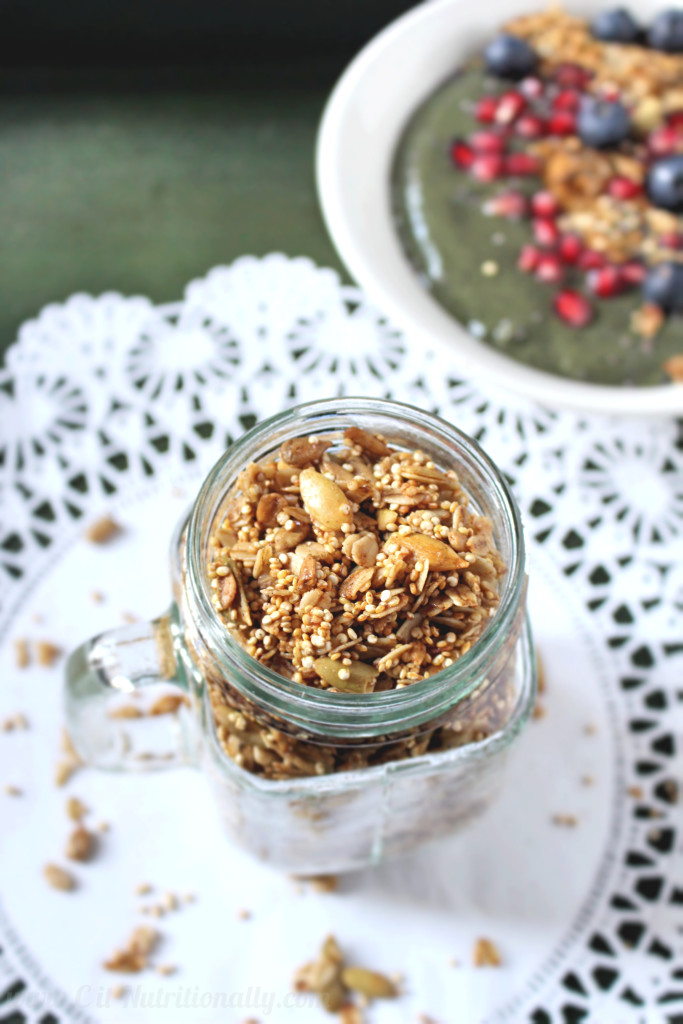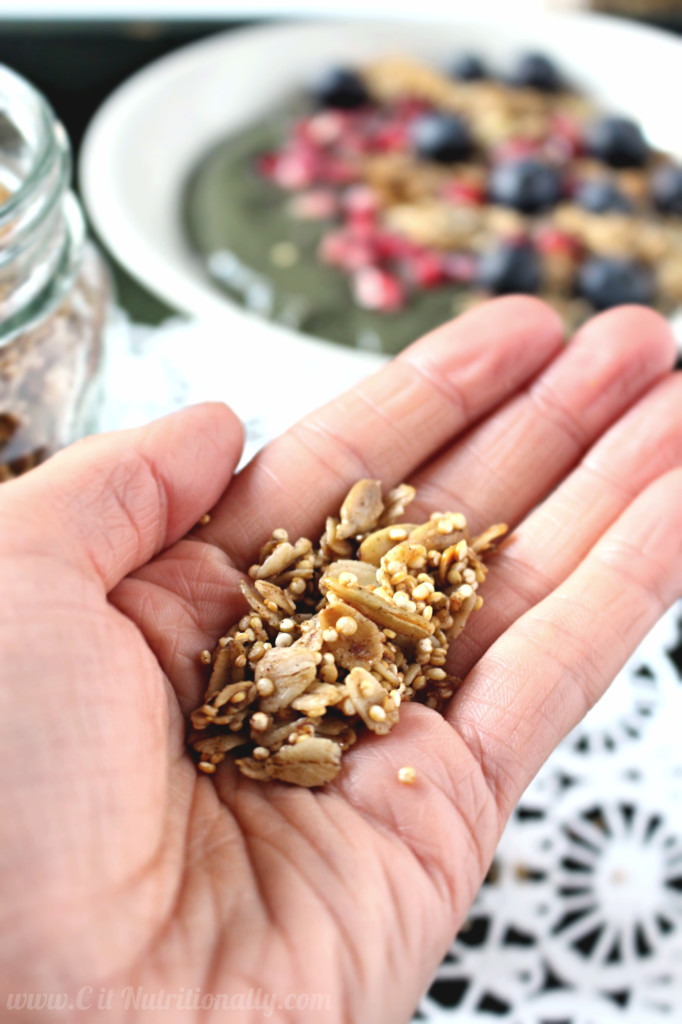 I figured my first granola recipe would be extra special with a brand spankin' new smoothie bowl! I combined frozen berries ((they're just a nutritious as fresh!)), some baby greens (duh!) you can't even taste, and luscious avocado that adds a creamy decadence to this bowl.
This bowl is…
Creamy
Berrylicious
Smoothie smoooooth
Vegan
Food allergy friendly: Gluten free, nut free & dairy free
Decadent
Loaded with good-for-you nutrients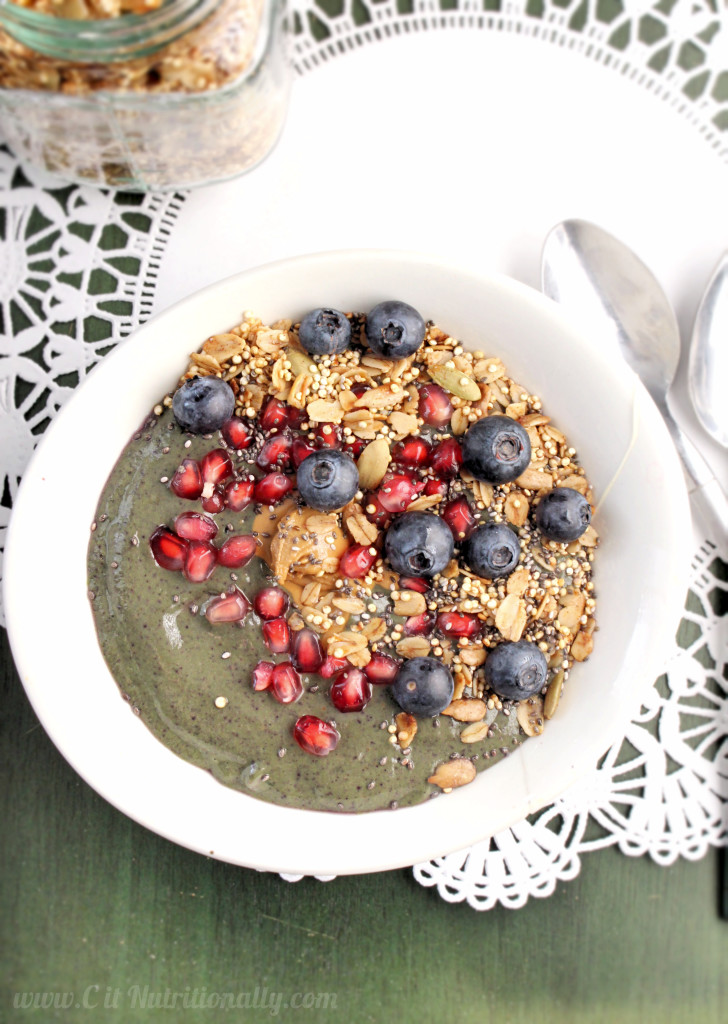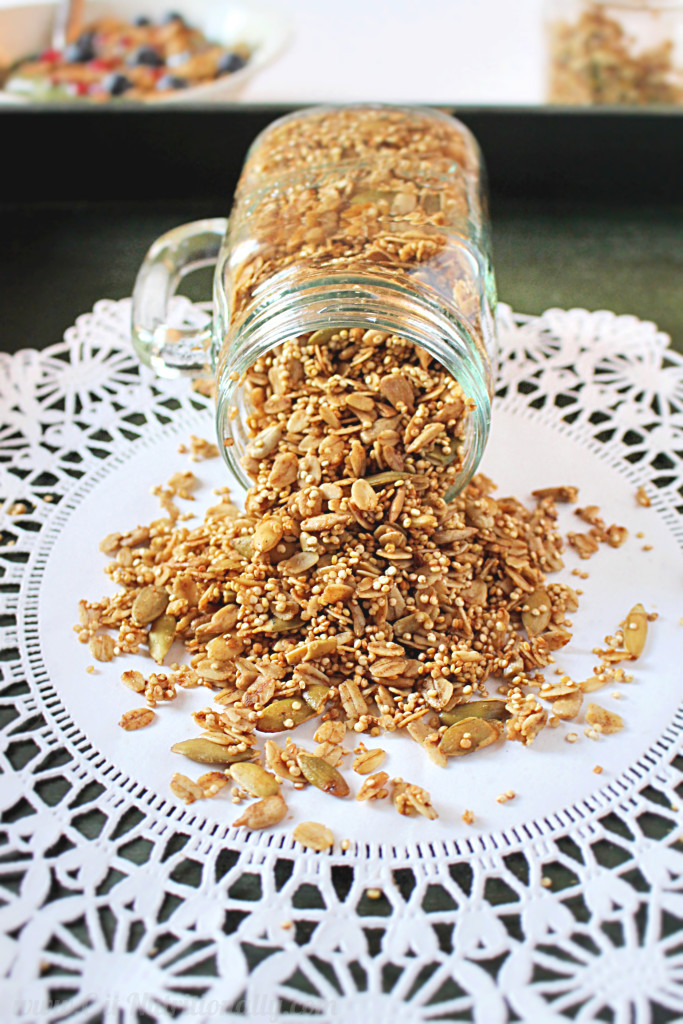 This one's a winner!
Power Smoothie Bowl with Quinoa Granola
Ingredients
For the smoothie base:

1/2 cup unsweetened soy milk (or other milk alternative)
3/4 cup frozen berries (I used a 2:1 ratio of blueberries to raspberries)
2 cups baby spinach or kale
1/4 small to medium avocado

For the Quinoa Granola:

1 cup rolled oats
3/4 cup dry quinoa
1/3 cup pumpkin seeds
1/3 cup sunflower seeds
Pinch of sea salt
1/4 teaspoon ground ginger
1/2 teaspoon ground cinnamon
2 tablespoons coconut oil (or other mild-flavored oil), melted
1 1/2 tablespoons agave or honey
Instructions
Smoothie base:

Combine all ingredients in a high powered blender and blend until smooth consistency forms. Enjoy immediately!

For the Quinoa Granola:

Preheat the oven to 300°F. Line a baking sheet with parchment paper or silpat, and spray with nonstick spray.
Toss the oats, quinoa, seeds and salt and spices in a large bowl. Add melted coconut oil and agave. Toss together. Small clumps should form. If the mixture seems dry, add more coconut oil, 1 teaspoon at a time.
Spread the granola mixture onto the prepared baking sheet in a thin layer. Bake until just golden brown, about 45 minutes. Let cool completely to allow granola to harden (it will feel sticky when it is just removed from the oven) before storing in a tightly covered jar for up to 5 days.
http://citnutritionally.com/power-smoothie-bowl-quinoa-granola/
Don't forget to PIN IT…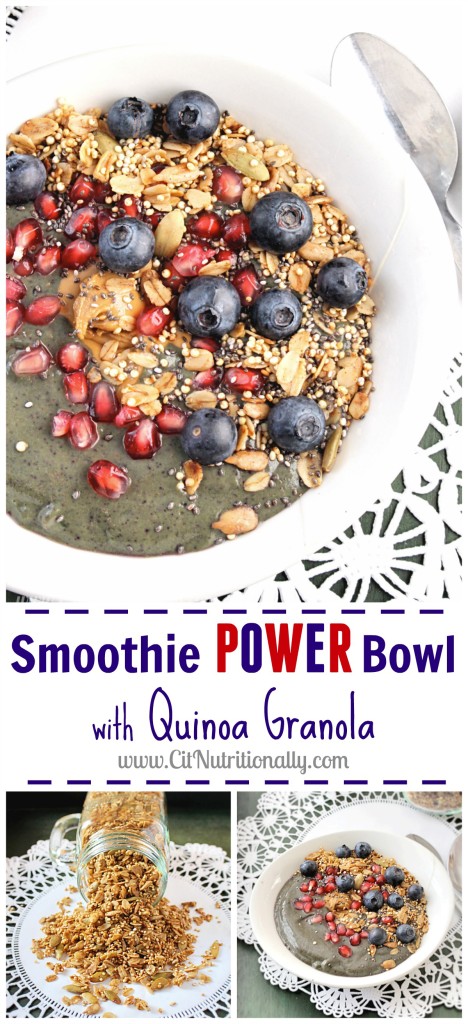 What's your favorite way to "wake up" breakfast?! 
Check out these other ideas from my fellow Reduxers…
XO