Sweet and savory, this fluffy Puerto Rican Omelette gets its hearty flavor from one of the country's native fruits — the plantain! Perfect for breakfast, lunch or dinner, any night of the week!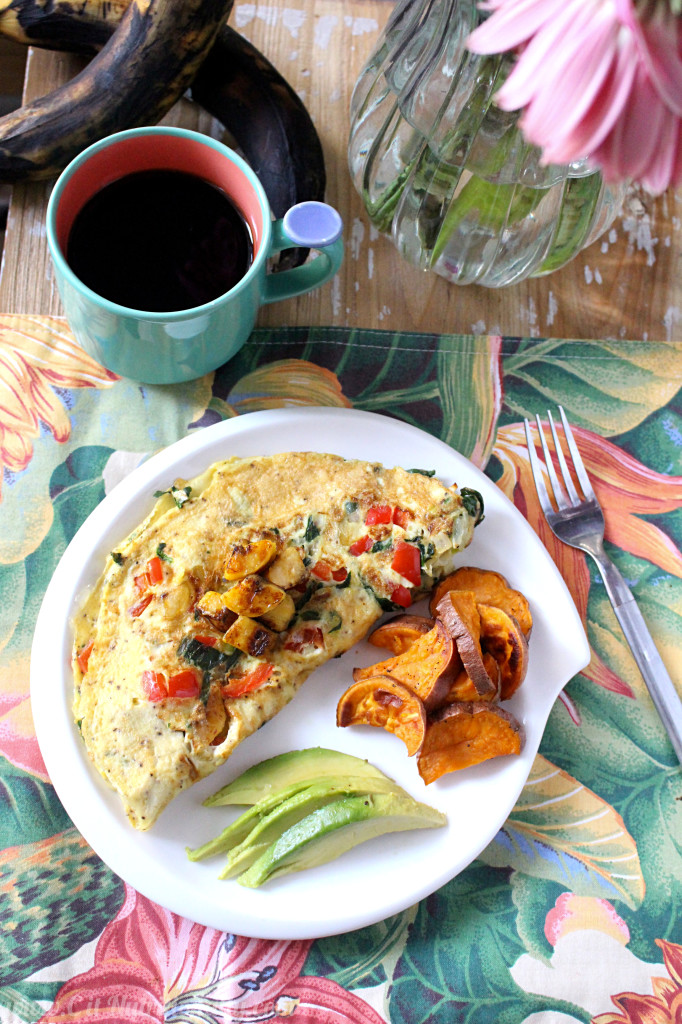 Hiiiyyyaaa friends! 
After a totally impromptu blog-catation last week (Sorry, I'm not sorry, I was too busy celebrating — I got accepted into my dietetic internship!!!!! AHHH!! #RD2be!!), I'm back and ready for some #breakfastfordinner!
Don't ya just love breakfast for dinner? Sometimes, life gets crazy. Or maybe all the time. I know this wayyy too well, (but wouldn't change it for the world) so more nights than not, I'll have breakfast for dinner…because isn't it the best meal of the day?!
If it were up to me, every restaurant would serve breakfast for dinner, all the time, no excuses. Are ya listening?!
While I went a little crazy with the protein pancakes over Passover, this week I'm back to a classic — eggs! You can scramble em, boil them, poach them (once you get the hang of it, it's easy peasy!), or fold them nicely into an omelette.
So let's chat about EGGS… 
Unfortunately, eggs get a bad rap. Something about cholesterol??? Well, truth be told, research shows that saturated and trans fats actually have a larger impact on raising your cholesterol than dietary cholesterol [the cholesterol that you eat]. Should you gorge yourself on dietary cholesterol? No. But eating eggs — including the yolk — a few times per week will not, I repeat will not, have detrimental effects on your health if you are otherwise healthy. If you do have high cholesterol, the American Heart Association suggests you only consume up to 4 eggs per week*. Dietary fiber (ie: veggies and plantains!!!!) has also been shown to help lower cholesterol, so eating a veggie omelette is a GREAT choice. Make this omelette…you won't be sorry!
So when I was in Puerto Rico last month I would look forward to the breakfast buffet everyday (at real breakfast time, not for dinner). There's nothing quite like a great buffet! So now you know two of my favorite things — breakfast for dinner AND breakfast buffets on vacation! Without a doubt, my first stop on the buffet was always the omelette station. On our second day breakfasting (real word, FYI!), the "omelette guy" asked if I wanted to try plantains with all the other veggies in my omelette. I stood there for a moment…PLANTAINS?!
I figured what the heck…you only live once, right?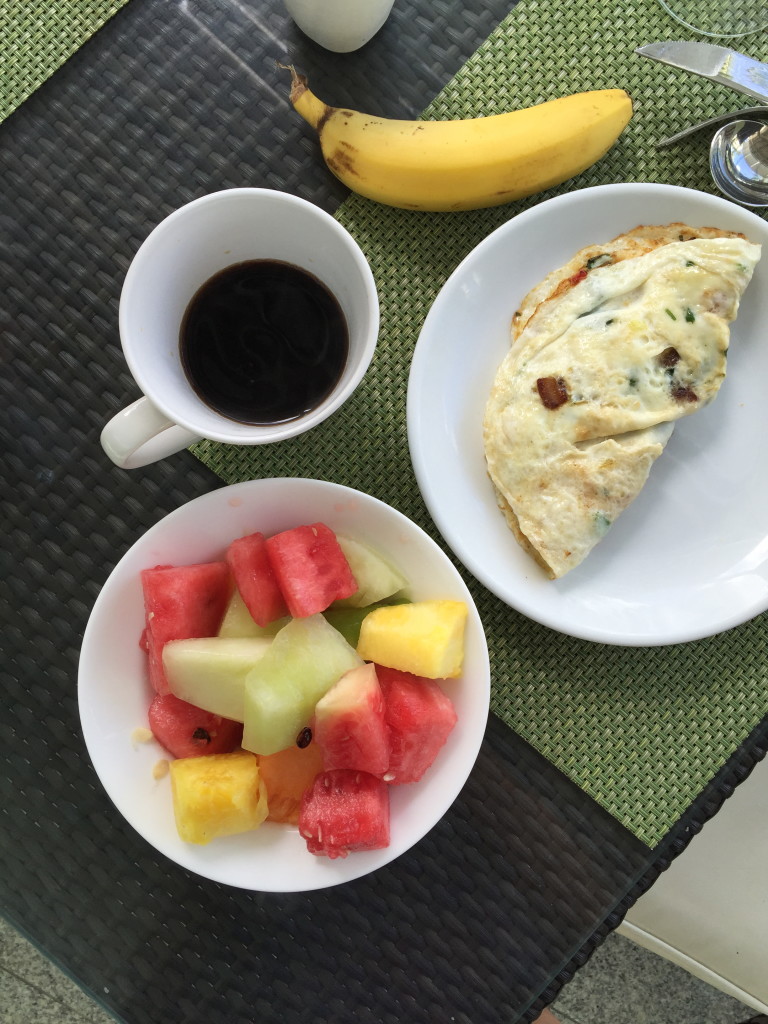 Let me tell you — bomb.com! You MUST try this unique combo. It's out of this WORLD! And by world I mean New York and in Puerto Rico. Hence, this Puerto Rican Omelette!
This isn't quite a complex recipe but I HAD to share because well, PLANTAINS…in an omelette!!!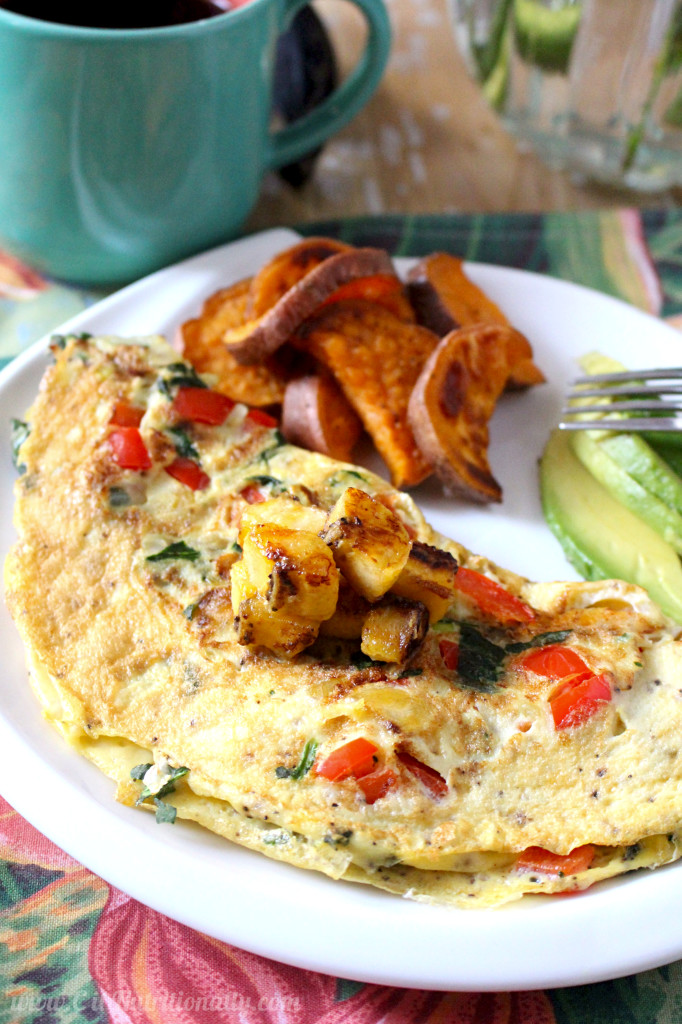 Simply saute these not-so-banana-y fruits in a little bit of high quality oil (I used coconut), making sure you brown them well. Alternatively, you can roast the plantain slices too. Then proceed to make an omelette (or scrambled eggs) how you have for years.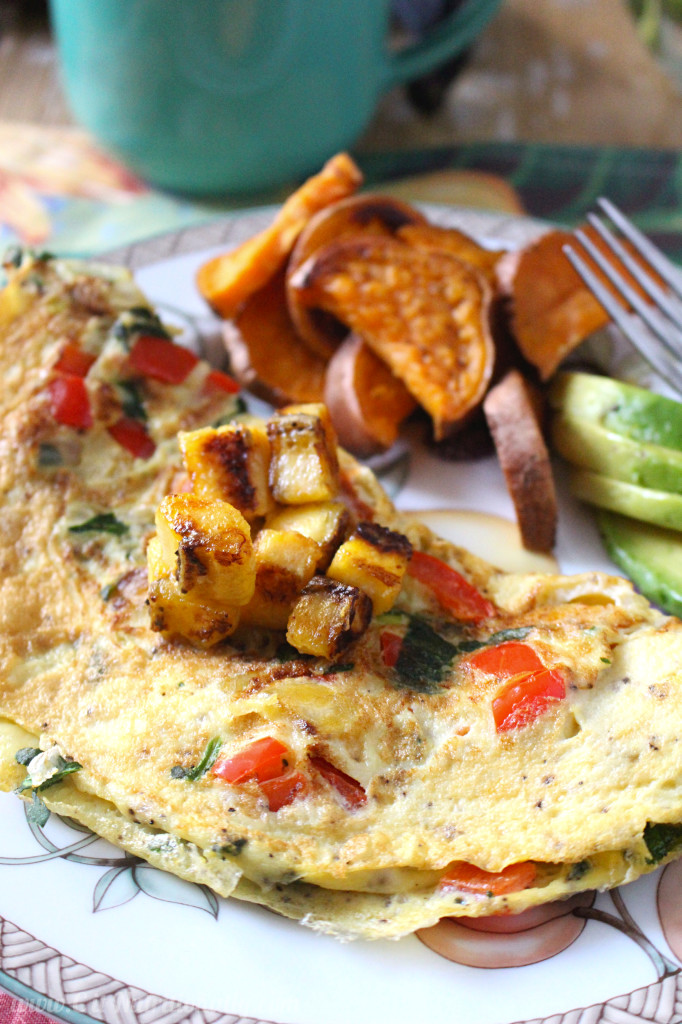 Saute your veggies — plantains included — add your scrambled eggs (fluffed up with a drop of milk!), your favorite herbs and spices, cook, flip, and enjoy!
Ingredients
1 plantain, cubed
2 teaspoons coconut oil
6 eggs scrambled
Splash of milk
Freshly ground black pepper, to taste
1/2 cup onion, chopped
1/4 cup bell pepper, chopped
2 cups spinach, roughly chopped
Optional: Fresh herbs [chives, parsley, etc.] and/or cheese
Instructions
In a medium skillet over medium heat, sauté cubed plantain in coconut oil until browned on the exterior, about 10 minutes. Remove plantains from pan and set aside.
While plantains are sautéing, scramble eggs in a small bowl with a splash of milk. Add a sprinkle of freshly ground black pepper.
Start making omelettes, dividing ingredients in 1/3 to make 1 omelette at a time. Saute onions until translucent, then add bell peppers to cook. Finally, add spinach to quickly wilt.
Add plantains back to the pan and then add eggs.
Let cook until eggs are cooked through and carefully flip. Omelette should be crispy on the exterior. About 5-7 minutes total.
Repeat until all vegetables and eggs are used. You should be able to make 3 omelettes.
Serve immediately! Enjoy!
http://citnutritionally.com/puerto-rican-omelette/
What do you eat with your eggs? I'm not going to lie…I'm a ketchup girl!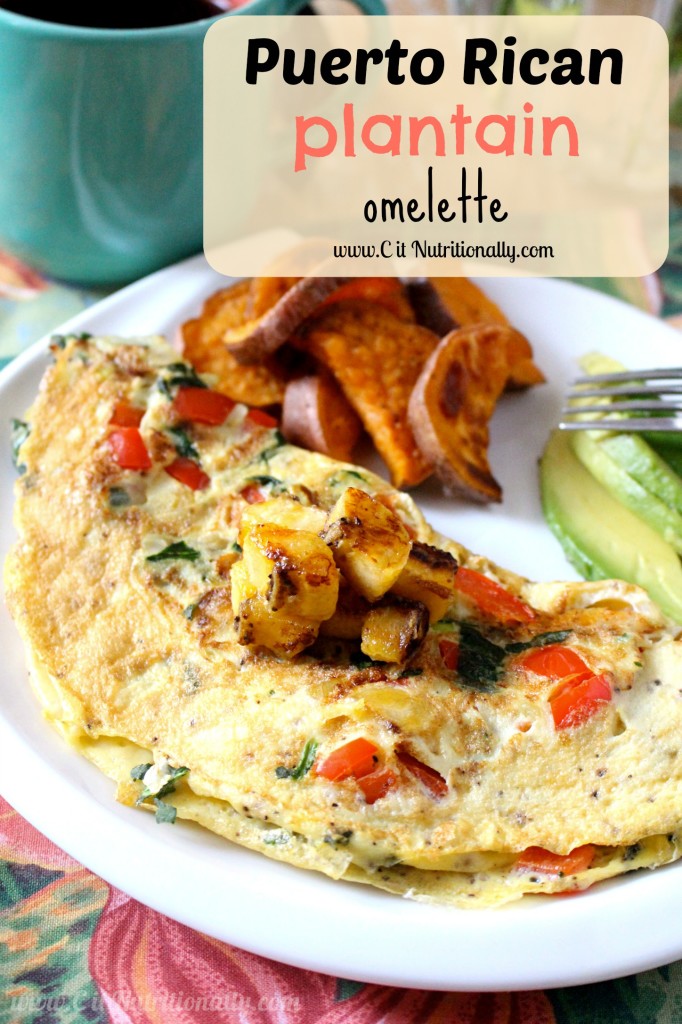 What's your go-to omelette filling?! 
XO
*Always check with your physician or dietitian!