Creamy, delicious and full of fall flavor, these 5-Ingredient Pumpkin Pie Overnight Oats are the perfect breakfast to transition from warm summer days to cool fall mornings with protein, fiber and tons of flavor!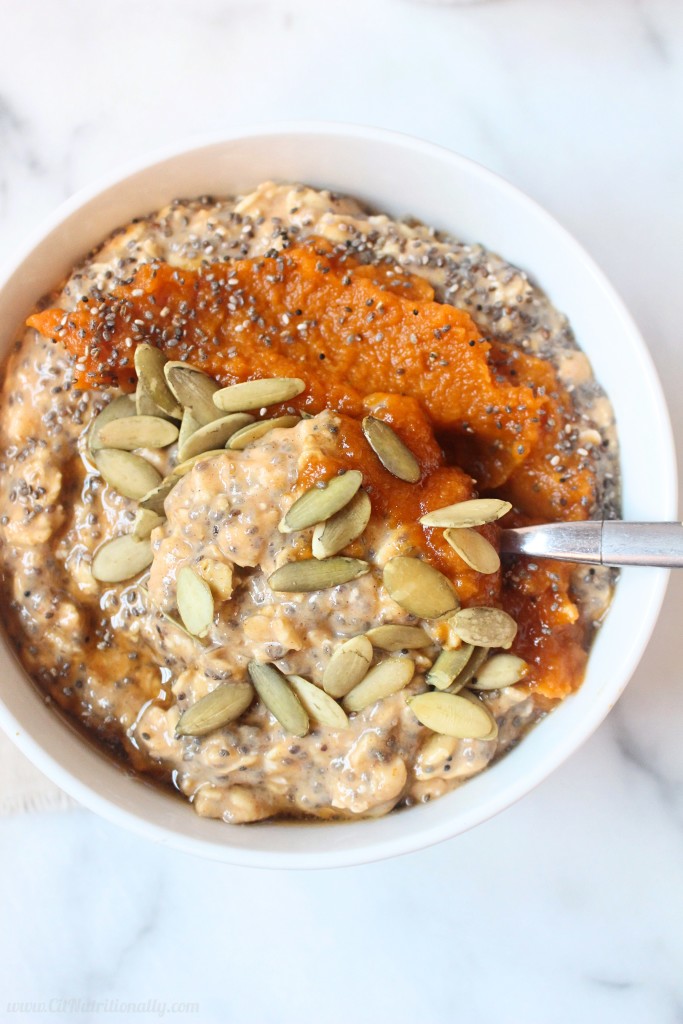 Despite a lingering summer with 85+ degree temps last week, the pumpkin OBSESSION has officially begun!
Pumpkin spice lattes are everywhere, pumpkin pancakes are all the rage, and it seems like everyone skipped over apple season this year to jump straight to the pumpkin (myself included)!
In the social media heavy Instagram-era, it seems hard to remember a time before you had to have the perfect shot of your PSL on the very first day they became available, because otherwise, are you even a part of the wellness community, but I want to try and remember that time. And I got that chance this past week…
I ignored social media for a full three days. It wasn't on purpose, but because I was grieving the loss of my beloved grandfather with my family (who never knew how to use a computer, by the way). He would tell my grandma, "Bubby, Google it…" but never wanted to get involved with the computer or social media himself.
After talking with some friends about the craziness that is Instagram and algorithms that drive us all nuts, I got to thinking about how my grandfather would handle the craziness that is social media.
My grandpa, or Pop as we called him, was a brilliant man… Honest, generous, kind and loving. He stayed true to who he was, and that's something he instilled in all of his kids and grandkids too…
Be yourself… and be true to yourself…
So even if it has nothing to do with pumpkin pie overnight oats, I think it's a good reminder when it's so easy to get bogged down by numbers and likes and the "right" thing to do. Just be you.
And right now, being me is not drinking pumpkin spice lattes because they're just not me… but I'm all about pumpkin for breakfast…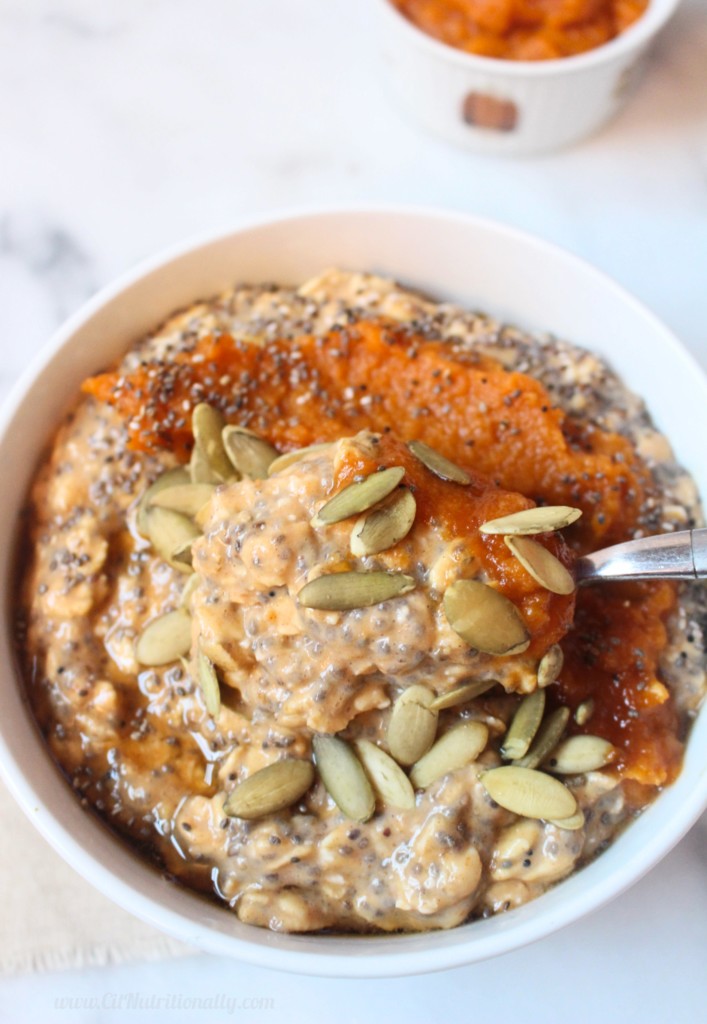 And with our slow transition to fall — which has finally arrived in New York, thank you very much! — this is the perfect recipe to take you from hot days to cooler mornings!
We're big fans of overnight oats in our house. It's my go-to recommendation when someone asks for a filling and hearty breakfast, and I've gotten my friends and family absolutely hooked! Plus, I don't think you can really ever bet bored because the flavor combos are totally endless! Banana Bread…. Sunflower seed butter and jelly… and now PUMPKIN PIE!
AND, they're almost toooo easy to prep in the evening for a grab-and-go breakfast while you're out the door in the morning.
Because there's nothing better than saving a few minutes in the morning by having breakfast already prepared… ya know what I mean??
And with this recipe you only need 5 ingredients… and less than 5 minutes to have a filling, nourishing, energizing breakfast waiting for you while you try not to be late for work… 🤔
These 5-Ingredient Pumpkin Pie Overnight Oats are…
Easy to make in a flash
Made with only 5 ingredients… that you probably already have in your pantry!
Food allergy-friendly
Filling
Energizing
Full of FIBER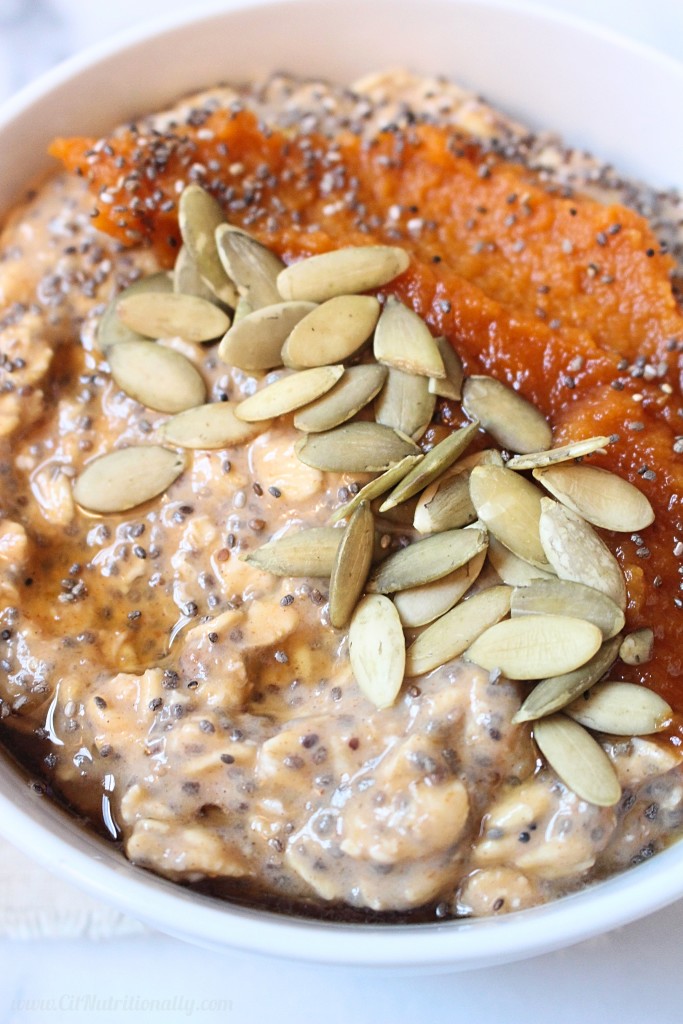 5-Ingredient Pumpkin Pie Overnight Oats
Ingredients
1/2 cup rolled oats (certified gluten-free, if needed)
1 tablespoon chia seeds
1/3 cup pumpkin puree (not pumpkin pie filling!)
1/2 teaspoon pumpkin pie spice
1 cup milk of choice (I used Ripple dairy-free milk in this recipe)
1/2 teaspoon pure maple syrup
Instructions
1. Combine all ingredients in a small bowl or jar with a cover. Mix well to combine.
2. Refrigerate overnight.
3. Mix in the morning, top with nut/seed butter, additional pumpkin puree, and/or a drizzle of maple syrup, if desired. ENJOY! :)
http://citnutritionally.com/pumpkin-pie-overnight-oats/
Don't forget to PIN IT…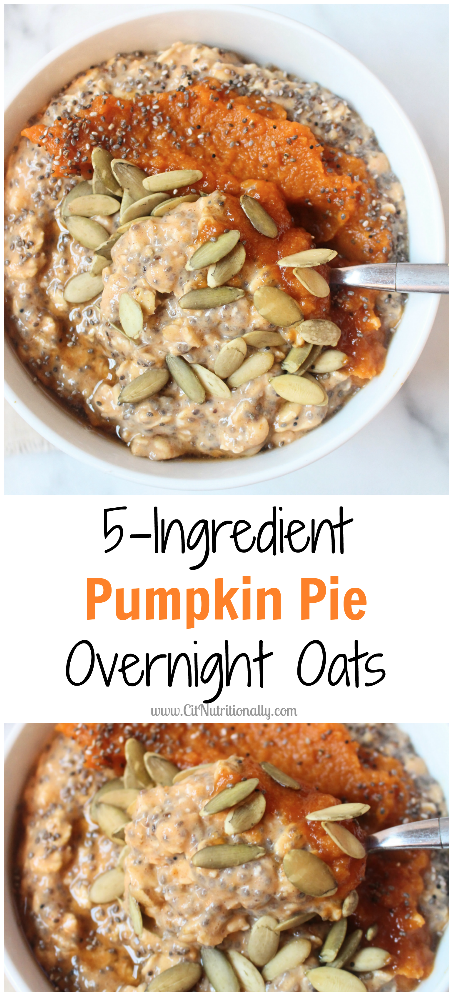 Make breakfast a breeze…
XO
If you want to stay connected or you make something from C it Nutritionally I would LOVE to see your creations! Tag me or use the hashtag #CitNutritionally!

Let's get social! 
Facebook: C it Nutritionally
Twitter: @ChelseyAmerRD
Instagram: @CitNutritionally
Pinterest: ChelseyAmer