Hearty and filling, this flavorful beet burger is chock full of good-for-you ingredients: black beans, quinoa, oats, chia seeds, and tons of spices. You won't miss a beet with this Meatless Monday meal!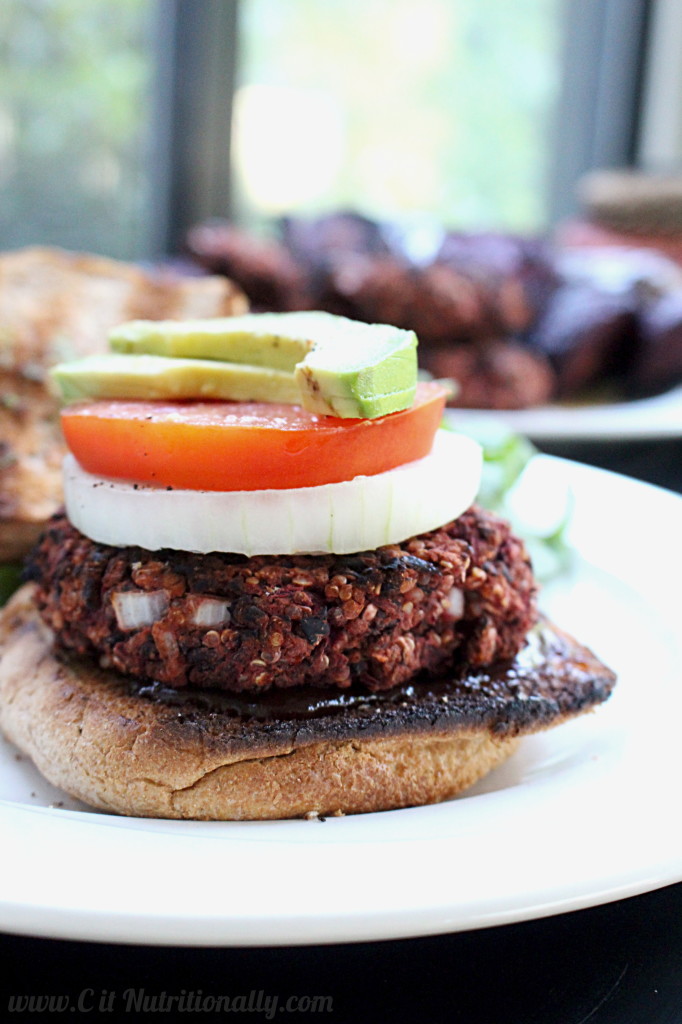 Happy Monday vegheads! 
This weekend was buusssyyy…but in all of the good ways! I was off Friday so I started my day nice and early with the quiet sounds of morning, coffee and baking! I made incredible berry muffins that I adapted from this recipe for a brunch that I hosted on Sunday (recap coming soon!). While my muffs were in the oven I made (and devoured) another plate of bomb dot com protein pancakes that were heaaavenly, as per usual. If you don't follow me on Insta yet, it's about time…I'm soooo close to 1K followers — wanna help a gal out?! 
On that note, I just want to say that I'm honored for all of the support ya'll have been showing me lately. I wrote a whole post about gratitude that I'll get around to posting soon, but just wanted to say a big ol' THANK YA! The past 6 months of C it Nutritionally have been incredible. I wish I could focus all my time on this little baby of mine, but I can't yet, but I still get so excited with every comment, like, and share that I get and it's all because of Y.O.U! 
So for a monstrous THANK YOU, I made you burgers! Veggie burgers. A beet burger to be exact…because it's #MeatlessMonday, ya know?!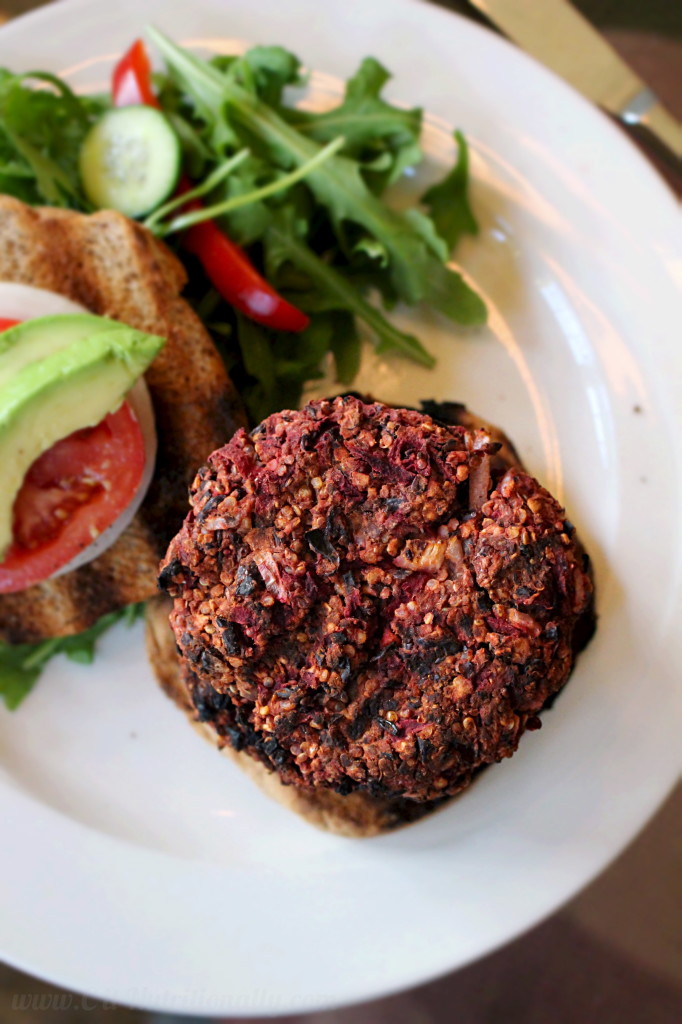 It's finally burger season, which is veggie burger season to me (and you?!), which is great in my book because I L.O.V.E. myself a good veggie burger. 
For my meat-eating friends, I am NOT trying to duplicate the taste, texture, and mouthfeel of meat. It's just NOT what I'm trying to do. 
What I am trying to do with every veg burg I give ya is provide an exciting explosion of flavors in your mouth that's satisfying, satiating, and good for you! Because the studies are real — we need to EAT. MORE. VEG!
That's not to say that I don't miss a hearty burger about once every BBQ season, because it's true, I do. I've been meat-free for over 3 years now and my body seems to be chugging along great with my meatless ways, so that is how I will continue to eat…but sometimes a charred burger burger does smell oh so heavenly!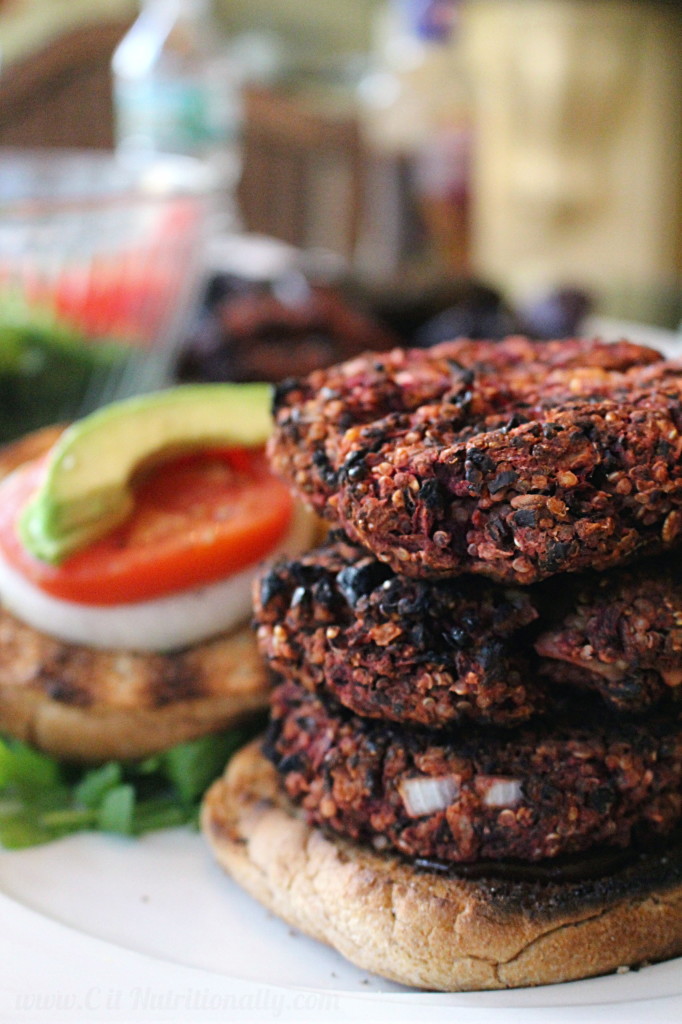 Well, this summer I seem to hopping on the beet burger train, which is A OK in my book because it's just one stop away from heaven! This veg burg started with me wanted to emulate my beloved Hillstone veggie burger. I'm obsessed! It contains brown rice, beets, prunes, and this delicious soy glaze. 
I googled, and there are plenty of "copycat" recipes out there, so I wanted to put a unique spin on it by using quinoa instead of brown rice (more protein!), dried cherries instead of prunes (tangier flavor), and no soy glaze because I wanted this to be simple…and glazes just seem too fancy for your average Sunday evening BBQ.
So I hopped into the kitchen with my dad and we came up with this…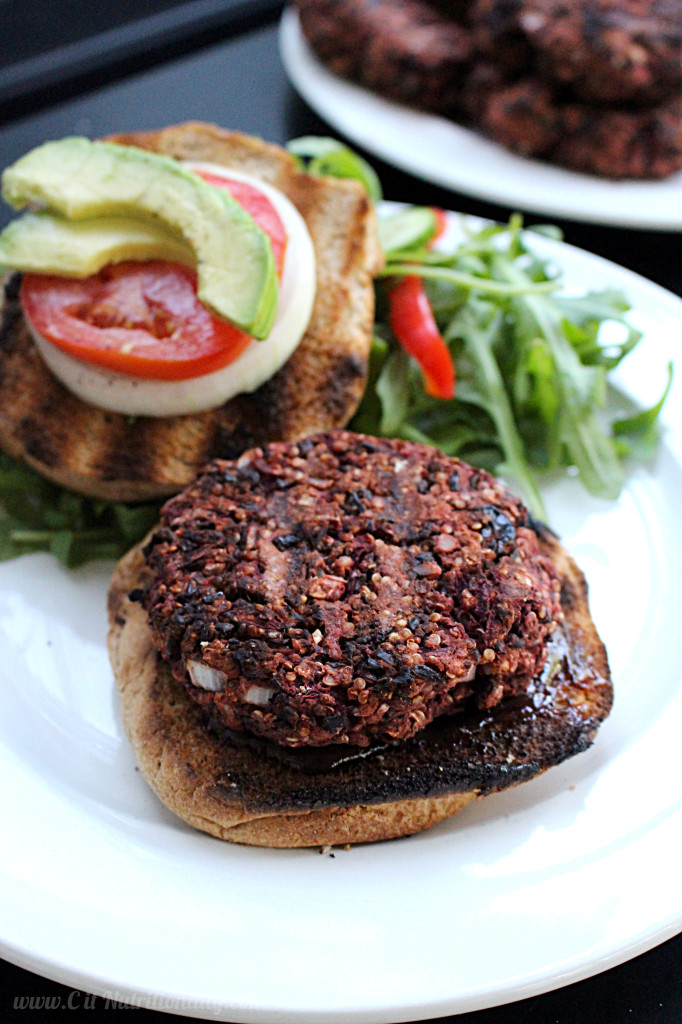 OK, so maybe I totally hogged the experimental process just a teensy weeny bit (sorry!). 
And then I made my parents eat cold burgers while I was photographing (sorry again!).
#foodbloggerfamilyproblems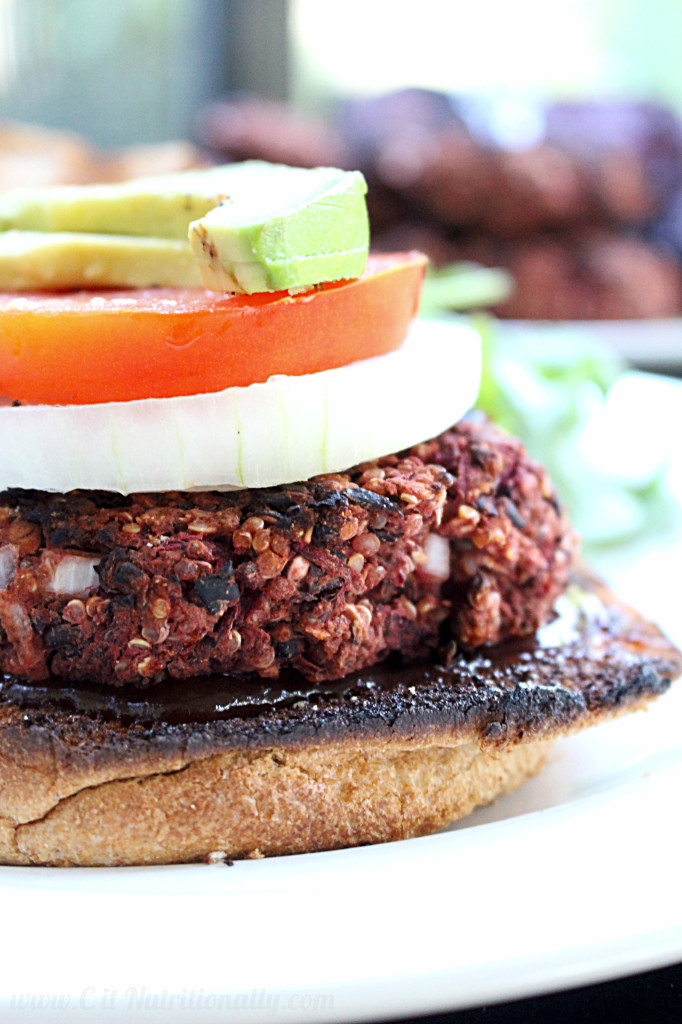 The family loved these burgers and I know you will too…even if you're not a huge beet fan. There's only ¾ cup and it provides a juiciness and a slight sweetness that works perfectly here…especially if you top these babies with a hunk of onion and avo. Avo required!
Simply combine ingredients in 1 bowl (yes, easy clean up…1 bowl!)…form into patties…and grill!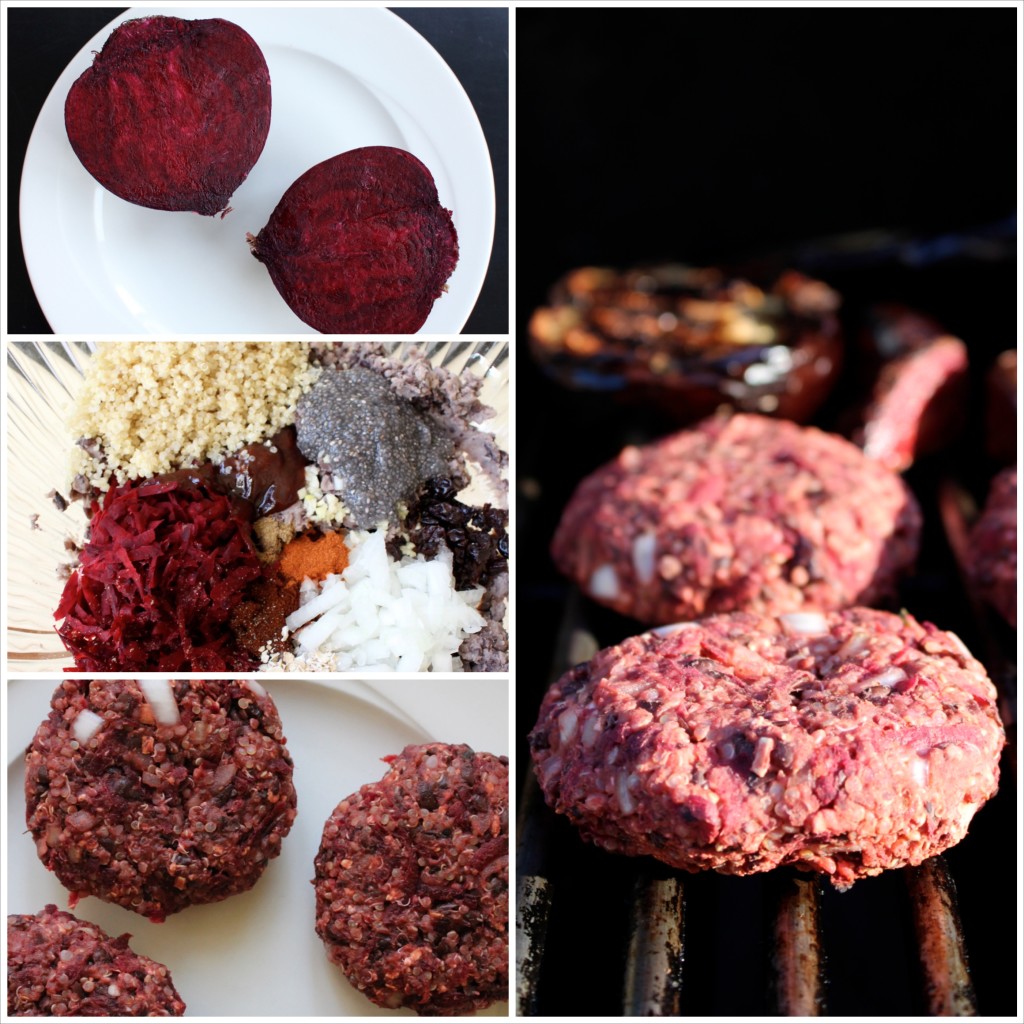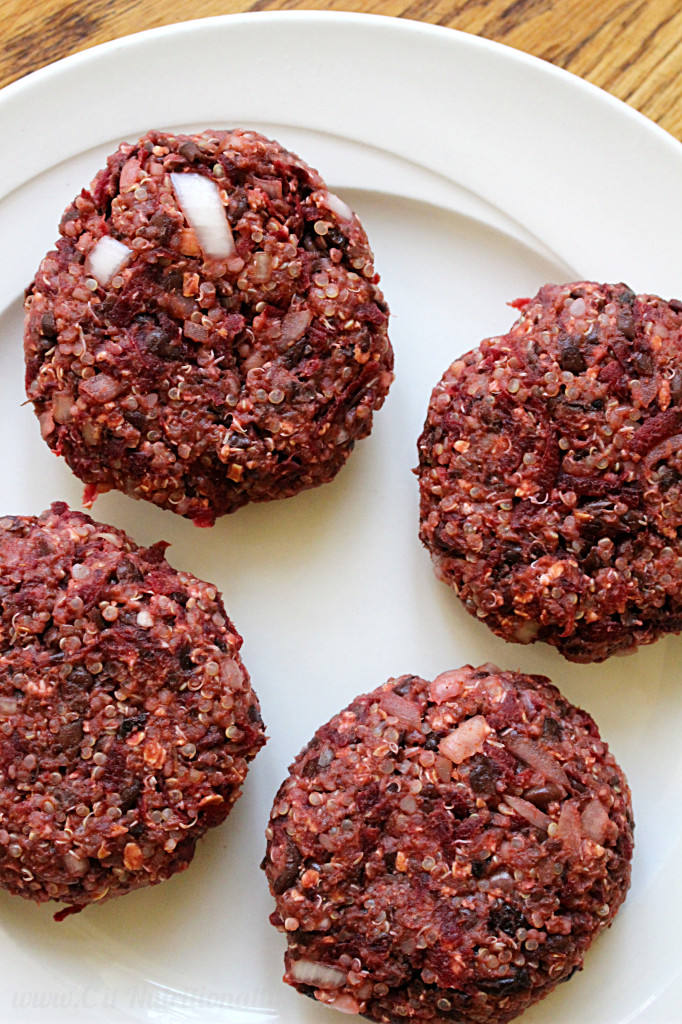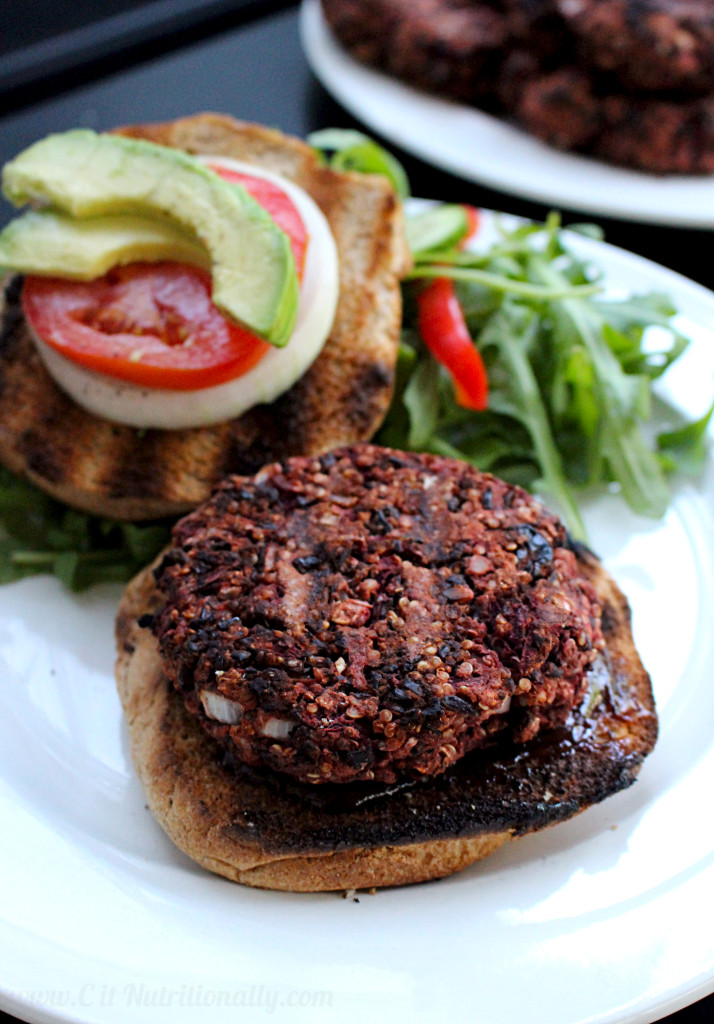 I hope you enjoy these as much as we did!
Gluten Free & Vegan Quinoa Beet Burger
Ingredients
3/4 cup quinoa, cooked
1 tablespoon chia seeds
1 15 oz can black beans, drained and rinsed
3/4 cup raw beets, shredded and water squeezed out
1/4 cup yellow onion, finely chopped
1 clove garlic, finely minced
1/4 cup quick oats (certified gluten free, if needed)
2 1/2 tablespoons barbecue sauce
1 1/4 teaspoon chili powder
1/2 teaspoon cumin
1/4 teaspoon black pepper
1/4 teaspoon paprika
1/4 teaspoon kosher salt
1 tablespoon unsweetened dried cherries, chopped
Optional: Pinch of dried chili flakes
For serving: Whole wheat hamburger buns and alllll the fixins (lettuce, tomato, onion, and avocado sliced)
Instructions
Prepare quinoa according to package instructions. Set aside to cool.
In small bowl, combine chia seeds with 3 tablespoons of water. Set aside to let gel.
In a large bowl, mash drained and rinsed beans. Add beets, onion, garlic, barbecue sauce, spices, and cherries. When quinoa is cooled and chia "egg" has gelled, add them to the mixture and combine well.
Form into 4-6 patties, depending on desired size. Refrigerate for about 20-30 minutes.
Over medium-high heat (stovetop or on an outdoor grill), coat pan or grill with vegetable oil. Grill burgers for about 10 minutes on each side until exterior crisps.
Enjoy with sliced tomato and onion, an extra squirt of barbecue sauce, and a creamy slice of avocado!
http://citnutritionally.com/quinoa-beet-burger/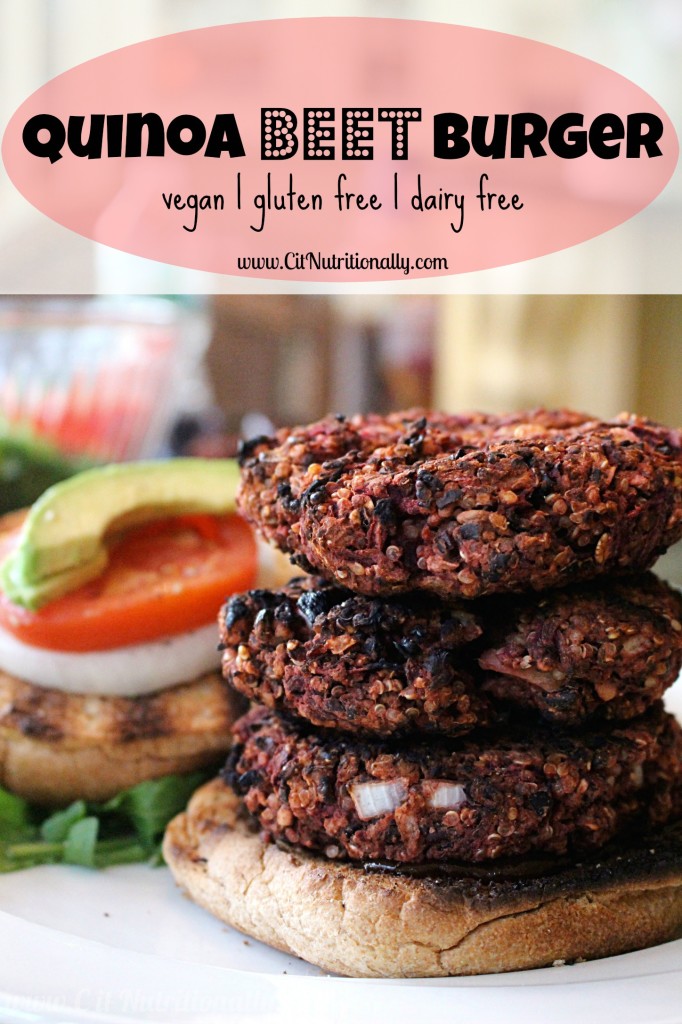 Add this to your next BBQ menu…I promise they'll be a hit!
Happy Monday!
XO