Enjoy a cozy bowl of Roasted Carrot Apple Soup that's creamy, silky smooth and full of sweet and savory flavor, with a hint of heat!
Vegan, Gluten Free, Grain Free, Nut Free, Soy Free, Egg Free, Dairy Free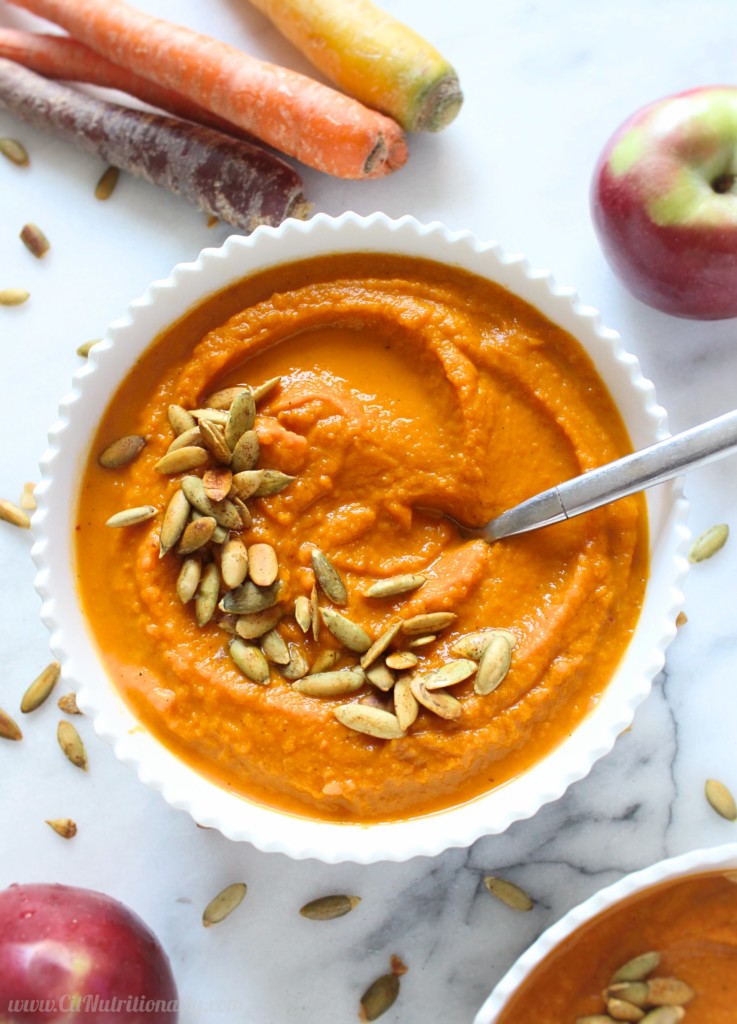 I know I've said it before, but I think it's for real this time … Fall is in the air! In our house, that means one thing: SOUP SEASON!
So last weekend, I set out to make a new kinda soup for me… a creamy, thick, hearty and totally delicious soup! Meet my roasted carrot apple soup!
Believe it or not, I've never been a soup fan. Yup, something that is so easily chock full of veggies, and I wasn't a fan! Shocking! But recently — and maybe it has to do with living in a city where I walk countless chilly blocks — soup has slurped its way into my heart. Although I am not a fan of slurping!

Because what's better when you're out in the chill with a slightly runny nose (just me?! Literally doesn't stop!), than SOUP?!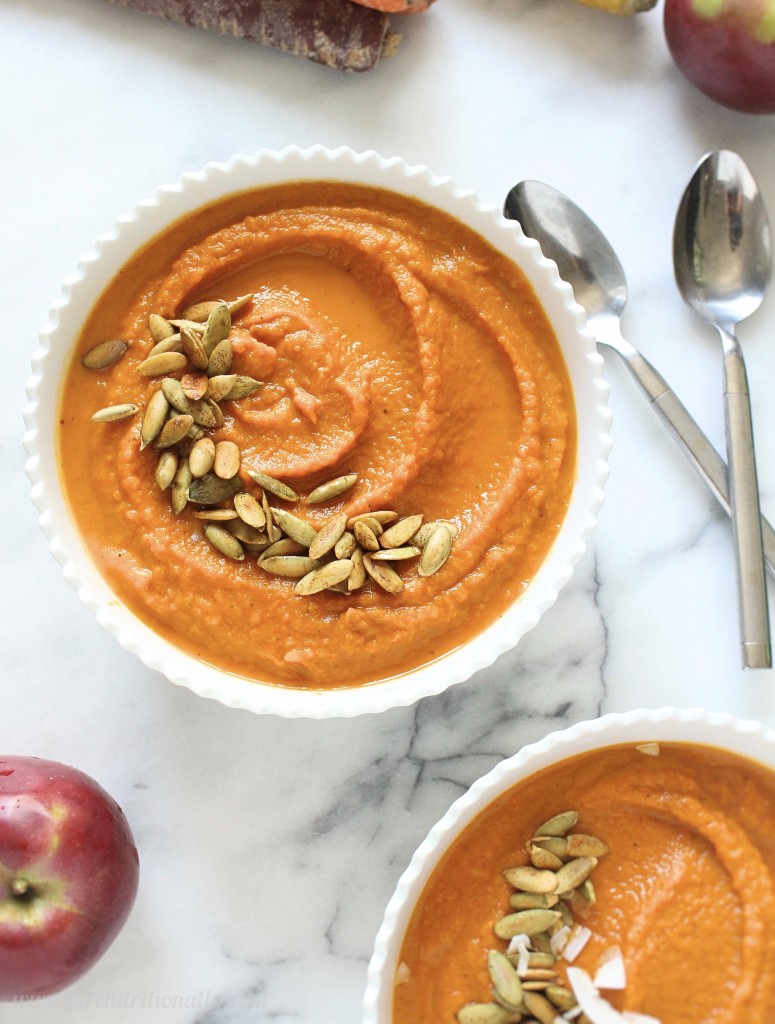 But soup can actually be a tough food for some of us to digest. My Roasted Carrot Apple Soup is in no way low fodmap (Low what?? Click here to find out about Low Fodmap foods!), but it is dairy free, gluten free and vegan, so many can still enjoy without any tummy troubles.
So what should you look for when perusing soup recipes or even looking for a store-bought version (because hey, you can always make this roasted carrot apple soup or my other fave veggie soup)…?
My number one tip is to look for REAL ingredients that you can recognize.
Then, be sure to check the sodium content. Many canned soups are chock full of extra salt that can leave you feeling inflated like a balloon!
My last tip – check the servings per container. A lot of times there can be 4 servings in a container that fills two huge bowls. As long as you listen to your hunger and satiety cues, you'll be golden!
If you're looking for the perfect homemade soup for your holiday table, or to fill up for the week, try my Roasted Carrot Apple Soup!
My Roasted Carrot Apple Soup is…
Creamy and delicious
Loaded with veggies
Easy to make in just one hour
Food allergy friendly
Made with real ingredients
Vegan
Gluten free
Dairy free
Does cooking up soup intimidate you?? There are only a few quick steps to make this pot of soup your reality…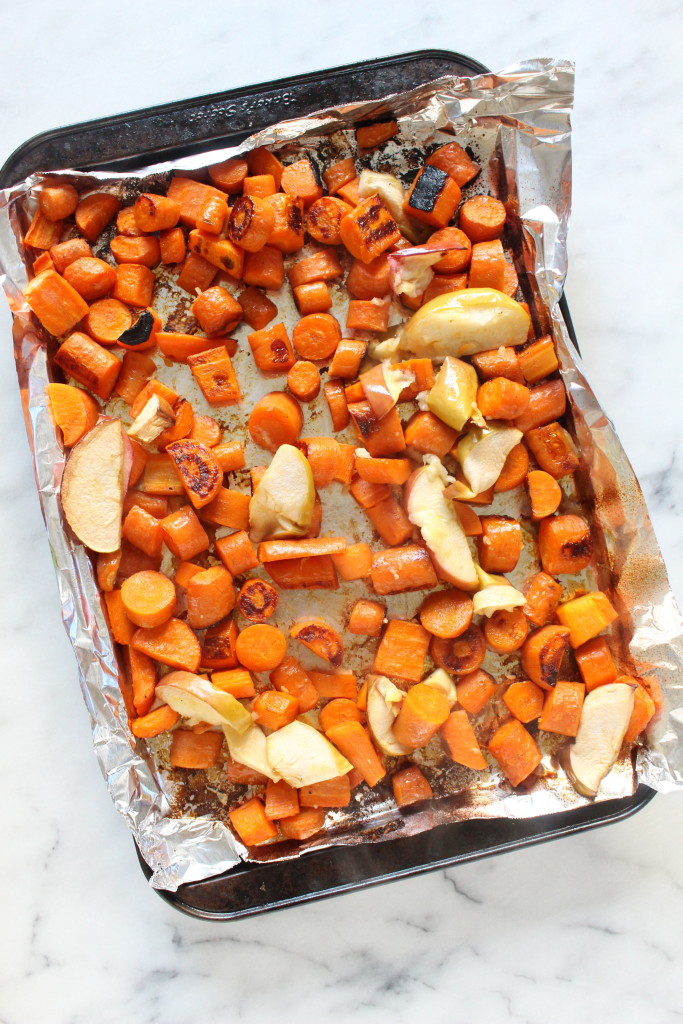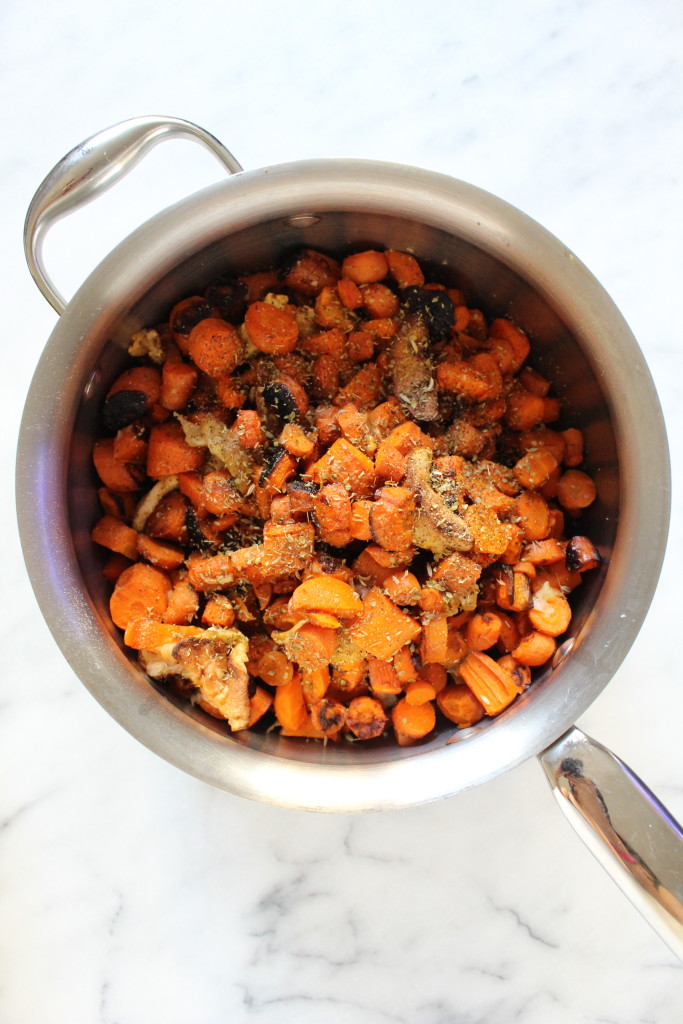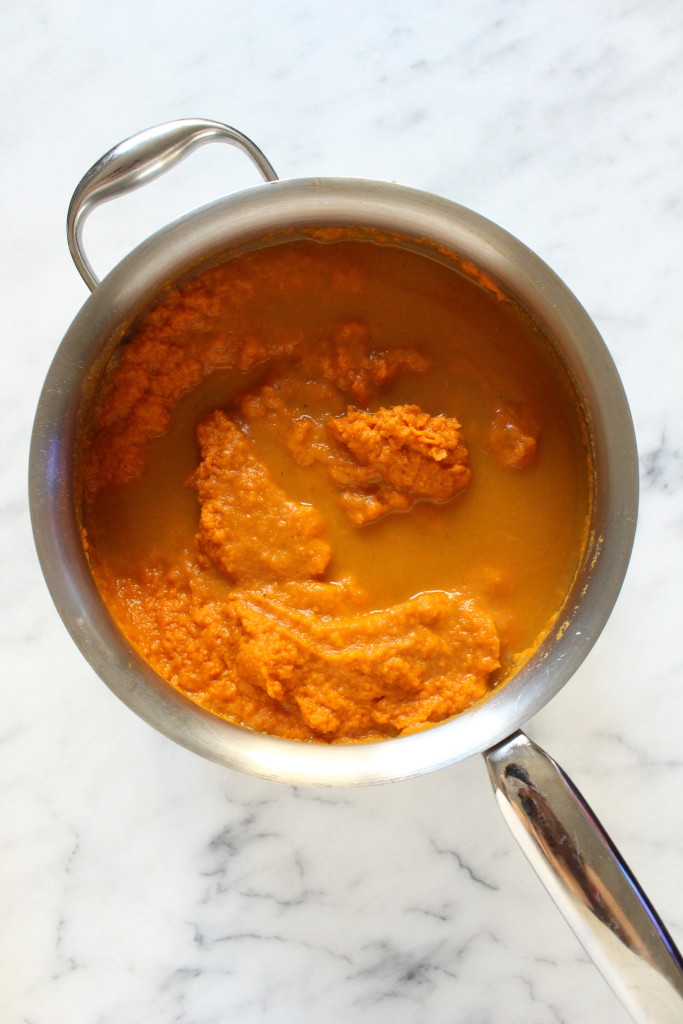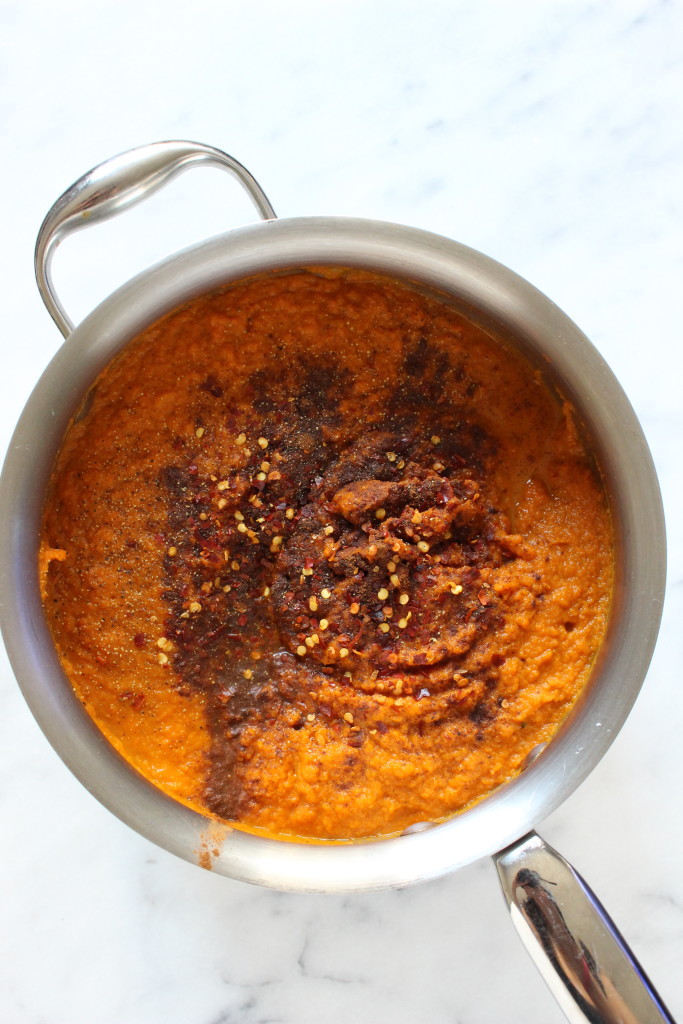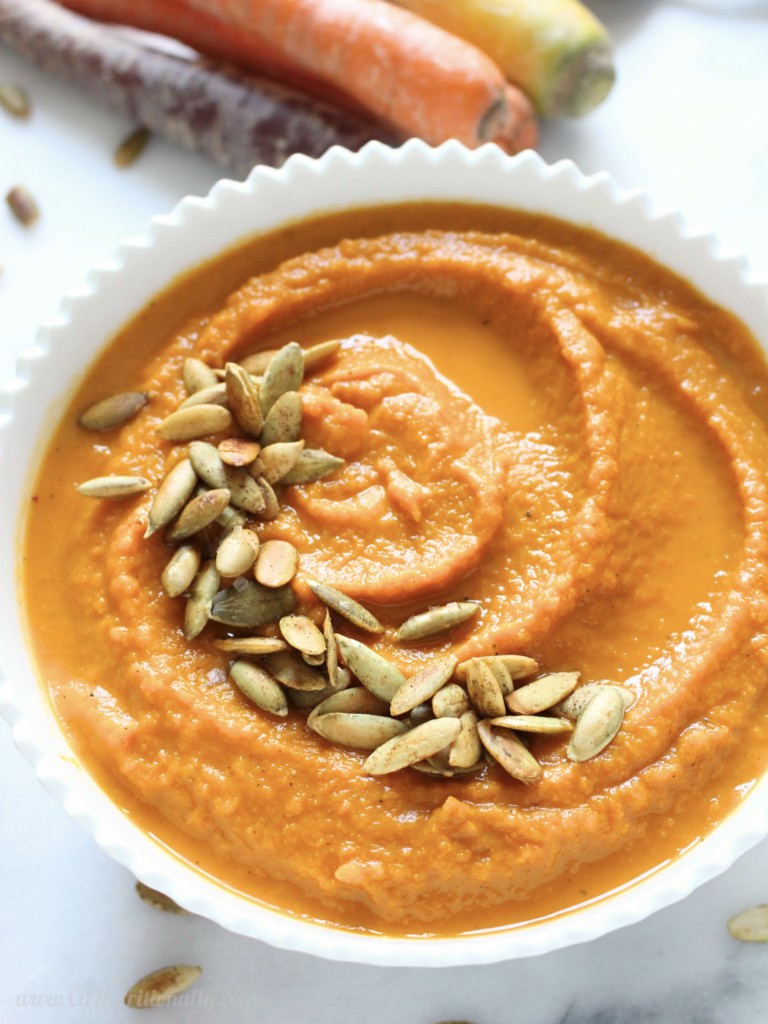 Let's cook up some souper soup…
Roasted Carrot Apple Soup
Ingredients
5 pounds carrots, chopped (no need to peel)
2 Macintosh apples, sliced
3 tablespoons olive oil, divided
1/2 large red onion (about 3/4 cup sliced)
4 cups low sodium vegetable broth
1/2 teaspoon red chili flakes (more to taste)
1/2 teaspoon cinnamon
1/2 teaspoon dried oregano
1/2 teaspoon ground ginger
1/4 teaspoon fennel seeds
1/4 teaspoon black pepper
1/2 teaspoon salt
Optional toppings: Toasted pumpkin seeds and/or plain Greek yogurt or coconut yogurt
Instructions
Preheat oven to 375°F.
Chop carrots and apples and arrange on a tin foil or parchment paper lined baking sheet. You may need to use more than one baking sheet, depending on the size. Drizzle 1-2 tablespoons olive oil on the carrots and apples, then toss so evenly coated. Roast carrots and apples for about 40 minutes, until soft to fork.
When the carrots are almost done roasting, add 1 tablespoon olive oil to a medium-sized stock pot and add sliced onions. Saute onions over low to medium heat for about 10-15 minutes, until soft and fragrant.
Add the roasted veggies to the stock pot with vegetable broth and all spices. Using an immersion blender, blend until smooth. Alternatively, you can transfer the contents of the stock pot into a high-powered blender, and blend until smooth.
Once smooth, stir in 2 cups of water to thin the soup. You may add less or more water (or vegetable broth, if desired) to obtain your desired consistency.
Heat over low to medium heat until brought to a boil. Serve immediately.
Notes
Notes: 1) If soup is cooled and then reheated, may need to add additional liquid (water or vegetable broth) to achieve desired consistency. 2) Soup can be transferred to freezer-safe containers and stored in the freezer for 3-6 months.
Nutrition Facts (per 1/8 recipe): 182 calories, 4.25g fat, 400mg sodium, 35g carbohydrates, 9g fiber, 3g protein
http://citnutritionally.com/roasted-carrot-apple-soup/
Don't forget to PIN IT…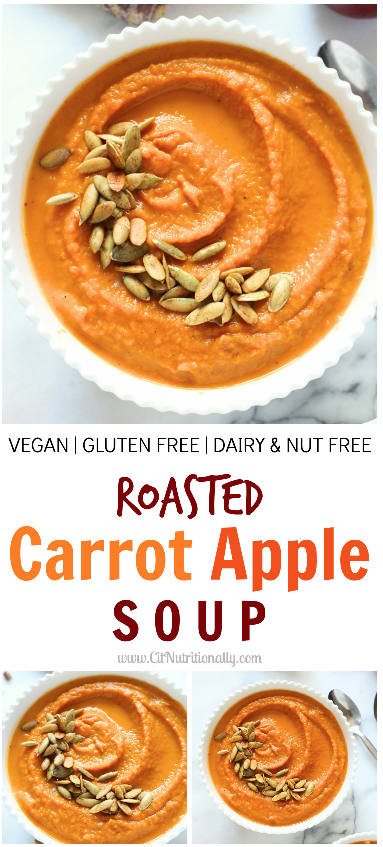 If you want to stay connected or you make something from C it Nutritionally I would LOVE to see your creations! Tag me or use the hashtag #CitNutritionally!

Let's get social!
Facebook: C it Nutritionally
Twitter: @ChelseyAmerRD
Instagram: @CitNutritionally
Pinterest: ChelseyAmer