For the perfect side dish to accompany tonight's #MeatlessMonday dinner, look no further…these sauteed snow peas with cauliflower rice are packed with garlic, a hint of soy sauce, and a little kick where you least expect it!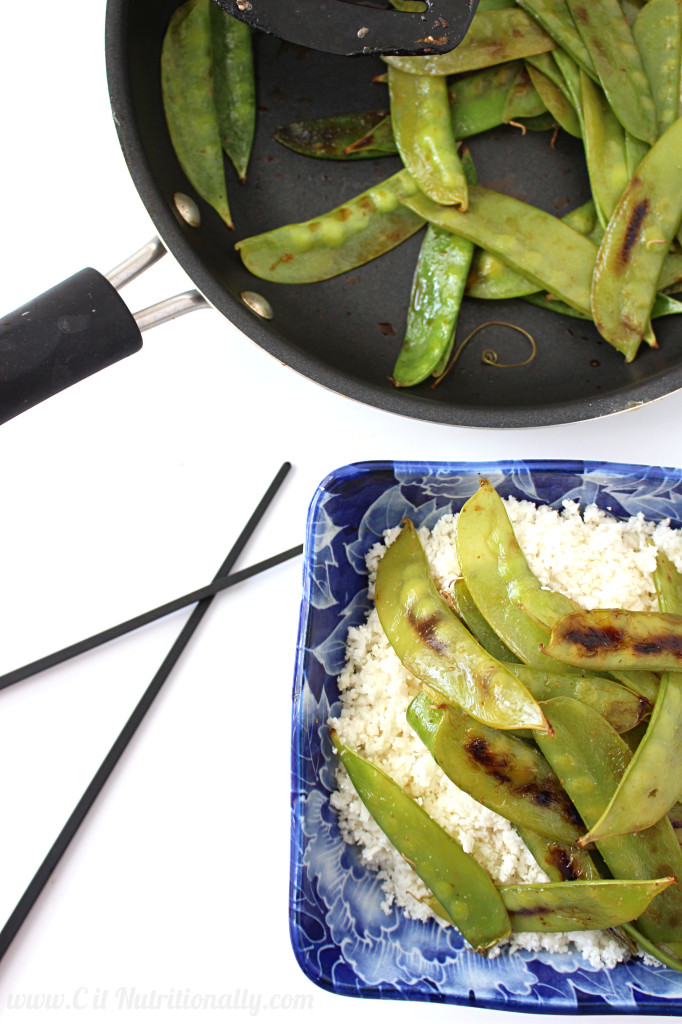 This is going to be quick…partially because this recipe can be made in less than 20 minutes and partially because I'm relaxing on the beach right now with a cocktail in hand. 
One thing I've noticed I don't have enough of here on C it Nutritionally are SIDES. I love sides because they're usually veggies, so versatile, and if you combine a few you have an entire meal. In fact, one of my favorite restaurants here in NYC is known for their sides…so much that you can order 4 sides and call it a meal! And a delicious meal it is! 
If you cook and/or pay attention to nutrition trends you've noticed that 2014 (and I'm going to say 2015) is the year of the CAULIFLOWER.
Restaurants have gone crazy turning cauliflower into "steak," food bloggers have turned it into rice and pizza, and I have emulated both. #SoNotOriginal. 
I'm not trying to reinvent the wheel here, but instead just spread the goodness.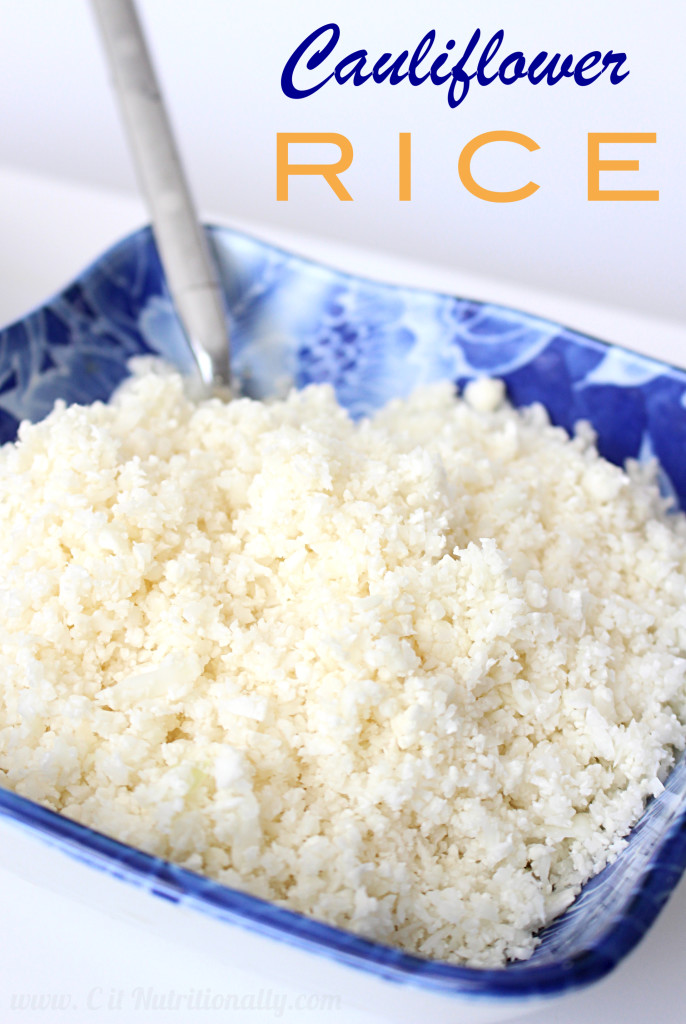 But let me tell you…making cauliflower rice is MESSY and not for the faint of heart. But once you get the hang of it, you'll whip it up in no time! Here's what I learned: 
It's easier to make cauliflower rice with a larger (12 cup) food processor. 

It tastes better steamed versus raw. 

Add spices!!! 

Go halfsies if you're new to the trend (that's half cauliflower rice and half brown rice).

Get creative!
So ready for this super simple side (that you can totally turn into a meal if you add a few more veggies, some edamame or tofu). #MeatlessMonday-approved!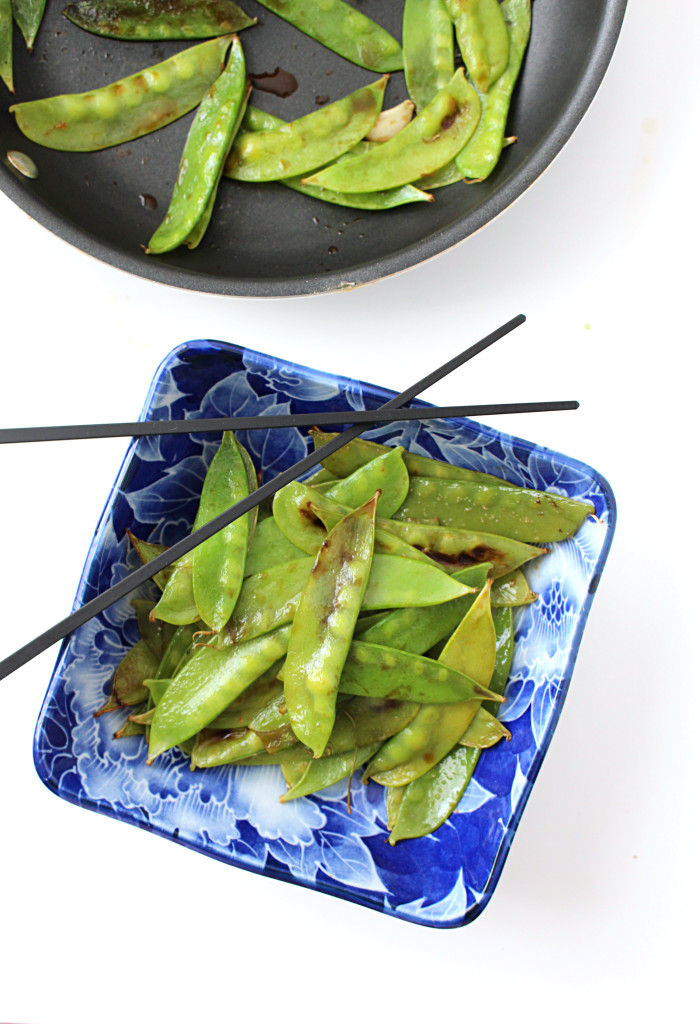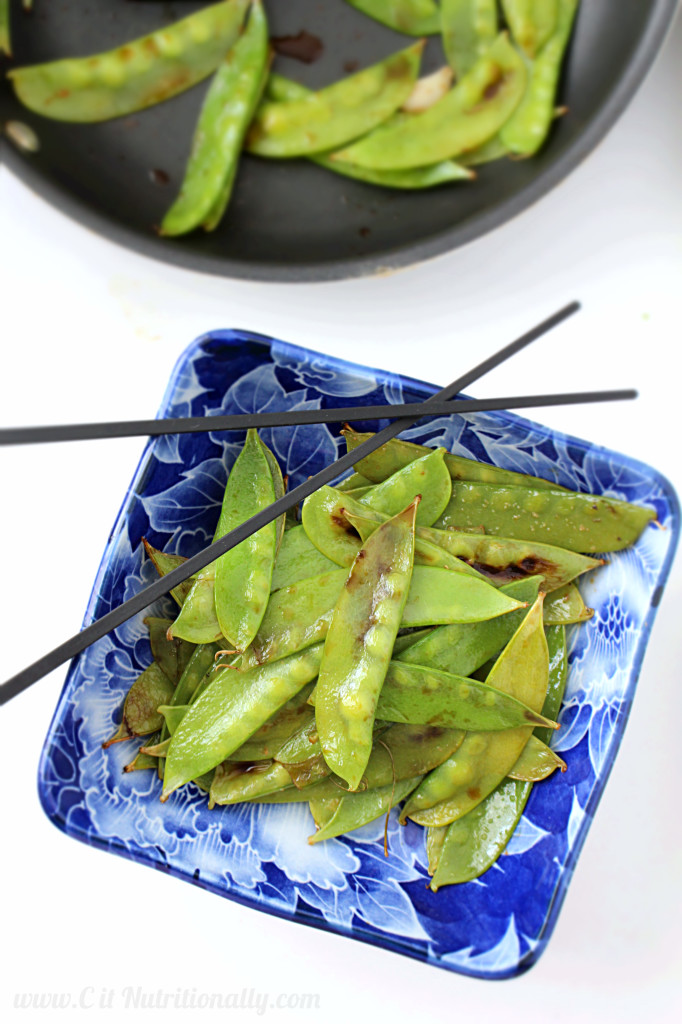 Sauteed Snow Peas with Cauliflower Rice
Ingredients
1 head cauliflower
2 teaspoons olive oil or sesame oil
2 cloves garlic, finely chopped
1 lb snow peas
2 tablespoons low sodium soy sauce
1/4 teaspoon honey mustard
1/4 teaspoon red chili flakes
Pinch of freshly ground black pepper
Small pinch of ground ginger (optional)
Optional: sesame seeds to garnish
Instructions
Cut cauliflower into bite-sized florets.
Place cauliflower florets into food processor and pulse until rice-like consistency forms.
Steam cauliflower (you can easily do this in the microwave — cover a bowl of cauliflower rice with a damp paper towel and microwave in 1 minute increments until desired consistency is formed). Alternatively, you can saute the cauliflower in a couple of teaspoons of oil over medium heat. Flavor with salt and pepper to taste.
In a large saute pan, heat oil over medium heat. Once your pan is hot, add garlic and saute so the garlic does not burn.
Add the snow peas and continue to saute, constantly moving the vegetables around the pan.
Once the snow peas begin to soften, add soy sauce and spices. Then add honey mustard. Saute well so marinade is evenly distributed.
Cook until vegetables are soft, but not limp. Serve over cauliflower rice. Enjoy!
http://citnutritionally.com/sauteed-snow-peas-with-cauliflower-rice/
See..SO simple!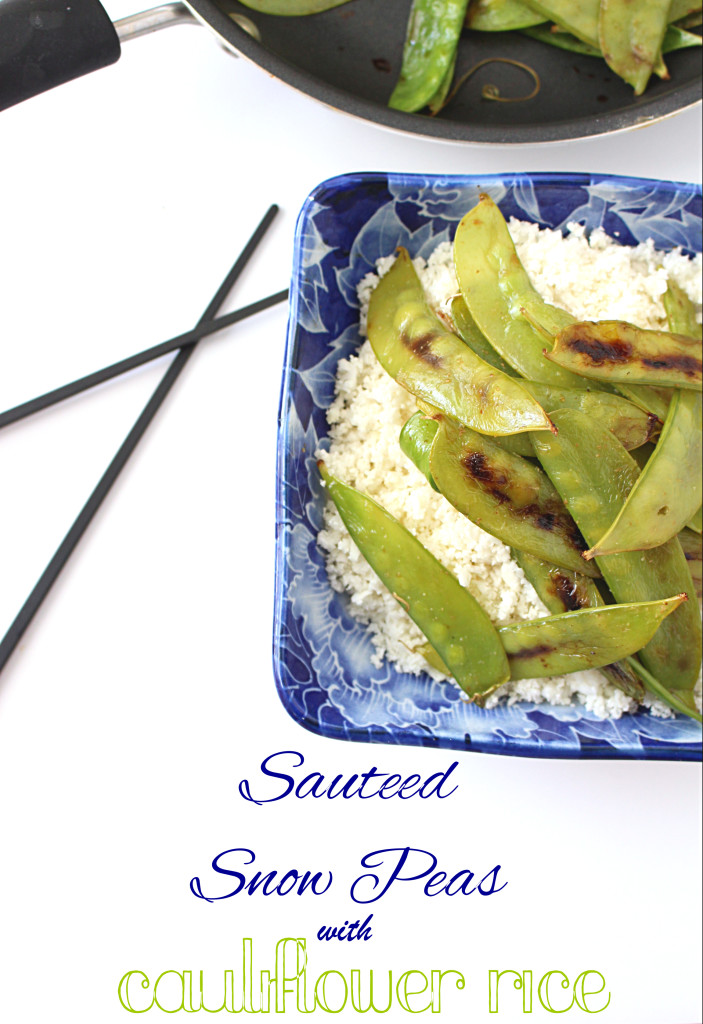 Now it's back to the beach for me…
XO
Looking to whip up something GREEN for St. Patricks Day?? I've got *8* MORE tasty, healthy, and GREEN recipes for you…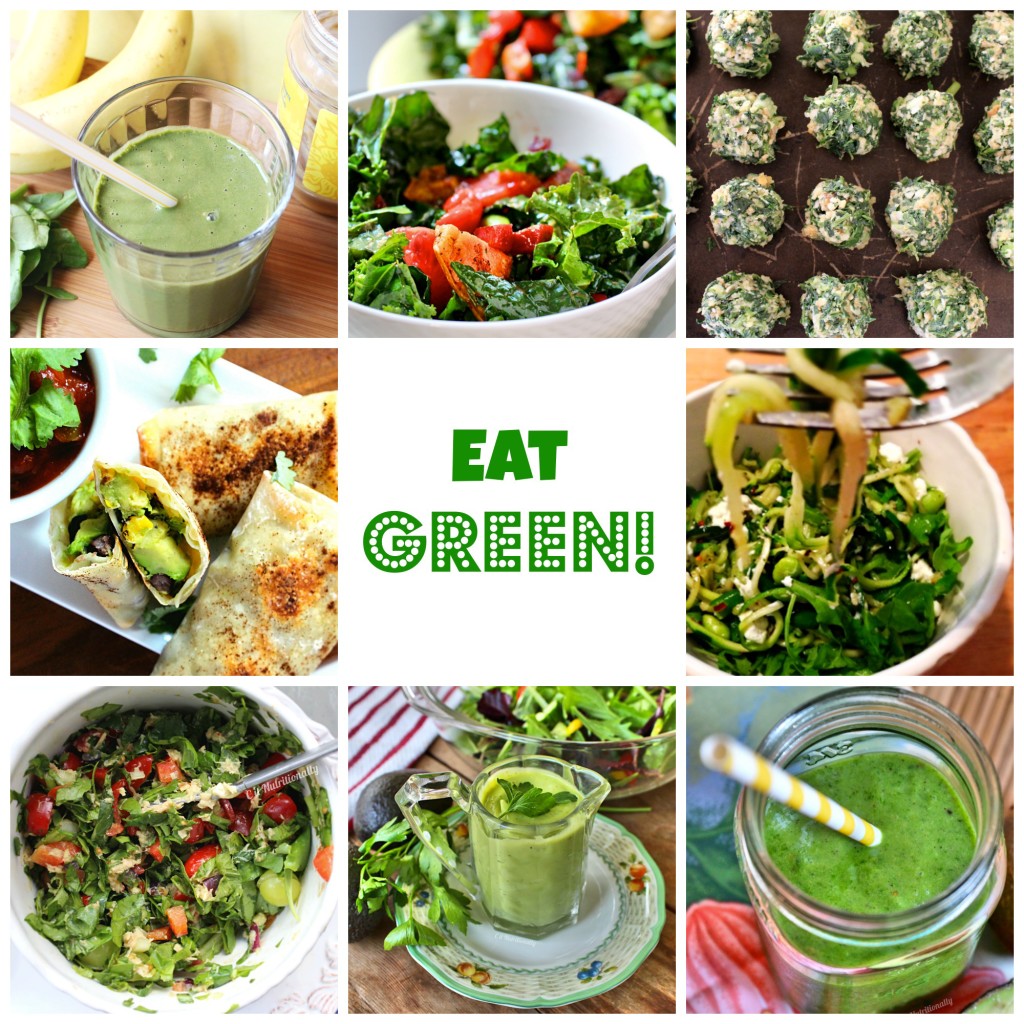 Allergen-Friendly Green Monster Smoothie
Lean Green Zucchini Noodle Bowl
 If you're looking for more delicious #MeatlessMonday meals, check out my Pinterest page!